My Top 5 Speedmaster Models in Gold
For less than €10.000 a gold Moonwatch will be yours!
With one of the most recent additions to the Speedmaster family, the Apollo XI Limited Edition in Moonshine gold, there's finally a gold Moonwatch again. Time to share my personal top 5 Speedmaster models in gold.
The gold Moonwatch has been discontinued for a few years now. Three years ago, the movie 'Money Monster' featured a gold Speedmaster, but it was a discontinued reference. This Speedmaster reference 3195.50.00 was simply an all-gold version of the regular Moonwatch and was in production between 1999 and 2012. The reason it got discontinued I don't know and can only make a well-educated guess, as these watches weren't cheap, to begin with, and gold was a bit out of fashion. But it isn't anymore. Gold is back, and so is the gold Speedmaster.
Two years ago, Omega re-introduced the gold Moonwatch for the Apollo 17 mission (click here). And unless you've been under a (Moon)rock, this year Omega was just about everywhere with their gold re-edition of the Apollo XI 1969 Speedmaster with its burgundy bezel and gold dial with onyx markers. We reported about this particular watch here and here.
I thought it would be nice to share five of my favourite gold Speedmaster models. Although I never thought I would be a 'gold' guy, I slowly became one in the past few years. I purchased my first gold Speedmaster in 2014 when Ben Clymer of Hodinkee and I were doing some watch shopping in Munich. There were two gold Speedmasters for sale, basically in the same street, and I ended up buying the one from 1980 (reference BA345.0802). But much earlier, in 1999, I already was 'infected' by the gold Speedmaster. During my very first appointment with one of my watchmakers, I was still a student, and he was wearing this gold Speedmaster Professional. A BA145.022. That's right, the original 1969 Apollo XI Speedmaster in gold. I was in love right away. Even though the price at the time was much friendlier (think around €5000) compared to today, it was a lot of money for me. And it was gold. I thought I couldn't pull it off at the time when I was just 22 years old.
Gold is back though, and the prices on gold Speedmaster have increased quite a bit, The €7000 or €7500 I paid in 2014 for the gold Speedmaster Professional would be a steal today for that model. The original gold Speedmaster Professional Apollo XI BA145.022-69 is moving towards €50.000,- for a good condition model, and if you have one in pristine condition with box and papers, I don't even dare to put a price tag on it. The new Speedmaster Professional Apollo XI in Moonshine gold has a price tag of €32.800,-, and there are 1014 pieces of those (like the original one). And guess what, they are all called for.
That said, one of my favourite gold Speedmasters in the list below, is currently offered on Chrono24 for under €10.000,-. And although that is still a lot of money, it is still cheaper than some of the (discontinued) limited edition models in stainless steel or some of the vintage models. If you're a Speedmaster collector, a gold Speedmaster is worth investigating for sure.
5. Speedmaster Apollo XVII 45th Anniversary
A tribute to Gene Cernan, who passed away in 2017, the same year as the 45th anniversary of him being the last man on the Moon. This watch was also done in steel, but for the happy few (272 pieces), there was also a special version in yellow gold. It is the reference 311.63.42.30.03.001. The combination of dark blue (dial and bezel) and gold are amazing in the flesh. This watch comes on a leather strap with a gold folding buckle. Inside ticks the famous Omega caliber 1861 (Lémania based). There's a lot of detail going on the dial, which I happen to like. There's the Apollo XVII mission patch in gold at 9 o'clock, and you will also find this on the solid gold case back. The original retail price was 18.600 Euro for this watch. Initially, Omega said it would only produce 72 of these, but based on the demand, they increased it to 272. Some collectors weren't too happy about it, and others were able to put in their order. Officially these are sold out, but you will be able to source one if you give it a try. Some dealers still have one in stock. We wrote about this Speedmaster Apollo XVII 45th Anniversary edition here.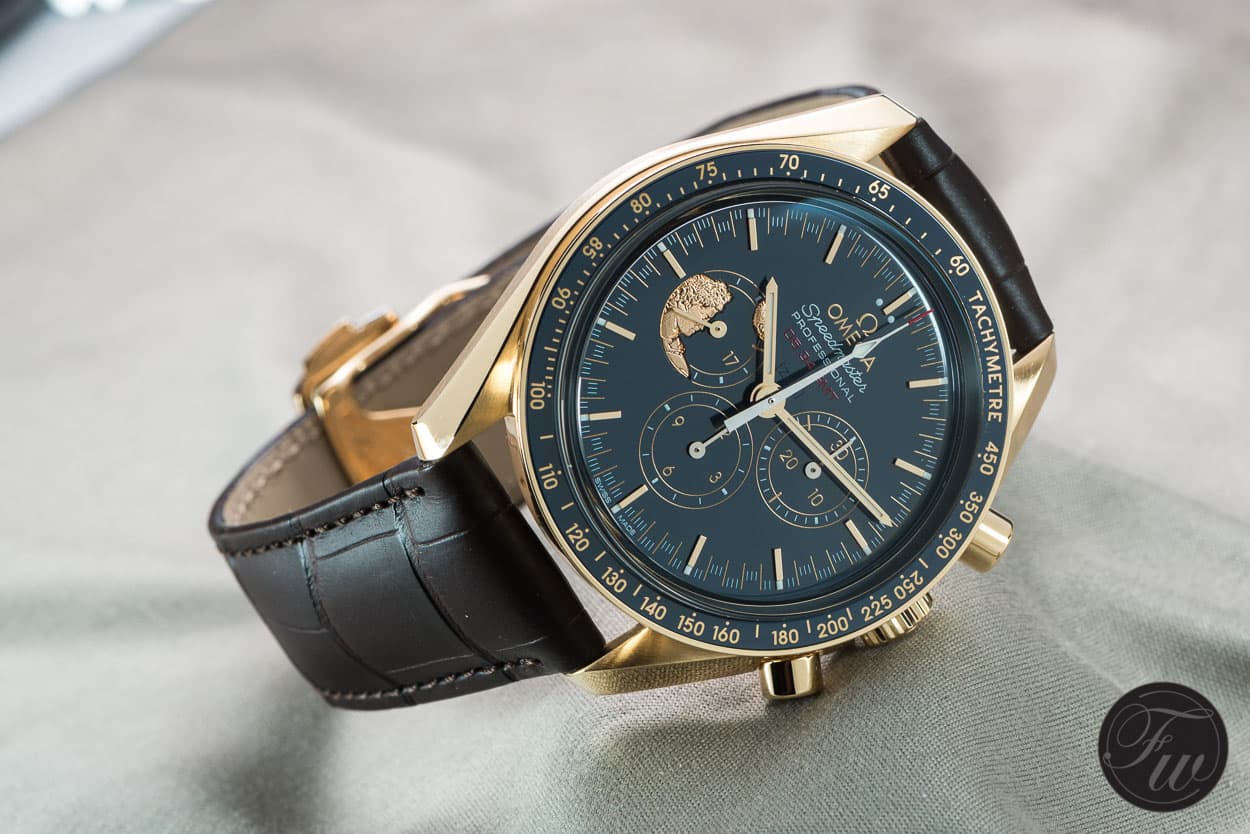 4. Speedmaster Jubilee 27 CHRO C12
This is a watch from 1992, to celebrate the 50th anniversary of the 27 CHRO C12 movement. That's right, the basis for the later caliber 321 movement that was used in those first generations of Speedmasters. Including the ones that were used on the Moon. Anyway, this watch has the later caliber 863 inside. This is the same as the caliber 861, but with a nicer optical finish. Anyway, we talked in-depth about this watch with reference 3691.50 here. You can find these watches every once in a while on platforms like Chrono24. There's a couple on there right now, starting at €9890,-. I think that a gold Speedmaster Professional around the €10.000,- mark is a steal, and a great addition to your Speedmaster collection. I am not sure how long these watches will be around for this kind of money. A watch with original box and papers will set you back a bit more. (tip2: the original box for this watch is currently on eBay for another €900). What I love especially about this model, and over the regular Speedmaster in gold that was used in Money Monster, for example, is that it has gold rims on the subdials.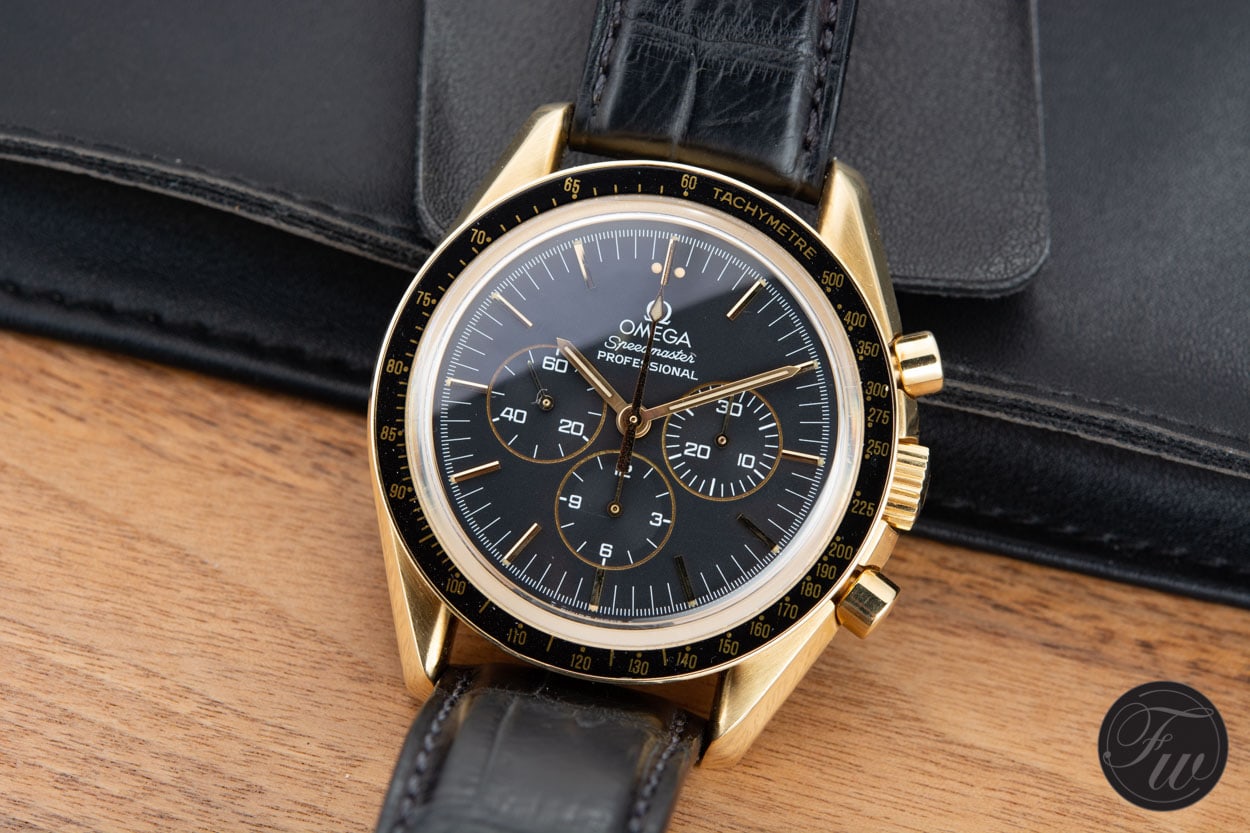 3. Speedmaster Apollo XI – BA345.0802
My first acquaintance with this watch was before I bought it in October 2014, during the Olympic Games in Sochi earlier that year. Again with Ben Clymer, I was sitting in the hotel lobby or room booked by Omega, and there were also cosmonaut Leonov and astronaut Stafford. Leonov was wearing his special gold Constellation from the 1970s, and Stafford was wearing his gold Speedmaster. We asked him about it, and at first, he was a bit confused himself and thought it was the 1969 one. But it wasn't. It was the one from 1980, reference BA345.0802. We asked him if we could borrow it for a few minutes to take some pictures and he was fine by that (you can find the result here). After five minutes, he did walk over to see where his watch went but was happy to see we were having a good time with it (and our Nikons, if I remember correctly). His was inscribed with Gen. Thomas P. Stafford in the case band. A few months later, when there was a watch conference in Munich, I came across it at one of the pre-owned watches dealers in the city centre. I couldn't resist and bought it. A year later, I bumped into astronaut Stafford, and at first, he didn't recognize me, but after he noticed my gold Speedmaster being the same, he realized that it was that guy who borrowed his a year earlier. It is the first Speedmaster with a sapphire case back that shows the caliber 861L movement (L stands for luxury, as it has a nicer finish than the regular caliber 861). The dial has onyx stick markers. Only 300 of these watches are made in yellow gold and sold between 1980 and 1988. There was also a batch of 20 of these in white gold. Rare as hen's teeth. Did you know that these watches didn't only commemorate the Apollo XI Moon landing, but also the re-qualification of the Speedmaster for the Space Shuttle program? You can read that here.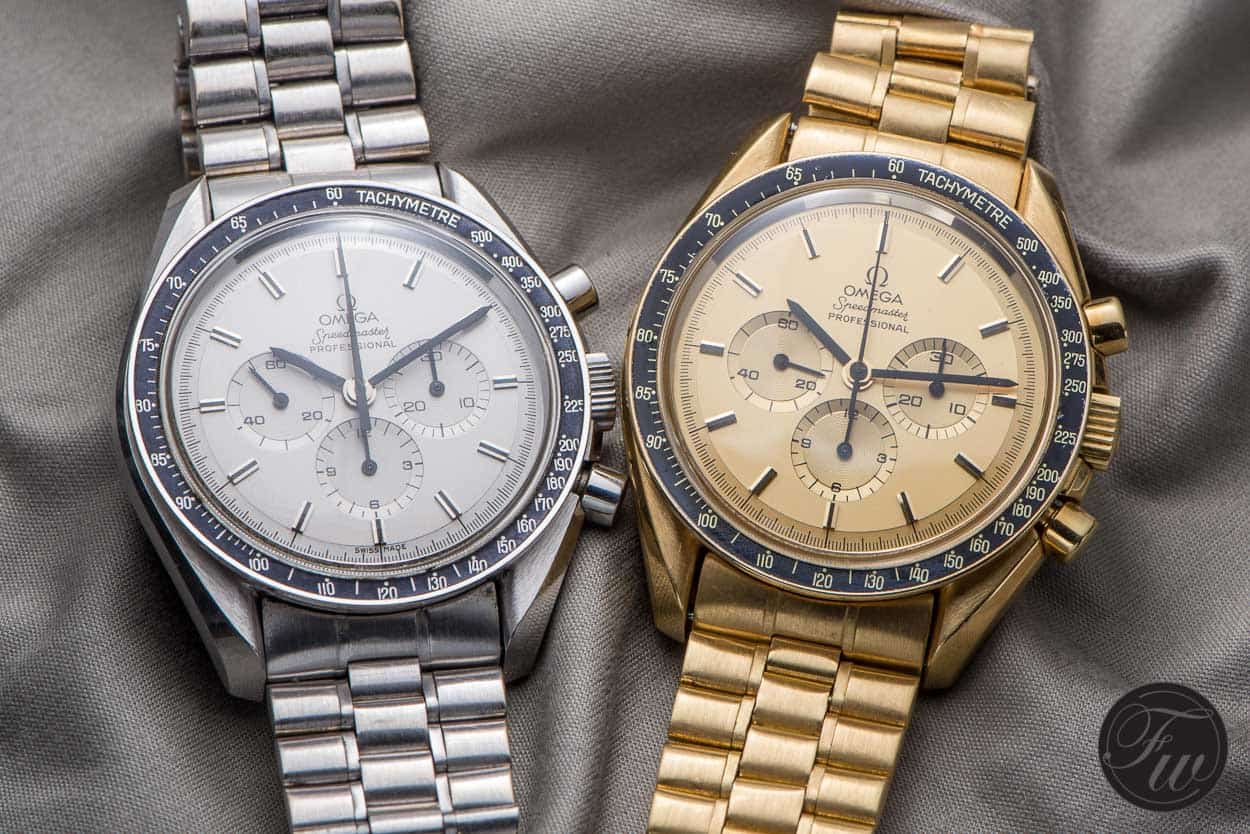 2.Speedmaster Apollo XI 1969 – BA145.022
My #2 favourite Speedmaster in gold is the BA145.022-69. The real deal, if you want. Lots have been written and said about this watch, and it is one of the holy grails for me personally. But the prices are further away from my wallet than ever before. The first 28 numbers of this watch were given to US President Nixon and Vice President Agnew, who both declined due to the high value of this watch (and them being the government). The other 26 were offered to all of the astronauts who were active at the time. So not only those who flew Apollo missions, but also those who flew Gemini and were still having flight status. After these first 28 watches were presented to the president, vice president and these astronauts in November 1969, a few more were presented to astronauts who flew after that date. Those have number 100x. The rest of these watches (1014 in total), were sold on the market and was produced up till 1973. There are a few variations to discover, especially (or mainly) on the dial. There are some differences in printing (like the 'Oval O' in Omega), and there are slightly different engraved case backs. The case backs for the astronauts, president and vice president were different from those that were made for the market, of course. They were personalized with their names (and in case of the astronauts, their missions). The original version came with a crater box (plastic) and had a 3200 CHF price tag if I am not mistaken. That was quite a bit of money in 1969. We saw a complete set last year, during the auction weekend in Geneva and reported about it here. And here's another early one. We also talked about the ones owned by astronauts, such as Mattingly, Young and Schirra. These watches have stories to tell.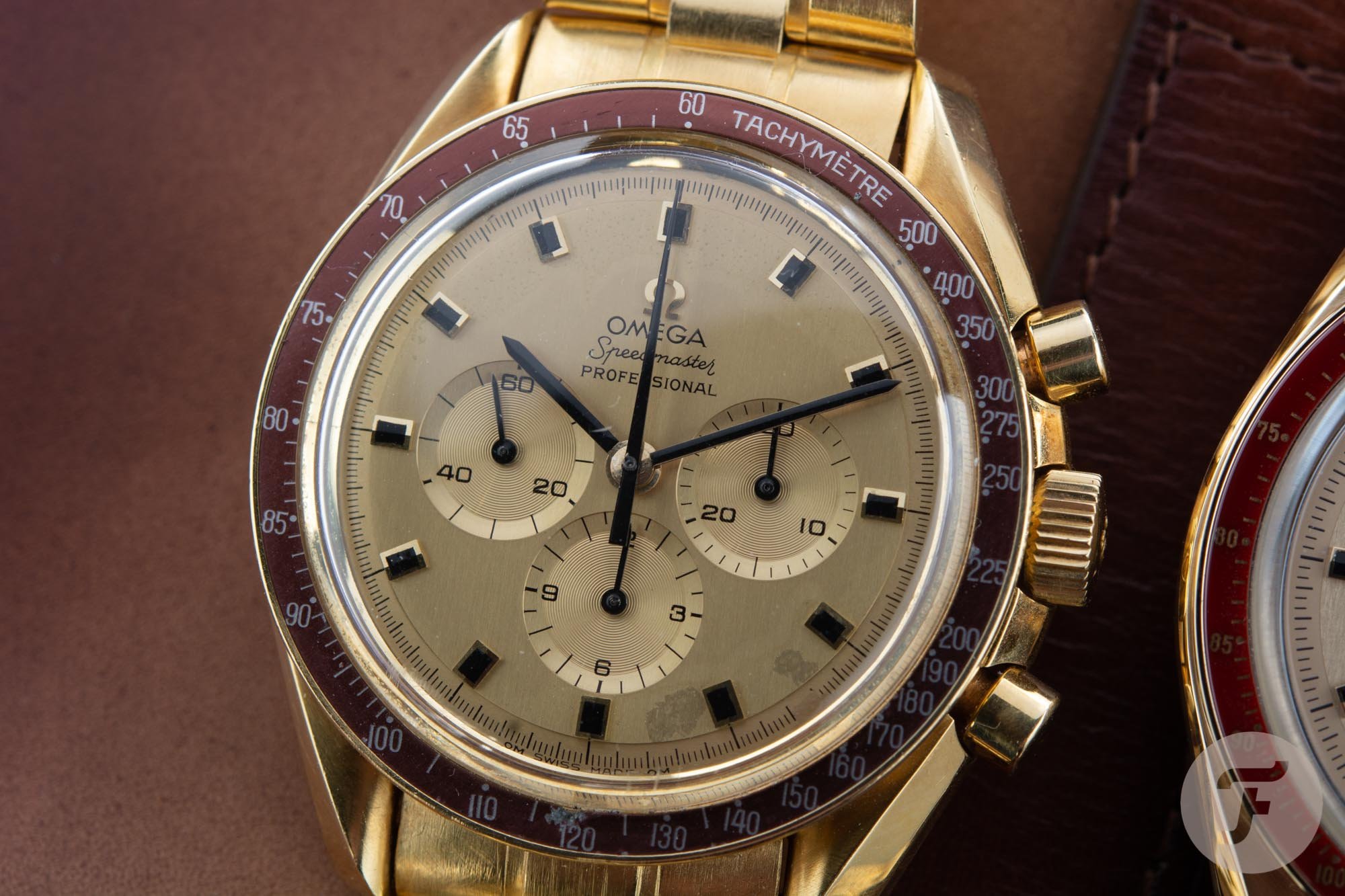 1. Speedmaster Apollo XI 50th Anniversary
But the original gold Speedmaster Professional Apollo XI from 1969 is not my favourite. It is this year's re-edition of that watch, the Apollo XI 50th anniversary with reference 310.60.42.50.99.001. I have described it in detail in this article (and later on, in this one, where I compare it to the original one). This new watch, in Moonshine gold, is so well done, I've called it the 'Godfather II', as it is better than the first. The new Moonshine version has been produced using modern technology, and it has a Master Chronometer movement caliber 3861. Also, the bracelet is something else. A beautiful tribute to the original in terms of design, but the quality is much higher. Three of our team, including myself, ordered one (and I have mine since a few weeks after I had the pleasure of wearing a prototype since March 12th) because it is simply stunning. It doesn't come cheap at €32.800,- but compared to other watches in full gold out there, from competitive brands, I feel that it isn't bad either. The use of lunar meteorite in the case back is a fun element, but I would have also bought it without. The watch comes with a crater box, just like the original, but instead of plastic, they've used ceramics. This is my favourite gold Speedmaster Professional.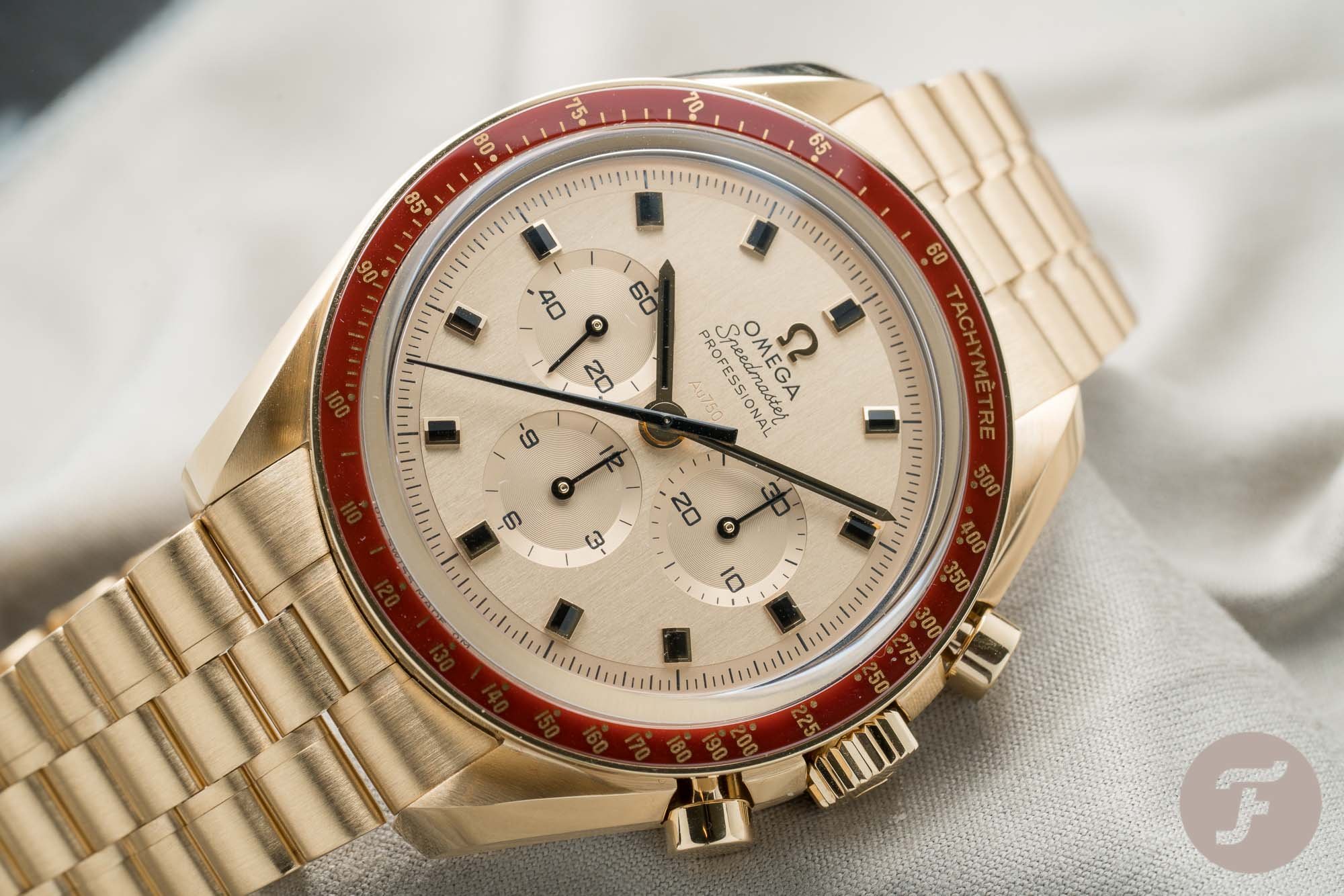 This is my favourite Top 5 Speedmaster models in gold, and this might change every once in a while, but I am pretty sure the first three are very much fixed. Share your favourite Speedmaster in gold in our comments below.