The New Awake "Mission To Earth" Watch Is NASA-Approved And Ready For Liftoff
But I still don't understand what "blockchain" means
I would not be lying if I said that the new Awake Mission To Earth watch is balancing on a precipice of hype. Whether it will tumble down the crevasse of one-hit wonders or become a future-proof microbrand legend remains to be seen. But the premise is a cool one, even if we are slightly colored by our own love for Moonwatches (and MoonSwatches, for that matter).
Even with nearly half a century since the last time man set foot on the Moon, space travel remains hugely influential and inspiring. Take away the hype and secondary-market scalpers, and the MoonSwatch with all its mission iterations is simply cool. Add NASA to the picture and the potential is even bigger.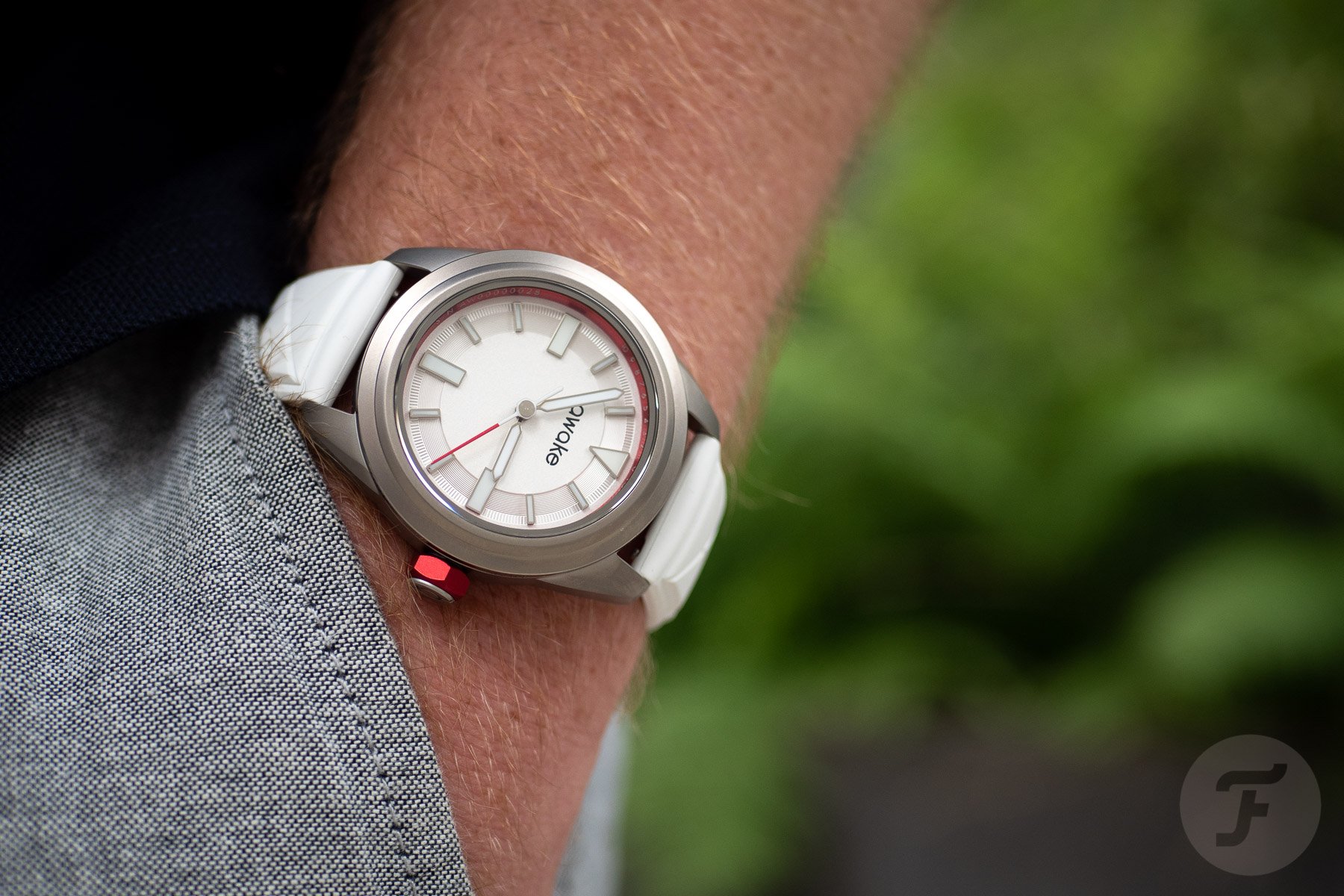 What does blockchain have to do with a sports watch?
The new watch from Awake is, for better or worse, a proper concept watch. Its crisp, red-accented titanium minimalism might make it a good sports watch too, but let's have a look at the backstory. These 250 watches are NASA-approved, and each comes in a flash presentation case with a meteoric fragment of the Vesta asteroid, a mind-boggling 4.5 billion years old. But blockchain? This is where it gets fun. In the sapphire crystal covering the smooth silvery-gray dial sits a marker. Developed with Arianee, it has blockchain tech with an NFC tag. Once read with your iPhone cam, this magically links you to cameras on the International Space Station, providing you with a view of Earth from space. The boggling tech (for me, a middle-aged watch geek) also identifies the watch, authenticating its complete history from the order process to your wrist.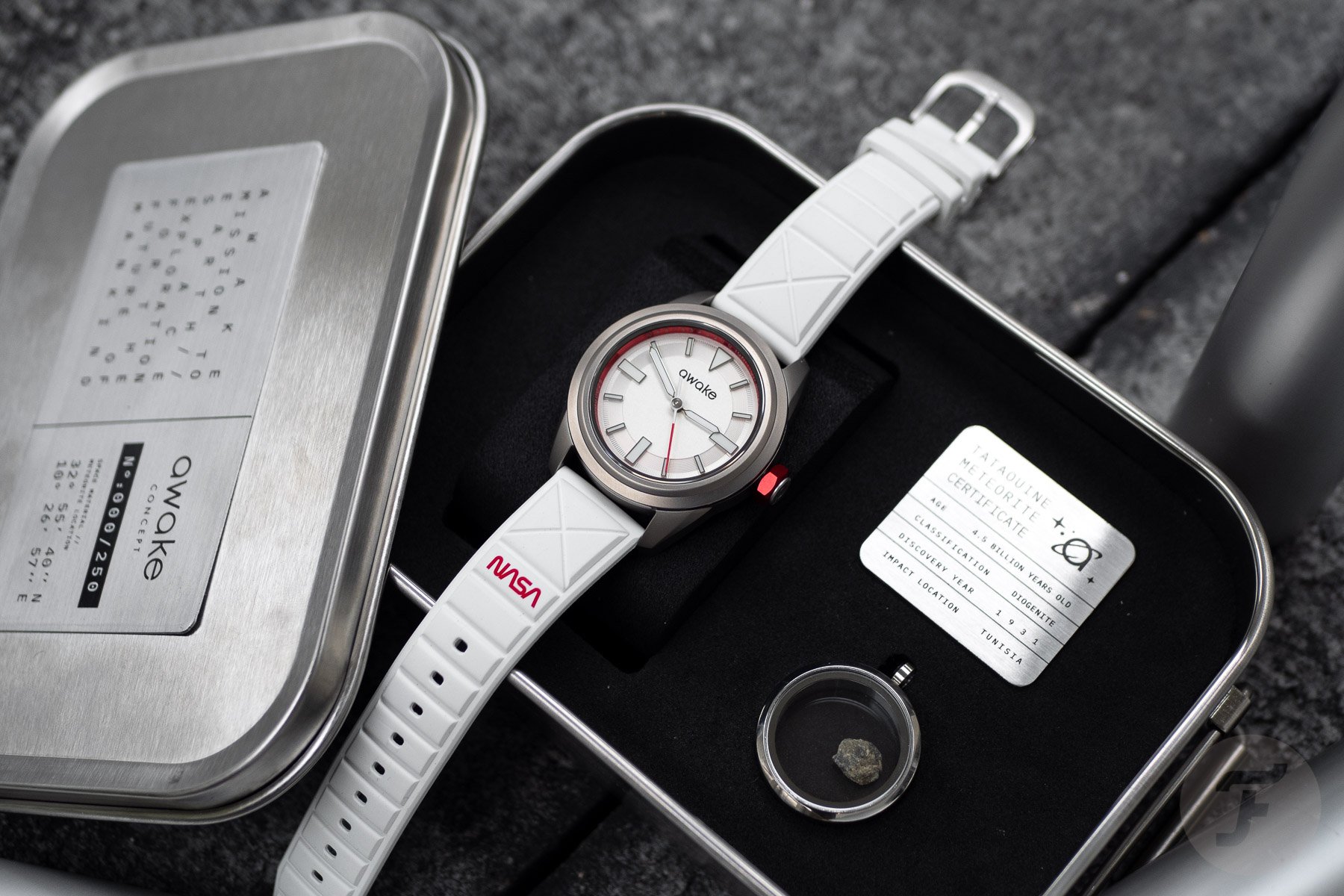 The watch itself
NFTs, crypto, and hypebeasts aside, this tech is a genuine feature. And the watch itself, though not in any way groundbreaking, is a good sports watch with sharp details, too. The case is 40mm wide, and with its titanium build, it is a perfect light piece for summer. The strap is made from Biopoly, a rubber material inspired by space suits, with a segmented design and red NASA branding.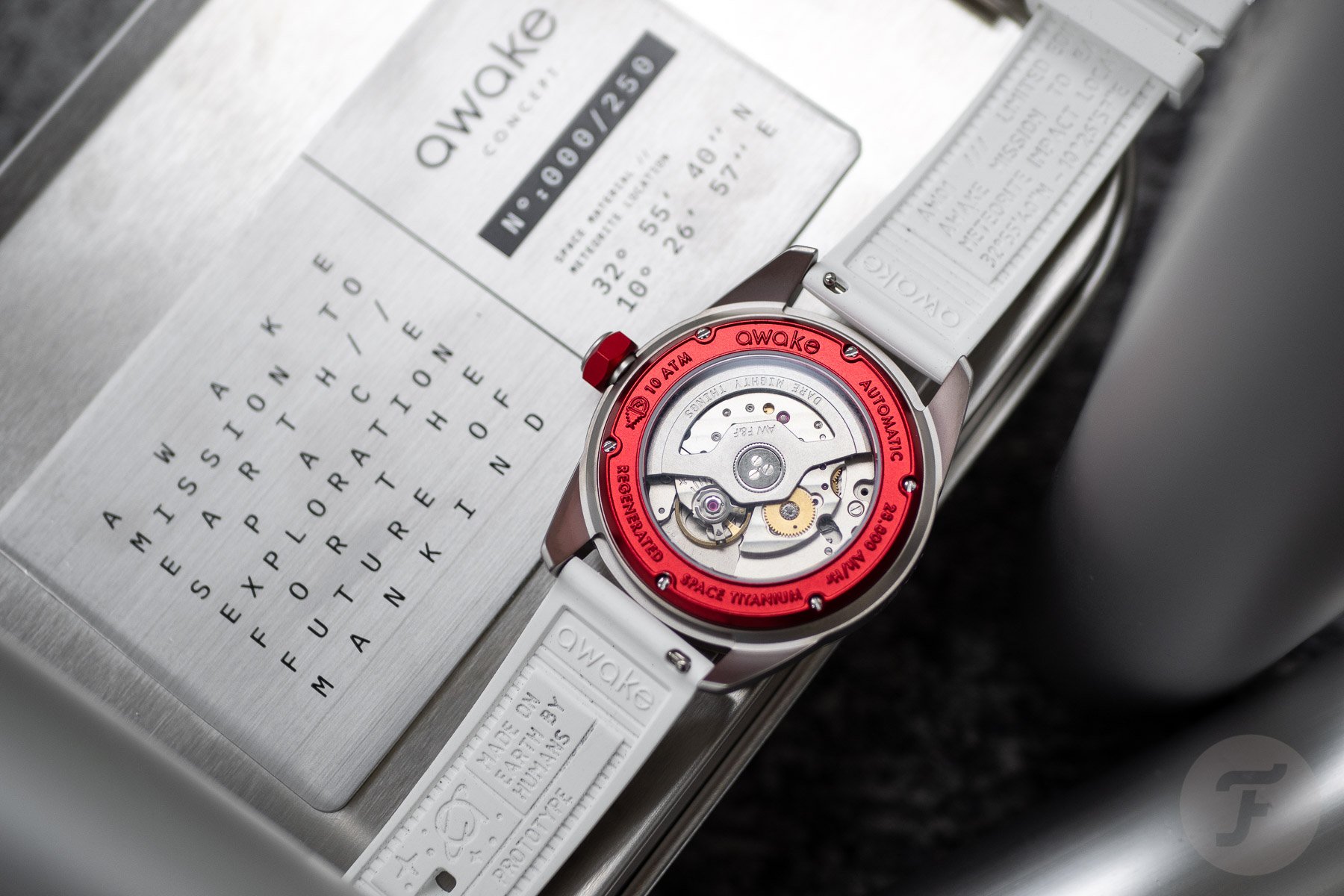 I mean, how could they resist? The red accents make the design of the watch, with a red case back encircling the workhorse Miyota 9015 caliber and a cool, red hexagonal crown. The case itself is an ABC of utilitarian sports-watch design. It is angular and just the right mid-size 40mm. A 100m depth rating makes it good for everyday wear, and at €990, it's not bad as a 250-piece issue.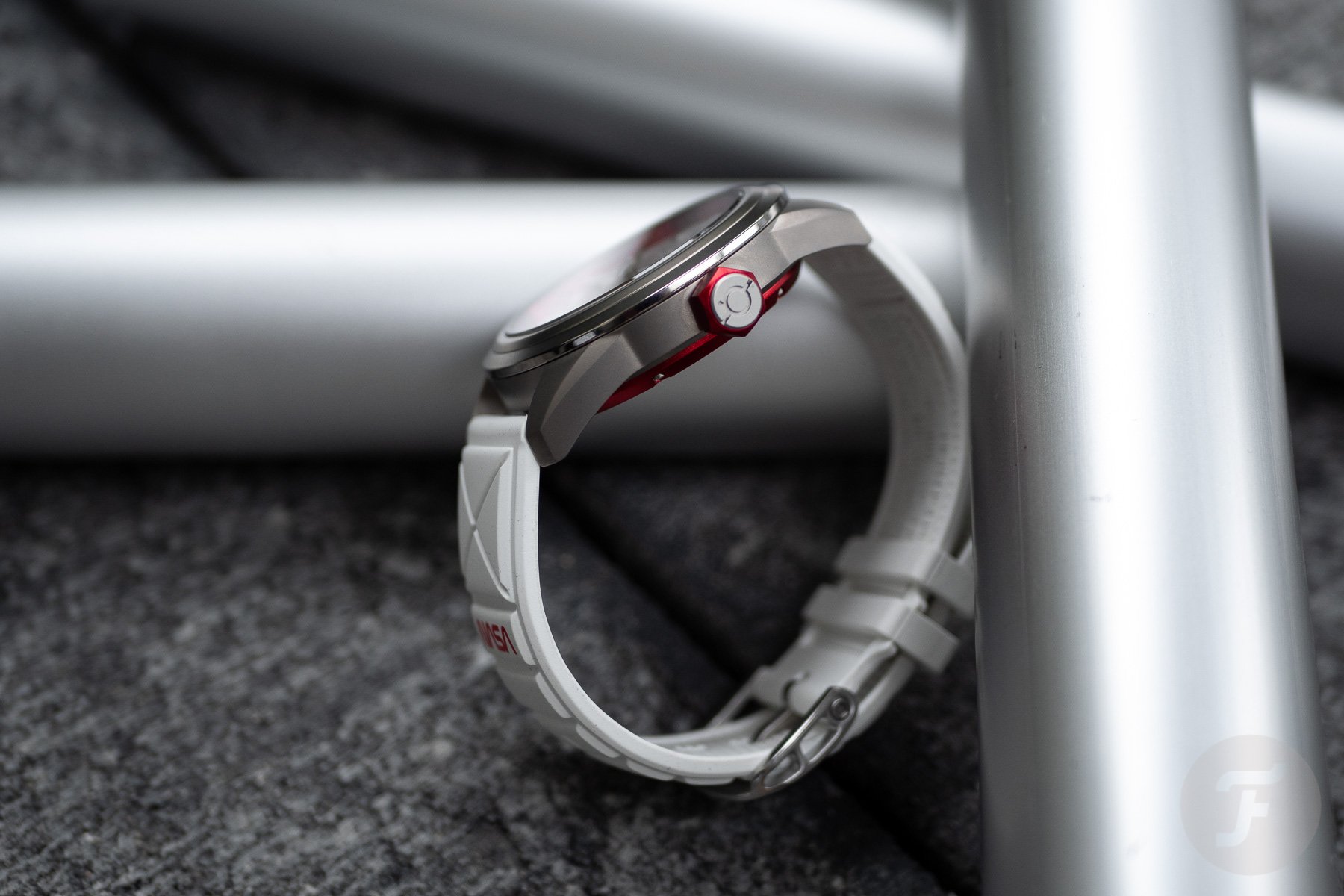 Too much of a concept?
The red aluminum rehaut leans a bit heavily on the mission theme. The ten seconds leading up to the 12 o'clock marker count down to the legendary "Ignition – lift off" text. But this is a package deal and a pretty cool one for the space enthusiasts out there. I also find the matte silvery-gray dial interesting with its striated outer rim and pie-pan center. I am a fan of the blocky indices at 3, 6, and 9 and the retro triangle at 12 o'clock. Red-tipped seconds hands are a personal fave. I dig how the red takes up more than half the length of the hand here.
…my wife has a deep love for astronomy and sits firmly within the target group. She is eagerly measuring up her wrist…
The lumed hour and minute hands are well-balanced for the modernist design, but would I buy this myself? Probably not. I do like it, but I'm just not "spaced out" enough, or perhaps I'm frustrated by still not getting the term "blockchain". But my wife has a deep love for astronomy and sits firmly within the target group. She is eagerly measuring up her wrist to see if 40mm is a good fit. Even if it's too big, she might consider it anyway, as she understands what blockchain means.
What do you think? Is the new Awake Mission To Earth watch a far-fetched concept or mission-cool? Let us know in the comments while I count down from ten.