The Oris Wings Of Hope Limited Edition Big Crown In Steel And St. Louis Event
Flying has never been so good
The Wings of Hope Limited Edition Big Crown duo from Oris is now fully released. The brand brought out the 38mm gold version back in July of this year. Now, in October, the 40mm steel version is available. Oris took this moment to expand on its partnership with the nonprofit humanitarian organization Wings of Hope. A press release can't fully capture all the good Wings of Hope is doing. I went and witnessed firsthand just what sort of work Wings of Hope does, and I returned humbled and inspired. Here's hoping that an article about a watch can impart a little more about the sort of good Wings of Hope and Oris are up to.
Most (if not all) of you have heard of Oris. Many of you haven't heard about Wings of Hope, Oris's latest nonprofit partner striving towards doing good in the world. And that's kind of the point. Oris does watches well, very well. But its business model of partnering with lesser-known environmental and humanitarian nonprofit organizations is, dare I say, even better than the watches. Somehow, that ends up making the watches better too.
Oris's whole modus operandi regarding its limited-edition watches is to leverage its position and popularity as a luxury watch brand to introduce and elevate the organizations it chooses to partner with. So far, that has resulted in some fairly interesting watches spanning some incredible causes. The New York Harbor LE with Billion Oyster Project was the most unique collaboration I have seen from Oris. But the collaboration with Wings of Hope, beyond delivering a couple of beautiful watches, introduces an organization to the public that has certainly touched this watch enthusiast and deserves all the attention it can get.
Wings of Hope — Pilots with a purpose
Wings of Hope is a humanitarian nonprofit organization that focuses on the use of light aircraft to provide relief. It operates various endeavors both domestically in the United States and abroad, serving vulnerable communities in remote areas. In the United States, Wings of Hope has its Medical Relief & Air Transport (MAT) program, which endeavors to transport individuals from remote areas to hospitals where they can receive the specialized care they need. During our day at the Wings of Hope hanger and headquarters in St. Louis, Missouri, I got to witness firsthand a flight arriving from rural Iowa so a young man could receive medical treatment for his rare condition.
The MAT program does not regard economic hardship when considering candidates. The focus is geographic hardship. If a patient needs regular treatment from a facility that could be as much as a day's drive away, Wings of Hope can provide transport in a fraction of the time at no cost to the patient, allowing for better access to necessary and often life-changing medical care. As a testament to its dedication, Wings of Hope commits to provide transport for each patient it takes on until their treatment is completed.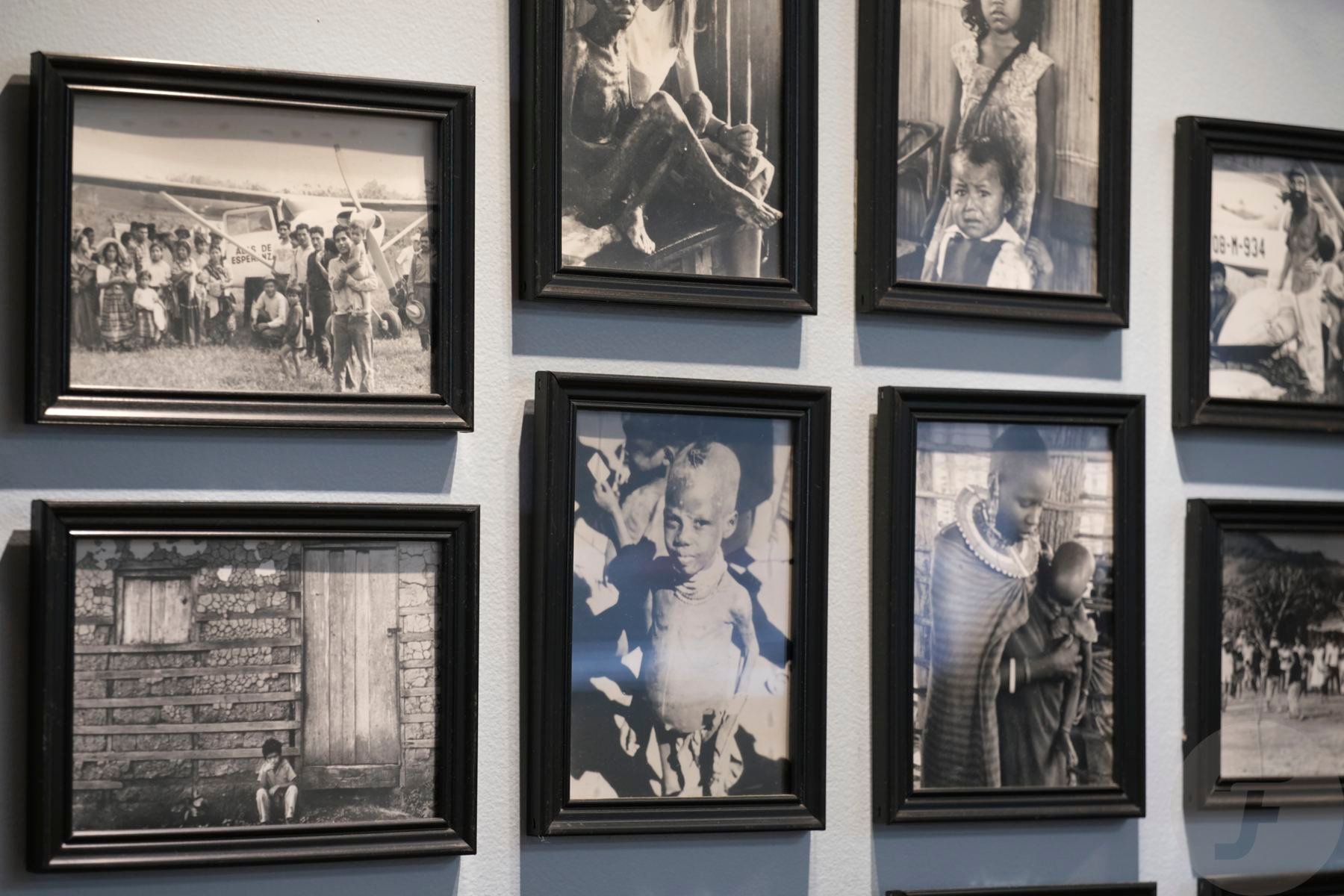 Wings of Hope abroad
Wings of Hope also operates in nine other countries, providing medical relief to hard-to-reach communities. In the Amazon rainforest of Ecuador, that looks like regular excursions out to remote indigenous villages in the jungle, providing both medical supplies such as snake anti-venom and medical transport back to the town of Shale for serious emergencies. These relatively quick flights save lives when access otherwise requires days of driving, hiking, and even canoeing to reach these communities.
Wings of Hope also operates in the Asia-Pacific region and Africa. It's in Africa where Wings of Hope originated, all to do with some flying nuns and famished hyenas.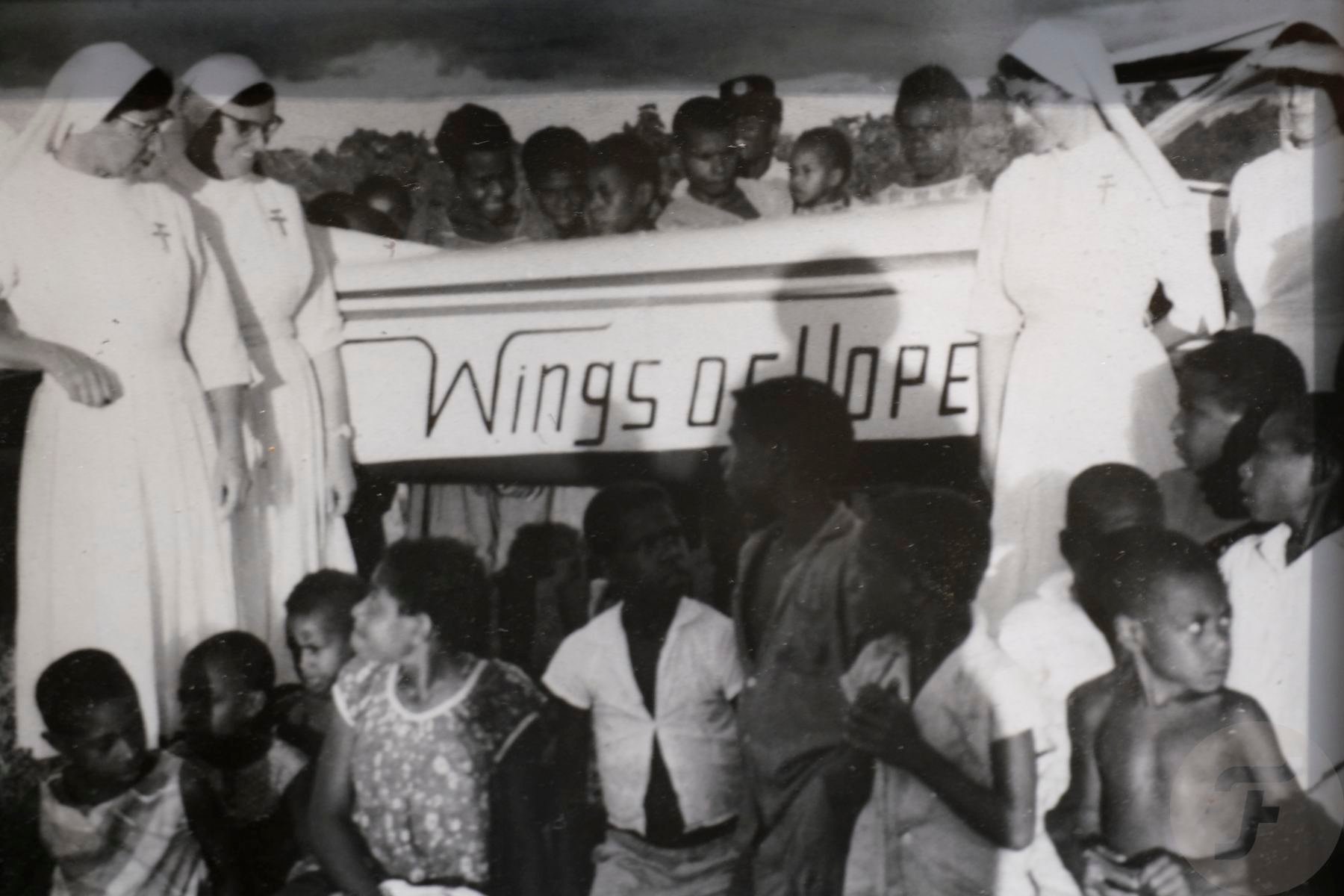 An origin in flying nuns and hyenas
A severe drought in 1959 in the northwest desert region of Kenya known as Turkana led to widespread famine conditions. In desperation, the Kenyan government opened its borders to Catholic missionaries who could leverage their resources to provide relief. Originally, transport to remote communities was by land, resulting in grueling 15-hour excursions over rough terrain. Eventually, the possibility of flight was presented, and funds were raised for a new Piper Super Cub 18A. Meanwhile, Sister Michael Therese Ryan was completing her pilot's license, becoming the first Catholic nun to pass her flight test on the first try.
Sister Ryan piloted the Piper to and from remote Turkana communities with other nuns, providing necessary food and medical relief. However, problems quickly arose with nearby hyenas. The Pipe Super Cub's wings were composed of canvas stretched taught across frames. Unfortunately, the canvas was glued using a horse-based adhesive, one that attracted local wild carnivores. Hyenas ended up eating the Piper's wings in the night. Another solution was needed.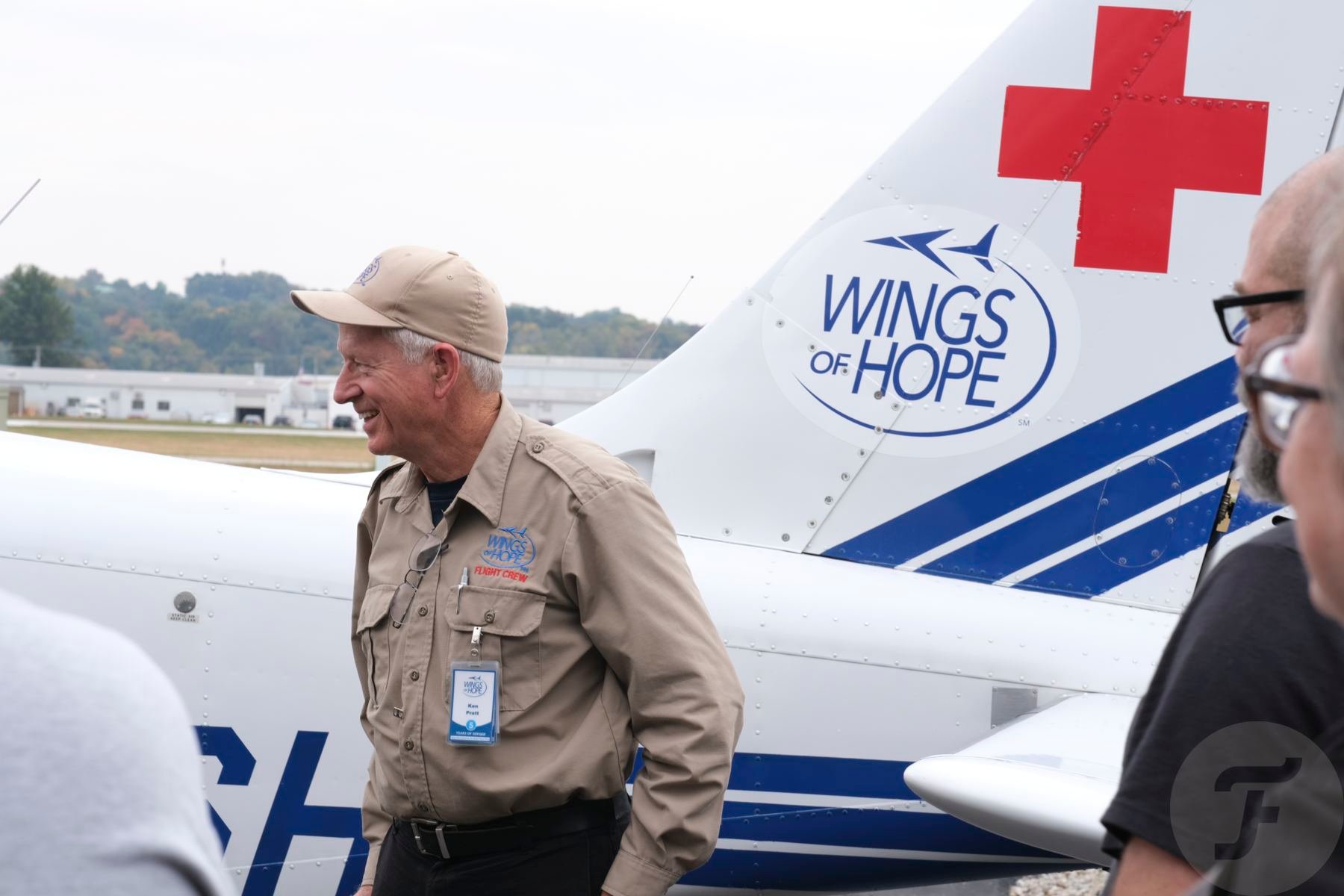 The establishment of Wings of Hope
Some American businessmen got word of the unique problems facing the "flying nuns" of Turkana, and fundraising soon commenced for a non-edible plane. Money soon poured in, with more than half of the total coming from non-Catholic sources. In 1965, a Cessna U206 left St. Louis and began its long series of flights to Kenya for delivery.
Word of the businessmen's efforts spread, and requests for aircraft came flooding in from all over the world. Joe Fabick of Fabick Tractor Company and some other key businessmen in St. Louis founded Wings of Hope as an aircraft-based solution to humanitarian challenges. It was to be non-political and non-sectarian. Wings of Hope and its mission have only continued to grow since then.
Relief without religion
Though Wings of Hope's origins lie in missionary work, the organization remains staunchly agnostic. In a presentation by Wings of Hope's international coordinator, we learned that Wings of Hope meets with communities on their own terms to determine what help, if any, the organization can provide. Pilots and other staff are regularly called to prayer by indigenous leaders during trips to the Amazon. The Wings of Hope headquarters houses many gifts from various communities, including masks, spears, necklaces, and skins — all tokens of gratitude. Wings of Hope works hard to involve local organizations in the mission, eventually serving as a facilitator, advocate, and supporter of local relief efforts.
Wings of Hope has worked to provide pilot and other training to local indigenous peoples instead of attempting to outsource staff and volunteers. But Wings of Hope's roster is mostly filled with volunteers, numbering over 350. Many are retired, and some are former pilots, but they come from all walks of life.
And it takes a village, as the saying goes. A multi-faceted operation as widespread as Wings of Hope requires careful planning. The focus on medicine and treatment requires the knowledge and skill of medical personnel. Of course, pilots are an integral part of the organization, but it's the crew of mechanics, coordinators, fundraisers, medics, and janitors that make the operation possible.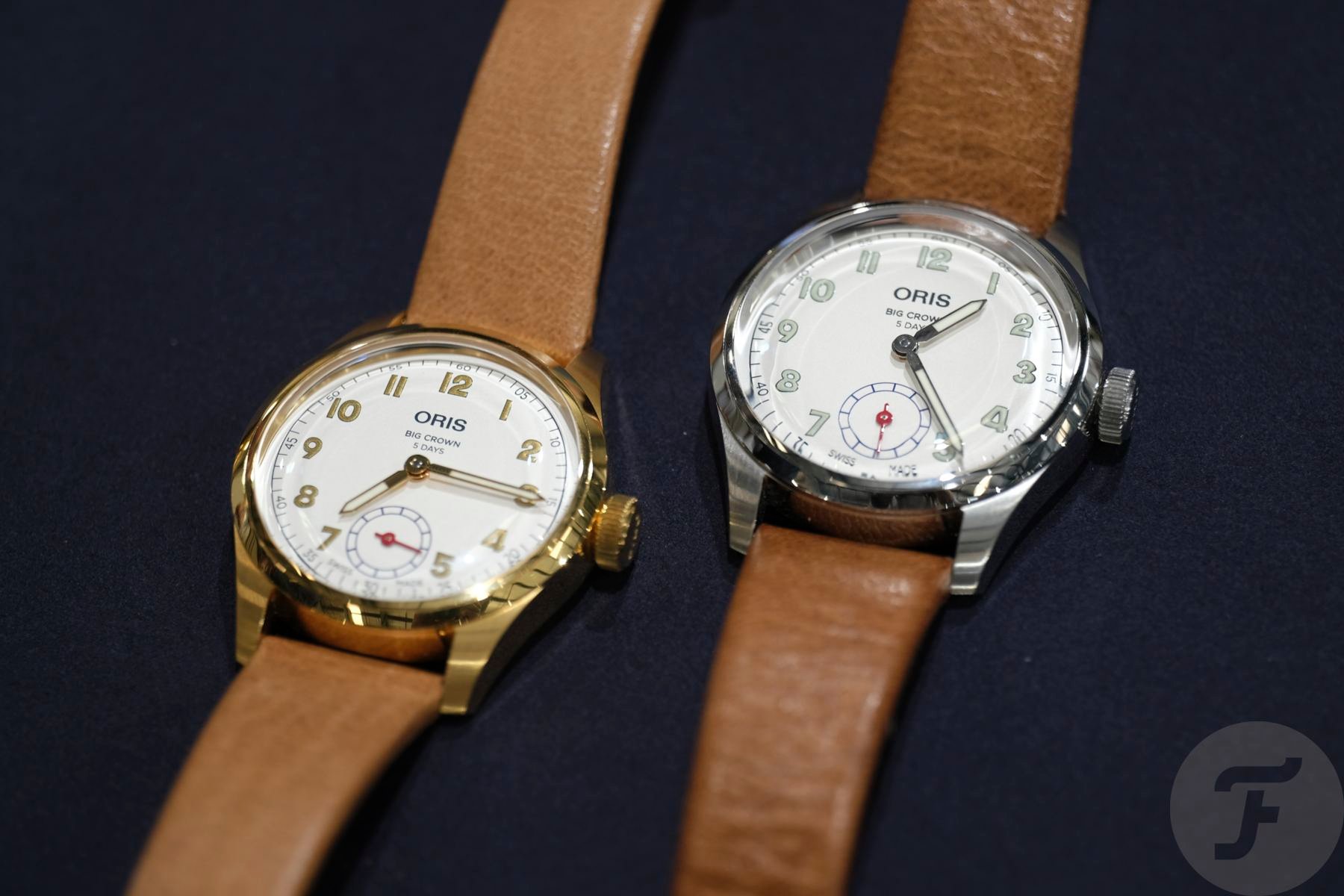 Oris's involvement with Wings of Hope
It was important to Oris to lift the incredible efforts of all of these individuals up and honor them with a pair of watches. Sales from both the gold and steel Wings of Hope Limited Edition Big Crown watches will go directly to the Wings of Hope organization. But Oris's efforts will further impact Wings of Hope through the press and subsequent increased awareness of the organization with the release of these watches. I am party to that endeavor, but I'm happy to have the real estate usually reserved solely for watch specs and general critiques on design commandeered for a more noble cause.
Considering Wings of Hope is largely volunteer and donation-supported, increased awareness is one of the best things any partner can do beyond directly donating time and money to the effort. Oris hosted a national sales training event in conjunction with the press trip to Wings of Hope that I was on. The more than fifty trainees went to Wings of Hope the day after the press and ended up packaging 5,000 meals for delivery to one of the territories Wings of Hope serves. I had to find that out from Instagram and talking to people attending the sales training. That's Oris further leveraging its position for good.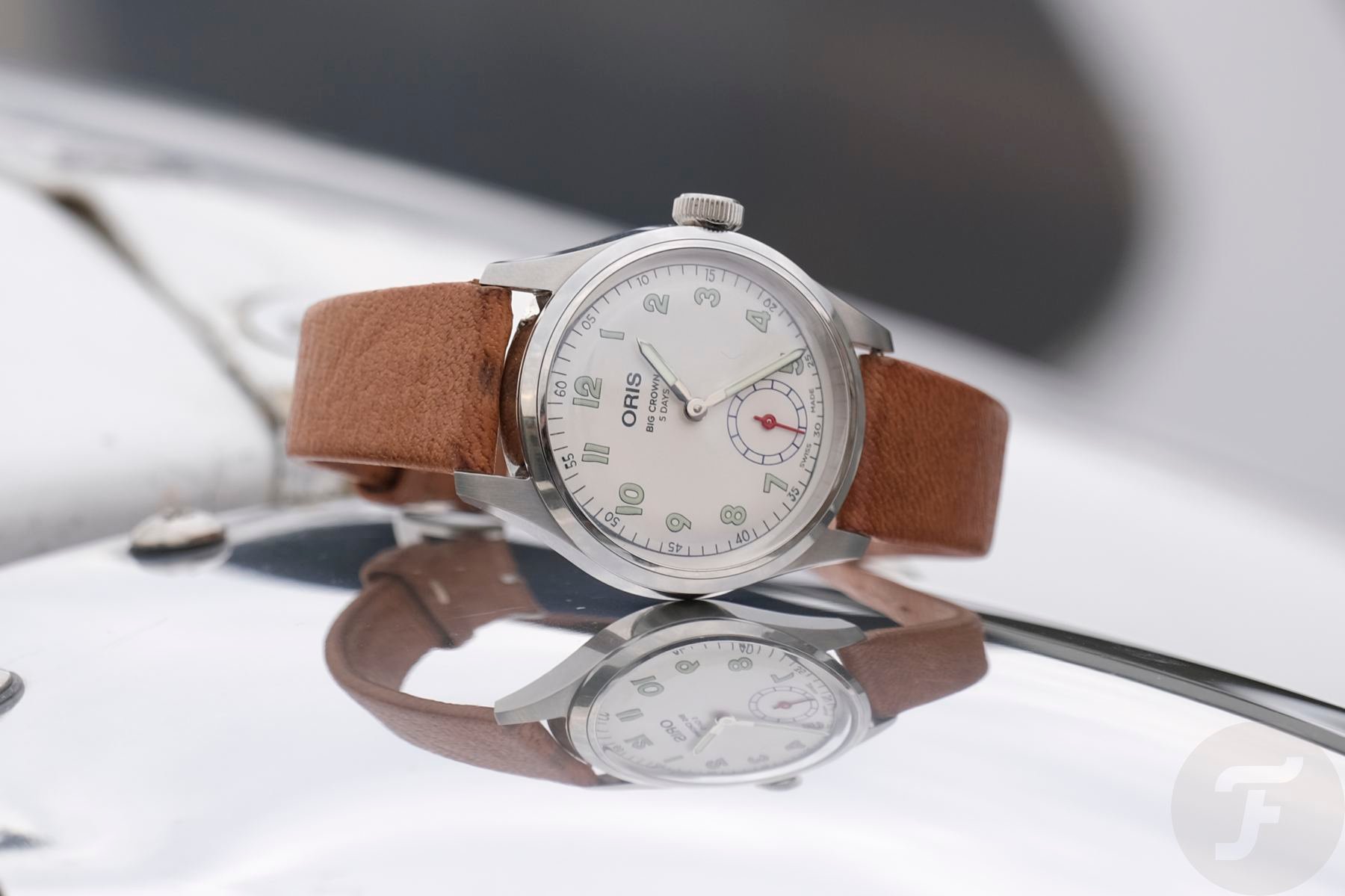 Wings of Hope Limited Edition Big Crown in steel
And now to the watch. The Wings of Hope Limited Edition in steel is the latest addition to the Oris Big Crown line. It measures 40mm in diameter in the more modern variant of the Big Crown case we initially saw with the 2021 Oris Holstein edition. The dial is a clean white lacquer with light green numerals. As it has Oris's Calibre 401 in it, a seconds sub-dial sits at 6 o'clock with a blue outline and red hand.
Calibre 401 shares specs with the rest of the 400 series. It has a beat rate of 28,800 and 24 jewels. The power reserve is an impressive five days (120 hours). It's extremely antimagnetic and accurate to within +5/-3 seconds per day. Like all 400-series movements, it has a 10-year service interval and warranty. What sets the 401 apart from its siblings is the lack of a date and small seconds at 6 o'clock.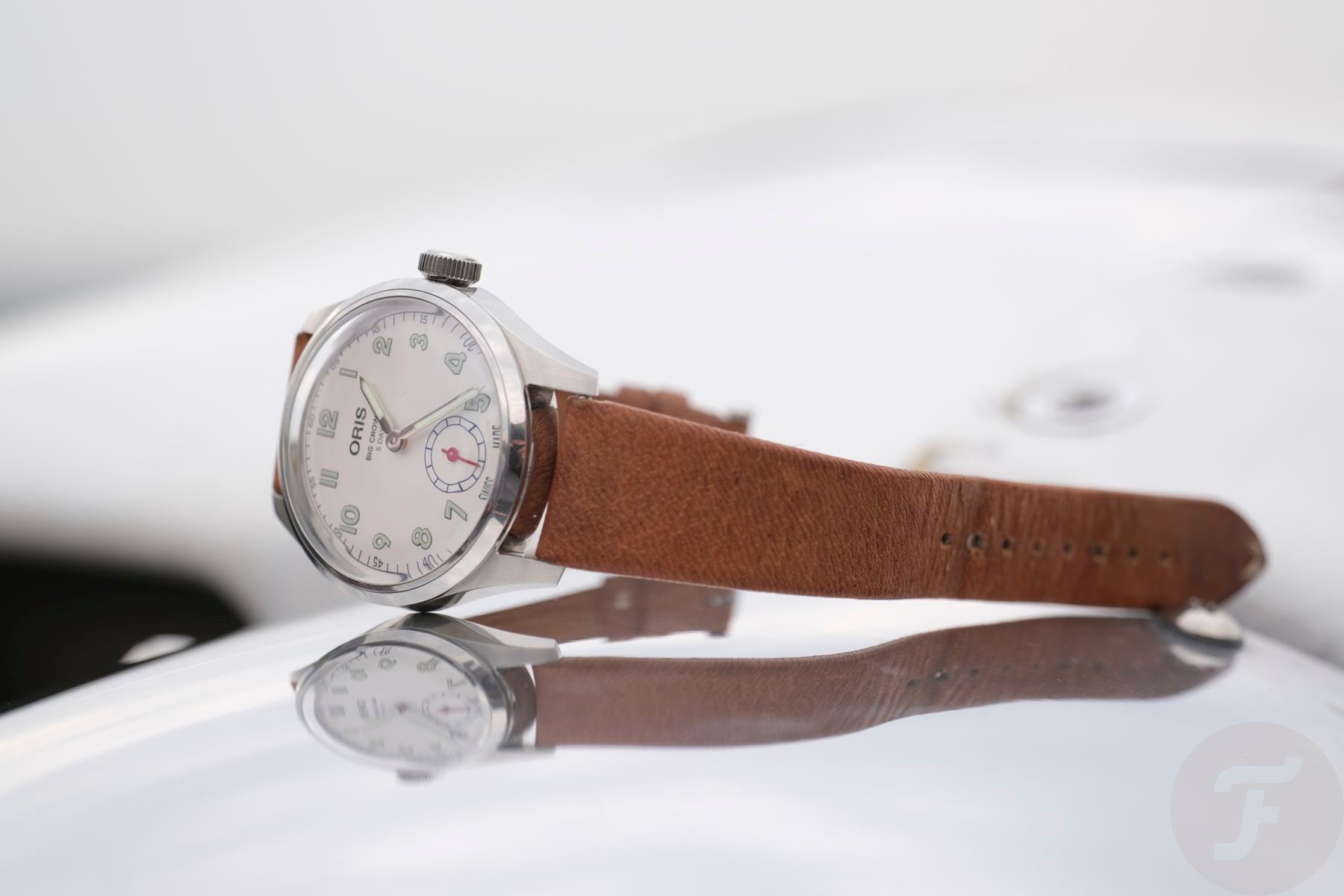 40mm is still sweet-spot territory
I got to spend time with the steel Wings of Hope Limited Edition during the visit. Before seeing it in the metal, I was apprehensive that the 40mm diameter would look large on my smaller wrist, especially after it seemed like Oris had honed the design with the 38mm case size previously. My fears were unfounded. It's a perfectly proportioned pilot's watch that both felt and looked good on my wrist. In fact, the 38mm gold model felt a little small for me. Strange, considering I find 38mm to be my personal sweet spot for most watches. But the perfect size is down to the watch, not the wrist.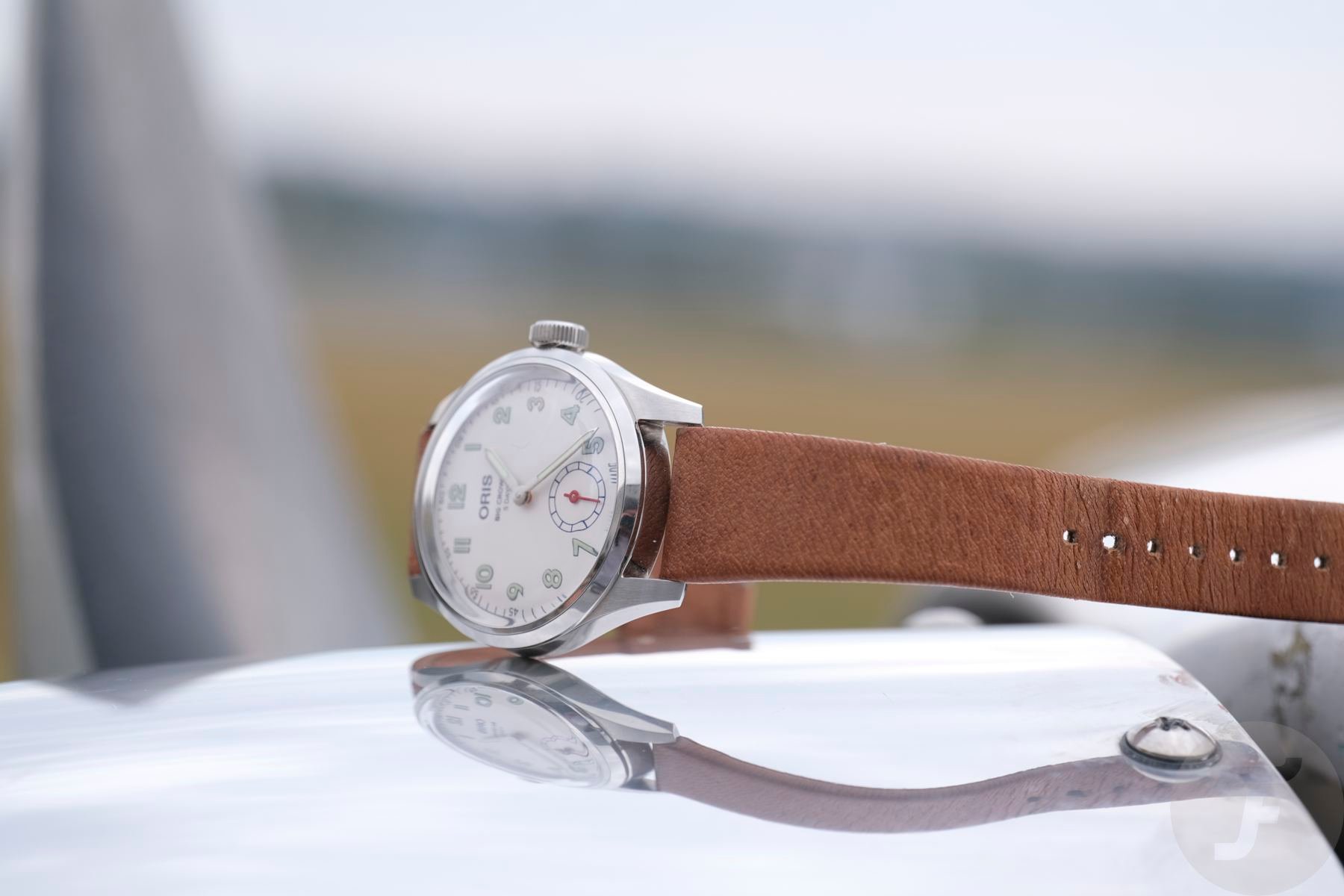 The Wings of Hope Limited Editions come on upcycled deer-leather straps from Oris's partner Cervo Volante. It's an endeavor I've been excited about. However, I was disappointed to find that after all the trying-on that these models were subjected to, the straps were not wearing in as well as I would've liked. They were not picking up the patina and warmth that other leathers exhibit over time and instead looked tired. Disappointing, yes, but nothing a new strap can't fix. In this day and age, I believe most of us are relatively quick to switch out straps on watches with standard lug widths.
Availability of the steel Wings of Hope Limited Edition Big Crown is limited to 1,000 units. They retail at CHF 3,300 and are currently available for purchase. More information about the watches and Oris can be found on the brand's official website.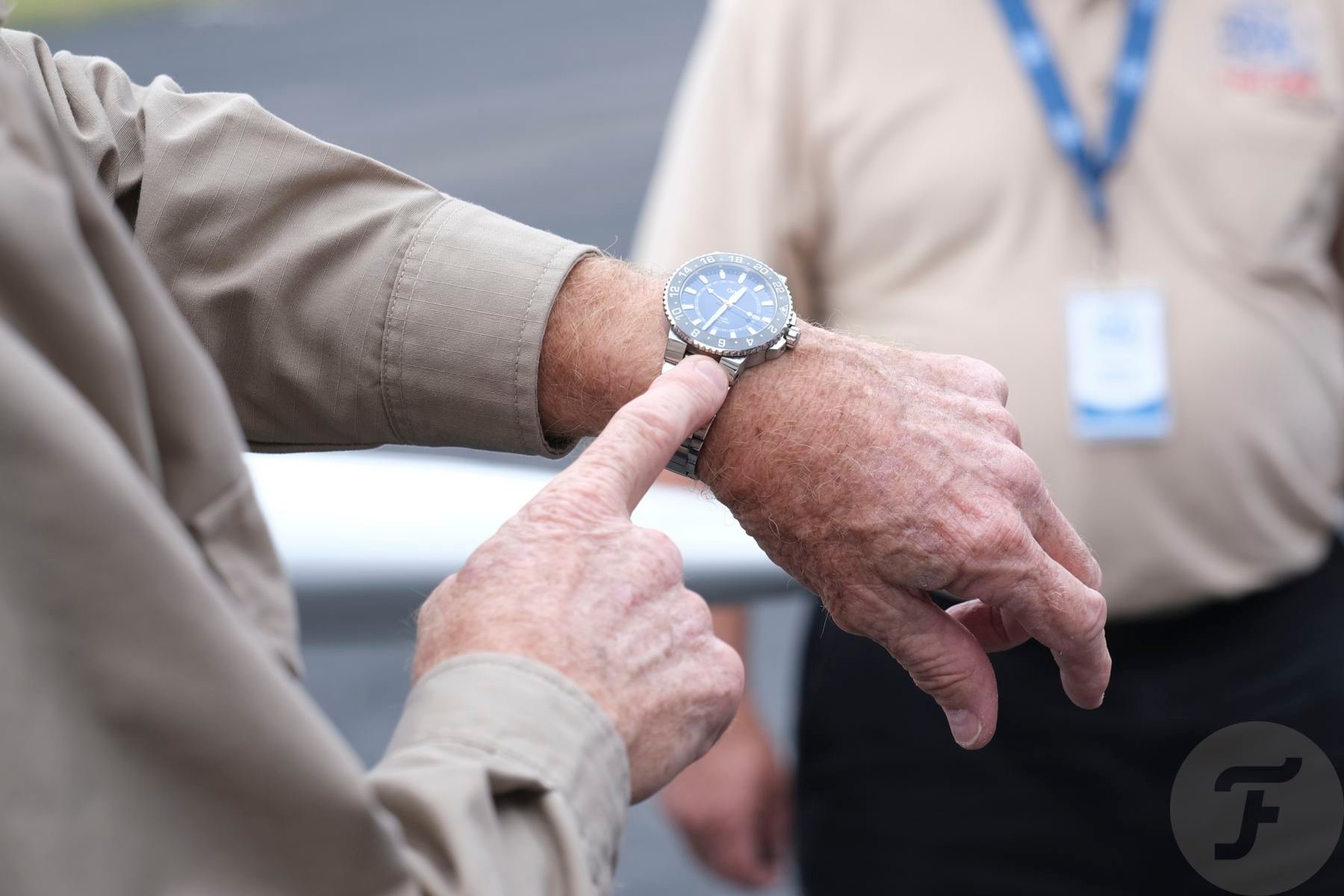 Time for Wings of Hope
I got to spend a little time with some of the volunteer pilots involved with Wings of Hope's domestic MAT program while at the hangar. The pilot featured in the original press images from Oris was noticeably not wearing a watch, which he admitted he felt a little sheepish about forgetting. His usual wearer is an Timex Ironman.
One of the pilots that flew in with the young patient that day was sporting his personal Oris — an Aquis GMT — which he is very fond of. An Aquis diver may not be the most "appropriate" aviation watch, but the GMT function certainly helps. These men are pilots, and these are the watches they're wearing. That makes them "pilot's watches" enough for me.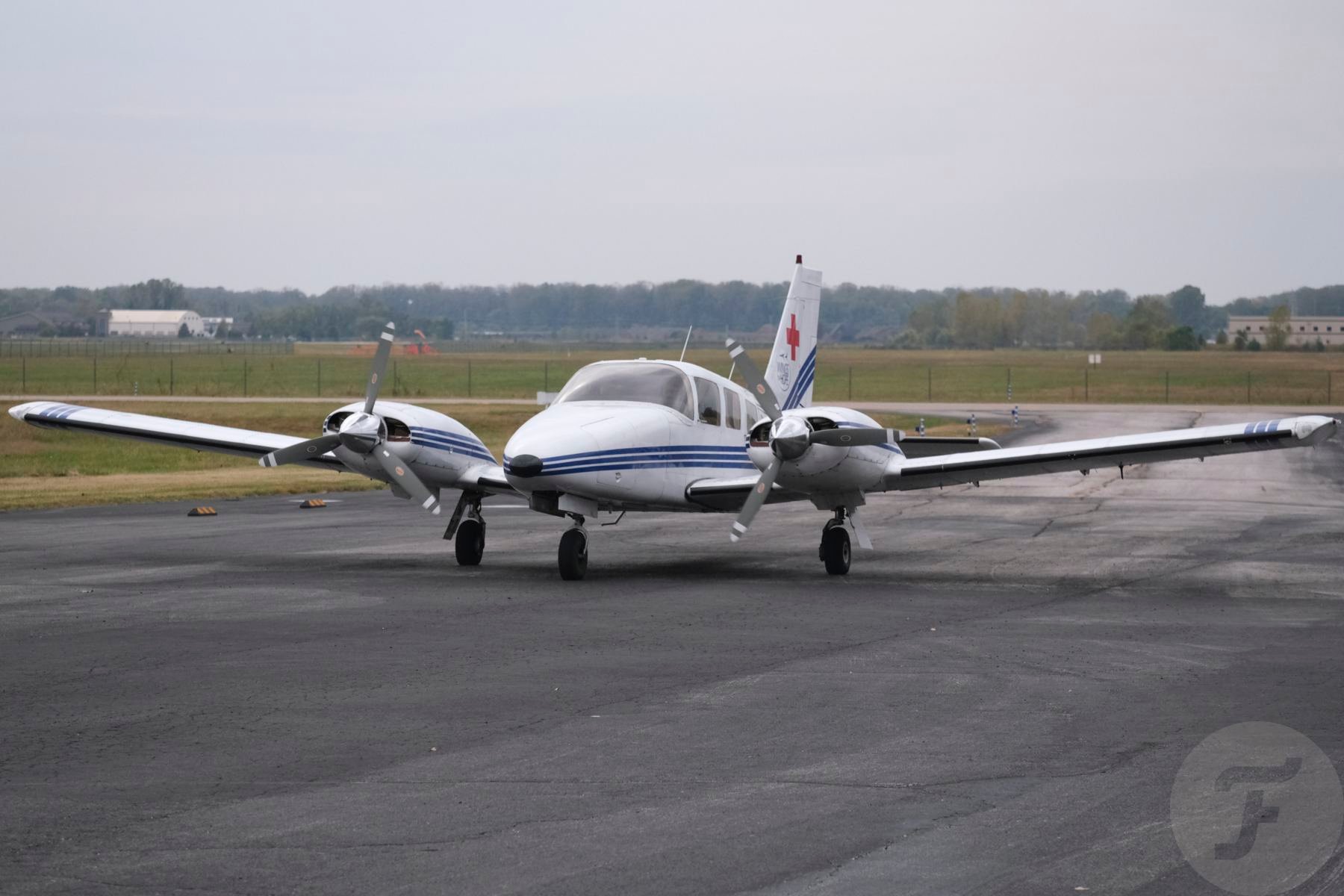 Timing is important for pilots and flight in general. Keeping track of time becomes even more important when coordinating multiple flights over an extended schedule. Add to that the sensitive nature of these flights, and you have an organization that must run like clockwork. I'm happy that Oris partnered with Wings of Hope for its latest limited editions, introducing the organization to me and the rest of the watch world. These two limited editions will hopefully help Wings of Hope take off in ways and realms it didn't have access to before. As I assume they say in the business, time to fly!
More information about Wings of Hope can be found on the organization's official website.
You can find more of me on Instagram: @WatchingThomas