The Rolex Submariner 16610 And Sea-Dweller 16600 Are Becoming Unaffordable
The last approachable Rolex divers are slipping away...
Lately, I've been in some lengthy conversations with a friend who is looking for either a Rolex Submariner 16610 or Sea-Dweller 16600. Imagine my surprise when I looked at the prices of these models! It's time to look back on a couple of popular watches that left us more than ten years ago.
Sure, we talk a lot about Rolex, but hardly a day goes by when someone doesn't message with questions about one of their models. New or old, they're always on people's minds. Recently, it seems people are turning their attention to modern models that were discontinued roughly ten years ago. The Rolex Submariner 16610 and the Sea-Dweller 16600 are two dive watches from the same period. Their differences are subtle, but one thing makes them incredibly similar: their prices! These watches are whipping kids no more! Sure, they're still the most approachable of the stainless steel divers, but the times are past when they were truly a "deal." Let's briefly discuss each and some thoughts.
The Rolex Submariner 16610
For those of us in our thirties up into the fifties, I'd wager that the Rolex Submariner 16610 is THE watch that comes to mind when the word "Rolex" is uttered. This Submariner Date model was made for an astonishingly long time. It came out in 1988 and was finally discontinued in 2010. During almost 25 years of production, it went through several minor updates, but the face remained the same. Early models used tritium dials, 93150 bracelets with stamped end links, and had drilled lugs. In 1999, Luminova joined the party. Then, a year later, Super-Luminova came as well as solid end links with the 93250 bracelets. A few years into the millennium, the lugs lost their holes.
As mentioned, though, the dial remained similar design-wise for the entire period. The Rolex Submariner 16610 brought a 40mm case, 300 meters of water resistance, and the unflappable chronometer-certified 3135 automatics with their quickset dates. Bob's Watches has a very informative article about the history of the 16610 and they make an interesting point about desirability. We will never know how many 16610's were sold, but it was far more popular than the no-date 14060. It seems that most people, aside from watch geeks, love a date complication!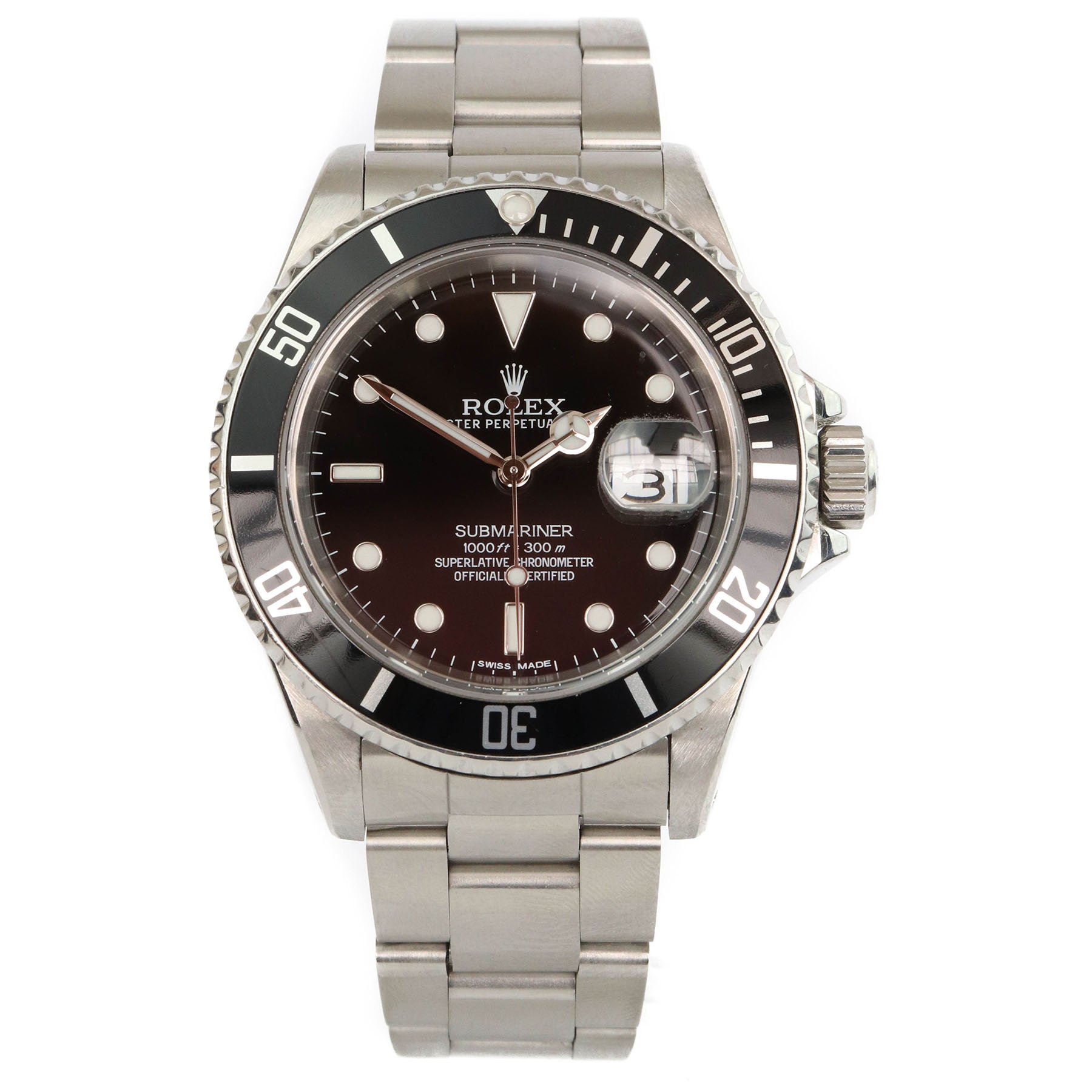 The 16610 remained stable for a long time
Regarding desirability amongst collectors, the Rolex Submariner 16610 has lagged behind the 14060. Despite the fact that it was initially more expensive than the no-date version, it's now slightly less expensive. In fact, when the 14060's really started to wake up over the past couple of years, the 16610 sat idly in the mid €6's. Now, though, things have changed and a decent model is easily over €8,000. One can add more to the tab for original boxes and papers.
For me, the Rolex Submariner 16610 has never been a favorite. I am one of those people who can live without a date function and the 14060, especially the 14060M that I own, is a real favorite. That model really stayed true to its roots up until its demise in 2011. Regardless of this, the 16610 is a bona fide classic and has finally become attractive to collectors. Furthermore, it could be argued that the 16610 is the watch that put Rolex on the map for the current generation. I also think that it is responsible for making a stainless sports watch acceptable in most environments. Will I own one? I highly doubt it, but it's modern enough for anyone to wear every day and it should hold its value.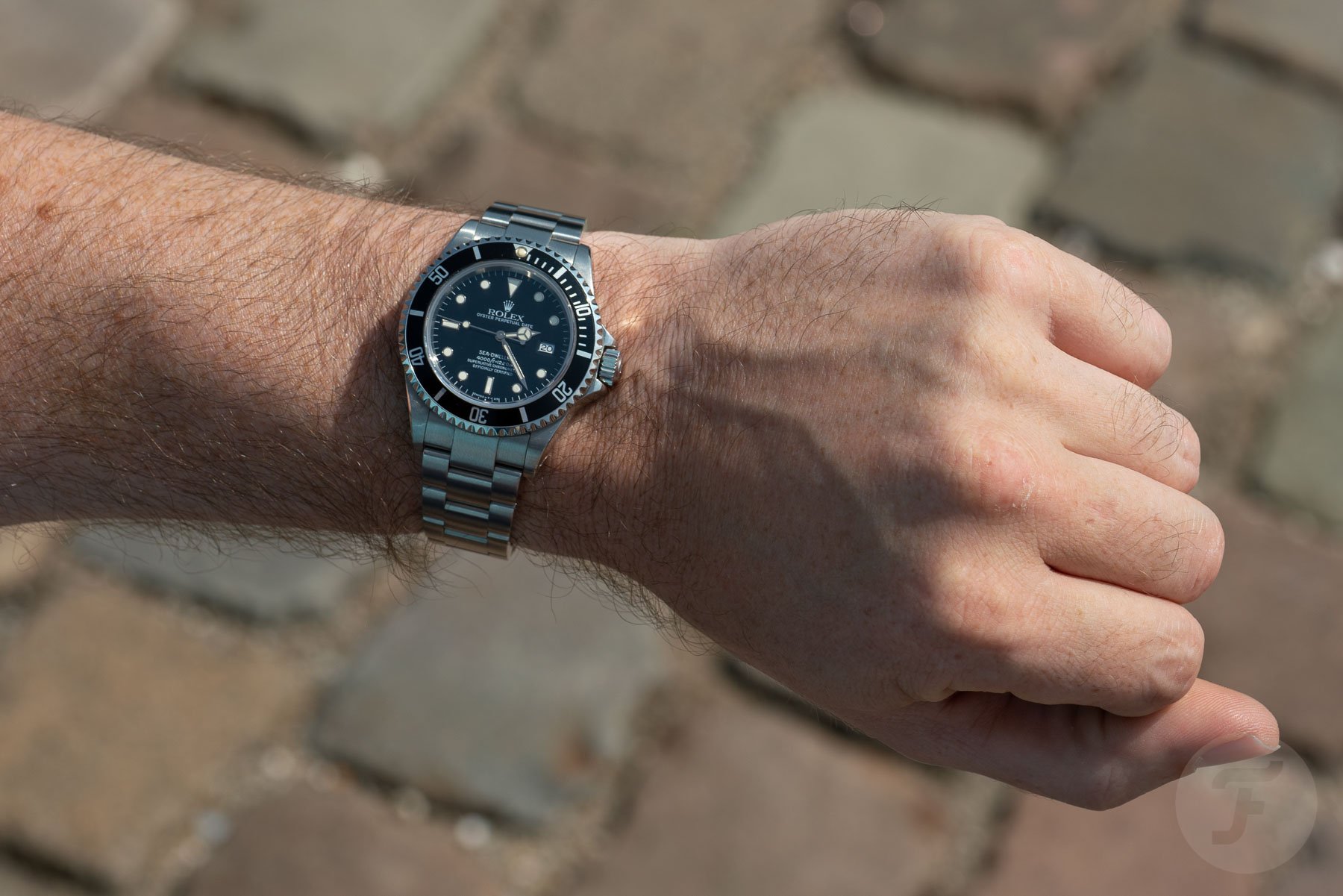 The Rolex Sea-Dweller 16600
The other piece that has woken up from a Rip Van Winkle-esque slumber is the Rolex Sea-Dweller 16600. A newcomer to the brand's back catalog would take one look at this watch and question the difference between it and the 16610. What I love about the Sea-Dweller is that it was built for a purpose. Granted, this purpose was for professional and saturation divers, so it is complete overkill for almost all who own it. Who cares, though, because this line has always showcased the best of what Rolex can offer as far as underwater durability and capability.
The Sea-Dweller 16600 joined the 16610 in 1988 when it hit the shelves and brought some similar specifications. This model also has a 40mm case, but has a crazy 1200 meters of water resistance. Due to this, the thickness grows from 13mm to 14.8mm and the watch adds a helium valve. Other differences are a case back adorned with engravings (not common for Rolex) and a taller unidirectional bezel. The defining characteristic of this model (and most Sea-Dwellers for that matter) is a crystal sans Cyclops despite the use of the 3135 movement with date function.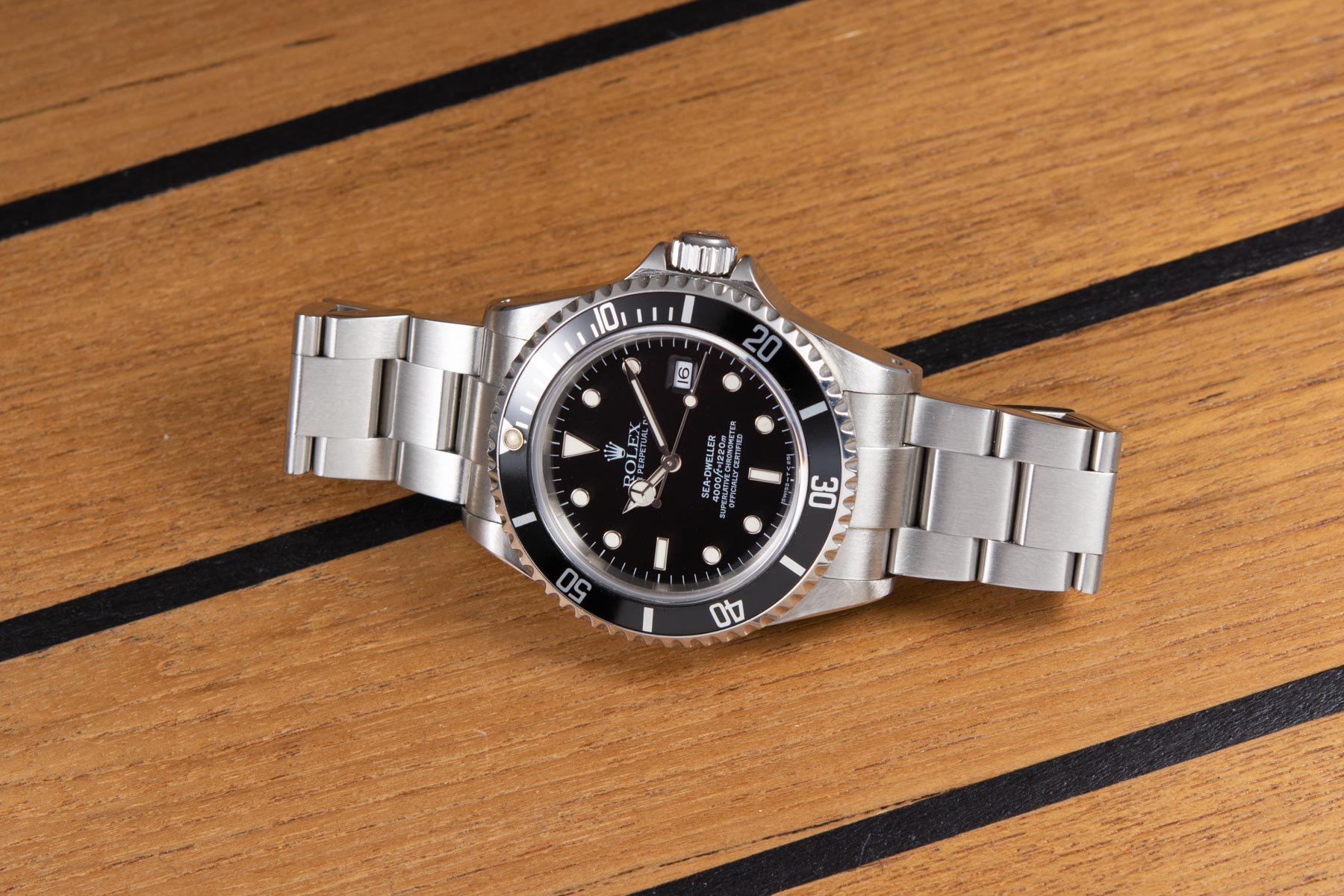 A serious dive watch
Aside from the Sea-Dweller's cleaner looks over the Rolex Submariner 16610, I always wondered what made people choose this watch when it was new. I think some simply wanted the top-of-the-line dive watch from Rolex or maybe they just liked the extra heft. Speaking of that, the Sea-Dweller is a chunkier nugget on the wrist, but it's still thinner than a lot of current dive watches. Our Robert-Jan is a good example of someone who loves this watch and he had one, sold it, and then re-added one to his collection.
By the time the Sea-Dweller 16600 went the way of the dodo in 2008, it had followed the same lume trends as the Submariner Date. It also had lug holes in the beginning, so the watch does have some vintage touches that collectors tend to enjoy. One funny story is worth sharing. Back in the 2008 timeframe, my Dad visited a Rolex AD in South Florida. This AD had purchased over 100 remaining 16600's and had them for sale. I think my Dad ended up buying a new one for something like 20% off. Imagine that today!
The Sea-Dweller 16600 did go out with a bit of a whimper and things remained quiet for many years. These watches hung out in mid-€5's to the early €6's for the longest time. Now, though, if you'd like a good one, budget at least €8,000 and assume a slight premium over the Submariner 16610. Similar to the Submariner, I see little difference in value between early and later models.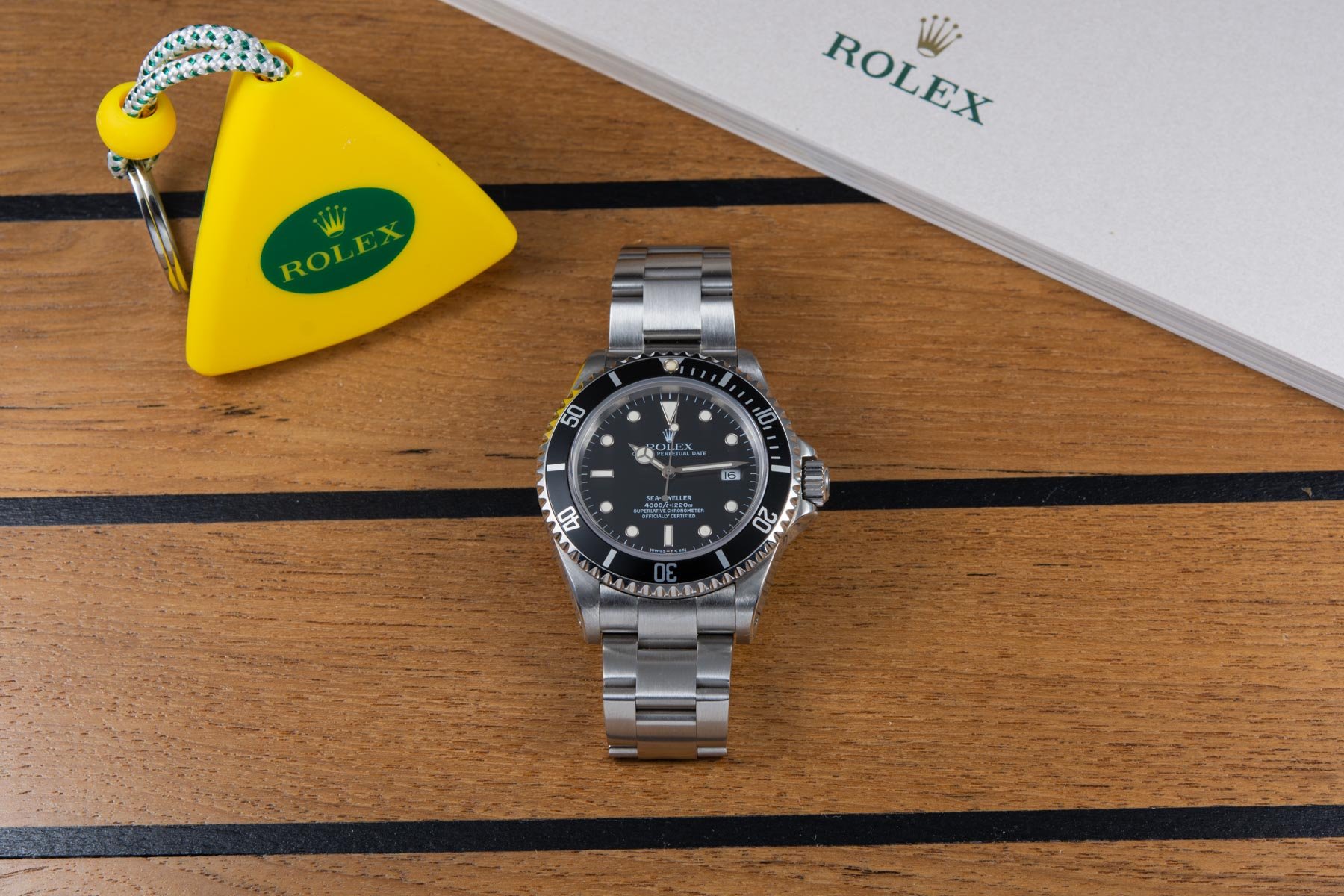 Final thoughts
Models like the Rolex Submariner 16610 and the Sea-Dweller 16600 were the last of their kind. They had sculpted cases, chamfered lugs in some instances, aluminum bezels, stamped clasps, and stamped end links on earlier models. On the other hand, the movements are bulletproof and with regular servicing, they can be worn daily. What's more is that aside from bezel fading, Super-LumiNova models will never really age. Are these watches the next greatest investment? Who knows, but with current Rolex list prices escalating every year, I'd guess that these will continue to climb at some rate.