The Yema Superman Full Lume — A Great Partner To Spend The Night With
The watch that finally got me excited over Super-LumiNova!
There are some people who refuse to buy a watch simply because they find its lume performance unsatisfactory. I am not one of those people. I mean, I do enjoy good lume on a watch, especially when I put my kids to bed or walk from the garden to the kitchen. But lume is certainly not an essential part of a watch for me, nor is it a specific reason to get a watch, for that matter. Well, that's how I felt until I wore the all-new Yema Superman Full Lume for a few days. With this one on the wrist, I couldn't wait for the sun to go down so I could enjoy that fully Super-LumiNova-lit dial. I've finally experienced first hand how exciting lume can be!
When I think about the lume in my own collection, it's probably the Omega Speedmaster and the Blancpain Bathyscaphe that I enjoy the most. Neither of them has a ton of lume on the dial, but it does shine brightly and works very well with the rest of their designs. It's a sophisticated kind of lume application, I'd say. Still, I'm almost certain that the lume wasn't the first thing that came to the designers' minds when they conceptualized those watches. That is certainly not the case with the Yema Superman Full Lume, which is all about that fully lumed polar-white dial. Let's turn off the lights and get it on… the wrist, of course!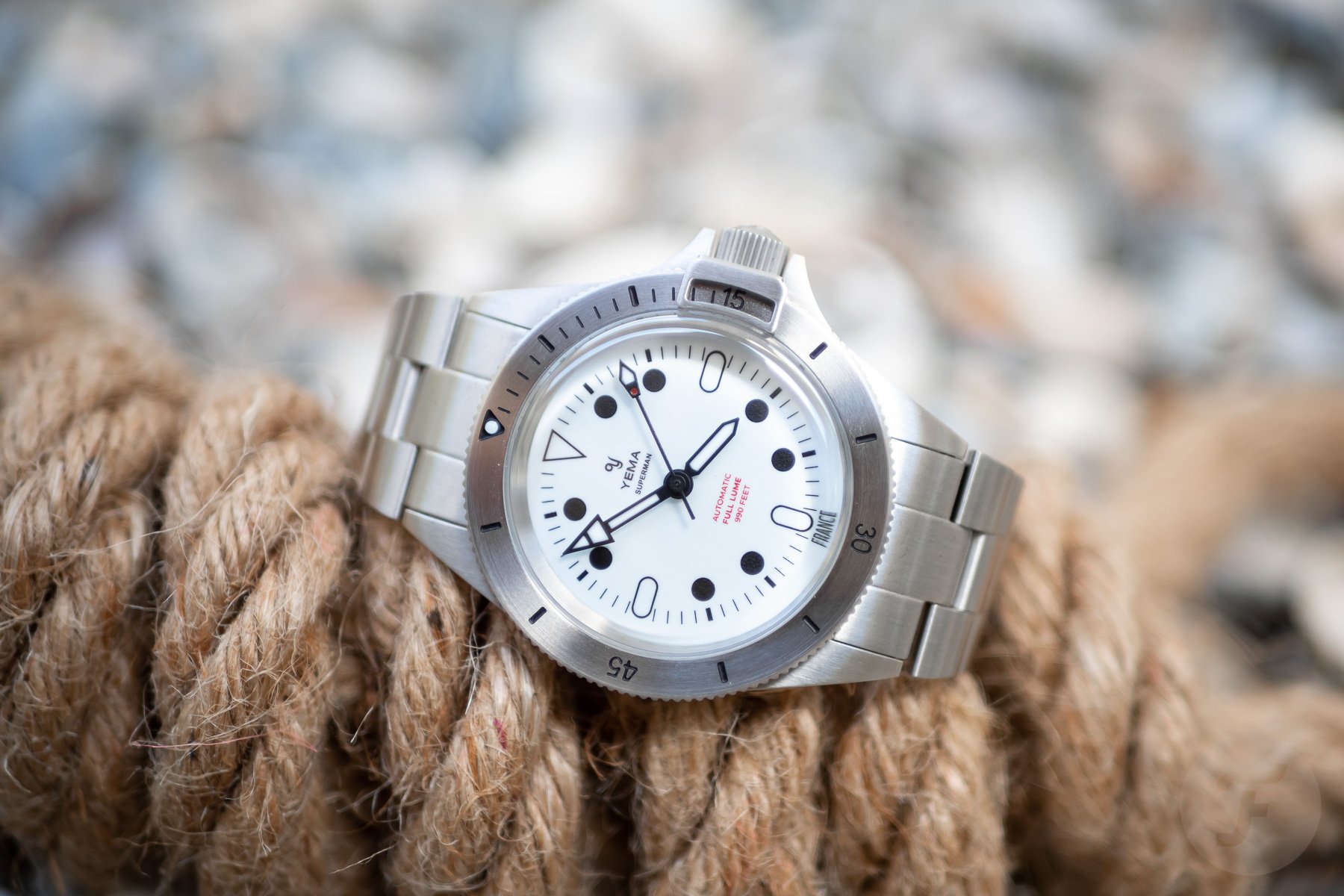 A Superman with an in-house movement
I've been following Yema for a while now. The French brand's fairly affordable and good-looking vintage-inspired watches strike a chord with me. The Navygraf Marine Nationale was especially high on my list of watches to add to the collection. But for some reason, I haven't done that yet, so I was glad I could spend some time with this Superman. The Superman was actually the first watch that Yema developed in 1963. Since then, the brand has released many iterations of it. Right now, if you go to the Yema website, you'll find a Superman model for everyone. You can get a reproduction of that 1963 version. There's a GMT version with a "Coke" bezel. They're even available in bronze. And if you're not a fan of mechanical watches, there are some with quartz movements inside. Today's Full Lume Limited Edition, however, is powered by Yema's in-house automatic caliber YEMA2000.
This movement runs at 4Hz and 29 jewels with a power reserve of 42 hours. Yema says that it has been regulated in four positions for accuracy between -10 and +10 seconds a day. I think it's surprising for a watch at this price point to feature an in-house-developed movement. But, especially for those familiar with the Superman, the case design is somewhat less surprising.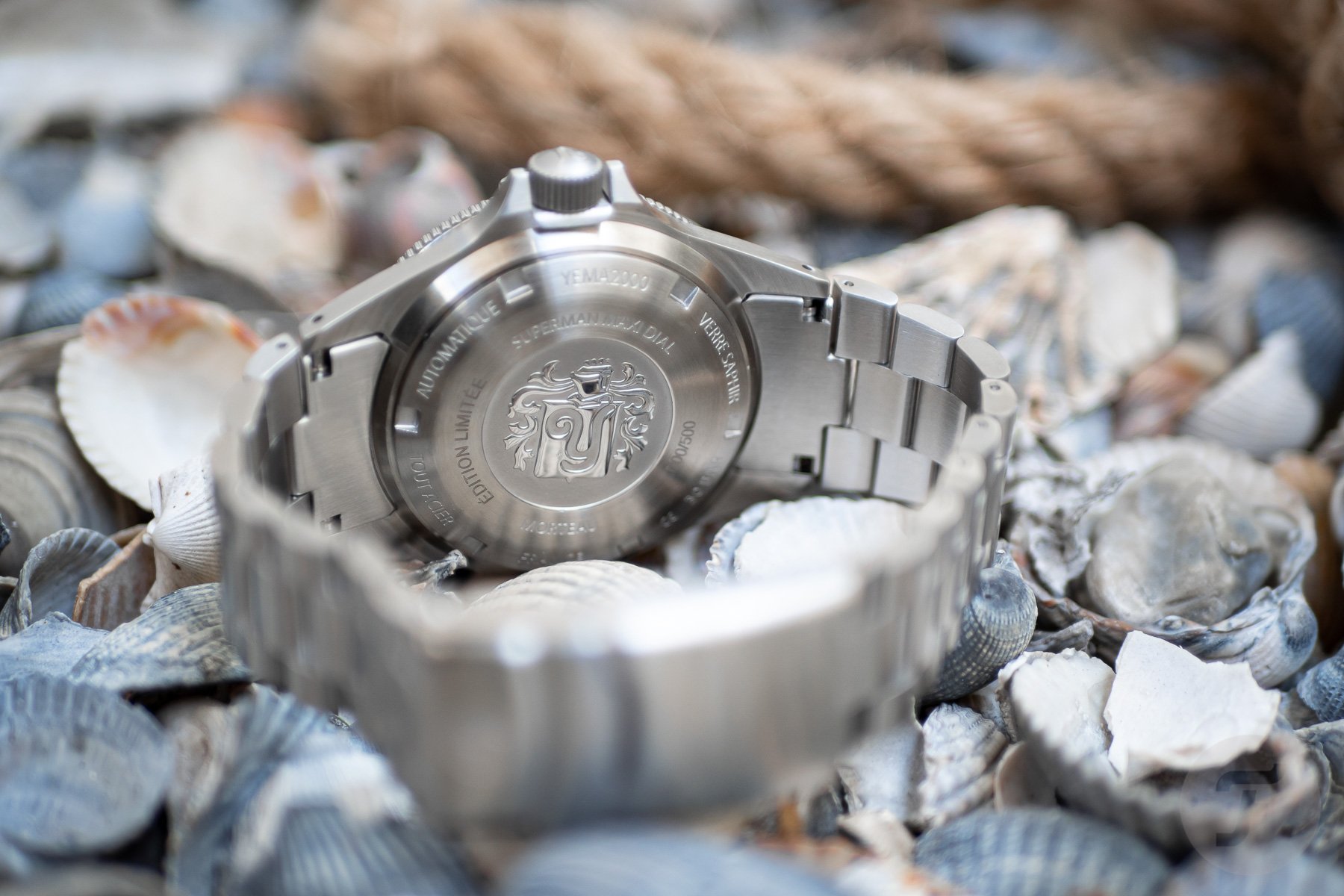 A tried, tested, and familiar design
This is the same case that Yema has used on many of the previous iterations. It's 13mm thick with a very slim mid-case design, thin and pointy lugs, and sharp crown guards. On the Full Lume, there's a steel bezel with a lume pip at twelve. The bezel clamps down with Yema's signature lock, which the wearer can operate through the screw-down crown. Honestly, it looks a bit gimmicky to me, and the bezel action is already quite firm. Thus, I don't really think it's necessary, but it's there, and it does look quite unique. Overall, I think the case looks nice and slender, and the double-domed sapphire (included in the 13mm height) helps to make it feel even more vintage than it already does.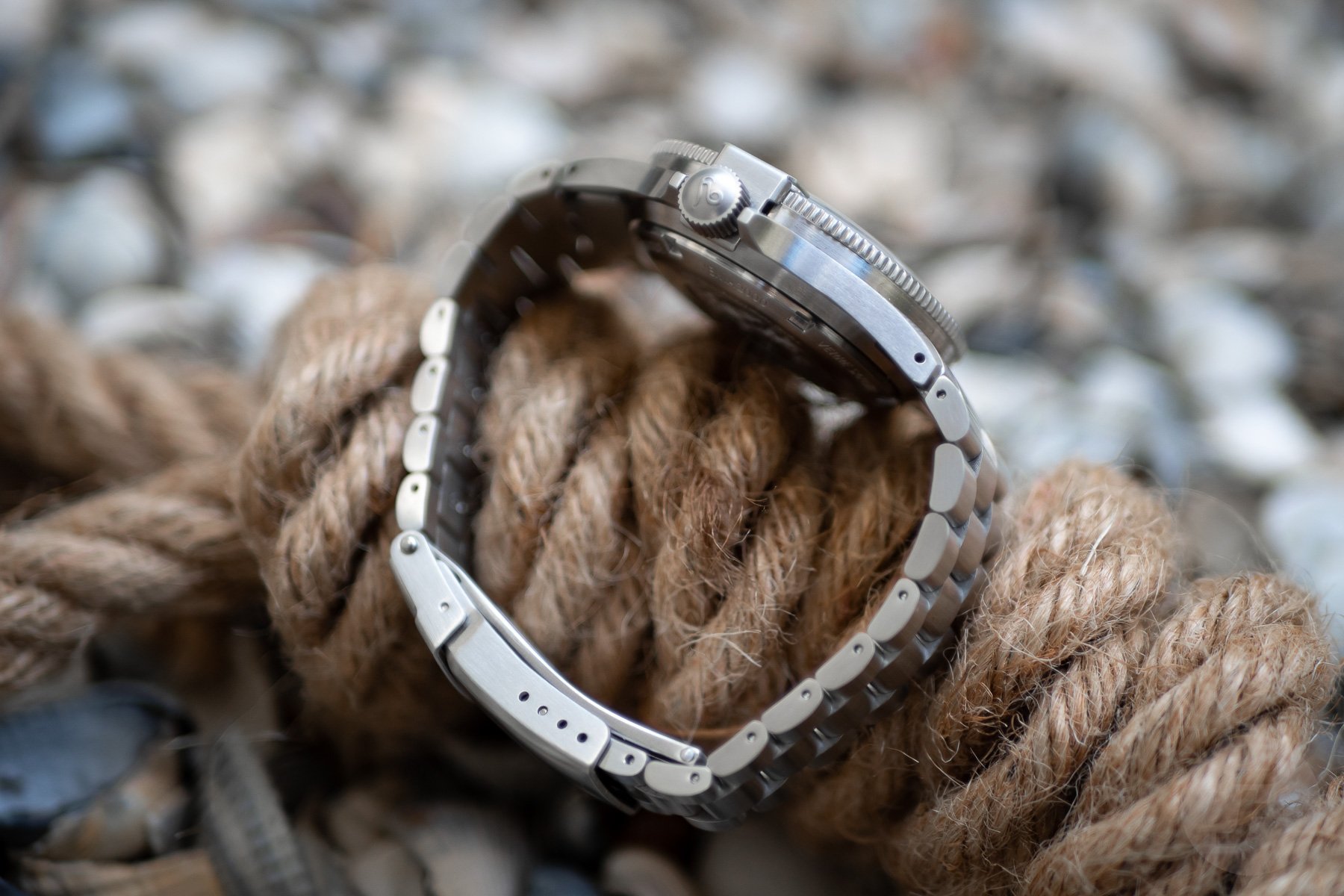 Extended wingspan
The one I've been wearing measures 39mm in diameter, but it's also available in 41mm. I'm glad we got the smaller version because I generally like smaller watches better. But that is especially true in this case, as the lug-to-lug distance seems extremely long relative to the diameter. Actually, at 48mm, the lug-to-lug distance isn't even that bad. But the way this bracelet is connected to the case makes it wear a lot larger than the watch really is. This is because, in addition to the male end link, there's also a non-articulating first link. When you measure the distance between the ends of those first links, the lug-to-lug increases to around 58mm.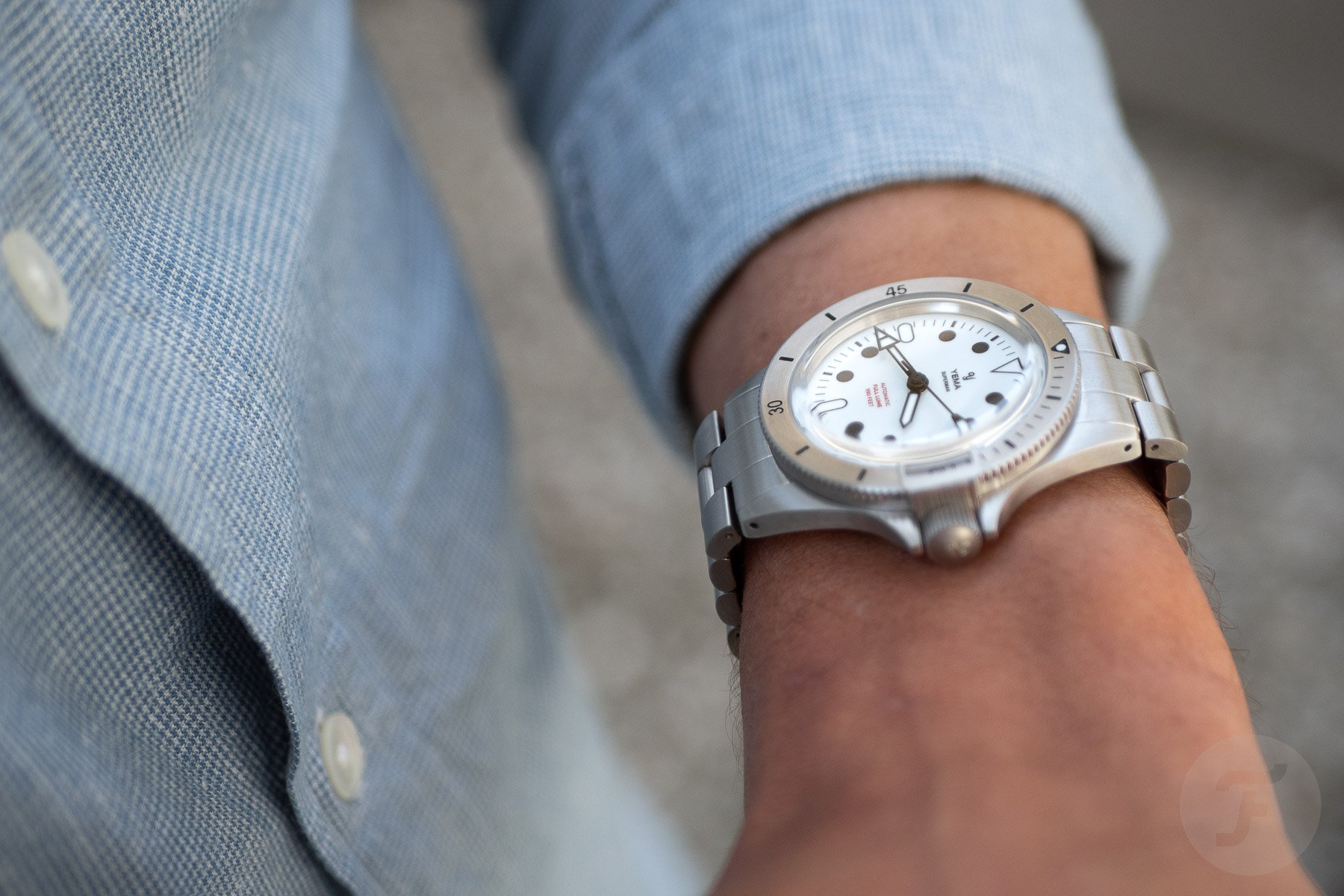 The lugs and those first links do bend down a little bit. Unfortunately, though, I can't really say that the Superman comfortably hugs my 17cm wrist. It's almost like Superman is doing everything in his power to not get his arms in direct contact with my skin. It's a shame because I like the design of the bracelet, including the fact that it starts out as wide as the lugs and then tapers towards the clasp. That clasp, which is a combination of folded and milled parts, also feels sturdy and includes a diver's extension.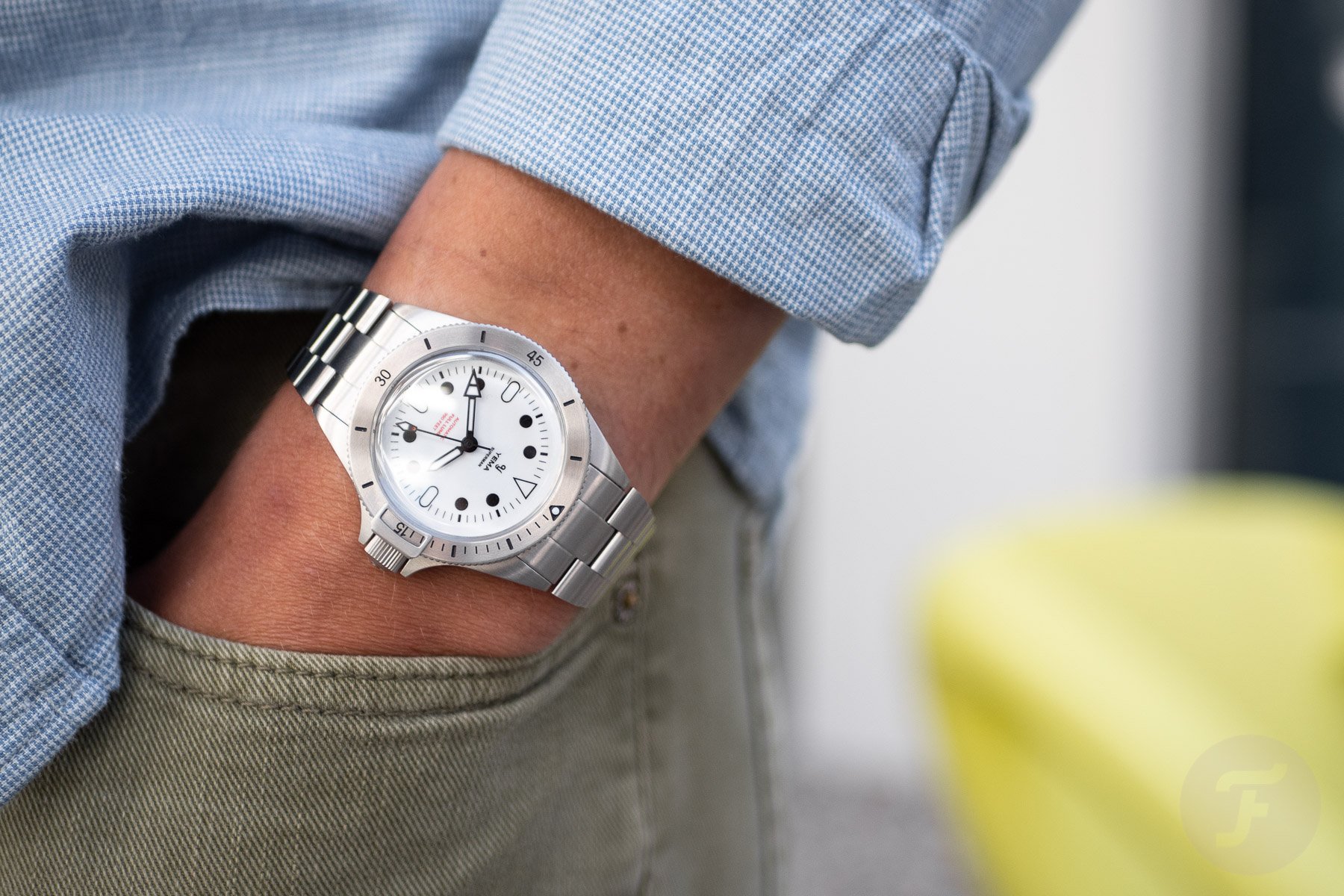 Yema does also offer the Superman on other bracelets with female end-links and articulating links. So, you might be able to swap it for another one, or you can always wear it on a strap, of course. I wore it on a NATO for a little while, and that looked good and wore quite comfortably as well. At least it shortened the lug-to-lug quite a bit. Just keep in mind that the 39mm version has a lug width of 19mm, which doesn't accomodate a wide range of straps. But now, let's get into that super-exciting Super-LumiNova dial!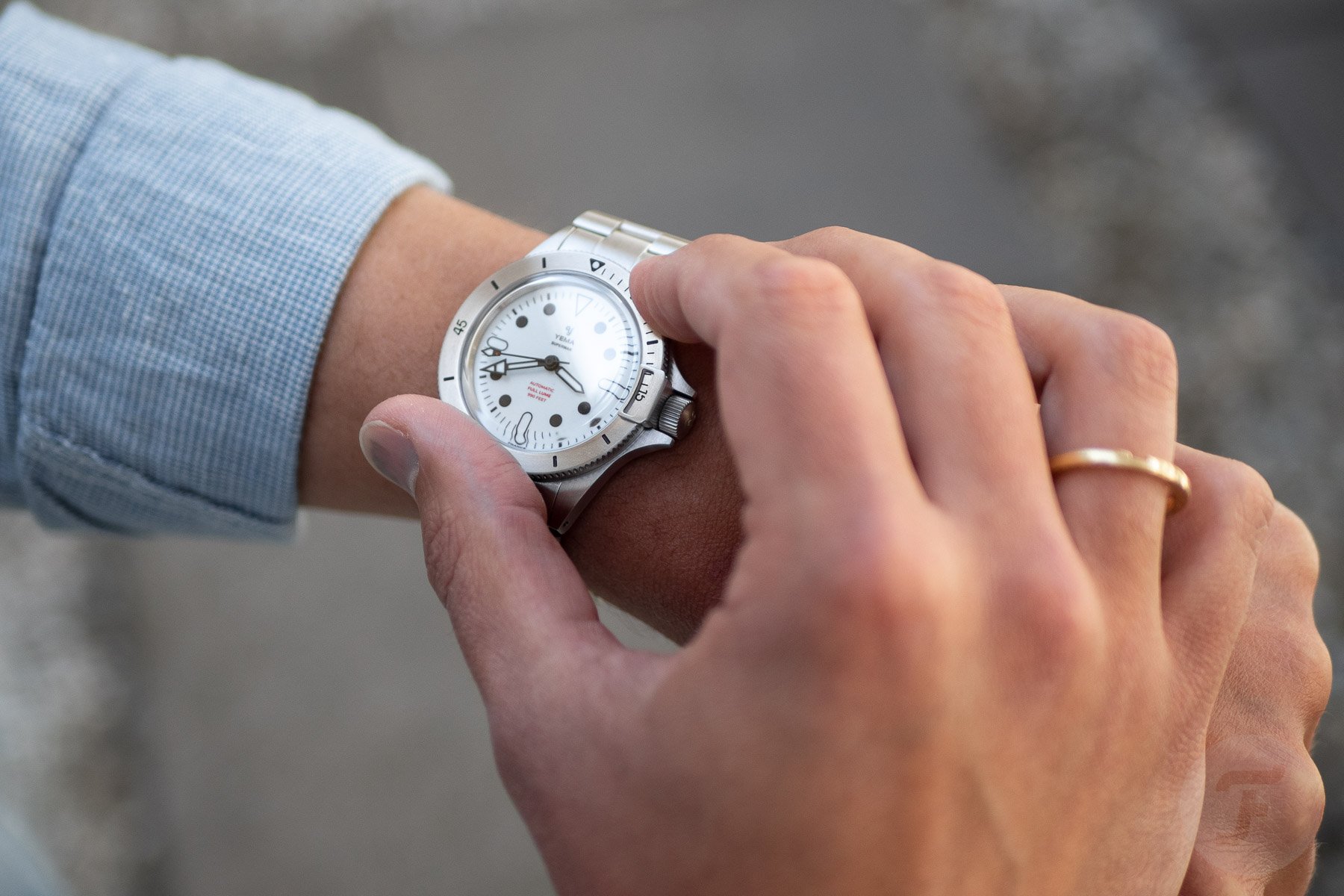 A three-dimensional full-lume dial
On older full-lume dials, like Gerard's Sinn 656 L and Lex's Chronoswiss Timemaster, the luminescent paint is often a bit green, even during the day. But that's certainly not the case here. In broad daylight, the matte dial is actually completely snow white, as is the lume on the hands. The contrast with the black hands and black markers is fun to look at. The red text at 6 o'clock makes for a playful addition and so does that red dot on the shovel-shaped seconds hand. But what I really like about the dial design is that you see exactly the same thing at night.
On watches with regular lume on the hands and the hour markers, what you normally see at night is just those lumed parts. But with this dial, you'll actually see exactly the entire dial design when the lights are off, except for those red details, of course. But what really adds to the experience at night is the way the full-lume dial looks with the double-domed sapphire. It almost seems as if it adds a few dimensions or levels to the dial. I'm not sure if Yema intended it this way, but it certainly is a phenomenal effect. The lume also has a nice blue tone to it, just like that lume pip on the bezel.
Final thoughts
When I put my kids to bed, I could even see how the fully lumed dial lit up surfaces close to it. It also made getting them to sleep just that little bit harder because they were very distracted by it. But it was also kind of cool to take the time with them to look at the light show on my wrist. And again, I really enjoy that 3D effect, which I think is also created by the difference between the closed black hour markers and the open indices at every quarter.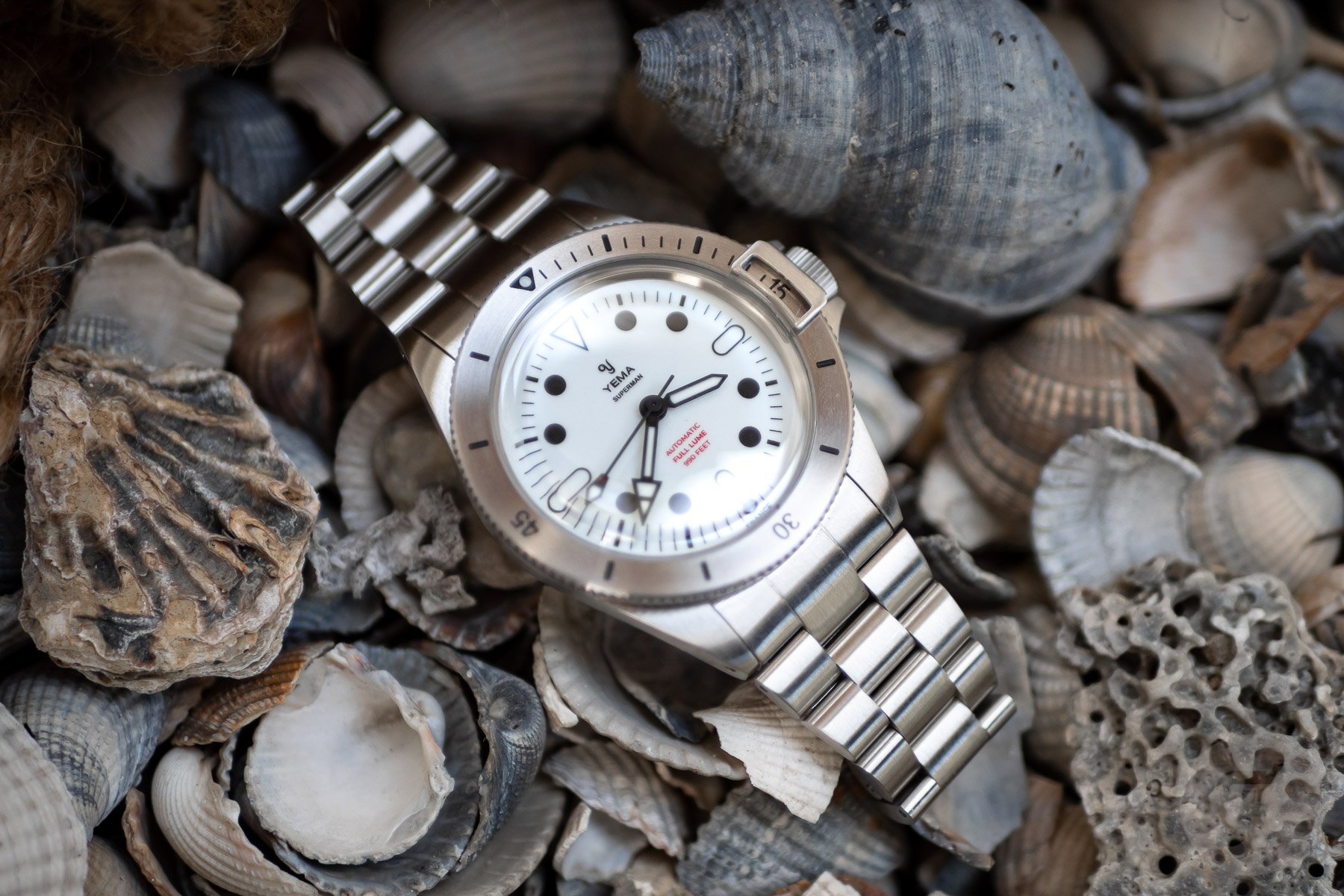 I almost expected this dial to be a little bit boring during the day. What could be exciting about a black and white diver's dial without any applied markers? But once again, the black-and-white hands in combination with the red dot on the seconds hand, the red text on the dial, and that double-domed sapphire make it interesting to look at, for sure! I'd definitely wear this watch on a NATO, though, because of the extended lug-to-lug distance created by that bracelet. Alternatively, I'd check with Yema to see if I could get it with a different bracelet instead. Nevertheless, I could certainly see myself wearing this one, especially now that we're allowed to go out at night again.
The Yema Superman Full Lume is limited to 500 pieces and is available for pre-order from the Yema website for €990. If you prefer a rubber FKM Viton strap, that is also an option for €1,019. The watches will begin shipping in mid-June of this year.
What do you think of the Yema Superman Full Lume? Are you a lume fanboy or fangirl? Let me know in the comments!
You can also find and follow me on Instagram @fliptheparrot