The Zenith El Primero Retrotimer — Hands-On With A Chronograph That Never Stops Timing
A one-year-only oddball from the Dufour era with a red Italian twist
Many years ago, my first premium watch was going to be a 42mm El Primero, now known as the Chronomaster. By some twist of fate, it ended up being something very different, mainly because I didn't manage to save up the considerable sum before my round-numbered birthday. Now, I'm not going to tell you what round number that was in 2010, but the watch in question was the Open Power Reserve model. It has somehow eluded me since, but it got back on my radar after my fellow editor Dave bought the very same one a few months back. But I never knew about the rare El Primero Retrotimer.
After Dave's purchase, I was inspired and back on Chrono24, the danger of writing about watches unless you detach yourself completely. This is something I never do with anything (like answering work emails on a Sunday — don't tell the wife), and it is what drives me. My wallet would disagree with this reasoning, but something very unusual popped up from a dealer in Japan. My quirky tastebuds immediately woke up when I saw this 2010 El Primero. With one register at 3 o'clock and a single flyback pusher for the chronograph seconds hand, this was different. I didn't realize that the 36,000vph blue seconds hand was never at its noon resting spot in the photos. That's because it never stops.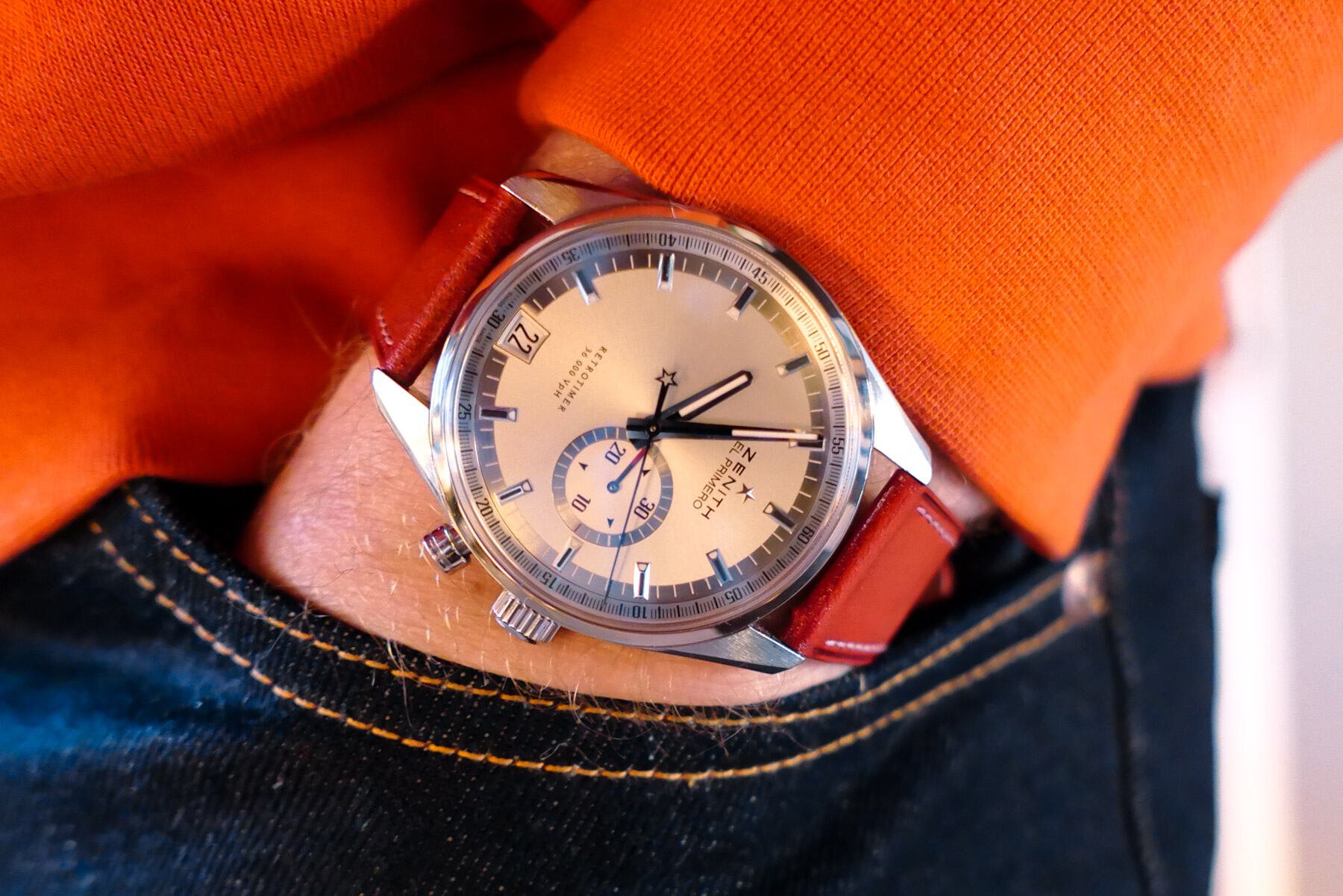 My first taste of the El Primero magic
A 42mm case is "slightly large" for me, but I don't care. That was my immediate reaction after pulling this out of the box. Actually, these days, with my love for 37–38mm wristwear, a 42mm case with an almost 50mm lug-to-lug is massive. Marrying this to a sunray-brushed silver dial with a lot of open surfaces and a thin bezel makes it grow even more. But the details make this a big (pun intended) exception to my rule, even after swapping a Grand Seiko for the very same reason. The angular lugs we know from the series are still sharp after 12 years, with a soft top brushing contrasting nicely with the smooth case sides. The El Primero movement might be in a basic guise here, but the details through the clear case back are still mesmerizing.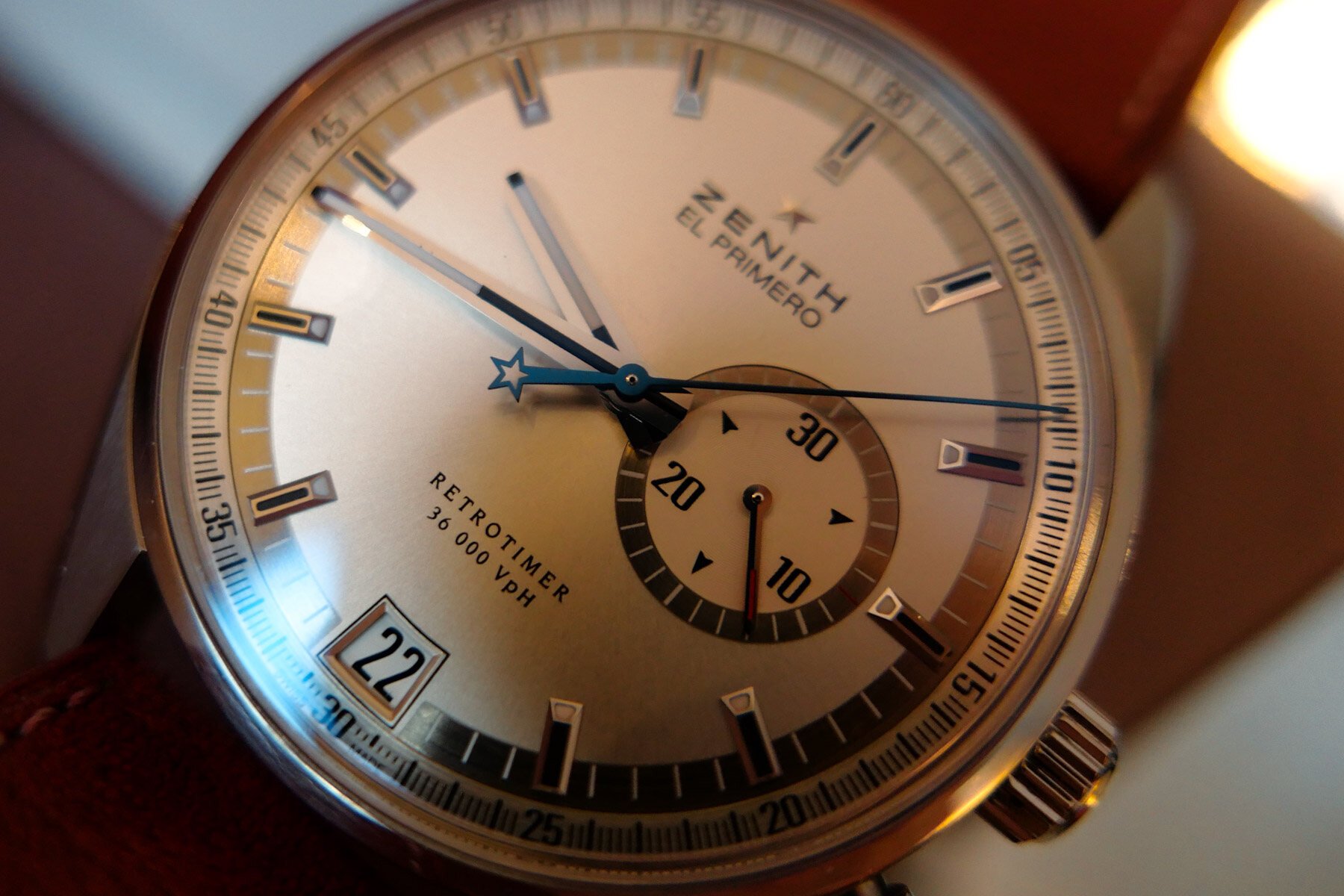 A dial with an Italian Easter egg
Zenith's details and general dial execution put the brand on par with Rolex in my book, and value-wise, there's no contest. I do not doubt that the Z-values will rise with the brand's latest resurgence, but they haven't gone crazy yet. For now, the El Primero Chronomasters are in a buyer's market, representing rather good value. At €4K–7K pre-owned, the more glamorous look of a Zenith versus the tool aesthetic of a Tudor makes it special (and far less expensive than the becrowned R). The Retrotimer's smooth silver dial has a concentrically brushed outer minute track with white markings. Encircling this is an angled rehaut seconds track for the smooth high-beat chronograph hand. And this is where it all gets odd. The needle-thin, curved, and intensely blue chronograph seconds hand is also the running seconds! What does that mean, why, and what does this have to do with pasta?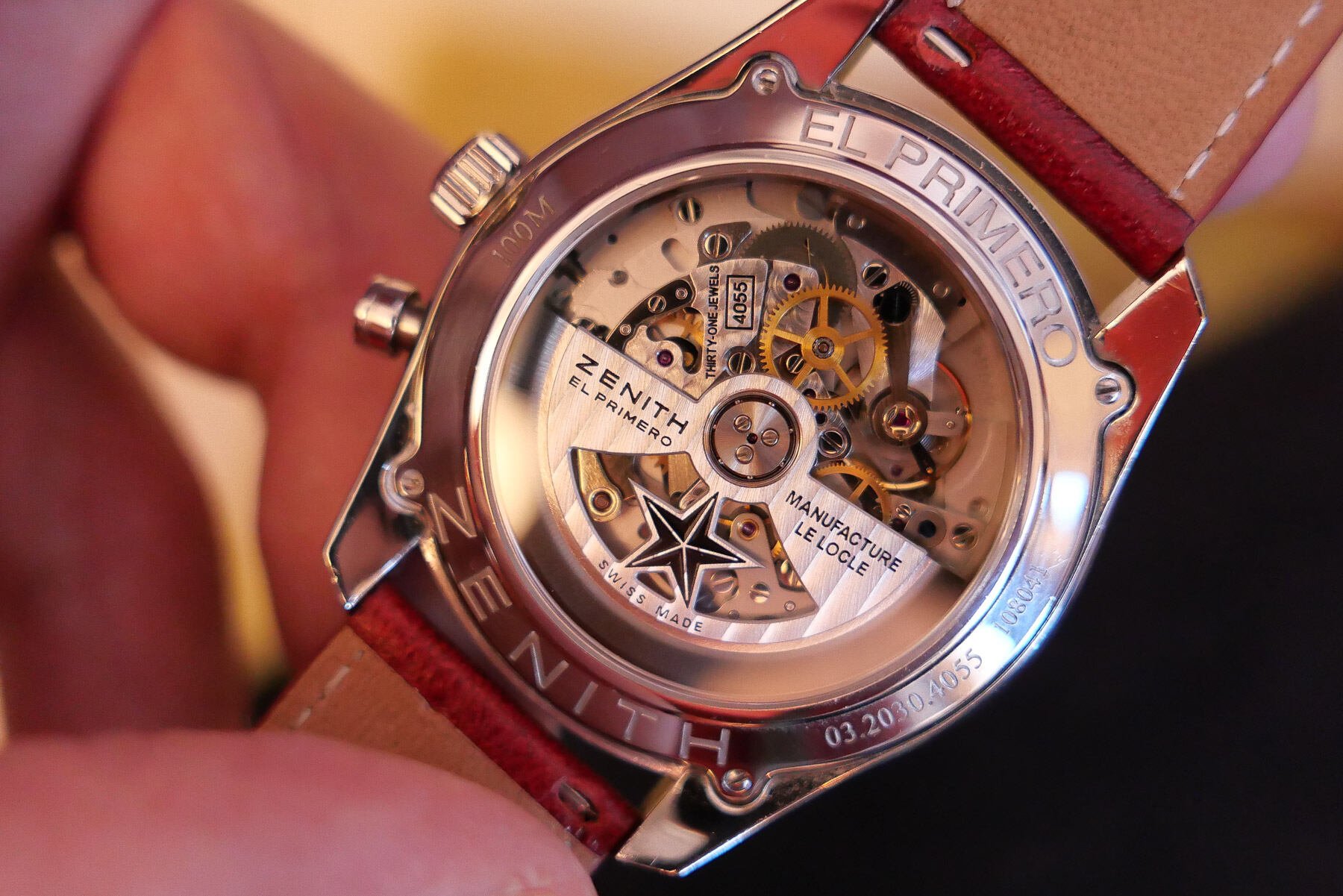 A storied movement with an accuracy-defying twist
I present to you an ever-spinning El Primero flyback chronograph, pared back to include only a 30-minute counter. Set in a register at 3 o'clock, it matches the dial design down to the brushed chapter ring. The movement is non-hacking but easily set accurately with the flyback function. The seconds run continuously until you press the 4 o'clock pusher, activating the flyback function. The minute register and blued Zenith-star hand fly back to zero and start a 30-minute timed run until you press the reset button again. This means that you can time anything, anytime (slightly bugging up your daily accuracy check, of course). On the minute register, the eight-minute mark is red. Why? The myth goes that Jean-Frédéric Dufour, then-CEO of Zenith loved pasta, and most pasta needs exactly eight minutes to become al dente, meaning done with a hint of chewing resistance. Mic drop. That's a big star in my book for oddball cool.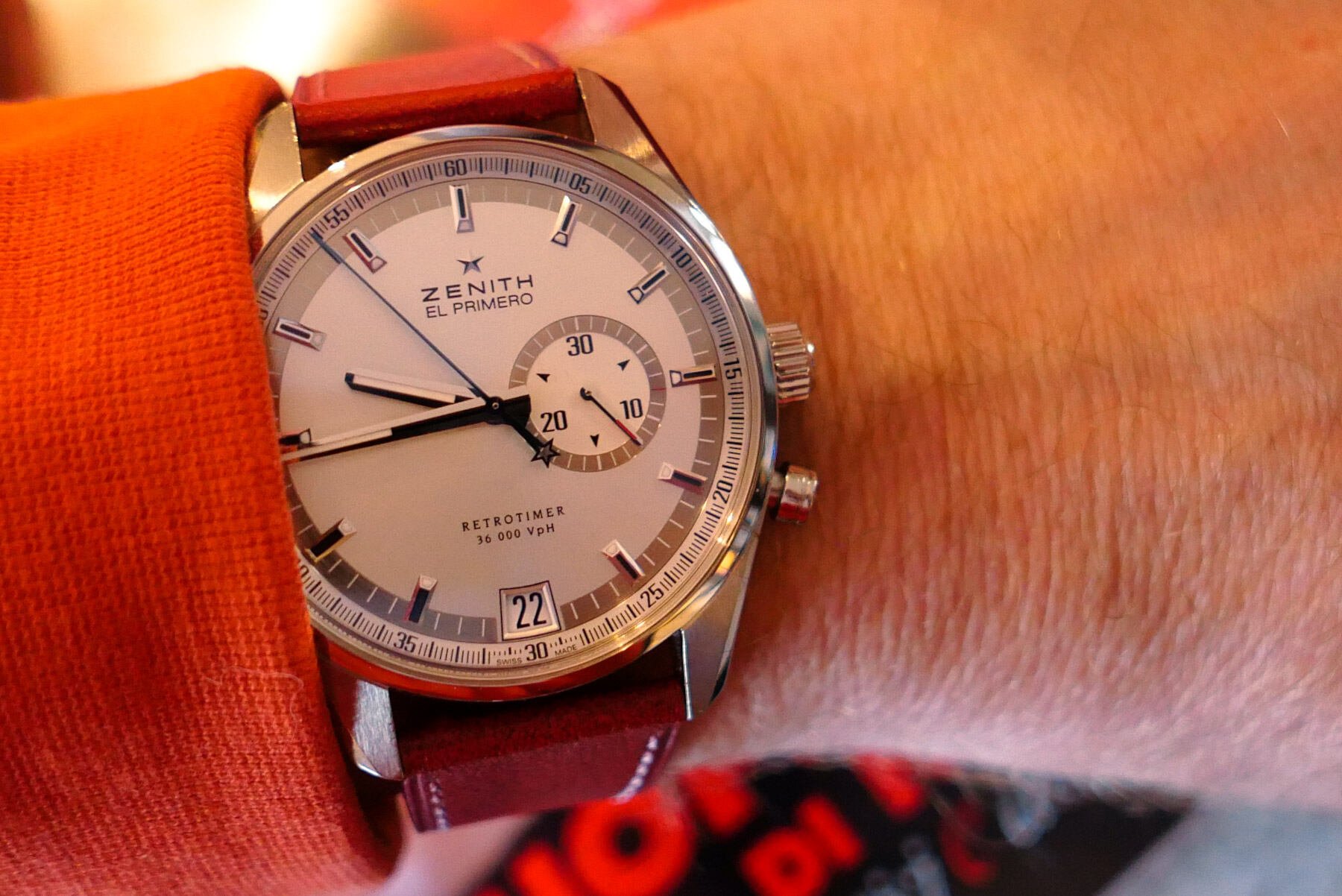 A chat with Zenith's historian Romain Marietta
The El Primero Chronomaster series from Zenith riffs on the brand's unrivaled pedigree and fascinating history of rediscovery. The El Primero movement was it before in-house became the thing we all obsess over, and it was in everything from Ebel to Rolex chronographs. For me, this turns up the charming volume to 10 for the brand, especially in this daring, single-register, undefinable flyback chronograph, the functionality of which I haven't seen anywhere else. I asked Romain Marietta of Zenith about the thinking behind the Retrotimer. This 42mm-cased El Primero was part of now-Rolex CEO Dufour's new El Primero launch, right? Marietta tells me, "Yes, we launched the Retrotimer in 2010 as part of the first collection with Jean-Frédéric. It was part of the relaunch of the Chronomaster collection in 42mm."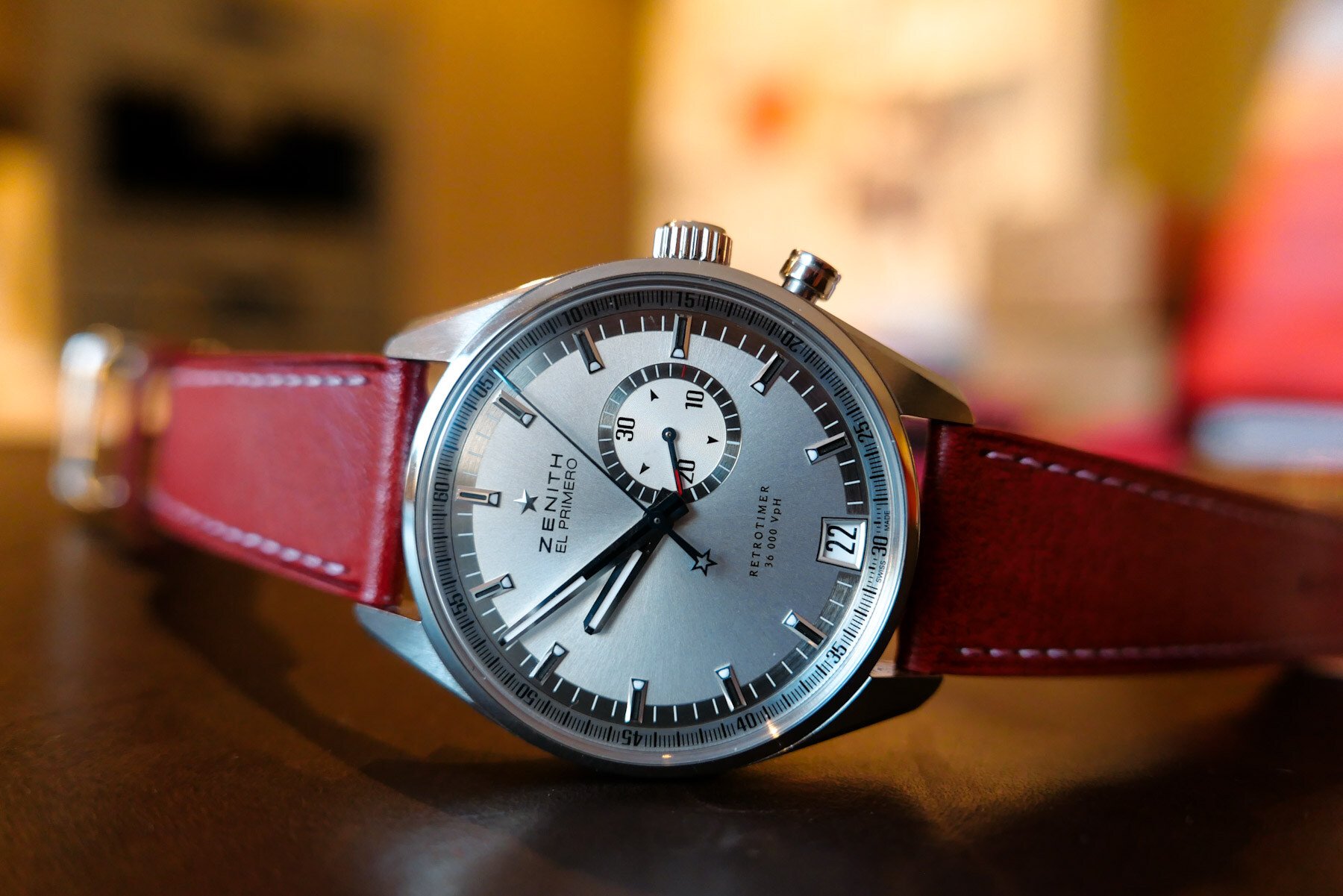 A cool concept for a new and younger audience
I also asked Romain Marietta about the thinking behind the single-register simplicity. "We wanted to have a fun product that works differently from a common chronograph with a start/stop/reset [system]. Why not take off a pusher to have a half-chronograph or a half-flyback function? This is how we got the idea of the Retrotimer, a watch with a permanent central seconds hand turning that you can reset to measure an action for 30 minutes (we only kept the 30-minute counter)."
Was I right in thinking that the production numbers were both limited and for a very short period? Romain explains, "It was indeed very limited and in the collection only for one year. We did less than 500 units each (two references)."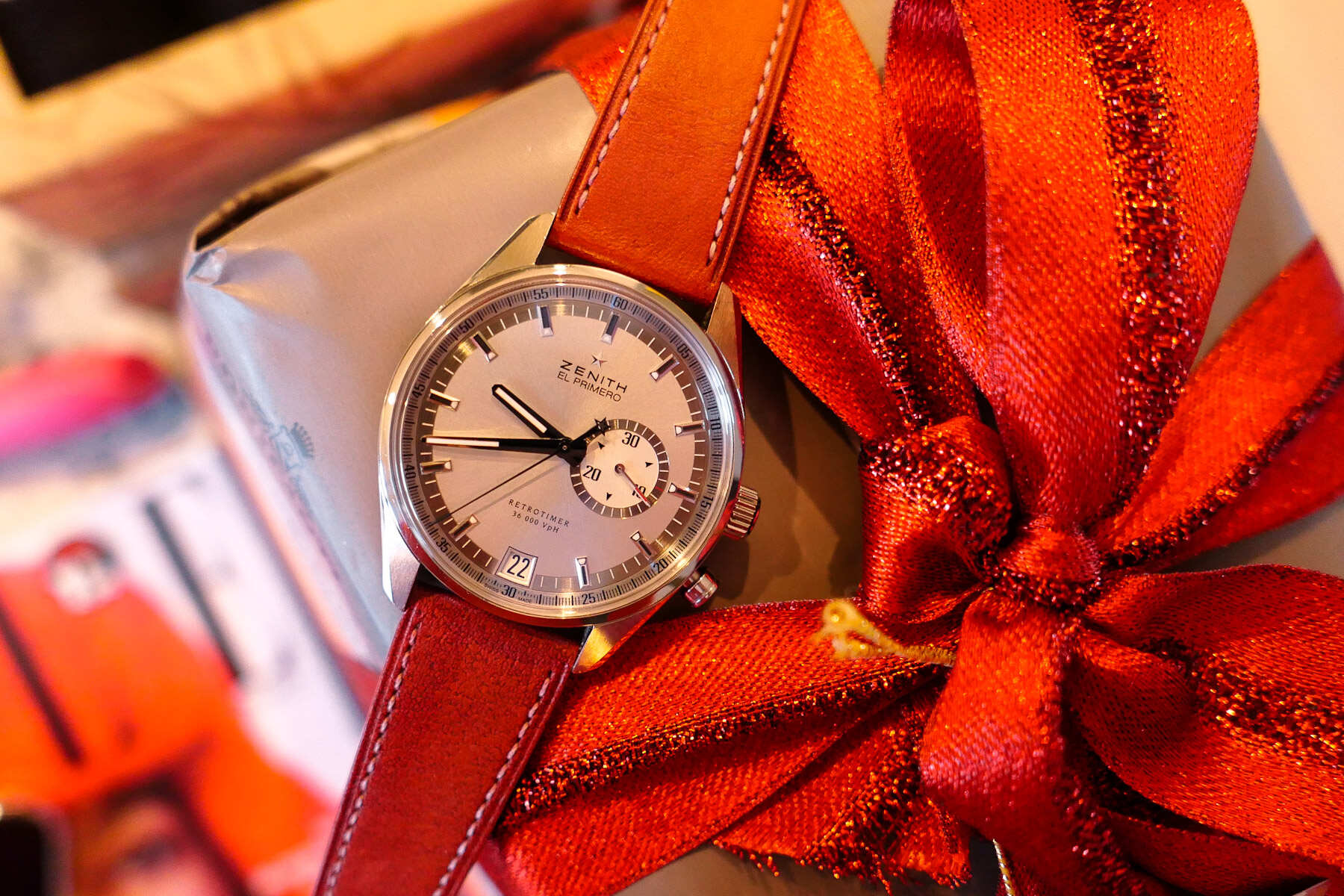 Following the enlightenment from Romain Marietta, this El Primero Retrotimer is a charming oddball. For me, the combination of quirky cool, rarity, and legend sure makes it shine. Have a look at Chrono24, and you'll find these rare birds for between €4,000 and €7,000.
Fratelli, how do you feel about storied chronographs like the Zenith El Primero? It is generally known to be the first automatic chronograph caliber, and just like the Speedmaster, its story endows it with extra historical weight. Do you have a quirky chronograph fave to share in the comments?
Find me and follow me: @thorsvaboe