This Week in Watches – July 13, 2019
Your weekly dose of prose on This Week in Watches
Grüss Gott, watch Sammler, it's time for This Week in Watches for July 13, 2019.
Ah yes, and we're back this week with a look at all the news that's occurred over the last half fortnight.  Do you want to know something?  No?  Too bad because this is my space.  I've become a bit of a rabid fan of cricket and have kept abreast of all things during this year's World Cup that will come to an end tomorrow.  Will England or New Zealand claim victory tomorrow?  Let's see, but I will be watching from a barstool in an Irish pub somewhere – strangely, British pubs just don't seem to make it outside out of Britain with quite the regularity of those houses or booze from the enterprising Irish.  But did you know that India's captain (who is widely considered as the greatest current player on the planet), Virat Kohli, is sponsored by Tissot?  He even has his own page!  And here you may have thought of cricket as this eccentric game that only part of the world watches.  Well, if you count the bulk of the former English empire, that's a big group.  Anyhow, good luck to both England and New Zealand as they square off tomorrow.  Now, let's move on to This Week in Watches.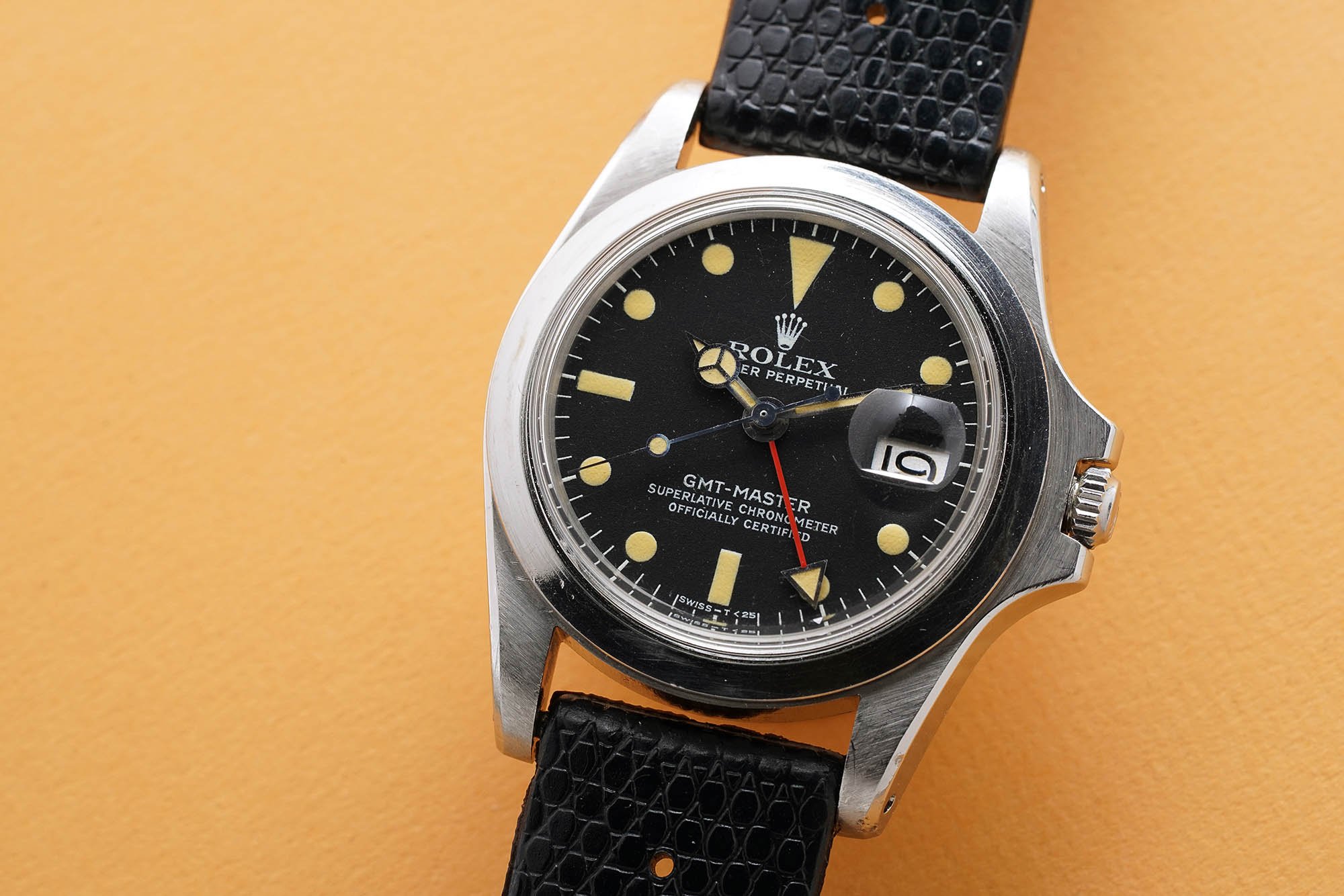 The Marlon Brando Watch…
Unless you've been living in a remote part of the jungle, you probably saw that Marlon Brando's "bezel-less" Rolex GMT ref. 1675 from the iconic 1979 film, Apocalypse Now, has magically been unearthed.  It's apparently been collecting dust in the house of Brando's daughter (she was gifted the watch by her father in '95 after graduating from Brown) and son-in-law (who was gifted the watch by the daughter as a wedding gift in 2003).  And now, Phillips in association with Bacs & Russo, will allow YOU to bid on this watch on December 10, 2019 in the Big Apple (or online if you wish).  This is a famous watch, or at least watch geeks have made it into a famous watch, and one that's not been seen since the movie.  The expectation is that bidding will start somewhere in the six-figure range, but where it will end up is anyone's guess.  I don't expect "Newman" levels of bidding, but $1 million + wouldn't surprise me in this day and age where owning such a trophy is important and like spending pocket change for the uber-wealthy.  On the one hand, I'm always excited about these things and it's nice when something reappears.  On the other hand, the whole "we didn't know what we had" story is a bit hackneyed.  Either way, this would make a nice holiday gift.  More on this watch can be found on the Phillips site.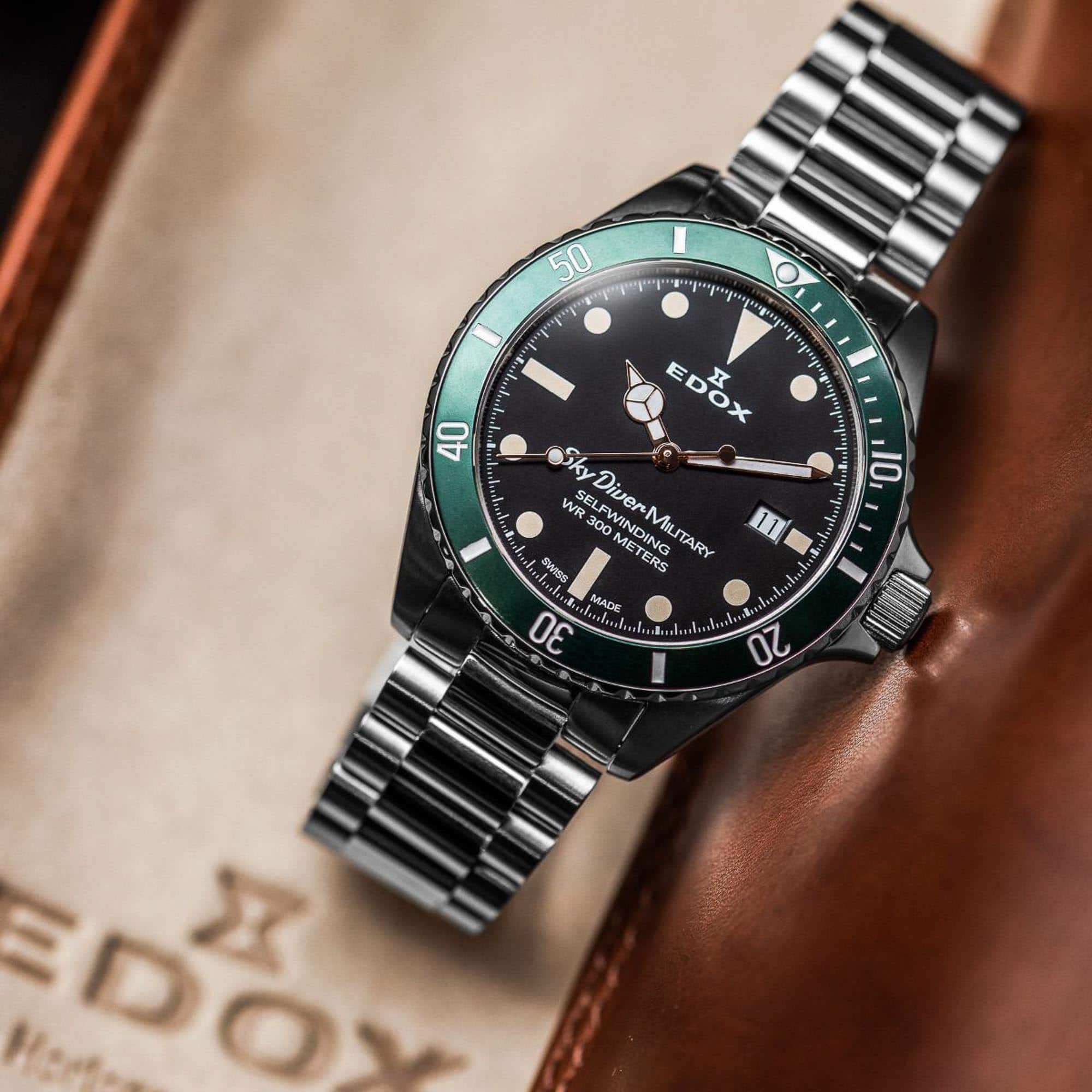 Edox SkyDiver Military Limited Edition
Next up in This Week in Watches: Edox sent us news of a rather charming watch this week with its new SkyDiver Military Limited Edition diver.  Apparently, in 1973, a Swiss Colonel asked Edox to produce such a watch and this piece commemorates that event.  The limited piece watch is functionally the same as the current 70's model of the same name, but this one adds the word "Military" to the dial instead of "70s" and features a very dark green bezel and aged SuperLuminova X1 on its black dial.  Intriguingly, the lume on the dial of this 555 piece limited edition looks to be white, so there's an intended mismatch there.  Yes, this watch absolutely pays homage to the Submariner, but it looks a bit different due to its 42mm size and gold hands.  It's good for 300 meters of water resistance and has either the ETA 2824 or Sellita SW200 inside.  At 1,290 Euros, it's rather approachable as well.  Head to Edox for more information on this SkyDiver.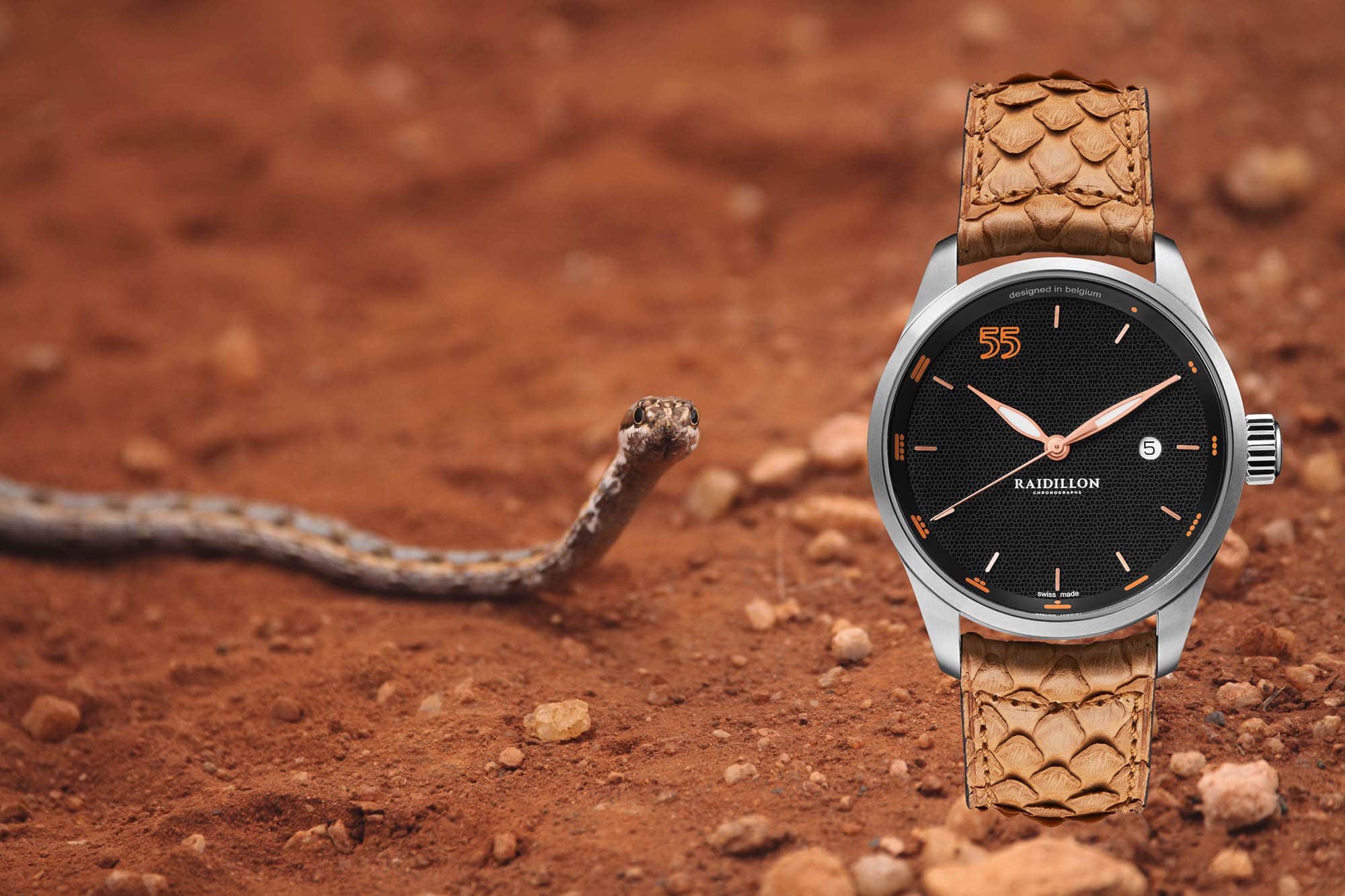 Raidillon Maya
I know of the Brussels-based Raidillon for a couple reasons.  Firstly, when I was a plebeian public visitor to Baselworld several moons ago, the good folks at Raidillon didn't care and happily allowed me to sit in their small booth while they showed me their cool racing-inspired chronographs.  Good on them!  Then, perhaps a year or so later, I was bumming around Brussels with my wife and we came upon their home and shop in the Galerie de la Reine arcade.  I believe they were closed at that hour, but it didn't stop my wife and I from sinking a bottle of champagne at a nearby spot, thus allowing me to window shop at Raidillon a bit more.  This week, we got word of their newest model, the Maya, and is made in support of the Rally Maya held in Mexico.  It's a classic car rally in its 4th year that also supports some important charities for children.  The watch is a 42mm piece using an ETA 2824 that features snake skin as a design motif.  It's the pattern on the dial and, most noticeably, the material for the strap (python if you're interested).  The symbols for the indices are apparently Mayan, which is a cool twist.  Overall, it's a clean looking watch with nice styling – as said, I've always liked Raidillon's stuff.  For 1,800 Euros, the stainless Maya will be offered in an edition of 55 pieces.  Head to their official site for more information.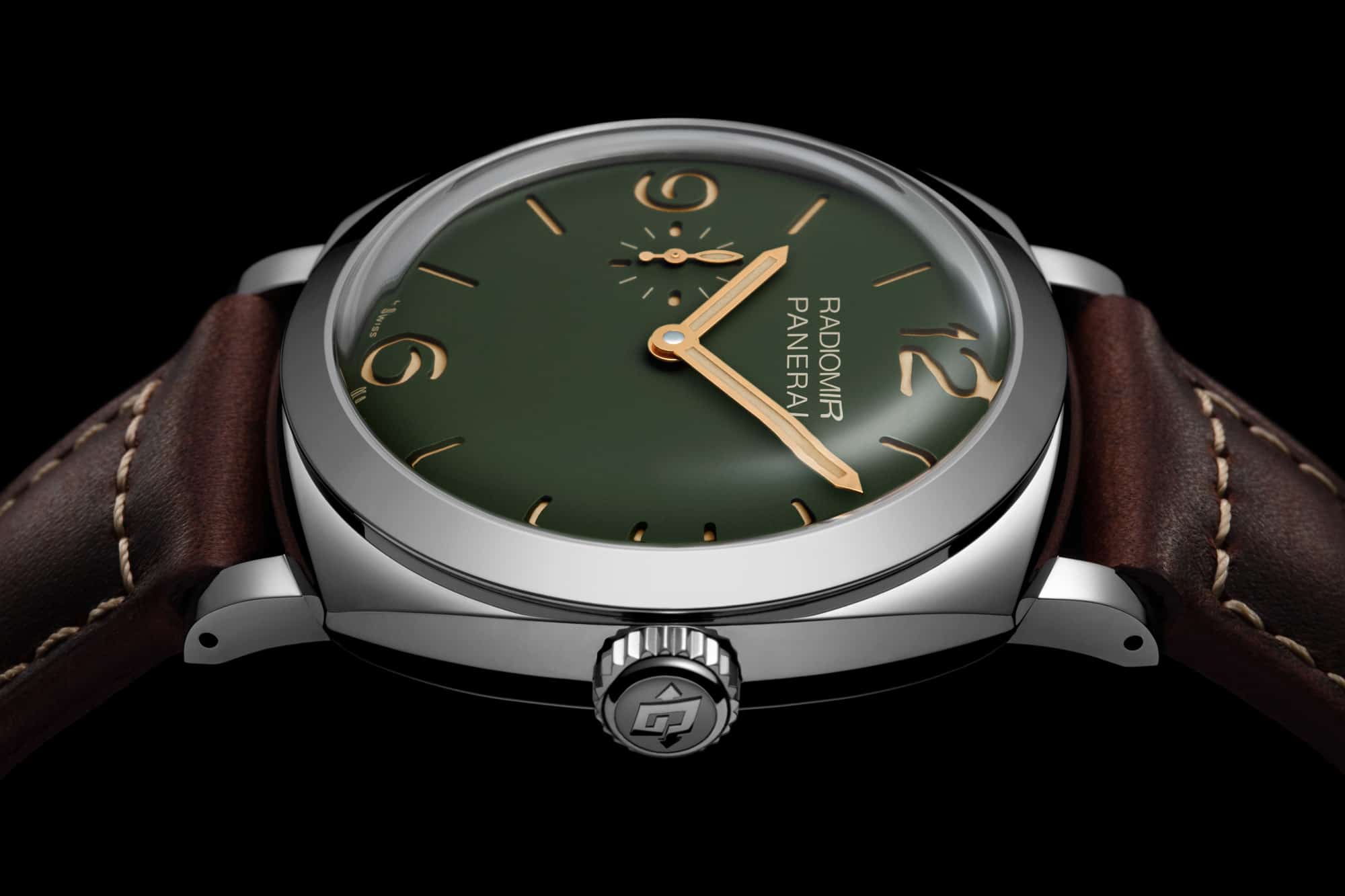 Panerai in Green
Panerai hit with a quad of green-hued Radiomirs this week.  The brand called out its military roots and used that as rationale to offer 4 new boutique-only pieces.  Now, I have a soft spot for Panerai as they were fairly important for me when I was getting into watches.  I still like the general, straightforward design of their watches, but I tend towards the classics.  In general, I like my Panerai like I like my steaks: unadorned and unaccompanied.  With the new four, it's a mixed bag of simple and slightly complicated.  There's the PAM0995 (which happens to be our cover shot), which is a 45mm Radiomir that features the 3-day in-house P.4000 automatic.  It comes in at 9,900 Euros and is a two-hander with running seconds at 9:00.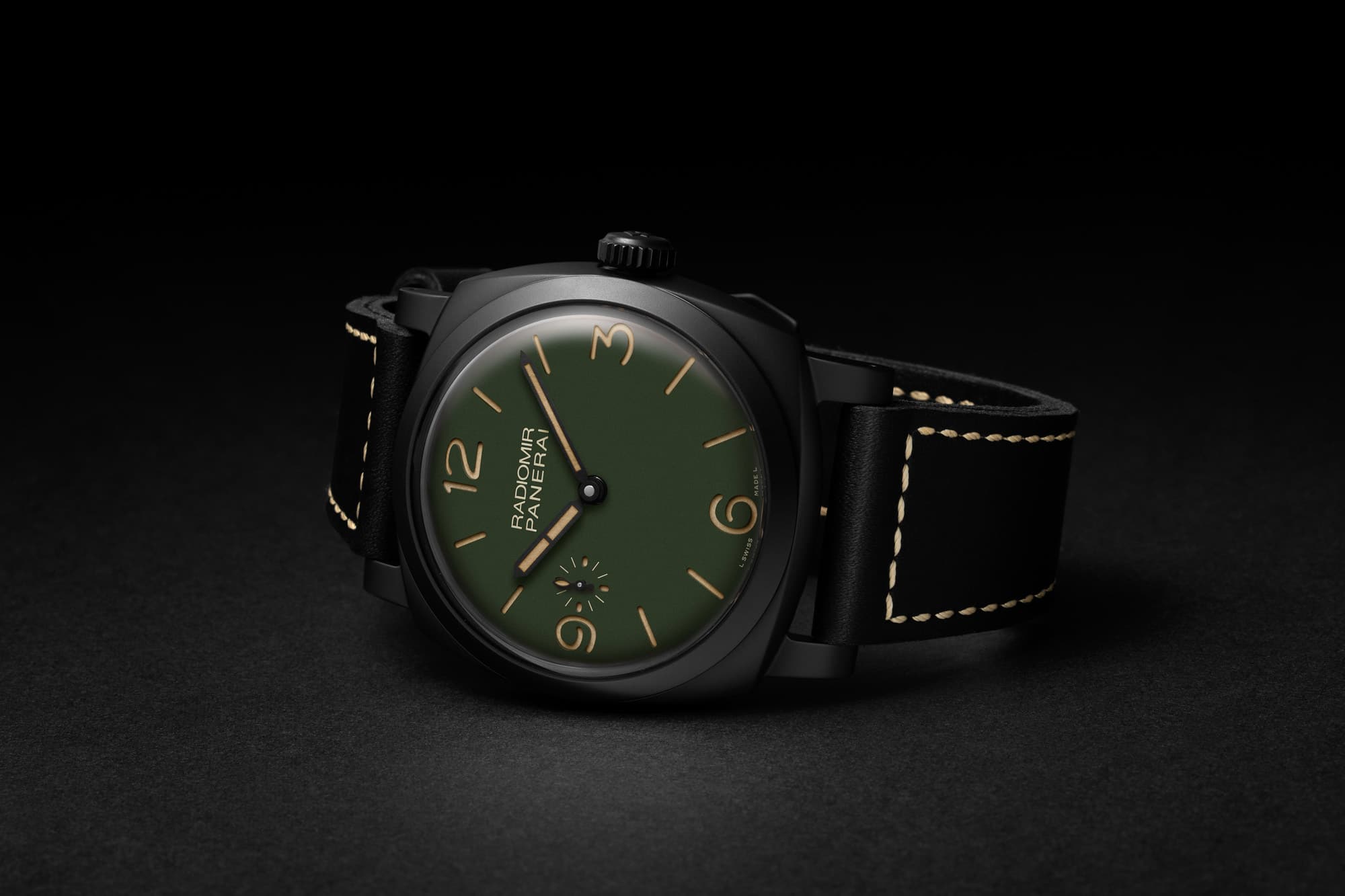 Next up, we have a 48mm black ceramic Radiomir PAM0997 with a manual P.3000 movement.  It's the most expensive of the lot at 12,900 Euros.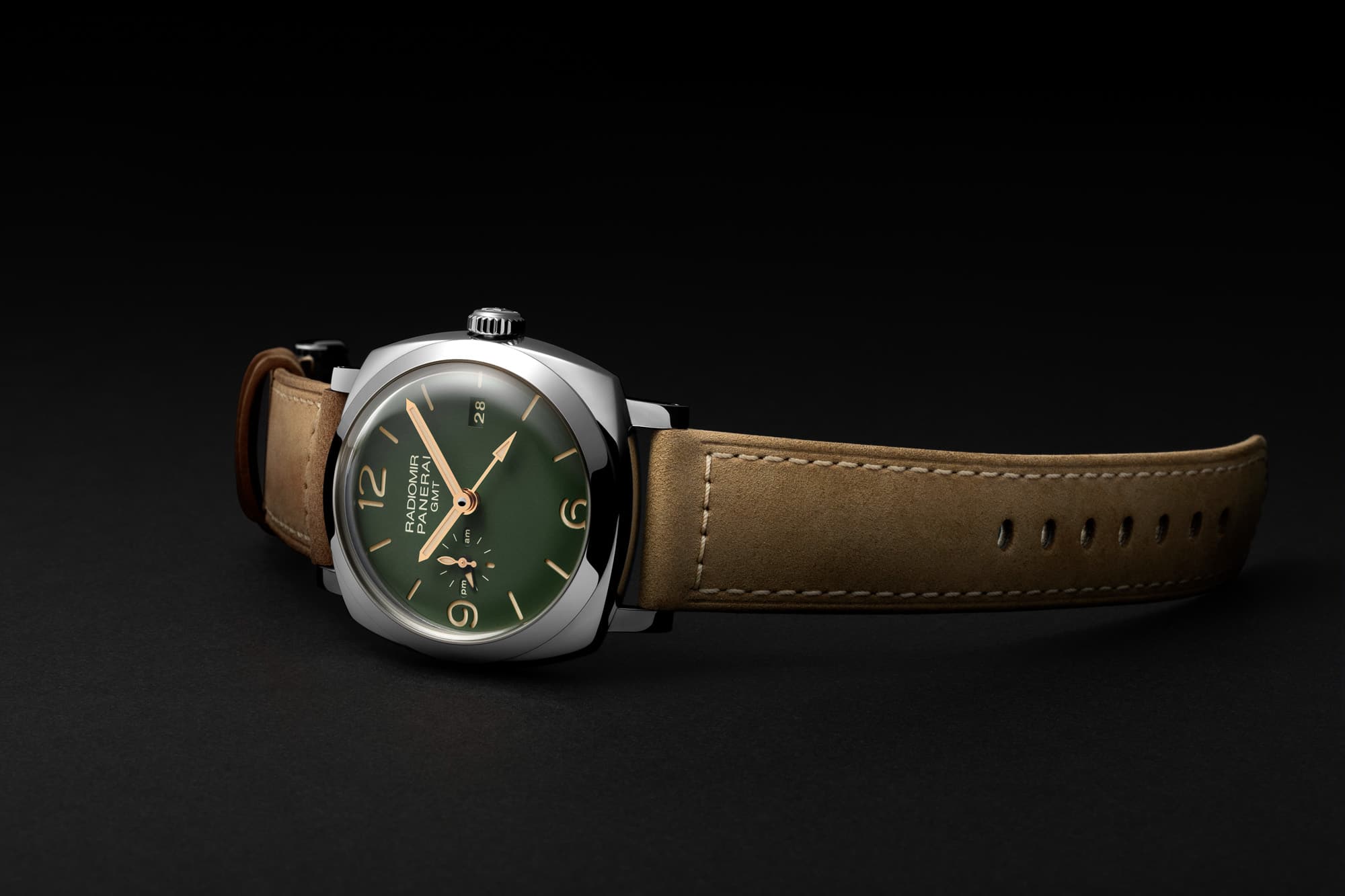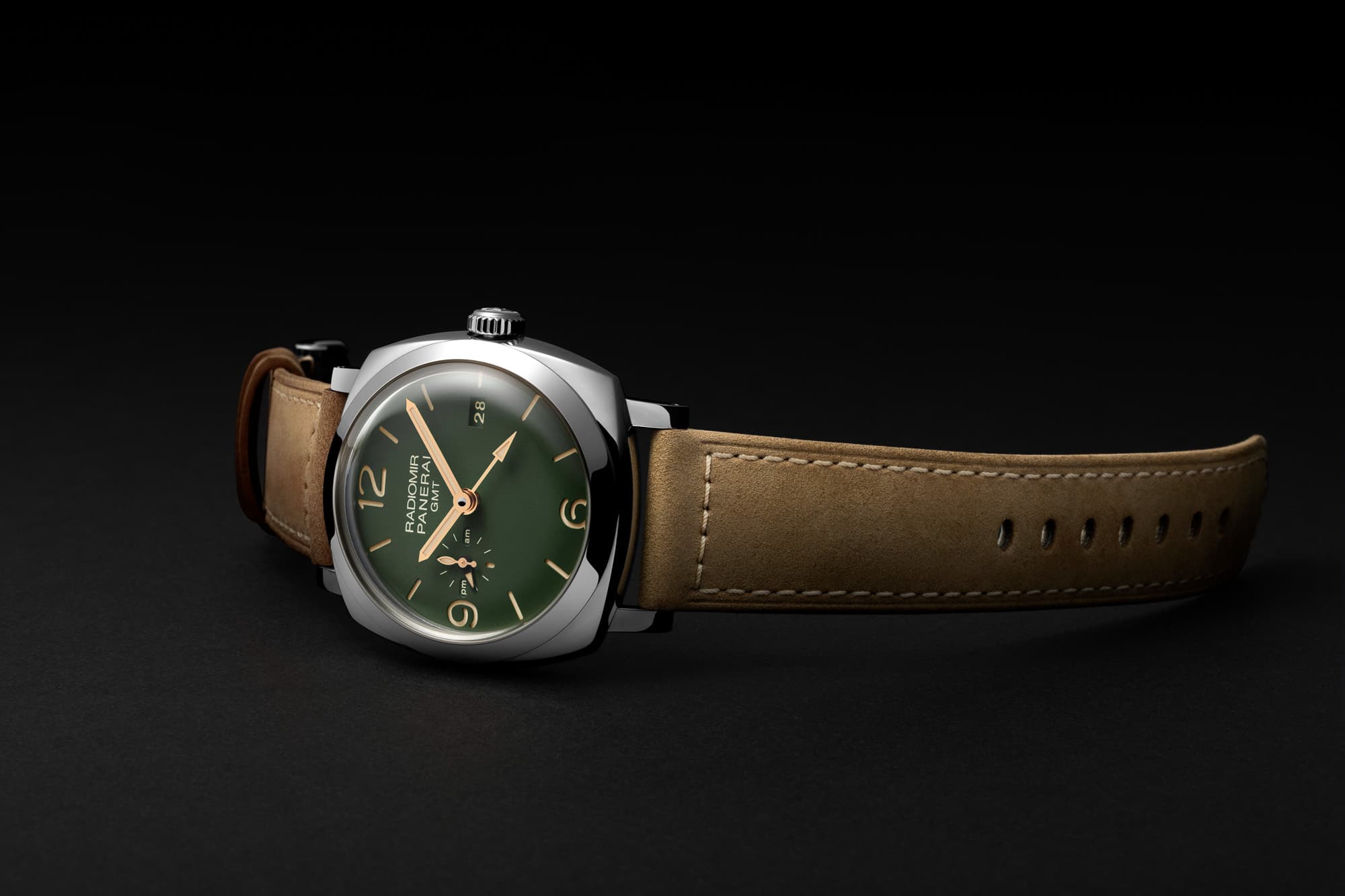 The GMT's are next and the first is the 45mm PAM0998 with the P.4001 automatic, second time zone, and am/pm indicator on the front.  A power reserve can be viewed on the backside via the display case back.  It retails for 11,700 Euros.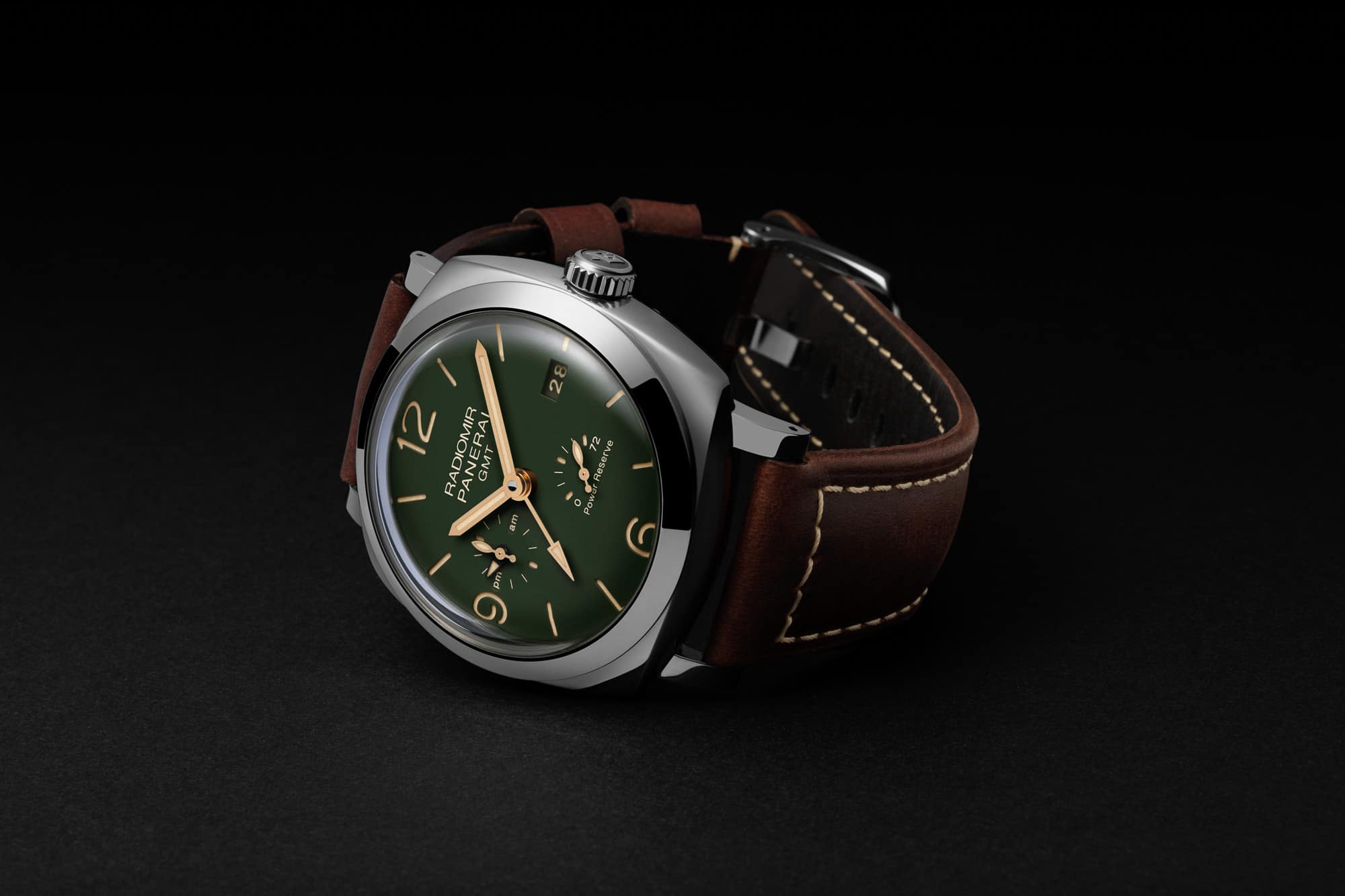 Finally, at 11,900 Euros, we have the 45mm GMT Power Reserve which is similar to the 0998, but has the power reserve indicator on the dial.  All 45mm pieces will come on a tan leather Italian strap (a second one is provided) and the 48mm ceramic comes on a black variant.  A green cherry wood box houses the watches.  All told, they look sharp, but my preference is the simple 45mm PAM0995.  For more information, head to the official Panerai site.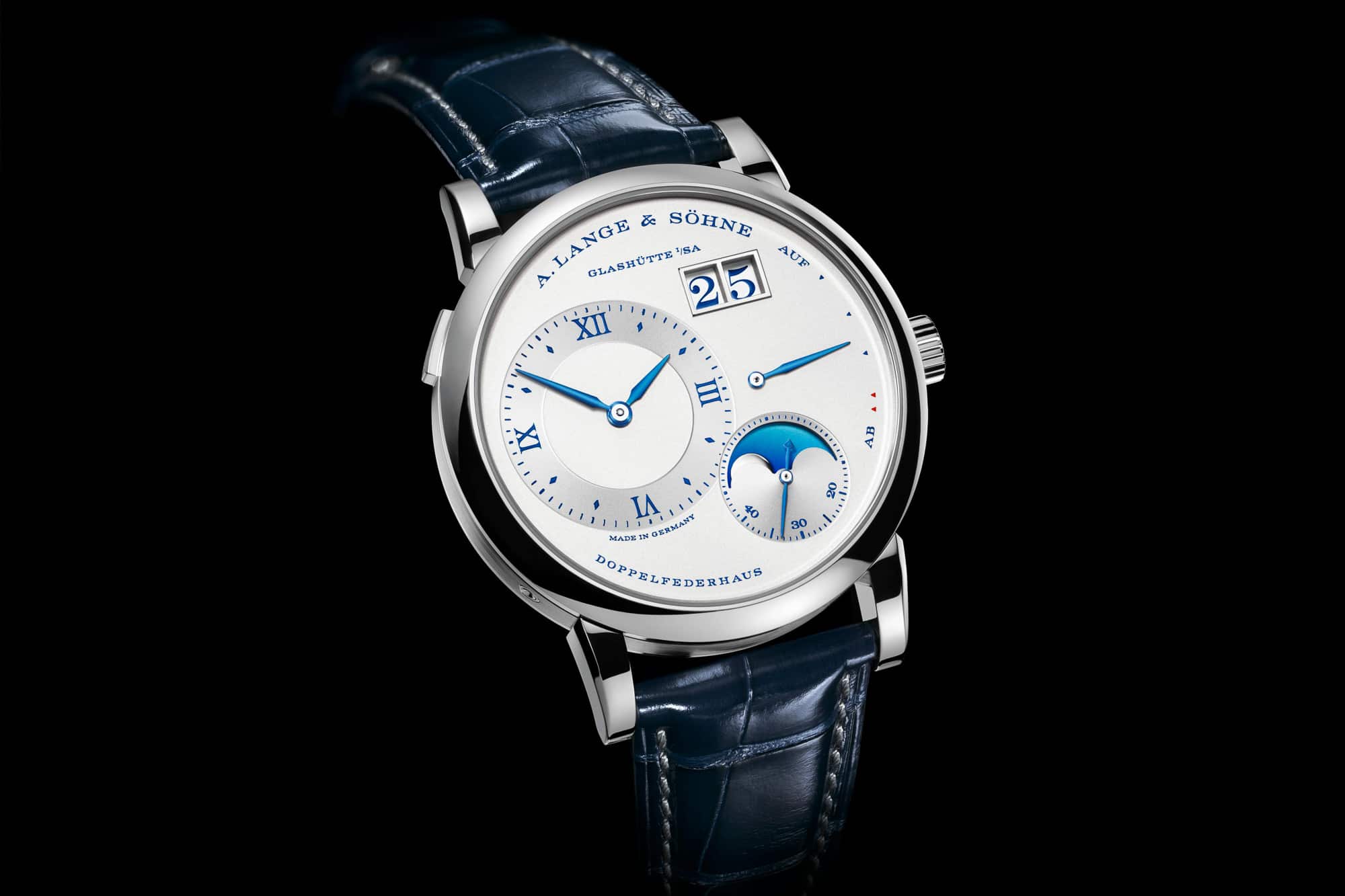 Lange 1 Moon Phase 25th Anniversary
Lange continues the celebration of its 25th anniversary with the 6th special model to be released this year.  This week, we learned of the Lange 1 Moon Phase, a 25-piece edition that features the brand's manual wind L121.3 caliber.  The 38.5mm white gold case houses a solid silver dial with details such as blued hands.  The Lange Moon Phase is notable for featuring an am/pm indicator in the sense that during the day, the Moon is "there" by showing a blue sky on the Moon phase indicator.  This ensures that the lucky owner won't set the time incorrectly and the date will change at midnight versus noon.  If you're wondering, this watch can go 122.6 years without a correction due to its precision.  At 45,800 Euros, I have little doubt that these will find their way to some very lucky owners.  Head to Lange's site for more information.
Well, Mannschaft, that's all for This Week in Watches this week – enjoy your weekend!