Three Jaeger-LeCoultre Reverso Watches I Would Buy Tomorrow
The British green, the Modriaan, and the mysterious power reserve
 The JLC Reverso is one of the most admirable watches around. It's one of the few concepts in horological history that constitutes its own category that few dare to copy.  
You could mimic a Reverso, but you run the risk of looking ridiculous (of course, as a vintage collector, I have seen some similar concepts but none quite like the slide-out-and-back-on-itself that makes the Reverso so robust and, thus, respected). Even if you made a solid fist of it, it is unlikely anyone would pay attention. And that's probably why nobody even tries. The random and quite unexpected vintage branded Tellus (still shrouded in mystery) soon to feature in our  #TBT column is as close as you can get to a Reverso.
The JLC Reverso is so almighty that it not only "prevents" others from entering the market but allows JLC to create many other sub-concepts. For three examples thereof, read on.
Jaeger-LeCoultre Grande Reverso "Green"
"Very British" is the most accurate description of what I see when I look at the dial. Flat green. Racing green. Or the best car color ever put on a classic Porsche 911 car. If I ever wanted to spend big time on a first-gen 911, I would go for this green shining from behind all the chrome. That would assume I already have the Jaeger-LeCoultre Grande Reverso Ultra-Thin 1931 London Special Edition with a green dial. That green is just special. It's earthy, flat, endless, continuous. It's raw and natural. To me, it's unapologetically energizing. At the same time, it's daring and unusual. What a color for a dial!
This 2015 special edition of the Jaeger-LeCoultre Grande Reverso Ultra-Thin 1931 is limited to 26 pieces, so I wouldn't be surprised if you have never seen one in the flesh. Me neither. It was introduced to celebrate the opening of its new flagship boutique in London, and it was priced at £6,800. How much would you pay for it today? Let us know in the comments.
If you get tired of the British green dial (which is impossible, in my opinion), you can still flip it around. The solid case back features an engraving of the Palace of Westminster and of the famous Big Ben clock tower.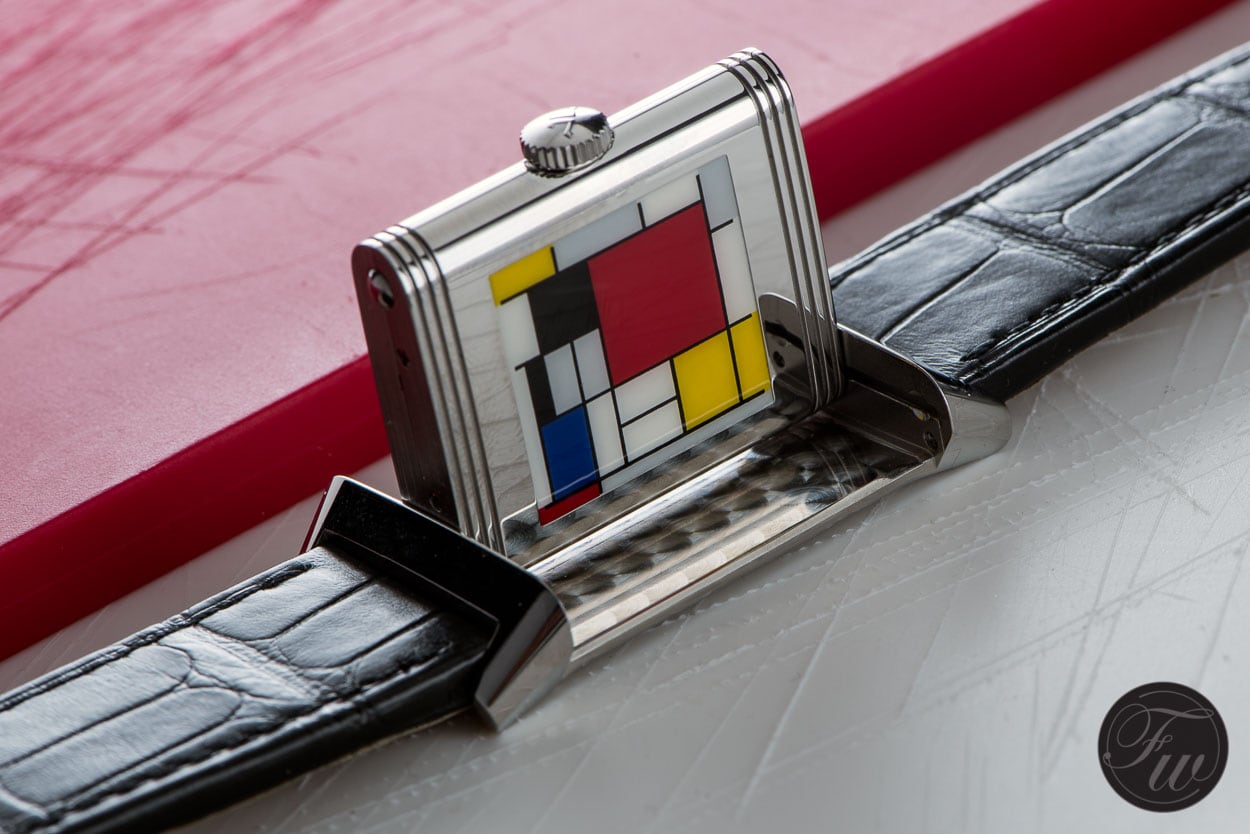 Jaeger-LeCoultre Mondriaan
If you are wondering how to get your hands on the scarce "British" Reverso, you will not be pleased to hear that there are even fewer Reverso "Mondriaan" watches in circulation. The Mondriaan was introduced in 2017 to celebrate the 100th anniversary of the Dutch retailer Steltman and the De Stijl art movement. If you wanted to get one of the 25 limited pieces, the price on the release day set around €9,000 should give you an idea.
With the face open, it is less apparently special than the British green dial. It looks like a standard Reverso Classic Large Small Second with a stainless steel case measuring a comfortable 45×27mm and powered by a hand-wound caliber 822/2. It is not my most beloved dial style with the sub-seconds, but pure class for sure.
Collaboration at its best
The real deal starts when you show the Reverso closed-face to the world. There's no mention of a limited edition nor the Steltman retailer branding. Instead of the shiny protective cold steel surface, you have an undisturbed view of a majestic miniature of one of the Mondriaan's masterpieces called Composition with Large Red Plane, Yellow, Black, Gray, and Blue. Striking. Each piece was entirely painted by hand at the Métiers Rares Atelier of Jaeger-LeCoultre in Le Sentier. To create the straight lines and rich single color areas, the atelier had to develop a new special technique that involved drying in a kiln. As RJ concluded in his article, this Reverso is a great example of a collaboration between a retailer and watch manufacture. Kudos.
Jaeger-LeCoultre Reverso 8 Day Power Reserve
The power reserve is one of my favorite watch complications. When it comes to the Reverso, it's usually a very polarizing detail that makes certain models a go or no-go for me. The one above with an indicator growing from the upper left corner on the dial is an instant killer that makes my eyes burn. I am sorry, I don't know where else to put it on the dial. But not there and not in that way. I am sure I am not the only one getting instant headaches when looking at this watch. No, thanks.
A power reserve done right
Rather, I would redirect our focus to another Reverso from the early 2000s. JLC came up with a smarter and smoother power reserve integration via a secret window on the protective backside. Most models you'll find have full hours printed in Arabic. The one I love the most is the version above that reminds me of vintage sector dials. According to Christie's, this model ref 240.8.14 belongs to the Boutique "Sincere" Serie and was limited to 50 pieces.
I am not a big fan of the off-center small seconds. Well, I guess the move was a necessary sacrifice to get the patented power reserve window located dead center. And, honestly, that more than makes up for it. I love it so much. When fully wound, it doesn't show the number, but the UP sign instead. When out of running power, you can see a big zero in red. I am afraid this one has to go on my permanent wishlist, so if you spot one for sale, let me know.