Timex Marlin Automatic × Peanuts Charlie Brown — A Dial That Works Better Than A Life Coach
Make it fly, Charlie, make it fly!
After my story on the grail watch I wouldn't wear, this is my second story this week with a lateral view on watches. From a $750,000 grail to a $250 Timex Marlin Automatic × Peanuts Charlie Brown, both are equally important to keep our love of wristwear alive. "A watch? I have the time on my phone, on my laptop, on the coffee machine, and in the car. Surely I don't need it on my wrist!" Consider this a quote from any Macbook-toting, Yeezy-wearing member of Generation Z. Could a cartoon-character watch like the Timex Marlin Automatic × Peanuts Charlie Brown convince such a person?
We can only hope that the trend of going off-grid will work as a counterbalance. An increasing number of people leave their phones and Apple Watches at home for the weekend, while making their escape for a day or two with a call-only phone for emergencies and a mechanical watch to tell the time (yes, it does that!). This week, my watch has been a basic mechanical, non-hacking watch with secret powers installed.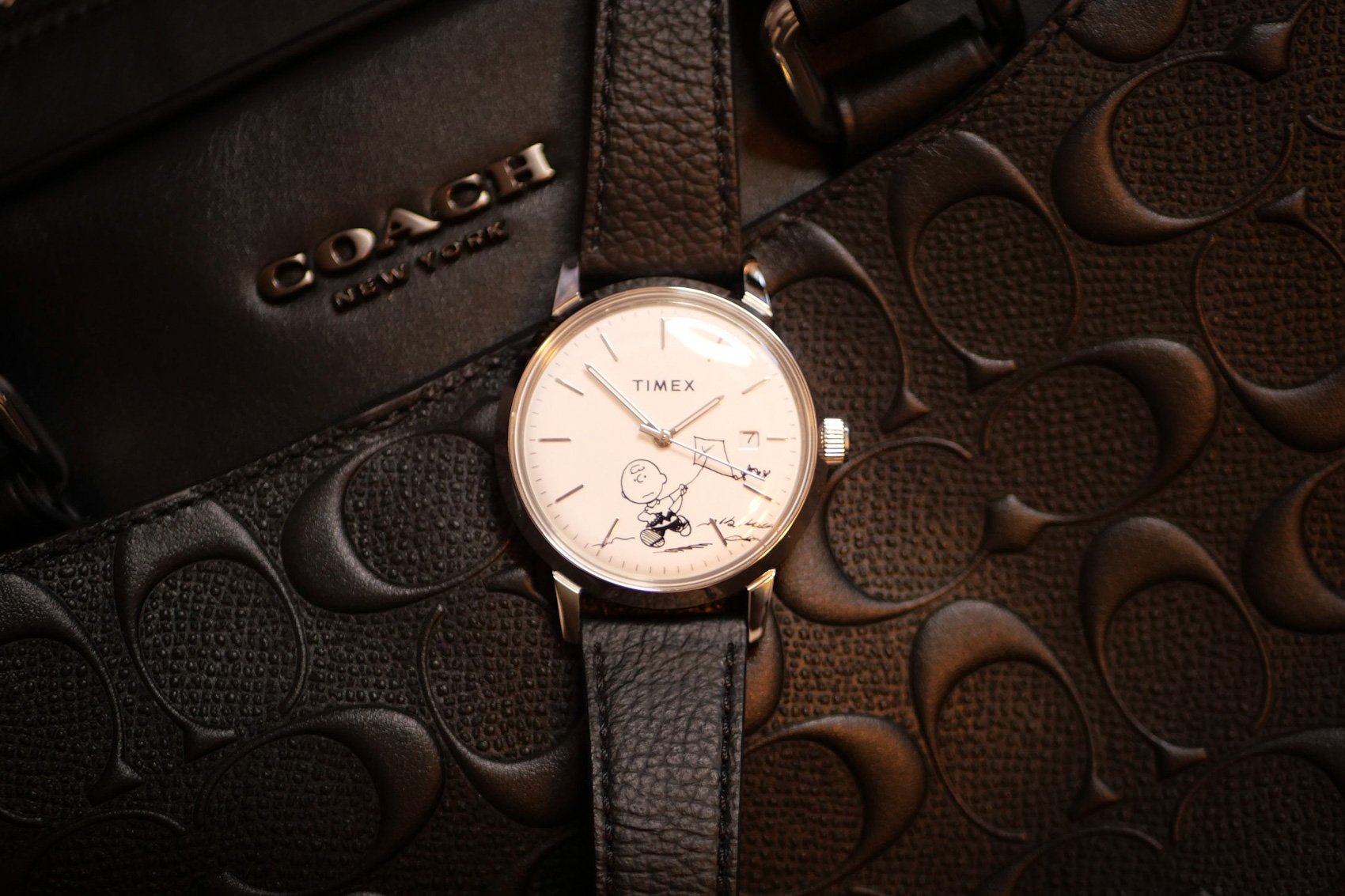 The Timex Marlin Automatic × Peanuts Charlie Brown
The Timex resurgence is a breath of fresh air in our insular watch world. Over the last four or five years, the brand has become synonymous with off-beat cool watches at affordable prices. From digital '80s wristwear to the Q-series with their tongue-in-cheek integrated designs, the word is "fun". The smaller Marlin 35mm mechanical watches are perfect vintage dress pieces, but this one has a job to do.
I got the box before Christmas but left it unopened on my desk, saving it for the inevitable post-holiday slump. You see, just like the Generation Z kids, I don't need a watch to tell the time, but a watch is more than just wrist jewelry or a money-flex. For me, this watch has a much higher calling — providing motivation when I need it the most.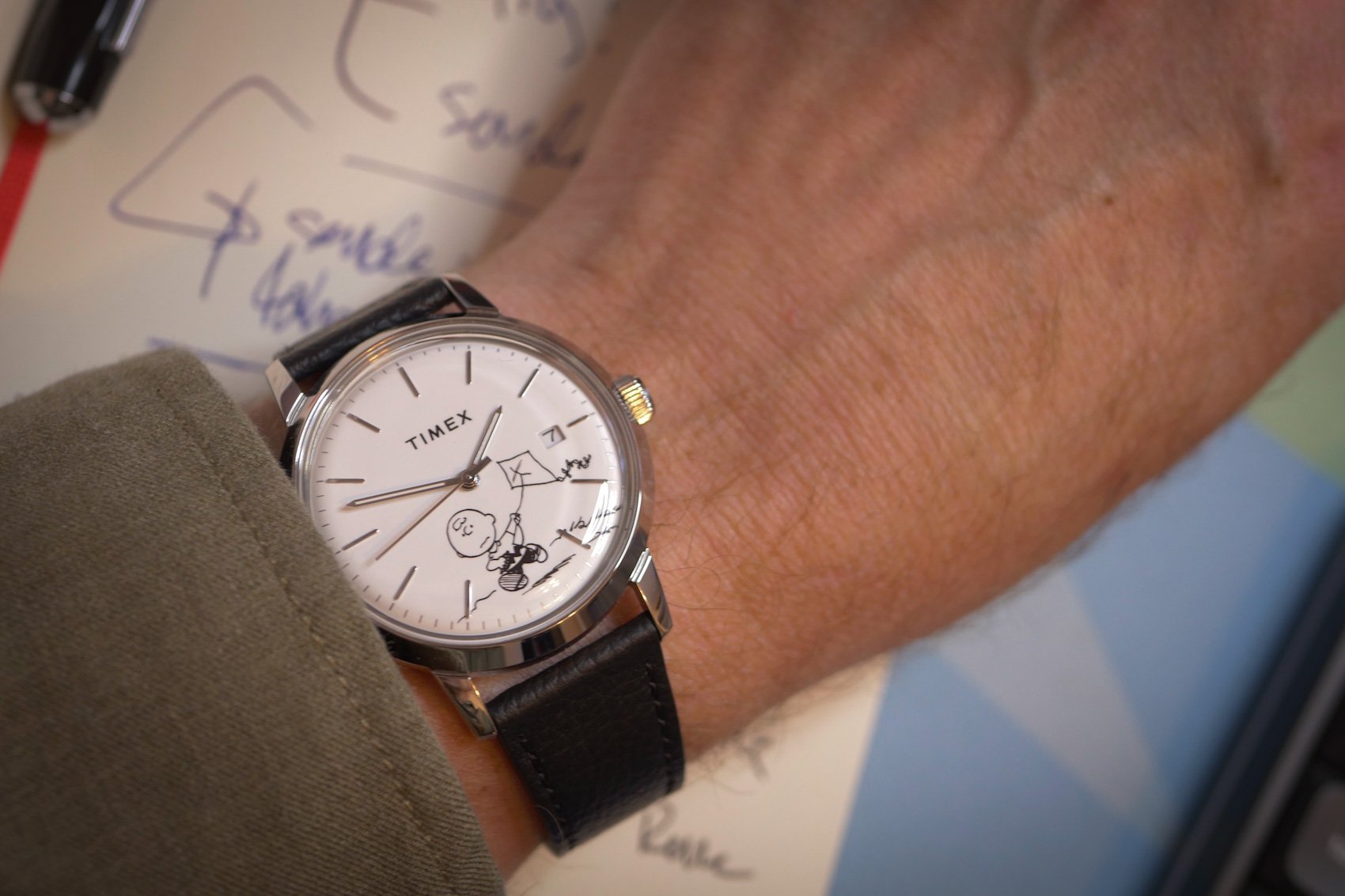 A new job, and a motivational force on the wrist
I might be slightly schizophrenic, but my watches can easily be divided into two distinct categories. They are Serious Horology and Fun Wristwear. Over the last couple of years with the pandemic sweeping the world, client meetings, conferences, and restaurant dinners have all but disappeared. And while I sometimes need to put on a shirt, non-jeans, and a dressy watch to get going in the home office, I often pick from the Fun Wristwear category. Whether it be my bright yellow Doxa, a purple-red metal G-Shock, or my Bamford Cosmic Rainbow prototype, these are motivational tools. So far, I haven't given up or worn a tracksuit for days without washing while my watches gathered dust in the corner. Nevertheless, the pandemic is still here, and 2022 isn't looking exactly as we hoped that it would. How can a watch improve this drudgery?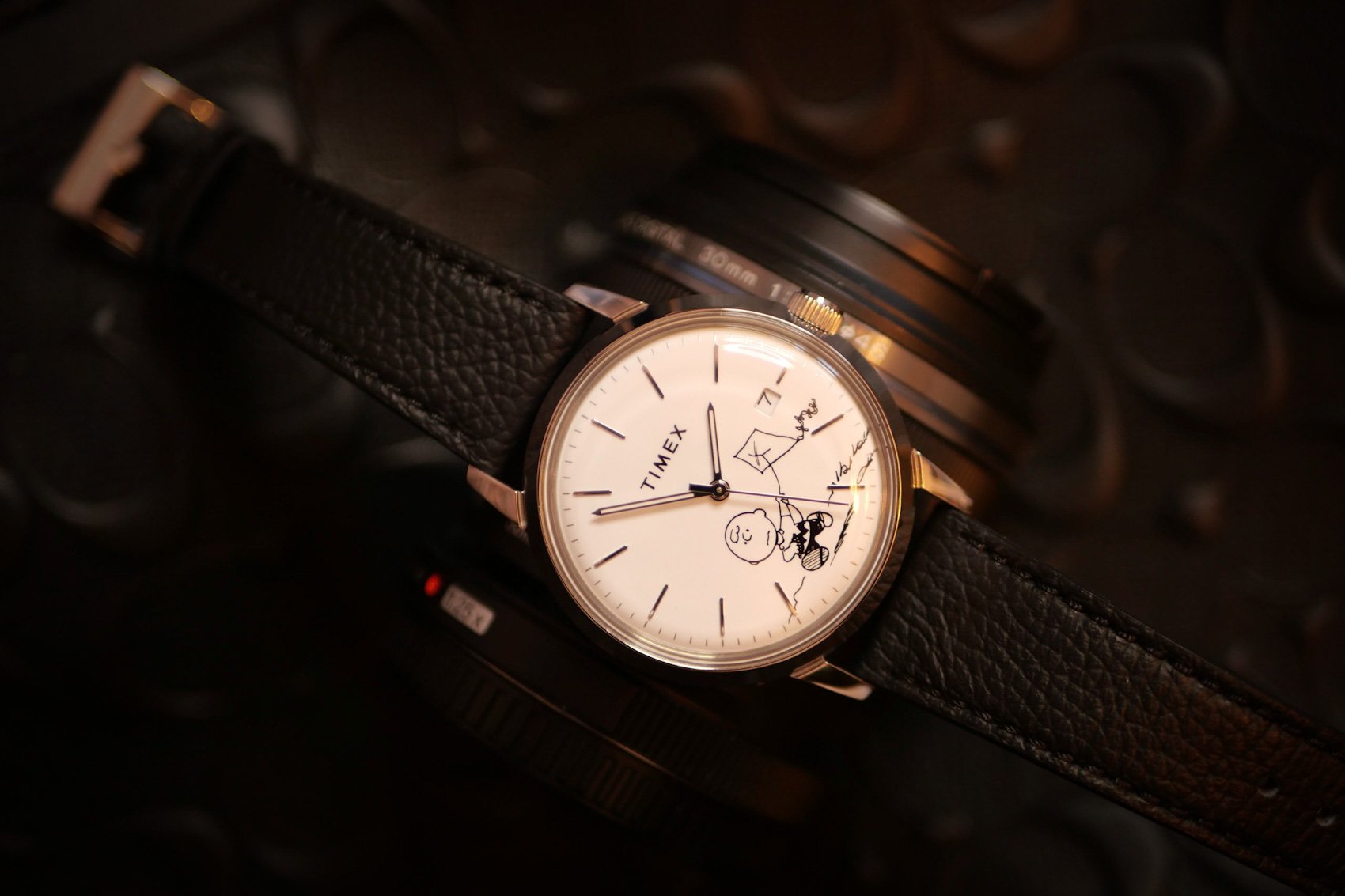 Starting the year right
This week, my drudgery-improving strategy was made easier with the excitement of a brand new career (writing is a calling, not a career for me) with a forever home office. And the new Timex Marlin Automatic × Peanuts Charlie Brown was my motivational tool. Matched up to a set of new shoes and a too-expensive briefcase from Coach, I was set. A CEO with a cartoon watch — you've got to be joking? Well, look at it, and stop taking yourself too seriously.
If you don't get the motivational aspect, I'll explain more on that later, but even without Charlie Brown, it is simply a good everyday watch. With its 40mm case and 48mm lug stretch, the Marlin finds itself in Goldilocks territory. And for $259, the quality is rather good. Good enough, in fact, for me to want another one. The all-polished case might not have the refinement and sharp, brushed transitions of a Seiko Presage, but the shape is as classic as it is versatile. At less than $300, you can hardly complain. The Miyota 8215 automatic movement is a rugged engine, even if it is a bit noisy. At least with the rotor spinning as loud as a cement mixer, you know that the watch on your wrist is mechanical.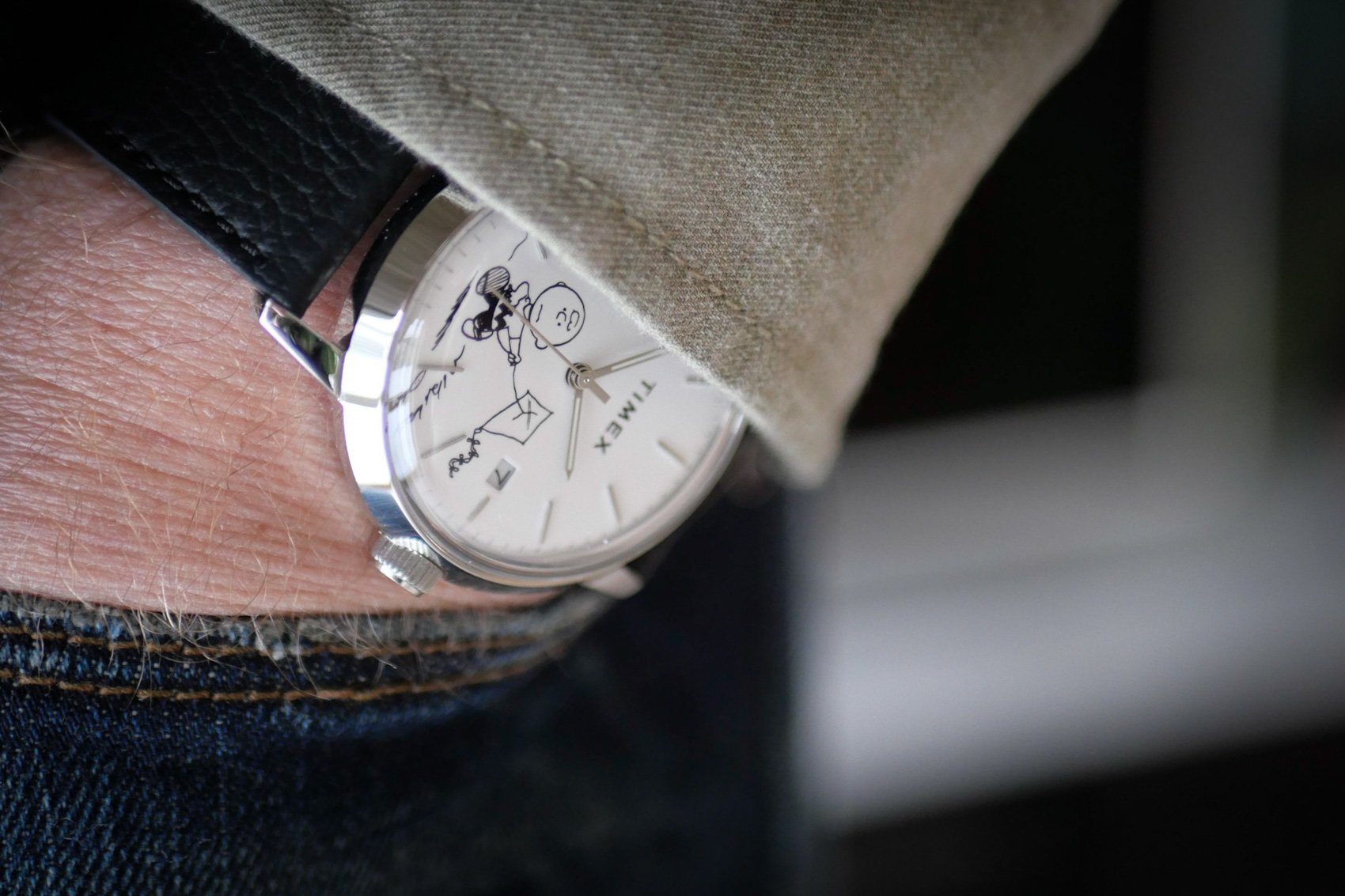 Simply a very good watch
The very tall domed crystal gives the cult-success Marlin a UFO-like look with the bonus of charming side distortions. But most of all, the sloping bezel and integrated crown give off a pure '60s vibe. But it's all about the dial. The thin applied indices give a minimalist look, even here exuding value beyond the sub-$300 price tag. Though the indices and hands might be a bit thin for the large 40mm diameter, the gloss white dial is still exemplary in its execution. I'm not too happy with the rather basic and small date window, but you quickly forget it thanks to the beautiful bottom half of the dial. Here's Charlie Brown in a sharp black print that actually has the look of ink from Charles M.Schulz's pen. It makes me smile every time I flick my wrist.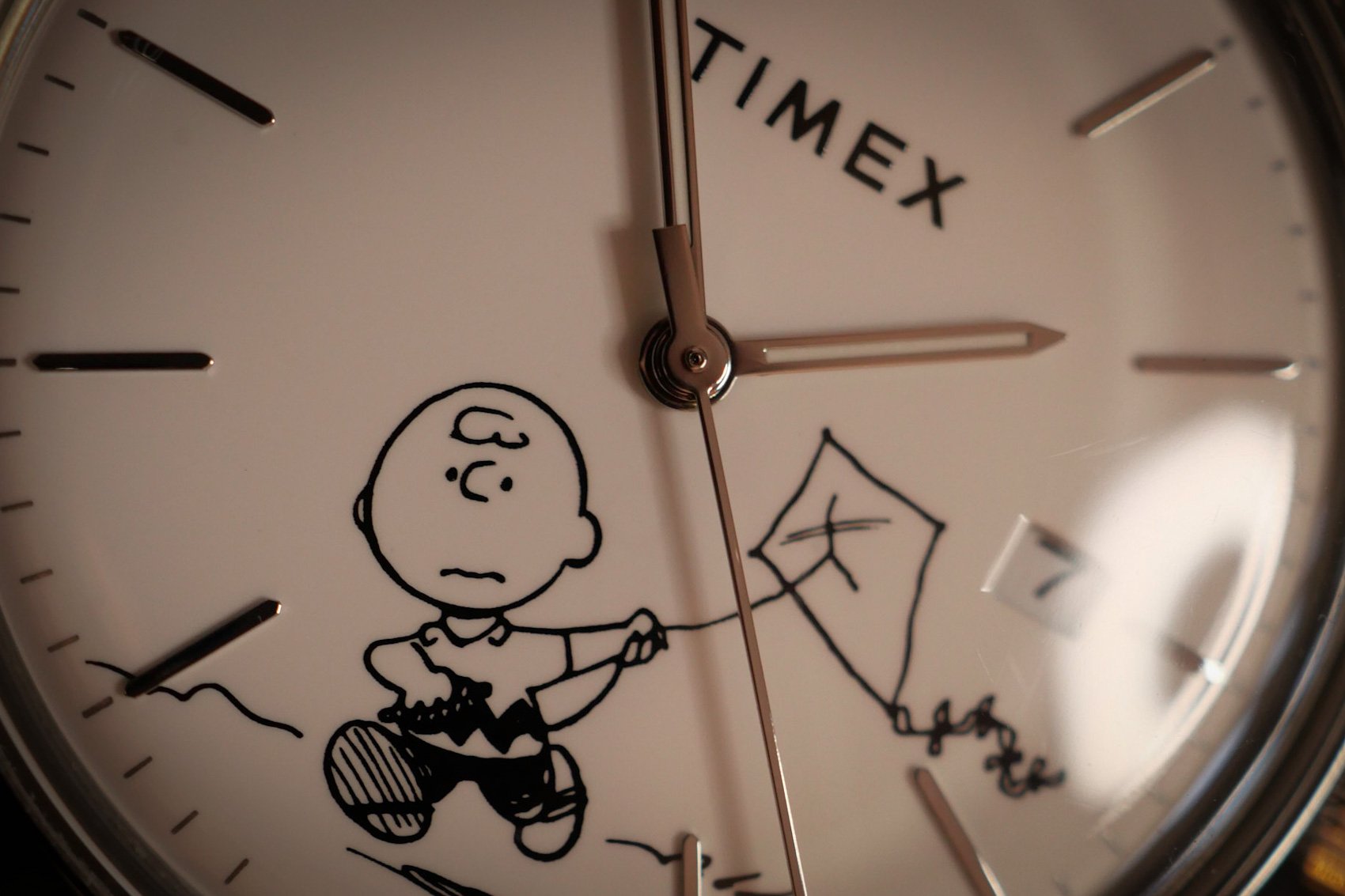 A dial that works better than a $500-an-hour life coach
The first thing you notice is Charlie Brown's ever-worried face. I'm biased remembering Peanuts cartoons from my childhood, but anyone will get it. We want Charlie Brown to get his kite up, as I want to succeed in kicking 2022 to a flying start. Spoiler alert — from watching countless cartoons and reading comic books, I know that it never happens. But for me, even a quick glance at Charlie at 6 o'clock makes me smile enough to light the fire under me. Yes, I know that it is a printed drawing, but I keep checking his progress, expecting a new image of Charlie Brown smiling with the kite up at 12 o'clock. Am I channeling Charlie Brown in the very first week of my first career change in ten years? Yes, and goddammit, I'll make the kite fly high.
Do you have a watch that cheers you up, lights up your day, or simply makes you escape into a world of adventure? Let us know in the comments section, and share your inspirational tips.
Follow me at @thorsvaboe