Which Watches Will The Fratello Team Wear This Holiday Season? Cartier, Omega, Rolex, And More
The watches on our wrist for this special time of the year
Season's greetings, our dearest Fratelli! As the year comes to an end, and the holiday season is well underway, we wanted to take this opportunity to share with you the watches that we will be wearing during the holidays. Whether it's for Christmas Eve tonight, Christmas Day tomorrow, or any other festive year-end celebration, it's a perfect time to strap on your most meaningful watch. The Fratello team comes together to share the stories of their picks for the holidays and share with you the reasons why these are the watches that made the list.
This time of the year is very special. Some will spend time with family and loved ones and come together to celebrate and share some quality time, delicious food, and one or two festive drinks. Others will enjoy a bit of quiet rest, putting their feet up by the fire. And only the bravest will venture out into the mountains, strap on their skis and gracefully carve down the mountain. But regardless of what our plans might be, you know we'll be doing it with a watch on our wrists. To find out who's wearing what and why, read on below. And once you're done, share with us in the comments your holiday watch of choice!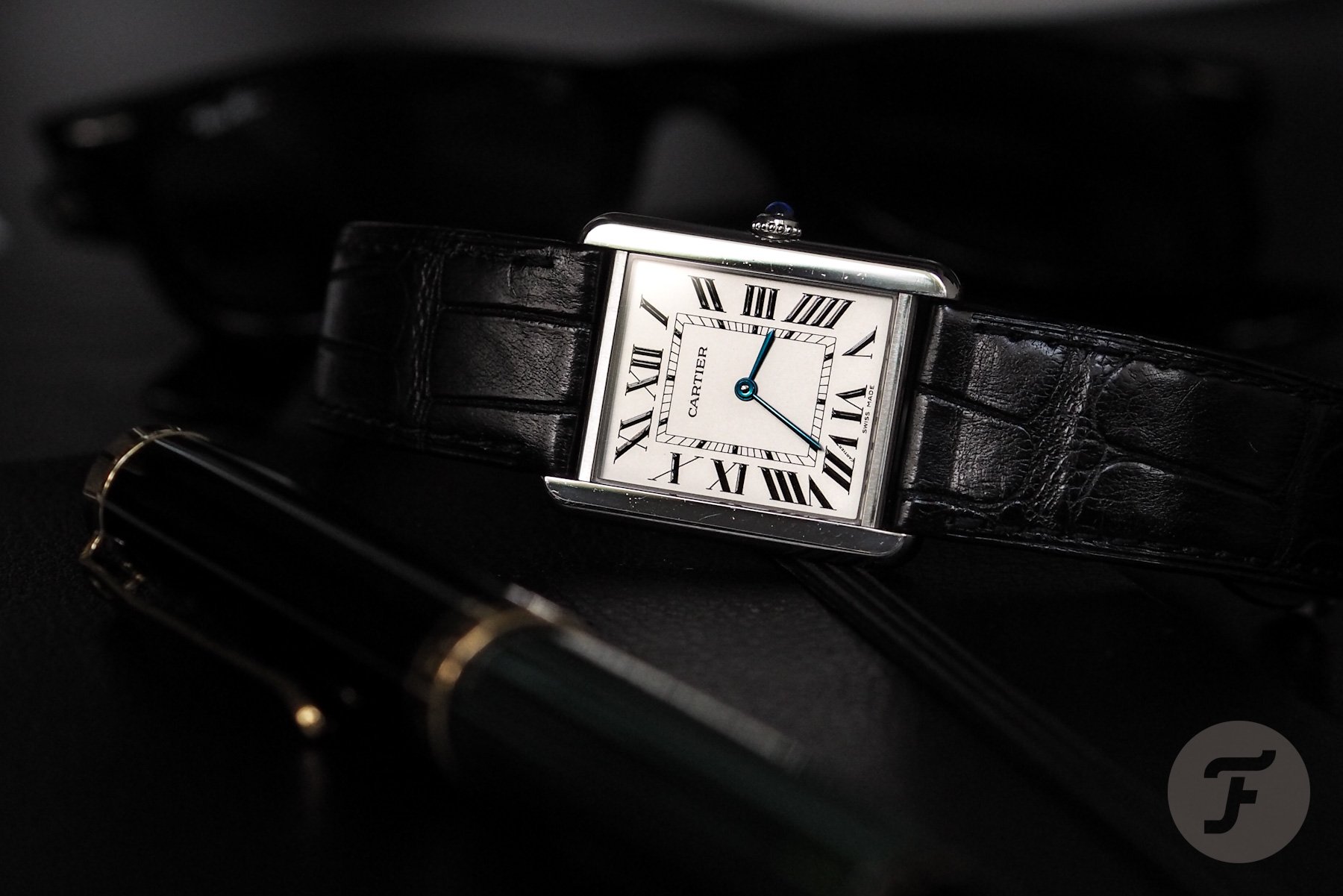 Nacho — Cartier Tank Solo
Picking just one watch to wear during the holidays was no easy feat. Though I don't tend to swap watches out throughout the day, it can sometimes make sense. After all, strapping on my G-Shock when going for a snowy morning run in sub-zero temperatures makes sense. But for a holiday meal, I might find myself wanting to switch to something a bit dressier. I guess this proves that I am in no way ready to become a one-watch guy. In the end, I opted to go with my Cartier Tank Solo. This is a watch that I wrote about earlier this year, and which joined my collection at a very special time (just as I began working at Fratello).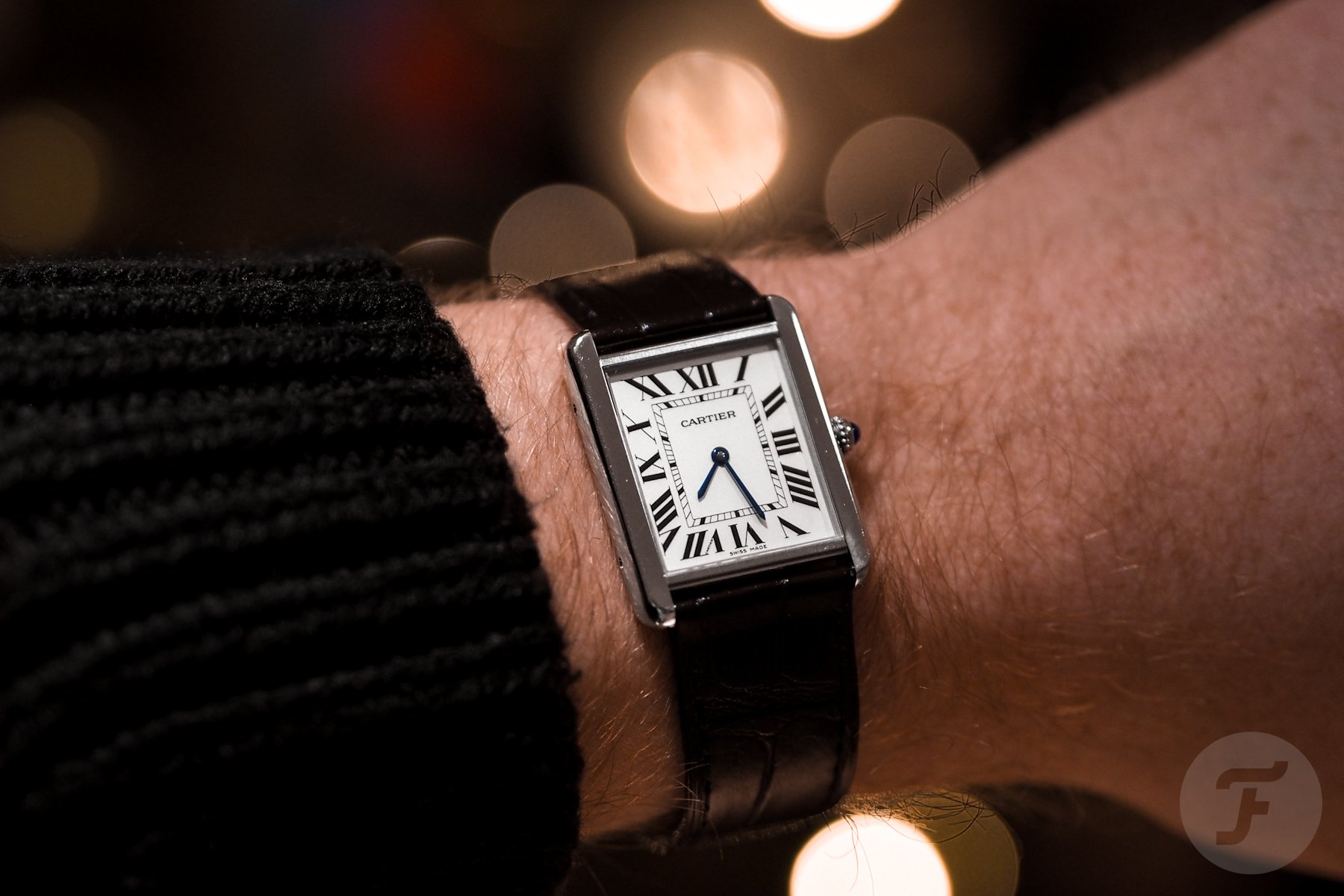 It's perfect for the holidays. There's no need for running seconds, and the date doesn't matter. I don't have to worry about whether it's wound or keeping time either, thanks to the reliable quartz movement. The Cartier is also dressy, without being too dressy, so it will look at home under a shirt sleeve with a jacket at Christmas drinks. But thanks to its steel case, it won't look out of place when paired with a comfy fleece jacket on a stroll in the woods. Perhaps I'll swap it from the alligator strap to something in suede to further increase its versatility. But this is definitely the one that will be keeping me company this holiday season.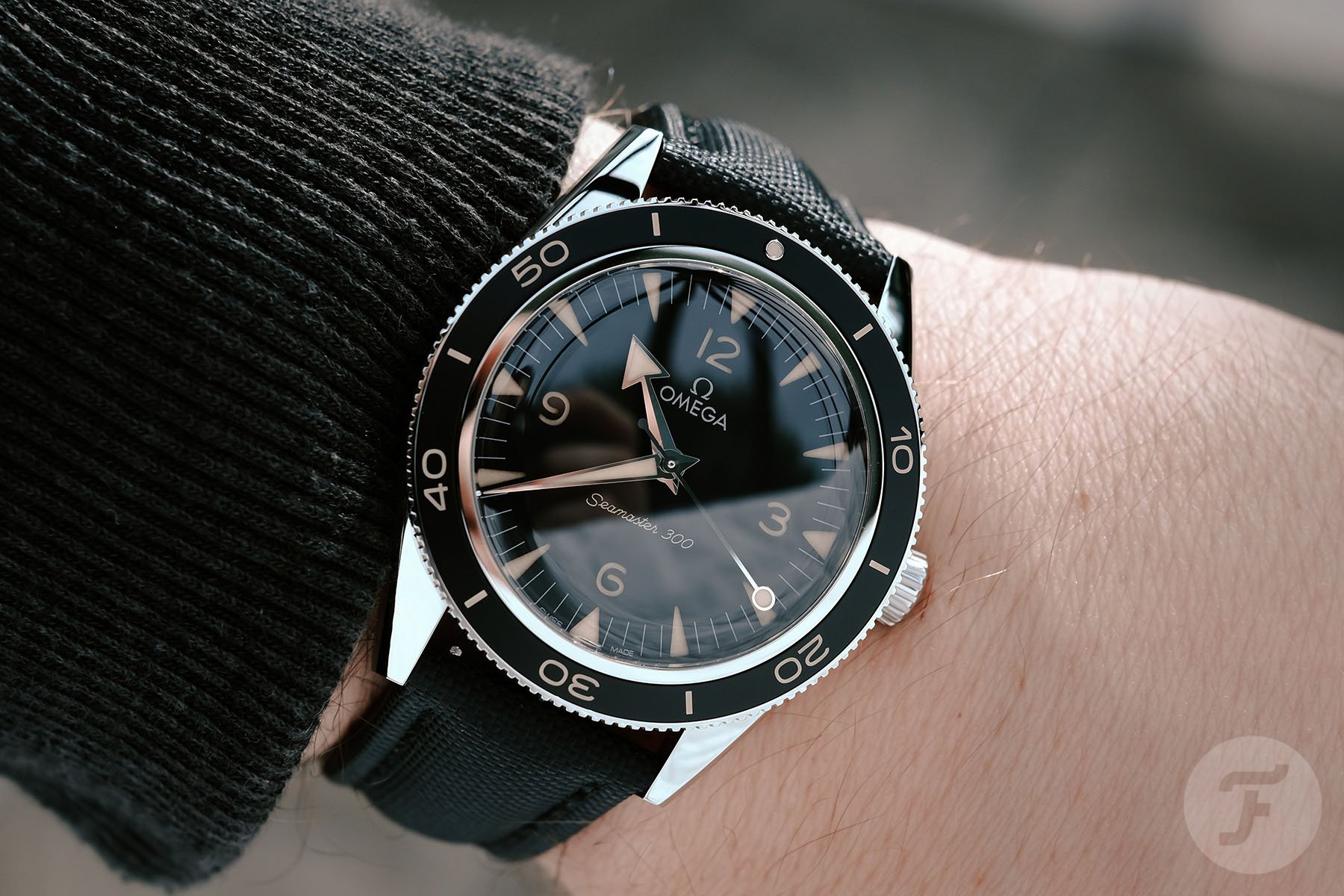 Ben — Omega Seamaster 300 (and maybe some Speedy action)
There's no more fitting way of seeing out the holiday season than with my trusty Omega Seamaster 300. If anything, this year has been about scaling back my collection to core, meaningful watches. But when the dust settled following my house move, I wanted a new timepiece to mark the occasion. The Omega Seamaster 300 happens to tick all the boxes for a summer indulgence. But wearing it on the Artem sailcloth strap elevates it a step further for all seasons. Don't tell Daniel Craig, but I feel this look is more accustomed to James Bond than the actual Bond watch. The synthetic sailcloth-style material has a GADA appeal, but it still maintains the classy aesthetic of the vintage dial. To keep it utilitarian, the RM-style tension release buckle is the perfect accompaniment to keep the 21mm strap close to the wrist.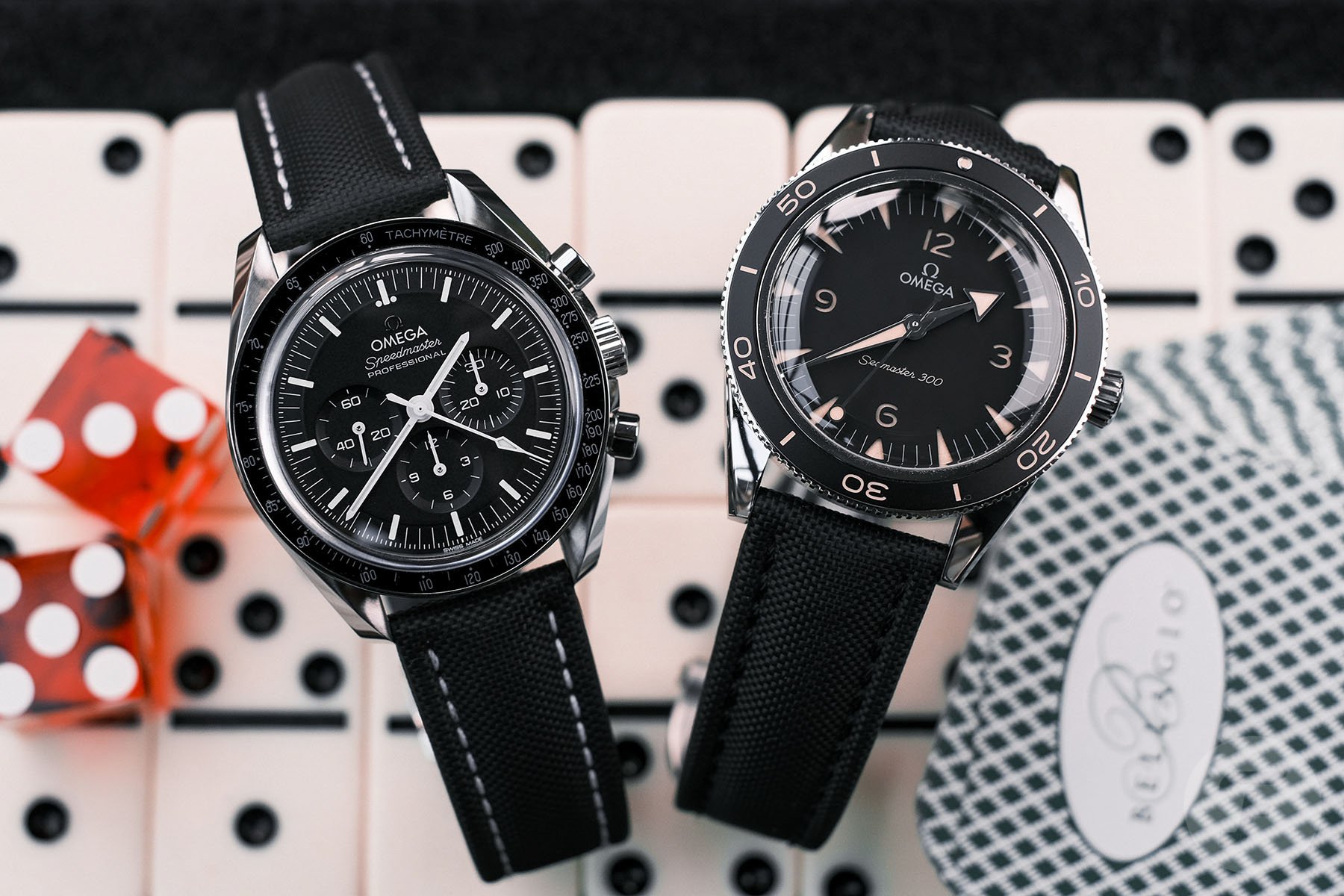 I will cheat a little, though, as festive parlor games always come with a miniature hourglass that you can never trust. So, I'll also be double-wristing this year with the Speedmaster Moonwatch to time each player's turn accurately. This will also be on the Artem strap, with the Omega-style deployant clasp, which, unfortunately, leaves a fixed keeper in no-man's-land. These are the only two Omega watches I purchased this year. They also happened to be released this year. As such, they should spend the holidays with me in tandem. Also, with Artem straps being a revelation to me in 2021, it makes sense that they also tag along for the ride. Happy holiday season, everyone!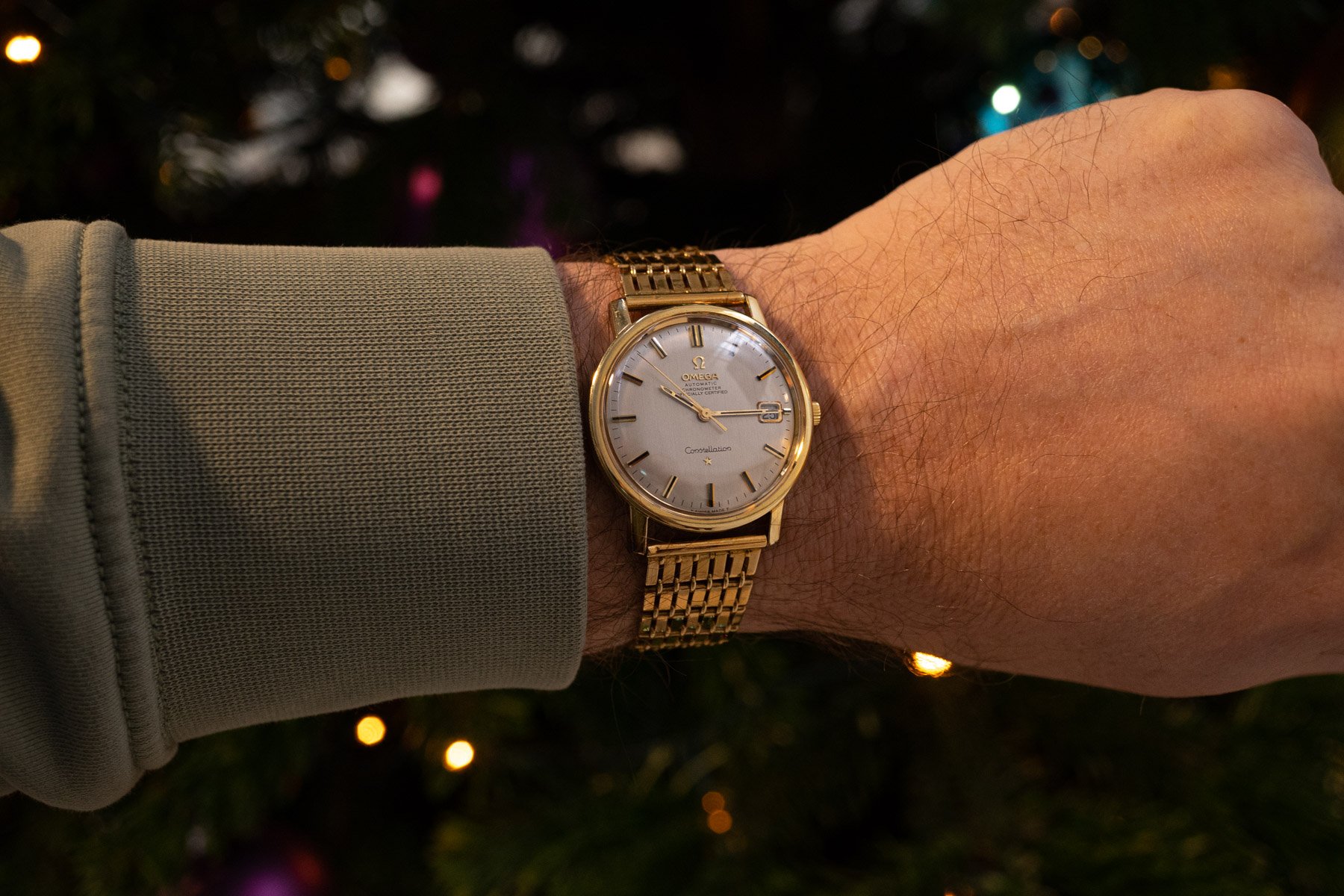 RJ — Gold Omega Constellation Watches For Christmas
Christmas is family time for me, and as you might know by now, Omega Constellations are a thing in the Broer family. If there's one watch that means the world to me, it's my grandfather's Omega Constellation on this custom-made gold bracelet. It's a lovely watch that he wore every single day for 42 years. After he passed away in 2011, his watch was given to me by my father, including the original paperwork (stamped on February 6th, 1969). I wear it for Christmas and sometimes on his birthday. He was a religious man, and Christmas was always very important to him. Now, I don't need to wear his watch to remember him, but there's definitely a strong connection I feel when putting it on my wrist. This year, I will wear this Constellation on Christmas Eve when my dad comes to visit us.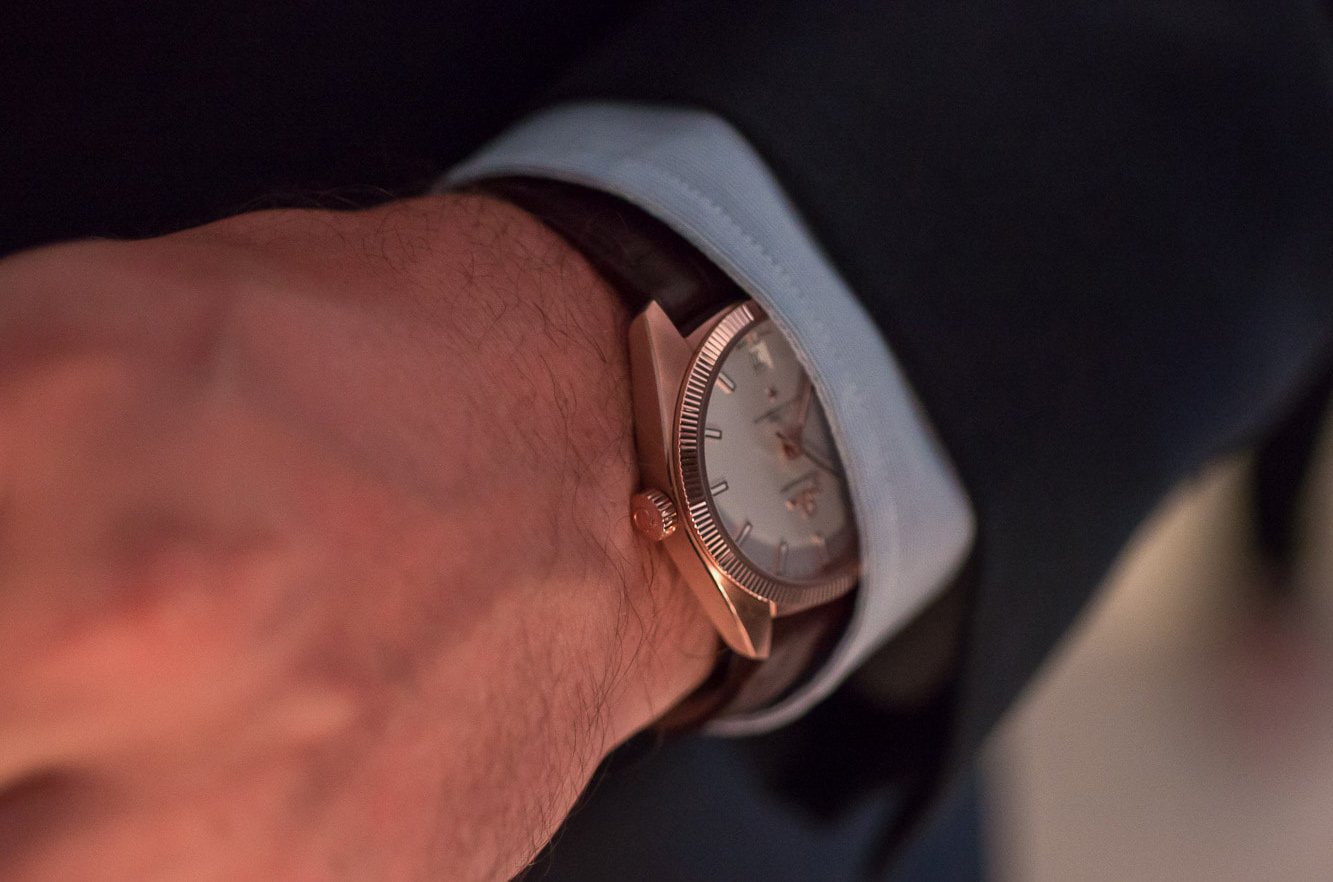 The other watch I will be wearing on December 25th and on Boxing Day is my 18K Sedna Gold Constellation Globemaster. A watch I fell in love with it when it came out in 2015, and I got mine in 2017. It is of great significance to me, especially because it is my "modern" nod to the Constellations of my great-grandfather and grandfather. Though not pictured here, my wife will be wearing her Omega Ladymatic for Christmas. She probably doesn't even realize that my grandmother had a Ladymatic in the 1960s, but I find it an interesting coincidence. My wife bought the Ladymatic herself, and there was no influencing going on from my side. She just saw it and decided to go for it. It's a watch I would have never chosen for her myself, but there you go.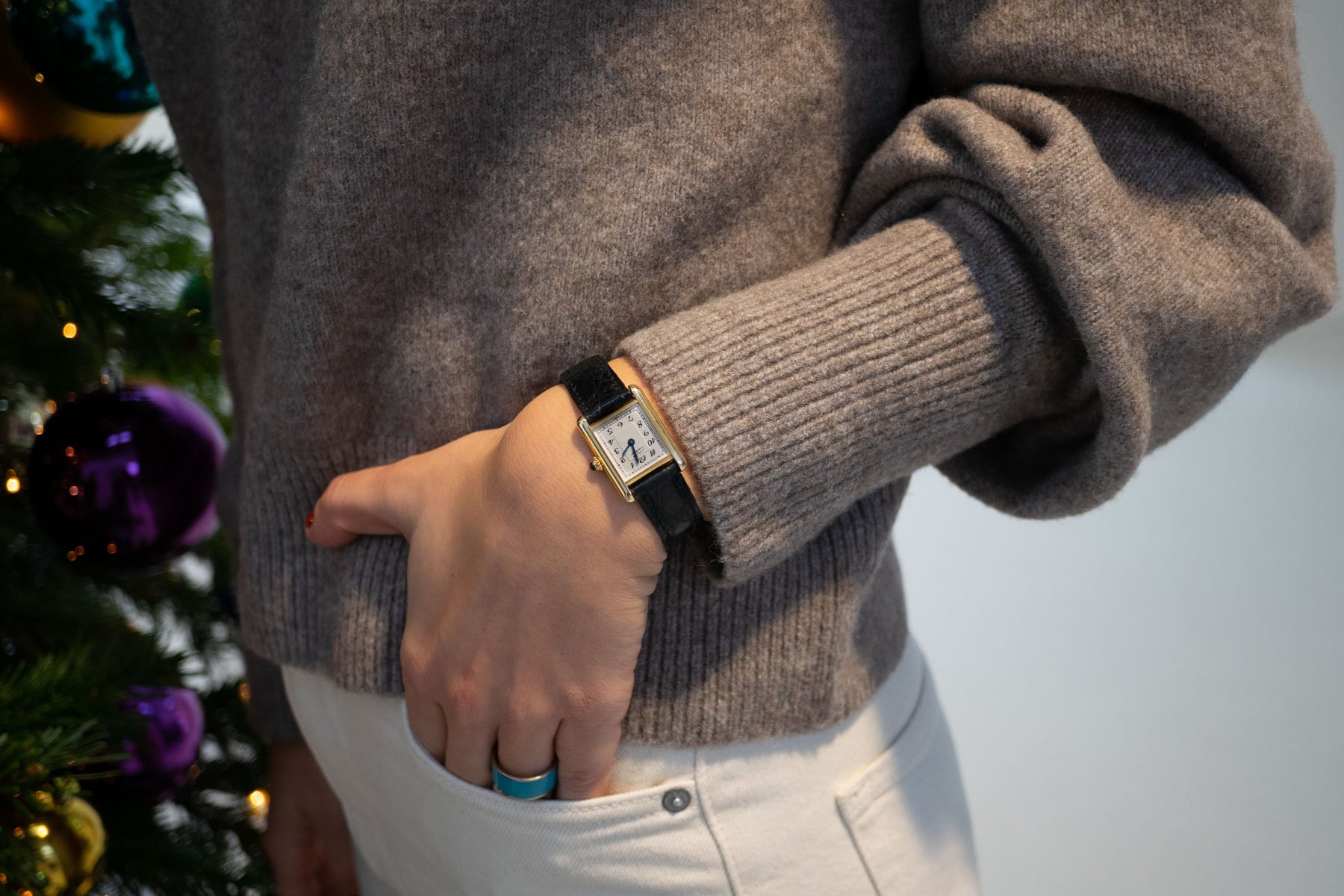 Sofia — Must de Cartier Tank, a timeless tale on my wrist for Christmas time
Far beyond telling just the time, watches are truly all about ties that bind us. My Must de Cartier Tank is a gift handed down from a special person during one of the most enriching tours I had in Rome some years ago. It went along with a lesson about the importance of valuing time, and suddenly it became a one-of-a-kind piece of living history that symbolizes vivid memories and living life to the fullest. That is how, from time to time, wearing this Cartier reminds me of unforgettable moments that reconnect me to the past.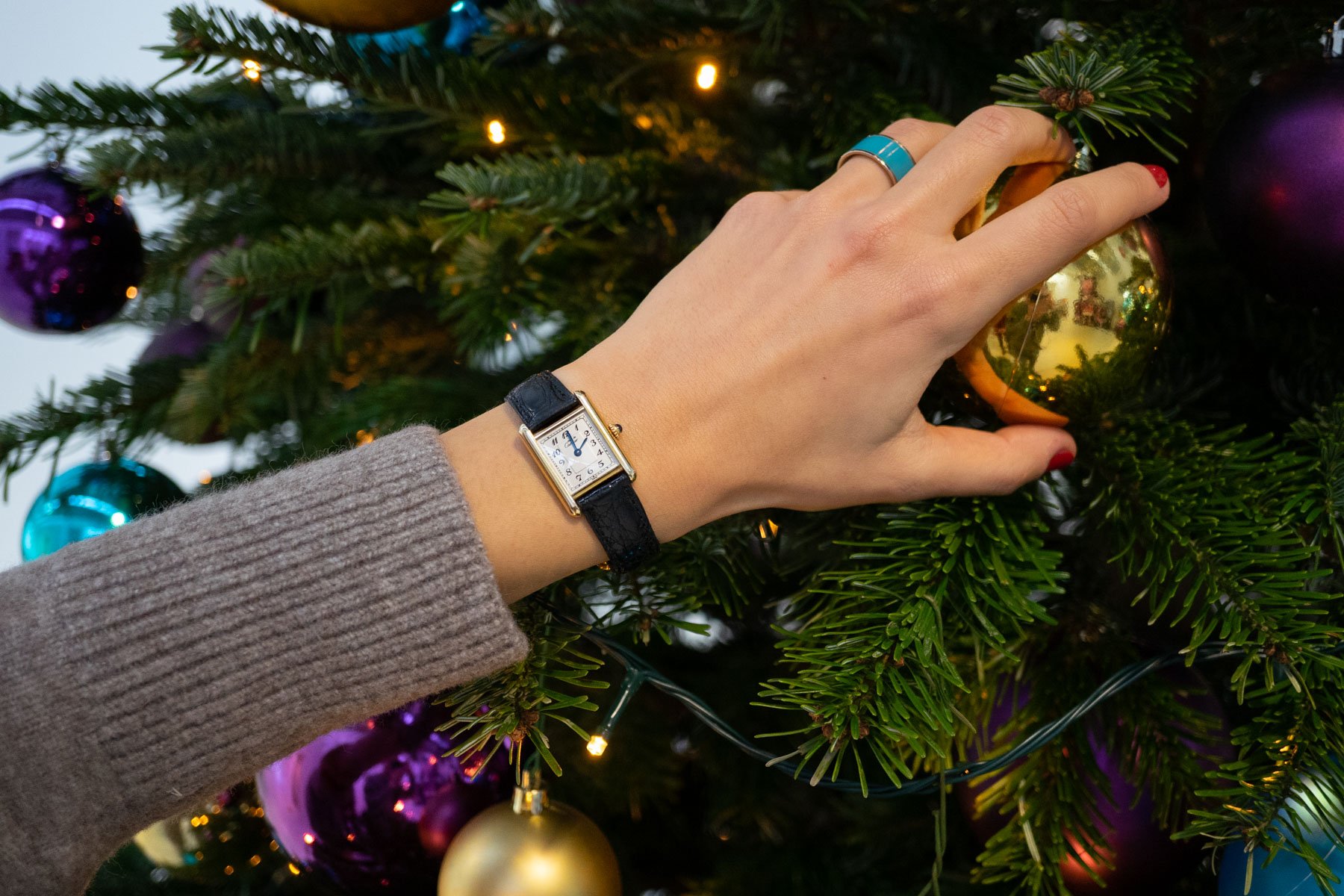 This piece is simply irresistible, just like the elegant aesthetic that goes with it. Its design not only conveys a statement of finesse, but this vintage timepiece also dares to be quite distinctive. Small details like the style of its Breguet numerals definitely add more charm to this beautiful, little Tank. And yes, I must admit that this watch is all I need to sparkle in my forthcoming Christmas toasts.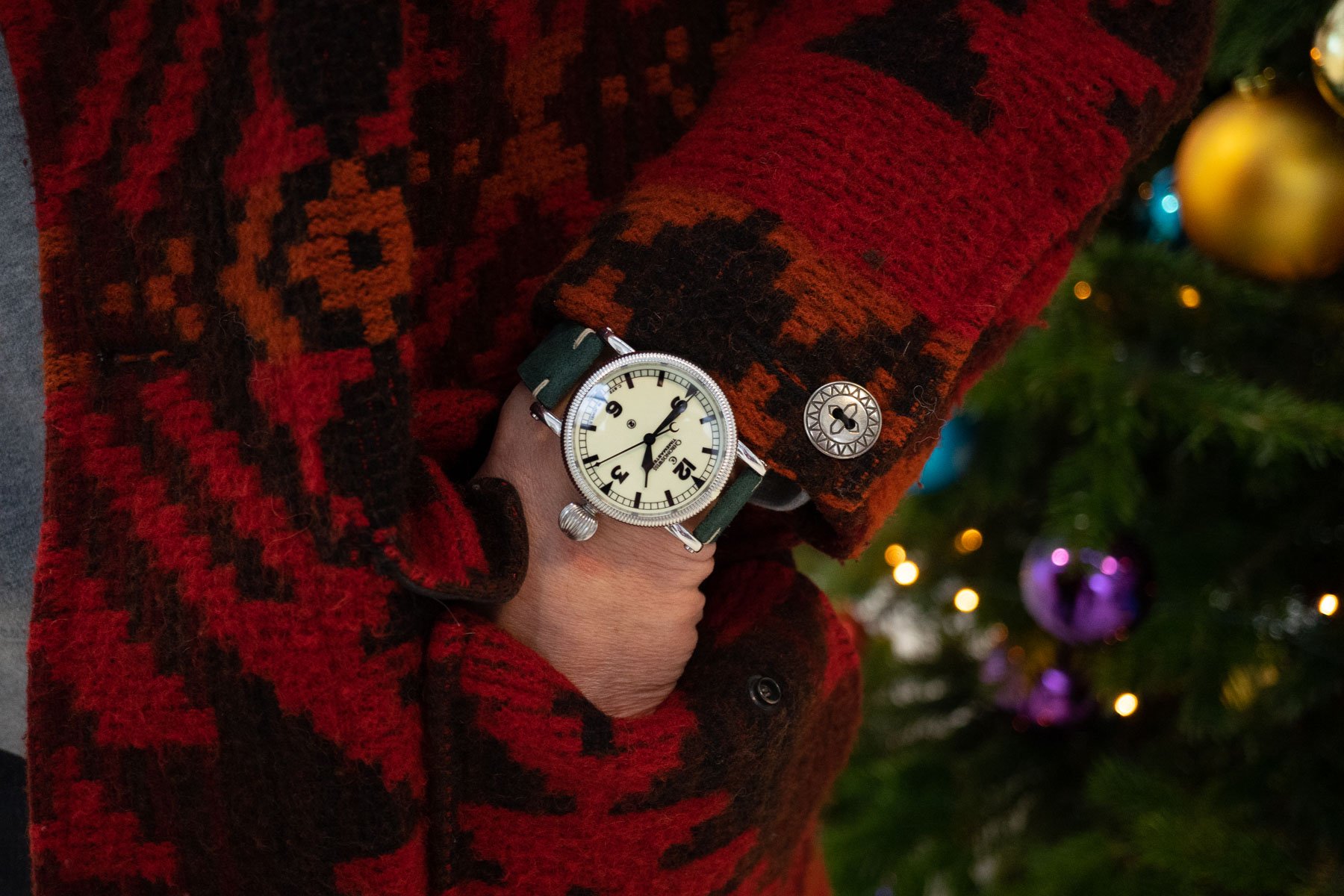 Lex — Chronoswiss Timemaster CH 6233LU
I don't even know exactly how long I've had this Chronoswiss Timemaster CH 6233LU, but it's safe to say that it has been on my wrist for more than twenty years. The great thing is that I enjoy it as much now as I did when I bought it. And if there's one watch in my modest collection that defines me, it's this one. Not because of the 44mm case, the nicely decorated Chronoswiss C.672 (Unitas 6497-1) hand winder with a swan neck regulator, or the large onion crown. It's because people within the world of watches recognize me because of my Timemaster.
This watch is very personal, and I will never ever sell this one — as if that would even make financial sense… Anyway, what I especially love about my Timemaster is the dial that is coated with Super-LumiNova C3. A ginormous dial that makes for a very special Christmas glow in the dark. The green glow it produces is comparable to the northern lights and drives a reindeer crazy! And to make the watch even more suitable for Christmas, I recently added a nice green strap from ABP. What a merry "little" watch!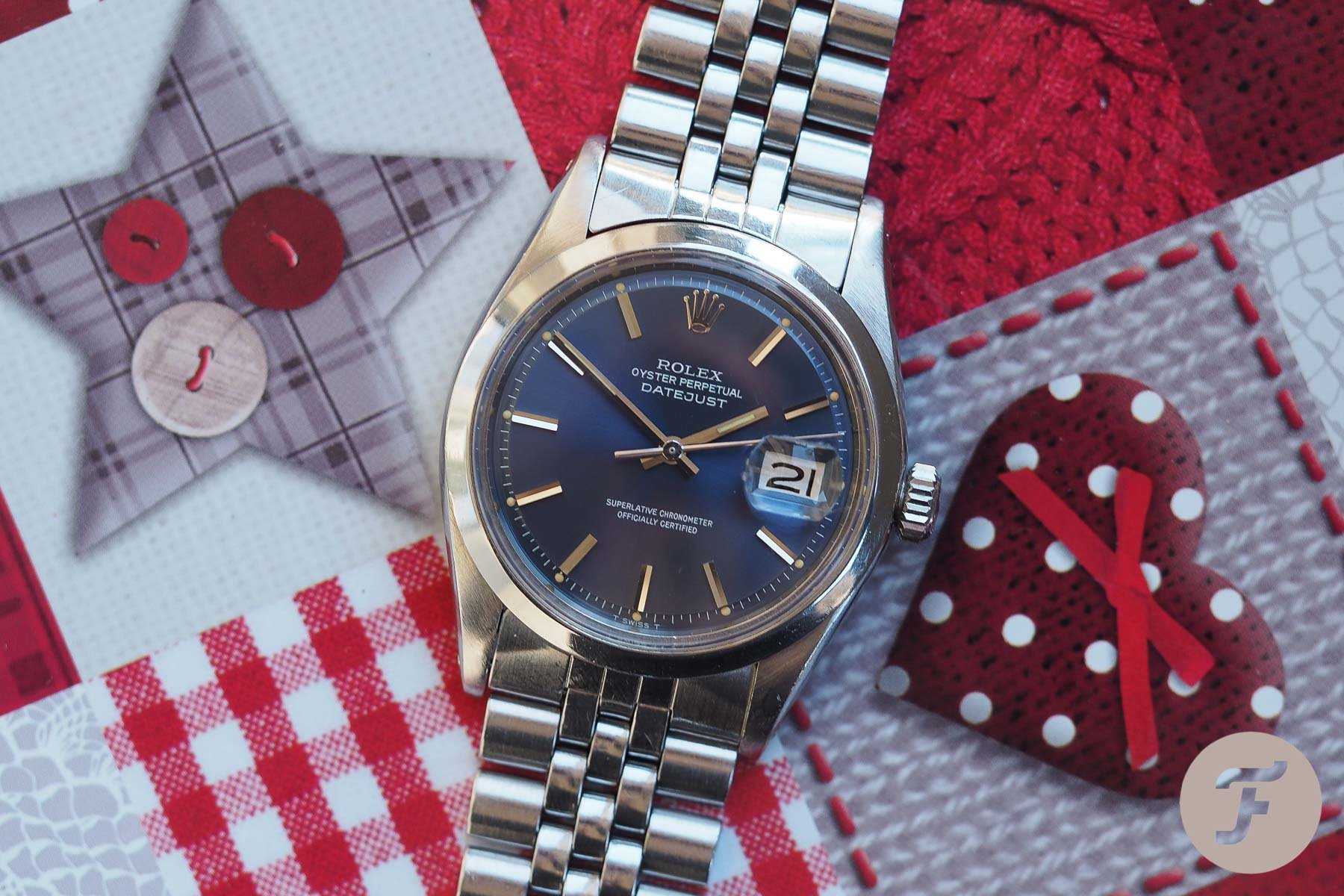 Mike — Rolex Datejust 1600 and a surprise entrant
Much to my wife's chagrin, I am an unabashed holiday season nut! For me, there's no such thing as going overboard on decorations and the Bublé doesn't stop playing for roughly a month in our house. I even have one of those little German smokers with stinky incense (he's a clockmaker — my wife truly hates that)! I love the Christmas spirit, I like having a nice tipple in my chair by the tree, and a fair dose of what the Germans call Gemütlichkeit. Watch-wise, for whatever reason, when it comes to the holidays, I think about Rolex. It's crazy, but I look down on these watches and they make me feel happy.
There have been a few different Rolex watches that have made an appearance during the holiday season, but this year I will probably spend the most time with my Datejust 1600. I've rambled on about how much I love a 36mm Oyster case — especially a vintage one with stamped end links — and that's how I'll let the yuletide ring. I guess blue isn't overly "Christmassy" unless you're a fan of the Snow Miser, yet it's a festive watch and it goes with just about everything.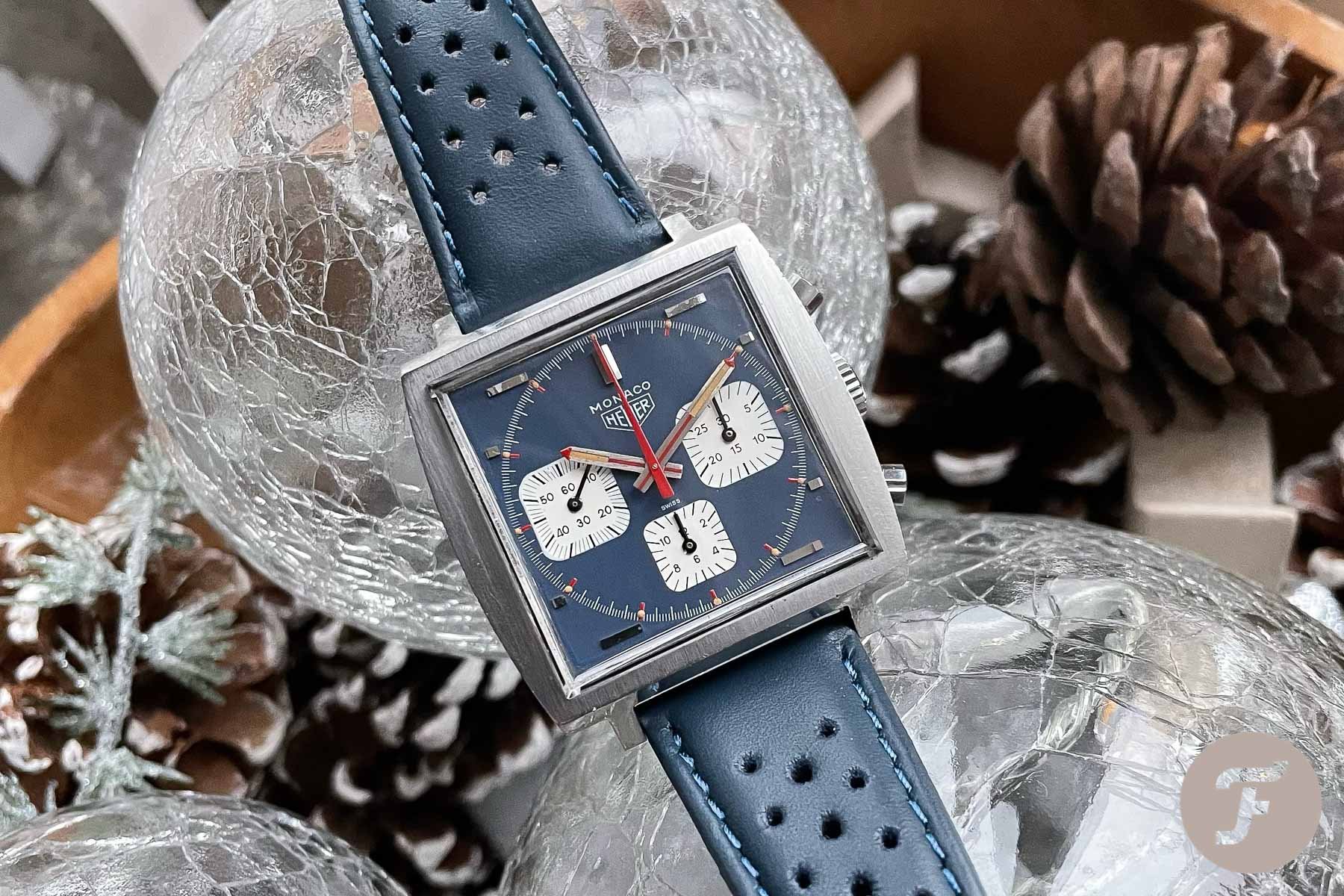 The surprise…
The little surprise entrant comes at the absolute last minute. You see, the maestro himself, Abel Court, just delivered a wonderful pre-Christmas gift. Abel masterfully restored this Heuer Monaco 73633b and I am so happy to have it (he sent roughly 100 pics of the goop-infested inner case — it was just amazing to see how this one came back to life). This is one of those watches that I always wanted, but never acquired due to high pricing, damage, or simply not being the right time. In this case, my friend Eric in Japan sold it to me at a very fair price and I sent it to the best in the business. Yes, this is a funky watch, but I love the fact that it has the manual wind Valjoux 7736 over the automatic Caliber 11. This watch is truly one of the most unique designs ever, and 24 hours in, I am deeply impressed. It even fits my thin wrist with ease! Will the Monaco win out over the Datejust on Christmas Day or for the rest of the holiday season? We'll just have to see!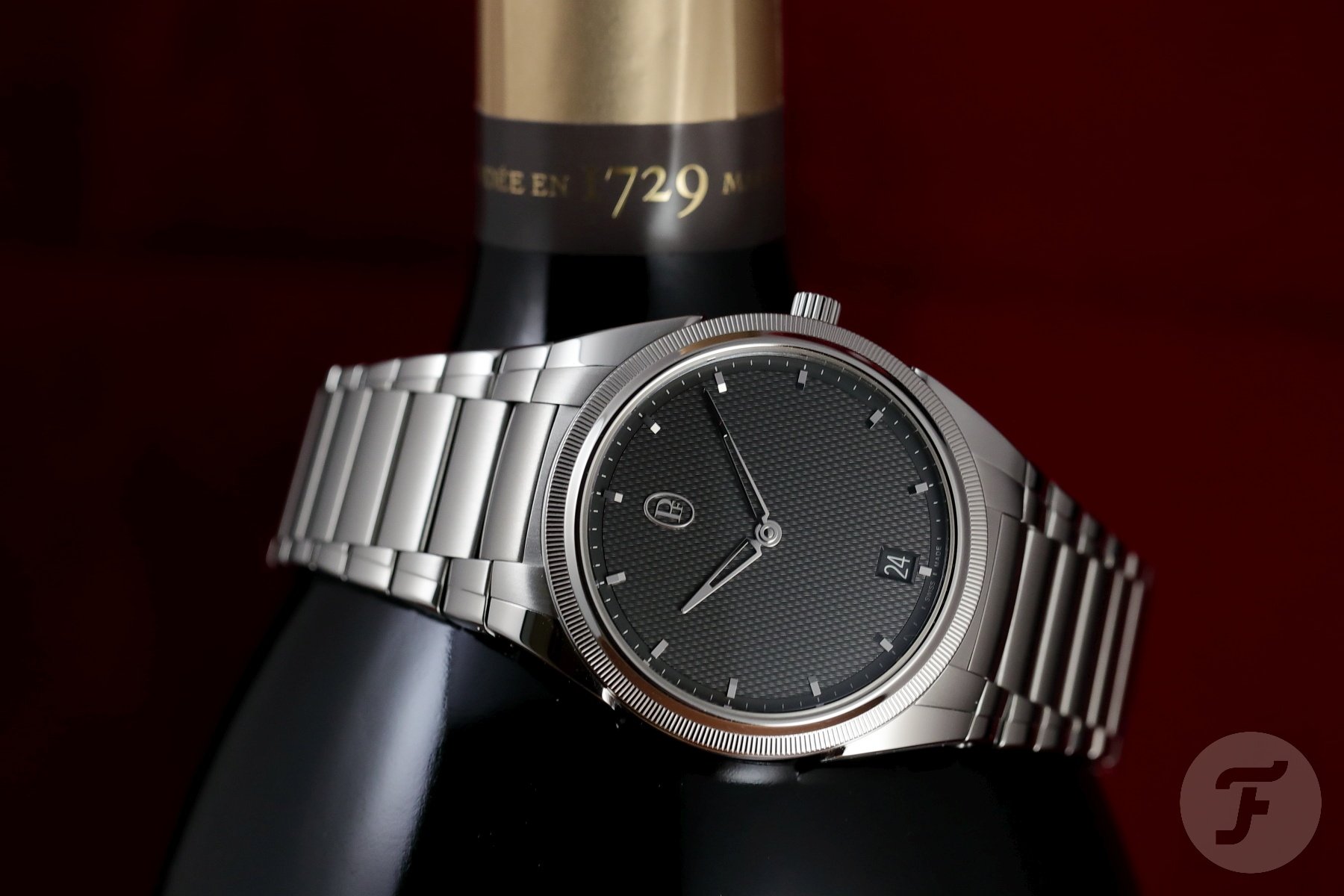 Andreas — Parmigiani Tonda PF Micro Rotor in steel
On the one hand, my choice is obvious: it is my latest acquisition. A new watch generally is (or should be) more exciting to you than those you already own for a while. On the other hand, I consider the Parmigiani Tonda PF Micro Rotor in steel an absolutely appropriate choice for this occasion. It is a rather elegant watch. But the Tonda PF in steel is not screaming for attention. At a glimpse, it appears to be a simple steel watch on a bracelet. Its details only reveal themselves upon closer inspection.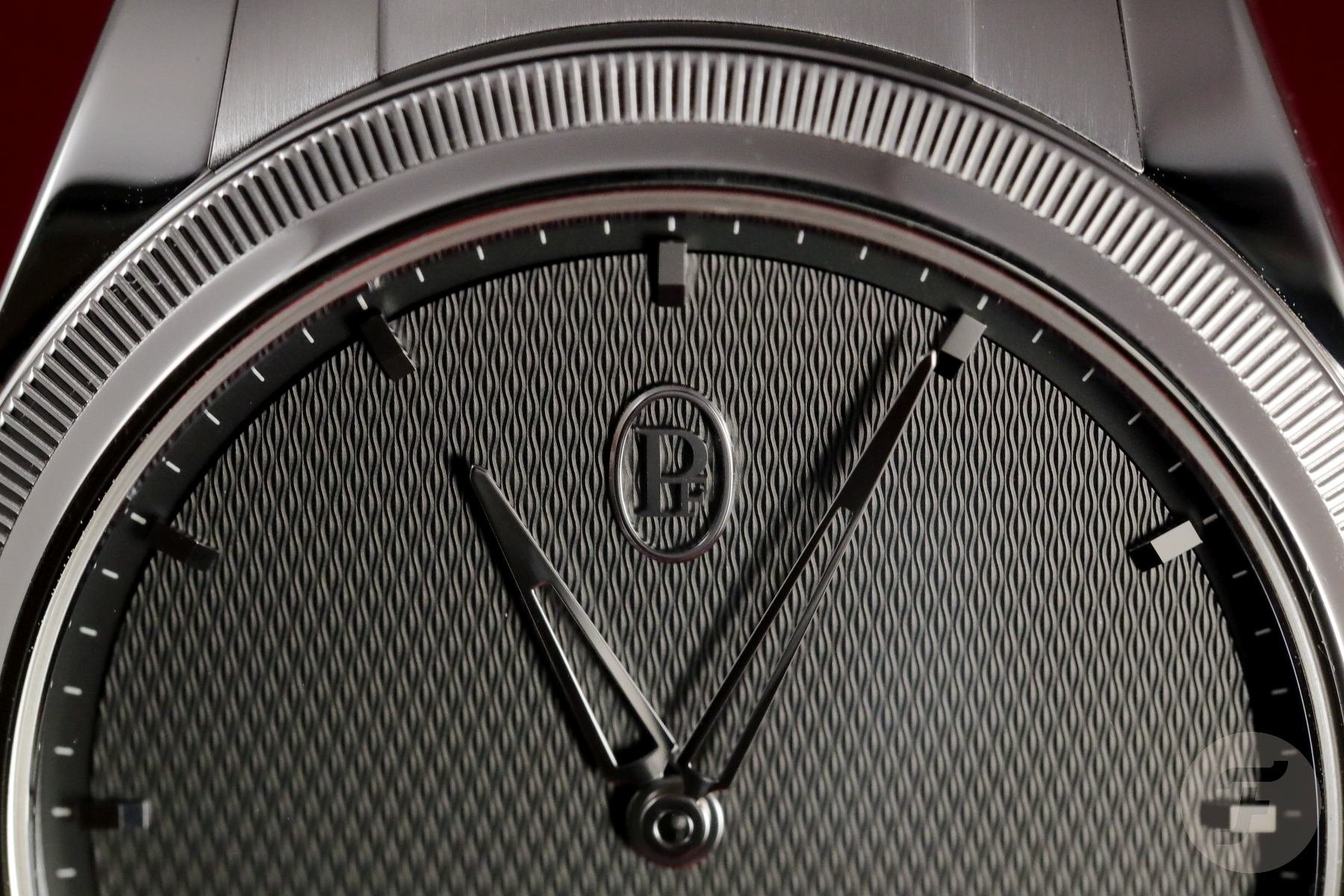 When I encountered the Tonda PF Micro Rotor in the flesh for the first time, I immediately fell in love with it. First, it was the look created by the clean dial with the reduced indexes and the case that seamlessly transitions into the bracelet. I noticed an abundance of compelling details. When I put it on my wrist, the feeling the bracelet created was absolutely sensational. It felt as if the bracelet would wrap around my wrist by itself. At that moment, I knew I needed to have this watch.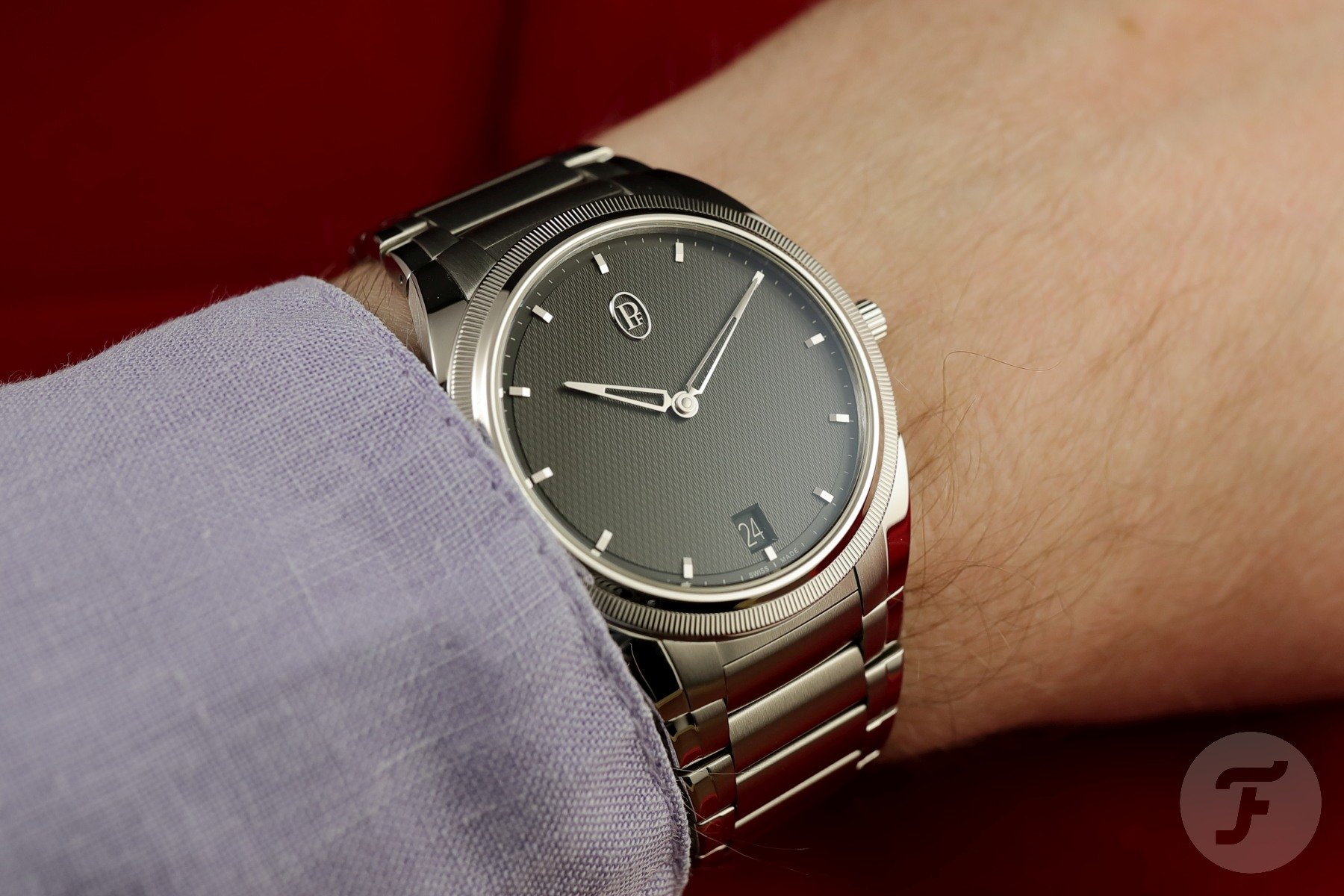 If you read here on Fratello that I also bought the Bvlgari Octo Finissimo this year, my purchase behavior might bring the term "revenge spending" to your mind. It's much more straightforward. Events in the recent past impactfully taught me that it's impossible to foresee what will happen tomorrow. Don't postpone anything to a seemingly more appropriate future. Live today!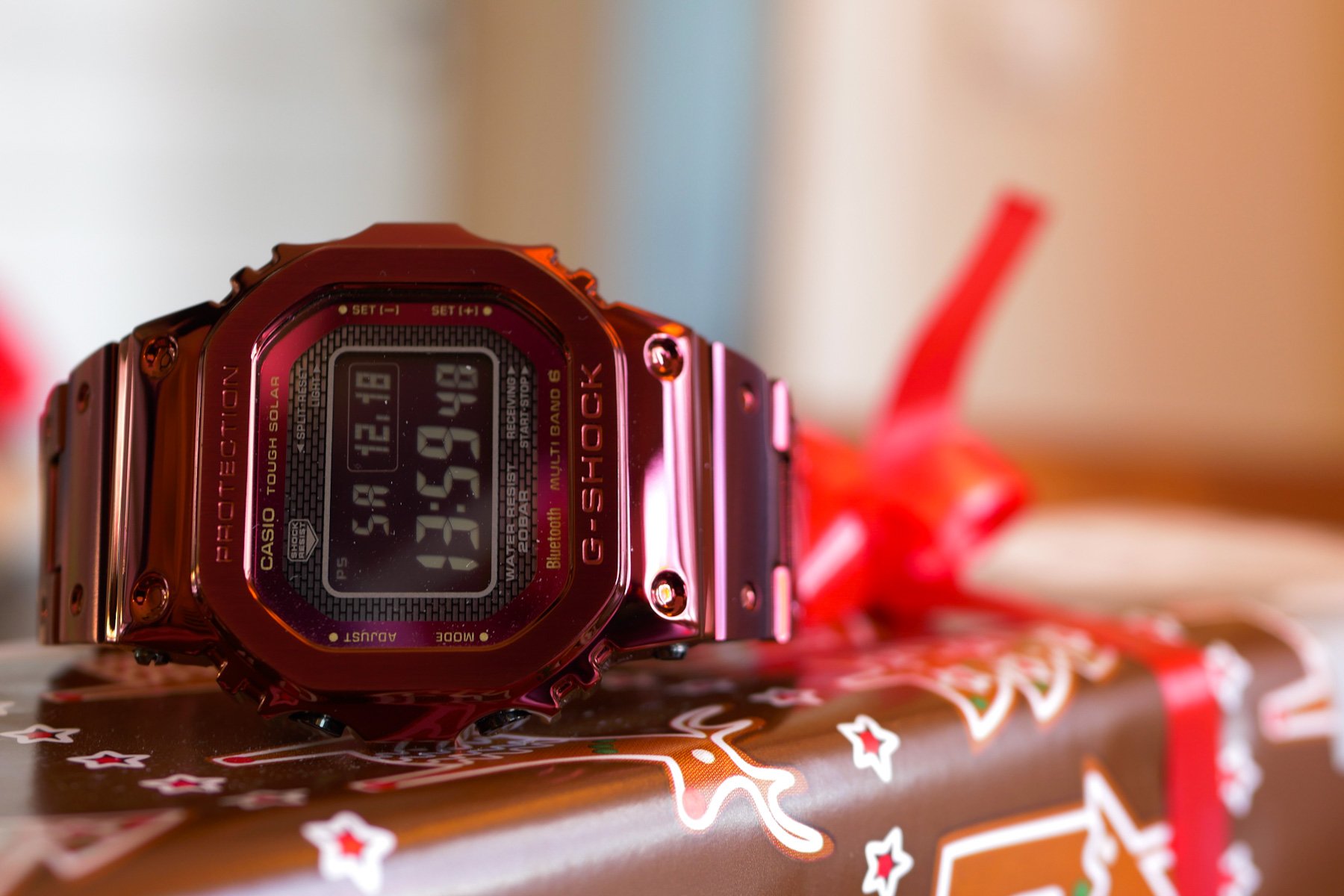 Thor — a festive-colored Casio G-Shock and a bespoke Holthinrichs Ornament
Love moves in mysterious ways, as they say, and my dark red G-Shock GMW-B5000 is a prime example. In a year where I've seen a Black Bay Fifty-Eight come and go, just like Seiko Baby Marinemaster, this is a keeper. For one thing, the Bluetooth and Multiband 6 tech make it ultra-accurate and great for actually traveling again, thank God! But this time, the glorious chameleonic burgundy of the ion-plated metal makes for a rich and festive celebration of Christmas finally spent in Italy with the in-laws. To call my dad outside London, I just need a couple of quick clicks on the mode button to get the World Time display pre-set to UK time. And the comfort?
For my smallish wrist, the short metal links make this a smoother wear than the jelly Casioak I had, and that splash of indefinable red, purple or wine-drenched burgundy just makes me smile. A lot. What else do I need?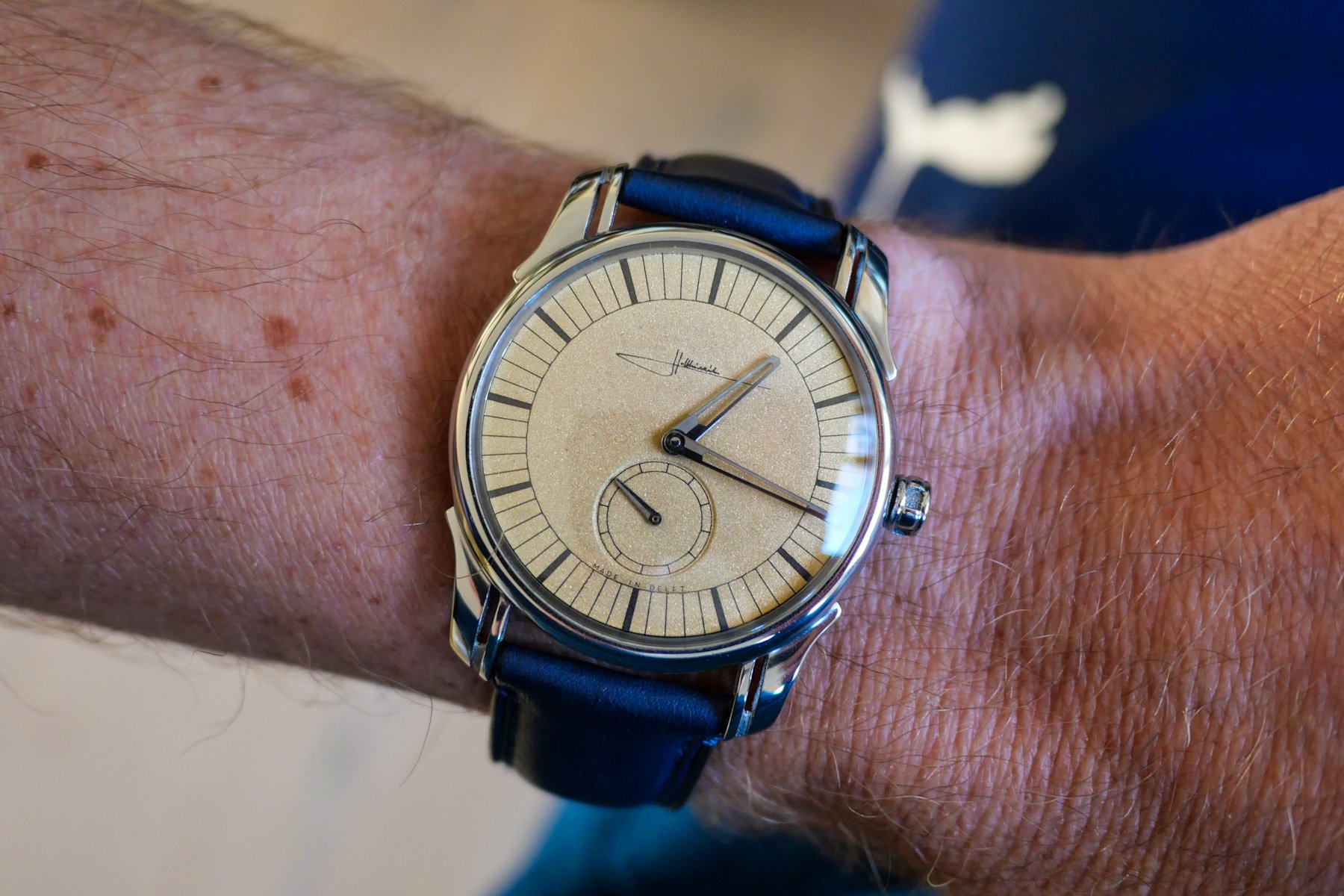 The Bespoke Holthinrichs Ornament on my Christmas tree
Seeing our Italian part of the family for the first time in two years makes Christmas even more special, so I brought my best, the Holthinrichs Ornament. Its 38mm ultra-light 3D-printed case makes for a dressy, airy wrist presence. Each hand-polished part of Michiel Holthinrich's masterful case design has its own charm, and this is a one-off. From rough metal visible through the dramatically scalloped case sides to the lacquer-filled buckle, the craftsmanship shines through. Michiel is secretive about his technique, but the sandy beige dial is infused with 18K gold dust. What better wrist presence to underline the golden Christmas spirit, reflecting candlelight on a festive dinner table. I'm in Italy, so obviously, it's on a hand-finished Morellato strap. Did I also buy myself a ticking gift? Well, you just have to wait until after Christmas Day to find out. No peeking (in either of the two packages)!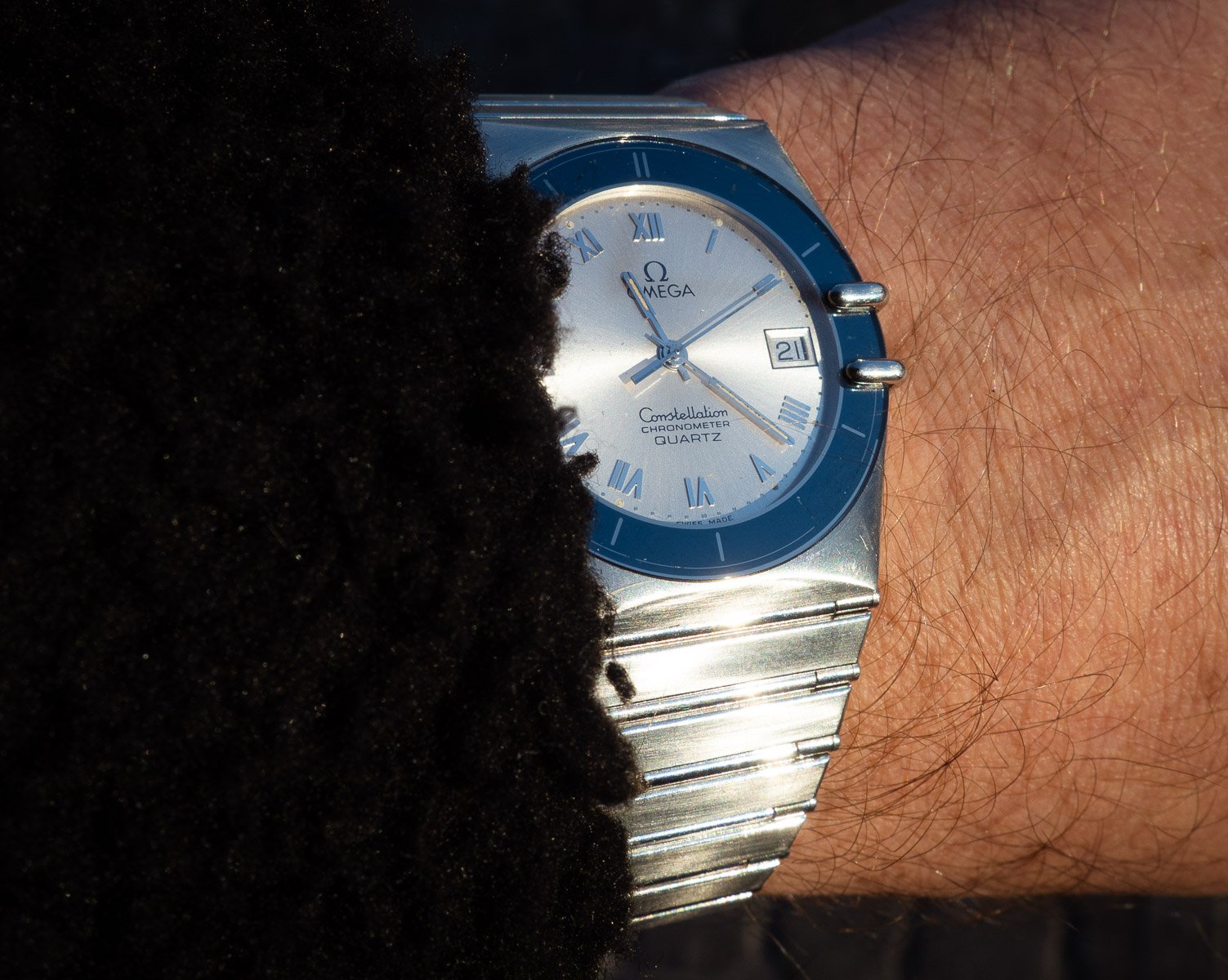 Jorg — Omega Constellation Manhattan
On Christmas Day, I'll jump in the car early in the morning, like I do every year, and drive to my parents' house on the other side of the country. Upon arrival, I'll glance at my father's wrist, like I also do every year, to see whether he is proudly wearing his Omega Seamaster DeVille that he bought in 1966. I know he will be. Upon return from England where he worked for a period of time as part of his first job, he saved up the money to buy himself an Omega. An incredible 55 years later, it still looks great on his wrist every time I see it.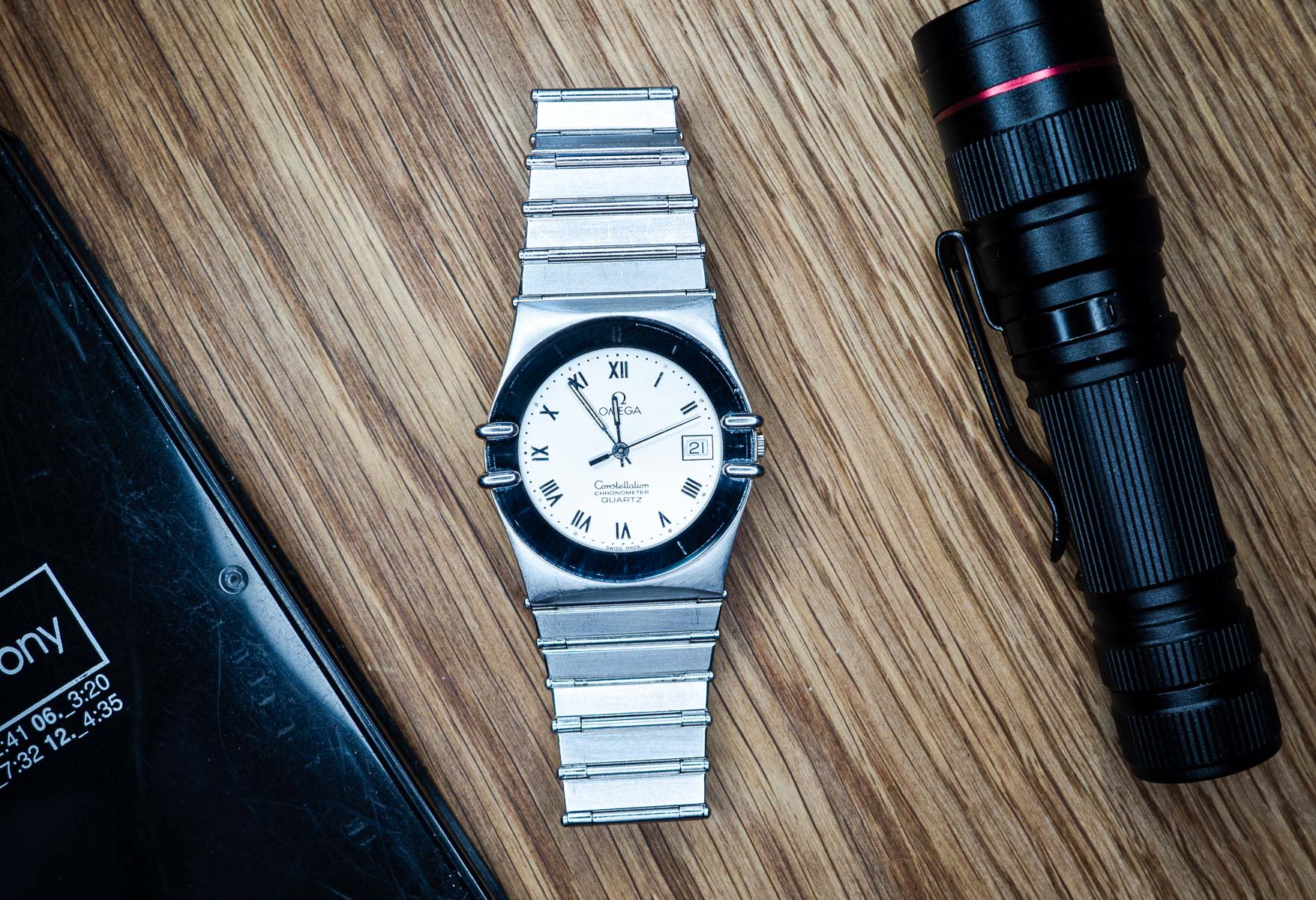 I'll join him in wearing a vintage Omega. I love wearing my first-generation Omega Constellation Manhattan from 1984. In this article, I explained in detail what makes this such an amazing watch. It's been on my wrist every year on Christmas Day ever since I bought it five years ago. I know my father is not a fan of the design of the Constellation Manhattan. But I also know that he loves the fact that we are both wearing an Omega. It's a little father-son tradition that means a great deal to me.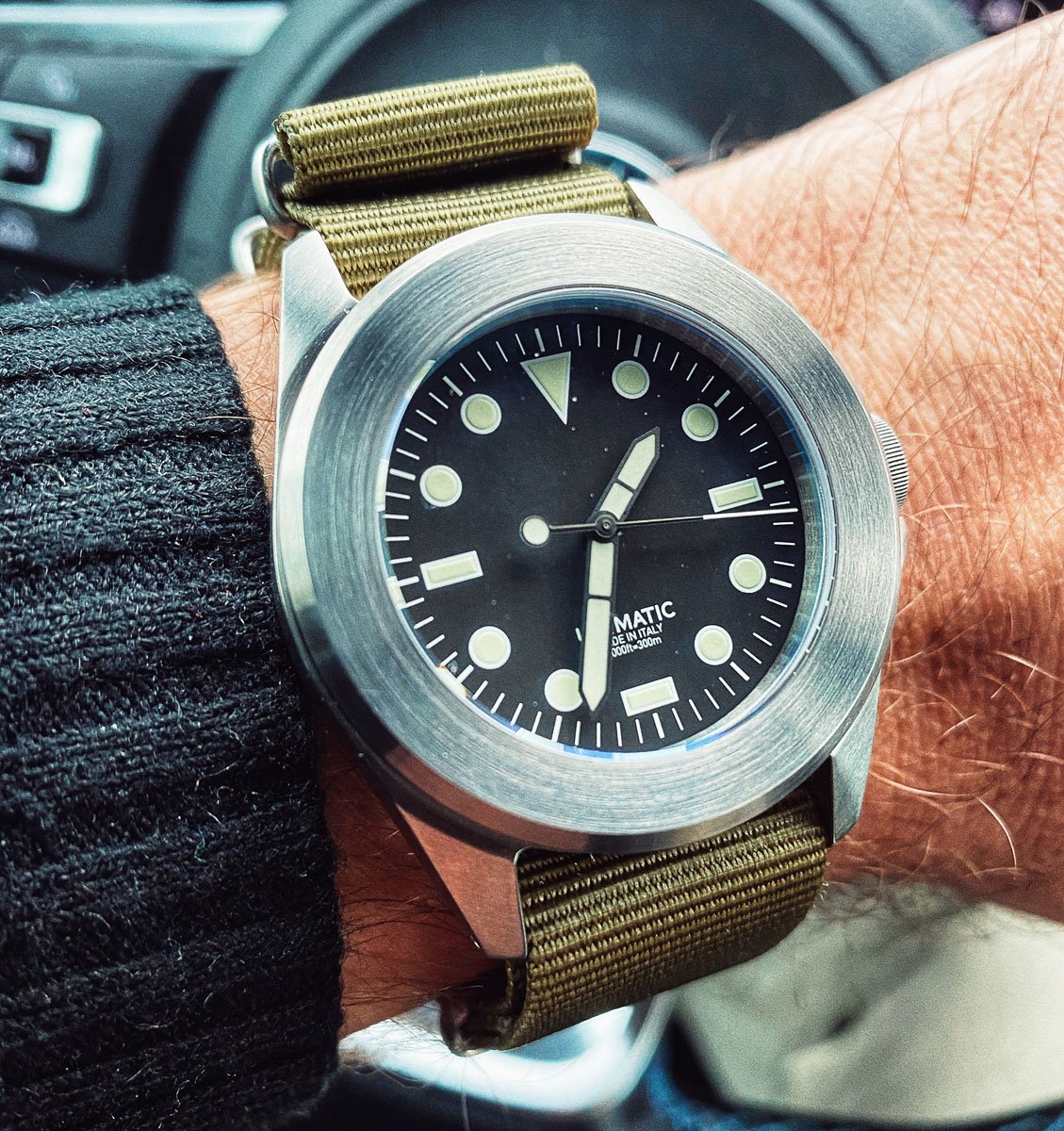 On Boxing Day, I will jump in my car and head back home. During the drive, I will probably have my Unimatic Modello Quattro U4-A on my wrist. I recently bought a series of straps for it and during Christmas, I will check out which one fits the best. Once I've made my pick, I'll be on my way, listening to my musical year-end list in the car and rocking the Modello Quattro on its new strap. Because it's Christmas, I will probably make it a green strap to fit the spirit of the season. Have a great holiday season everyone!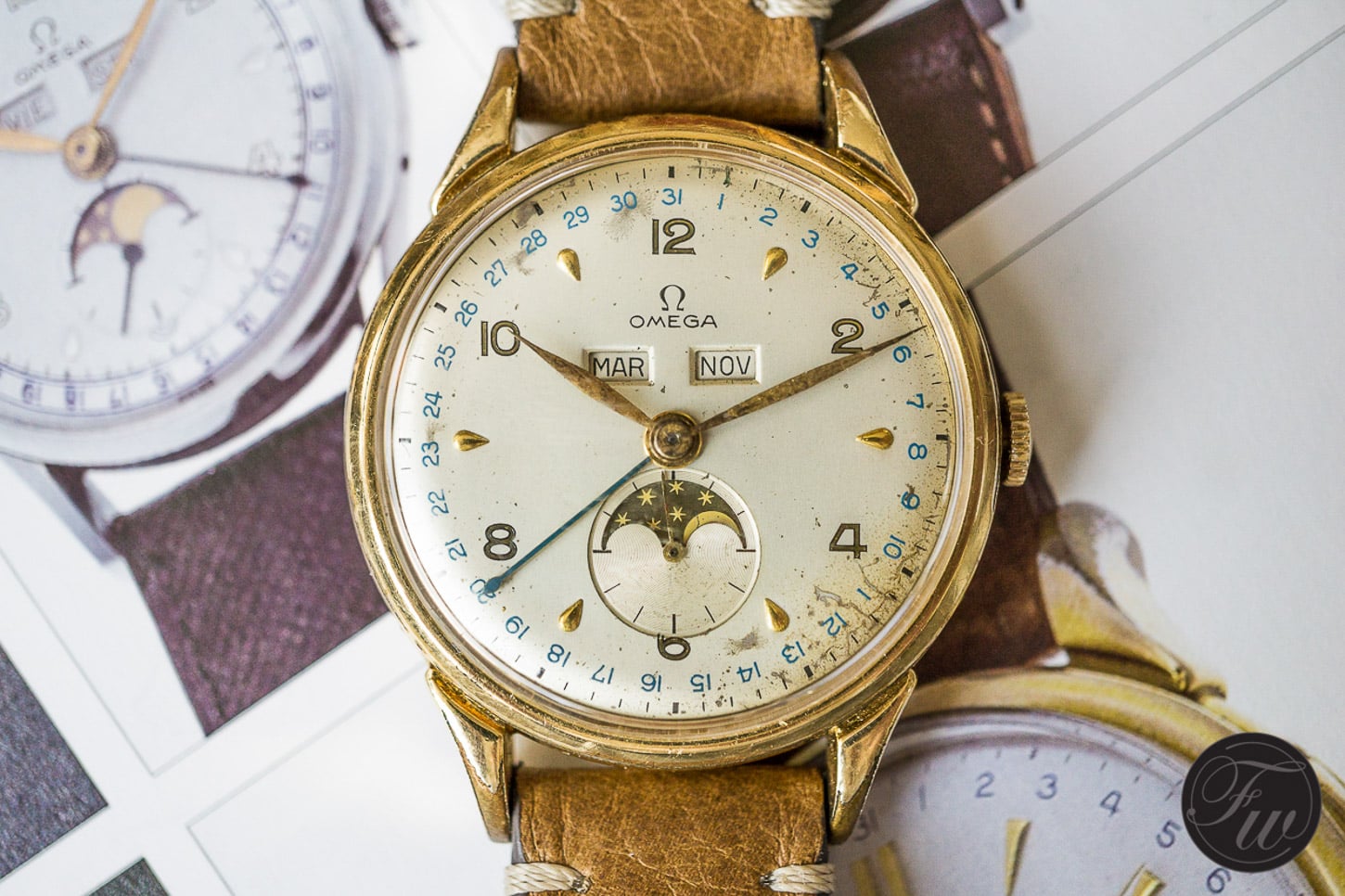 Balazs — Vintage Omega Cosmic ref. 2486-2
I'll stay true to my favorite Christmas song's title (from Chris Rea) and will be "Driving Home For Christmas." Technically, it won't be Christmas yet, as I will travel on the 23rd, rocking my Casio G-Shock GW-B5600-2ER. On the 24th, however, I'll change to my vintage Omega Cosmic triple calendar moon phase reference 2486-2, a dress watch I have reviewed for Fratello in the past. Granted, it is not the fanciest watch in my collection, but it's a special one for several reasons. Nowadays, finding a Cosmic with an original dial in the larger case is challenging. I picked this one up a while ago and have been wearing it almost exclusively during Christmas. So it became somewhat of a tradition for me to rock it during the holidays.
I cannot travel without a Speedy, so I'll probably take my 321 on the road as well. Christmas is not just about family but friends too. I hope to see many of them during the three-day holiday, which usually results in exploring the nightlife, and the Cosmic might not be the right wrist candy for that. So it's either going to be the G-Shock or another mechanical timepiece. This is why I thought it was appropriate to have my 321 with me. There you have it — my three-watch collection for Christmas. Some old, some new, some Swiss, and some Japanese.
In this spirit, spend a wonderful Christmas time with those who are important to you!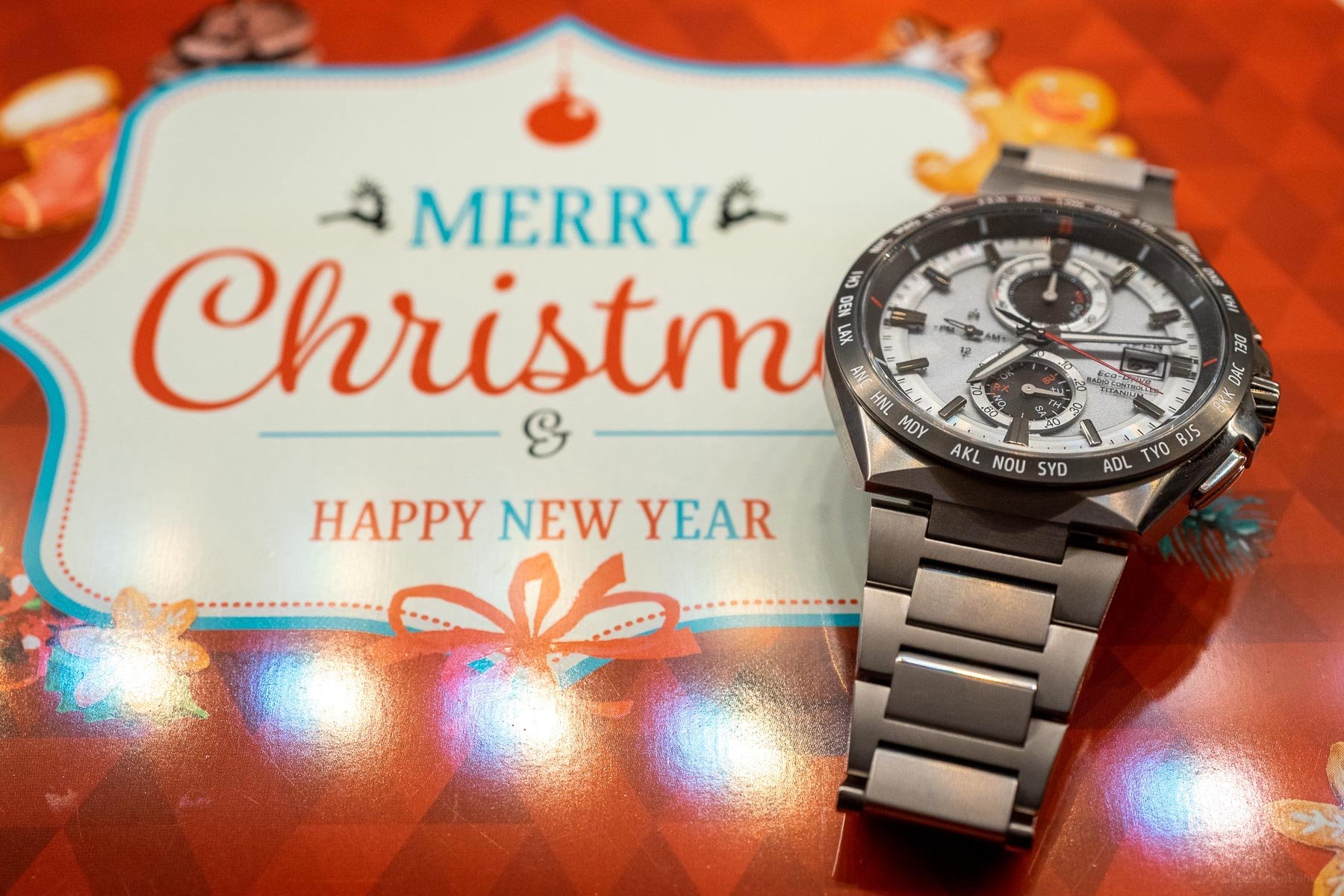 G2 — The show must go on, Citizen AT8234-85A Titanium Chronograph
Christmas means family time, and specifically family dinner. But for me, I also won't forget that the show must go on. So I'll combine the two and wear a new titanium Citizen chronograph that we recently received, and for which I'm going to produce a review. Wearing a watch for some time always inspires me. Besides that, I notice things that I often don't see at first glance.
So, what about the Citizen chronograph? All I can say now is that it's a marvel of technique, sporting more functions than you'll probably need. First, it's made of Citizen's home-grown Super TitaniumTM. It's a material five times harder and 40% lighter than steel. It's an excellent material for wearing comfort, plus it doesn't react to sunlight, saltwater, or body chemistry. Thus, it reduces the potential of allergic reactions to the metal and is corrosion-resistant.
The AT8234-85A is powered by Citizen caliber H800, and sports the following features. It's Eco-Driven, which means solar-powered, and is accurate within ±15 seconds per month with a power reserve of 180 days (after being fully light charged). It'll even run 10 months in full darkness when the movement enters its power-saving mode. The regular functions available are the time, including a 24-hour display, and day and date indication controlled by a perpetual calendar. Then there's the local time for 26 cities. The time will be radio-control adjusted in large parts of Europe, Japan, the USA, and China. And last but not least, the chronograph counts to a maximum of 60 minutes, with an accuracy of 1/20th of a second. Sure, I'm gonna use that for cooking!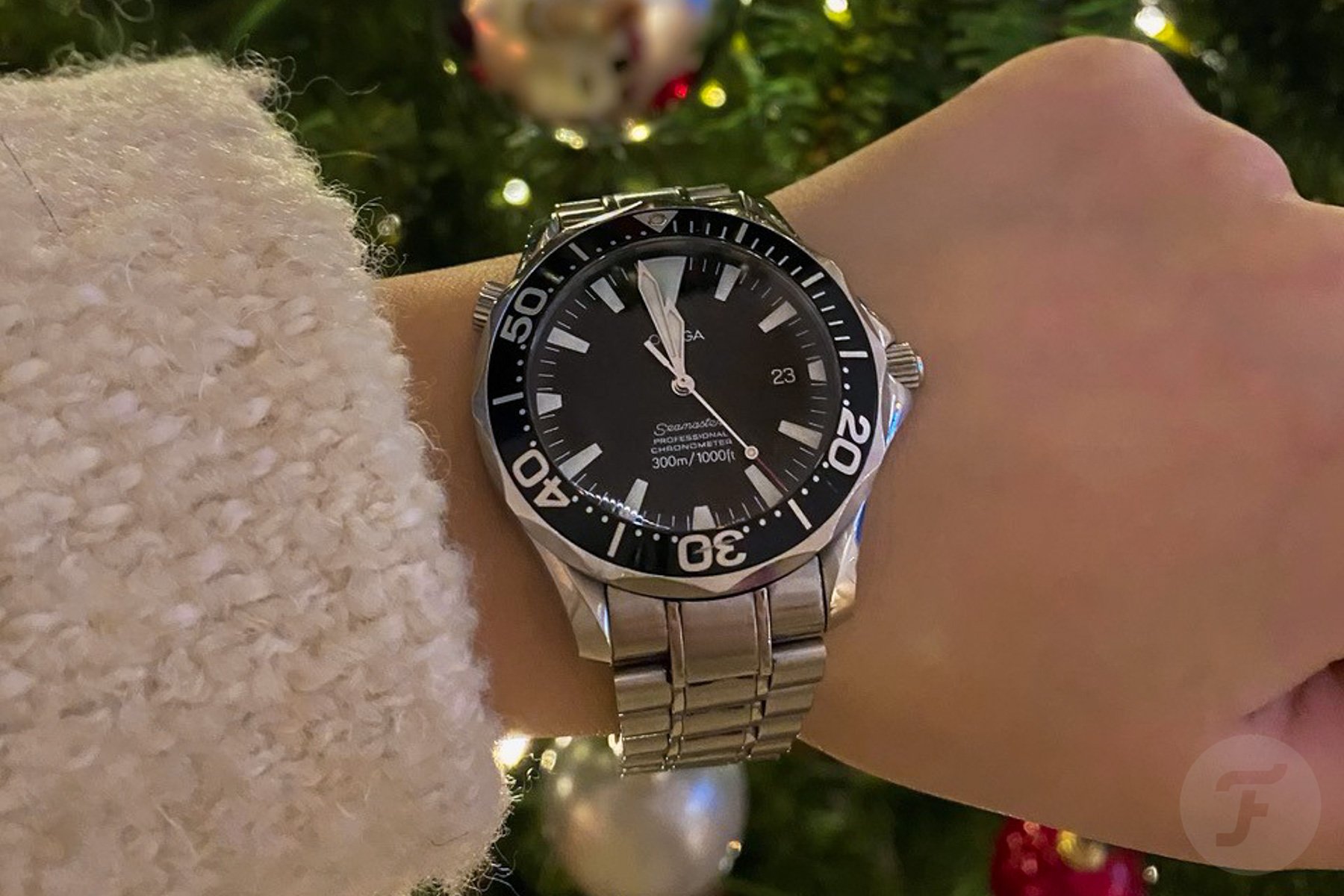 Sinara — Omega Seamaster 300 M 2254.50.00 "Schwerty"
Being a complete newbie to the watch world, most of the watches in my collection are more — I fear to admit for the possibility of getting sacked — accessory watches from jewelry brands like Folli Follie and Gc. In my defense, I fully acknowledge my horological illiteracy, and I swear to be better in 2022! Nevertheless, dear Fratelli, I shall not disappoint you this year. I grew up "long-distance" from my family due to my parents' business trips. As such, I would always wear something of my dad's or mom's whenever I missed them or needed an emotional boost. It was sort of like a security blanket.
I did eventually grow out of that phase. But I do still wear my dad's blazer from time to time or my mom's earrings that I "borrowed" from them. This Christmas, however, I am wearing my dad's favorite watch. It's my favorite too because of the sentimental attachment I have to it. I wore it all the time as a kid at home; granted, it slid off my tiny wrists more times than I dare to admit. It's this beautiful Omega Seamaster 300M, and it is the one that initially sparked my interest in the watch world. Can you imagine what it's like to be a Seamaster girl in a Speedy office? It's as rough as it sounds…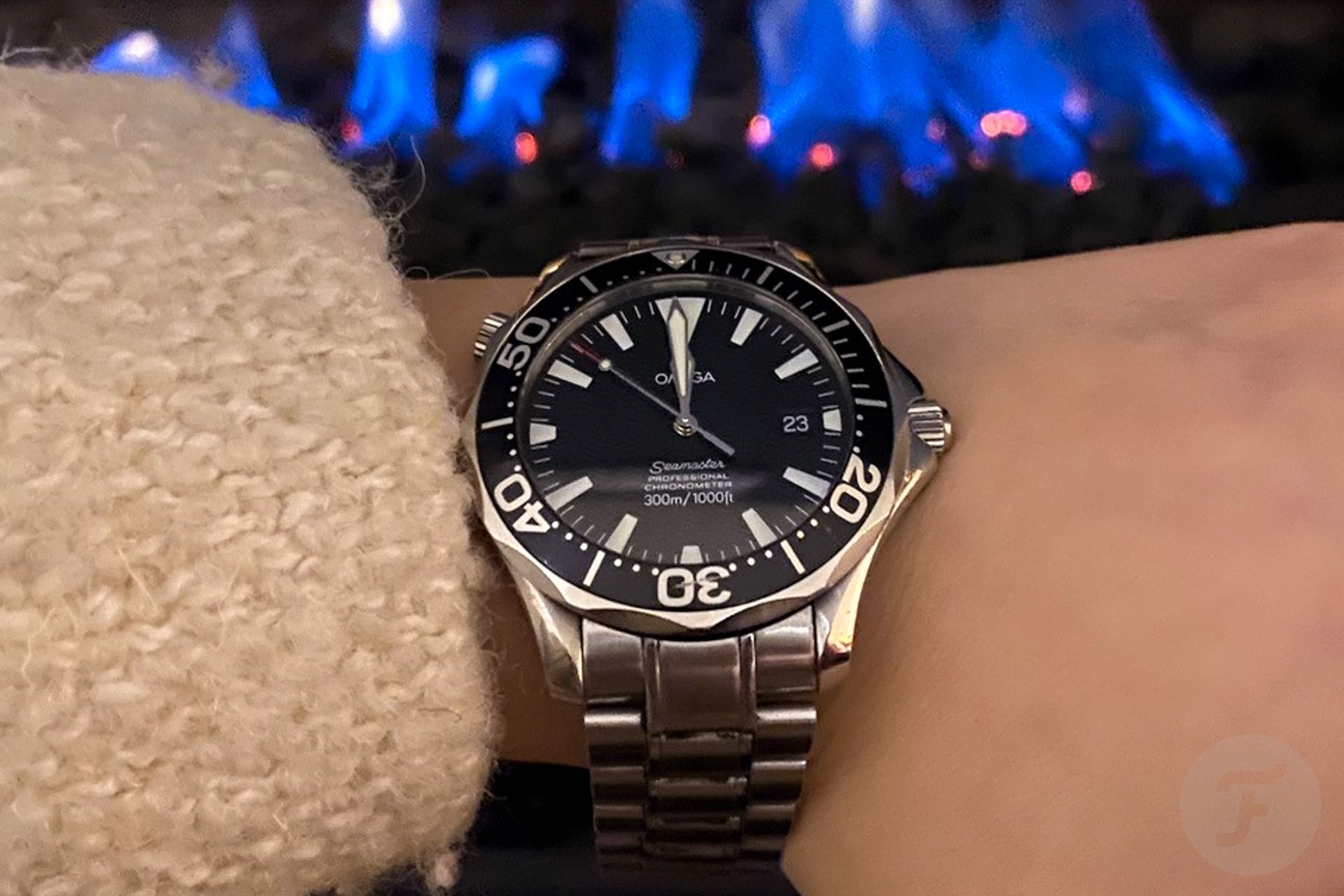 Taking steps towards my first "real" watch
All jokes aside, I love this watch and everything it has to offer. Being a watch expert myself (Lex, back me up here), I find it checks all the incredibly important boxes I look for in a watch: it looks pretty. I like it. It also makes me feel cool whenever I wear it. But ask me again next year, and hopefully, I'll have my own iconic timepiece that I'll rock during Christmas 2022. And if you have any suggestions that meet my oh-so-difficult criteria, leave them in the comments.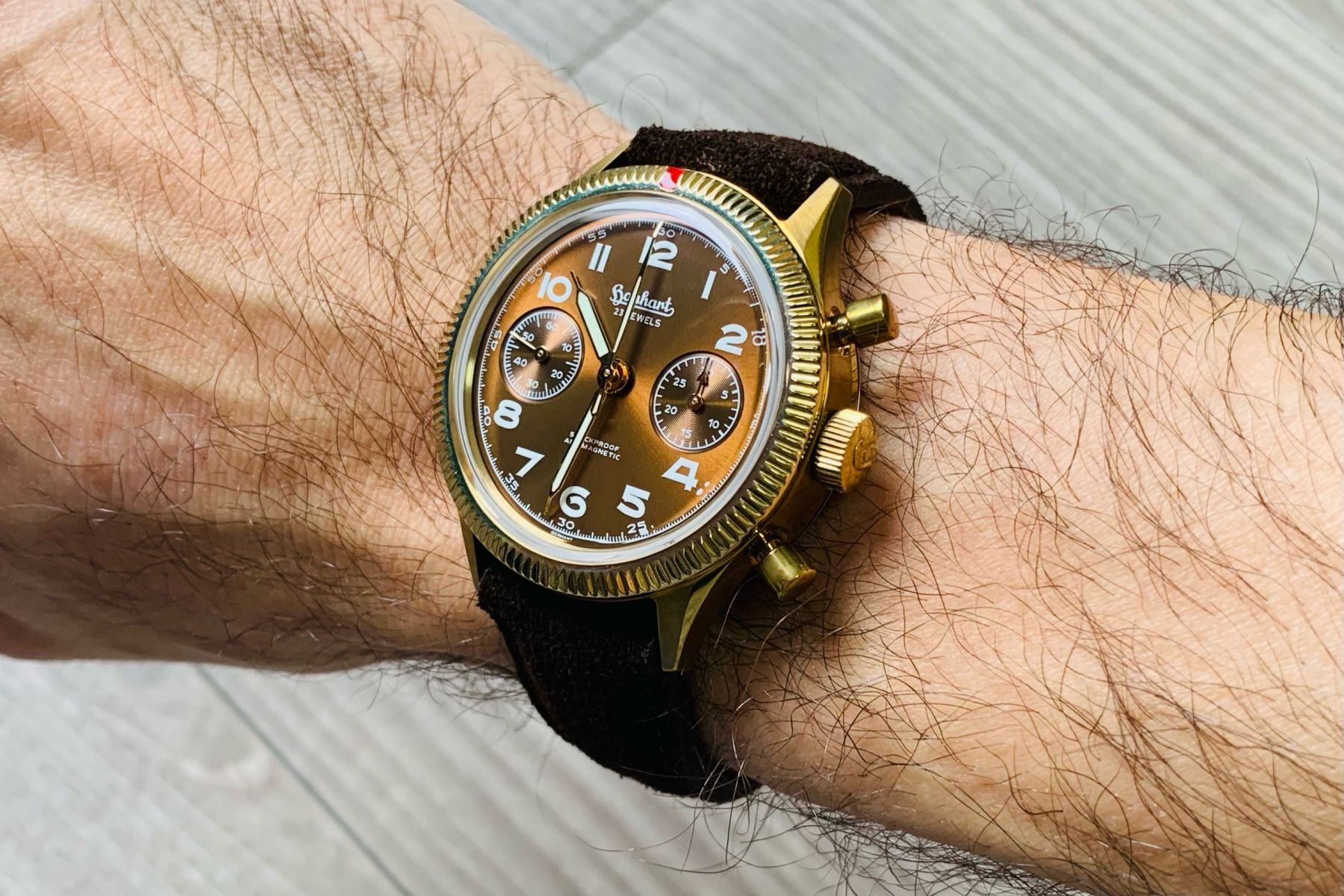 Brandon — Hanhart 417 Bronze "Copperhead" and Tudor Black Bay
I'm going to round off this phenomenal list with the latest addition to my collection. It's the Hanhart 417 in bronze, also known as the "Copperhead". I just received the gorgeous piece at the end of last week, and needless to say, I'm still in the honeymoon period! It's the second limited version of the 417 in bronze that Hanhart has produced in collaboration with Revolution. This one, however, is a bit more special than the first, because it features a historically-accurate 39mm case and an amazingly beautiful brown sunburst dial. The first version was 42mm with a black dial. In both its size and its color, this one is much more to my liking! It's the first watch I had seen in quite a long time that instantly made me say, "I. NEED. THAT." And while 2021 has been an expensive year for me already, hey, what the heck? It's only money, right?
I had taken it off the Bund strap it came on and paired it with this deep, dark chocolate brown suede. That's probably how I'll wear it for the majority of the year. But Christmas should be a time to have fun! A time for merriment and silliness to abound! And as such, I'm going to promise you this right now: I will turn this into the most obnoxious watch on this list.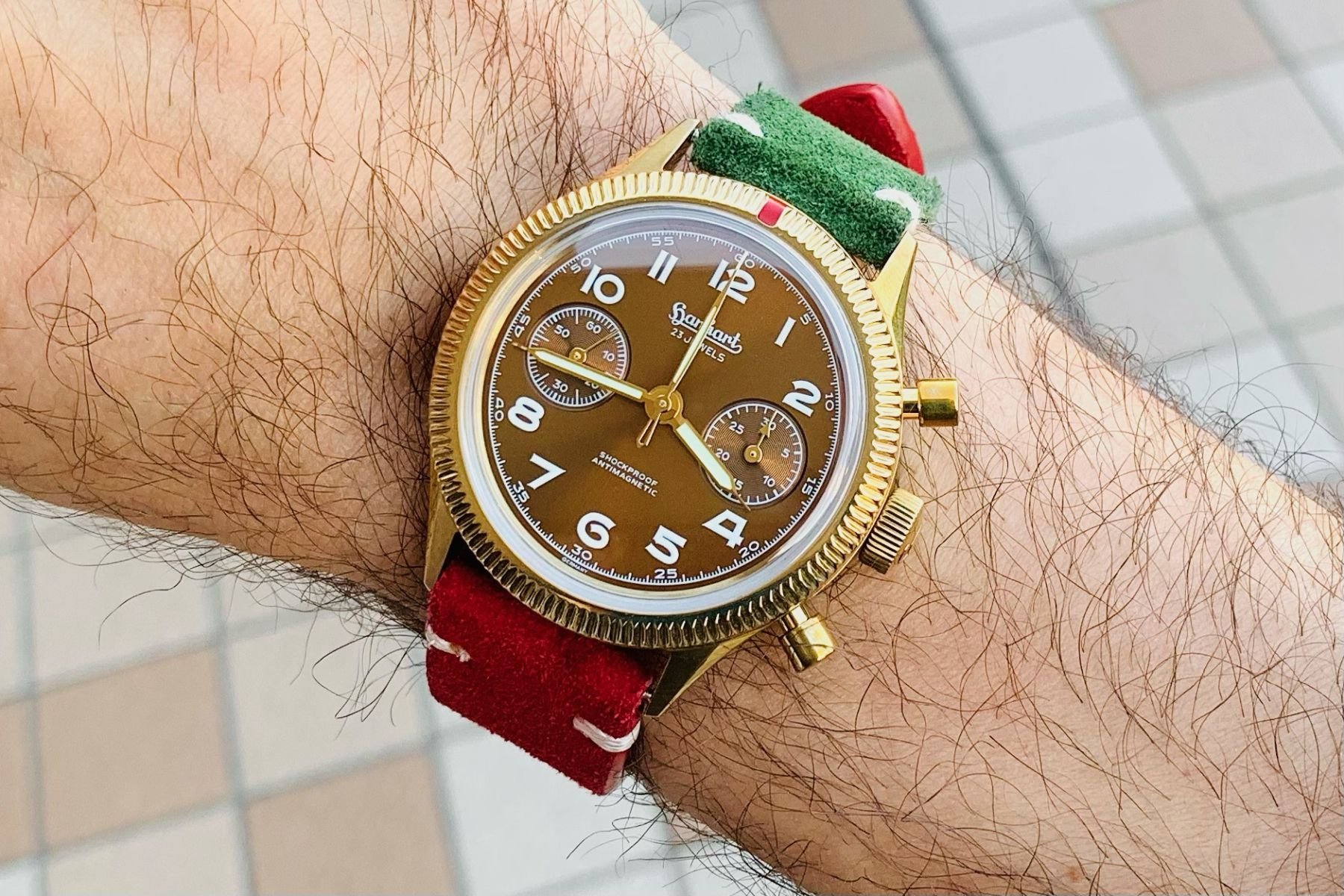 Oh no, he didn't…
Oh yes, I did. This, dear Fratelli, is my once-a-year Christmas strap — one part red, one part green, and a million parts awesome. I rocked this last year on my Vulcain Cricket, and a few years ago on my old Seiko Cocktail. But when this watch came in and I saw the tone of the bronze, I knew it would be a daring pairing for the ages. Rather than a reddish, coppery color, the tone of the case is more like brass. It's a bit of a throwback to the old 417s from the '50s, of which 500 examples were chrome-plated brass. But anyone less in the know about watches could easily be forgiven for thinking it's gold. And as some of you know, I am certainly not one to ever pass up a good ol' song reference. On this Christmas strap, its "colors are like my dreams — red, gold, green. Red, gold, and greeEEEeen." And now "Karma Chameleon" is stuck in your head! WOOOO, Merry Christmas!!!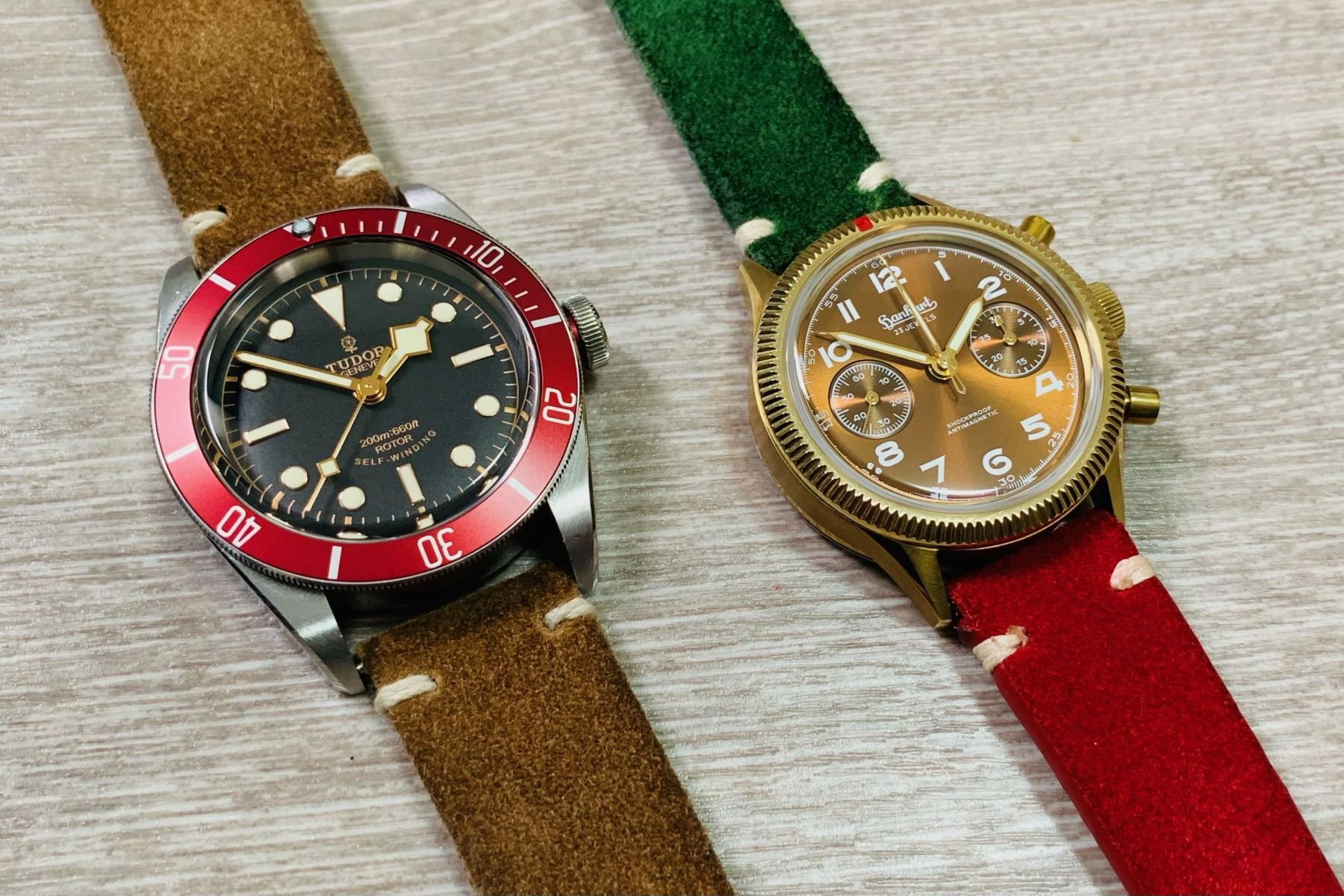 I'll be honest though, and say that in recent years, the Black Bay has usually been my go-to choice for Christmas. With its burgundy bezel and warmly glowing gold hands, it's the perfect watch to get me in the Christmas mood. This year, however, it will have to wait till December 26th, simply so I can set up the song reference for Christmas 2022. Come this time next year, I want to look back and think,
Last Christmas, I wore my Hanhart
But the very next day, I wore my Black Bay
This year, to bring me some cheer
I'll wear my Pilot Extra Special
Guess that means I'll have to finally buy a Zenith Pilot in 2022. Let's just hope I can find the right one for me! Enjoy your holiday season, everyone, and stay glued to these pages for more cheesy music references from me next year. That is, if RJ and Nacho don't have anything to say about it!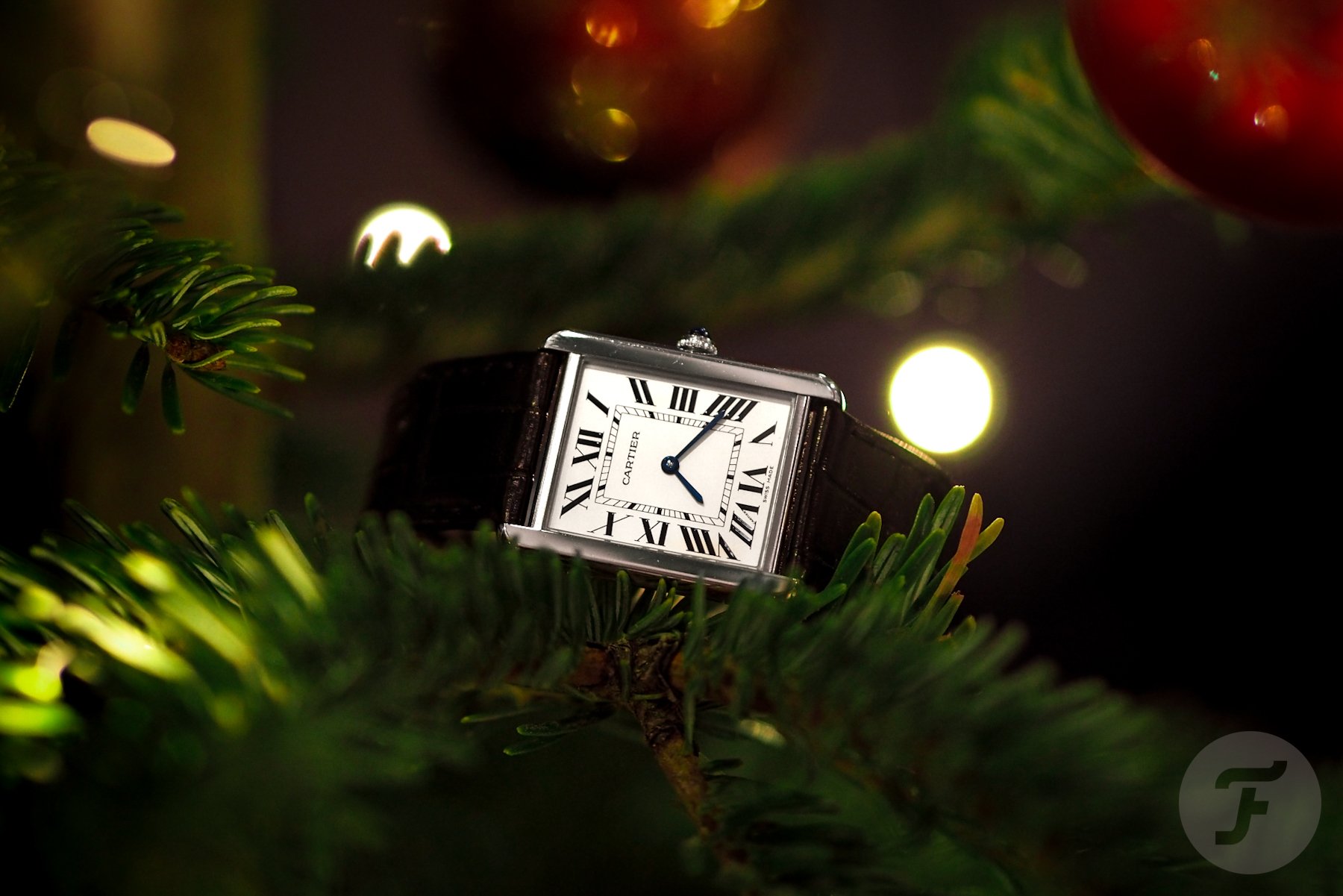 Let the festivities commence!
There you have it, folks! As you can see, we are a varied bunch. Though most of you might expect that we would gather for Christmas wearing matching Sedna Gold-colored robes with Speedmaster 321s on our wrists, in reality, a wide range of watches will accompany us over the holidays. As all of you gather with family and loved ones this Christmas Eve — and especially to those who are unable to do so this year — the Fratello team sends you our most warm and heartfelt season's greetings.
In the meantime, let us know what the watch on your wrist will be this Christmas in the comments below!