Sunday Morning Showdown: Tudor Pelagos 39 Vs. Sinn T50
Finding my perfect everyday titanium dive watch
Welcome to a slightly different Sunday Morning Showdown! As Jorg explained last week, at the time of writing this article, the team is deeply buried in work due to Geneva Watch Days. Part of the crew is in Geneva, and I am one of the few safeguarding our home turf. In short, that means I am doing this showdown as a solo endeavor. Sorry, no friendly banter among colleagues this time. You will have to make do with personal ramblings today.
Never fear; we will be back to the familiar format next week. We will also surely cover many of the great suggestions you made when Jorg asked you what watches you want to see pitted against each other. So stay tuned for all of that! Now, onto today's battle between me and myself!
An actual watch-shopping scenario
I have decided I would enlist you, Fratelli, as my advisors if that is all right with you. Currently, I have two watches on my radar, and I am curious to hear your thoughts on them.
I have a titanium-dive-watch-shaped hole in my watch collection. You know the feeling, right? Here is the thing: I would love to add a diver to my rotation that is suitable for worry-free everyday wear. That means it should be able to take a bit of a beating and shouldn't attract unwanted attention. Titanium isn't a must, but I found myself liking two — the Tudor Pelagos 39 and the Sinn T50. Could my perfect daily diver be one of these two?
My current daily watch is my 2004 Rolex Explorer II ref. 16570. I don't exactly baby it, but sometimes I would prefer something a little less precious. You know, something a little more under the radar that I wouldn't mind putting a ding into. Let's see if one of these fits the bill.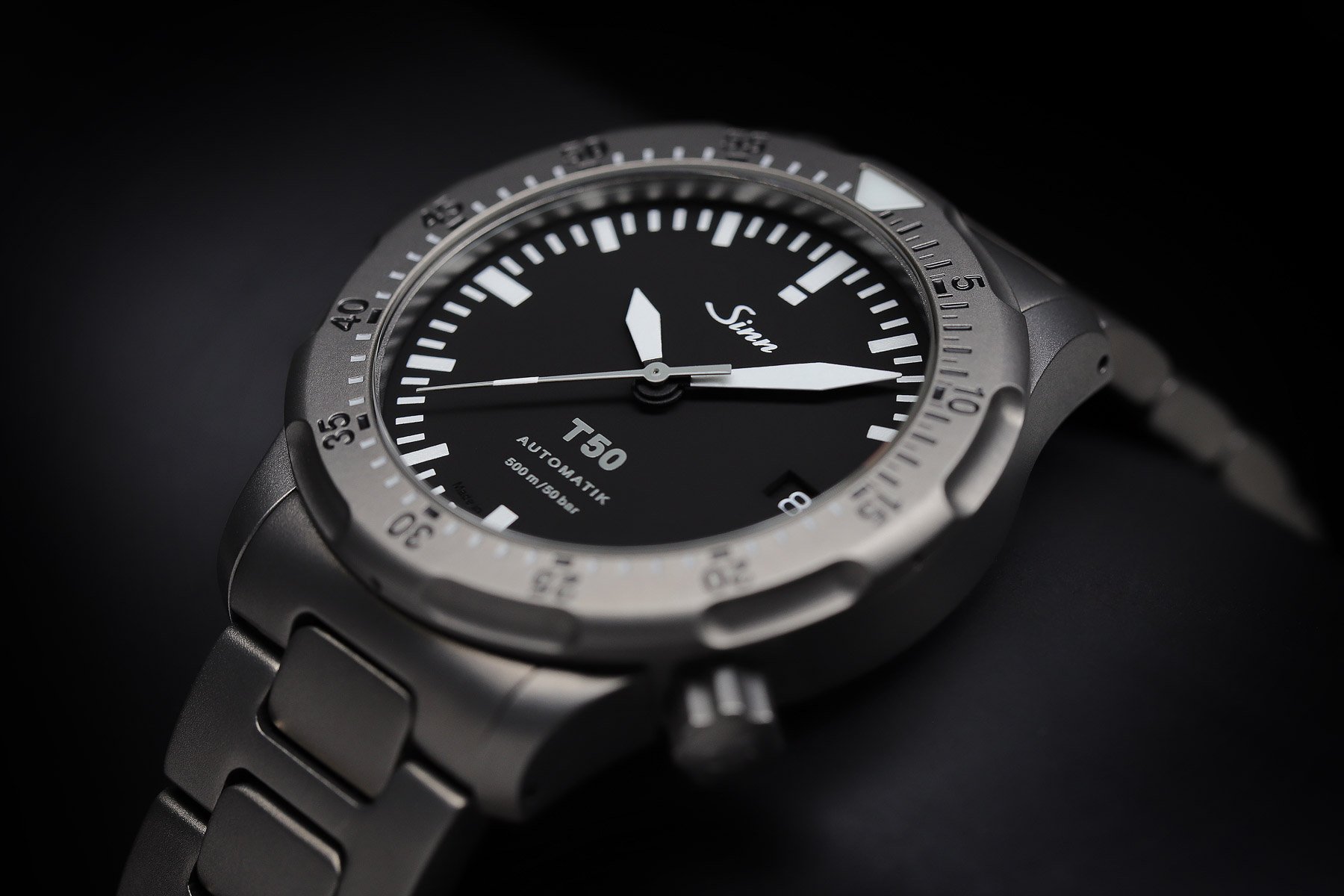 Shopping for a titanium dive watch: similarities between the Sinn T50 and the Tudor Pelagos 39
Of the many watches recently released, the Sinn T50 and the Tudor Pelagos 39 really stood out to me. I had never been overly interested in getting a titanium dive watch, but these two have changed that. They are just so comfortable on the wrist, and I love the slightly gloomier shade of the metal. Sinn and Tudor take different approaches to the concept, but these watches are quite similar at the same time.
For starters, they aren't miles apart in terms of how they wear. Sure, the T50 is 2mm bigger at 41mm across, but they both suit my smallish wrist perfectly. The 42mm Pelagos, on the other hand, doesn't quite fit me, unfortunately.
Both pair a titanium case and bracelet with a black dial. Both are fitted with an automatic caliber, screw-down crown, rotating bezel, solid case back, and sapphire crystal. The water resistance on both is plenty for my lifestyle. Lastly, both come with a matching titanium bracelet, which is a must for me. I am just a bracelet type of watch guy.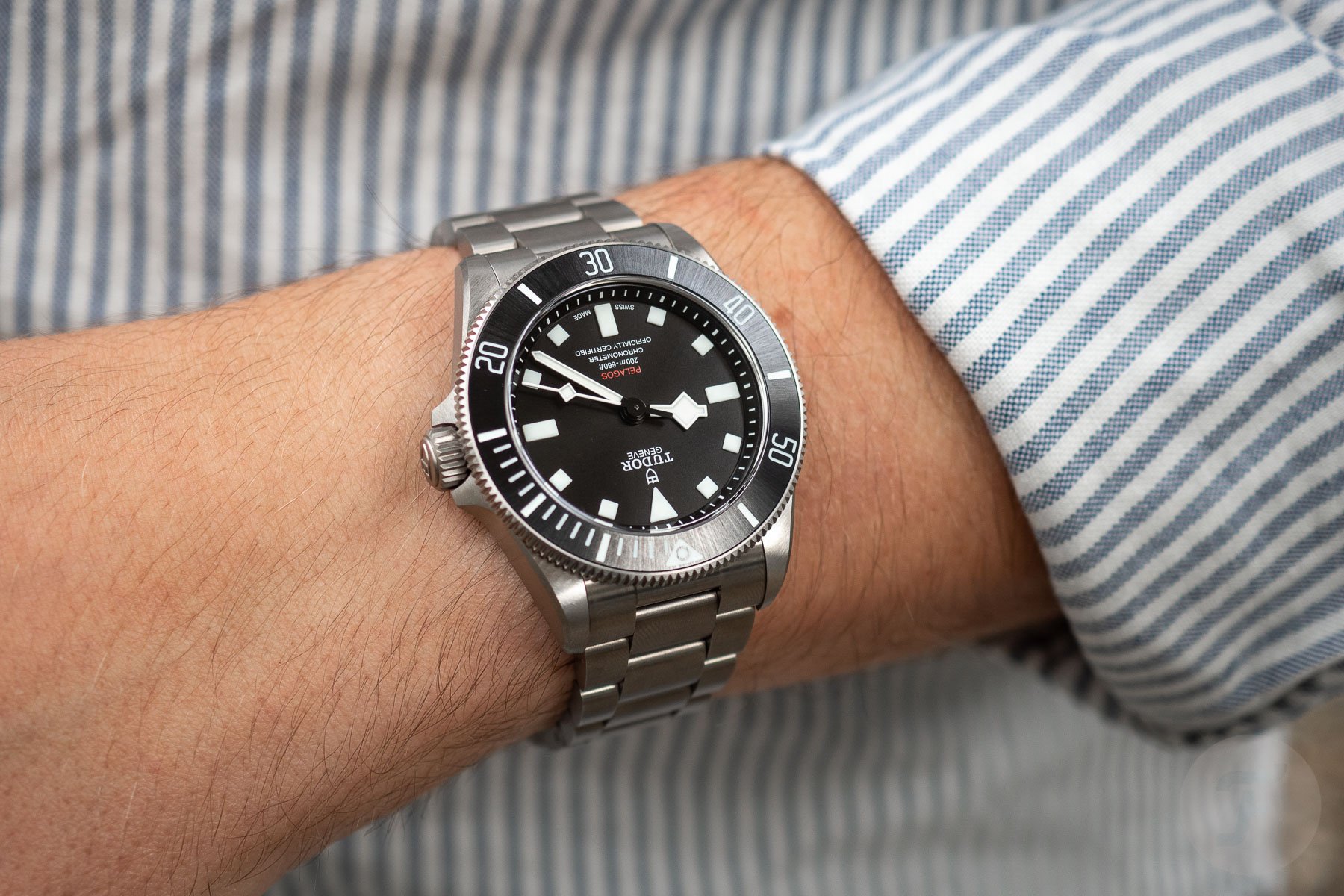 How the Sinn T50 and the Tudor Pelagos 39 differ
There are significant differences between these two as well. Aesthetically, the sword hands, crown at 4 o'clock, titanium bezel, and H-link bracelet scream Sinn. The Tudor has characteristic aesthetics of its own in the snowflake layout, Oyster-style bracelet, and a little bit of red text on the dial.
Technically, the Sinn is more advanced, with its Grade 5 titanium material (as opposed to the Tudor's Grade 2), Tegimented bezel, Ar-Dehumidifying tech, and two-and-a-half times the water resistance. If you need a date complication, only the Sinn T50 will suffice. The Tudor Pelagos 39 makes up for it in refinement. Its finishing is a level above the T50, which really stands out if you spend serious time with both. This point is driven home by the bracelets. The T50's is fine, but it is nowhere near the machining, construction, and finishing quality of Pelagos 39's. The stamped clasp housing pales in comparison to the finely machined example with T-fit on the Pelagos.
The looks of these two kind of underline this point. The Sinn looks menacingly serious. It is a tool watch and it doesn't plan on apologizing for it. Tudor, on the other hand, is balancing between tool and luxury accessory here. Much has been said about the shiny dial and bezel insert, as well as the fashionable marketing around it. In short: the Tudor Pelagos 39 is a well-groomed and smooth-looking timepiece. The Sinn T50 isn't trying to be, which makes it attractive in its own way. There is a pretty significant price difference at play too. The Tudor Pelagos 39 is €4,950 (with an additional rubber strap thrown in). The Sinn T50 on the bracelet comes in at €3,340. That makes for a €1,610 gap between the two.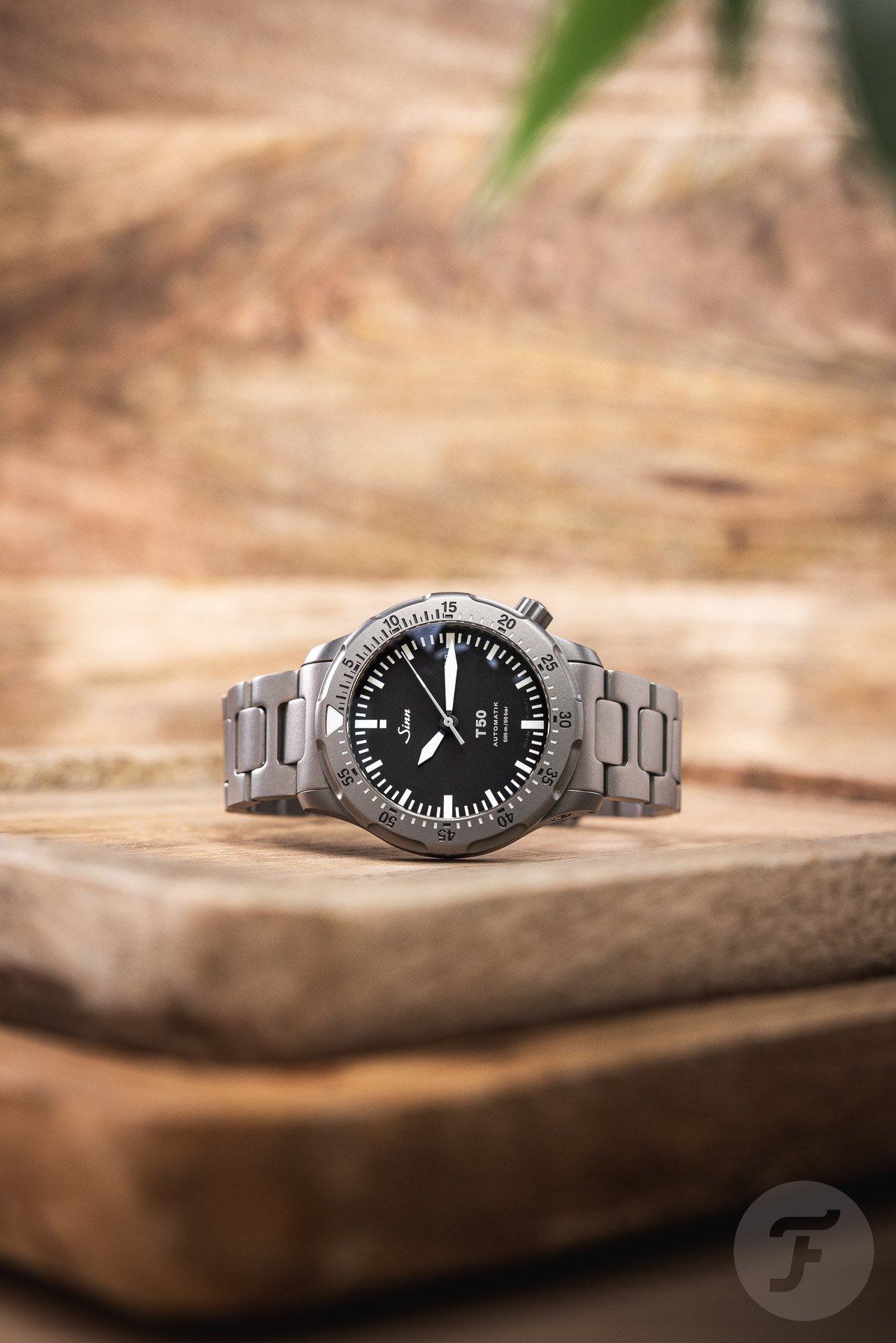 So, which is the better daily titanium dive watch?
This leads me to the ultimate question: which is the better daily titanium dive watch? I can only make this personal as, ultimately, it comes down to what you want and need. If I take my lifestyle and intended use as the reference, it still isn't quite clear who wins. They both come out on top in different disciplines.
For the carefree "beater" type of use, the Sinn T50 is the clear winner to me. It has higher specs and is an actual certified dive watch that undergoes stringent stress testing. I find that there is a psychological element at play here as well. Because I associate Sinn with hardcore tool watches, I feel less resistance to using them as such. The Pelagos just feels so nice that I would have to get over myself to not baby it. I also feel that Sinn truly flies under the radar. Tudor is still a relatively broadly recognized luxury brand, which isn't what I am after in this case.
The Tudor Pelagos 39 fares better in terms of versatility. It is one of those classical dive watches that doesn't look odd in slightly more formal situations. The greater refinement in both style and execution is significant. As a mere object of beauty, I much prefer the Pelagos. Not so much in pictures but in real life, the overall feel is significantly different.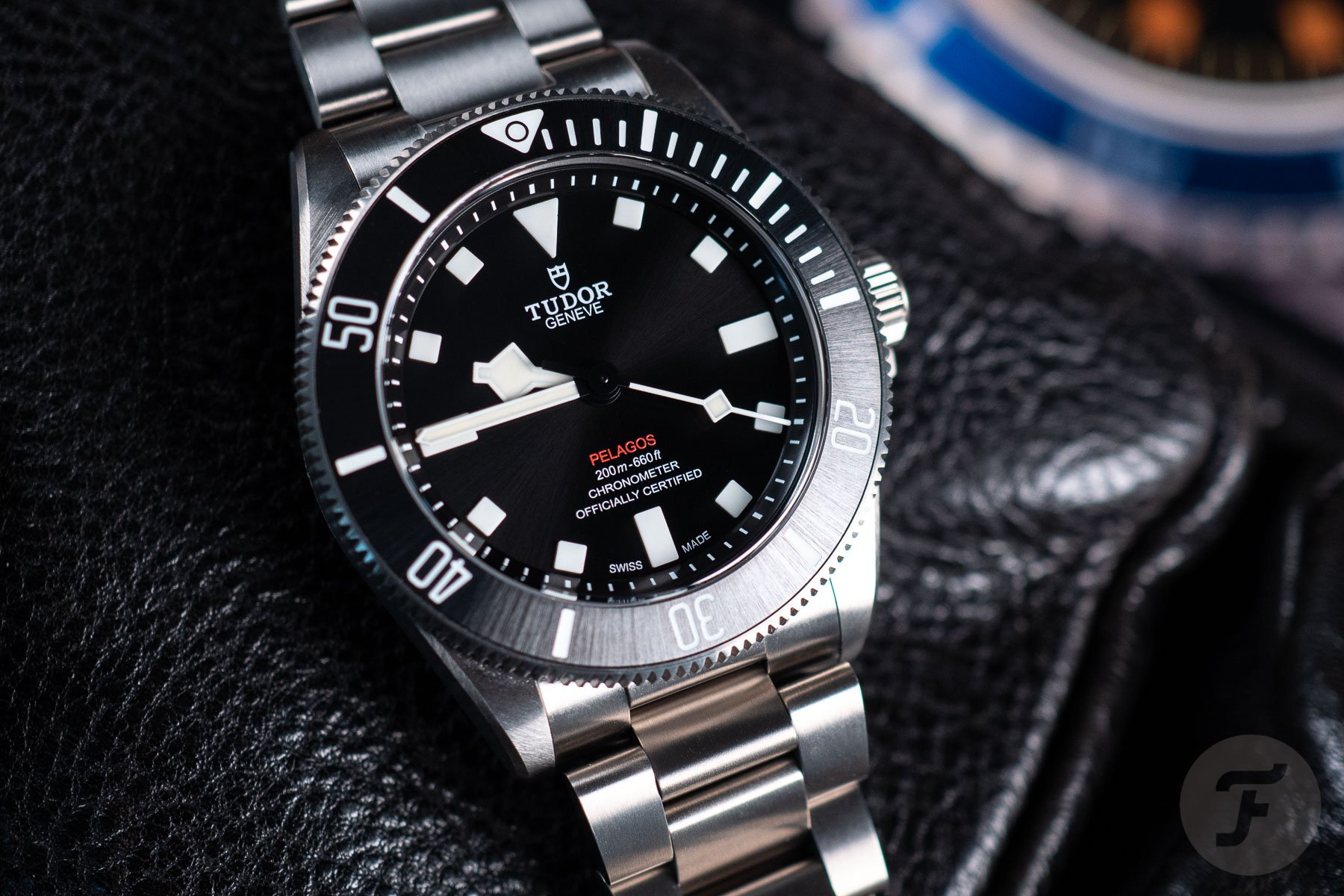 Likes and dislikes
The deeper I go down the rabbit hole of my hunt for a titanium dive watch, the less convinced I am. Both of these watches are extremely cool and speak to me. But both have qualities that I dislike at the same time. Can I reduce it to a simple comparison of likes and dislikes? Let's give it a go.
Starting with the Sinn T50, I like the monochromatic look. I like the controversial sword hands and the overall geeky vibe of the watch. Confusingly, that is also what I dislike. I think it looks too tech-forward for many occasions. As a GADA diver, I miss some stylistic versatility. The bracelet is another clear dislike for me. I don't like the H-link style and the feel that is, bluntly put, a little outdated.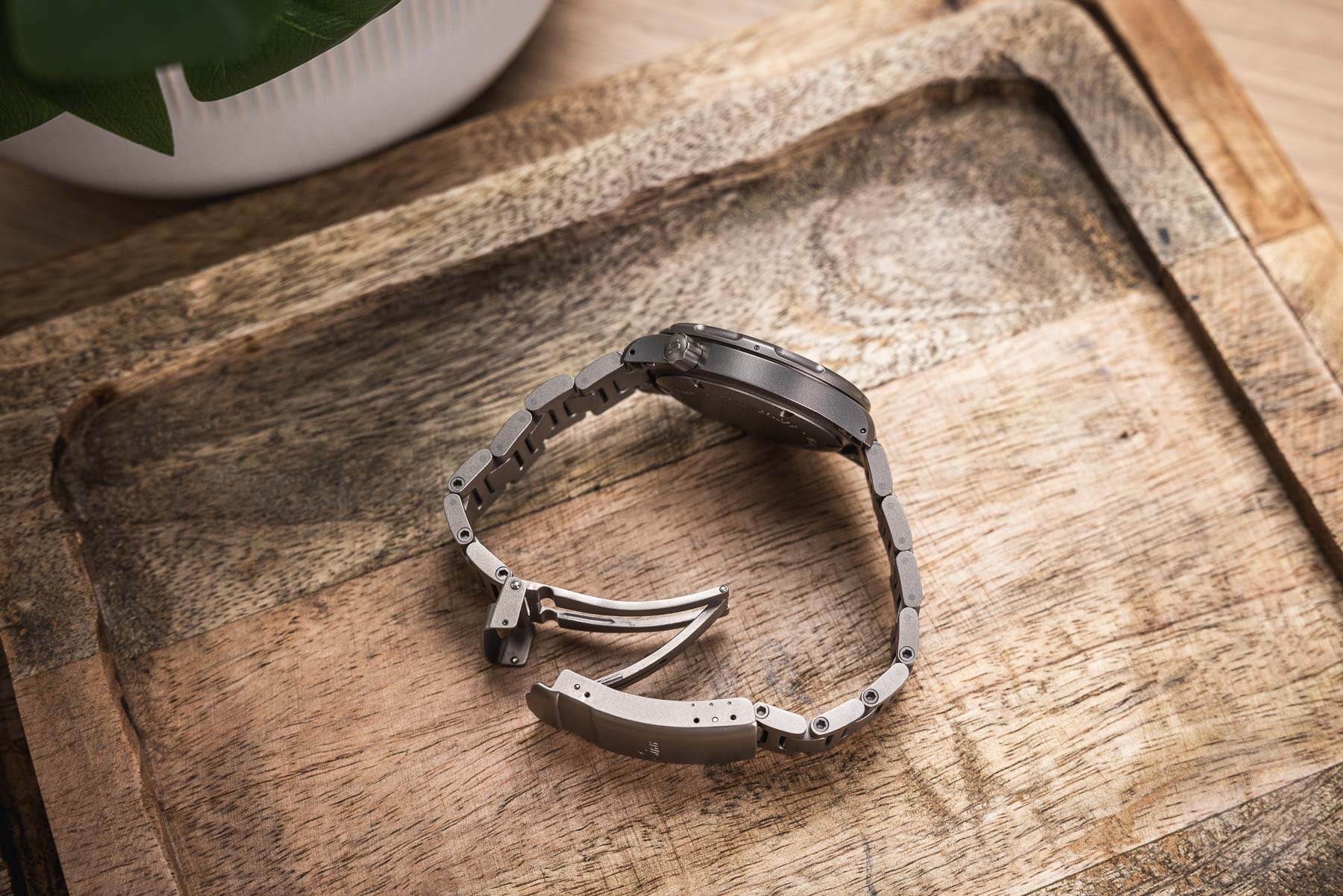 Onto the Tudor Pelagos 39. I like the overall design a lot. It pairs five-digit Rolex vibes with a character of its own. To me, this is Tudor at its best, daring to step out of its big brother's shadow and do its own thing. The build and finishing are massive likes for me, as are the bracelet and the clasp. In my humble opinion, though, things go south on the dial. I really dislike the texture. The Pelagos line is about ultra-legible matte surfaces. I seriously do not understand the sunburst texture on the dial and the bezel. That is not merely a cognitive, conceptual problem; I dislike it aesthetically as well.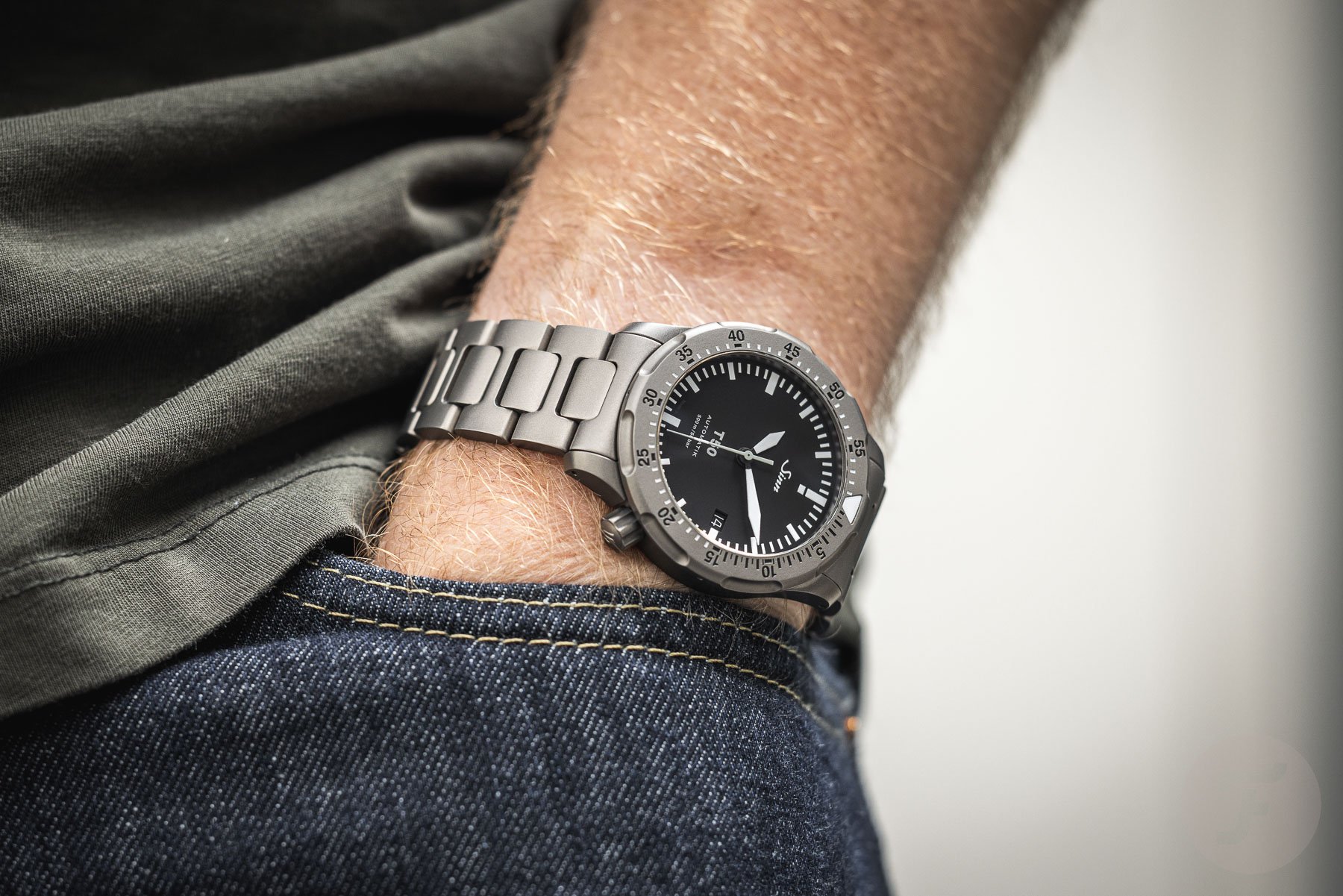 Which is my future daily titanium dive watch?
With all of that behind us, can we identify a clear winner? Is either one of these the better daily titanium dive watch? Objectively speaking, I think the clear answer is no. The Sinn T-50 is the better serious diver, and the Tudor Pelagos 39 is nicer and more refined in finish and feel. Which you prefer is just a matter of taste. In that sense, I don't think you can go wrong either way. Both are magnificent watches that anyone would be lucky to own and wear.
Now, don't worry, I am not letting you decide for me. I know the way to choose is to follow my gut and go for whichever puts a bigger smile on my face. But I am curious nonetheless. Which would be your pick between the Sinn T50 and the Tudor Pelagos 39? Cast your vote, and let me know your motivations in the comments below!
Tudor Pelagos 39 Vs. Sinn T50