Top 5 Watches With Unusual Magnifiers — Mirvaine, Orion, Angelus, But No Rolex!
The devil is in the details
Expecting a Rolex cyclops on the list? Way too boring. I pulled out my old notes and shortlisted the Top 5 watches with unusual magnifiers. Get ready for a double magnifying Orion watch, the patented Ernest Borel Datoptic, an impossible-to-find Angelus Medical, the OCD marvel Mirvaine and only one modern piece, my personal favorite, the Prokop & Broz.
Have you taken part in Rob's poll in Which Date Window Position Gets Your Vote? Right after I finished reading his article I was so amused that I immediately rushed to scroll through my constantly growing list of Fratellowatches articles. I think it has been almost two years since I had the idea to shortlist the best watches with unusual magnifying crystals. Now seems like the best time to refresh that idea and share my list with you. Let us know which one is your champ. We have three magnifiers to help read the date, one for reading hours, and one for reading the heartbeat track.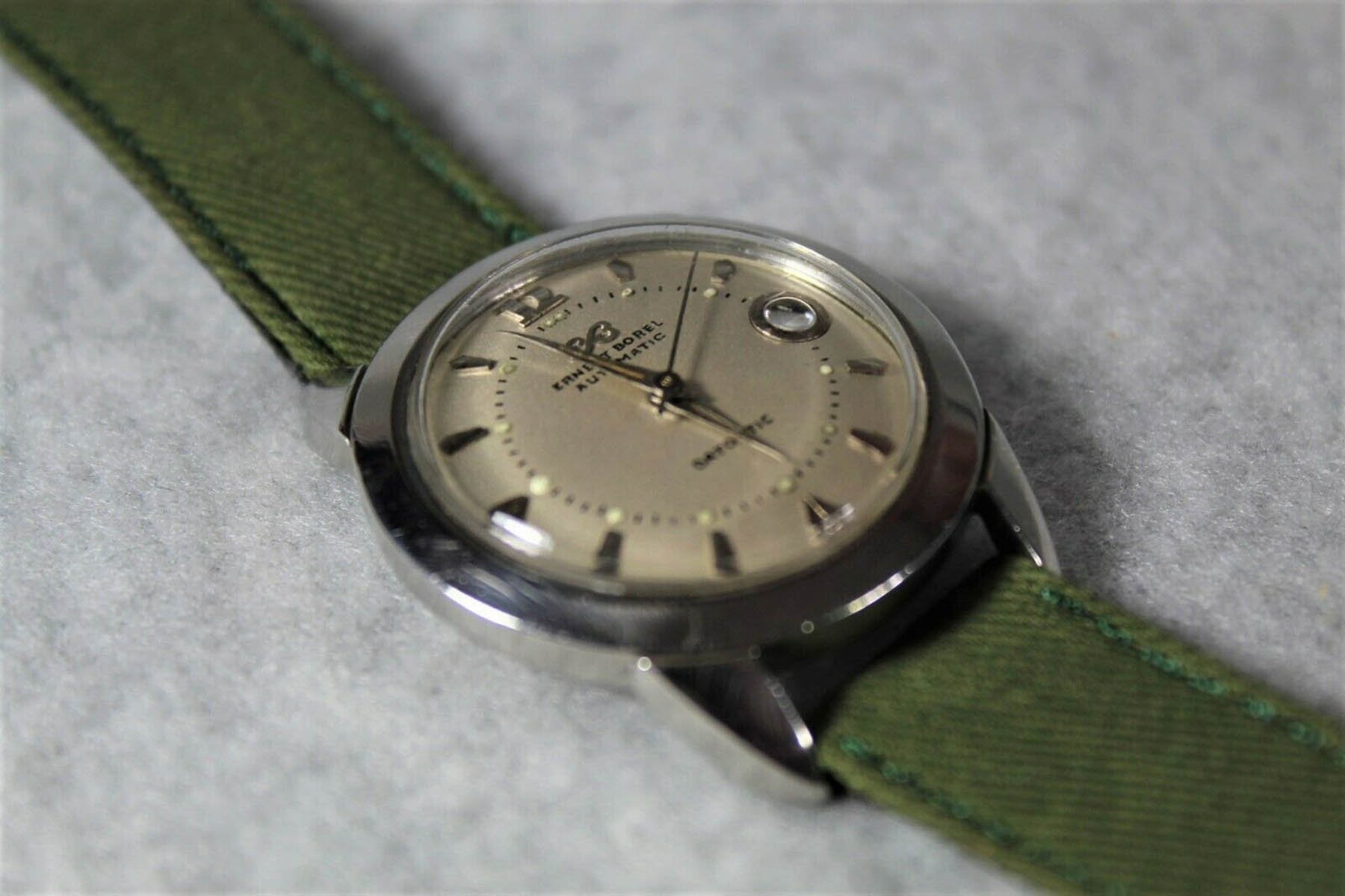 Date integrated magnifier in the Ernest Borel Datoptic
I doubt there isn't a collector that doesn't know or hasn't seen a Rolex with its legendary cyclops magnifier (first introduced in 1953). But I bet there are plenty of collectors that have never heard of another invention that applied for a patent just a year later. Meet the Datoptic by Ernst Borel.
On older Rolex watches with acrylic crystals, the cyclops lens is molded and integral to the crystal as one piece. If you roll your thumb over it, you can feel it. Ernest Borel took a different approach and integrated a tiny lens set directly into the date aperture. This allowed them to install a standard plexi in a typical way.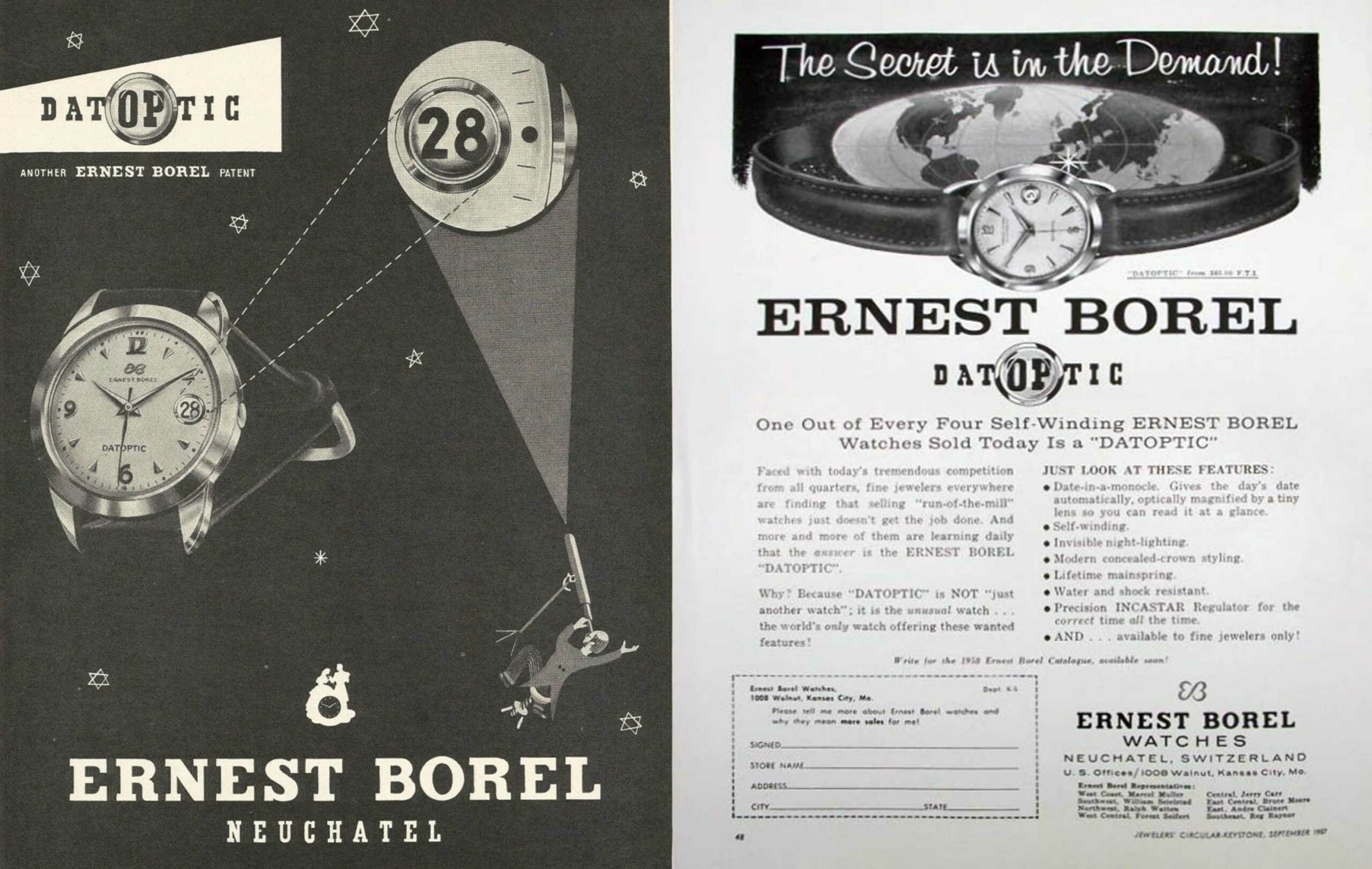 Without the magic eye, the 35mm Ernest Borel Datoptic would be another one of the thousands (and quite boring) of 1950s watches. But it's one hell of a view to see a perfectly crafted lens fixed in the date aperture with a steep and highly polished steel ring. Stay tuned, you will read more about this invention in an in-depth review of the Ernest Borel Datoptic in a standalone #TBT article soon!
OCD magnifier Mirvaine Diver
There have been countless novels written about the date at 4:30. You can start this conversation with the El Primero and end it with… the Mirvaine Diver?! Don't ask me where I saw this watch for the first time, I just remember that it struck me. One would think that it was that blue internal pulsations ring sliding above the glossy black dial on a divers' watch that made me save the picture of this watch. But honestly, not at all. Blame the date. And the Plexi…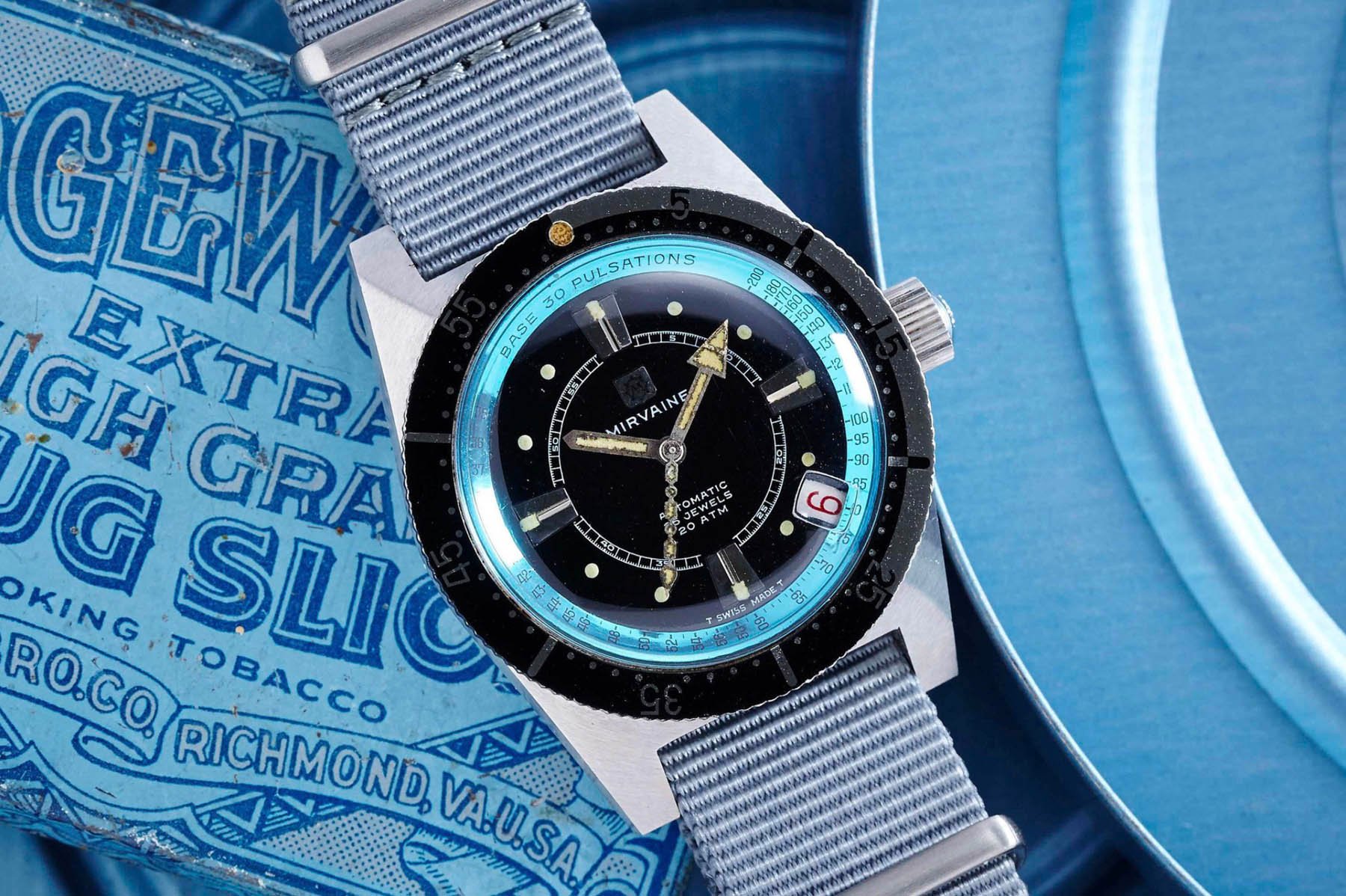 If you have to put the date at 4:30, it's usually so tiny that you pretend it's not even there. Mirvaine did the opposite. Not only did the brand make the date aperture unusually big, but the designers also placed a magnifier over it. It was, to say the least, a hammer blow to the OCD community. Also, don't forget the red and black printing changes from day to day. If you asked me, I would tell you it's a "one in a thousand" kind of watch: the skin diver case, pulsation scale, daring colors, date, magnifier… All of these elements make for a dose of weirdness that I would wear immediately.
Double magnifier in a shockingly banal Orion
If I'm being honest with you, I have to admit that this cute Orion is one of the few, maybe even the only vintage watch in my collection I have never worn since I landed it. I don't actually know why. It's such a cool watch. It's the first watch I saw with two magnifiers on the dial. My watch collecting alter-ego is always taken by novelty, or stirred by the weird, or bizarre. Consequently, I had to join the auction. Even worse, I had to win it.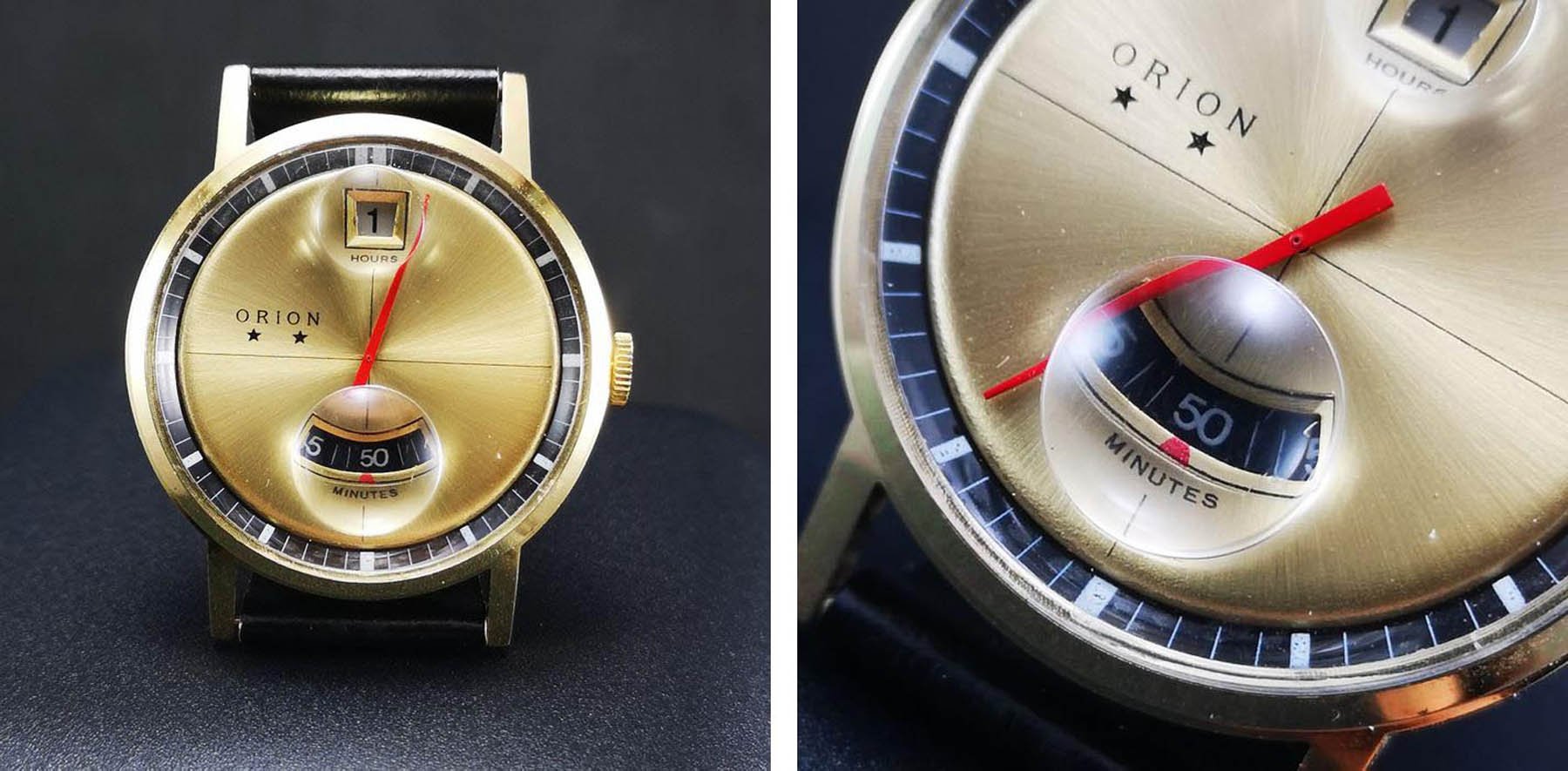 In comparison to all the chunky brick-like jumping hour watches made by hundreds of other brands, this one is different. It's appealingly slim and dressy. The gold tones perfectly contrast with the black minute track. And notice the sector lines that drive your attention directly to the carrot. Both hours disc and minutes disc are visible through the magnifier. The best part? The magnifier, especially the bottom one is huge. While in other examples the magnifier is the tech feature, here it looks like the real deal show. The red detailing is daringly spicy and demands to be featured in a standalone #TBT article. Sooner or later, it will get there!
Arc magnifier in unobtainable Angelus Medical
The price on the last one that resurfaced was jaw-dropping. Well, I love the watch and I need one, but $11,000 seemed a bit off to me. I don't know how much it sold for at the end of the day, but I will be patient. And ready. Ready to grab this fascinating mono or double pusher Angelus. It would perfectly fit my Angelus Chronodato or Angelus Dato12.
I really like how much space was given to the pulse check. Usually, pulsation tracks are smaller and pushed to the very edge. Not only did it get a pretty premium spot here, but it was enriched with a respiration track on the opposite side. The arrows are cool and the combination of black, red, and green printing even cooler. But nothing beats what I call the King of Magnifiers. I couldn't find more information on who came up with the idea, but it's pretty cool. The magnifier is quite wide and it spans from 12 to 3 o'clock. Long enough to secure some un-repeatable visual joy. If you have one, sell it to me!
Moving Magnifier in Prokop & Broz Single Hand
We will close my selection with the only modern piece manufactured as a direct order by a small independent watchmaking studio from the Czech Republic, Prokop & Broz. What you see above is a genuine single-handed watch that shows the hours through a witty 1.3x magnifier integrated into the circular hour hand. The tip on the other end of the hand points to a specially designed minute track.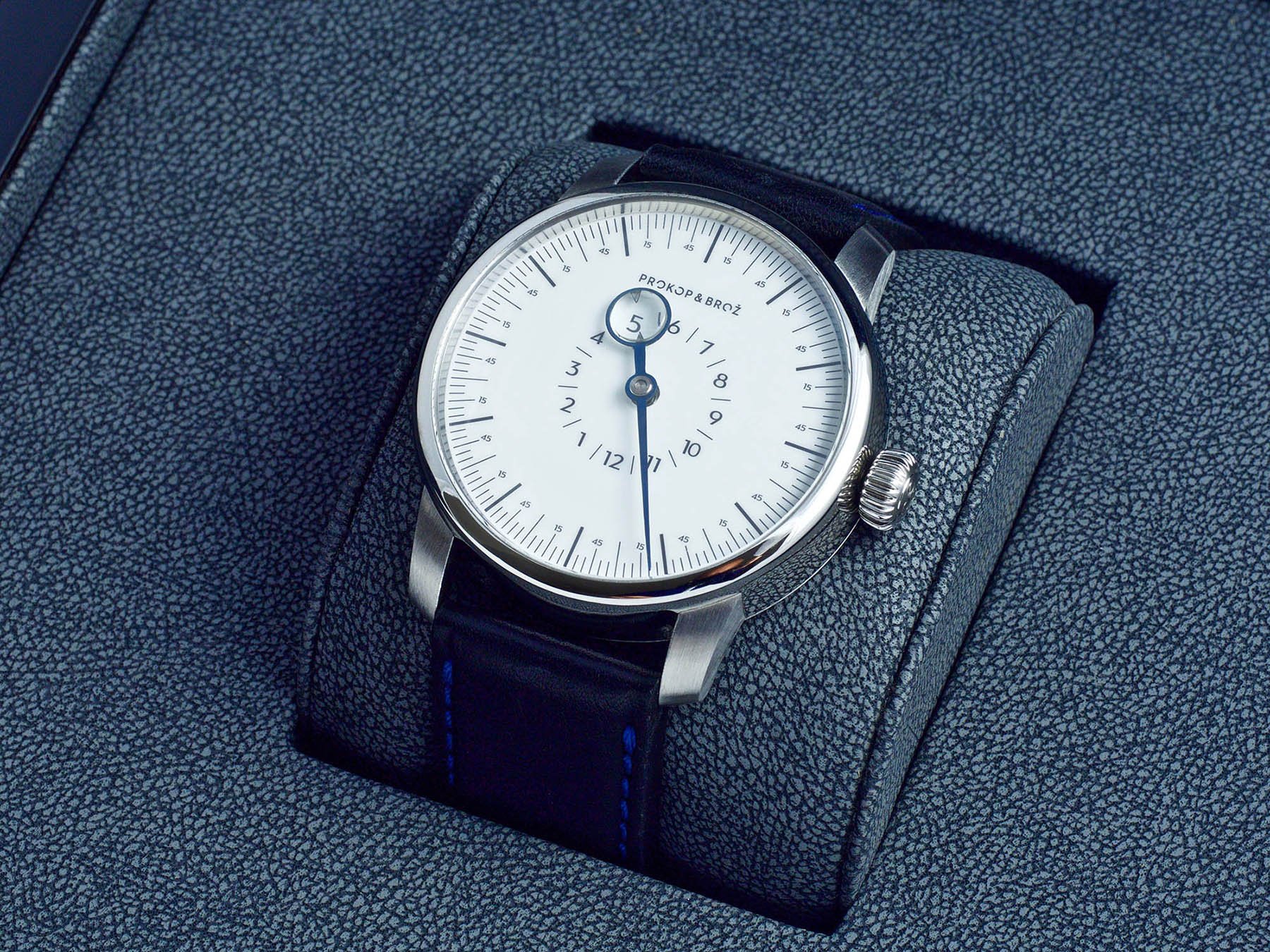 Here is the trick. You don't read the minute track like on your standard watch. Between each long index, there is a one-hour interval. The time reading isn't super precise but works charmingly thanks to each smaller index that marks five minutes intervals. Quite unusual, but really easy to get used to. There is also quite a nice story behind the brand. Mr. Prokop worked years for the Czech Prim manufacture and master watchmaker Mr. Broz used to keep the mechanical tower clock at the Wenceslas Square in Prague. Sooner or later I will pay a visit to Prokop & Broz to check and try the only moving magnifier in a watch I know of.