The Top Modern Classic Watches Under 4000 Euros
When it comes to those I surround myself with, I'd guess that I'm like a lot of watch-crazed addicts. I have friends who suffer from the same affliction, friends who are mildly interested in timepieces, and those who truly couldn't give a rip (funny, this latter group is generally comprised of folks who can easily afford a great watch).
Those who have slightly more than a passing interest are the ones who often ask me questions about why I am so fascinated by watches and they generally turn into the type of person who asks about what "nice watch" they should buy when considering their first significant purchase. Sometimes they know the brand or the style/category of watch they want, but often they're fairly open to suggestion and to buying something pre-owned. So, in an attempt to answer the question of what to buy, but also perhaps to jog the memory of even a more seasoned buyer, let's discuss some top modern classic watches that are available at what I think are some really great prevailing market prices.
Top Modern Classic Watches
My rationale behind this list of top modern classic watches was fairly simple, but not overly scientific. I thought about the key categories of watch (dress, diver, etc) and some of the most well known aspirational brands. I tried to think of watches that a person would truly be proud of buying, owning, wearing, and possibly passing on to the next generation: you know, the type of watch that most would consider as an adult purchase. I also thought about watches that are commonly available and are priced at a level much lower than I thought versus their original cost or in terms of what I think of as value. Subjective? You bet, but that's the point of a list. Oh, and I tried to keep values below 4,000 Euros (some is dependent on currency rates and your courage to buy from far away places such as Japan) and the ages of the watches past 1990. Let's get into it. And by the way, if you're wondering about the order of prioritization, it's simply alphabetical.
Breguet Type XX
Every list contains a "reach" piece and my list of top modern classic watches is no exception. To land a Breguet Type XX, you'll need to be patient, likely shop in Japan, and accept a piece without a box or papers. Spend a bit more and you can quickly knock off these concessions. What you'll end up with is a Breguet that's arguably very "non Breguet". It's a tool watch that, in its original form, debuted in the 1950's for the French Navy's Air unit. The version we're discussing, ref 3800, made its return in 1995 and has been a continuous part of the brand's lineup. Unlike the original, this newer piece houses an automatic cal 582, which is based on the Lemania 1350. Breguet adds a fly-back feature and some finishing – don't expect anything akin to their normal complicated dressier watches, though. With its polished case and bezel, the 39mm Breguet is a classy alternative to most retro-inspired watches. I've always liked the no nonsense dial and strong use of lume. Best of all, though, I love the thought of picking up a used Type XX for roughly 4,000 Euros when an identical new one lists for nearly 10,000.
Breitling Montbrillant Automatic
The next watch to make our list of top modern classic watches comes from Breitling and it's not the popular Navitimer model. It's funny, I can still remember standing in one of the large duty free watch shops in Nassau in the early 2000's looking at a Montbrillant Automatic on bracelet thinking how good looking the watch was. I was looking at chronographs at the time and just loved the vintage complexity of the Montbrillant, but as someone only a couple years out of school, the watch was way out of my price range at something like $4,500.
The Montbrillant, to me, is one of the best modern Breitlings (it seems our buddy Christopher at Bexsonn concurs). It's still around today with a number of different variants boasting complications such as a moonphase or triple date, but I like the basic automatic. I also like the early models from the 2000's such as the A41330 that used a stellar ETA 2892-based movement and came in at a seriously svelte 38mm in diameter. The watches combine some Navitimer traits such as having a triple register with a dial style that more closely mimics the early Chronomats. Plus, it looks elegant and classy on either a strap or the comfy and nicely made (but bright) Breitling bracelet. This is a great watch for someone who likes a well-built modern chronograph with a credible retro vibe. I did some looking and these Montbrillants seem to be available all day long for 3,000 – 3,500 Euros.
IWC Aquatimer GST 2000 
With the IWC Aquatimer 2000 (ref. 3536), it's possible to pick up one of the most supremely badass (granted, in a stealthy way) divers produced over the last several decades.   In its most common form, with 42mm titanium case, this IWC laid a proper beat down on basically all comers. The watch isn't thick, doesn't contain a silly helium valve, can manage 2000M, and should be seen and held in order to fully appreciate. And, it has a pretty serious cult following. The demerits? The watch uses a slightly modified ETA 2892-2, which takes it out of the in-house discussion, but makes it easy to service. Also, while the bracelet and its adjustment system is a work of art, it lacks microadjustment capabilities and the attachment to the case severely limits change options. IWC did offer both rubber and a textile strap and they come up from time to time. There's a strong relation between the Aquatimer and the IWC Porsche Design watches of the time. That's no coincidence as the future owner of Sinn, Lothar Schmidt, was in charge of both the GST and Porsche programs. At prices in the 3,500 Euro range, you can find titanium versions of the 3536 often with boxes and papers and the original "fish crown" and tritium dial and hands.
IWC Mark XII
The mention of the IWC Mark XII on a list of top modern classic watches shouldn't surprise you. I raved about one I own in a former #TBT article and my admiration for this watch hasn't waned since that time. Despite the fact that R-J always whines about the fragility of the JLC calibre 889 automatic movement within the Mark XII, I've still never had an issue with the watch. Maybe R-J's Dutch buddies who own them are hobbyist jackhammer users? I jest!  Oh yeah, did I say that this has a JLC movement!!!  (R-J inserts this link to an article on the subject of caliber 889 being fragile). Seriously, this IWC comes from an era when the brand was truly firing on all cylinders and making instant classics. At 36mm and containing one of the single most comfortable bracelets I've ever had the pleasure of wearing, this piece can pull duty as your only watch. It fits under a shirt, looks serious enough to go to the office, and technical enough to be recreational. The Mark XV after it (introduced in '99) may seem like a more approachable watch at 38mm, but 36mm was the size of the legendary Mark XI and the XV uses an ETA (2892-A2). I like my IWC's to be down with JLC. The Mark XII was seriously expensive in the 90's when new, but you can source them all day long for 2200 – 2500 Euros. One day, and I'd suspect sooner than later with the trend markedly shifting to more humanely sized watches, these prices will be in the rearview mirror.
Jaeger-LeCoultre Reverso
I was kind of surprised that one can find a stainless manual wind Jaeger-LeCoultre for so little. Granted, I'm looking at the so-called "medium" sized version (23.5mm x 38.5mm) known as the reference 250.8.86, but this was basically what was available when I first came to know the brand in the 90's. It's probably a sentimental eye, but I do recall the salespeople at our jewelers doing a heck of a job of telling the story (or a story) of JLC and how they were one of the few truly in-house makers (we visited their manufacture and reported here). Of course, the Reverso was always a highlight in the discussion, but again, it was expensive. On bracelet or strap, the Reverso just oozes art deco class and, for me, rivals the Cartier Tank in many ways aside from sharing a general case shape. The case is awfully flat, which makes it a wise idea to try a Reverso on before buying, but it seems like a very satisfying watch to own. I conducted a very leisurely search on the web and found pieces with box and papers available all day long for 2500 – 3000 Euros.
Omega Seamaster Professional 2254.50
I'm sure the pre-Co-Axial days from Omega haven't been forgotten, but they don't seem to garner nearly as much attention any longer. Still, Omega made some rock solid stuff in late 90's and into the 2000's before introducing the legendary escapement in its watches and I find the reference 2254.50 Seamaster Professional 300M to be worthy of mention for our list of top modern classic watches. At 41mm, this Seamaster sits right in the heart of diver territory and with its bold, legible styling reminiscent of the legendary 300, this watch is a real looker. Plus, the ETA 2892-A2 based caliber 1120 is chronometer rated and dead easy to service. Due to its roughly 9-year period of production from 2000 – 2008, I still see plenty of these watches on the wrists of colleagues or travelers and I always come away thinking that these pieces stand up well versus the far more expensive Submariner. For a watch that can do anything and pretty much go anywhere, figure on a price of less than 2000 Euros including all the goodies. This is one watch on the list that I may end up tracking down at some point before it's too late.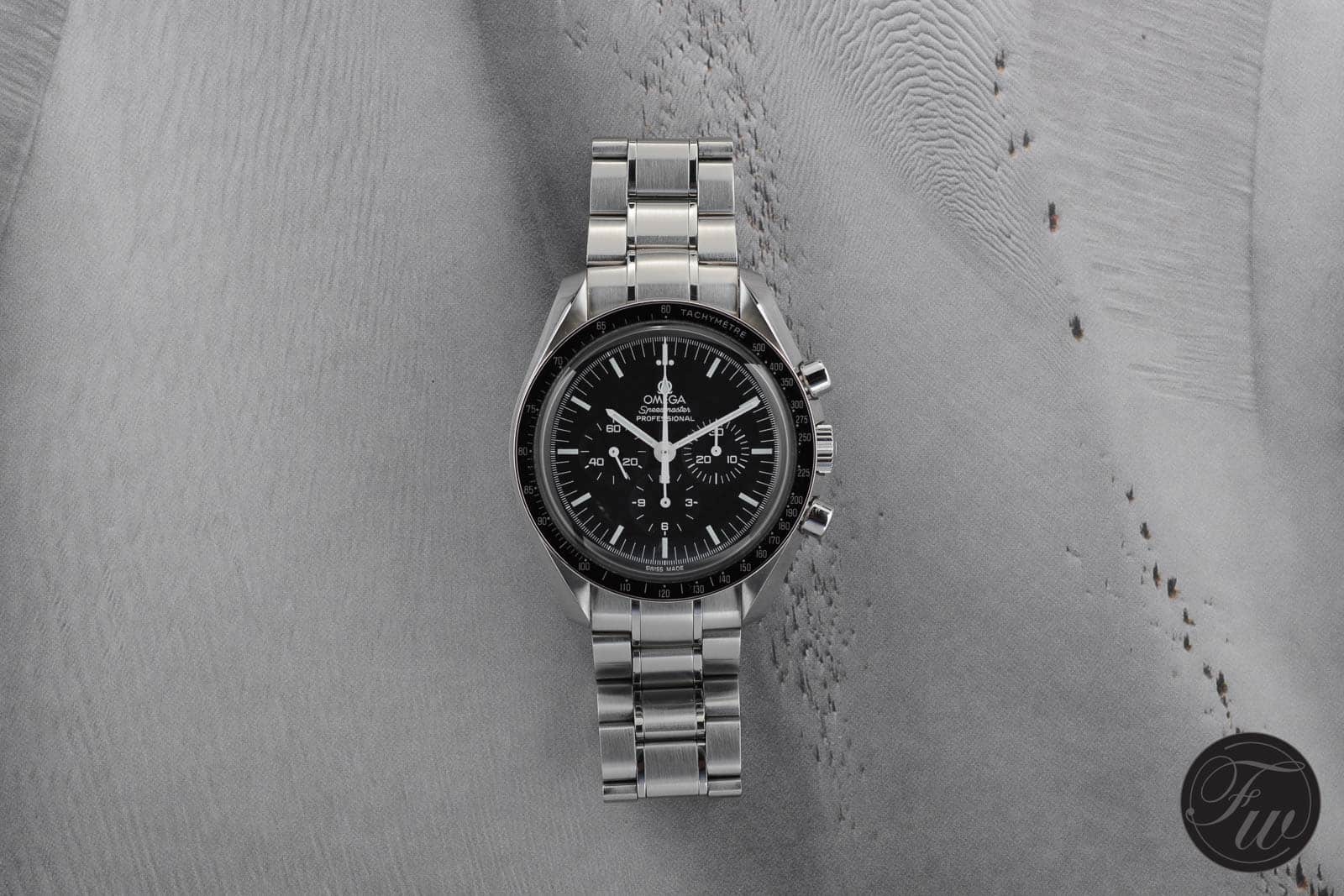 Omega Speedmaster Professional 3570.50 
You just knew the Speedy was going to show up on a list of the top modern classic watches. It's hard to complain about the current retail price of the watch, but it makes watches from the last 10-15 years or so that much more of a bargain. With prices under 3,000 Euros for a nice pre-owned model, it's hard resist buckling an icon to your wrist. The models I'm referring to are generally the post-tritium era so they're exactly like what you'd buy new today. Box and papers should be expected on a watch as new as this. A Moonwatch is a watch that every collector should own. More so, I've come across many people who are fairly ambivalent about watches who own a Speedy Pro simply because of the history. You can hardly go wrong.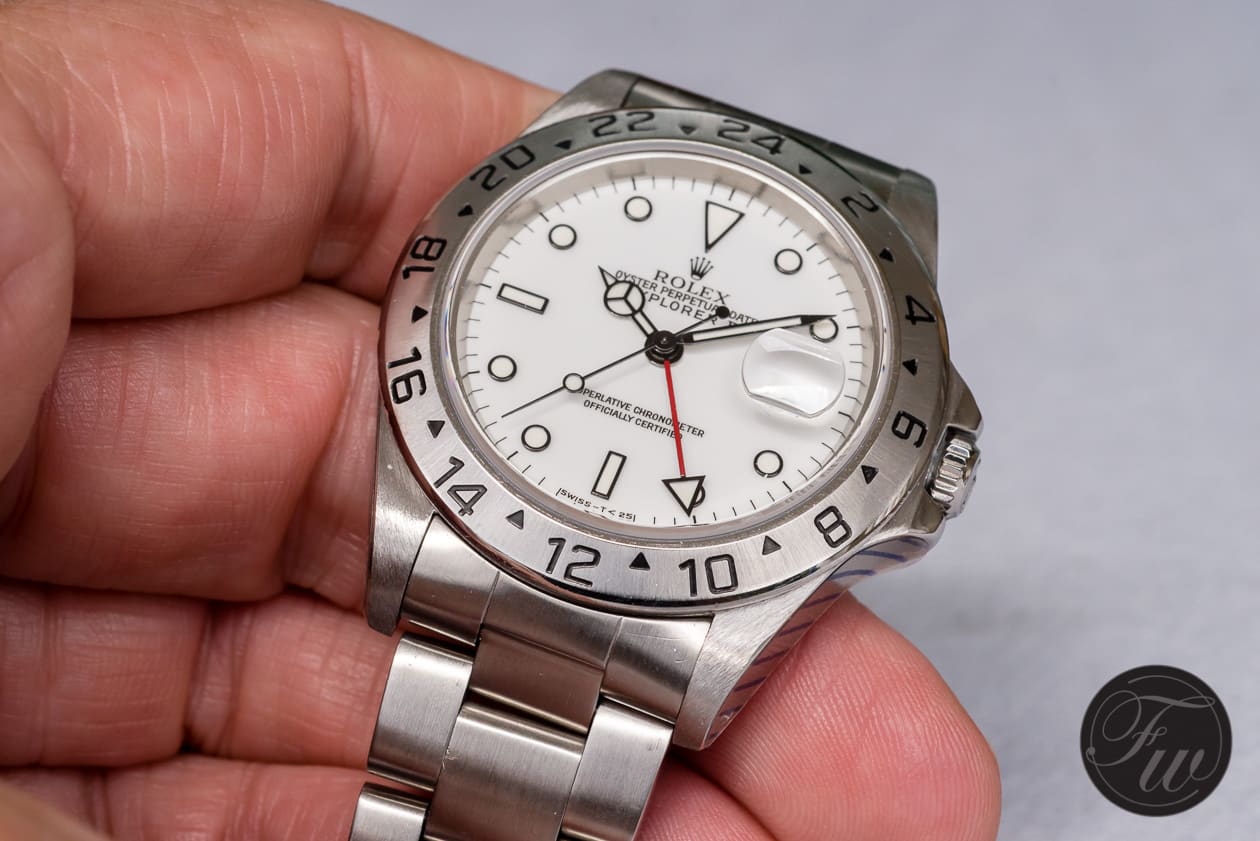 Rolex Explorer II 16570 
For some reason, the Explorer II has found itself as the odd duck within the Rolex sports line. The earliest model, the now legendary 1655 "McQueen" with orange hand (yeah we know he never wore it), was supposedly a dismal failure due to its incredible niche intentions. The 1655 was meant for spelunkers and the orange hand moved aligned to the 24-hour bezel to help those in the dark know whether it was am or pm. Then, the 16550 was released and the nearly identical 16570 followed. Now, any watch company can call a watch whatever it wants, but to me, the Explorer II became sort of this strange de-contented GMT that allowed a user to track a second time zone by manipulating the hands. Don't get me wrong, these later Explorer II's are far more practical and useful – it just seems that Rolex changed course or realized that the market for those who went into deep dark holes was a tad limited.
Getting back on track, most people discount the Explorer II's, I think, because they don't photograph very well. In person, though, these 40mm watches are fantastic, exhibit a rugged look when the bezels pick up some love marks, and they're so wearable. Plus, the "Polar" model is the only white-dialed sports Rolex this side of the Daytona and that makes it extremely unique. The use of black marker surrounds and hands creates a wonderful contrast that really separates itself from other watches. I took a quick look and decent examples can still be found for 3,500 Euros if you don't mind a piece that's seen a little bit of action.
Rolex Datejust 
To be fair, I've always been far more drawn to the sports Rolex models and have largely ignored the brand's somewhat more dressier options. That being said, the Datejust is an absolute legend and belongs on a list of top modern classic watches. There have been numerous changes and options within the Datejust line since its inception in the 1940's, but as mentioned, we'll focus on pieces from the last several decades. Specifically, I'm targeting the reference 16220 and 16234. Both have sapphire crystals, a quickset movement, and a flat dial. In fact, they look very similar to today's Datejust, but lack the beefier maxi-case and obviously use an older style of bracelet. The difference between the two reference numbers is small: the 16220 sports a steel engine-turned bezel whereas the 16234 has a fluted white gold adornment. I inherited a 16220 when my Grandfather passed away and was blown away by how comfortable the 36mm case is on its silky smooth Jubilee bracelet. As a 36mm Explorer owner, this shouldn't have been a surprise, but the Datejust adds a totally different look with the bezel, Cyclops, and some great dial options. It's a standard for a reason and is another watch that can easily go from poolside to the boardroom. Some may decry my dismissal of an acrylic crystal version of the Datejust (the 16030), but I like the convenience and durability of these quickset later models. Oh, and there are tons of them available online. Pricing for decent examples of both models seems to start at around 3,000 Euros.
Tudor Submariner 79090 
This one might qualify as an odd choice for a place on a list of top modern classic watches because; depending where you grew up, Tudor may not have been such a big deal. When this, last of the acrylic crystal, Tudor Submariner was in display cases in the USA, the general opinion was seemingly "buy a real Rolex or save until you can afford to do so".   Looking back, perhaps we were a bit harsh, but one has to remember that even back in the early 1990's, a Rolex was still as good as having cash on your wrist whereas a Tudor was a bit more like owning any other watch. We all know what's occurred, though, and Tudor is a hot current brand and vintage pieces are looked upon fondly as being a cool alternative, or addition, to the parent brand's offerings. As mentioned, this 79090 is the last of the acrylic Tudor Submariners (it's the Tudor version of the legendary Rolex 1680) and it contains all the good Rolex hardware aside from having an ETA-sourced automatic movement. When I took a look online, it seems these are available for around 3,800 Euros and while that puts them on the high side of our list, it's hard to imagine a more sure-fire investment within the grouping.   Or, at least it's an easy sell if one needs to recoup their money. Interestingly, I was going to follow suit and suggest the sapphire crystal version in the 79190 (the corollary to the Rolex 16610), but these are expensive, as Tudor clearly didn't make these for long or in significant numbers. Owning a Tudor Sub is no longer a second fiddle choice to owning a Rolex; it's simply a different choice. This I agree with, but it's also not a bad thing when you have all that Rolex Sub familiarity staring back at you.
Zenith El Primero Rainbow Fly-back Chronograph 
Is this Zenith another surprise addition to the top modern classic watches list? Maybe so, but it contains so much goodness that I couldn't ignore it. Essentially, Zenith added a fly-back function to its El Primero movement in an attempt to win a French Military contract. Sadly, the contract never materialized due to budgetary issues, but the watch lived on and was offered to the public in the late 90's. What one gets is a classic looking chronograph in 40mm on bracelet, multiple dial choices (including the "rainbow" colored version as well) equipped with tritium numerals, and a rotating dive bezel. Collectors like to talk about this model as the next big thing and perhaps it will occur, but for now you can take advantage of owning a modern classic made by a brand that sold these movements to Rolex for a little over 3,000 Euros. Japan is oddly the place where many reside (and where I last tried one), so you may have to bring a little faith to the deal if transacting from a distance.
An article on the top modern classic watches was a lot of fun to write, but dangerous! I found myself looking at some of these and wanting for myself and not realizing that there are some fantastic watches out there for under 4,000 Euros. Plus, these have all taken their depreciation by now and should be safe bets to maintain or grow in value. Agree or disagree, we'd love to hear your thoughts on great watches from the last 25 or so years that should make the list.