What Are The Top Pilot's Watches You Can Buy Right Now? Our Picks From IWC, Fortis, Breitling, Oris, And More
There's something for everyone
Pilot's watches! Love 'em or hate 'em, they're one of the most popular categories within watch collections worldwide. With an interesting heritage and iconic design cues, it's hard not to eventually be won over by their bold designs and supreme legibility.
So, what are, in my opinion, some of the top pilot's watches on the market right now that you can actually buy? Check out my picks, and let us know your favorite(s) in the comments at the end!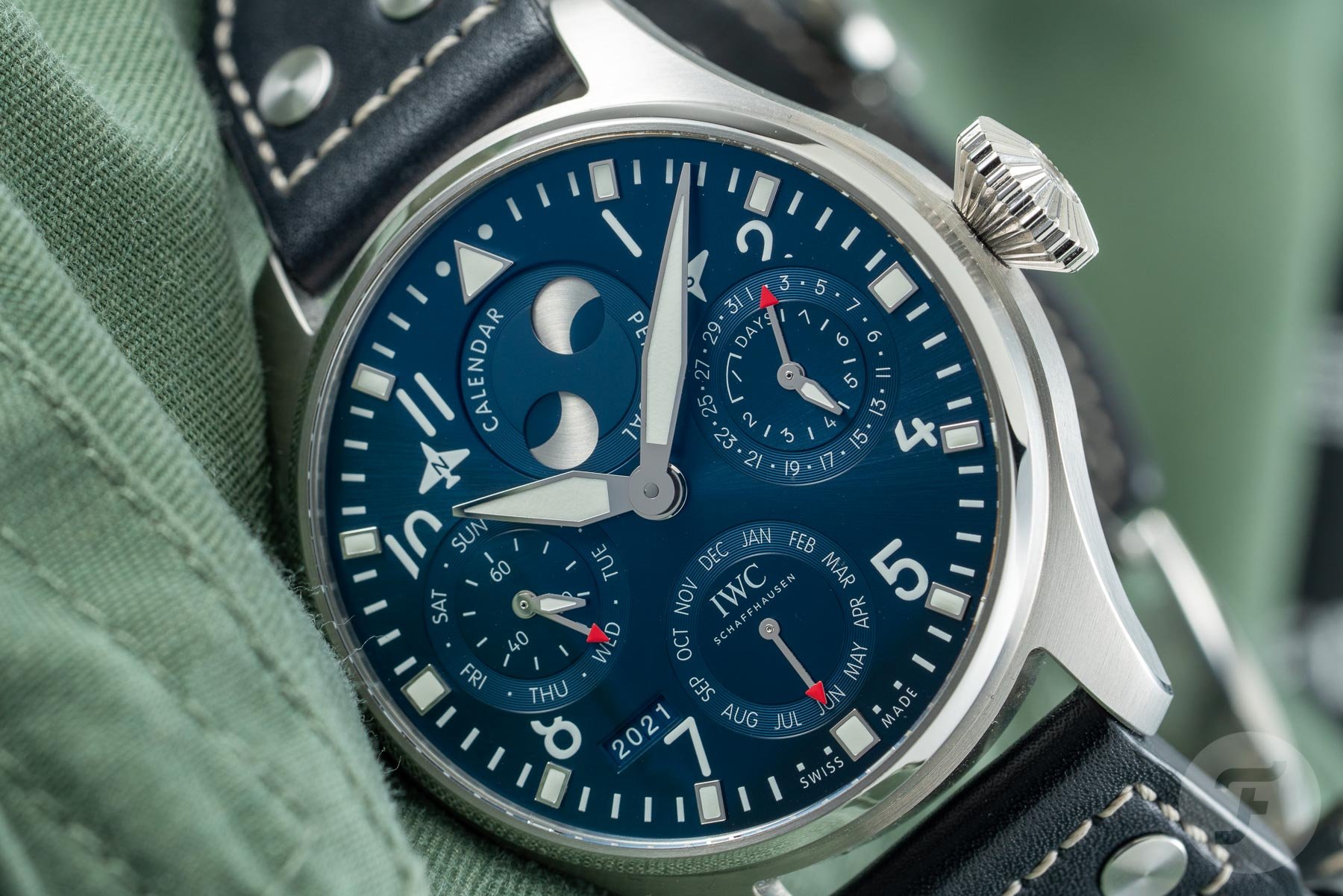 IWC Big Pilot Perpetual Calendar
I have to start this list off with a big one. IWC is well known for its Big Pilot collection, and for me, the Perpetual Calendar represents the very pinnacle. Now, the elephant in the room for many people will be the size. This is a top-heavy watch, measuring 46.2mm × 15.4mm on the wrist. That's some serious presence, but given the heritage of the pilot's watch, it's also accurate. Pilots needed big watches that were a) exceptionally legible and b) large enough to strap over a chunky flight suit.
Sure, there are smaller pilot's watches out there, and indeed IWC caters to that demand with smaller-diameter pilot's watches in its range. Still, while I usually prefer more wrist-friendly sizes, the larger size makes sense with the information on display here. After all, legibility is vital for a pilot's watch, no?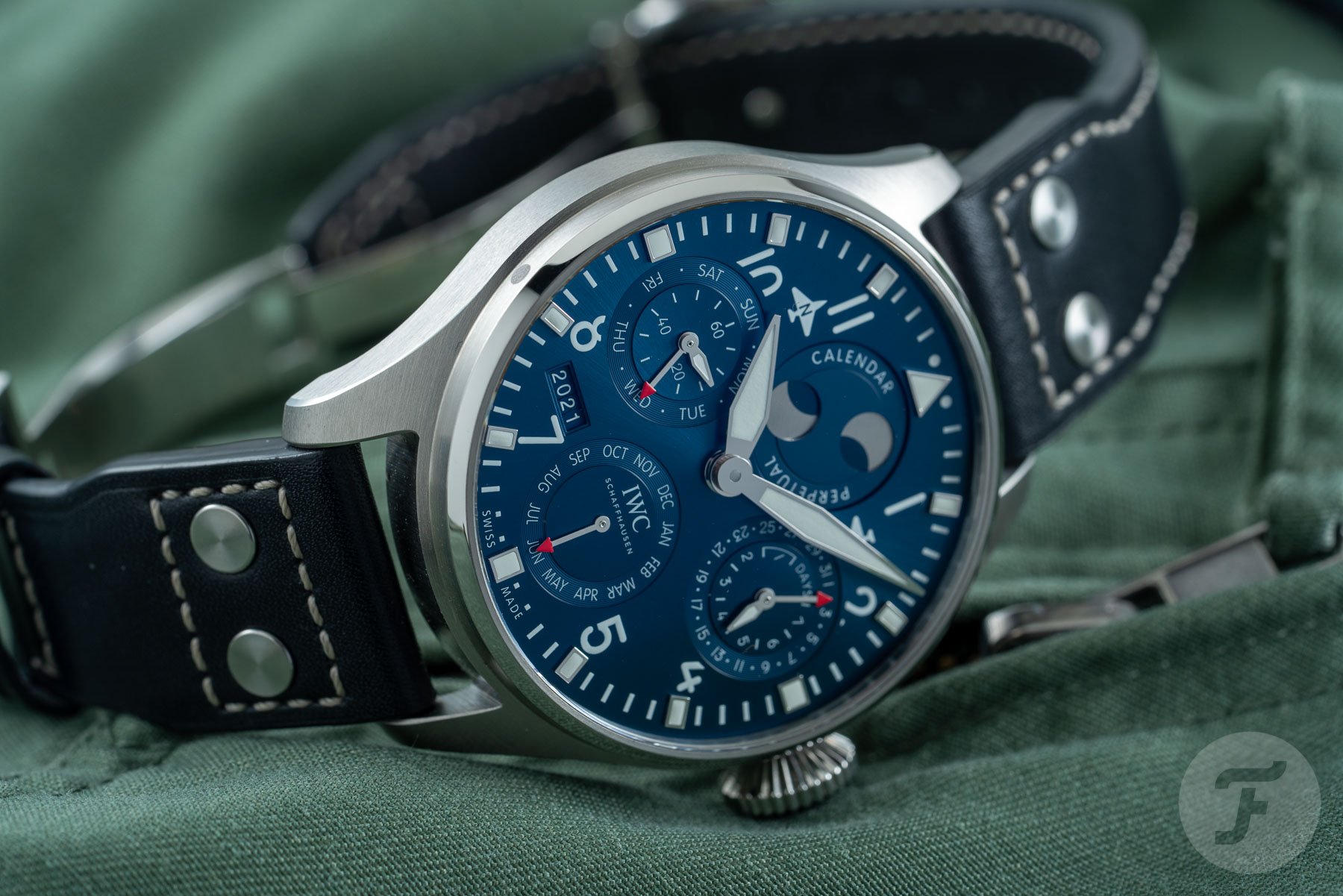 Now non-limited!
IWC has issued a few variations of the Big Pilot Perpetual Calendar, but the version shown here is the only non-limited edition. The large "Le Petit Prince" blue dial wonderfully highlights the white lumed hands, hour markers, and text on the dial. The day, date, and month hands have a bright red tip to offer a little flash of contrasting color.
My favorite part of the dial is the moonphase indicator. I've not loved the idea of the complication, but most instances of it are pretty "classic" by design. IWC has incorporated the moon phase in a wholly modern way. While not something that the average customer has an innate need for, it just looks aesthetically pleasing, and that's good enough for me. Perpetual calendars themselves can look a little too traditional for my tastes. Still, IWC has done a great job of taking the concepts and displaying them in a modern and aesthetically-pleasing way. For that reason, the IWC takes the top spot on my list!
IWC Big Pilot Perpetual Calendar: €30,200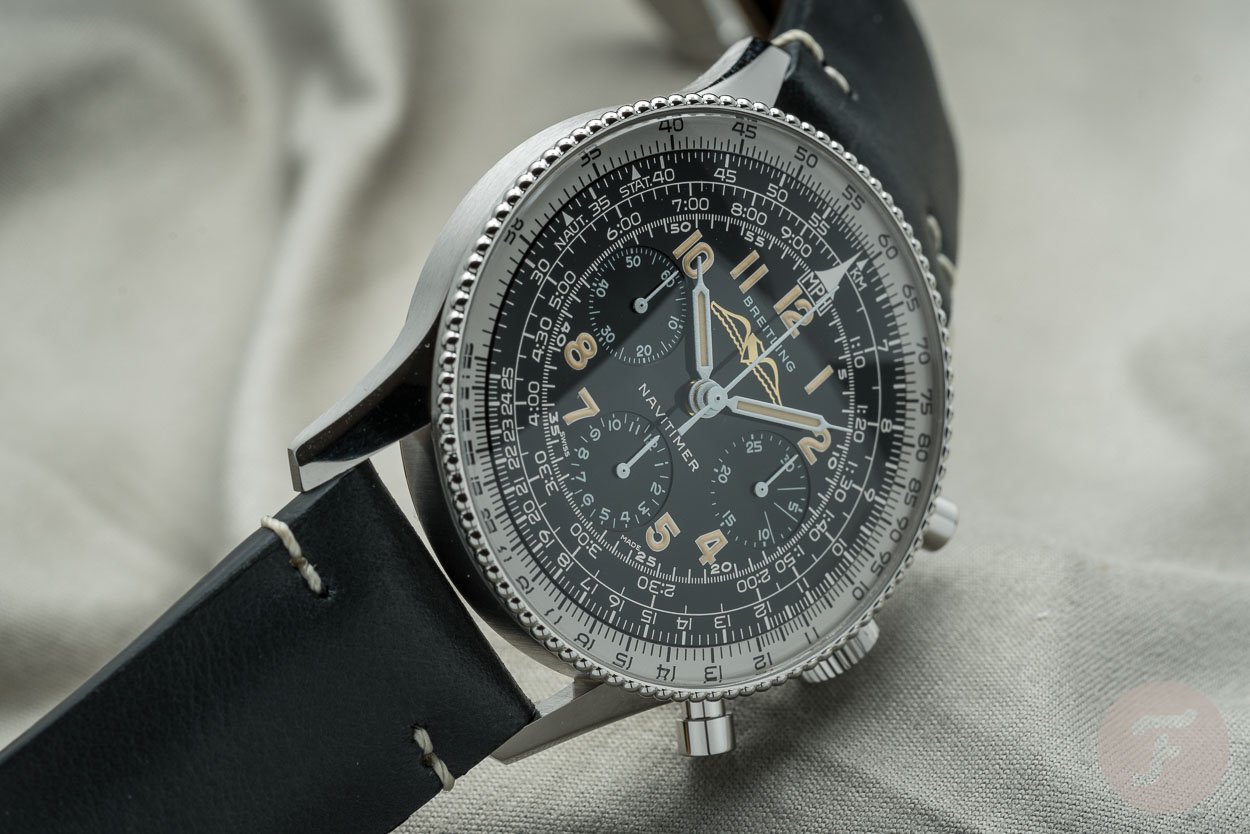 Breitling Navitimer 806 1959 Re-edition
The Breitling Navitimer was the first watch I ever "wanted." In the end, I settled for a Breitling Superocean as it was more in my price range. Still, while I love my Superocean dearly, the Breitling Navitimer was the first watch I lusted over, thus starting my descent into this crazy little hobby. I still have a soft spot for this iconic watch, despite not being any closer to adding one to my collection. I think it'll always hold a sentimental place in my mind. Let me clarify one thing here, though: I mean the chronograph version when I talk about the Navitimer. I don't feel comfortable classing the 38mm time-only model as a real Navitimer, despite what Breitling may tell us.
Breitling offers the classic Navitimer in various sizes depending on the movement/complications — 41mm, 43mm, 45mm, and 46mm. My favorites are undoubtedly the 41mm models, and of those, the 806 1959 re-edition! The Breitling Navitimer 806 1959 re-edition is a faithful recreation of the classic 806. It was a smart move that kept vintage fans happy. The re-edition kept the 41mm stainless steel case and the 22mm lug width. It also measures a cuff-friendly 12.86mm thick thanks to the manual-wind movement. When I said this was a faithful recreation of the 1959 original, I meant it. That is highlighted by the fact that the re-edition has precisely 94 beads on the bezel, just like its 1959 ancestor. It's worth noting that Breitling changed the number of bezel beads as the years went on, but in 1959, there were 94. That's attention to detail, and I like it!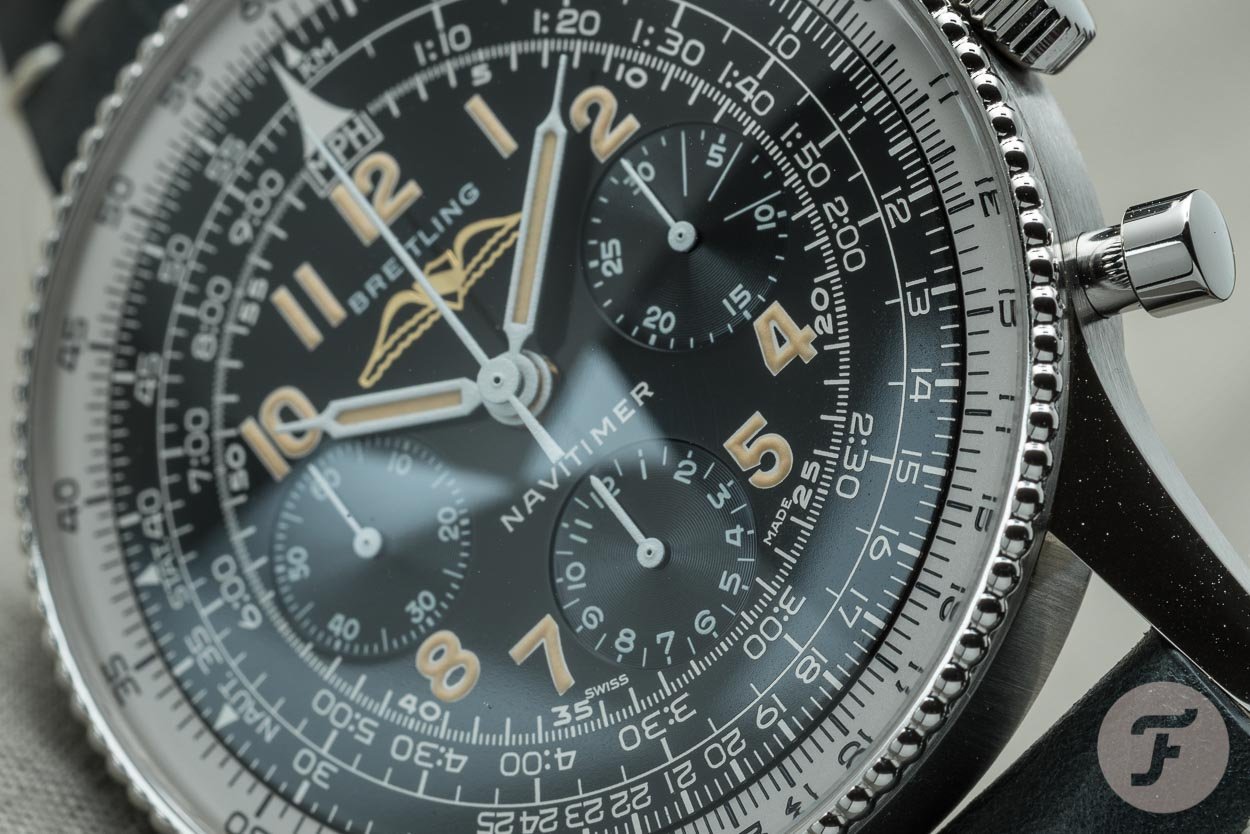 Busy but beautiful
There's no denying that Navitimers contain dials with loads of information on them. Some people love the geeky technical look, and that includes me. Despite this, I find the dial wonderfully busy and not overwhelming, even if I have little practical need for a slide rule. In terms of branding, Breitling kept things faithful and straightforward. Not that there is much room to go off-piste. We have the Breitling script and the gold wings of the (unsigned) Aircraft Owners and Pilots Association logo beneath the 12 o'clock marker, and "Navitimer" just above the 6 o'clock sub-dial. Oh, and just like the original, the real gold wings are applied to the dial.
The 806 1959 re-edition is a limited edition of 1959 pieces, but you can still find it around. So while I wanted to try to steer clear of limited edition watches here, it is available to buy new from some retailers right now, and not at inflated prices should you dip your toe in the secondhand market.
Breitling Navitimer 806 1959 Re-edition: 7,900 CHF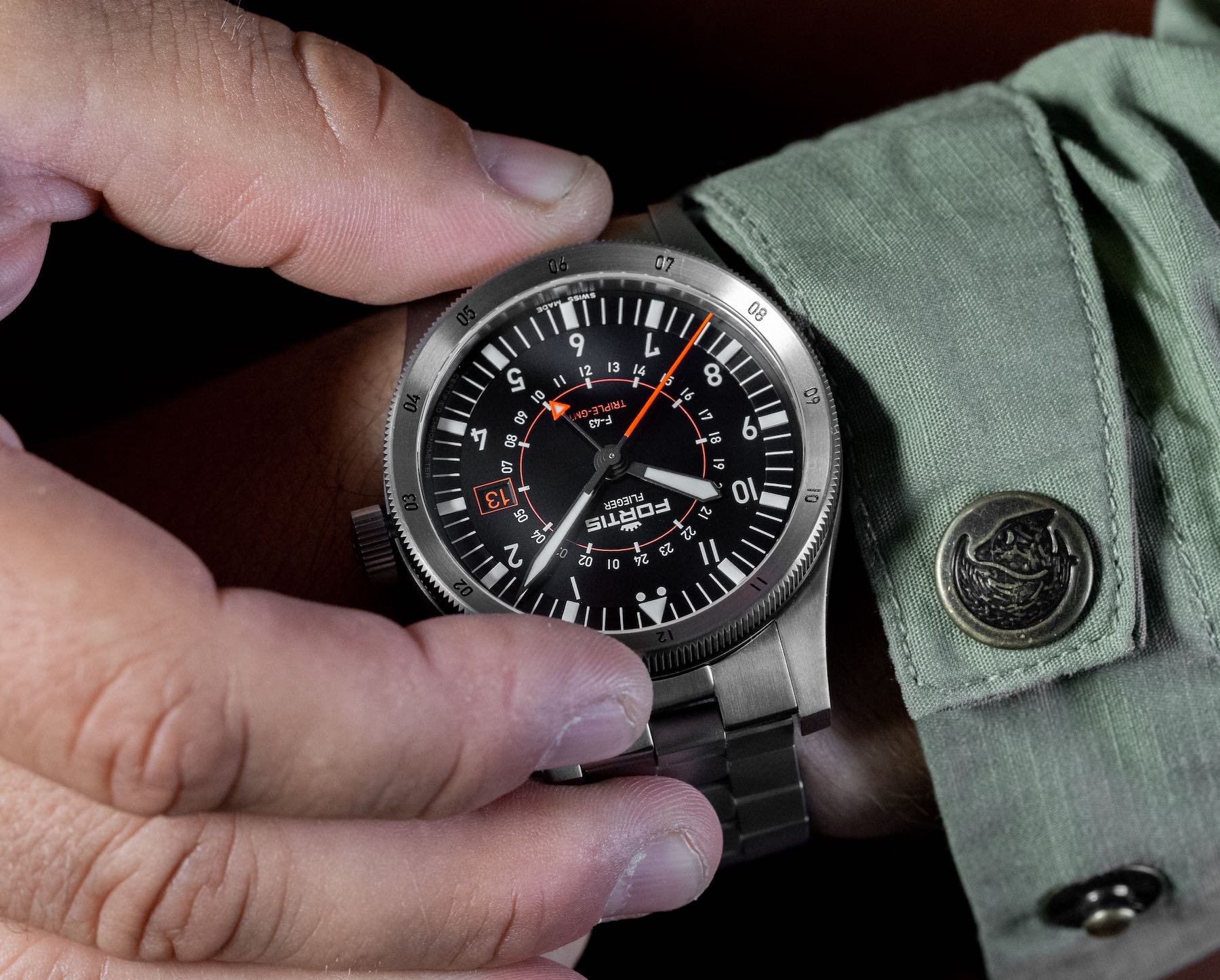 Fortis F-43 Triple GMT
I wanted this list to be pretty versatile, not just in terms of price but also in terms of features. So far, we've had a perpetual calendar with a moon phase, as well as a chronograph, and now I'm adding a GMT with tracking for up to three different timezones. That's right, the next watch to hit this list is the impressive Fortis F-43 Triple-GMT. A handsomely stylish watch that's at the top of Fortis's Flieger collection. Fortis introduced its current, modernized Flieger collection in 2020, and it's gone from strength to strength since. However, it's the F-43 Triple-GMT that's been the standout model for me.
As the name suggests, the F-43 Triple GMT has a 43mm case. Although 43mm is not small, it sits nicely on the wrist thanks to its curved lugs, which also help offset some of the case thickness. The Triple-GMT also has a slightly thinner case than its dual-register sibling. For me, therefore, this watch ranks higher than the Chronograph variant, thus earning its place on this list. When in Sweden with Fortis last month, I got the chance to wear the F-43 for an extended period, and this size is nothing more than numbers on paper. In reality, the watch wears superbly and is surprisingly comfortable on the wrist. I wore the watch on a bracelet, but I'm a big fan of the Nick Mankey Hook Straps that Fortis offers. These straps would secure the watch perfectly to any wrist size or shape.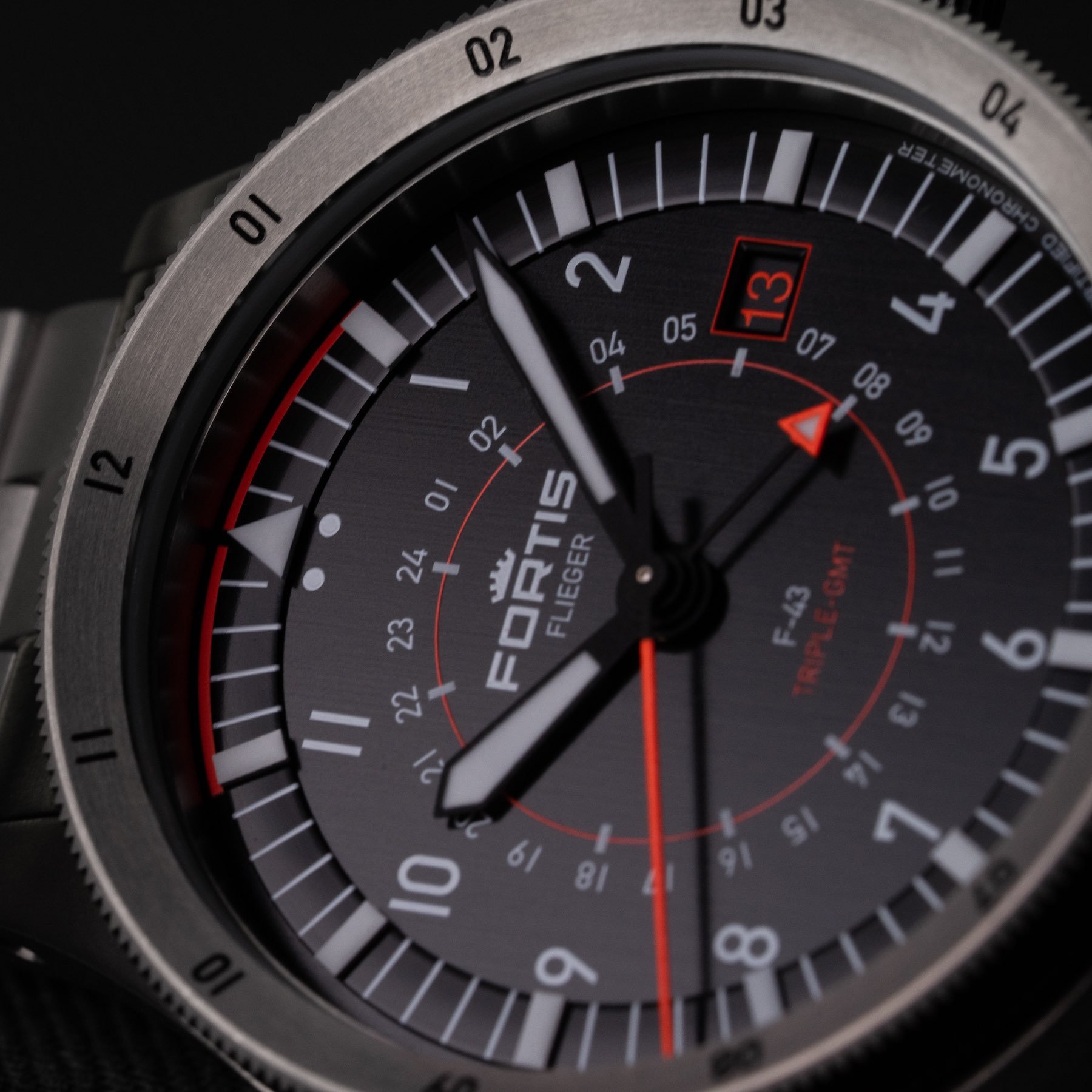 Powered by Kenissi
The Fortis F-43 Triple-GMT marked the start of a long-term partnership with manufacture movement-maker Kenissi. That's right, inside the Triple-GMT beats a Kenissi-made movement that Fortis has named the WERK13. What's the big deal? Well, it has a jumping hour feature that means the wearer can quickly shift the timezone forward or backward by one-hour increments at any time of day. There's also a 70-hour power reserve but, better still, the WERK13 is a COSC-certified chronometer. That's serious bang-for-your-buck compared to the Triple-GMT's peers.
I'm a big fan of Fortis as a brand, and it was a tough decision to make as to which of the Flieger collection models to put on this list, but I hope you'll agree that the F-43 Triple-GMT is the correct choice. The combination of the functionality, movement upgrade (compared to the rest of the Flieger collection), and the price, means that anyone looking for a serious and wearable pilot's watch could do far worse than taking a closer look at the F-43 Triple-GMT.
Fortis F-43 Triple GMT: €4,500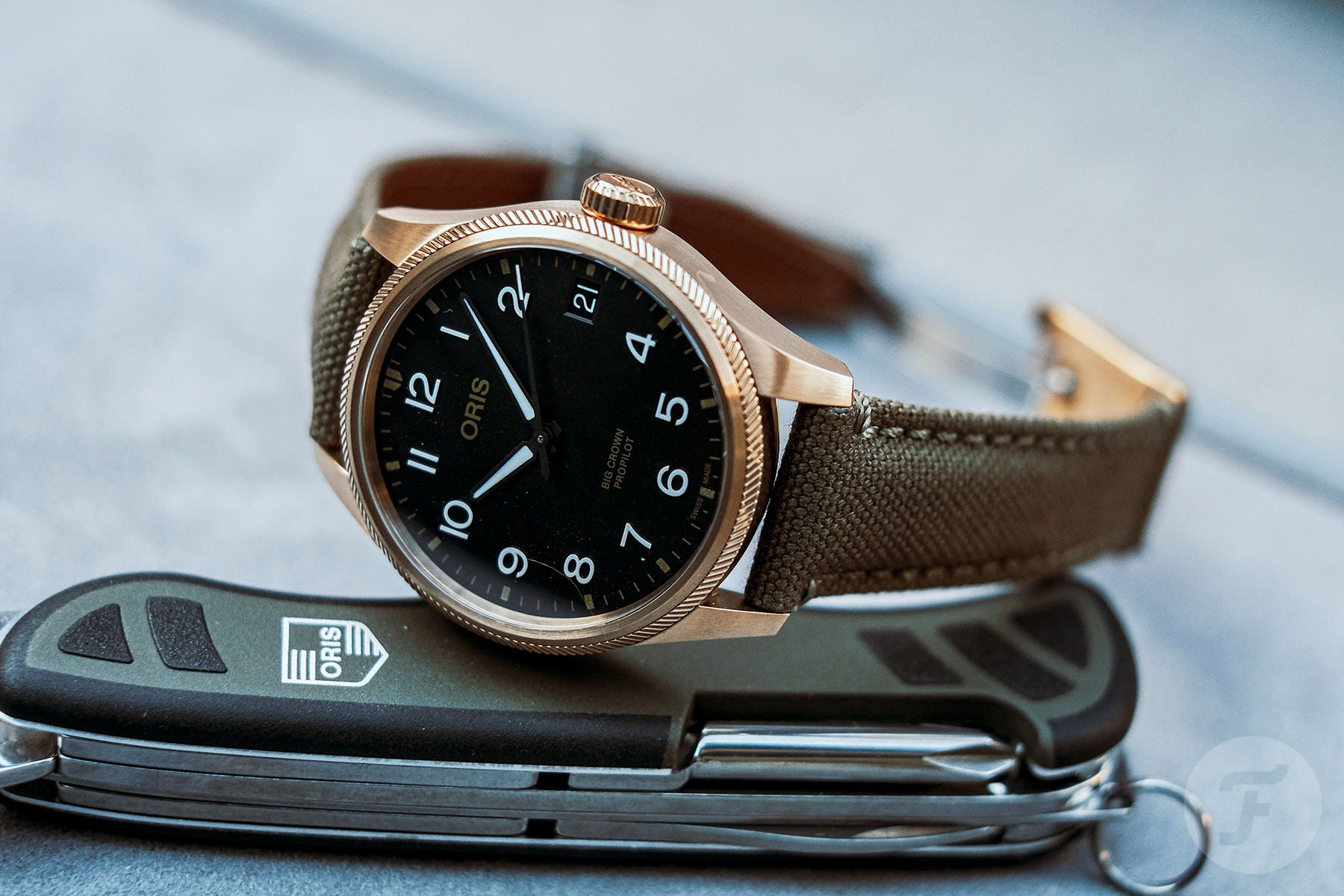 Oris Big Crown ProPilot Big Date
At Fratello, we are long-time fans of Oris, in particular its Big Crown collection of pilot-inspired watches. You may recall, back in 2020, we released a limited edition Big Crown Bronze Pointer Date, one of which adorns my wrist as I write this. The Big Crown collection includes many references in many different styles. Today, I'm focusing on the ProPilot sub-collection. Oris launched the ProPilot family back in 2014. Over the years, we've seen various interations with different complications to suit pretty much whatever you might want. However, it is the Big Crown ProPilot Big Date that's always stood out to me.
The Big Crown ProPilot Big Date is a time-only watch with an oversized date window at 3'o clock. It's not a complicated watch, and it's not flashy in any way. It fits the original pilot's watch brief to a tee — a large and legible dial, no more, no less. I have chosen the bronze variant because I like the warmer, vintage tones the metal adds to this watch. Also, I have a soft spot for bronze Oris watches. Sue me.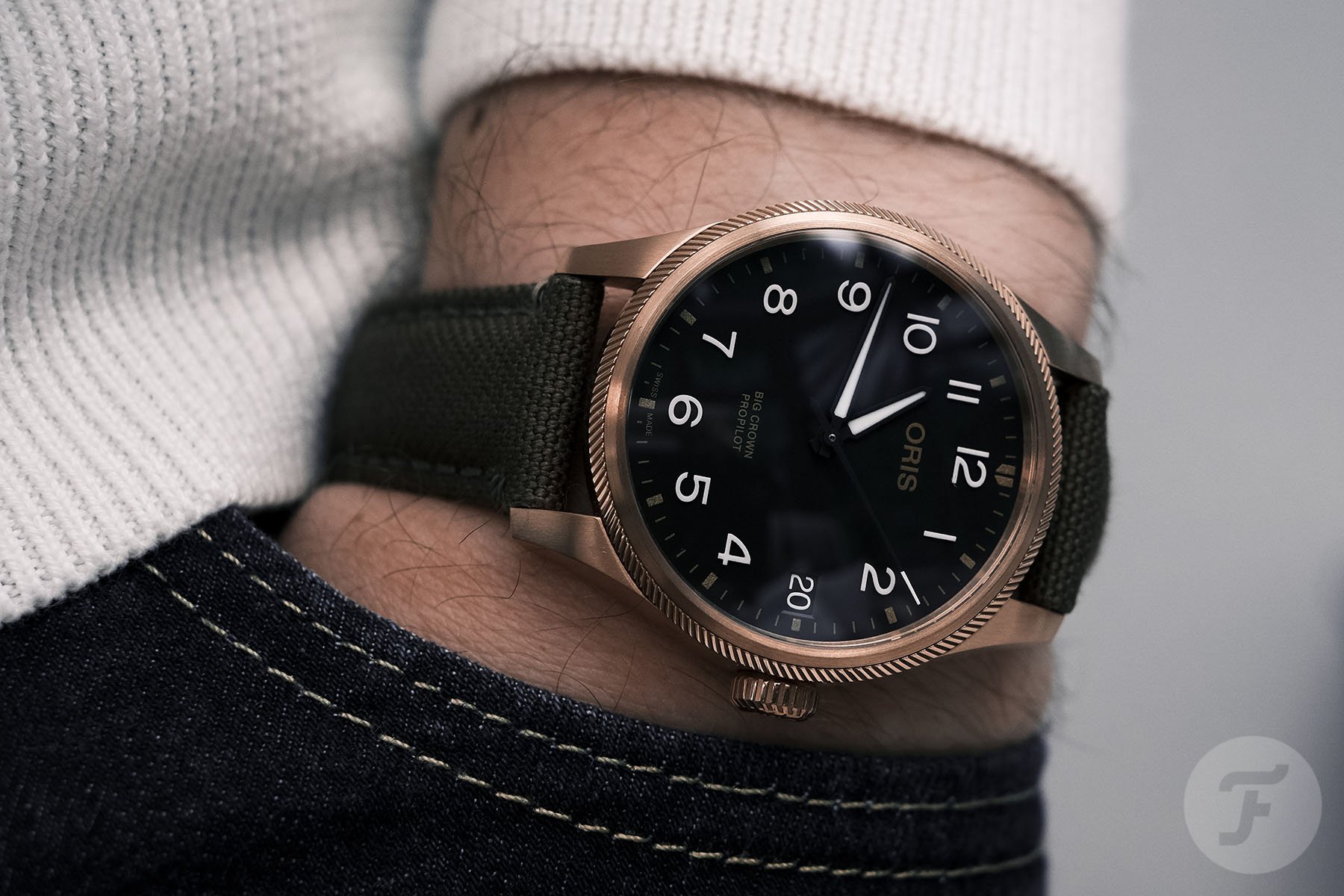 A versatile pilot's watch
I particularly like the Big Crown ProPilot Big Date because of its versatility. Versatility is something I like to reference quite frequently. Why? Because not everyone can afford or justify owning several different luxury watches. Some people can only have a one-watch collection, and if a watch can fulfill several of the stereotypical collection tropes, then it will have broader appeal. Thanks to its modern dial stylings, here we have a watch that you could easily dress up or down. It'd look just as suitable paired with a suit as it would paired with jeans and a t-shirt. That's the sort of versatility I'm all about.
The only minor stain on an otherwise unblemished review is the power reserve. The Big Crown ProPilot Big Date uses Oris' caliber 751, based on Selitta's SW220-1. This provides just 38 hours of power reserve. Now, if you are a one-watch kind of person, that's fine. But if you're wearing this as part of a rotation, it ain't gonna last the weekend. As far as I'm concerned, 38 hours is not great, but on the flip side, at the given price, it's tough to feel too aggrieved. I'll let Oris off the hook this time!
Oris Big Crown ProPilot Big Date: €1,850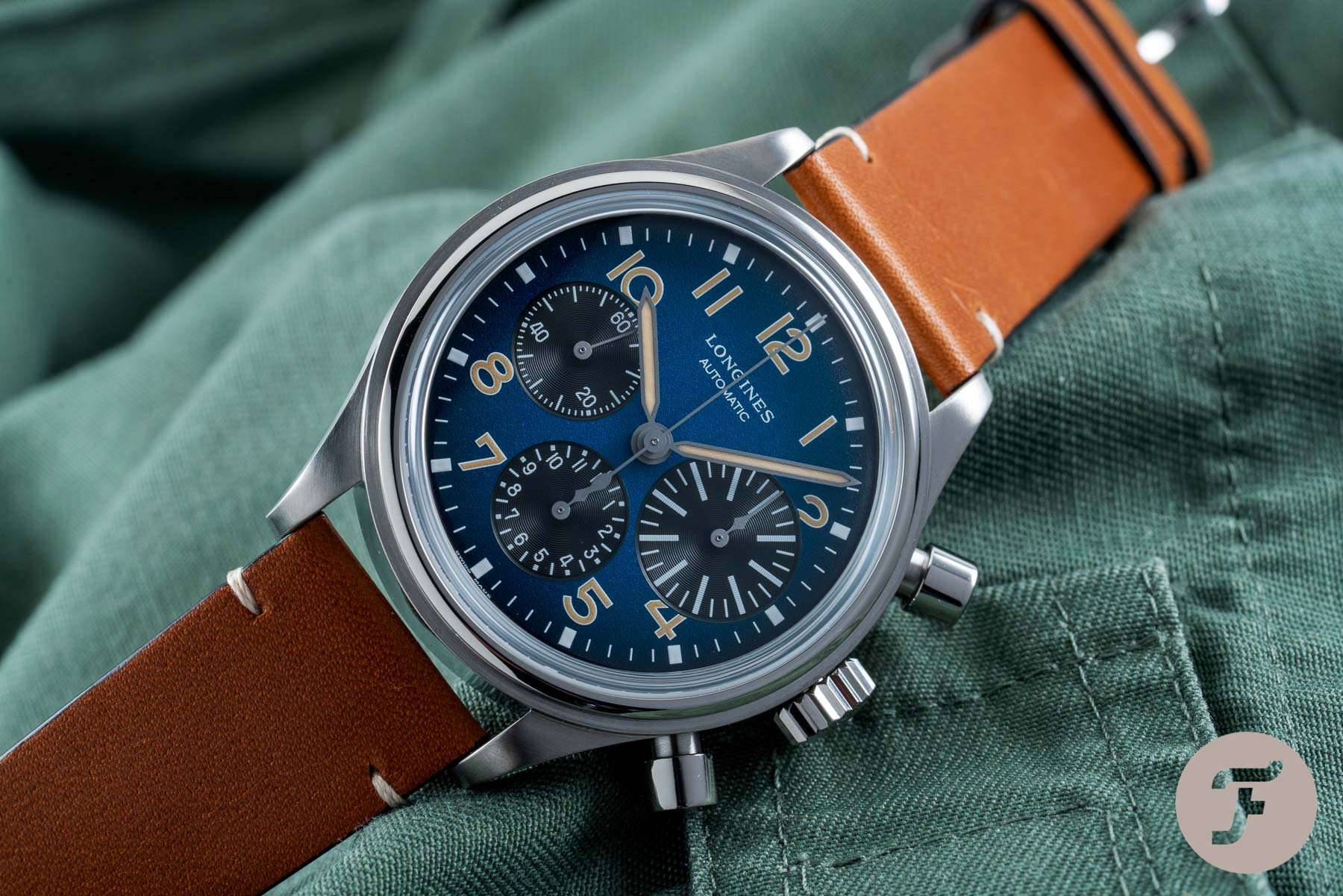 Longines Avigation BigEye Titanium
The final watch on the list is one that's been on my wish list since the day it was launched. For the most part, I see Longines as a brand that releases tasteful, heritage-inspired designs. That's great, but I don't usually do heritage-inspired. The majority of my collection is more modern or colorful pieces. As such, Longines was never a brand that sat on my radar until it launched the Avigation BigEye Titanium at the start of 2021. Hot damn! Here we have a watch that's much more up my street, with color and character by the bucketload!
I've previously described this watch as "the watch we didn't know we needed." I'm not sure what inspired Longines to take the original, faithful recreation of the Avigation BigEye and give it such a colorful makeover. But whatever the inspiration, give that team a raise! Steel makes way for titanium (a metal that's been finding a home in my collection this year), and the dial goes from black to fumé petrol blue. Let's be honest; it's the dial that really makes this watch sing!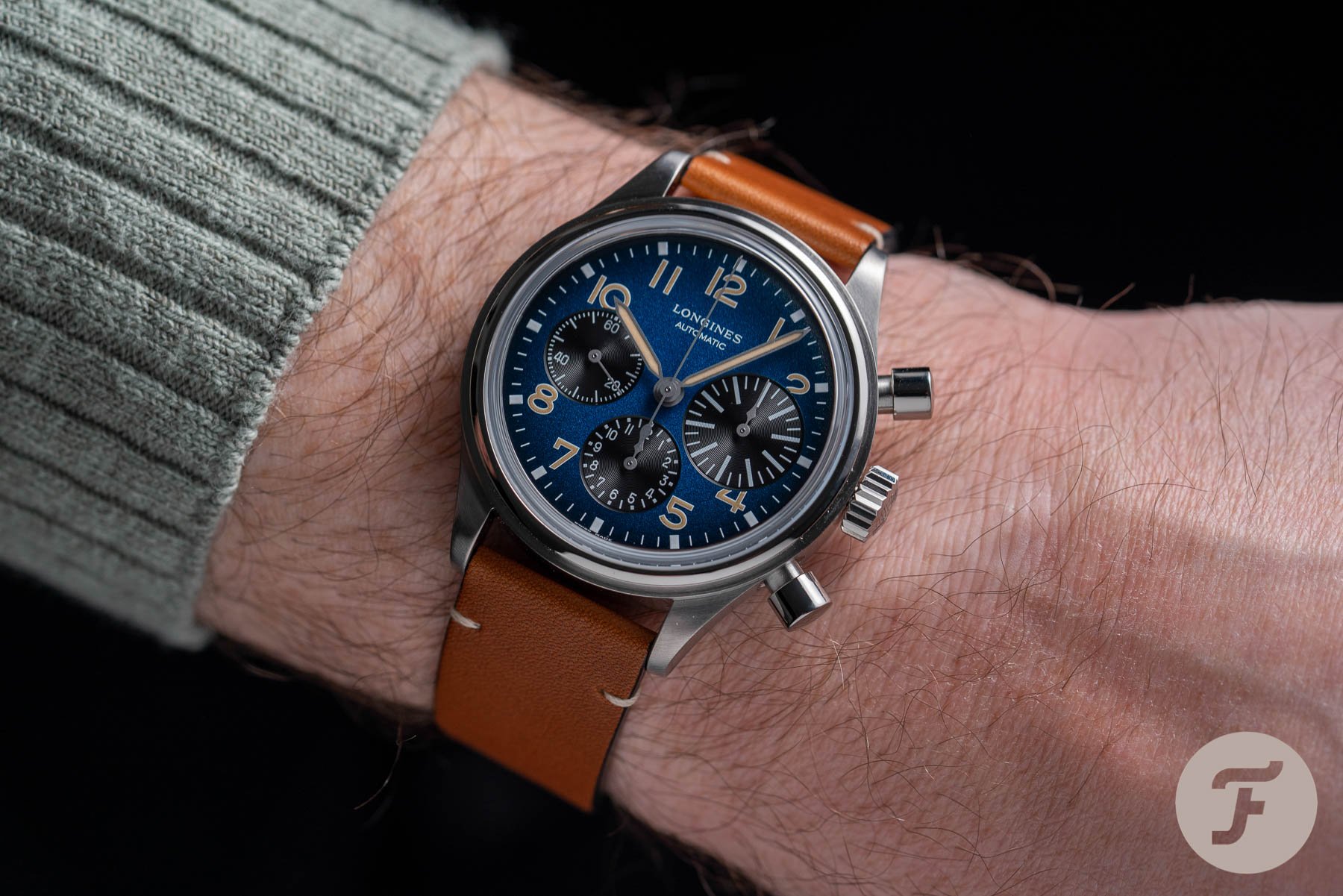 A whole heap of awesome
The original Avigation BigEye has a flat black dial. While I like the BigEye subdial arrangement, the flat black doesn't do anything for me here. So, when I saw the Avigation BigEye Titanium, it was a big ol' double portion of "yes!" First, the flat dial surface made way for a grained texture. This texture is good in Dave's book. It adds an extra dimension of visual appeal that color alone can't complete. That takes us onto the next portion of "yes": the color. Longines used a gorgeous fumé petrol blue that elevates this watch far beyond the original when combined with the dial texture. I appreciate the cliché, but I get lost looking into this dial. It is that good.
That said, all is not perfect. Of course not. Where would the fun be in that? I am, of course, talking about the lume. I wish Longines had opted for plain white lume rather than the beige color. I have no issue with the vintage-style lume per se, but I think white would have looked better on this watch. I wouldn't say it's enough to be an absolute dealbreaker for me, but it's enough to make me second guess myself. Either way, I hope you'll agree that the Avigation BigEye Titanium is a worthy addition to this list!
Longines Avigation BigEye Titanium: €3,230
That just about wraps up my list of the best pilot's watches you can go out and buy right now. I am, of course, keen to hear your thoughts on my choices. These lists can only ever be a personal opinion, so I want to know if you agree or disagree with me! What would you add to your list? Let me know in the comments!
Follow me on Instagram: @davesergeant | @fratellowatches