Tudor Black Bay Chrono Dark Hands-On (Live Pics and Pricing)
Celebrating the All Blacks legacy, but it also just a nice watch
Tudor introduces the Black Bay Chrono Dark to celebrate its partnership with New Zealand's national rugby team. It is a limited edition of which the number of available watches will increase over time, as it is related to the number of All Blacks players since 1903.
Currently, there have been 1181 players in New Zealand's national rugby team since its existence, so that's the number of watches that will be made available by Tudor. That said, in countries like The Netherlands, rugby isn't really a thing, so the association with the All Blacks isn't relevant. If it were soccer, it might have been a trigger for Dutch people to go after this watch, for example, but it wouldn't work in the USA. So, let's look at the Tudor Black Bay Chrono Dark as a watch, not as something related to the New Zealand national rugby team. That said since it is related to the All Blacks, it makes sense that this watch is all black as well. So, without further ado, let's have a closer look at what Tudor delivered to our office last week.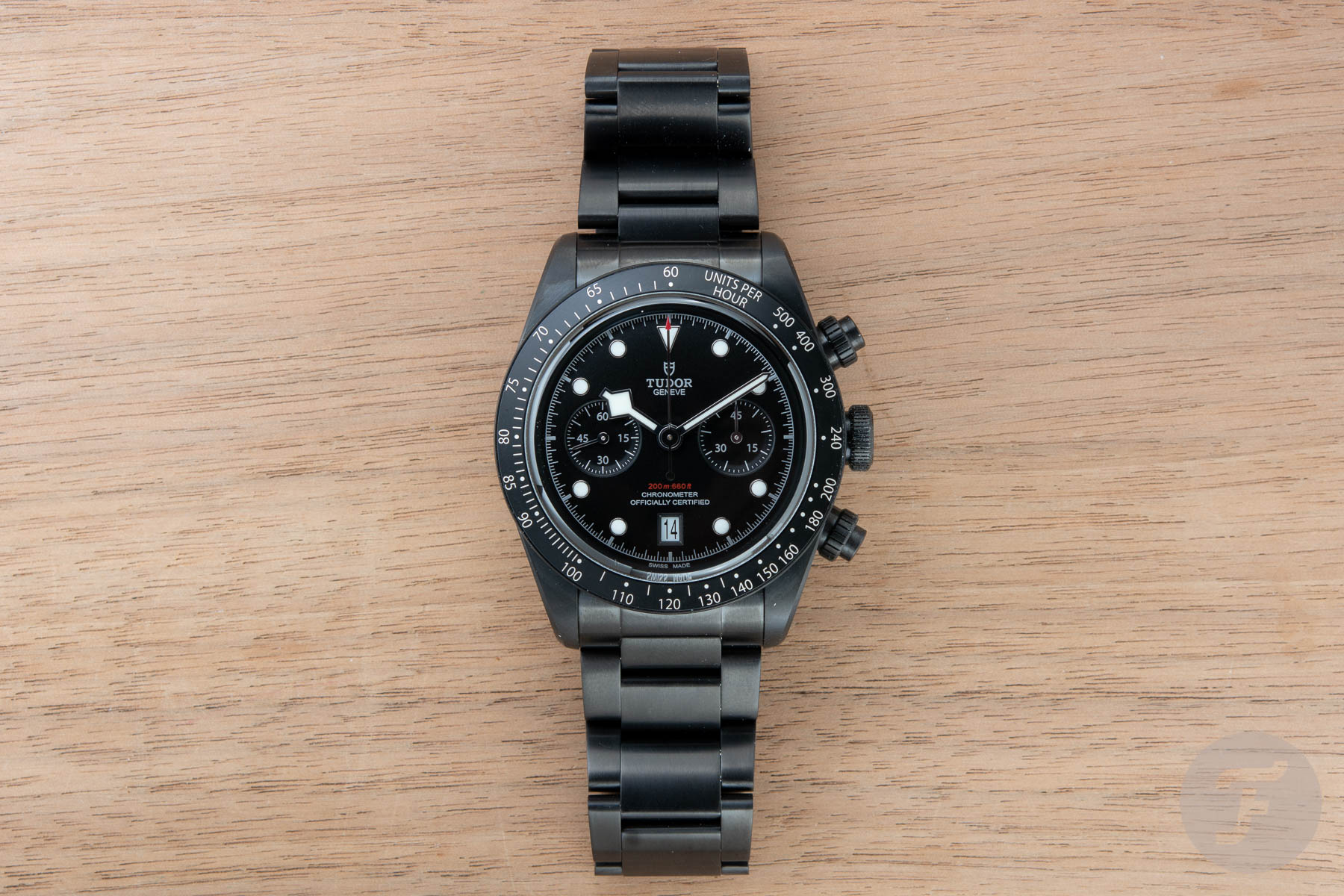 Tudor Black Bay Chrono Dark
Tudor is hot, and for specific models, authorized dealers work with a waiting list. My best guess is that the Tudor Black Bay Chrono Dark will not be an exception, even if you don't have a connection with the All Blacks rugby players. An all-black chronograph isn't new to Tudor, as a few years ago they already introduced this in their Fastrider collection. The Black Bay Chrono collection is more focused on collectors and those who like vintage (Tudor) watches, of course. And now, there's a black version in the collection as well: the Tudor Black Bay Chrono Dark. Of course, a Tudor Black Bay Dark was already in the collection since a few years as well.
Since 1926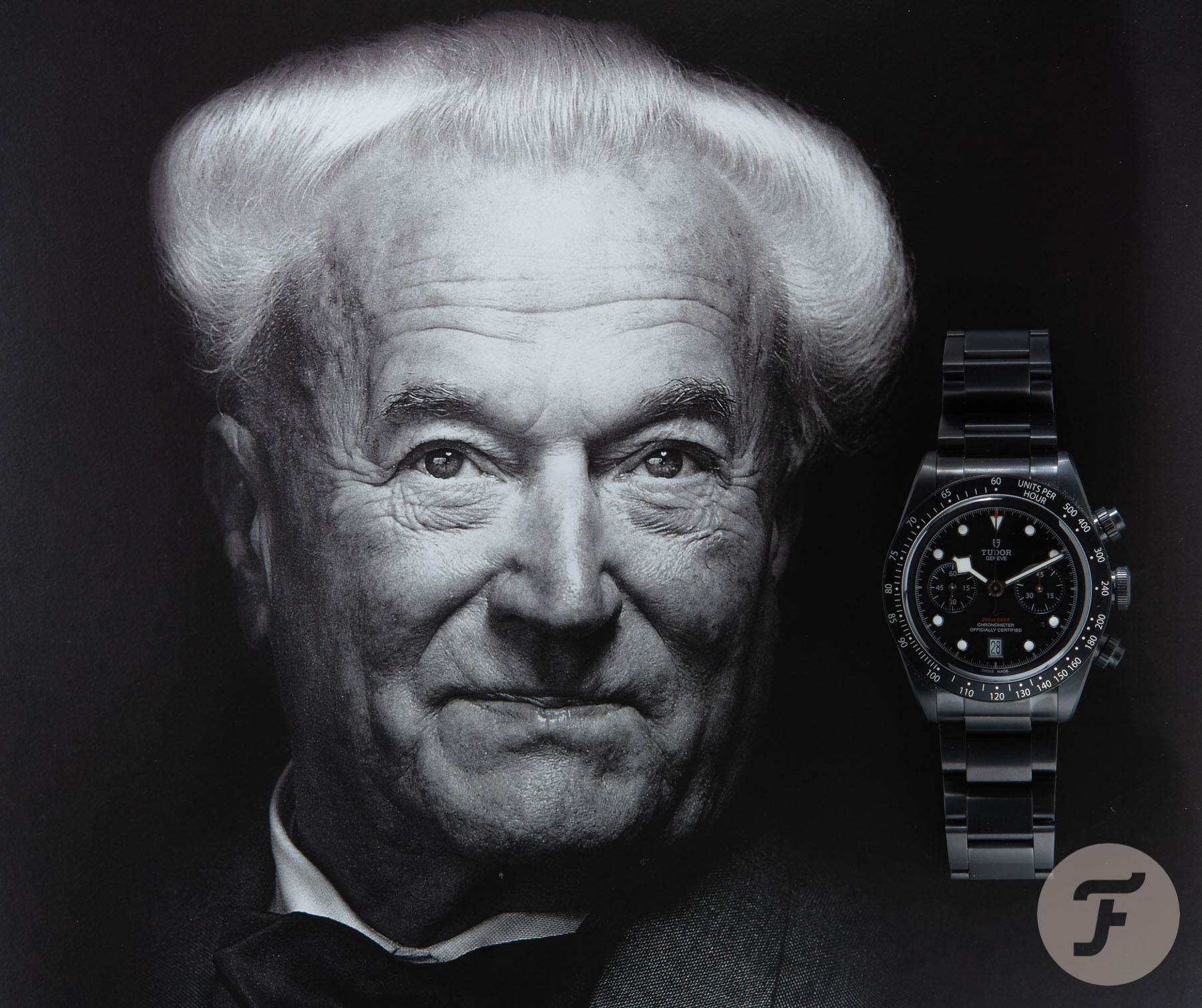 I am sure you are familiar with the Tudor brand, but let's refresh your memory a bit. Tudor was already registered in 1926 by Rolex-founder Hans Wilsdorf, who later on (1946) created the Montres Tudor SA company. Wilsdorf's concept for this brand was to develop and offer watches that had a friendlier price tag, but also maintaining a high-quality standard for them, as he did for Rolex watches. Until 2015, Tudor relied on third party movement suppliers, such as ETA, for their watches. After that year, Tudor introduced several mechanical calibers that have been developed in-house, or at least within a close collaboration (see further down below). The story goes that one of Wilsdorf's strict rules was that a Tudor would never have an in-house developed movement, as this would breach the concept of offering these watches for an attractive price. Whether this is true or not, I couldn't verify this in time for this write-up, I can imagine that today's production is more (cost) efficient than it used to be in the days of Wilsdorf's leadership. Anyway, I am pretty sure Wilsdorf would have been proud of his sub-brand he started to develop back in 1926.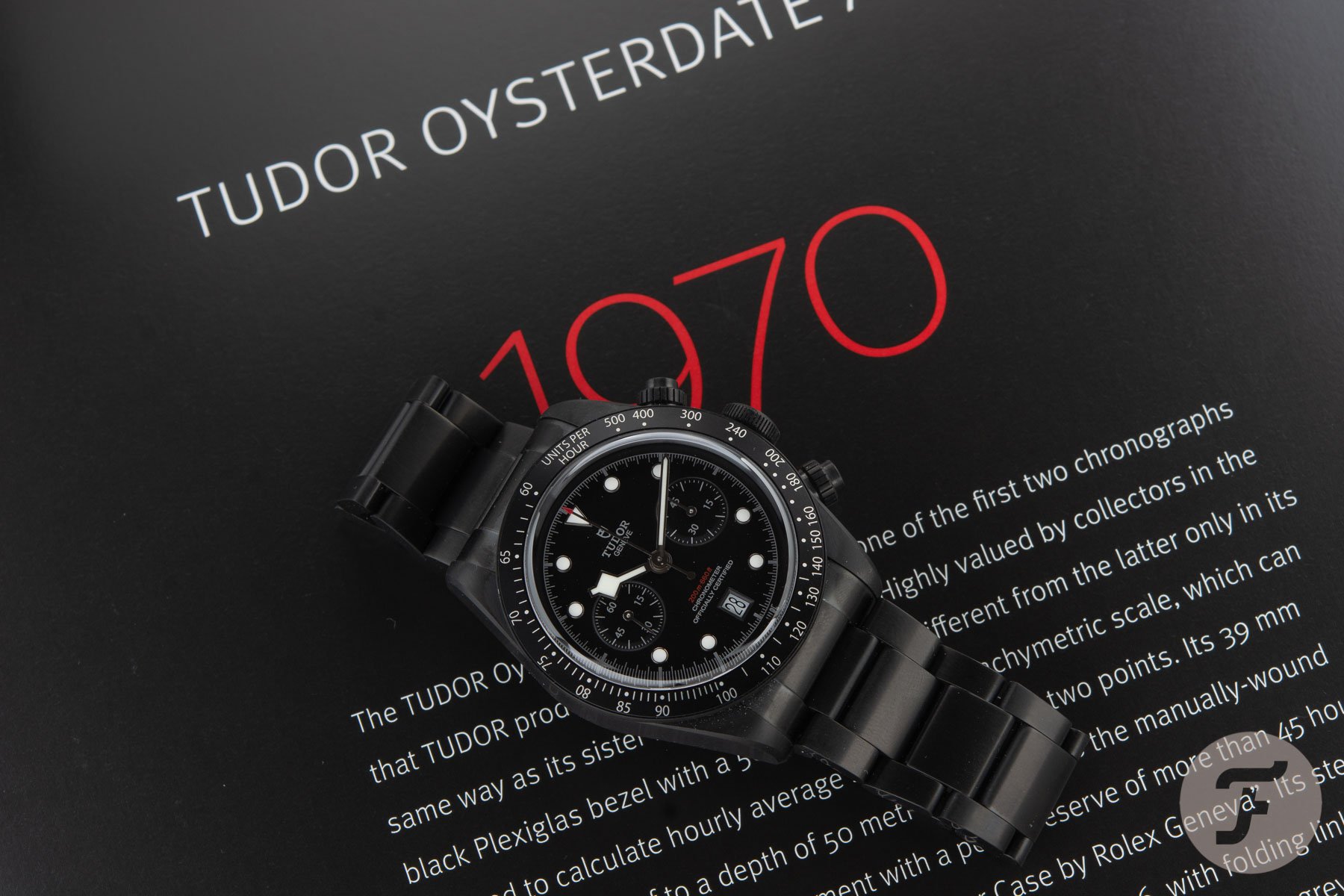 Since 1970, Tudor creates chronograph watches. The first ones used a hand-wound Valjoux 7734 movement and are highly sought-after these days. These Oysterdate chronographs with references 7031/0, 7032/0, and 7033/0 as well as the later (1971) introduced 'Montecarlo' models have their fanbase. But let's go back to the Tudor Black Bay Chrono Dark that we have here today, based on the 2017 introduction of the Black Bay Chronograph series.
PVD Coating
The first thing to notice when you put it on the wrist is the size and weight. This doesn't exactly feel like a vintage watch, as it has a solid bracelet and a 41mm diameter stainless steel case. Both the case and bracelet received a PVD (Physical Vapour Deposition) treatment, a black coating, as you wish. It is a super hard coating, which finds its origins in the NASA space program. Today, the PVD coating is used for several purposes. Watches, but also for equipment (like screwdrivers, for example) that need to withstand some abuse. DLC (Diamond Like Carbon) is another coating treatment using the PVD process and is also popular amongst watch enthusiasts.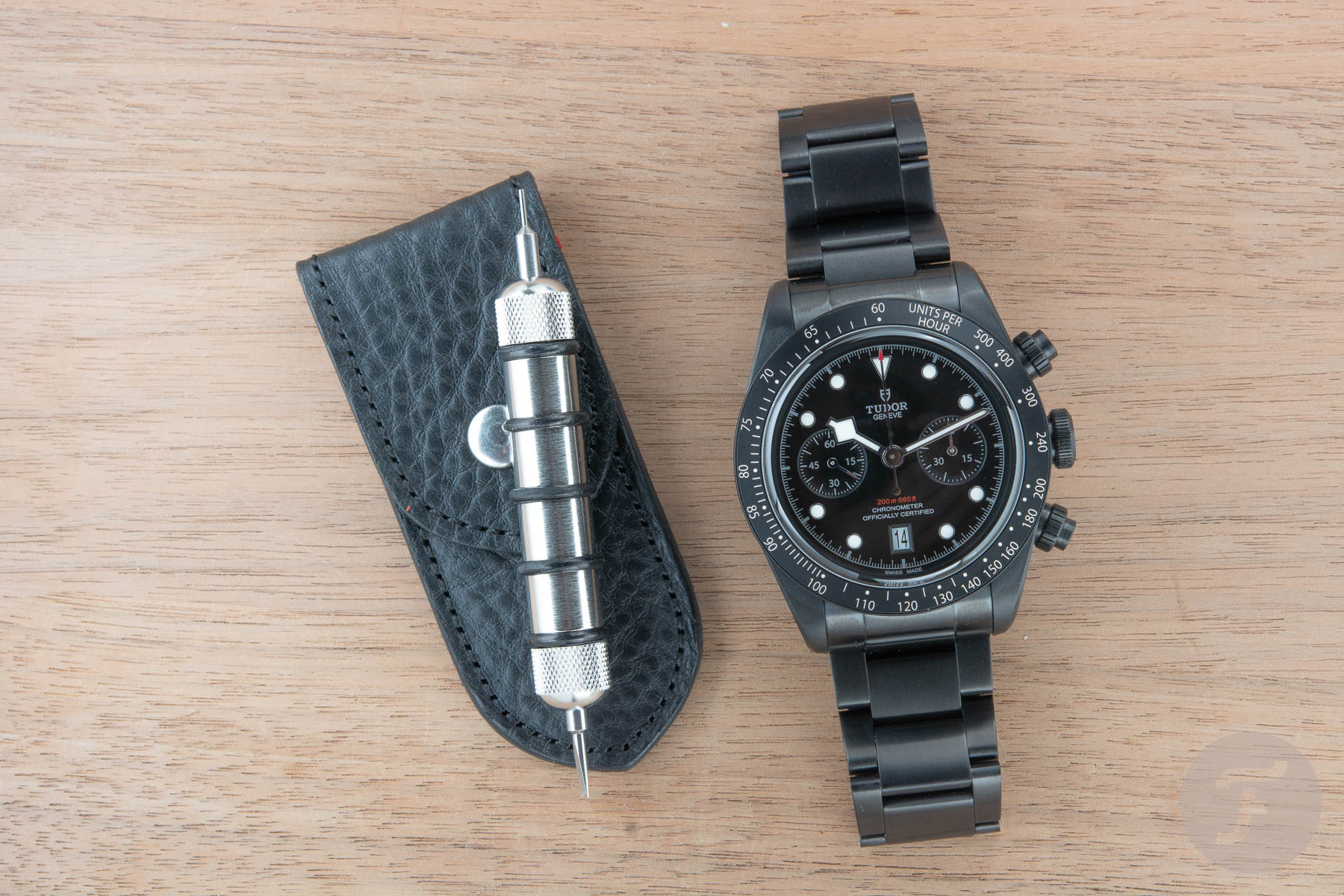 A completely matt black finish gives this watch a proper tool watch look & feel. On top, we'll find a matt black aluminum tachymeter scale bezel. The crown and pushers (all screw-down type) have also been treated with PVD and have the same matt black finish as the case and bracelet. On the crown, you'll find the Tudor rose engraved.
Influenced
I love chronographs, and I am always happy to give a new one a try. Although I am familiar with the Tudor Black Bay Chrono collection, this all-black Dark version wears very differently on the wrist from the others. But let's get the elephant out of the room here first. This watch borrowed some design elements from the Rolex Cosmograph Daytona. Is that a bad thing? Well, to be honest, I am not a massive fan of the modern Rolex Daytona. Especially the models after 2000 (with the Rolex in-house movement) 'suffer' from the fact that the subdials at 9 and 3 o'clock are centered above the center pinion. This can't be unseen once you notice it, and somehow I can't let it go. I currently have a reference 116520 in my possession, and every time I put it on the wrist, I feel that the dial is a bit off. Perhaps this Daytona is the Porsche 996 under the 911 types. I love the hand-wound models that Rolex made up till 1988 much better, and the Tudor Black Bay Chrono reminds me of those, mainly because of the lack of a crown guard, I guess. Of course, the Tudor Black Bay Chrono Dark (or one of the other variants) have only two registers, but I feel that this model is influenced by the classic Cosmograph Daytona watches. And that's not a bad thing, at all. If there's one brand other than Rolex entitled to do so, it is Tudor.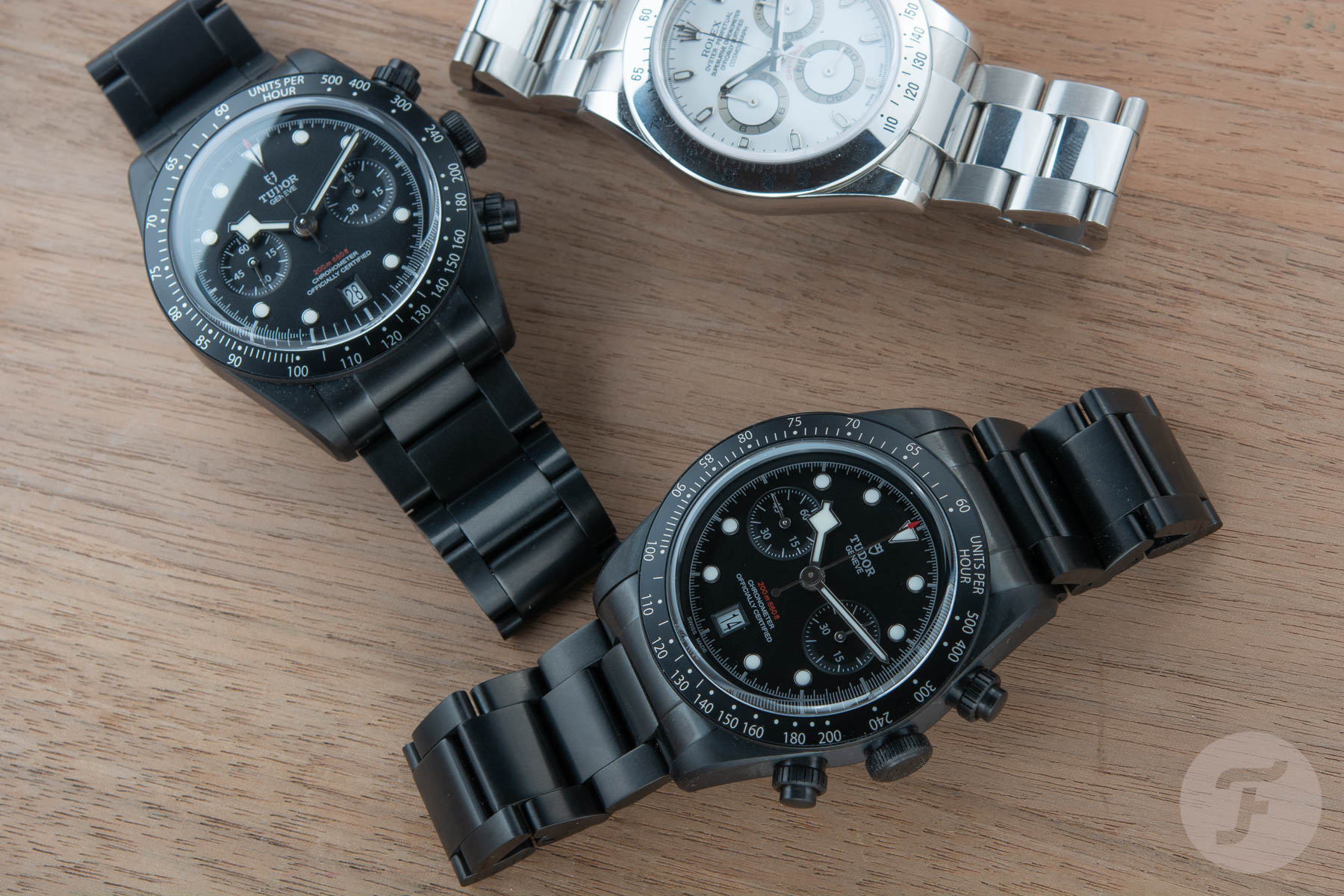 Black Bay Chrono Dark Dial
The domed dial of the Tudor Black Bay Chrono Dark is very pleasant to use and read. As written in the paragraph above, the dial of this Tudor is more enjoyable to me than the one in the Daytonas after the year 2000.  At 6 o'clock, instead of an extra totalizer, you'll find the date aperture. In this case, a white date disc with black printing. I know some people prefer a date disc matching the dial color, but wait till you wear glasses or passed the age of 40. The contrast of a black digit on a white background is much better readable than vice versa, no matter what a designer will try to sell you.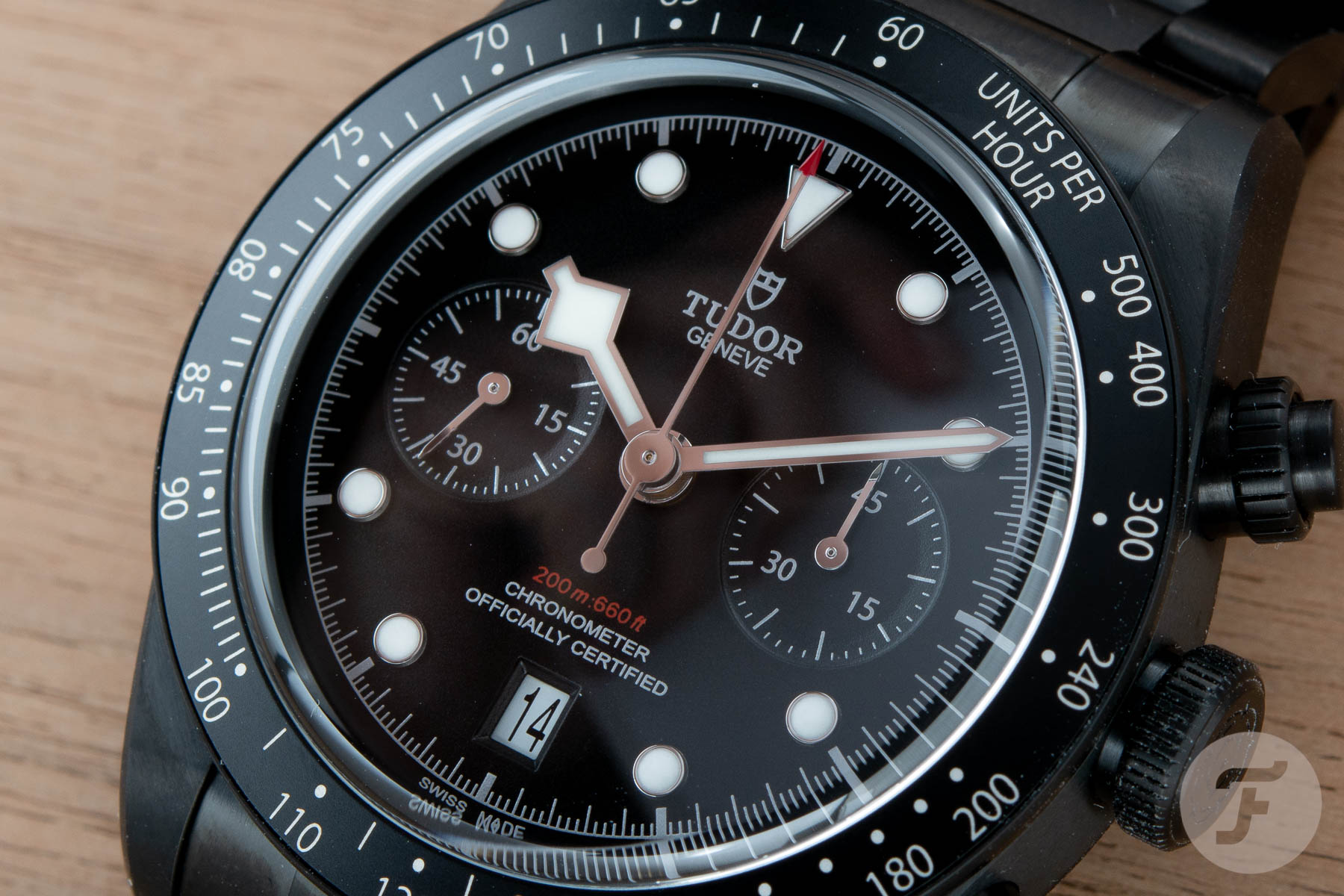 What I also enjoyed is the quality of the printing and the finish on the hour markers, for example. Look at the accompanying pictures below that I took, it all looks very sharp and nicely done. The dial of the Tudor Black Bay Chrono Dark is very beautifully executed. I am aware of the fact that some people criticize the snowflake hand on the Black Bay Chrono, but I will address this in the 'On the wrist' chapter below.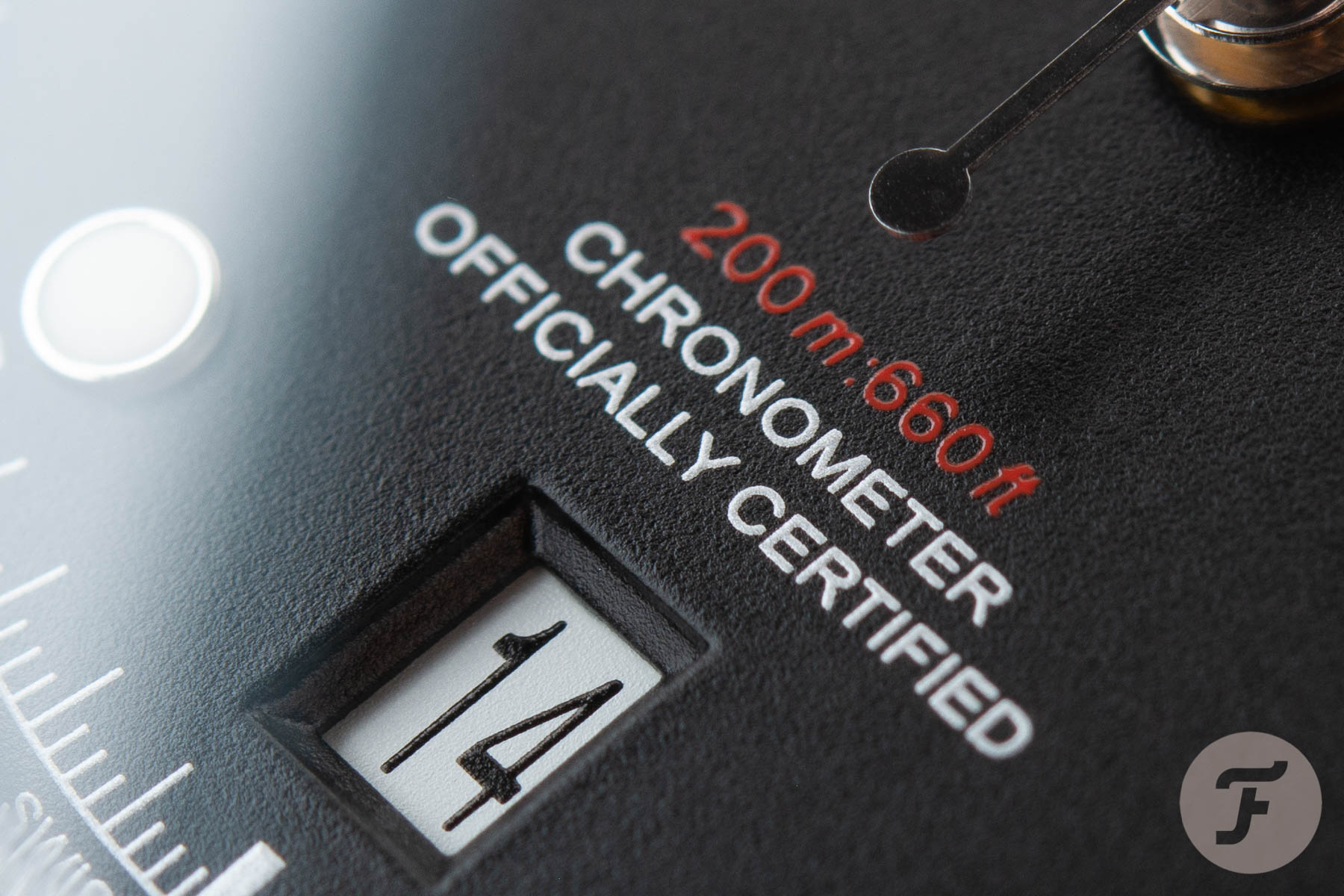 Chronograph movement
The layout of the dial is, of course, a result of the type of (chronograph) movement inside. In this case, Tudor uses the caliber MT5813 movement. This movement has been developed based on the famous Breitling B01 caliber, with a column-wheel mechanism, a 70 hours power reserve, and a silicon balance spring.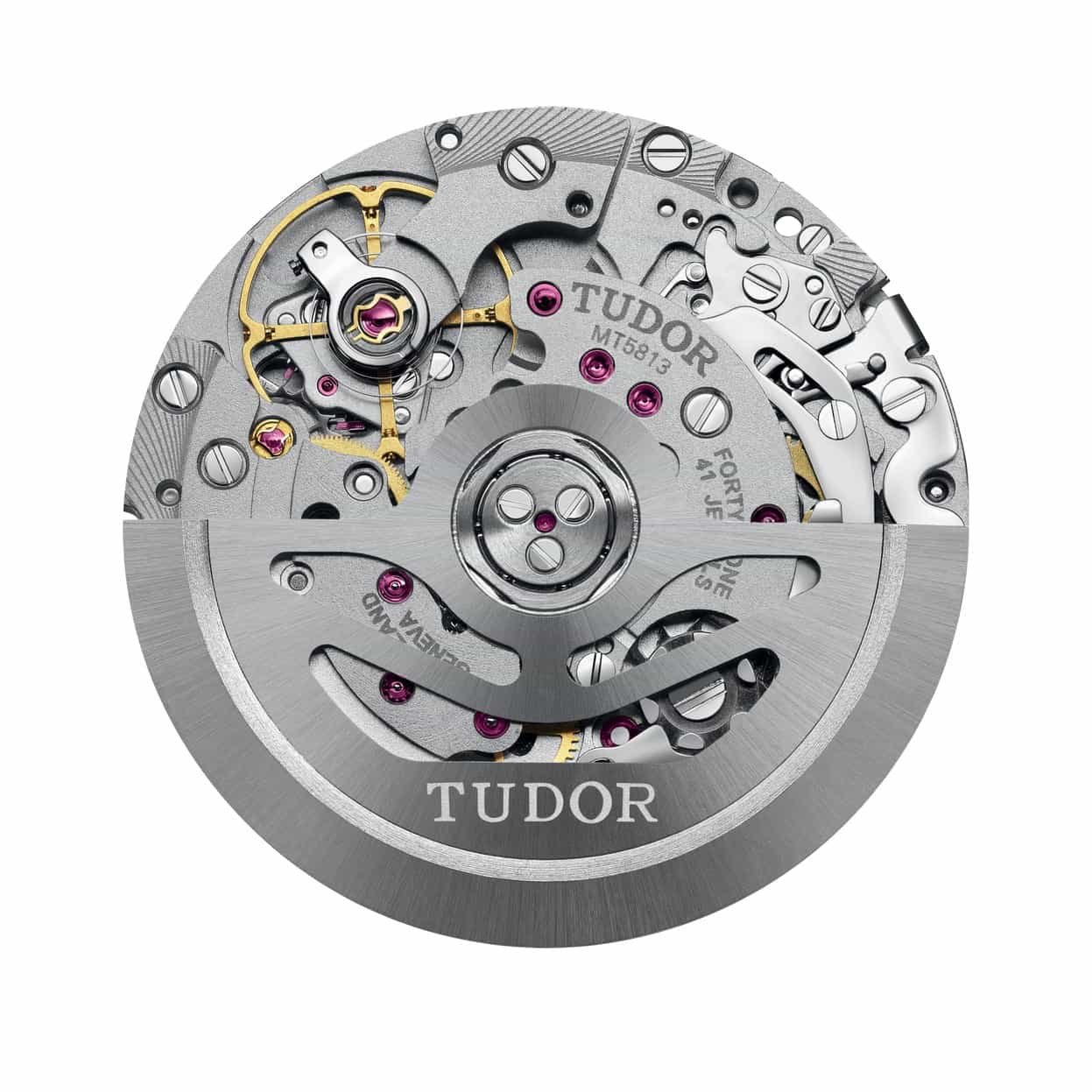 The high precision regulating organ (the balance and spring assembly) have been developed by Tudor, meaning the caliber MT5813 is a collaboration rather than just an externally sourced movement. The balance can be adjusted using micro-screws, as it is the case with Rolex movements as well. Tudor's caliber MT5813 movement has also been chronometer-certified by the COSC, assuring a precision of -4/+6 seconds per day on average. Another cool feature is the fact that the date can be adjusted without maintaining a time slot in which you can't change it, as it's the case with many other movements. Anyways, the MT5813 movement is not visible to you, as the Tudor Black Bay Chrono Dark has no sapphire case back.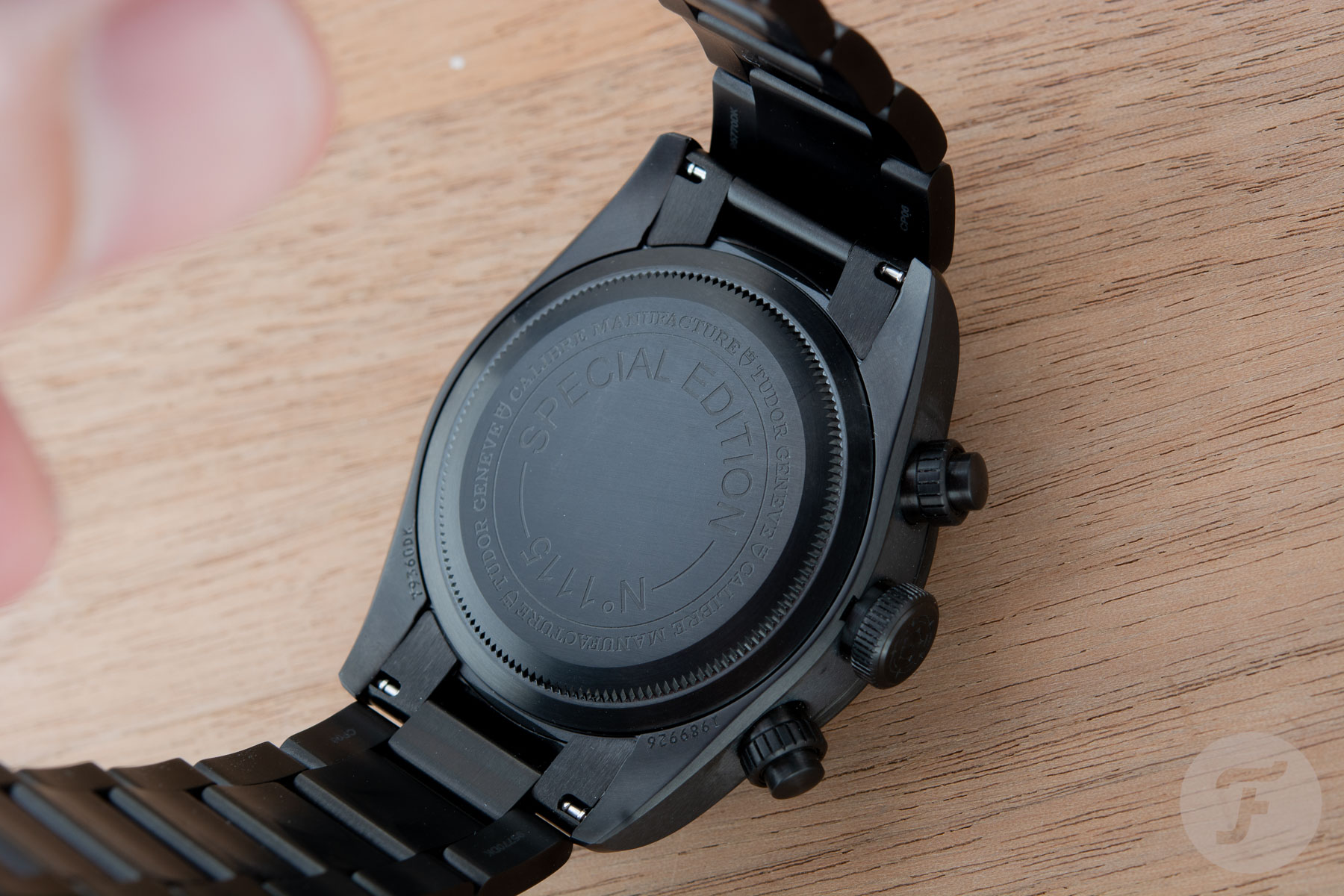 Screw-down parts
As you can see on the dial, the Tudor Black Bay Chrono Dark is water-resistant to 200 meters (660 feet). This is partly ensured by the use of a screw-down case back, screw-down crown and screw-down pushers. The downside, as you might know from the Daytona, is that you will need to unscrew the pushers before you can actually operate the chronograph. I do wonder how many owners of the Tudor Black Bay Chrono Dark, or any other chronograph, actually use their chronograph. To be honest, my wife uses her watch with chronograph function more than I do. She often uses it during cooking, while I only occasionally use it to time something (and mostly, pretty pointless stuff). Once unscrewed, the action on the pushers – as Mike would put it – is pretty good. Although it isn't stated in the documentation we received with this Tudor Black Bay Chrono Dark, I am pretty convinced you can't operate the chronograph underwater.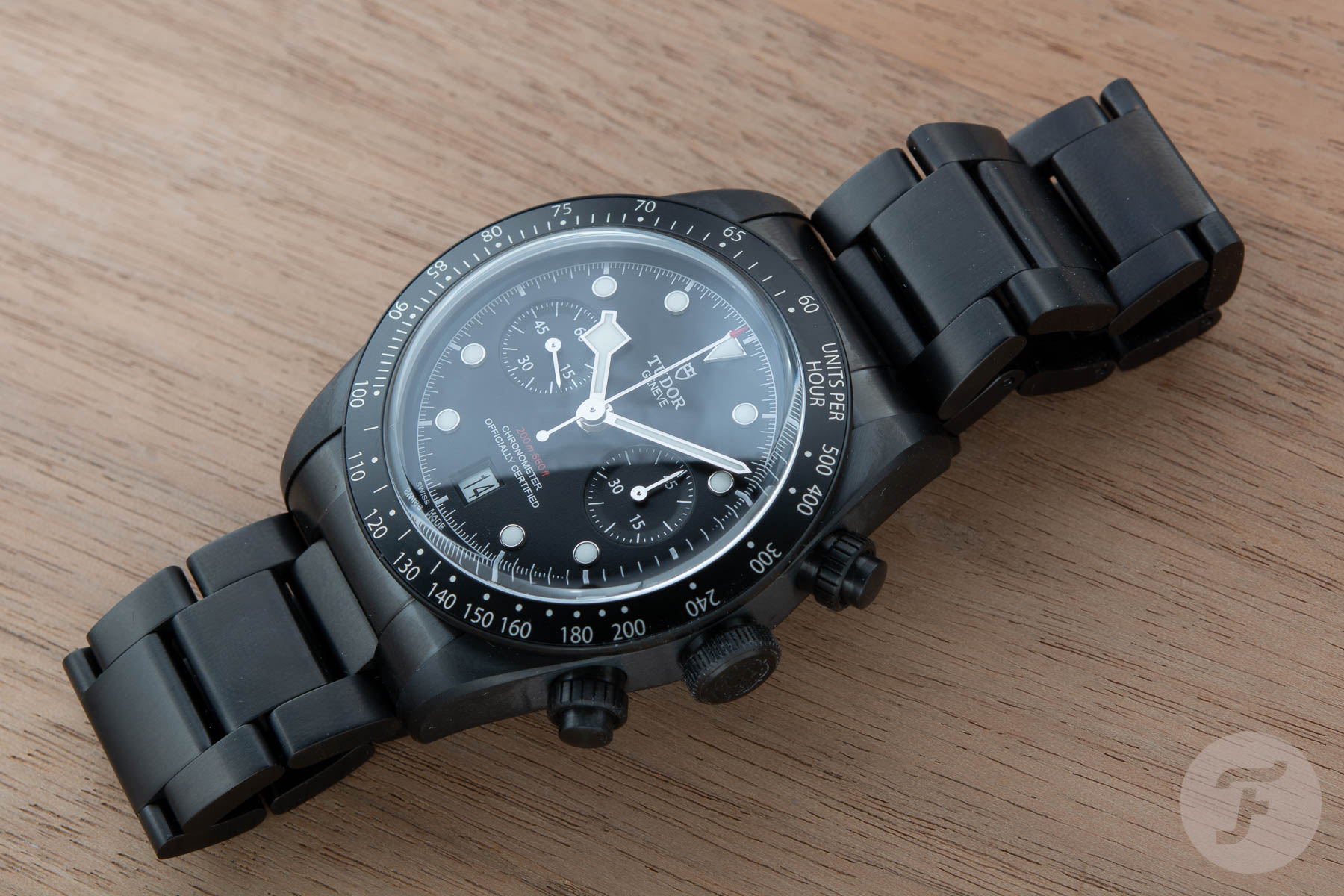 On the wrist
This new Tudor Black Bay Chrono Dark sits comfortably on the wrist, with its 41mm diameter. It does wear a bit larger to be honest, as also can be seen on the wrist shot below (and my wrist is 18/19cm).  The thickness of 14.9mm is quite substantial but no different from the other Tudor Black Bay Chrono models.  It does give the watch quite some presence on the wrist, but that's not necessarily a bad thing. I liked the feel of the Tudor Black Bay Chrono Dark on the wrist, and the black PVD finish definitely makes it an eye-catcher.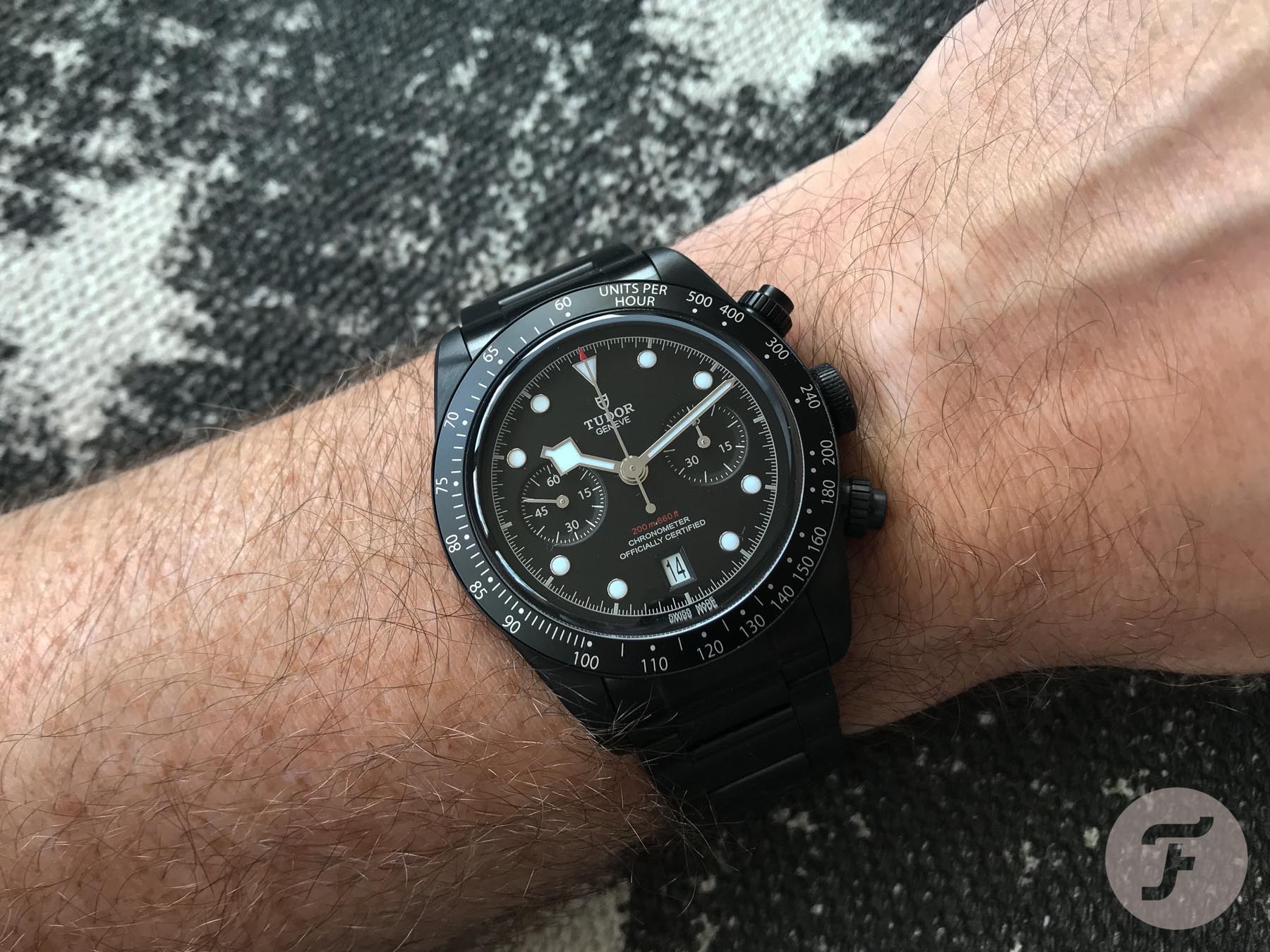 What I enjoyed about this watch is the high contrast on the dial and bezel. It feels like a proper tool watch, and it is very readable. Some people don't like the snowflake hand on the chronograph, as it would block the sub-dial too much. I can see that point and perhaps it is a valid one, but the portion it actually blocks is not that big, and for daily use, it isn't really an issue.  Again, this isn't new, and we addressed it before in one of our hands-on reviews of the Tudor Black Bay Chrono. I've come to appreciate the snowflake hand, and it's simply a Tudor signature.
When wearing the watch, the crown is easy to operate if necessary (although it is better to take the watch off your wrist for setting time and date), and the pushers are as well. Yes, you have to unscrew them first before use, but that's part of the game if you want a watch with high water resistance. I don't use the chronograph functionality that much (hence the non-issue of the Snowflake hand as well), so I don't mind doing the extra task of unscrewing two pushers. And screwing them back in after use. The watch and the crown and pushers have a solid feel to them when wearing and operating them, which I find important in this price range. The same applies to the bracelet and the clasp; it is all well-made and feels very reliable.
Verdict On The Black Bay Chrono Dark
Tudor added another version to their collection of Black Bay Chrono models, and it only made sense to introduce an all-black version. Especially when related to the All Blacks players. As I wrote at the beginning of this article, this association is perhaps only relevant to those who enjoy rugby. I simply like this watch better than the all-steel version that was introduced in 2017. The bi-color remains to be my favorite of the bunch, but I can definitely see the attraction of having this watch with a black PVD treatment. Unlike the bi-color version, the Black Bay Chrono Dark makes this Tudor chronograph a proper tool watch. I can also see this watch look fabulous on a beautiful black NATO strap, for example.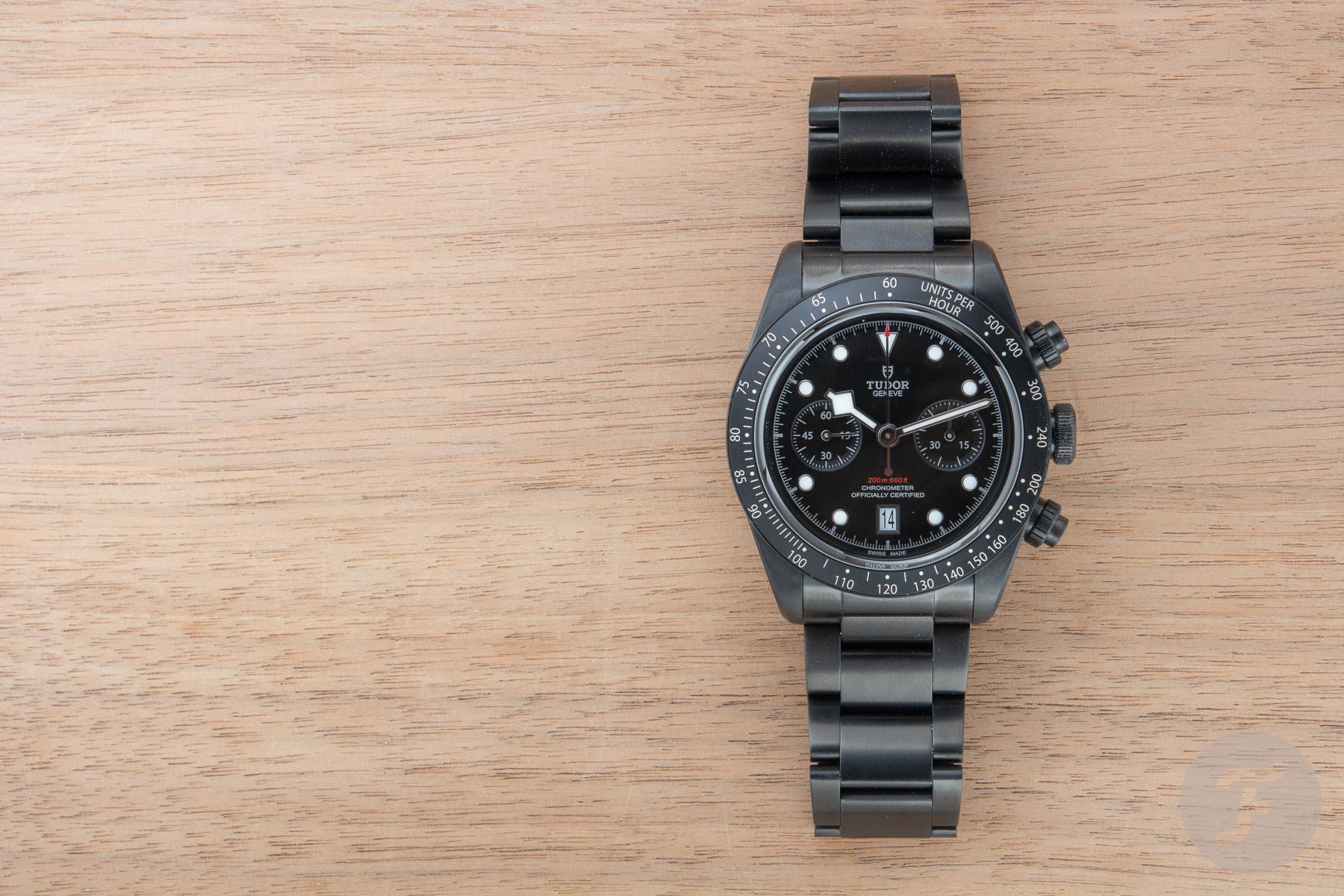 One critical note, or perhaps it's just something that made me wonder, is about the warranty on Tudor watches. If Rolex offers 5 years of warranty on their watches, and so does Breitling (I mention this because of the movement inside this Tudor chronograph), why would Tudor offer only two years of warranty (a number that's required by EU law for a product like this anyway)? I hope that Tudor will address this in the (near) future.
The price of this Tudor Black Bay Chrono Dark is €5600,- (including 21% VAT) and falls somewhat in between the all-steel version and the bi-color model with the bracelet. I am sure that the relatively low number of available watches (1181 at the time of writing) will find their way to fans very quickly.
More information can be found via Tudor online. All specifications of the Black Bay Chrono Dark can be found below.
Watch specifications
Model
Black Bay Chrono Dark
Case Material
Stainless steel with PVD treatment
Case Dimensions
Diameter: 41mm, Thickness: 14.9mm, Lug width: 22mm
Case Back
PVD treated stainless steel, unique number engraved
Movement
Caliber MT5813, self-winding column-wheel chronograph movement, Ticking Speed: 28800vph, Power Reserve: 70 hours, Jewels: 41
Water Resistance
200 meters / 20 bar
Strap
Stainless steel with PVD treatment
Functions
Time, Date, Chronograph, Tachymeter scale bezel
Warranty
Two-years international warranty
Special Note(s)
Limited Edition, production number will equal the total number of All Blacks players since 1903 (currently 1181)