Ulysse Nardin Diver Lemon Shark Hands-On Review
A handsome dive watch, but are its looks enough?
After being quite impressed by the Ulysse Nardin Diver Lemon Shark when it first came out back in June, I was excited to get hands-on with it. I wasn't sure what to expect. It was cool, but I didn't instantly love it. There had been a bit of concern among the community that no matter how good the watch might look, it could never live up to its price tag thanks to the movement powering it inside, but more on that later. Despite this, I was looking forward to experiencing the Ulysse Nardin Diver Lemon Shark for what it was.
I finally got my chance to handle the watch back at the start of August at Fratello HQ. Having hopped on a plane and gotten to The Hague, I had to hot step it over to get a COVID-19 PCR test to meet the criteria to fly back home 48 hours later. After all this rushing about, I finally made it to the office at about 4pm. I was hot, sweaty, and tired and only too happy to slump down at a desk that happened to be covered with watches. Finally, some R'n'R time!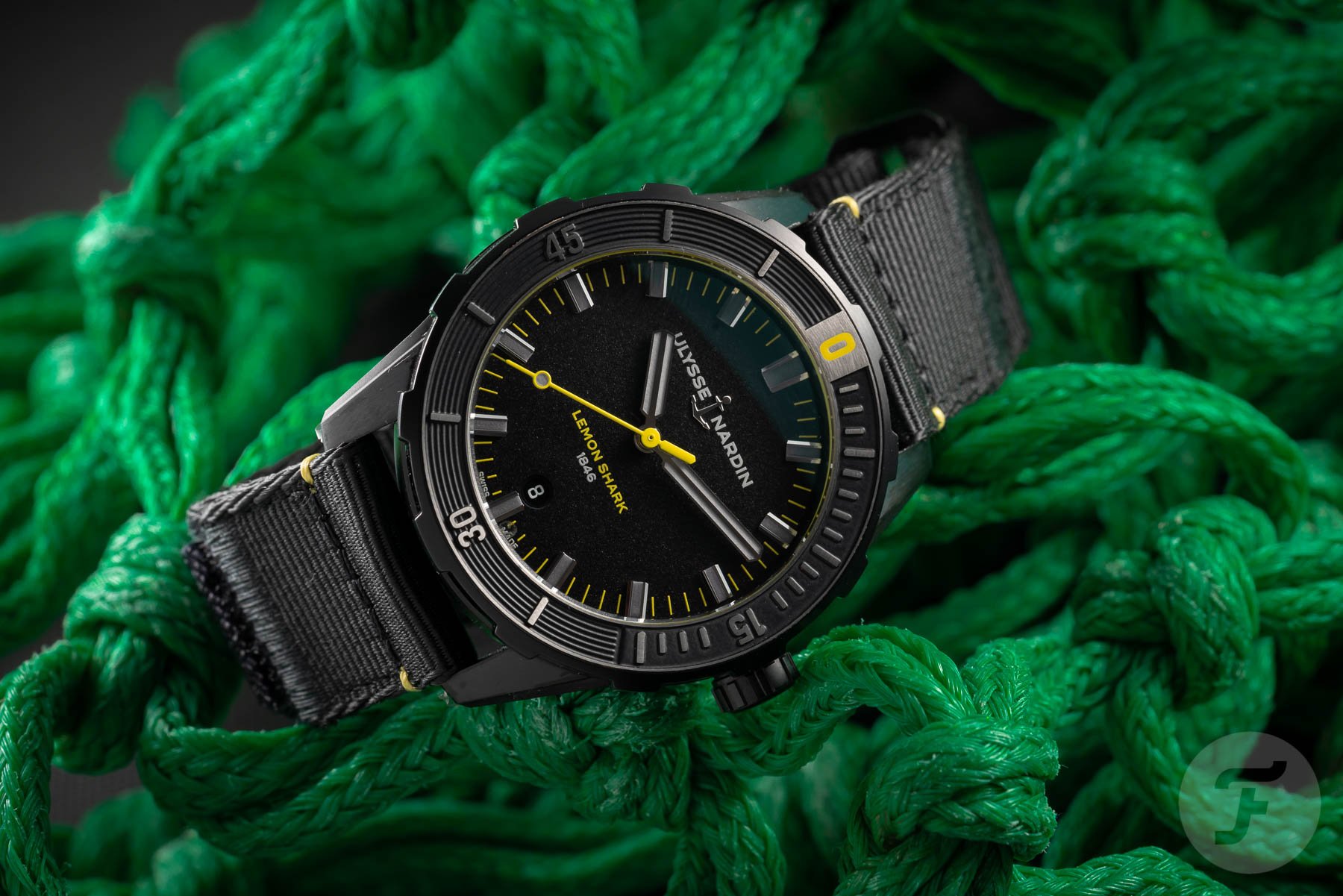 Getting the Diver Lemon Shark in hand
I had a look at a few other watches before the Ulysse Nardin Diver Lemon Shark made its way into my hands. I'll be honest; it wasn't love at first sight. The watch was interesting; the color scheme and strap were both very much "me" so I thought, "why not whack it on the wrist, wear it and see how it goes". I'm glad I did…
That evening, some of the team went out for dinner to have a bit of a catch-up. Interestingly they all commented on how "me" the watch was. It was not just the color scheme, but how well sized the watch was for my wrist and how it seemed to sit naturally at the ideal spot on my wrist. I'll be honest, up to that point, I hadn't thought much of it; I'd pretty much forgotten that I was even wearing a different watch to the one I'd put on that morning. However, after that dinner and the various comments and discussions about how well the watch suited me, I thought about it a bit more. The watch grew on me more and more as the night went on.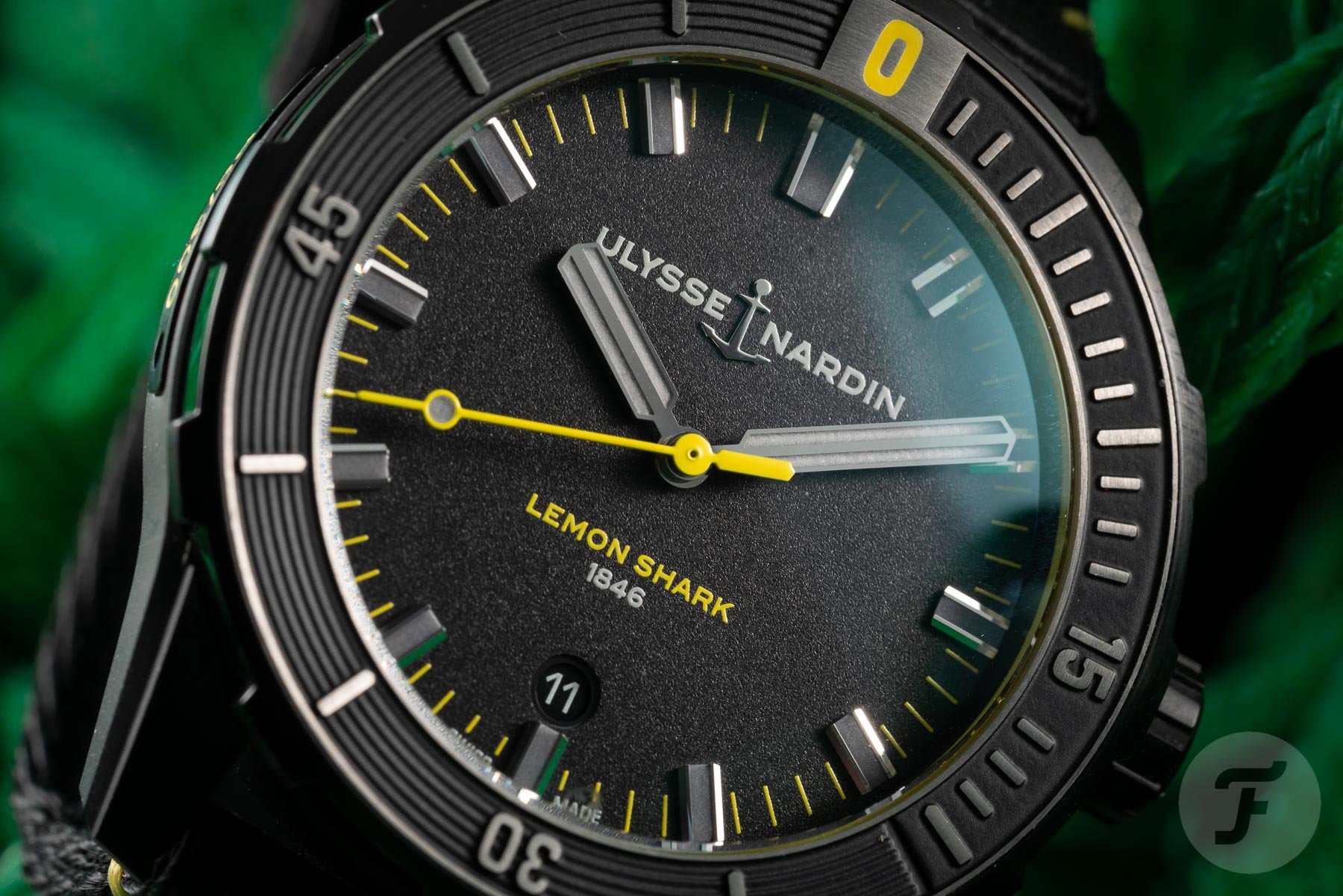 Another good example of subtle dial texture
Looking back, it's hard to highlight any one feature of the watch that drew me in. I think it's a case of the watch being more than a sum of its parts. Every element seems to work in harmony with one another, and that starts with the case. The black DLC steel case measures 42mm. This case size is at the upper limit of my usual "go-to" sizes. Rather annoyingly, I didn't get a chance to measure the thickness or the lug-to-lug, so I don't have the exact figures to hand.
Despite the modern color scheme, there's a schmoozy neo-vintage look about the watch. The uncluttered dial has a pleasant grained texture with a sand-blasted finish. The dial features the "Lemon Shark" name, along with the year "1846", a nod to the year Ulysse Nardin began. As you would expect from a dive watch, the hour markers and hands feature a healthy dose of lume, a unidirectional black DLC bezel with a 60-minute scale, and a significant 300m water-resistance rating. The bezel has a detailed minute-by-minute breakdown of the first 20 minutes to assist with decompression stops, but the final 40 minutes has a fascinating circular groove pattern. It's almost reminiscent of the grooves on an old record. Simple, subtle, but very nice.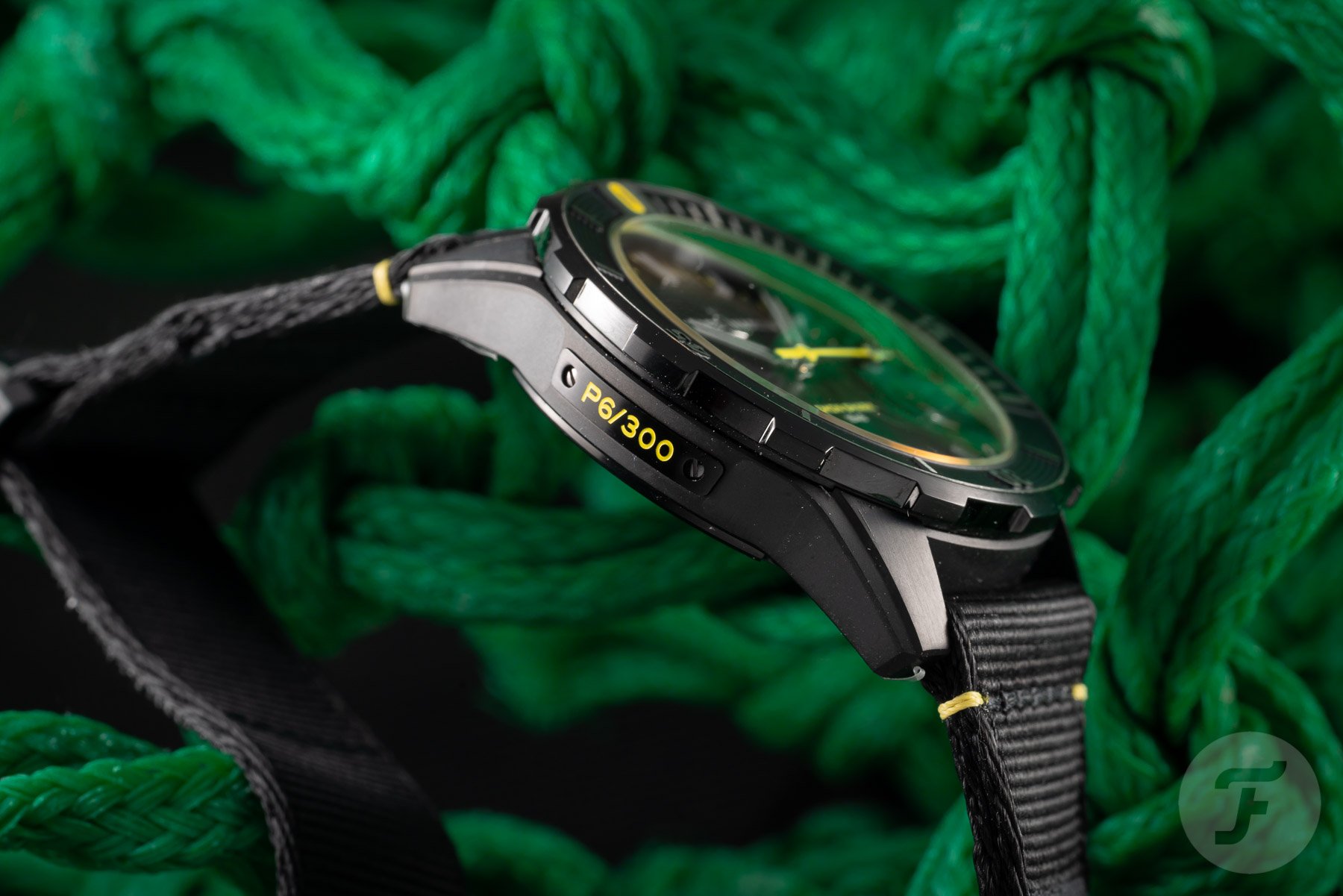 Lemon shark yellow
Black and yellow is my favorite color combination. I have a couple of watches that prominently feature these colors. They are an iconic duo, after all, and they're just meant to be. Think surf and turf, or peas and carrots. When paired together, they impart a modern, technical and sporty look to the watch. That's right up my street.
For anyone looking for a direct link to the watch's namesake, the lemon yellow highlights have you covered. Now, I know that lemon sharks are not bright, vivid yellow, but if you find a picture of a lemon shark, you'll soon see why their natural shade wouldn't have made for an attractive watch. A lemon-yellow color works far better, in my opinion. Some people may say the link is tenuous, but I say this: does the watch look cool? Yes. Does the project benefit lemon shark conservation? Yes. That's all that matters to me! If you're looking for a better reference to the lemon shark, flip the watch over, and you'll find a trio of lemon sharks on the closed caseback.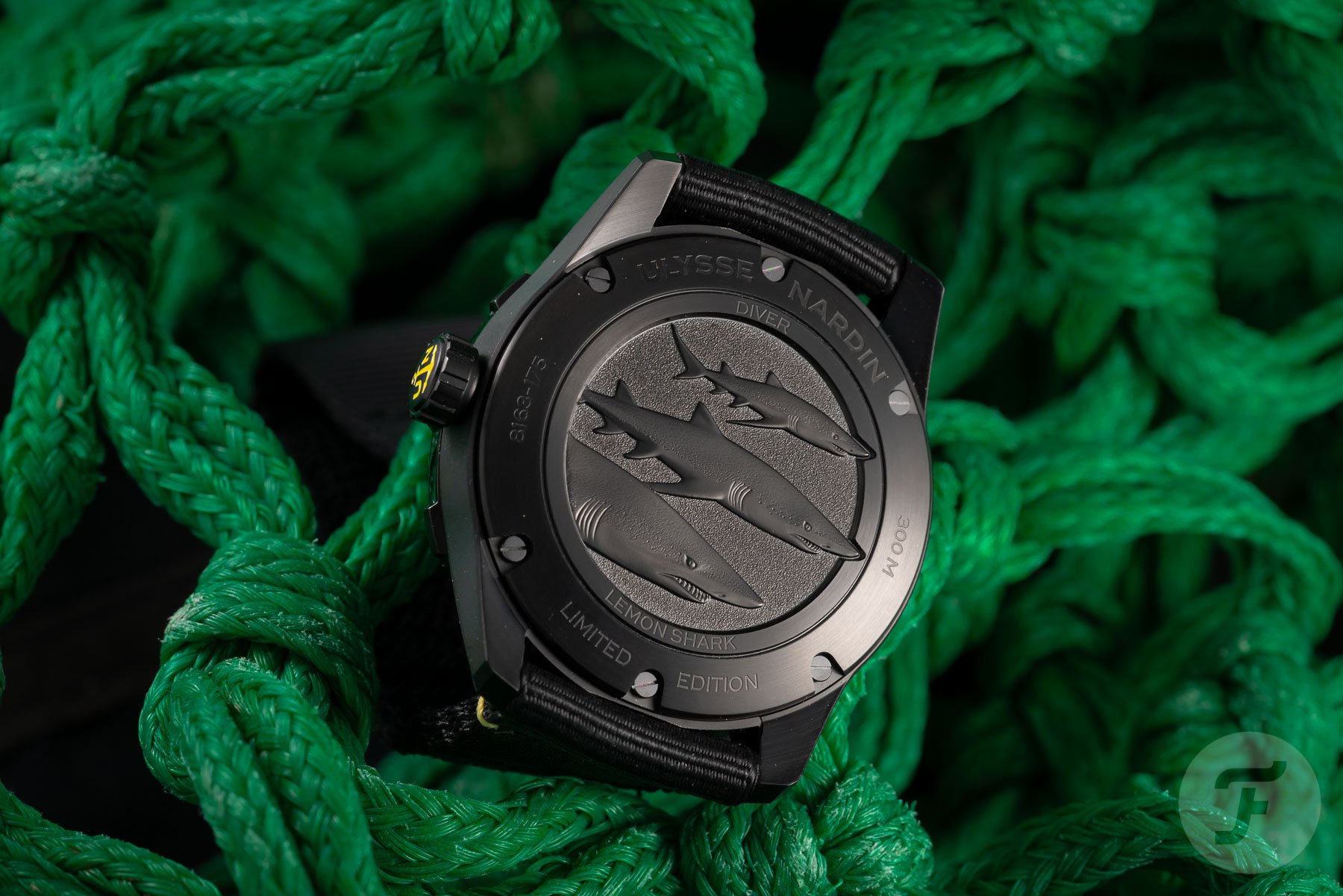 How much?!
So here we have the most significant point of contention, and it's one I can sympathize with. I usually don't buy into the line that "the movement maketh the watch". A watch is so much more than the movement inside…within reason. The Diver Lemon Shark uses the Ulysse Nardin UN-816 to power the Lemon Shark. The UN-816 is an automatic movement based on the Sellita SW300-1, with hours, minutes, central seconds, and a discreet date window at 6 o'clock. That in itself is fine, but when the Diver Lemon Shark costs €6,300, you're well into in-house movement territory.
Looking at comparable watches that sit around the €6,000+ mark, there's some heavy competition from other brands offering superior, in-houses movements — think Grand Seiko, Omega, even Tag Heuer and Tudor. Some are at a fair whack lower than the €6,300 that Ulysse Nardin is asking for the Diver Lemon Shark, and some have additional complications aside from a three-hand date model. If there were something else about the watch aside from its good looks, which justified the premium price, then that'd be another story.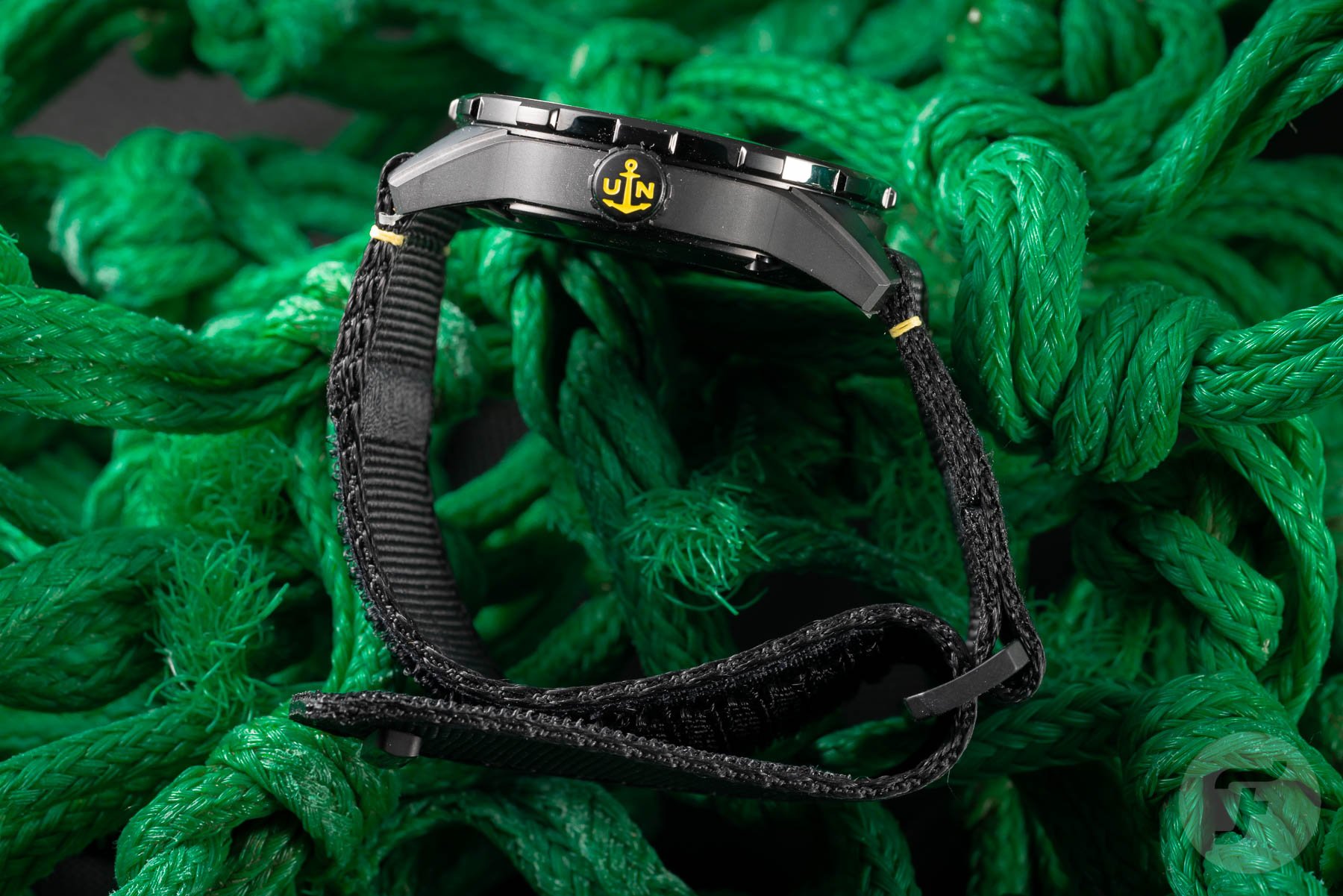 A super-comfortable canvas strap
The only potential negative is the strap. It is not well suited for the watch enthusiast with a larger-sized wrist. This strap is an example where having slightly smaller wrists works in my favor. The strap itself is excellent. It's a velcro fastening canvas affair in black with yellow accents. Again, it's just another design choice that is right up my alley. Thankfully the strap fitted my wrist perfectly, but if you need a little extra slack, then you'll be folding the strap over the velcro point, and it just doesn't sit as well. I don't know if Ulysse Nardin offers a larger strap, though, so you may be in luck. I only know the one that came on the loaner unit was not that big. Still, the main thing is, it worked for me!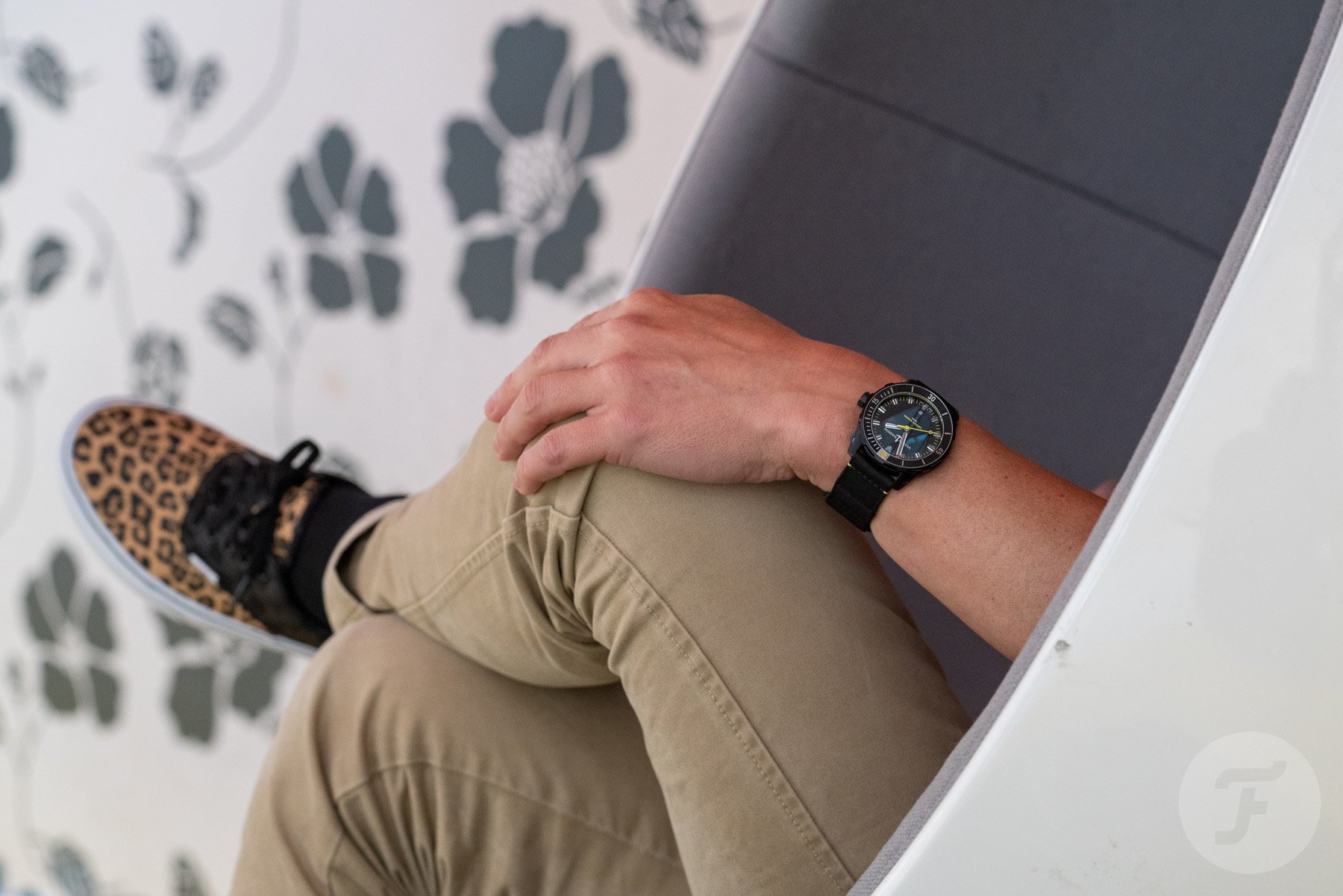 Final thoughts about the Ulysse Nardin Diver Lemon Shark
Let's start with the positive. Have you ever picked up a watch, strapped it to your wrist, and enjoyed a growing attachment to it? That's how I felt with this watch. The visual design is cohesive, with a few nice flairs, and the color scheme is just on point. Everything works together in a way that works for me.
The not-so-positive? Technically there is nothing remarkable about this watch. It's sad to say that, but it's true. Sure it's pretty, but sometimes that just is not enough to justify a watch's price when it's a simple three-hander dive watch, especially at €6,300. As much as I like this watch visually, and as much as it suits my wrist, it's not something I'll be buying any time soon. The price is too steep for what's on offer. Even if a part of the profit is going to conservational efforts to help protect the Lemon Shark, sadly, that alone won't sell watches in a consumer world. People need tangible value in their purchases.
Follow me on Instagram: @davesergeant
Watch specifications
Reference
8163-175LE / 92-LEMONSHARK
Case Material
Stainless steel
Case Dimensions
42mm diameter
Case Back
CLosed case back with a trio of lemon sharks
Movement
UN-816 (Sellita SW300-1 base) with 42hrs power reserve
Water Resistance
3ATM (300m)
Functions
Hours, minutes, central seconds hand and date at 6 o'clock