Urwerk Goes For Gold With The UR-100 Electrum: A Modern-Day Watch Using An Ancient Alloy
All that glitters is not gold
I love the UR-100 and I think I've made this particularly clear over the last however many months. I've covered a couple of new versions of this fantastical model. If you take a look at the entire lineup of the UR-100, I think you'll notice one of the reasons I love it so much. It is goddamn versatile. For what is quite a futuristic design and concept, we have cool, sporty models, colorful concept versions, and dressy versions too. Today's release adds to the more formal side of the UR-100 family, so I am pleased to introduce the UR-100 Electrum.
Electrum? What on Earth is that? Is it a portmanteau of "electric" and "plectrum"? No, the latest creation from the brains of Urwerk's founders Martin Frei and Felix Baumgartner is not the new pick of destiny. I really wouldn't advise using it to play your guitar or bass if you're more partial to 4 strings. Electrum is actually even cooler. It is a naturally occurring alloy of gold and silver, with trace amounts of copper and other metals. If we're talking about metals, you can probably guess it's referring to the UR-100's case material.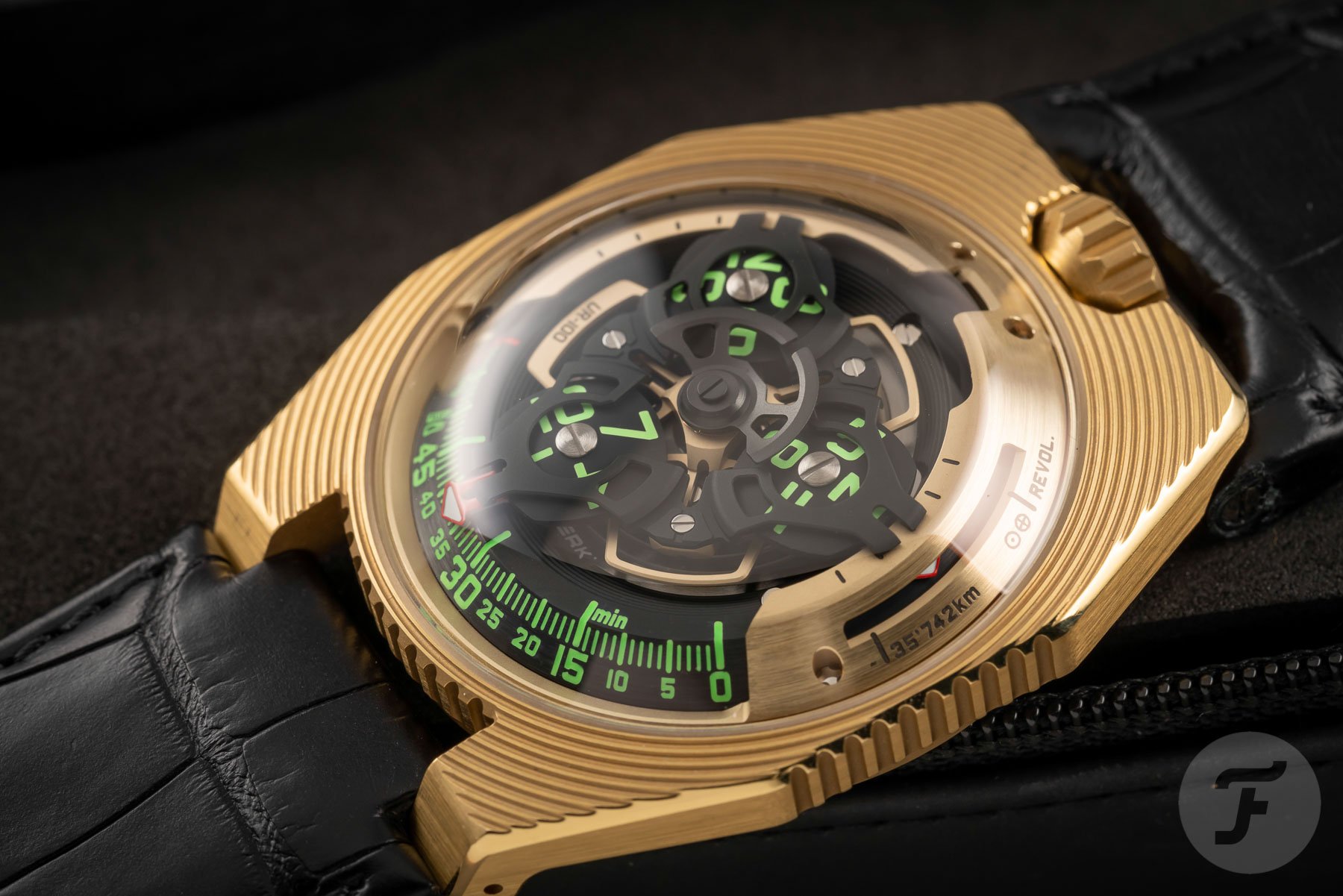 Electrum has biblical beginnings
The precious metal compound has a rich past and can be found documented throughout the annals of history. Pharaoh Sahure of the Fifth Dynasty of Egypt mentions Electrum in one of his expedition reports. Pliny the Elder also discusses it in his encyclopedia, Naturalis Historia. Electrum is also mentioned in the Hebrew Scriptures, whose prophet Ezekiel is said to have had a vision of Jehovah on a celestial chariot made of a "glowing amber" metal (Ezekiel 1:4). The exact wording depends on which version of the scripture you read, but it's commonly accepted that the vision was describing Electrum.
The ancient Greeks called Electrum "gold" or "white gold", as opposed to "refined gold", and used it extensively in minting their coins and currency. Electrum was much better for coinage than gold, mainly because it was harder and more durable, but also because techniques for refining gold were not widespread at the time.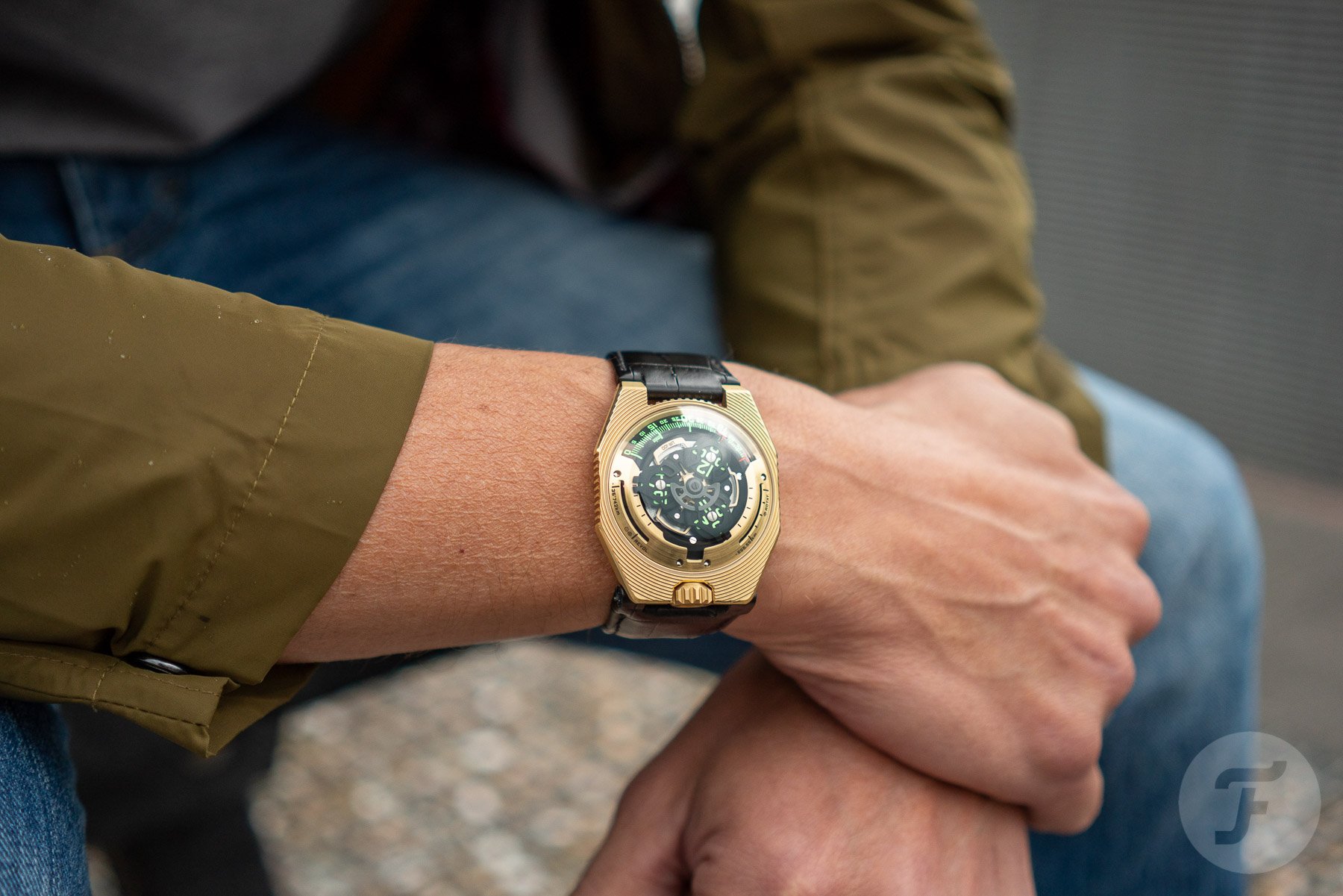 Moving to the modern age
In our modern times, Electrum is not a metal you often hear crop up in conversations. I'll be honest, I had never heard of it before and I had to research to learn more about it. However, this mystery adds to the appeal and the allure of it. It makes the Urwerk UR-100 even cooler, in my opinion.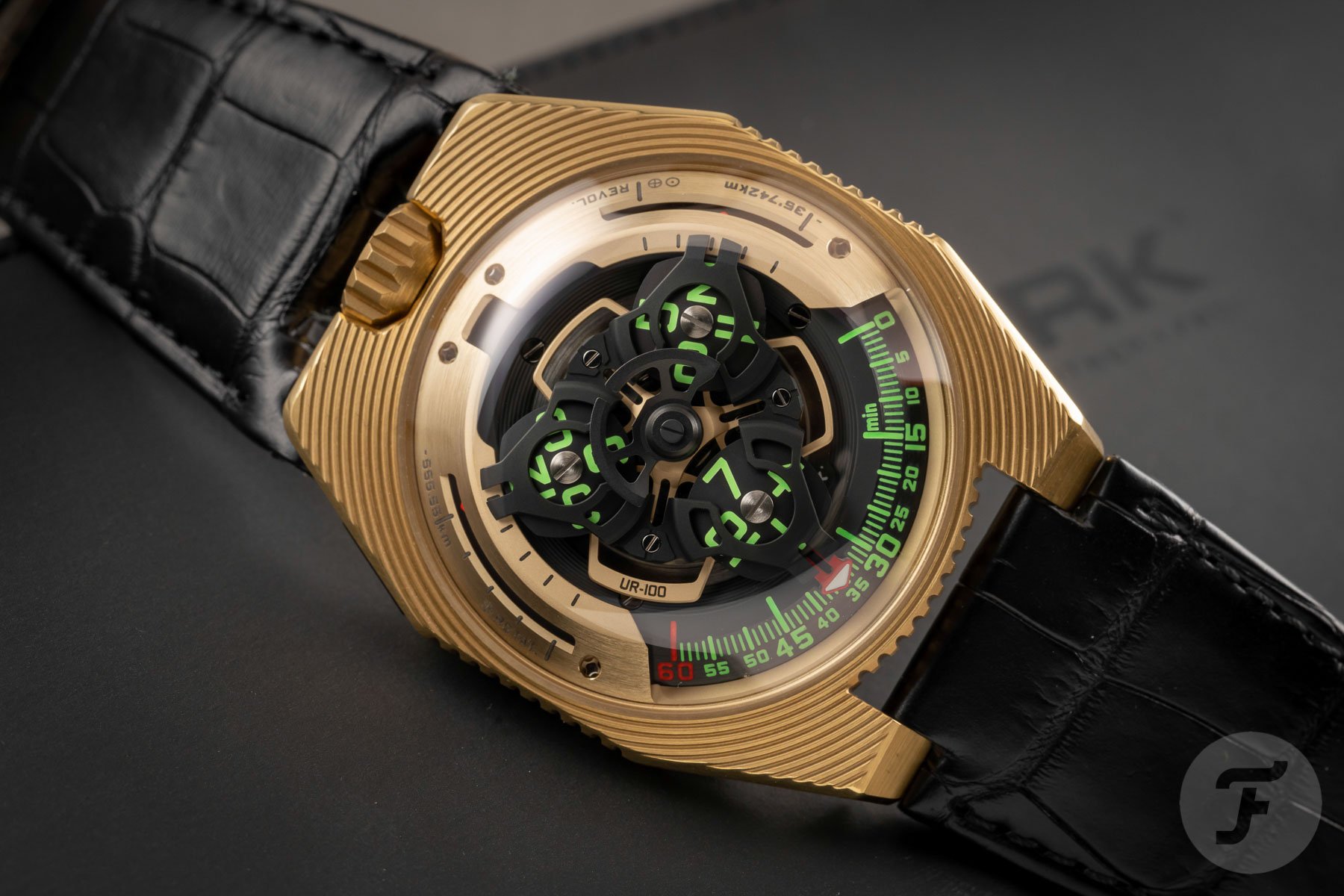 Urwerk's shining new beauty has a case made of an organic gold and palladium Electrum alloy, with gold as the dominant element. The inclusion of palladium rather than silver means the alloy benefits from palladiums superior corrosion resistance and scratch resistance. Palladium is significantly more durable than silver, so this specific alloy is an excellent choice in a watch case. Either way, the beautiful gold hue is the epitome of luxury but different from the 18k yellow gold case of the UR-100 Gold edition. The nuances in color are subtle, but they're there when you look for them.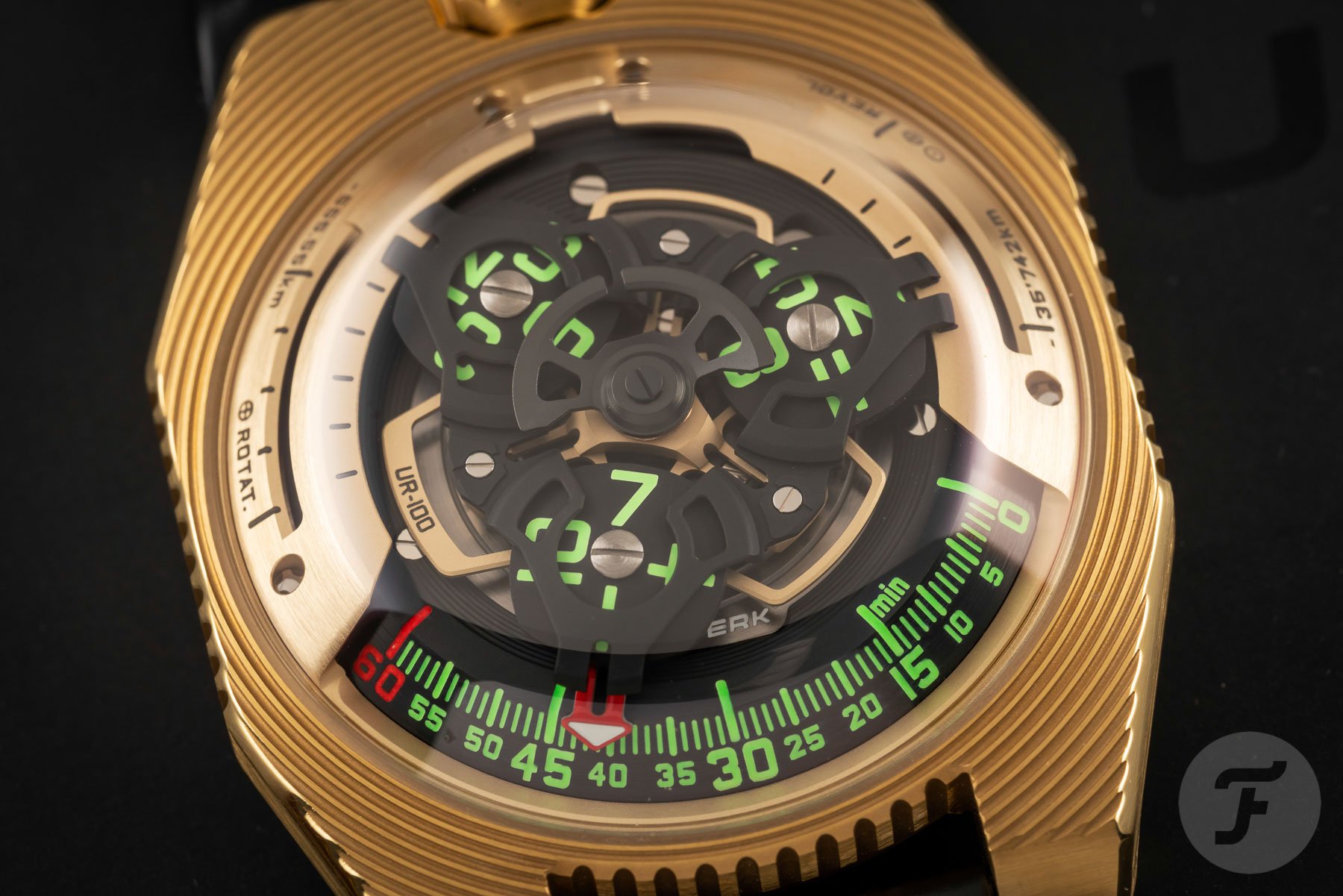 Looking to the stars
In addition to the distinctive rich golden hue, the upper surface of the case features a hypnotic pattern of concentric circles. For me, it initially reminded me of the simplistic yet detailed designs of jewelry from ancient civilizations. However, Urwerk founder Martin Frei wanted people to be able to find their own inspiration in the UR-100 Electrum. He said:
"Everyone can project their own universe into this design. I see the tiers of an ancient Greek theatre, the subtle pleats of an Iris van Herpen dress, a piece of raw Earth hollowed out by the imprints of time, the Seigaiha motif of a traditional kimono… This creation is an invitation to embark on a temporal and sensory journey."
It's fitting that Martin Frei should find inspiration for the new UR-100 from Ancient Greece. Those clever Ancient Greeks are responsible for the legendary Antikythera mechanism, a hand-powered orrery used to track the planets' movements through the solar system (among many other things). One of the signature features of the UR-100 is its Space-Time complications. The two cutout scales track and measure our planet's travel through space. At 10 o'clock, the wearer can track the Earth's average rotation speed at the equator in 20 minutes. At 2 o'clock, the UR-100 measures the distance the Earth travels around the sun, also in 20 minutes. There's a certain accidental harmony between these concepts which is almost poetic. This same thought process led me to find similarities between the orrery concept and the concentric circular pattern. I imagine them as representing the orbits of the planets as they rotate around the sun.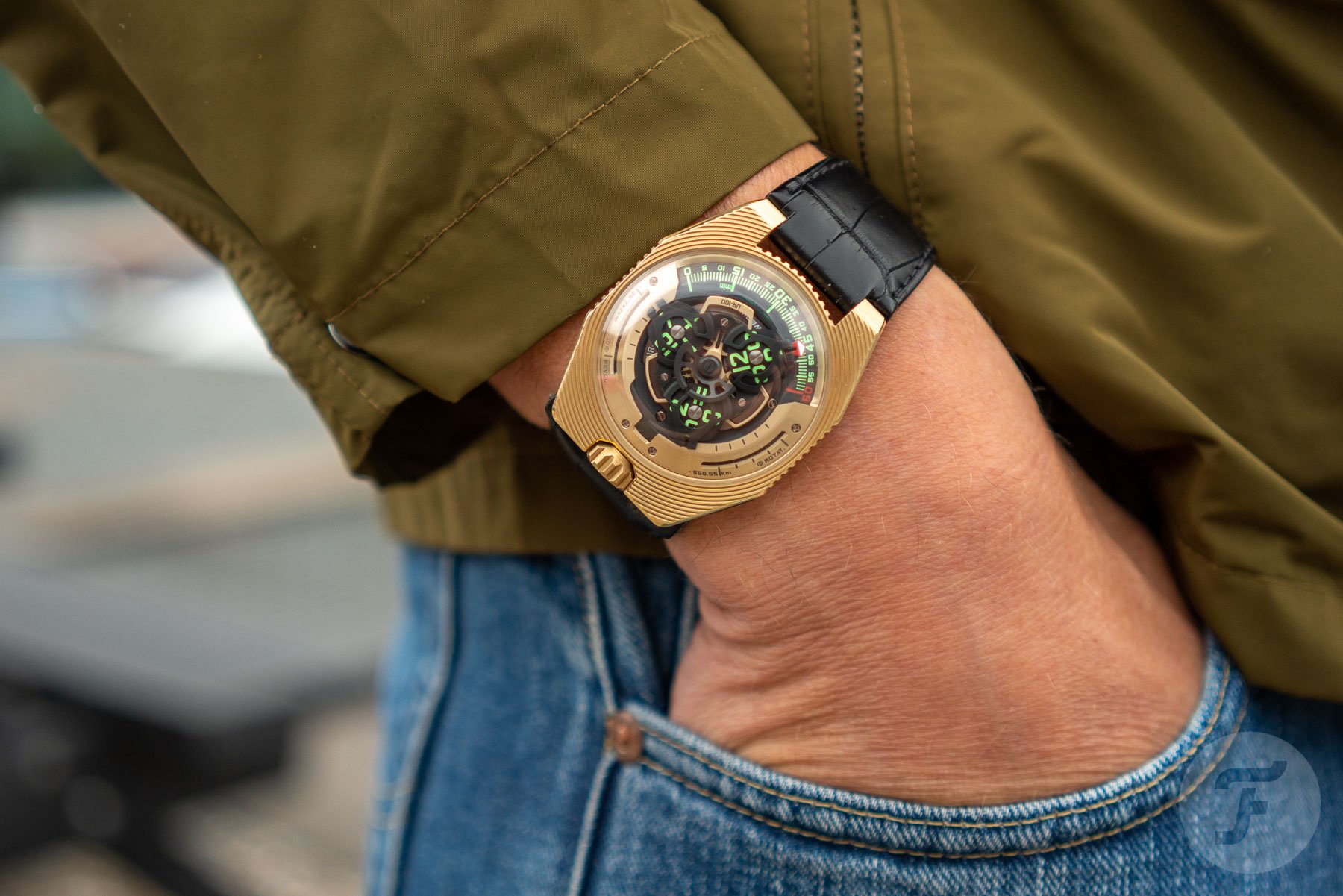 The UR-100 Electrum solidifies my position on Urwerk
I'm sure we all have one brand we can relate to on a level quite unlike the rest. For me, it's Urwerk because of the internal journeys I embark on when handling the brand's watches. Not all of my colleagues quite see the brand in the same way. However, for me, Urwerk is quite revolutionary in this regard. It has yet to release a watch I don't love. I just hope the brand doesn't see that statement as a challenge!
Production of the Urwerk UR-100 Electrum is limited to 25 pieces. Seeing as this is the only watch I can find in existence, made from this ancient alloy, it offers collectors something genuinely different for their collections as well as representing a unique conservation starter. Get yours now for CHF 62,000 plus taxes.
Follow me on Instagram: @davesergeant
Watch specifications
Case Material
Satin-brushed 18K 2N Electrum (gold & palladium alloy)
Case Dimensions
Width: 41mm; length: 49.7mm; thickness: 14mm
Case Back
Display, sapphire
Movement
Calibre UR 12.01 with automatic winding system regulated by the Winfänger system with propeller and planetary gear system
Water Resistance
30m (3ATM)
Price
CHF 62,000 (not included taxes)