A Collaborative Hands-On With The Vaer Meridian And Arctic Dive Watches
From scuba diving in Croatia to desk diving in The Hague
Today's review is quite a special one. Gerard and I took on the task of reviewing two Vaer dive watches, the Arctic and the Meridian. To do so, we decided to work together but also split up. I'd stay here in The Hague and wear the Vaer Meridian in my day-to-day activities at Fratello HQ. Gerard, on the other hand, would take the Vaer Arctic to Croatia for a week of scuba diving. I know, I know… It hardly seems fair. But I agreed to take up the desk-diving mantle while Gerard jetted to the Mediterranean. This way, we'd be able to fully cover the usage cases of these watches and see how they'd perform both in their intended work environment and in a more realistic daily scenario.
You might remember the Vaer Atlas A3 Automatic that I wrote about earlier this year. That orange-dialed 36mm introduction to the brand left me wanting to know more. The brand's dive watches in particular seemed rather well-specced considering the price. But is there value to these reasonably priced watches, or are they more of a gimmick? With so many microbrands on the market today, it can be hard to tell. So, to find out, we got our hands on two of them and decided to put them to the test. Now, after a couple of weeks with the watches, we're ready to share all there is to know about these Vaer divers, including how the provided leather strap fared after several days of diving.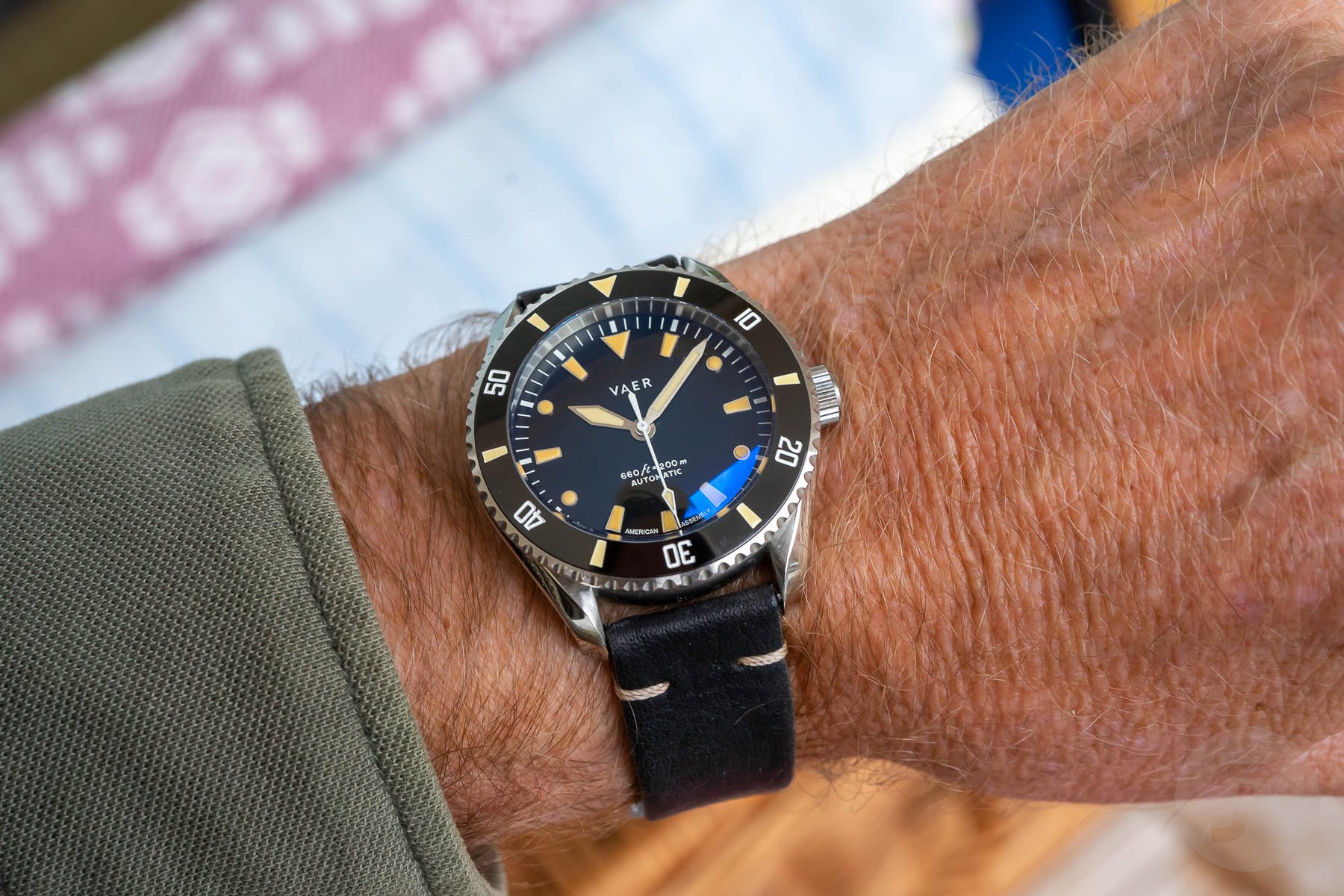 Gerard: Starting off with Vaer straps
Vaer offers the D5 Arctic and Meridian with a variety of straps. The original strap option is the nylon Vaer Standard Single Pass. It's durable, comfortable, waterproof, and available in black and khaki. The same strap is also available in a two-piece quick-release version, and there is a Tropic-style FKM rubber strap option too. Oyster and Jubilee-style stainless steel bracelets are available too, but the leather strap option is the most surprising for a divers' watch.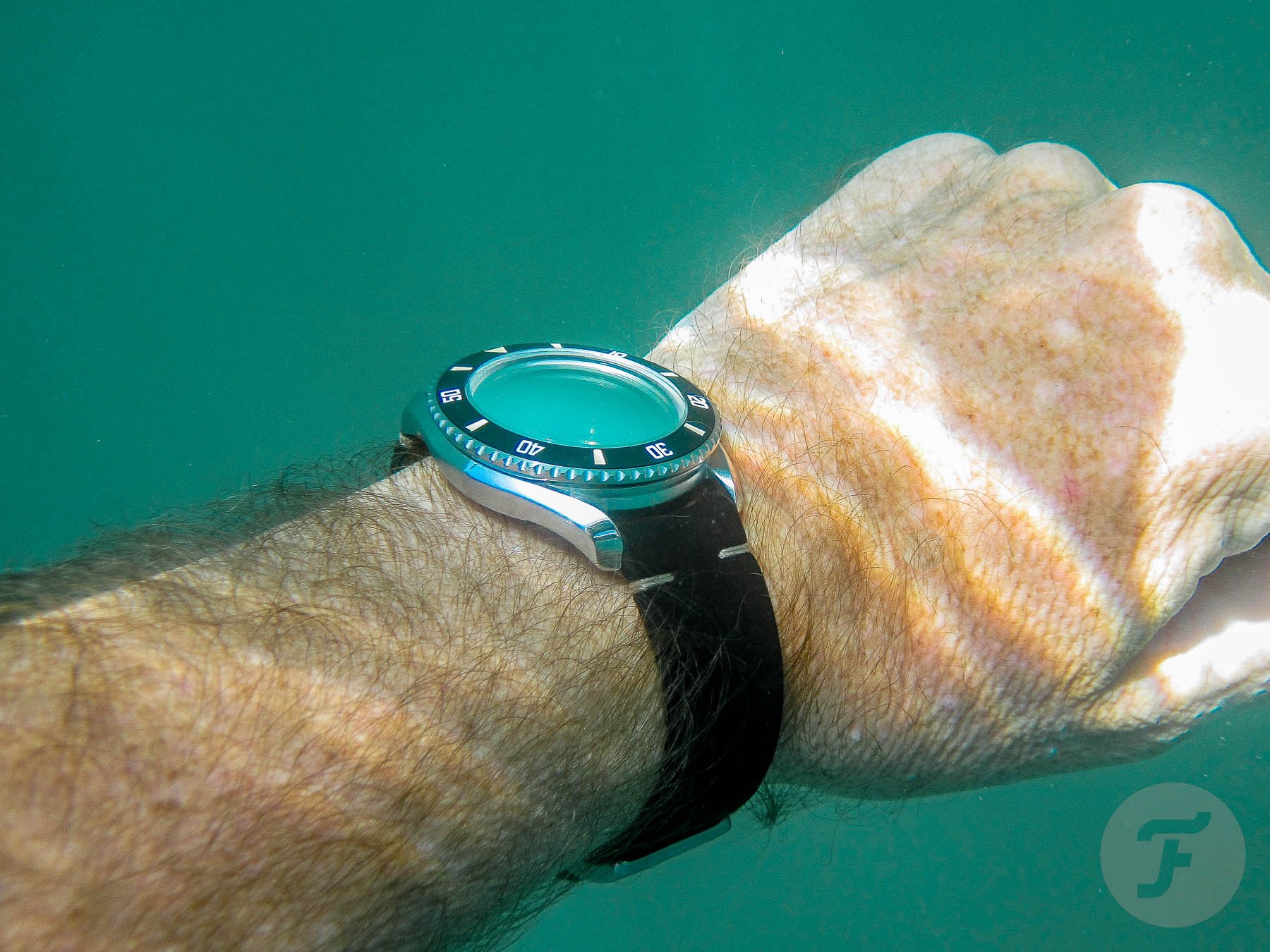 Expectations
Generally speaking, using a leather strap for diving isn't a wise choice. This option is only valid for desk divers. But since Vaer prides itself on making "ocean-ready" watches, we became curious enough to put the leather strap to the test. By the way, looking at and handling the leather strap already shows that it isn't just any run-of-the-mill offering. The printing on the inside of the strap states that it is built in the United States and is made from Horween leather. And from a second look, this time, at Vaer's website, we learn that these leather straps are more expensive than the brand's stainless steel bracelets. Our expectations were high.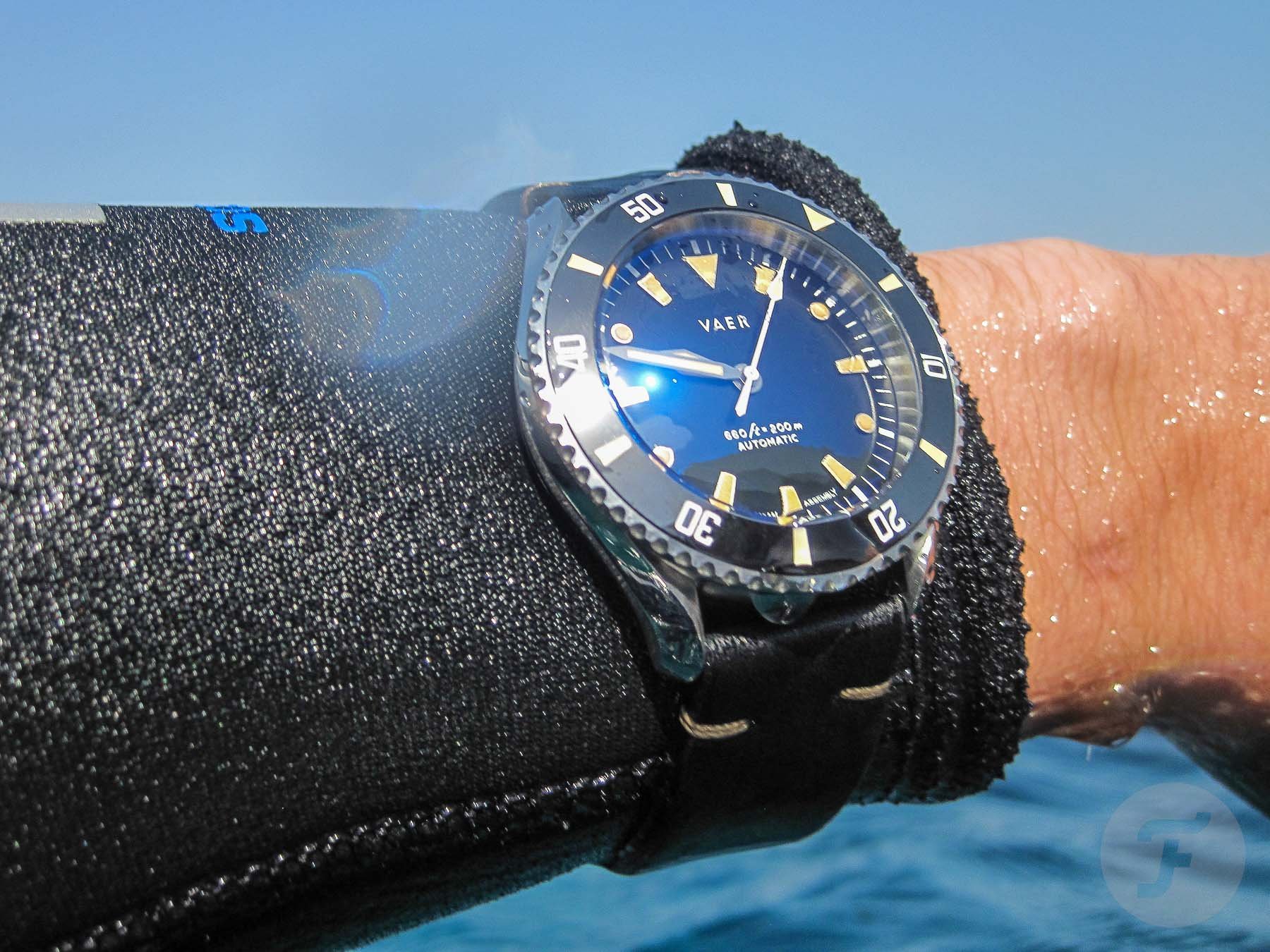 To find out if our expectations were grounded, what would be better than putting the leather strap to the test? So that's what I did. I used the Vaer D5 Arctic with its black Horween leather strap during a week of diving.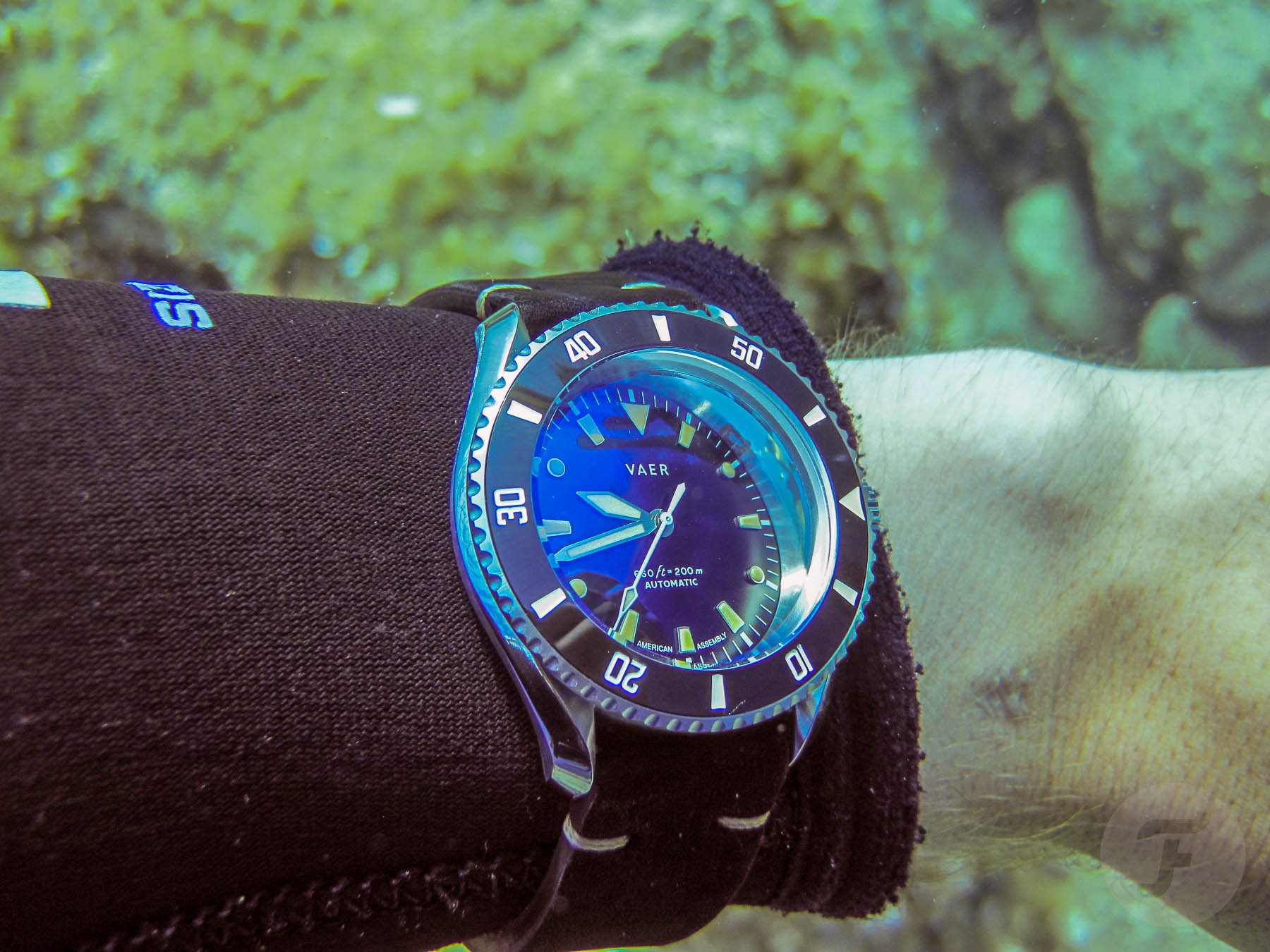 The looks
I wouldn't describe the style of the watch as very innovative or refreshing. As you'd expect from other watches with more or less the same design, the readability of the Vaer D5 Arctic was fine, both underwater and above. I know that faux patina is somewhat polarizing, but on this Vaer, I like it. It suits the style of the watch. I also like the blue anti-reflective coating on the inside of the domed sapphire that, from time to time, nicely reflects on the dial.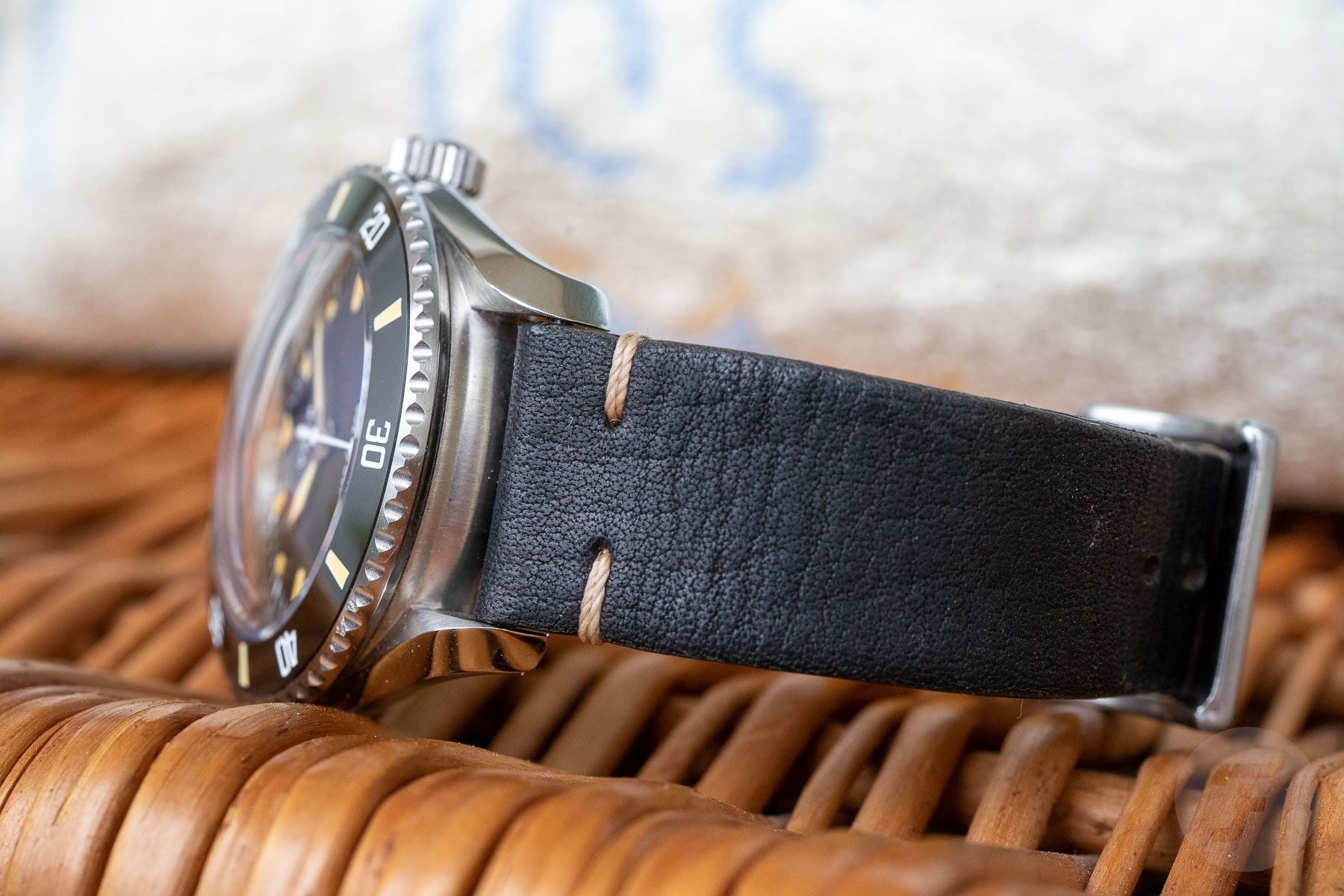 How the strap held up
I wore the watch the whole week in temperatures over 30°C, so from perspiration alone, the strap could have been hurt. But then it was in seawater every single day while swimming, snorkeling, and scuba diving too. Honestly, I didn't expect it to hold up so well. As you can see in the close-up pictures, it still looks great. There wasn't more deterioration than I would have expected when just wearing it as a desk diver.
The strap's edges weren't damaged, the keepers are still in good shape, and the stitching is almost as it was before. The surface of the leather probably became slightly duller, but it looks like a bit of grease would easily solve that. The strap, as pictured, remains untreated.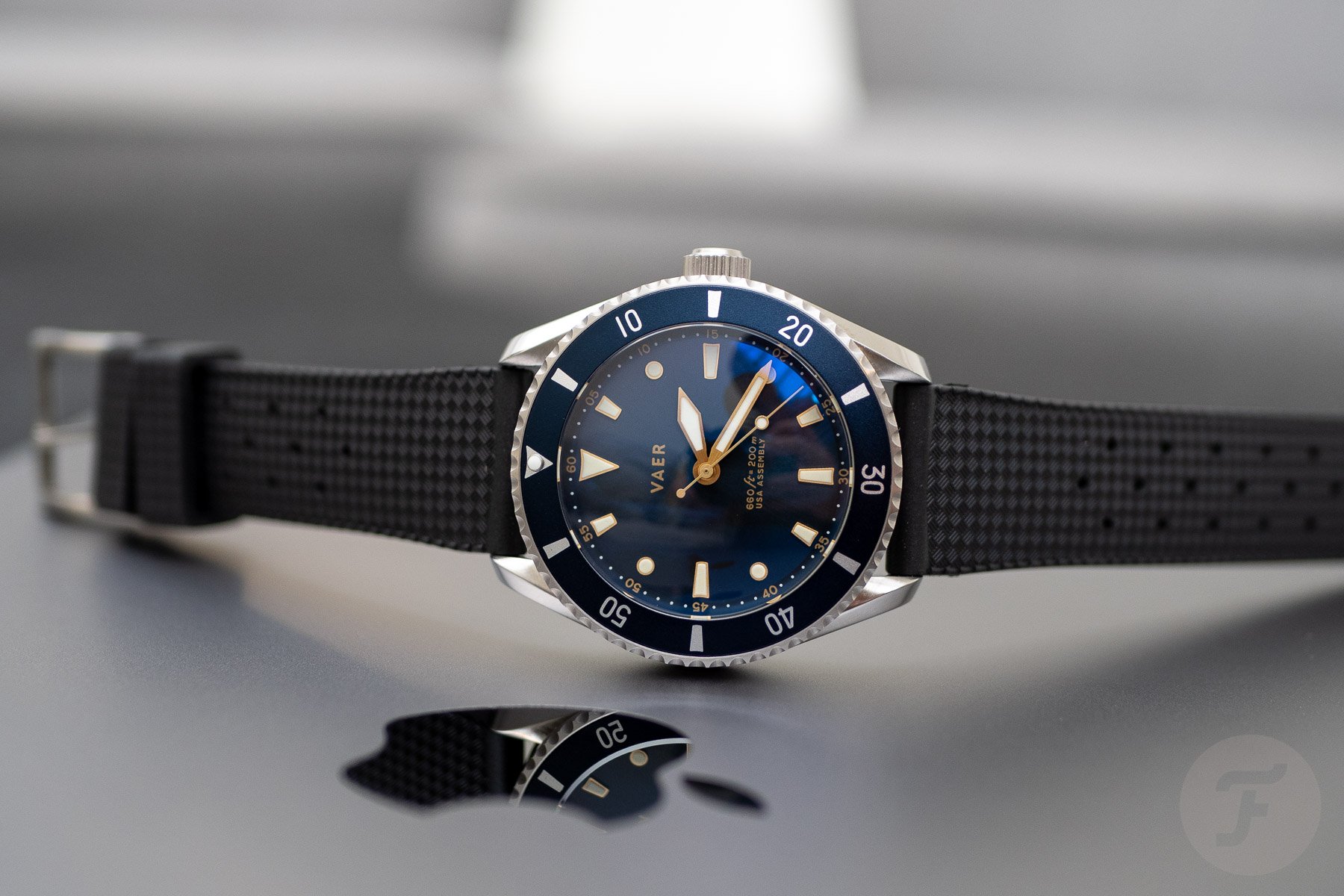 Nacho: Desk diving with the Vaer D5 Meridian
Ah, yes! Desk diving — the absolute limit to which most watch enthusiasts will subject their ISO-certified and HEV-equipped dive watches! All jokes aside, the simple truth is that most people will spend most of their time at work. And nowadays, that implies sitting in an office in front of a computer screen. Not everyone will have the same kind of job, but let's face it, most people won't be putting their watches even close to the operating limits on a day-to-day basis. And even those of us who enjoy and occasionally partake in scuba diving sadly won't get to do so every day. As important as it is to know our watches can withstand well beyond what we'll realistically throw at them, it's also good to know how well they fare in more realistic scenarios.
My experience with the Vaer D5 Meridian – USA Auto 39mm was a very positive one. Looking at the price and specs, though, that should be no surprise. After all, this is a $659 watch. It still comes with a decent automatic movement, a sapphire crystal, classic looks, and a good amount of water resistance. In fact, the only difficulty this watch might encounter is that it swims in Seiko-infested waters. That said, looking at the Seiko catalog, most offerings in the Prospex line that have a more traditional shape out-price Vaer's offerings significantly. Only the "Turtle" and "Samurai" models can compete price-wise with the Vaer.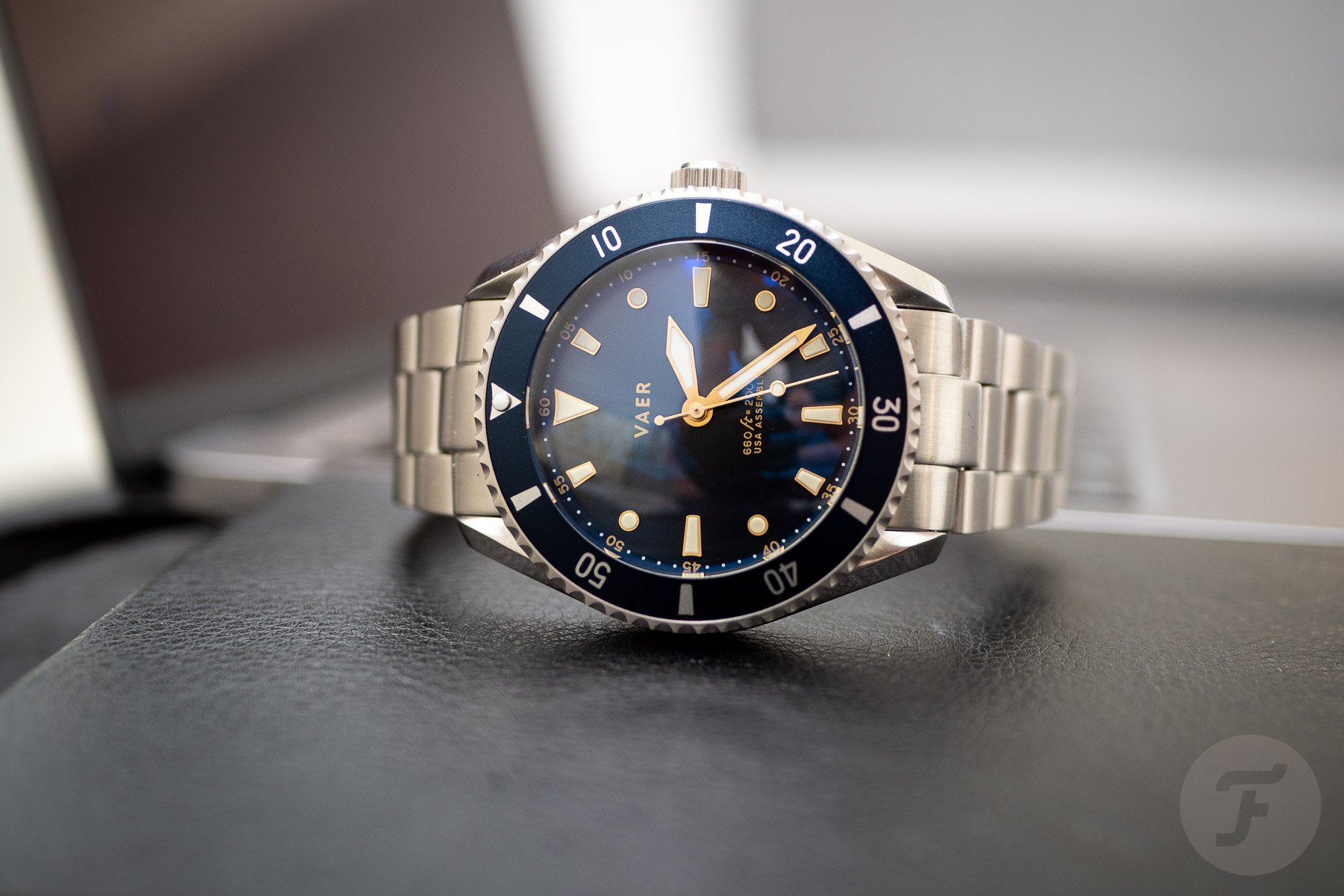 Traditional looks and a brilliant bezel
Instead of spending a ton of time listing every little detail of the specs (which you can find on the Vaer website), I thought I'd highlight some of the elements that made wearing this watch far more enjoyable than expected. The first and perhaps most obvious thing was its dimensions. At 39mm wide and 14mm thick, the watch wears beautifully on the supplied Tropic-style rubber strap, the steel bracelet, and even on a NATO. While this is not directly related to the watch, I also very much enjoyed that it comes with two straps. Vaer was even kind enough to ship a NATO along with the watches, which came in a set complete with a small bottle of spring bars and a strap-changing tool. These details matter!
And speaking of details, you may have noticed that the Vaer D5 Meridian doesn't feature a ceramic bezel like the Arctic. In fact, the bezel insert on the Meridian is made of anodized aluminum. This gives the watch a very old-school vibe. You have a killer combination with its lyre lugs, sword hands, and golden details on the blue sunburst dial. But it's not just pleasing aesthetics; the watch also feels great. The crown and bezel are grippy and very purposeful and pleasant. The case has no rough or overly sharp edges, and the action on the bezel is close to perfect. It clicks along nicely 120 times with just the right amount of resistance and has virtually no back play.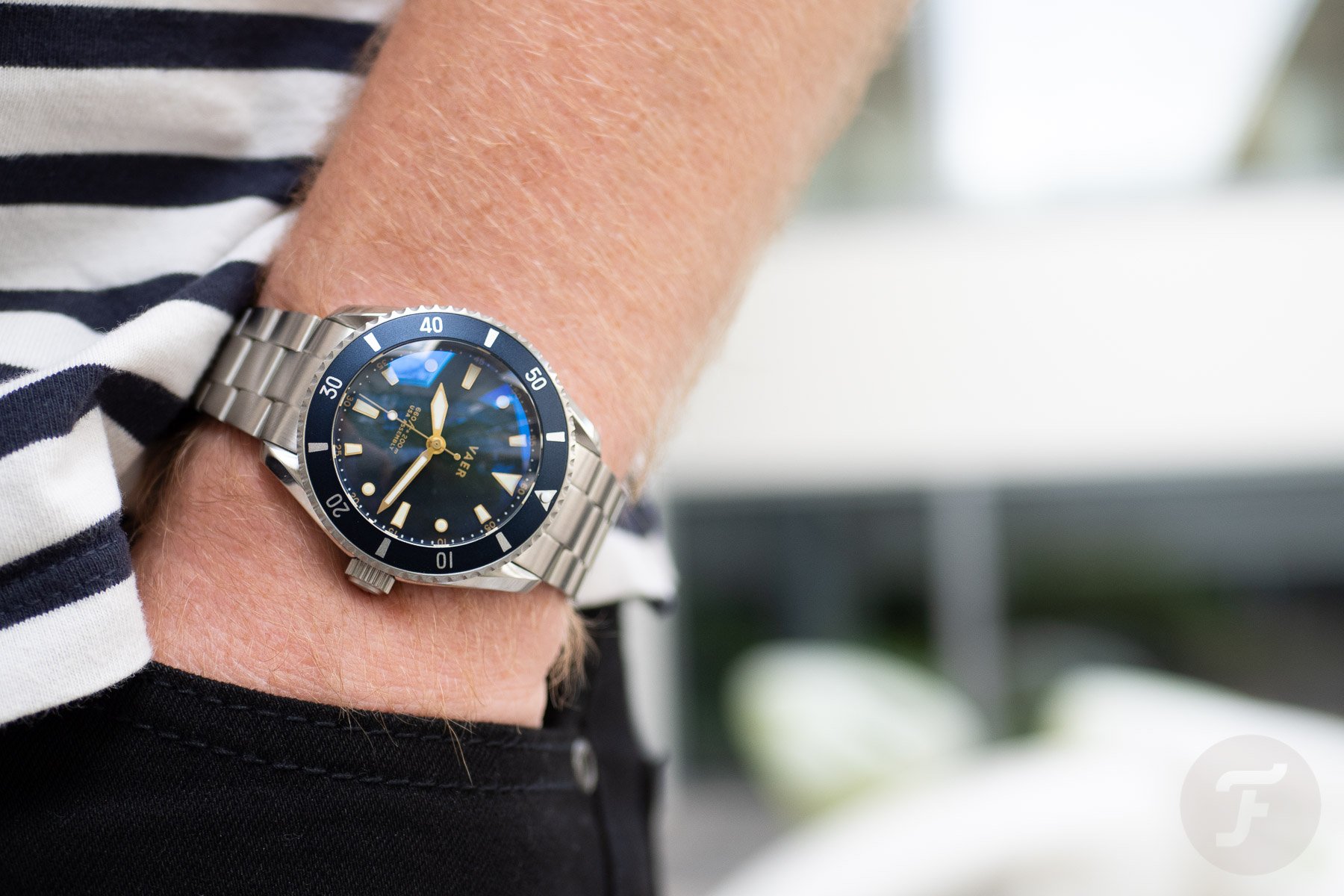 Exceeding expectations
When testing a watch like this, I try to keep expectations low. I also benefit from not having too much experience with some of the watches considered the best of the best. I can't compare this to wearing a Rolex Sub, vintage, new, or otherwise, as I've simply never had one on my wrist for more than a couple of minutes for a picture. However, after years of looking at watches and having had the opportunity to wear and test plenty of them, I have built a sense of what separates the good from the gimmick. And when it comes to the Vaer, there's little I could fault, especially considering the brand's scale and the price point. And, as far as desk-diving was concerned, the Vaer D5 Meridian was a perfect companion.
The rubber strap and the steel bracelet are very comfortable to wear and benefit from the convenience of quick-release spring bars. As I already mentioned, the watch itself feels and performs great. The only gripe, which is a small one, is that the dial feels quite deeply set in the case. That said, it might be more of an optical illusion caused by the brilliant double-dome of the sapphire crystal. Speaking of which, the crystal is given a brilliant blueish-purple AR-coating on the inside surface. Other than that, the 15 layers of X1 C1 Super-LumiNova on the indices and hands give this watch an unexpectedly good level of low-light readability. Overall, the full package exceeded expectations and made for a pleasant wearing experience.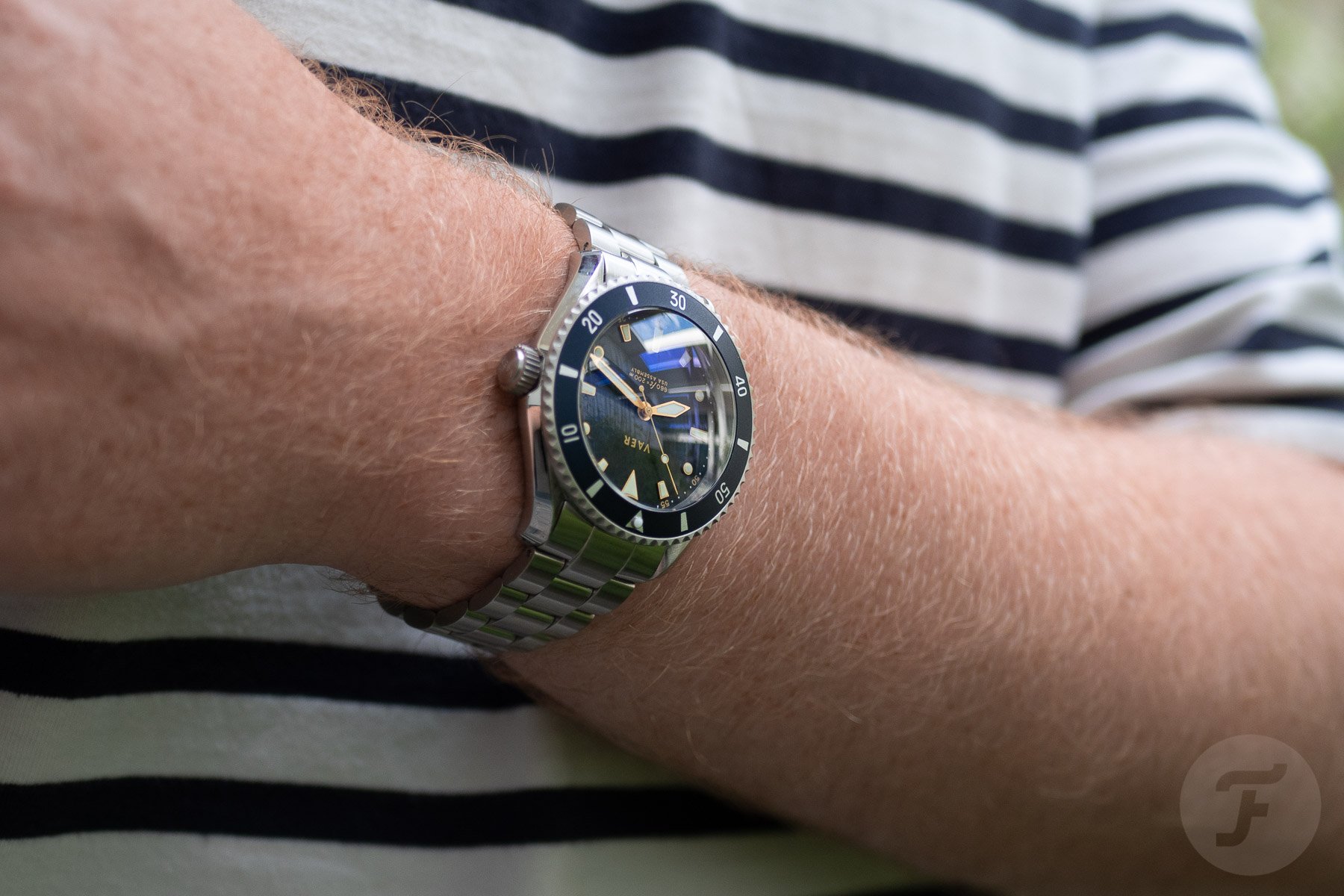 Final thoughts
And there you have it, folks! One brand, two watches, one article, and two ways of wearing said watches. If you hadn't heard of Vaer before, we hope this has been an enjoyable way to learn more about the brand and see a little bit of what makes it quite special. One thing is clear, and that's the fact that though we approached with tempered expectations, both Gerard and myself were rather impressed with these watches. And though we had two different models, these watches are very similar. Whether you prefer a ceramic or an aluminum bezel, you really can't go wrong with either of these. These are perfect affordable options for beginners and enthusiasts alike.
We'd like to hear your opinion on these Vaer divers. Do you find them charming and good value for the price? Or are they not quite your cup of tea? Whatever the case, as always, share your thoughts in the comments.