Report – An Omega Heavy GTG In Vienna
A few weeks ago there was a small get-together in Vienna, Austria, with some pretty serious Omega collectors. We say Omega, not Speedmaster, as people also brought in some pretty decent other Omega watches. Our very own Berti joined a Saturday in Vienna and took pictures of all the horological candy that was brought along.
Vienna Calling
Organized by some very serious Omega collectors (some watches might look familiar if you are an avid Omega follower on Instagram for example) in Austria, it was by invitation only, as trust is often the most important aspect when it comes to these things. If a get-together is not organized by a brand or boutique, imagine the struggle with a venue and its security to safeguard everyone's collection of watches.
Without further ado, let's have a look at some of the watches that people brought in.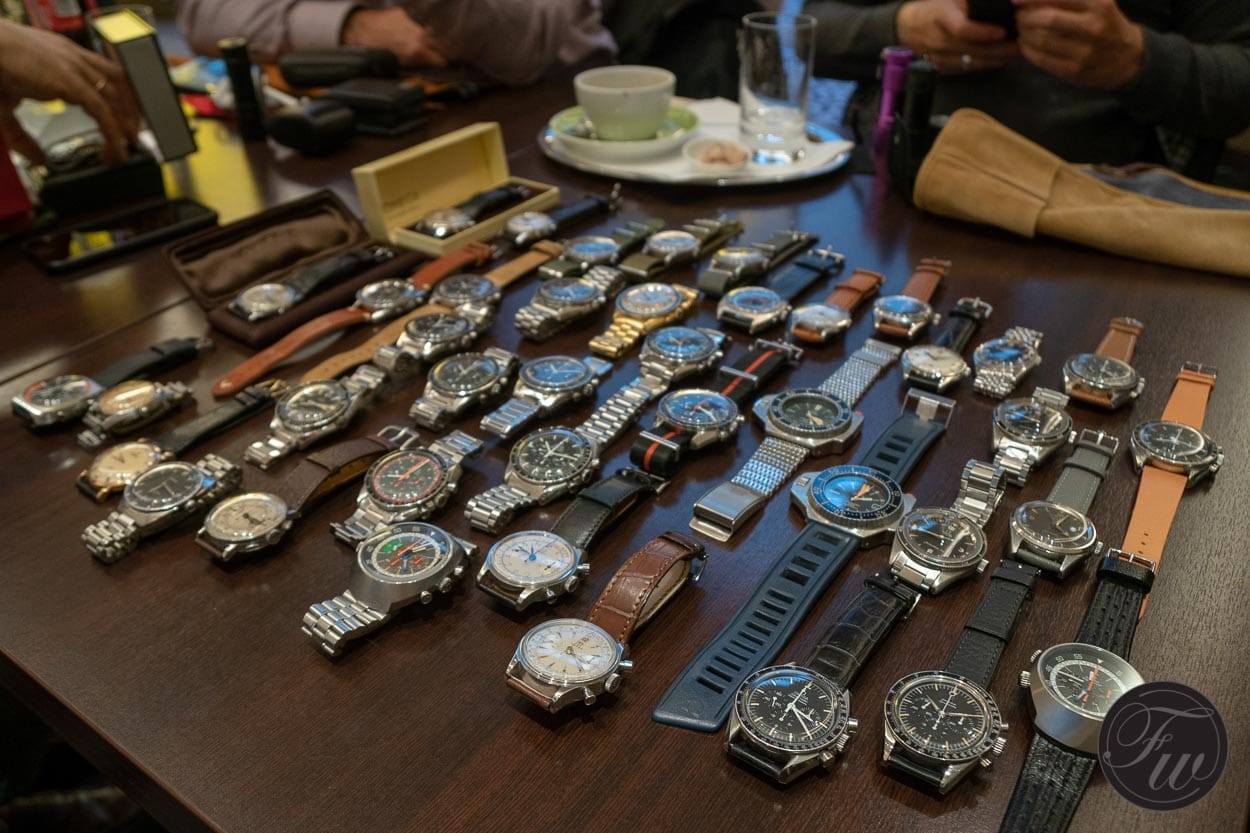 Seamaster And Railmaster
I will pick some of the watches that were present during the Vienna GTG for your viewing pleasure. There were a number of vintage Seamaster watches present, including very early diving models. The Seamaster 300 (1957) has always been a favorite amongst collectors, but what about the somewhat lesser known Railmaster (also 1957)? The public probably only got to know the Railmaster as the re-edition from years ago, or perhaps even only since 2017's re-release of the Railmaster (60th-anniversary edition and the regular new Railmaster), but Omega collectors have been hunting for these forever.
The watches above are almost identical and you have to know that some of the military forces used these watches. Most of the time, we come across Seamaster PAF watches. It is basically a Railmaster (CK2914) but with a Seamaster logo on the dial instead of Railmaster, and with the PAF engraving on the case back. In that case, PAF stands for the Pakistani Air Force (there's also the Peruvian Air Force). All Railmasters that were ordered by the Pakistani Air Force were dubbed Seamaster.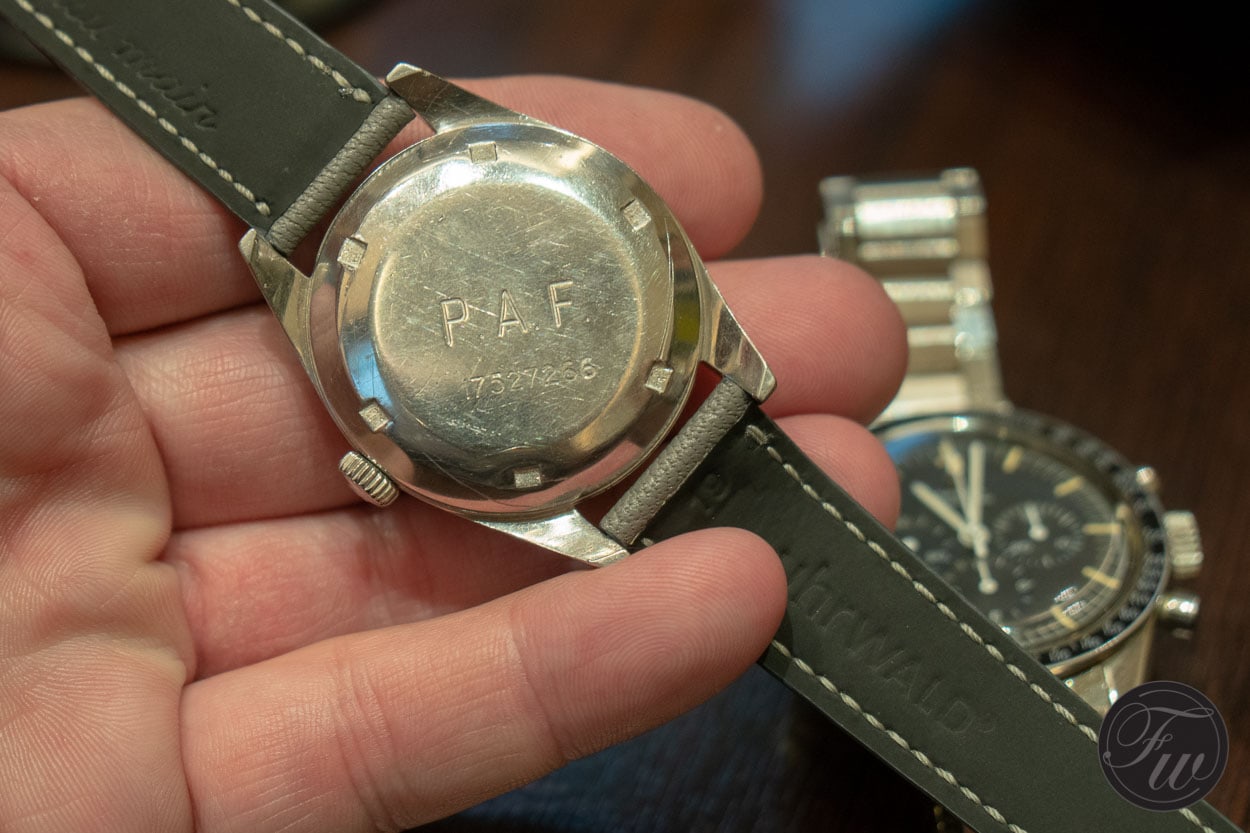 What made the Railmaster so special at the time, is its resistance to magnetism. Today it is one of Omega's key attention points with their movements, but back in the day, the special alloys that are anti-magnetic weren't available. Instead, the famous Faraday cage construction was used for watches, a soft-iron inner case would protect the movement from magnetism.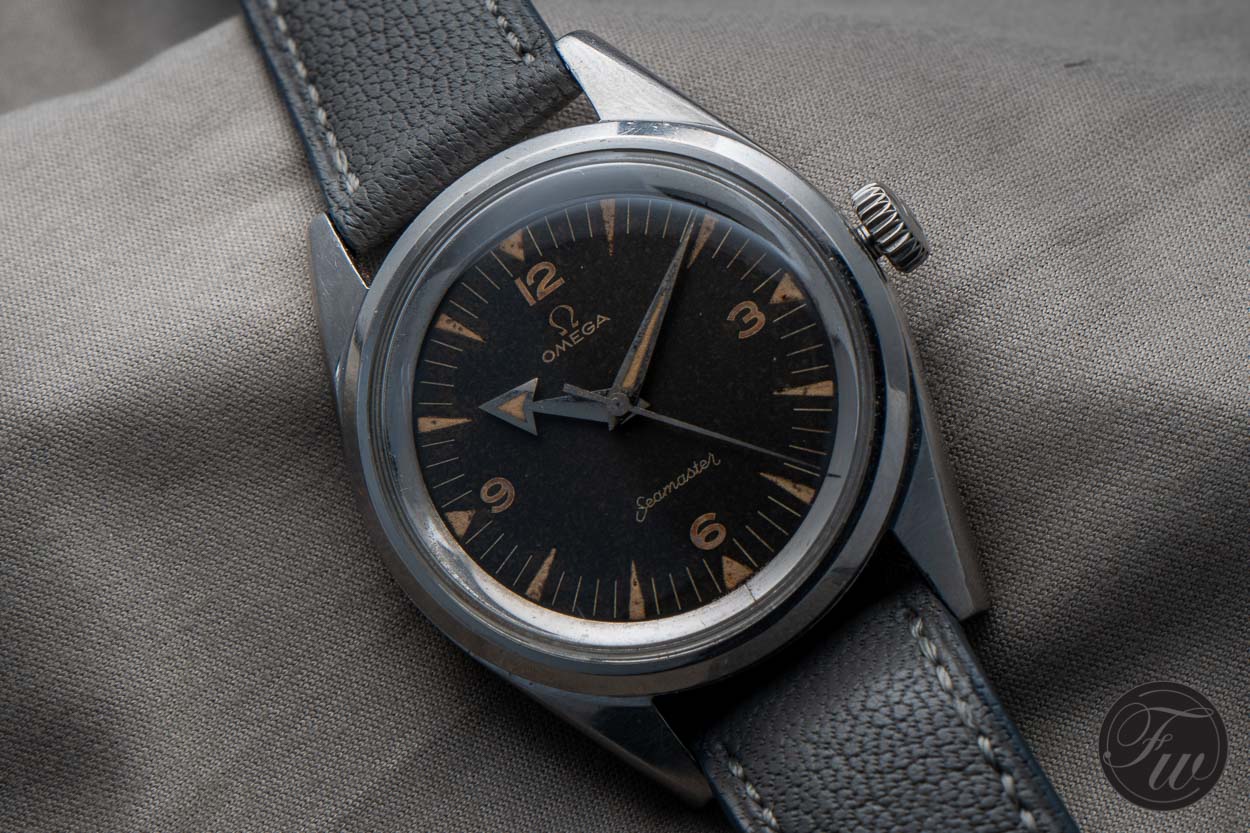 Constellation
Some of you might know about my fascination for the Constellation, I own a few from the early 1950s till modern versions. So I am happy to see that someone brought in this beautiful gold Constellation. It is a NOS (New Old Stock) Omega Constellation with the original gold bracelet and its silver box.
Here you see an Omega Constellation Grand Luxe reference 14398 with a calibre 561 movement. Attached to it is the gold brick bracelet. The dial is made of gold and the hour markers are applied with an onyx stick. I have to add that I've always been a sucker for these watches (hence this article on Constellations) and since earlier this year I picked up my hunt for them again. These watches are small, with their 34mm diameter, but that also makes them less wanted (and fair priced, here is one). The only thing you've to be careful about are the dials, a lot of them have re-finished dials. It doesn't have to be a very bad thing (a lot of them suffered from moisture and water entering the case, so there was no other alternative than to have them touched up), but the price should reflect this.
Anyway, you are looking at a NOS condition Constellation Grand Luxe here. Awesome.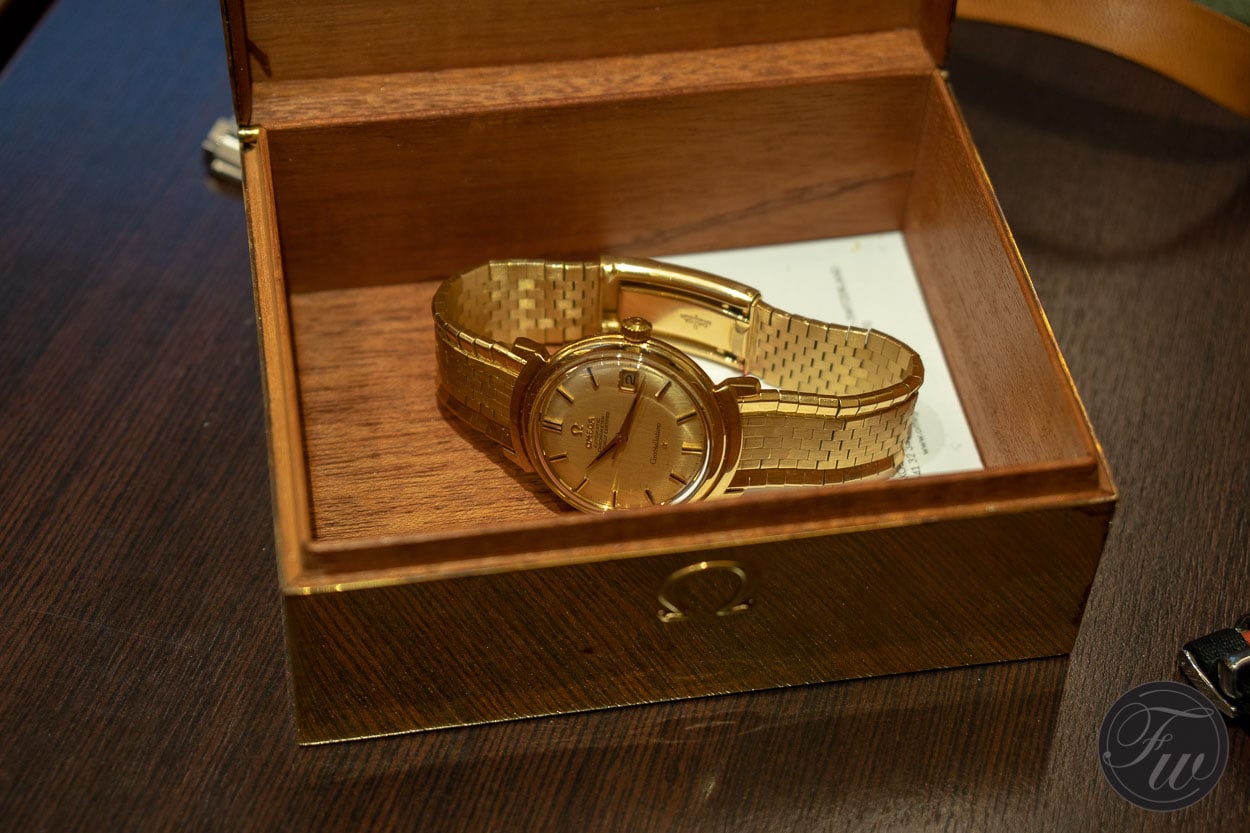 More Seamaster Models
People brought also in there Seamaster 300 watches, from the very first reference (CK2913) to the later references. And of course a couple of Seamaster PloProf 600 watches. Not too long ago we reported on the findings by a Ploprof specialist from the UK. Below, however, a happy Seamaster 300 couple.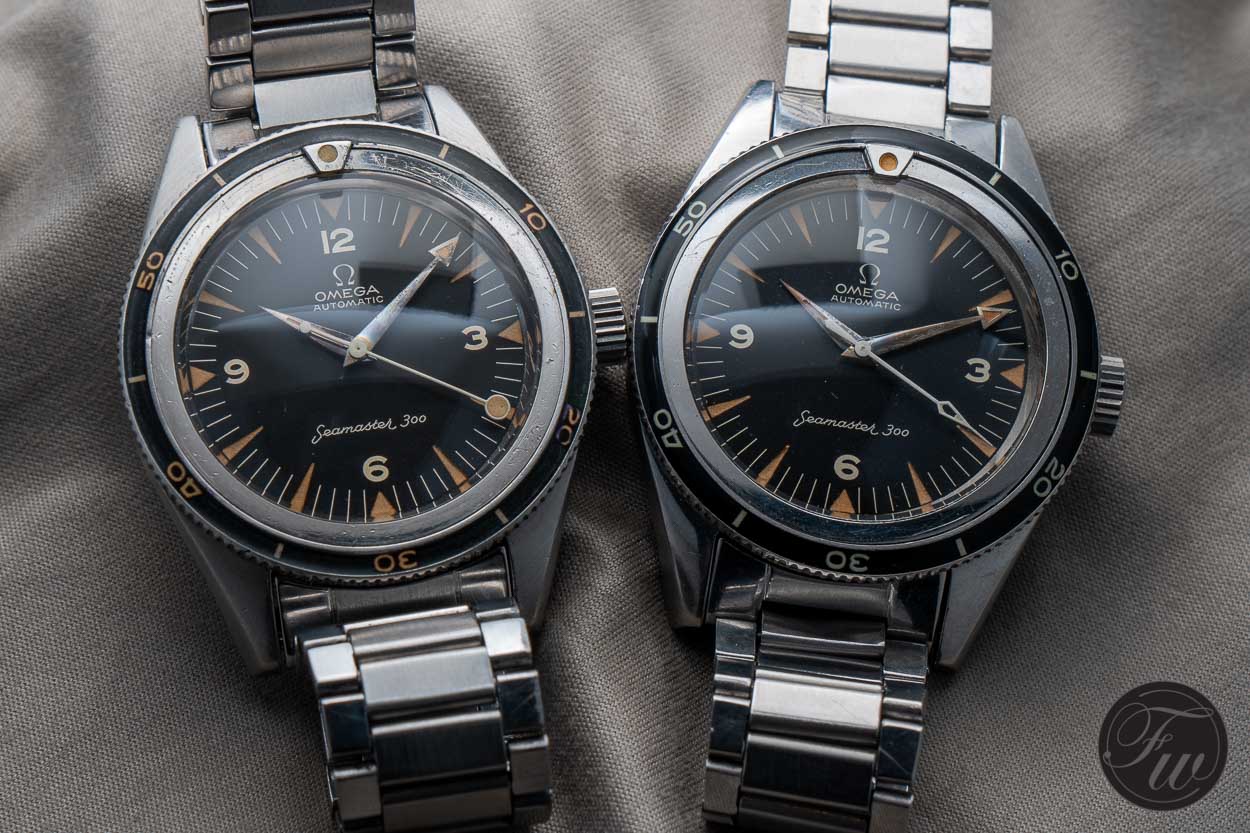 The Seamaster PloProf 600 was covered here, in which we tell you about the new discoveries regarding the production of the dials etc. It came to the surface that the ones that were perceived as the Mark II series, were actually the first ones to be around. This was the conclusion of quite some investigation by a collector who goes by the name of t_solo_t on Instagram. Make sure to follow him. Not only did he perform some excellent research on the Ploprof 600, but also the Ploprof 1000, Constellation Megaquartz and Speedmaster Moonphase have been covered extensively by him.
And Then Some…
…Speedmasters! Lots of Speedmasters. However, we also noticed a number of Omega's military timepieces. Omega submitted thousands of watches to the British Ministry of Defence (MoD) during and after WW2. We did a full story on one of the RAF Pilots and his watch some time ago, which was republished in Omega's Lifetime magazine last year. These 30T2 watches are very popular amongst collectors, but still can be found in good condition for fair prices. Also might have to do (again) with the modest diameter of their cases. If you can see past that, you will truly have some history on the wrist with those watches.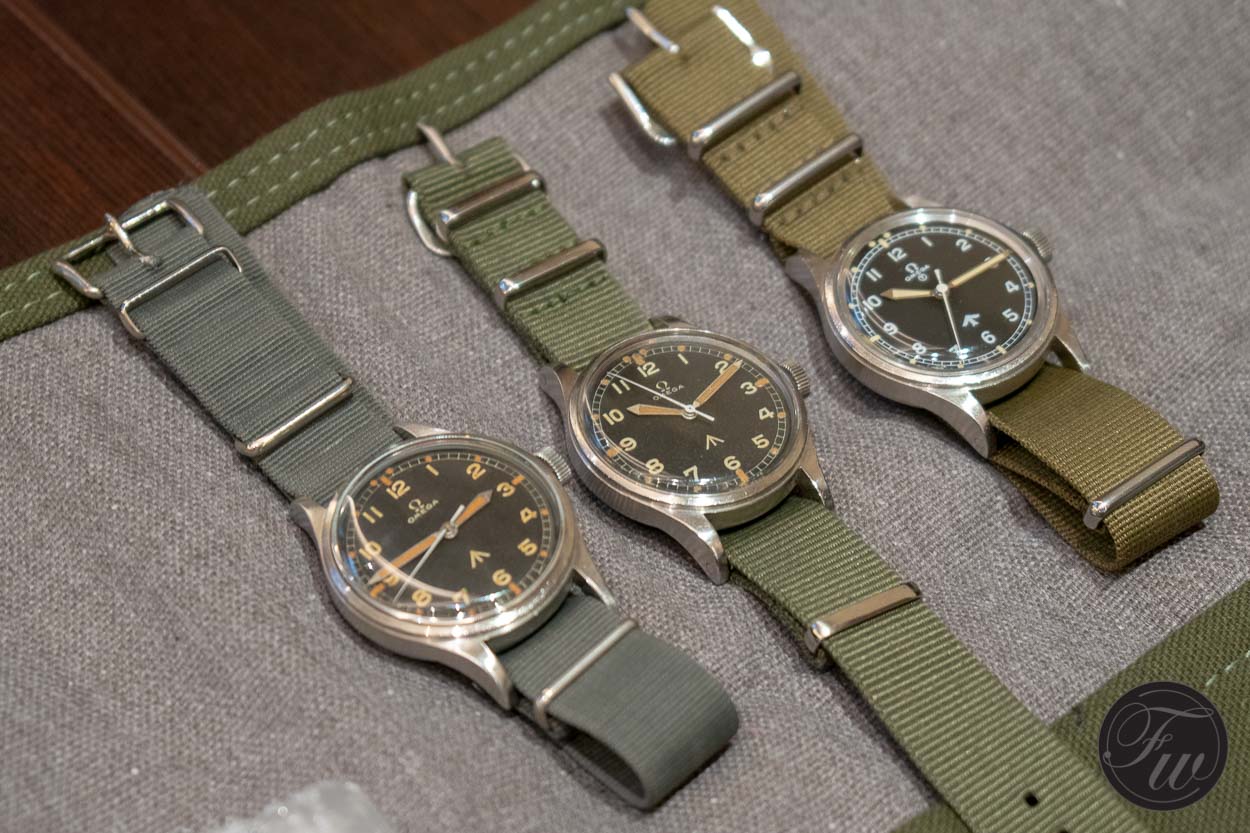 Enjoy the images! Click for larger versions.