Watch Dating Profiles: Germany — A Steady Stowa, A Lonely Lange, And A Seductive Sinn
Old love doesn't rust
You (presumably) are a person seeking a watch. Perhaps you know which watch. Perhaps it's THE watch. However, more than likely, you're at least open to options, if not openly shopping. Here we present a few curated choices a la dating profile, with watches and the owners they seek. Today, it's eligible German watches. A Stowa Marine Classic is pining for its Captain. This A. Lange & Söhne Saxonia is searching for its sugar daddy/mama. And the Sinn EZM 3 is ready to party with its adventure buddy. All they ask is to be your one and only (GADA alert!).
Call these German watches GADAs (go anywhere, do anything), if you like. Indeed, the lack of water resistance or addition of diving bezels will rankle many a GADA purist, but I contend GADA is a subjective designation, and one size does not fit all. If you can't go GADA, perhaps "Exit Watch" — the watch that gets you out of the collecting game — is the term. I know, sub-$10K hardly seems grail status, but if you end up with the watch that really does it all for you, regardless of prestige (and these have prestige or at least respectability), what more do you need? There's a watch for everyone, I say, and maybe one of these is for you. But without further ado, I'm happy to present the eligible candidates.
Stowa Marine Classic 36
This little (it's only 36mm) watch is a dressy, classy, sleeper GADA. Stowa specializes in vintage design, and this number is par for the course. White "enamel look" dial, simple black Roman or Arabic numerals (Stowa is all about customization), and blued-steel Breguet hands come together for a svelte marine chronometer style. The gorgeous onion crown and sweeping lugs certainly contribute as well. There's an optional date window at 6'clock if you can't live without it. The see-through case back displays the caliber of your choice (did I say options?).
That caliber can be one of: a simple yet sturdy workhorse Sellita SW200 automatic, a decorated, automatic, Côtes de Genève adorned ETA 2824-2, or a hand-wound Sellita SW215-1 also with Côtes de Genève and blued screws. The SW215-1 is a Sellita option for ETA's 2804-2, and the hand-wound nature of it reduces its equipped case height to 10.5mm, Just a touch less than the automatic-equipped case at 11mm. Any of these calibers can be personalized with Stowa's laser-engraving on rotors, plates, and gears. This special, hidden touch makes for a true long-haul "only watch" for those so inclined. The case sides can also be engraved, for those owners a little louder about being unique.
The polished stainless steel case, as previously mentioned, is small. 10.5-11mm tall, 36mm diameter, and 44.6mm from lug-to-lug are dimensions for the medium and smaller wristed or classically inclined, especially on the supplied 18mm wide black leather strap. The 5 bar water resistance makes it generically life-proof and firmly situates it in soft-GADA territory. At less than €1000 for any option, sans custom engraving, the Stowa Marine Classic is a high-quality steal. It's a beautiful ensemble ripe with opportunities for custom tweaks to make it yours.
Stowa Looking To Go Steady
And who are you? If this watch is to be your one and only, as it certainly is capable of, you need be of certain specifications as well. You are a distant-gazed traveler, well-read though not necessarily polished. Observation and introspection are your main modes, interspersed with spontaneous indulgence in life's wonders. You are probably not ice-picking to the summit of K2, but you'd certainly hike to the top of a seaside hill to see the ships come in and out of the harbor.
…you are a connoisseur of simple, honest, quality.
Your work is of the mind, though the mind applied through skilled hands counts as well. You might be a musician — classical or jazz — a shoemaker, or writer. No matter the trade, you work to capture and reveal the truths of the universe in the fruits of your work. Of modest means, regardless of income, you are a connoisseur of simple, honest, quality. You often wear wool.
A. Lange & Sohne Saxonia Outsize Date
The A. Lange & Söhne Saxonia Outsize Date in white gold and argent[e] dial is pure German watch prestige. It's about as clean and minimal as you can get without stripping the name off the dial. The white gold of the case, hands, and indices coupled with the frosty pure silver dial make for a watch whose nickname might've been "moonglow". The (large) small seconds subdial takes care of the constant details, while the rest of the watch is arrested in time in the split-second glances it receives from its wearer. The large date does the opposite of try to hide in some corner of the dial and instead proudly announces when in the month you are. It has its own advancing button, separate from the crown, keeping you smoothly attenuated to correct time at the end/beginning of the month. Here is a breakdown of the complication from Lange and an even deeper dive into big dates by our resident watch history and technology buff, Brandon.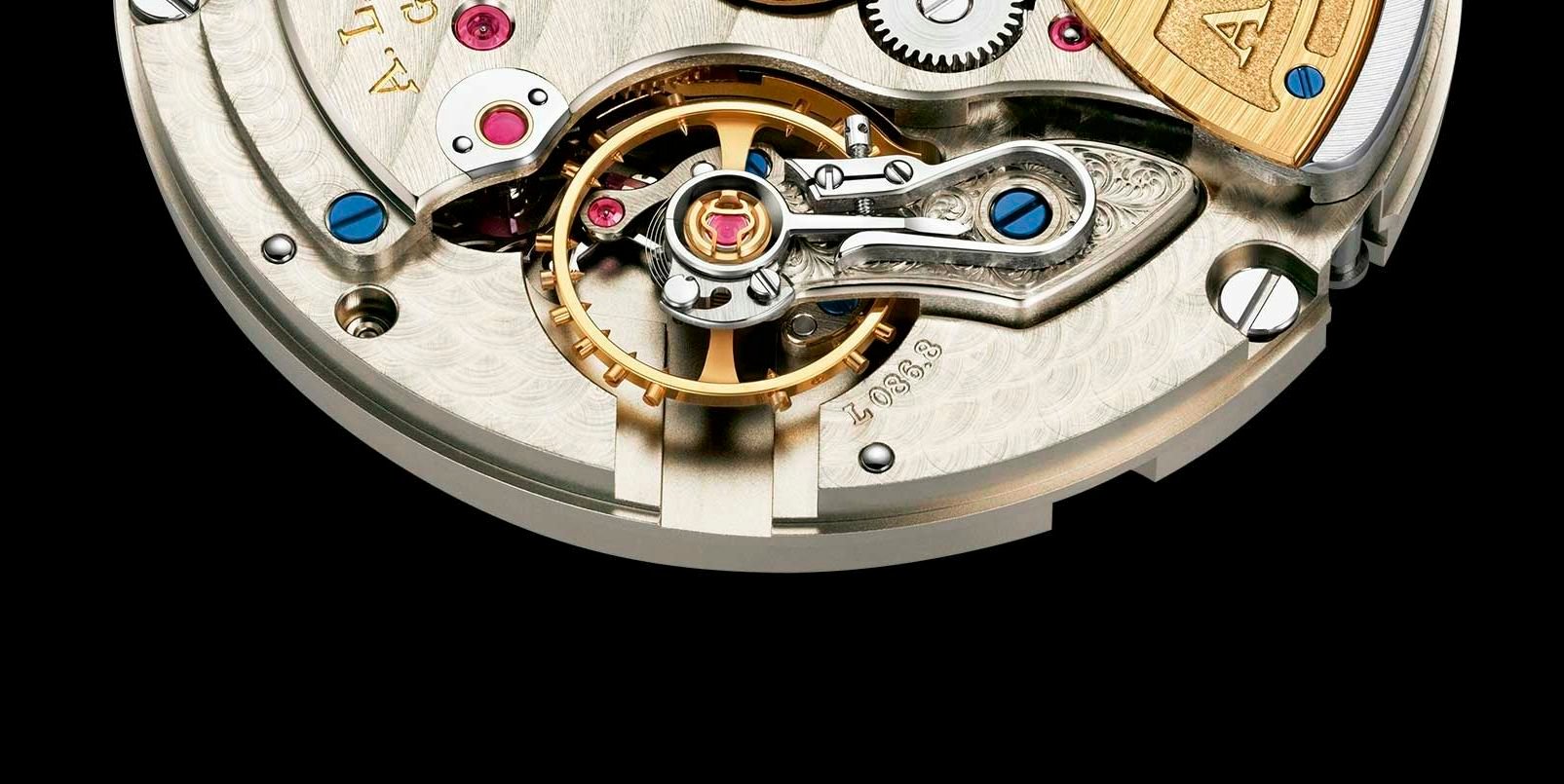 The ingenious caliber behind this sophisticated and incredibly functional display is the Lange L086.8. It's a stunning, hand-finished number with a slim gold rotor for automatic function, viewable through the case-back. The impressive 72-hour power reserve on a single mainspring comes in handy for its future owner. The in-house L086.8 makes the Outsize Date the most German of this selection of German Watches.
The case has perhaps my favorite dimensions, if I may be allowed to nerd out so hard: 38.5mm Diameter, 9.6mm tall, and 20mm lug-width. The short, sloping lugs help keep the wrist presence reigned in. The black alligator strap frames the silver of the watch elegantly. The GADA purists will balk at its entry with only 3 bar water resistance, but this watch isn't for them.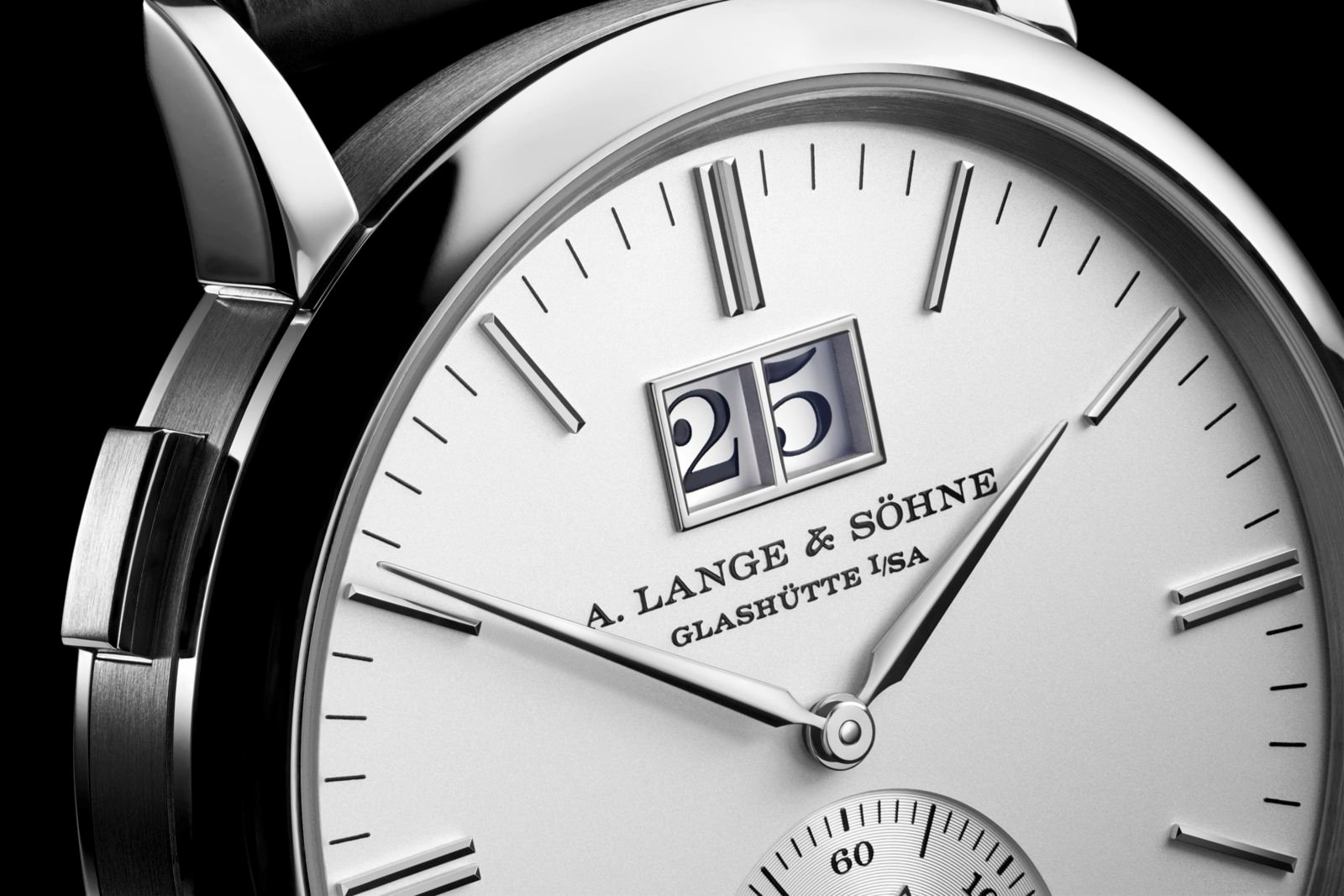 This Lange Wants Your Love (And Your Money)
Not just anyone is going to wear this watch but you may just be the one that does if you've got the goods. The person this watch is for has money. Glad that's out of the way. But the way that money is manifest depends on character and action, and the Lange wearer is polished in both.
You, the ideal owner of the Outsize Date, are the three C's: cool, collected, and cunning. You are impeccably observant, calculating, and when you move, it is with solidity and conviction. Your professional ethos is success only, and that translates to all aspects of your life. You are not distracted by trivial matters and inhabit the realm of Buddhist monk-like mental clarity.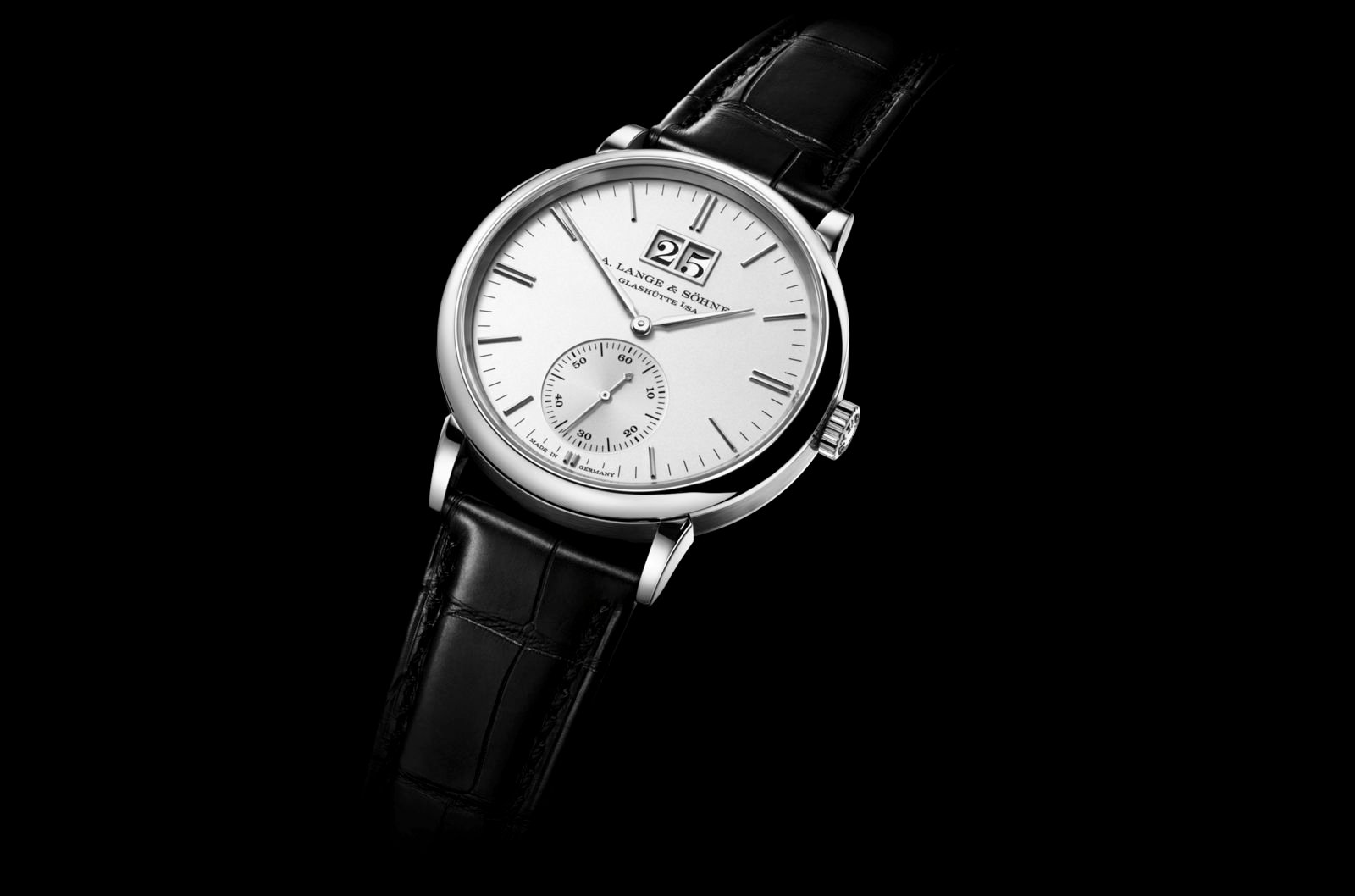 Can It Do It All? (Can You?)
Your need for a watch, this watch, is two-fold: first, practicality, which the Lange Saxonia Outsize Date exudes superlatively. Though you are and work within the machine of your business, which keeps you to your tasks, you only truly rely on yourself. Since you haven't found a way to internalize a clock, you concede the need for the Lange Saxonia as one of your few weaknesses, and it compensates precisely. It goes where you go, an extension of yourself and your capabilities. The $30k price tag is of no matter, you demand perfection.
It is exceptional quality and craft worth pursuing.
Secondly, the A. Lange & Söhne Outsize Date encapsulates your understated but ever-present philosophies. It is task perfected, the platonic ideal of a timepiece. It is exceptional quality and craft worth pursuing. It represents the inescapable mechanics of existence and the onward push of time, and perfection.
But you are not all machine. As focused and driven as you are, you create ample space and time to step out. At 3 bar water resistance, the Saxonia might not be up to the more relaxed (and wetter) pursuits in life. But no matter, it's not coming with you. For when you clock out of your work, you step into a realm of nowness and sheer enjoyment of the freedom and experiences you have earned.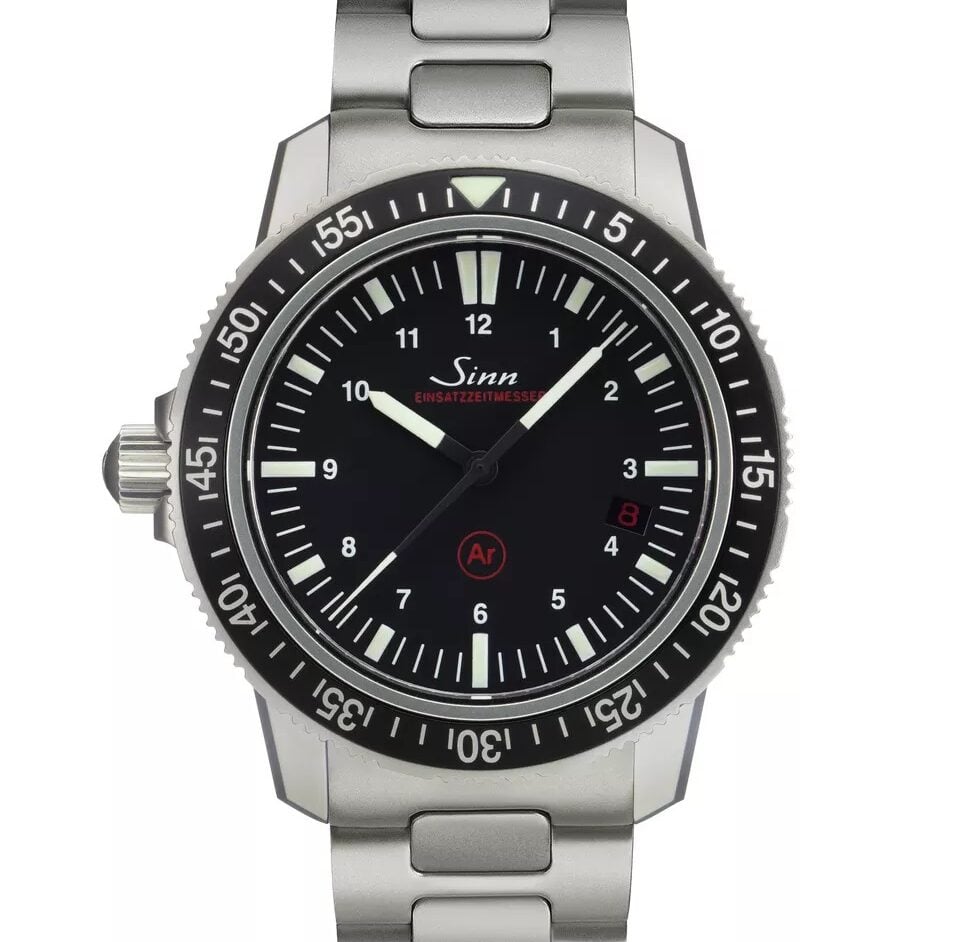 Sinn EZM 3
If the Stowa is a romantic and the Lange an idealist, the Sinn EZM 3 is a realist. Built along similar motifs as brutalist architecture with its bead-blasted steel case and angular lugs, the EZM 3 wears its capabilities on its sleeve (bezel?). Sinn is perhaps THE name is german tool watches, and the EZM 3 is a worthy representative.
Perhaps most striking in its appearance is the left-handed crown orientation. This isn't so that the watch may be worn on the right wrist, but that when worn on the left, the sizable crown is kept away from the wrist and back of the hand regardless of position. Still, it isn't an especially large watch, at 41mm, though I've had smaller watches with normal crowns hurt my hand just fine in strenuous activity. The other practical features are not as obvious.
EZM, German Acronym For: Can Do Anything
Water resistance of 50 bar (and low-pressure resistance, to boot) is combined with an argon-filled case, with special triple crown stem gaskets and copper-sulfate capsule to absorb any minuscule amounts of moisture present in the specialized casing process. The tried and true Sellita SW200-1 is set within a soft iron shroud within the EZM's case, increasing magnetic resistance to 80,000 A/m (that's a lot). Finally the standard features of a diver — uni-directional bezel and lumed hands and indices — tie together a watch that will out-survive its wearer, no problem. Oh, and there's a date window — numbers indicated dark red on black background — if you need to know it. It's $2,290 in the United States on the bracelet.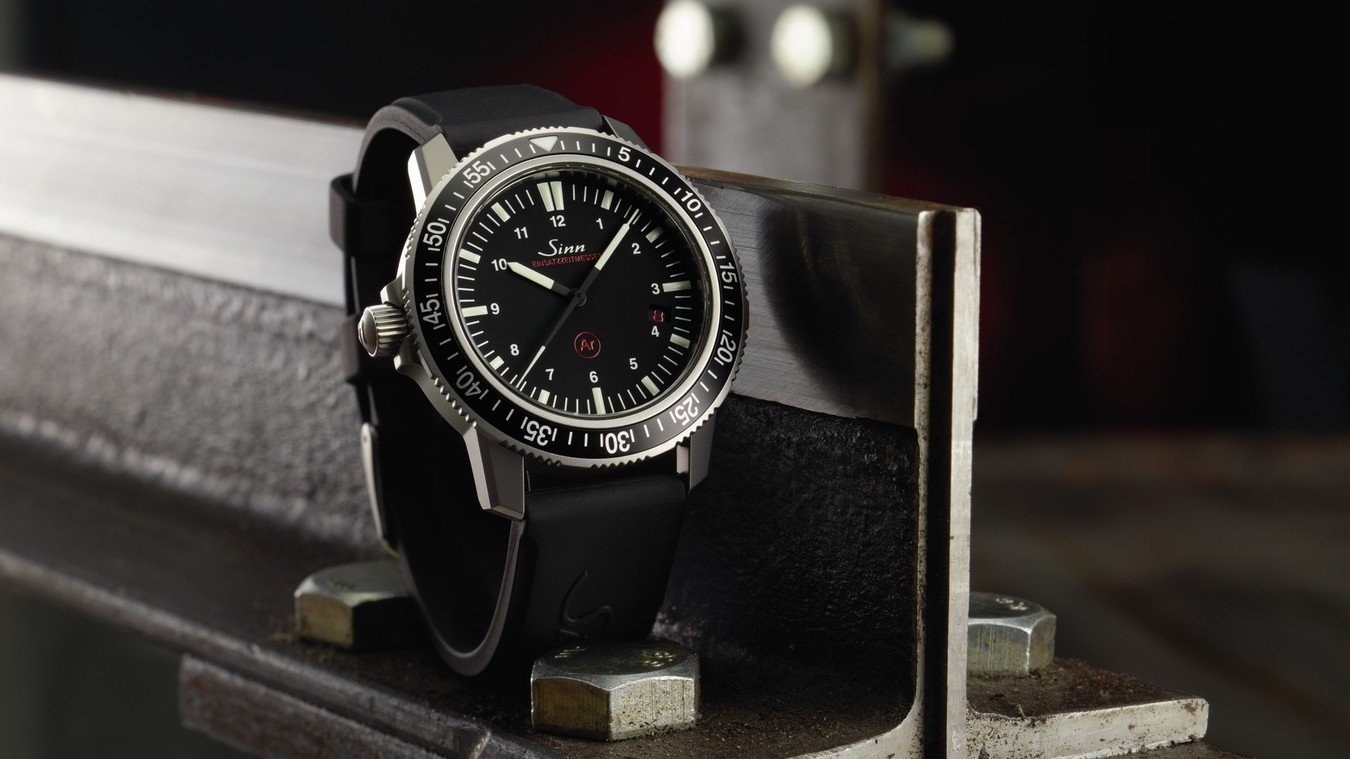 There's no seeing the movement here, the iron shielding prevents that. But this isn't a watch meant to be fawned over. This watch is meant to not stop ticking. The argon and humidity reduction, along with proprietary lubrication oils, allow for normal operation in extreme temperatures and swift temperature changes, no problem. So, jumping out of a plane at the upper reaches of the atmosphere to parachute into the Mojave desert is no issue. Nor is jumping out of the sauna into the snow. And that's what it's here for.
This Sexy Sinn Wants To Rock Your World
You could wear this watch as a desk diver. You could wear cross-country skis into the office as well. The point I'm making is that it would be wildly inappropriate. This watch needs an adventurer companion, be it for work or pleasure. If the Sinn EZM 3 is for you, offices are uncomfortable spaces that you navigate only when necessary. Your natural habitat is the wild.
If you've ever worn a squirrel suit, the EZM 3 is your tool.
You are the sort of person that travels light with minimum gear that is reliable, functional, and versatile. If you can pack one (perhaps large) bag for a trip from the Dead Sea to Mt. Everest, the EZM 3 is for you. You get strange looks when you talk about what you do for fun. If you've ever worn a squirrel suit, the EZM 3 is your tool. You may or may not be the sort of person that can't talk about their work. If you've boarded a vessel at night, or clandestinely crossed national borders, we're not asking you to say so, but the Sinn EZM 3 may have been the ideal watch on your wrist.
I can hear the GADA Guardians already. "How can such a tool ever hope to pass at a formal dinner? It can't go anywhere!" Well, it can, if the wearer doesn't give a damn about formal dress. Especially if they're there for work with an earpiece in and shades on. But let me refer to the "what you do for fun" part. Formal dinners, like offices, are for other people. The Sinn EZM 3 is not for them.
The Dating Game (Herzblatt?)
So there we have it, folks. Three very different watches, for three very different people, all very German (the watches, that is). I'm not saying any of these three are the best fit for you. I'm not saying you have to be a certain way to enjoy and own these watches (except the EZM 3); this was all for fun and fantasy, as watches should be. Regardless, you do get to make a choice. So which will it be? The steady Stowa, the lonely Lange, or sexy Sinn?
Bonus Round Bauhaus!
Look, you're the sort of person that doesn't like being pigeon-holed. You might like these watches, but not the descriptions of their wearers. I get it. You're a pragmatist. You, my friend, are the ideal wearer of the Nomos Glashütte Tangente Reference 101.
I would be remiss to feature a handful of German pseudo-GADAs without a representative from the Bauhaus school of design. The Nomos Glashütte Tangente Reference 101 is an excellent nominee, one that has existed in one form or another for half a century. A striking design in 35mm diameter stainless steel, this unisex watch is not so much diminutive as it is minimal. The blue hands are just the right touch of wild to offset the sobriety of the white dial with black alternating Arabic numerals. The elegant and, again, minimal, in-house "Alpha" caliber powers those hands, requiring hand-winding every two days, the precisely correct frequency for the reserved German watch aficionado.
The 3 bar water resistance might be an issue for achieving GADA status, but a pragmatist recognizes the foolishness of attempting to force a one-size-fits-all for all aspects of life, and besides, the smartphone is always on hand (figuratively, not literally). The Tangente is adequate for work and social engagements. Working out and swimming don't need a watch. Therefore, for the pragmatist, the Reference 101 is a GADA, in that it isn't expected to go everywhere. It tells the time in a refined package with design pedigree. A practical watch (especially at the sensible price of $1,900) for practical people.
Auf Wiedersehen
If none of these four watches at least pique your interest, you may be as stoic as a stereotypical German, but decidedly not German. Any of these four watches are excellent in their own right, fulfilling specific needs of imagined ideal owners. Together, they present a solid spread of German watchmaking, if I may say so myself. All that's missing is a Flieger.