Watch Strap Review 48 — Porsche 356 Watch Strap by GLC
A small piece of an iconic car gets a new lease on life – around your wrist
This is the third time GLC Straps releases a strap made of vintage car seat leather. I've had the pleasure of reviewing their Porsche 928 and Mercedes 190 SL limited editions in the past. Still, I was just as excited to open this parcel as I was the first time. Why? Because the leather they used for their latest limited edition came from an exceptional car, the iconic Porsche 356.
Another first regarding this project is that GLC Strap produced a rally-style version and a plan vintage style strap. So those of you who are not a fan of perforated straps, don't worry; GLC has something in store for you as well.
Porsche 356
Let's talk a bit about the Porsche 356. The car had a relatively long production span. It ran from 1948 to 1965, and a little over 76,000 vehicles came off the assembly line. Porsche produced four versions of the model– five if we consider the 530, a concept car based on the 356.
Like a true Porsche, the 356 was a rear-engine, rear while drive, light 2-door vehicle that one could order as a hardtop or open coupé. As an interesting side note, the first-ever Porsche Carrera was also a 356 made for a Porsche engineer.
The car was a great success among everyday people and celebrities. Janis Joplin's famously hand-painted Porsche was a 356 C, but contemporary celebrities like singer Adam Levine or actor/racecar driver Patrick Dempsey also own one. Like German rally legend Walter Röhrl who has a custom Porsche 356 with a 911 turbo engine inside.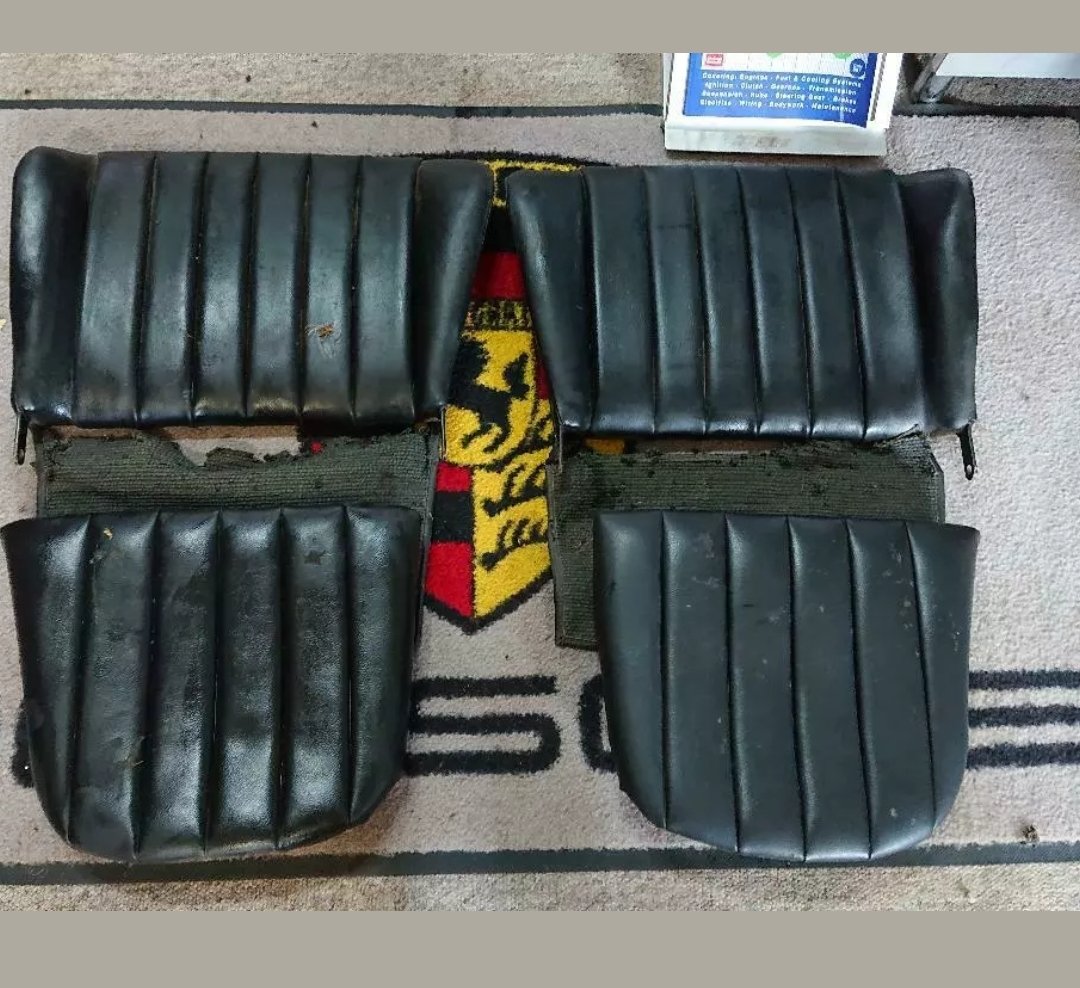 GLC Straps
The Italian strap atelier's first vintage car seat leather strap also came from a Porsche. It was a much younger and a different car than the 356, namely the Porsche 928. GLC produced 30 pieces of the 928 strap that also came with perforated rally-style holes. Just two years later, the company struck again. This time the designers worked with another iconic german car, the Mercedes-Benz 190 SL — a vintage classic.
Thirty pieces again in a bright red color. Finally, we arrive in 2021. Another two years have passed, and in true GLC Straps fashion, a third limited series is here, but this time in a much higher number. We have two styles of straps and 80 pieces each for €90. Whether that's expensive or not is a subjective matter. I'd say it's a fair price for what you are getting.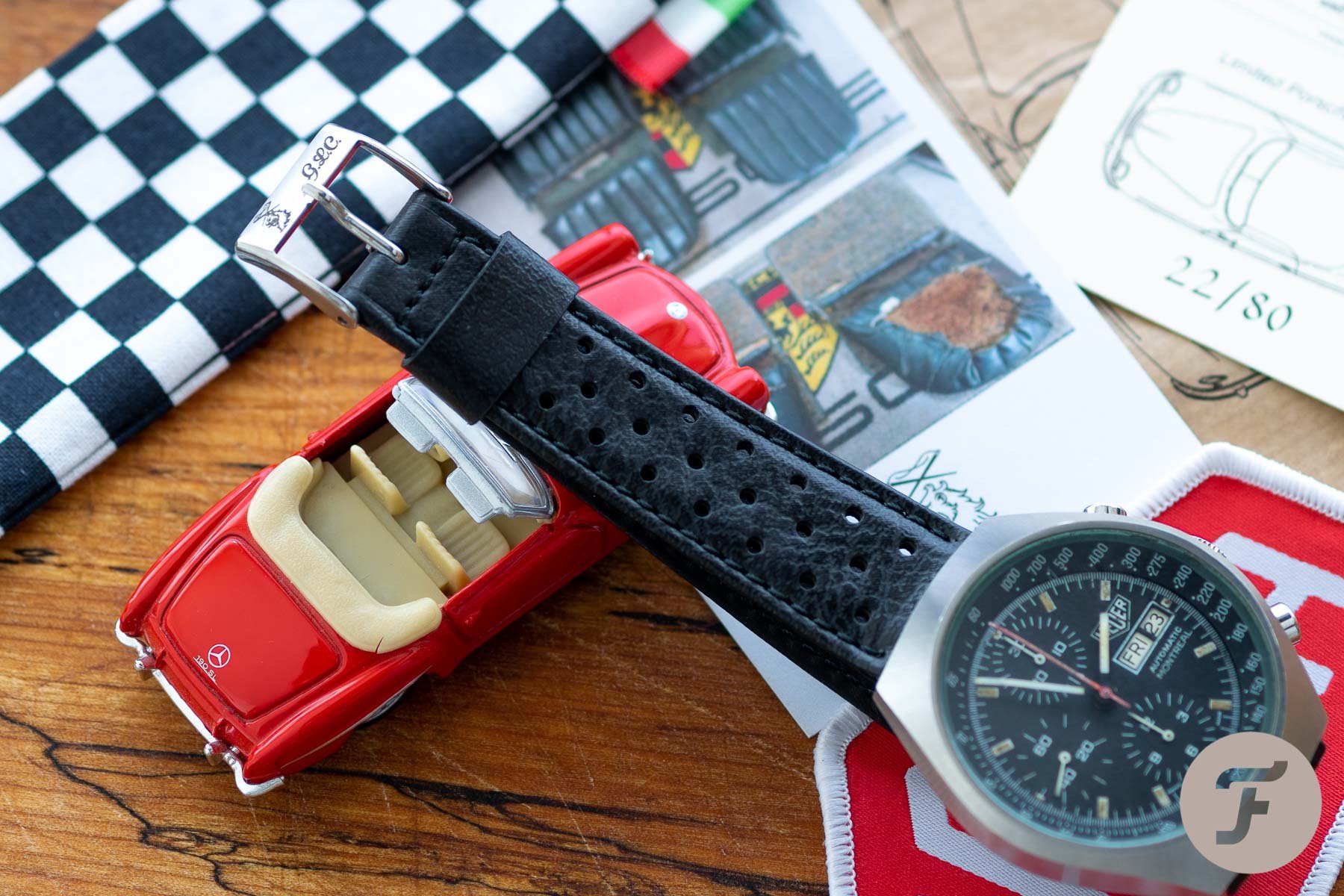 Racing
The Porsche's seat was covered with black leather. Consequently, the GLC Porsche 356 Racing comes in a deep black color. While the surface has a minimal pattern when on the wrist, this is barely visible. The overall design resembles those vintage rally-style corfam straps you could see on Omega or Heuer chronographs from the 70s. As far as the measurements go, we have the classic 20/16mm lug end/buckle end size with a 75/120mm overall strap length.
At 3.2mm, the strap is not unusually thick; another trademark GLC took from the vintage counterparts. I love the overall size and thickness; it makes it easy to put the GLC Porsche 356 strap on pretty much any 20mm watch regardless of the lug length. The strap is soft and flexible due to the leather's characteristics, with no need for an additional break-in period. GLC offers the Racing in 19-20mm with a steel or gold buckle.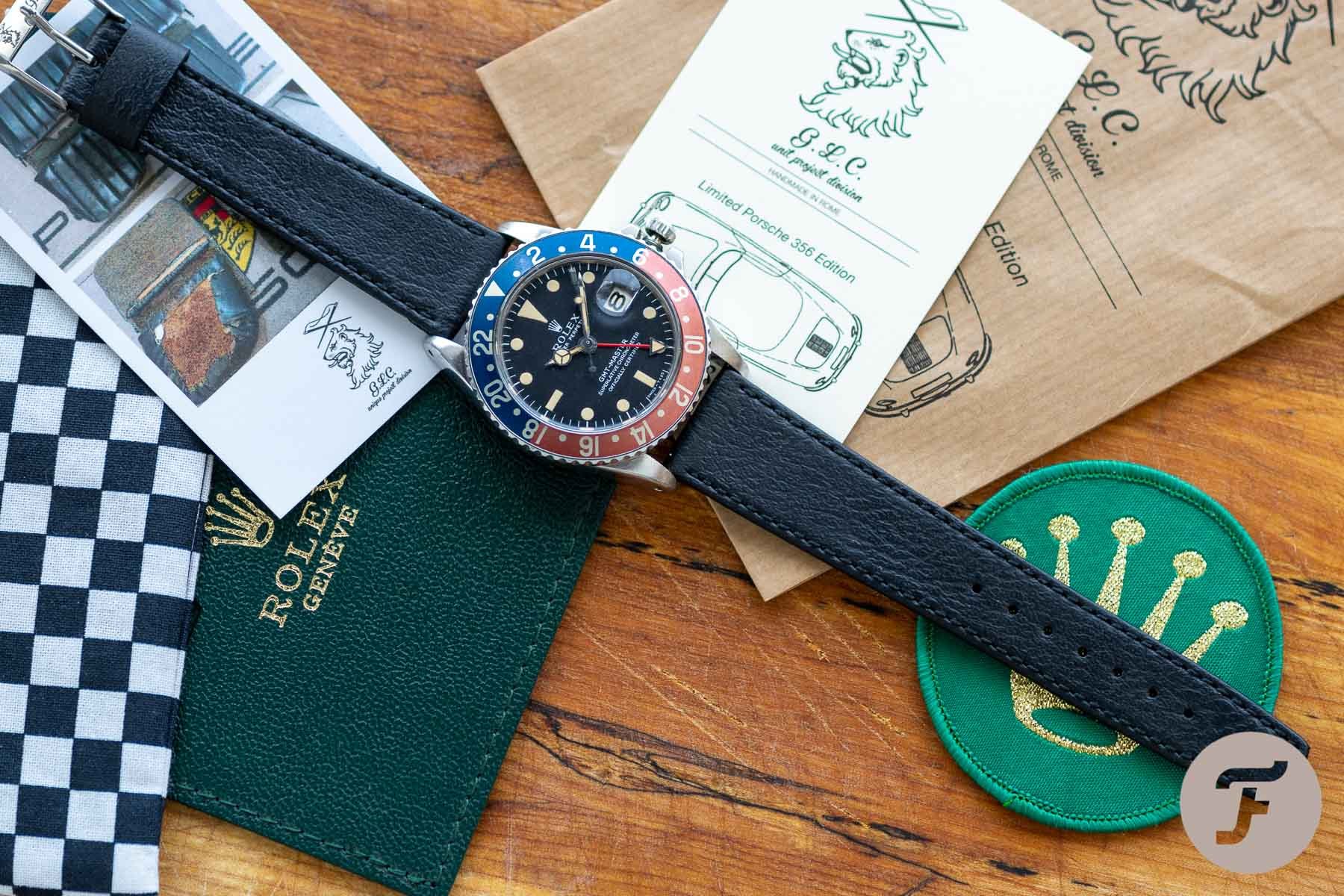 Regular
I have a few NOS Omega, Zenith, and Certina leather straps in my collection from the '60s. If GLC intended to replicate those straps with the Porsche 356 Regular model, they did a good job. Not only the leather but the shape also resembles those types of straps. I love how thin this one is, at only 2.3mm. While the other measurements (length, available lug width) are the same as the Racing, there is one small change.
The Regular Porsche 356 has a flat strap end; the Racing is pointy so that one is a few millimeters longer. We see GLC's signature single, wide strap keeper and the same steel (or gold) GLC buckle and black stitching in both cases. One can recognize the faint leather pattern on the Regular strap. Just a subtle detail that adds to the strap's character.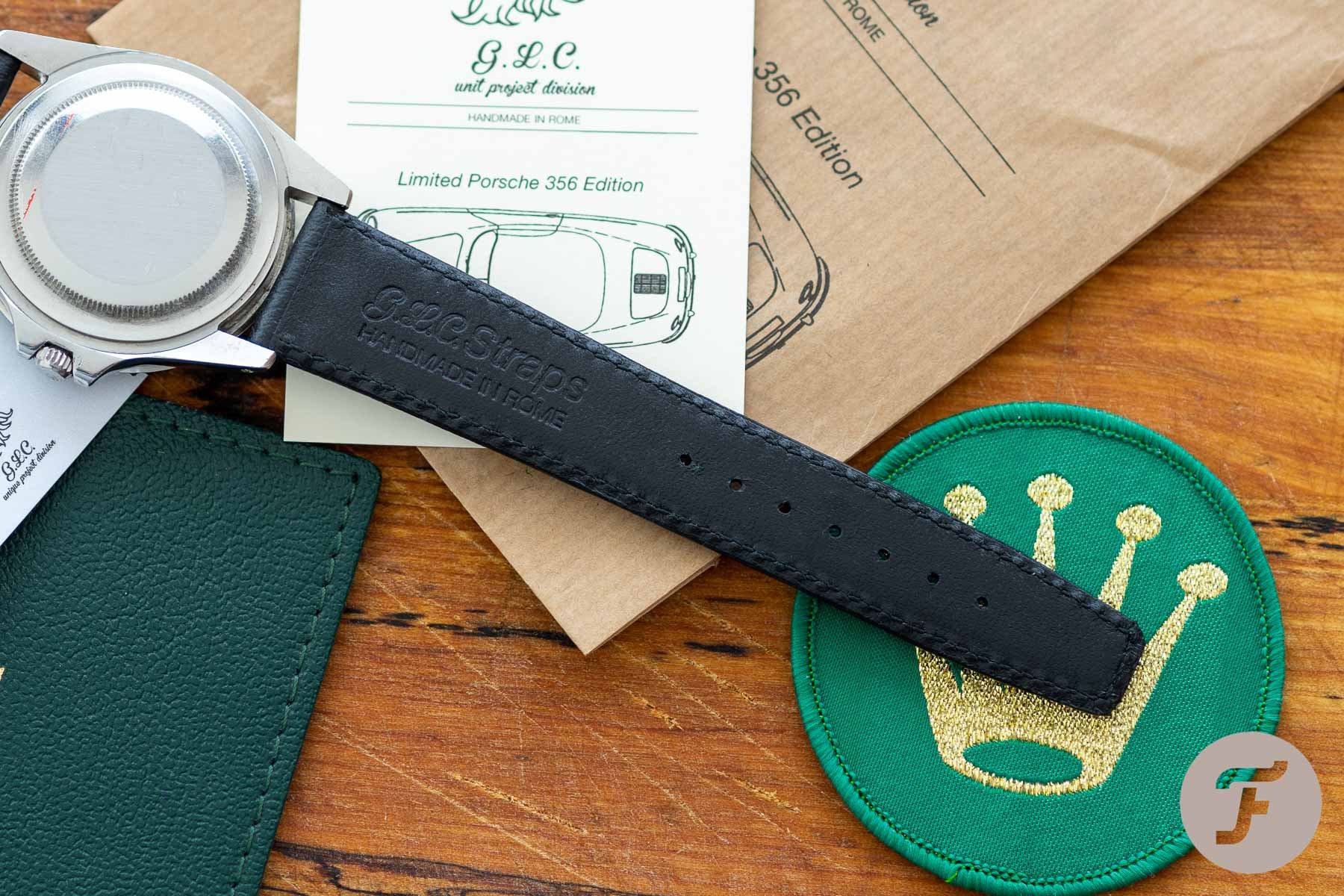 The rest
The significant difference between GLC's older vintage car straps and this one comes down to two crucial things, in my opinion: thickness and color. The previous straps were thick, and, while I loved them, the colors were less neutral. The Porsche 356 straps, on the other hand, have thin profiles and a beautiful deep black color. These details allow them to be easily usable on most timepieces, be they vintage or new.
You receive the straps in a checkered pouch with two cards. One holds the limited edition number XX/80. The other shows you the original seats as GLC got them. Whether you are looking for a strap for yourself or some else, preferably a petrol head, this Porsche 356 Limited Edition strap is something you should consider.