Watch Strap Review 52 — Revisiting FinWatchStraps
From Finland with love (the sequel)
We continue our stroll on memory lane and take a closer look at some of our Watch Strap Review alumni and what they are up to these days. Last month it was Delugs from Singapore. This time, we received a few straps from our friends in Finland, FinWatchStraps.
It's been almost exactly two years since we reviewed them for the first time. Since then, as you might have expected, many things have changed with FinWatchStraps. While in the first article, the leathers mainly were suede, Nordic reindeer, or Swiss ammo, this time, we have a smorgasbord of exotic leather straps for you. So, let's tuck right in.
FinWatchStraps
I was delighted to find FinWatchStraps back in 2019. I'd never seen any ateliers coming from Finland before. Even back then, it blew me away to see how seriously they took this business. Virtually everything you ever wanted to know about your strap (and then some), is on the brand's website. FinWatchStraps primary focus is watchstraps, but you can get watch rolls, belts, and other accessories from these guys. The leather options, the styles of products, and the price ranges mean a multitude of choices for the customer. In today's article, we will look at an alligator strap, one made of ostrich leg, another made of lizard, and finally one made reindeer. So without further ado, let's see what FinWatchStraps has to offer.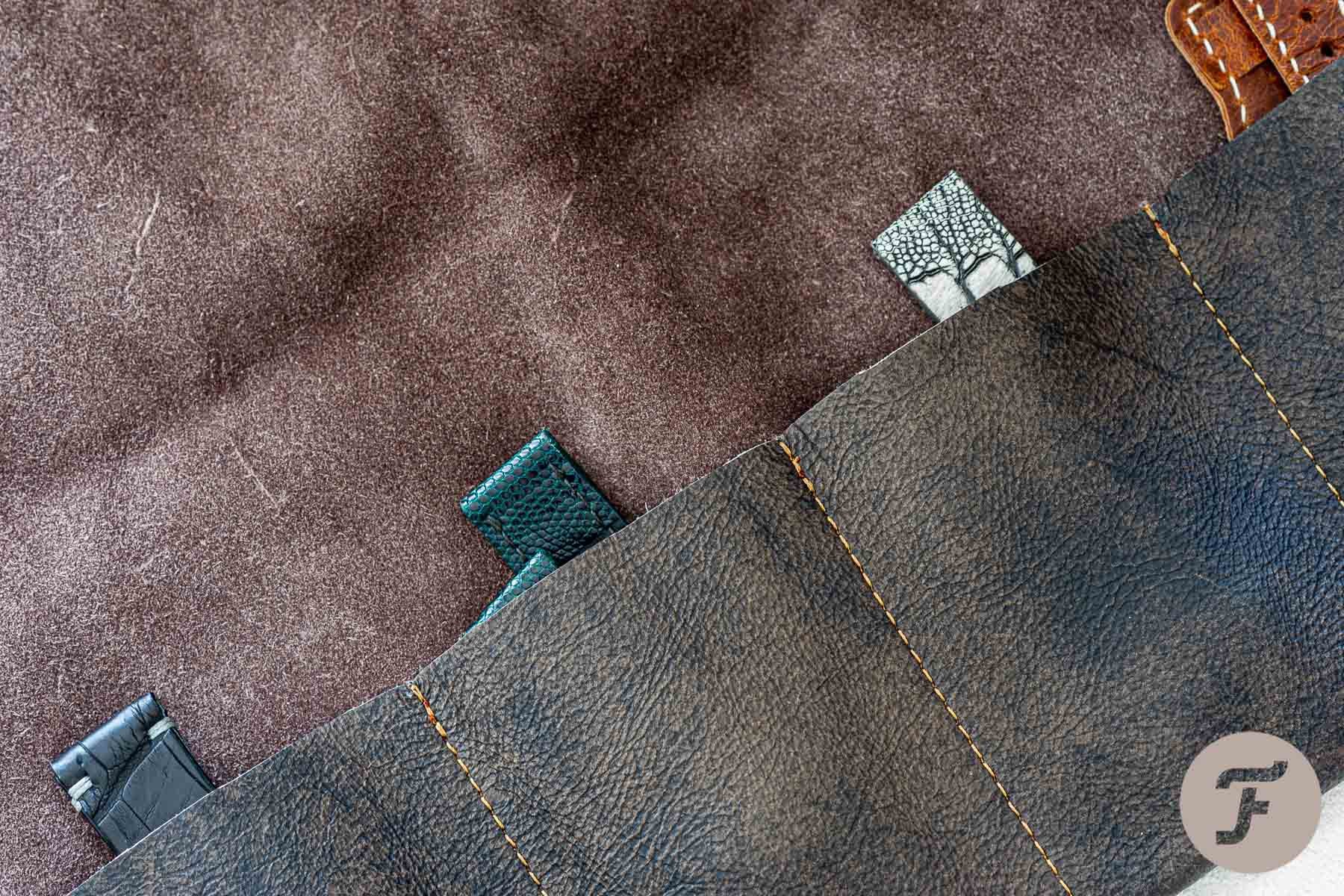 Alligator watch strap
If you are a fan of tapered straps, you might as well stop reading this article right now. You won't see any of that sort of stuff in this write-up. The first product I got from FinWatchStraps is their 20mm black alligator leather strap with side stitching. Again, the brand has quite an extensive text on its site about each strap, which you are welcome to check out.
Despite the 20/20mm size, the strap is super thin at only 2.2mm. This makes it flexible and easy to wear right off the bat. Interestingly, this is true across all materials offered by FinWatch Straps. Normally, alligator or croc straps often need a few days (even weeks, sometimes), to take up the form of your wrist. I'm happy to say that this is not the case here.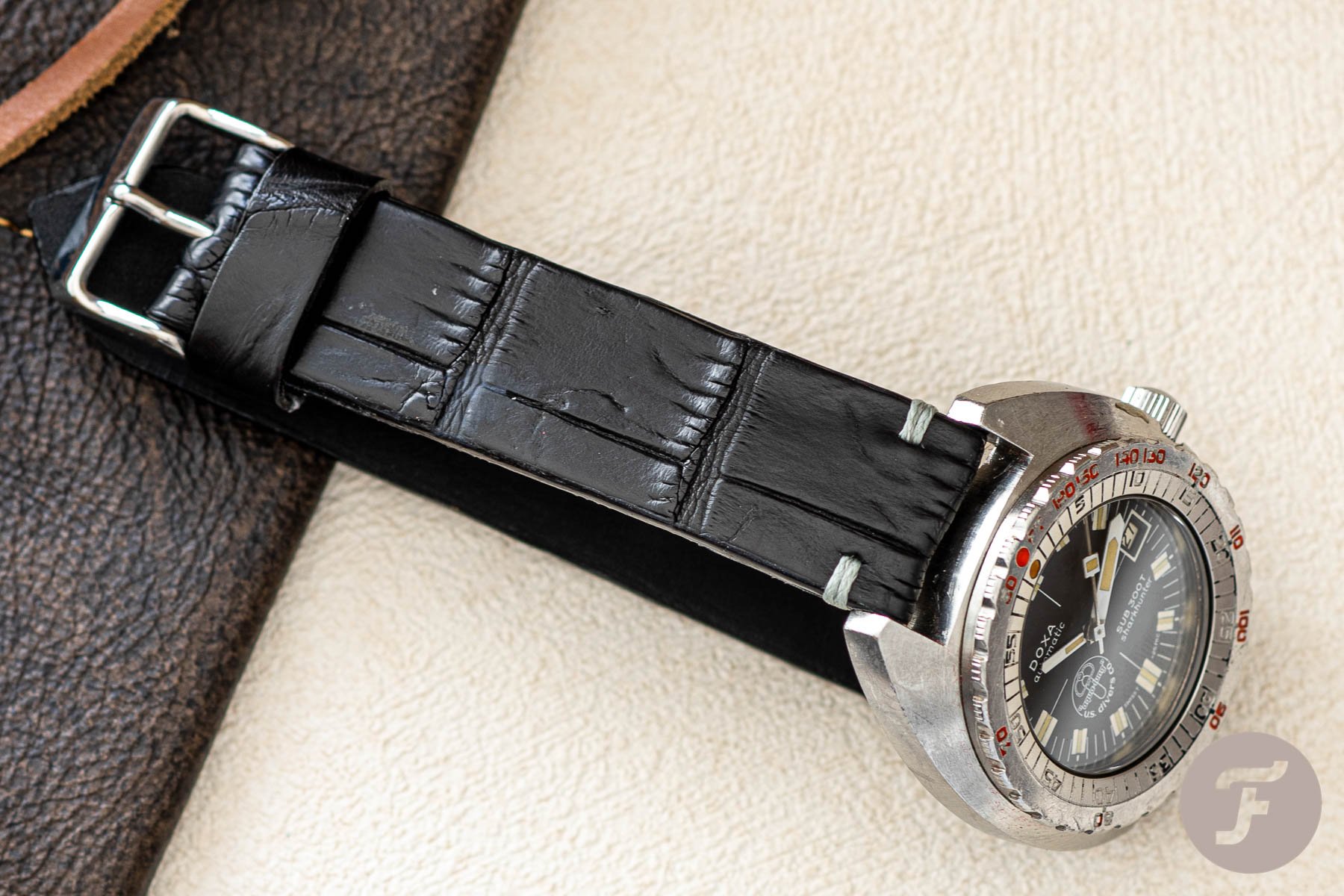 I got a medium size strap which is 125/80mm but of course, the sizes run from XXS (yes, two Xs) to large or even into custom sizes where necessary. My choice for the alligator strap was the vintage Doxa Sub 300T Sharkhunter. Technically this is the worst choice as this is not a water-resistant strap. Though I doubt my ancient Doxa is water-resistant, I otherwise liked their alligator's look with the vintage diving case and black dial. As far as the price is concerned, you are looking at a little over €220 (not a budget price). However, when it comes to exotic straps, you rarely shop for a bargain. Not to mention that the leather comes from an Italian tannery with EU certification. All in all, this is a lovely and somewhat classy strap, even on the toughest watch in your collection.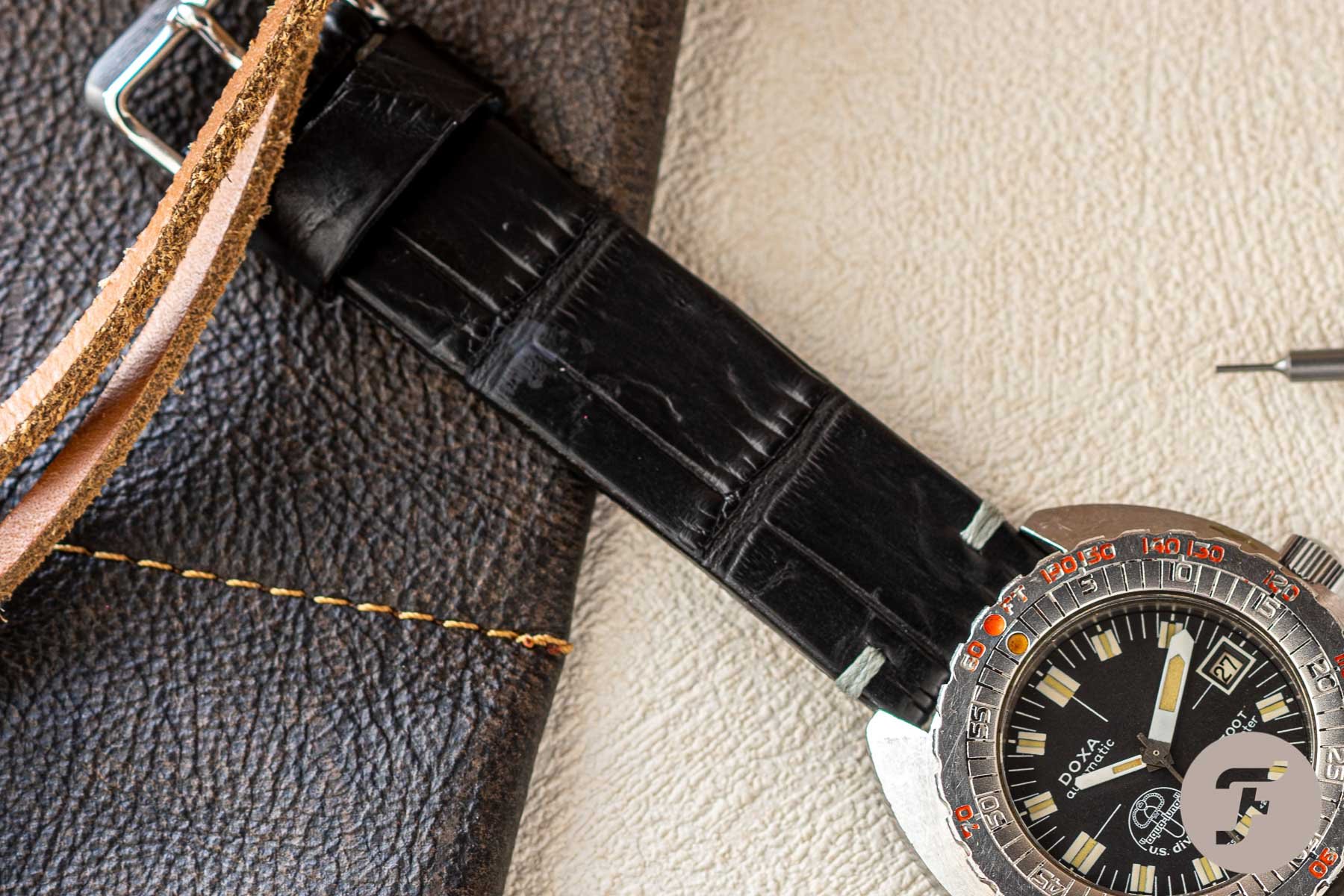 Ostrich leg
The ostrich leg strap is not for the faint-hearted. Of all the straps that FinWatchStraos sent me, this is the one that stands out the most visually, in my opinion. Granted, ostrich leg straps are super sturdy, and they have a unique pattern that makes them stand out. Just like above, this is also a 20/20mm strap, basically the same form as the alligator. The thinnest part towards the tip is about 2.3mm the thickest close to the lug end is 3.8mm. Yet, the difference is nuanced and hardly recognizable.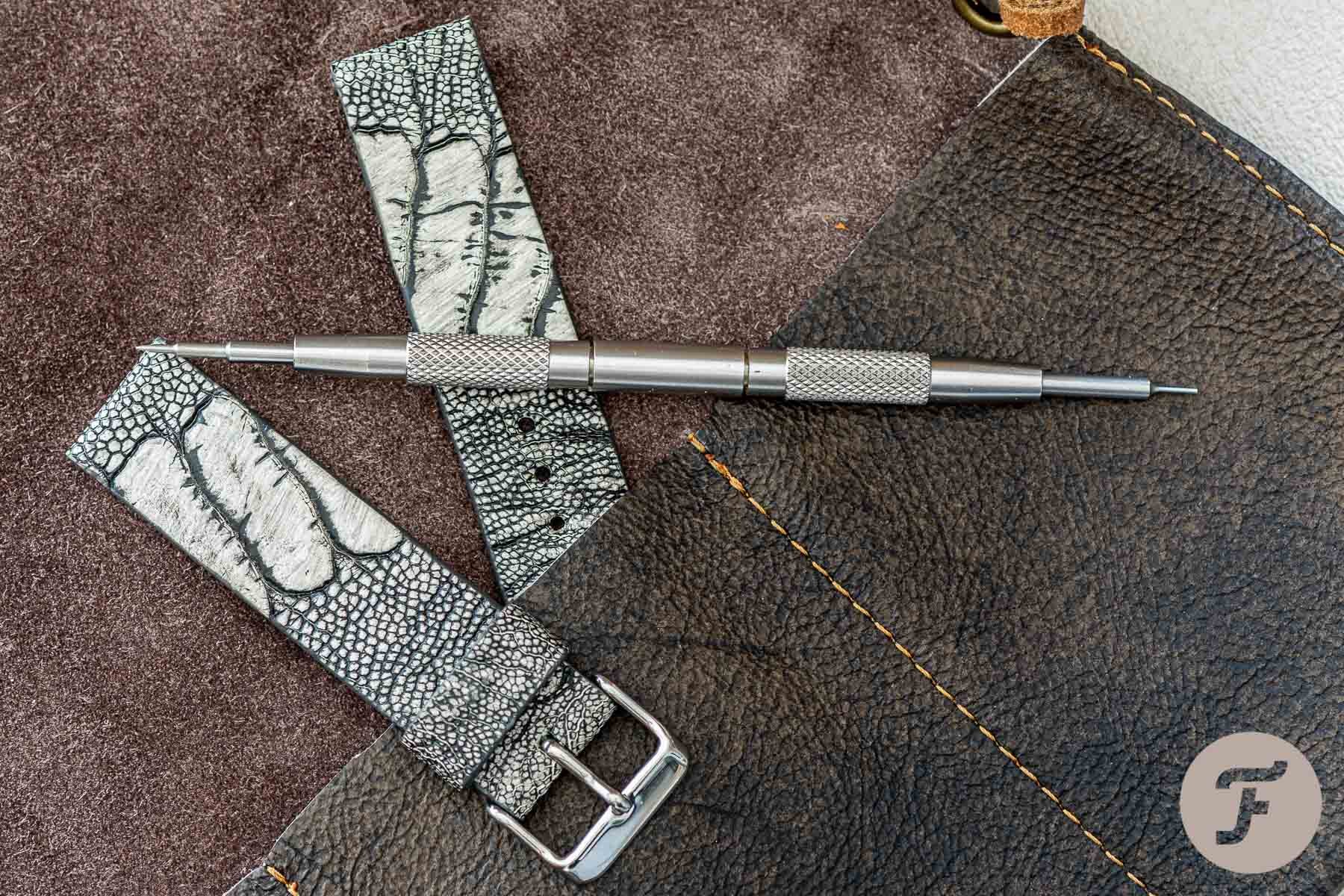 I should mention that every strap I got came on a steel buckle and had smooth painted edges. I had trouble pairing this strap with a watch as I'm not usually this bold. Besides, FinWatchStraps have some fantastic shots of this on a Speedy, which I could never recreate. Another subject I should clear up is tapering. While none of my straps came tapered, the company can do that; it is actually on their site. So do not worry if you are a fan of slimming straps; you can get yourself sorted out as well. Price-wise we are looking at a hair over €200.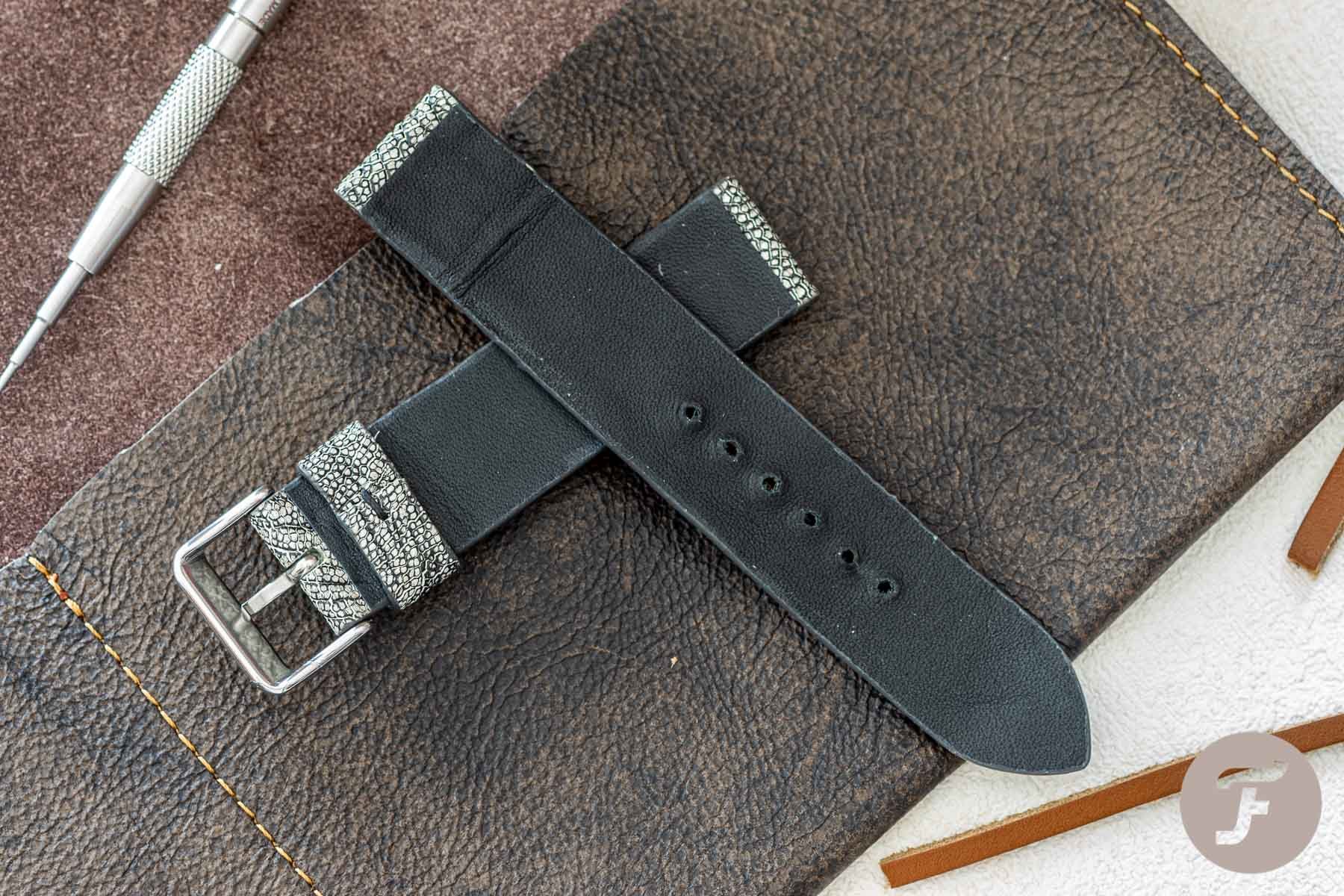 Lizard leather
Like many, I'm a fan of leather straps that don't come in the usual black or brown color. Not that anything is wrong with those more traditional shades, but from time to time, you might want to shake things up a little bit. How about a dark green strap? And if you're going green, why not go the whole hog? How about some lizard leather? Sounds interesting, right? Well, it really is…
Again, this strap comes in the same size and thickness (2.3mm) as before, and just like the previous two, this one is super easy to wear. What fascinates me, however, is the dark green color. From certain angles, it looks black; from others, it is an almost vivid green. This color change and the lizard pattern create a combination that I can't hate. I thought that my vintage Heuer would be the perfect watch for it. Especially with the tone-on-tone full stitching. You tell me what you think, but I think I did a good job. Just like the ostrich leg strap, the lizard leather is also a tad over €200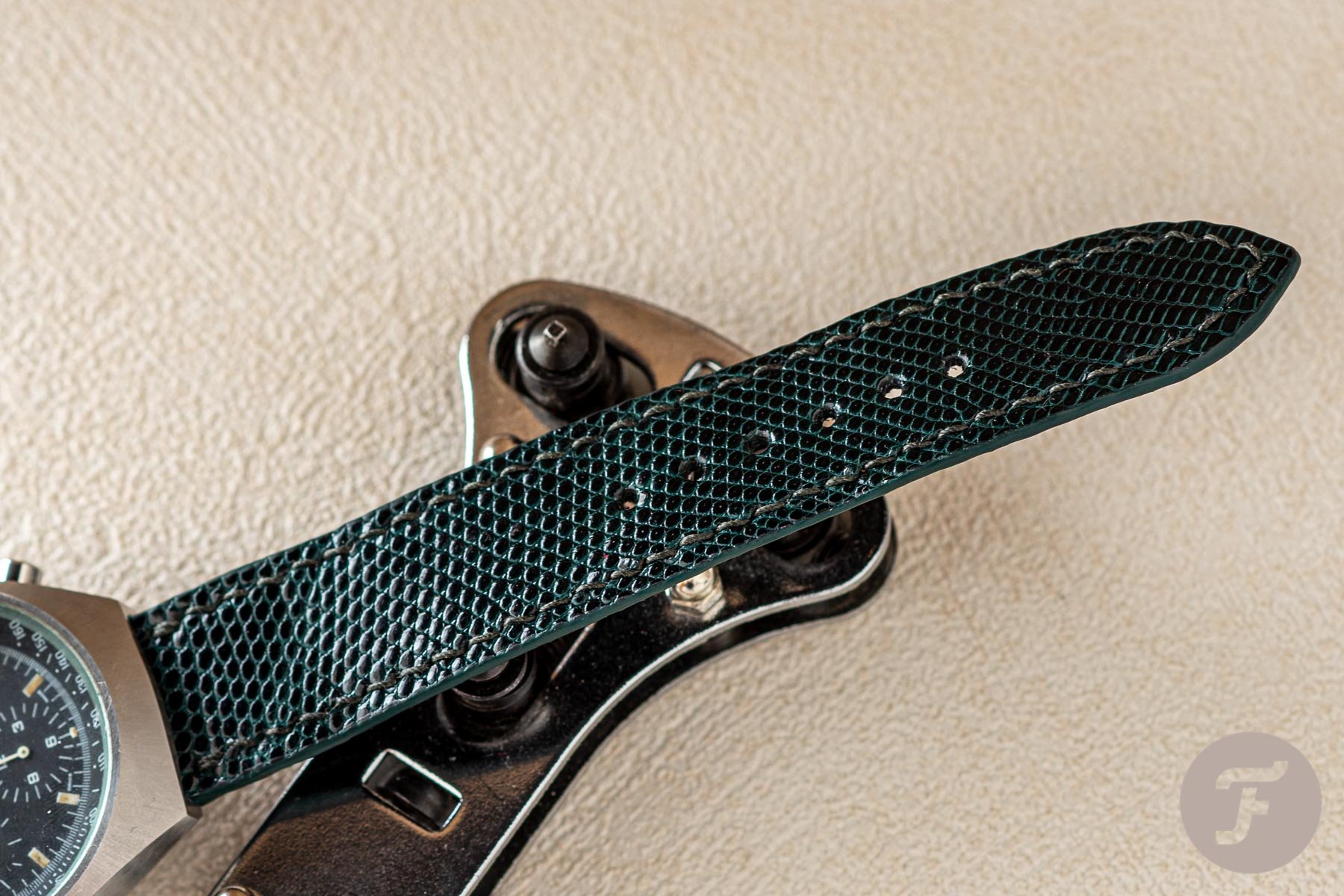 Bund-style reindeer
The only strap in the lot that came in 18mm was this exceptional bund-style reindeer strap. Now, we can argue about bund straps; some love them, others can't stand the look. It's a subjective thing and while I love how certain watches look on a bud strap, wearing one is not my thing. It has to do with my style, I guess. Once in a blue moon, however, I throw a watch on a bund and wear it for a few days.
I'm incredibly proud of this combo: the bund-style FinWatchStraps band and my vintage Lemania chronograph. Unfortunately, the reindeer strap "cracks" over time, developing a beautiful vintage patine on the strap's surface. For this, I suggest you try it with a vintage piece. Or why not be bold and throw it on a modern watch? This option is the priciest of all at €270. Yet, like every strap, you have an entirely handmade leather product from a fabric that is not your average €30 20/16mm run-of-the-mill strap.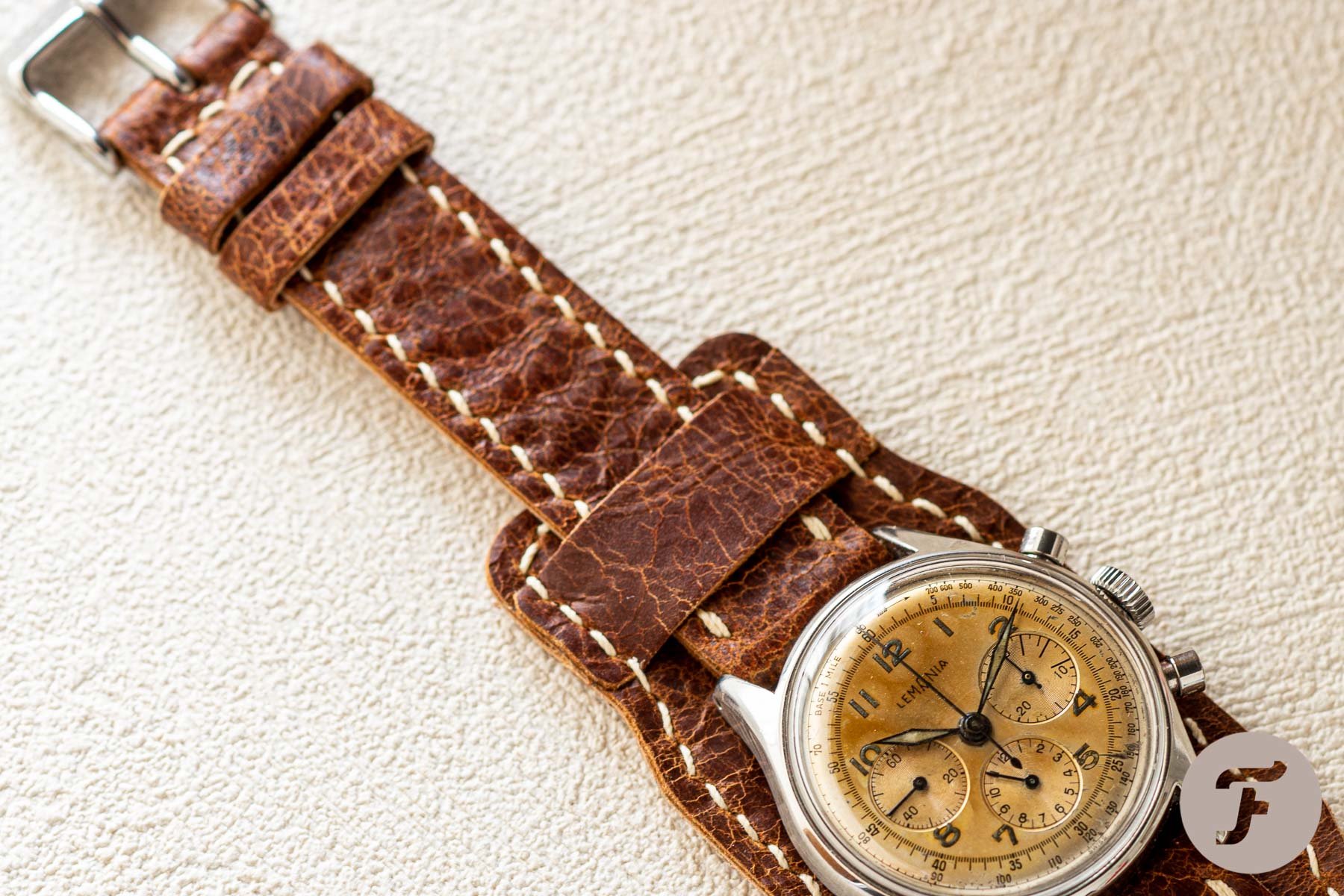 Watch roll
Finally, the straps came wrapped in a four-slot leather watch roll. Like many of you, I have quite a few rolls, but there's always room for one more. The pockets are 8×10cm allowing them to accommodate even larger pieces like a Panerai. FinWatchStraps offers you its rolls from one pocket (is that even a roll?) up to eight slots. Price will vary depending on how big the roll will be. This four-slot option comes in Italian calf leather and costs you €54.
If you fancy another color or leather, FinWatchStraps indeed has something in store for you. Just visit their site and pick the one you like. Every strap — well, every product basically — is fully customizable. If you have a special request reach out to them. They can only say no, right? I'm super happy to have been able to see their latest and greatest and can't wait to revisit the brand's store to complete a trilogy of reviews. And one last thing before I sign off: use the FR15 discount code for your next purchase and enjoy a little "gift" courtesy of  FinWatchStraps.