Watch Strap Review 70 — Straps For Fixed Lugs By GLC
Far from your typical one-piece NATO...
This month's edition of Watch Strap Review might be interesting for the vintage community but not so much for fans of modern timepieces. However, as I'm a vintage guy at heart and this is my column, I decided to write it anyway. Today, I'll review a few leather goodies that GLC Straps created for watches with "fixed lugs" — in other words, lugs that do not accommodate standard spring bars. Although other brands today might utilize these in their watches, the only one I could think of was Tudor with the Pelagos FXD.
Regardless, it's an excellent topic and useful for the vintage community. For all you fans of modern watches out there, I still hope that you'll enjoy the story.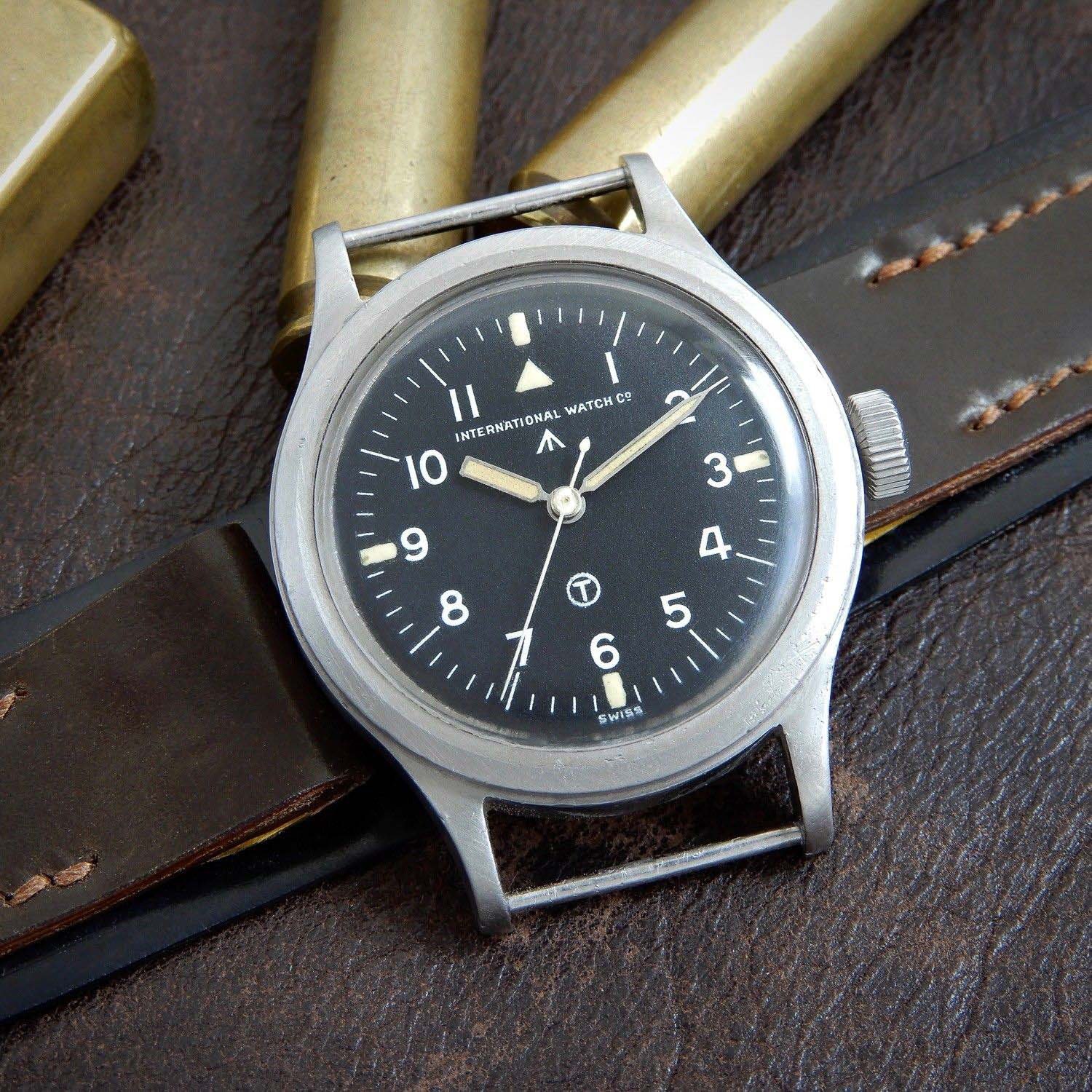 Fixed lugs/strap bars
Before we take a closer look at the straps, let's talk a bit about why they were created in the first place. If you are collecting vintage watches, I'm sure you have come across "fixed-lug" pieces in the past. Most normal watches, though, have lugs with holes drilled inside, and straps connect to these watches with spring bars that fit into the holes. Many vintage models, such as the pre-2000s Rolex GMT-Master (II) or Submariner, have completely drilled lug holes. In this case, the lugs are drilled to the point that you can access the spring bar from the outside.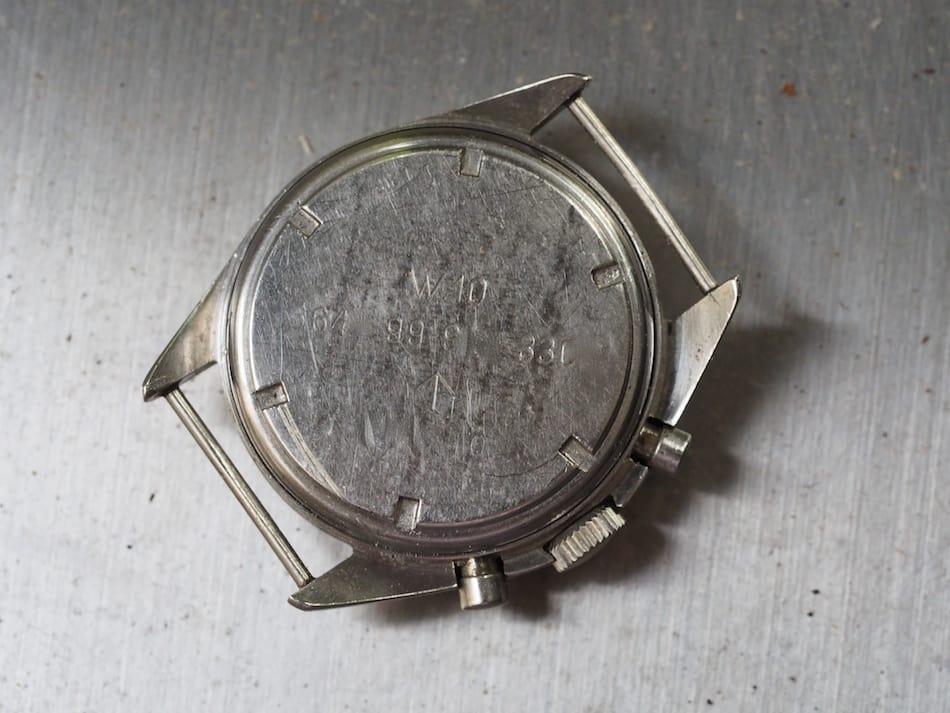 Back in the day, spring bars were not as sturdy as they are now. And in most cases, the only thing that keeps your precious timepiece on your wrist is the spring bar. So here is a pro tip: buy the best quality you can afford, not the cheapest set from Amazon. They tend to break, which sometimes results in the watch falling off the owner's wrist. Decades ago, watch brands that wanted to secure the watch to the wrist and eliminate this problem needed to securely affix the bars for the strap to the lugs themselves.
Military and more
One of the most apparent use cases was with military watches. I don't need to explain how crucial it was (and, to a certain degree, still is) to always have your military timepiece on your wrist. Jumping out of a plane, hopping through a fence, or doing any physical activity while wearing a watch with regular spring bars was not an option. Furthermore, fixed-lug military watches were often worn on nylon straps that wove under the strap bars. In a way, that's where the name and design of the NATO strap come from. Nylon is easier to clean, it can be replaced quickly, and it is more readily available on a military base than leather. So, when you see vintage military watches, chances are they feature lugs/strap bars of this type. However, you could find civilian watches with this feature. Just think of my Angelus 210 chronographs, for example.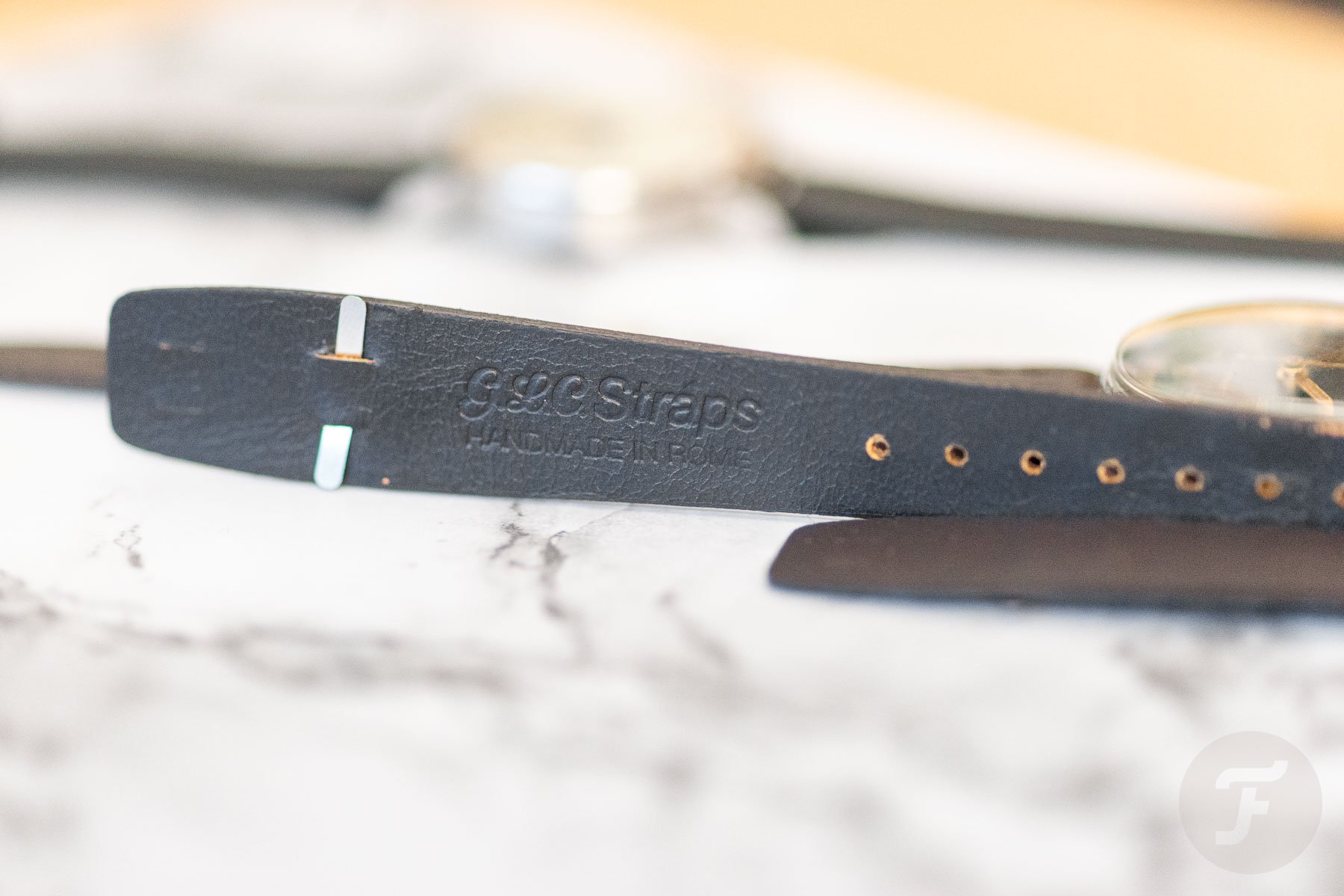 Leather instead of nylon
While nylon can be a great option, it has its disadvantages. Since you must weave it under the watch case, it often makes the timepiece feel bulky as it sits higher on your wrist. Also, if you wear it for a long period, the nylon can scratch the case, leaving a nasty mark on the back that's hard to get rid of. Lastly, nylon is not everyone's choice for vintage watches. I know it's not mine. I don't mind a NATO or Zulu-style strap on a military watch. But what if I want something classy? Luckily, some brands offer leather straps for fixed-lug watches. However, I must also mention that over the years, I have reviewed products from dozens of strap makers. Not many offer this strap type since it mostly interests a niche audience of vintage collectors.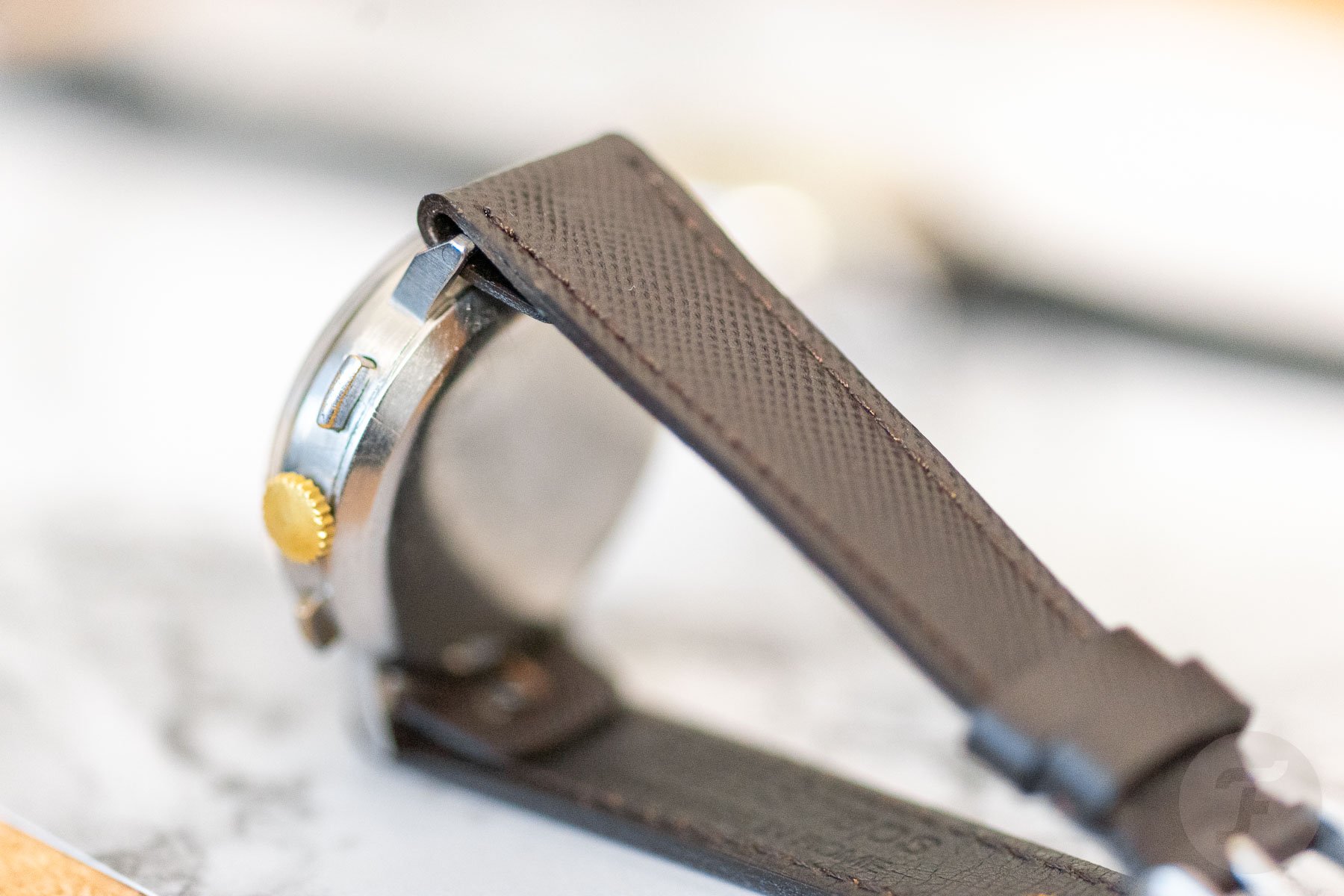 GLC Straps
This Rome-based company has made a good few appearances on Fratello in the past. GLC is especially famous for its Ripstop military straps. Aside from that and many other designs, GLC also offers straps for fixed lugs (or, more accurately, watches with fixed strap bars). I have two vintage Angelus timepieces with such a feature, so I needed something I could wear them on. One came on a Perlon strap, which is cool, I guess, but I was not too fond of the look. The other has a cheap hook strap. I also wasn't too happy with that. The difference between a hook strap and what GLC offers is simple. The end of the hook strap is a metal reinforcement, and it's curled back to the lining to create a hook, but it's open. You clip the strap to the fixed bars, and voilà.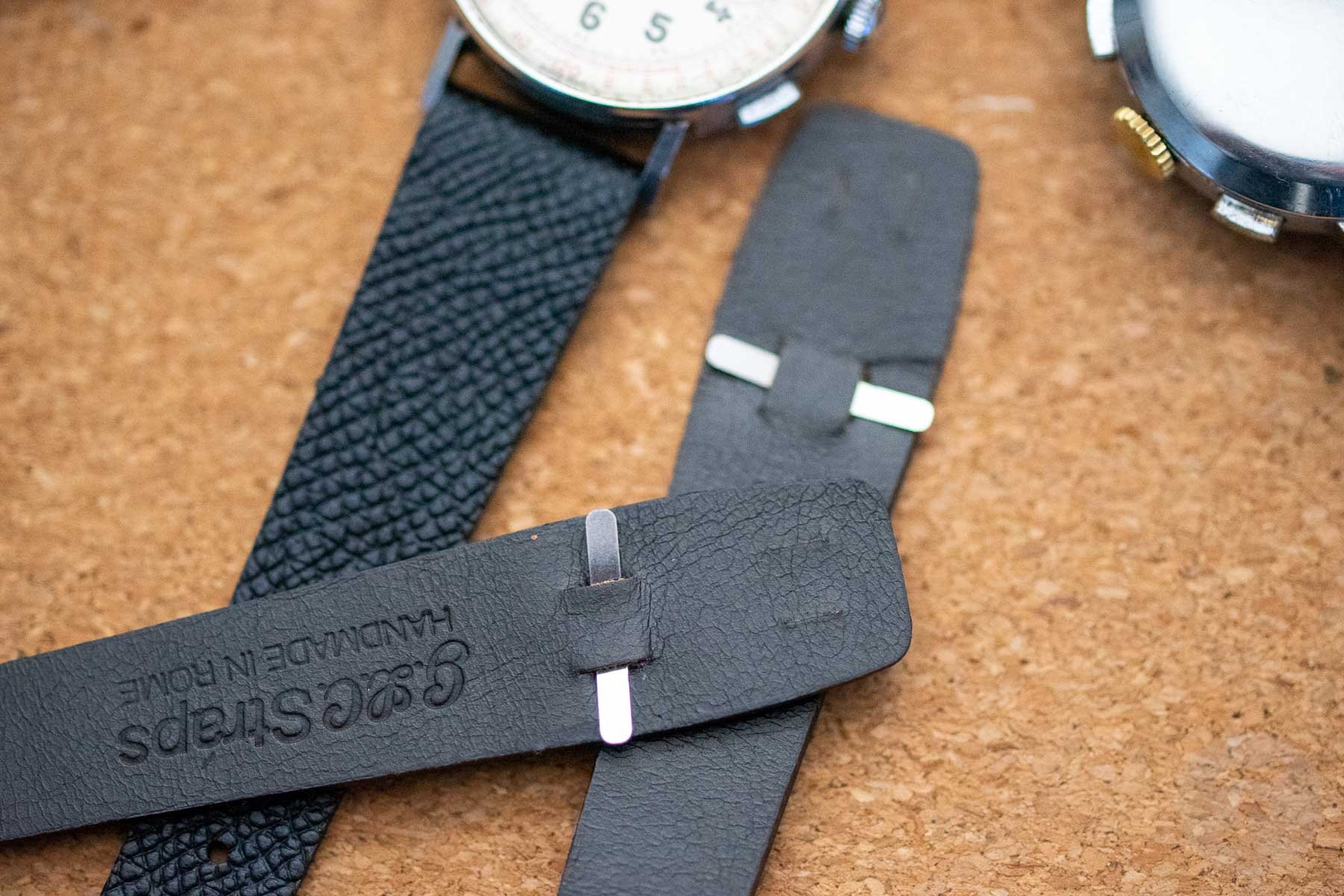 Yet, as the hook is open, it could come off the strap bar when you take the watch off, which has happened to me. GLC Straps offer a similar design with a different way to secure the strap. Here, the strap has a longer end that you lace through the strap bar and fold towards the lining. You can see two slits on the leather and an integrated metal flap in the lining. You push the metal flap through the slits and press it down. This way, the strap is secured and won't come off. It's as simple as that. There are similar solutions where, instead of the metal flap, there's adhesive on both sides of the strap. That works too, but once the glue is activated, you won't be able to remove the strap.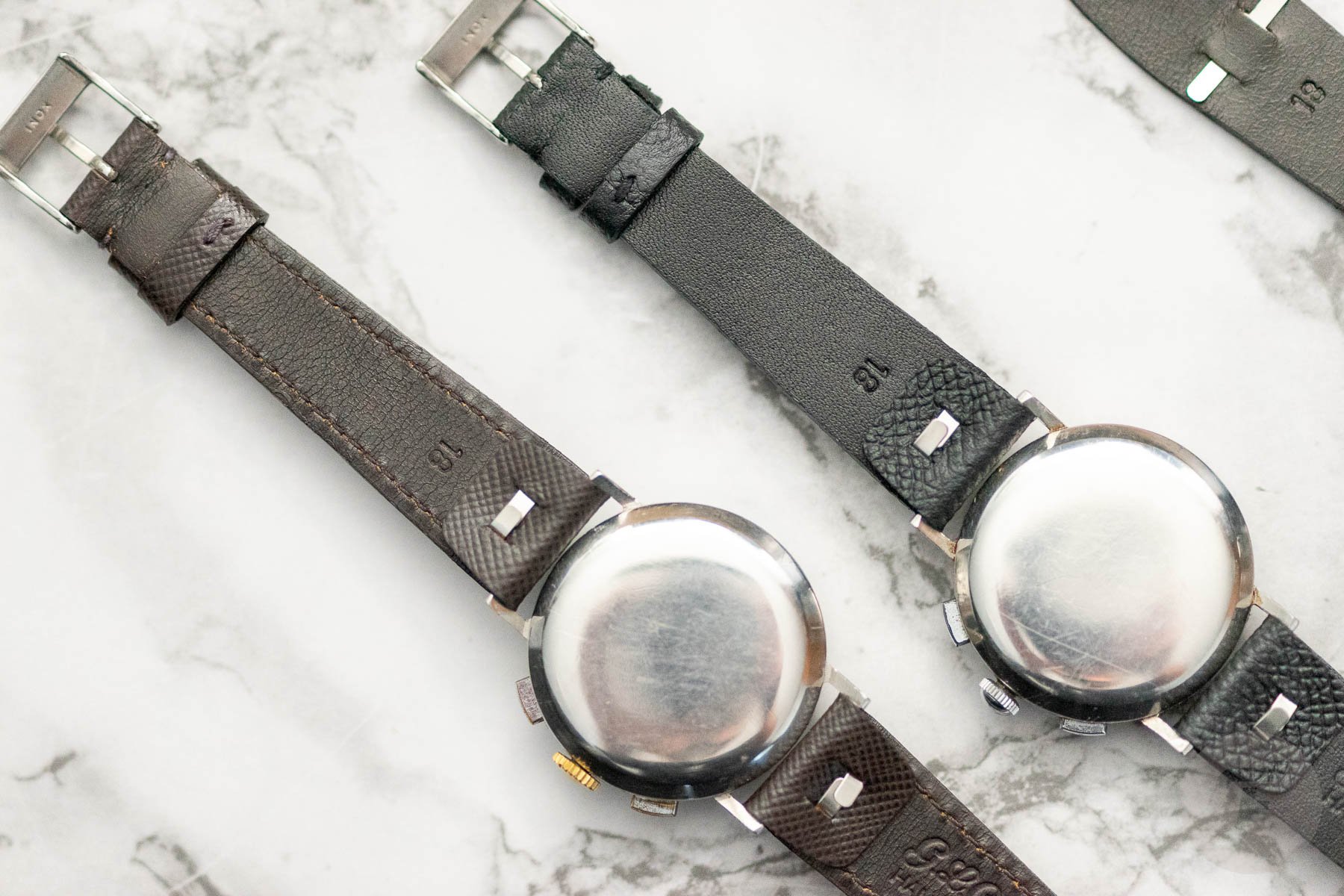 Classic design
I love a tapered strap, but my Angelus watches only have an 18mm lug spacing. GLC does offer these straps in numerous sizes, but my 18mm-lug-end straps taper to 14mm on the buckle end. I don't mind it as the watches themselves are small too. However, if you are not a fan of dramatically tapered straps, you might want to keep this in mind: at 1.8mm, the straps are super thin, which works for these watches but may not be to everyone's liking. As most watches with "fixed lugs" or strap bars watches are vintage, makers use more traditional-looking leather for these straps. GLC offers a variety of options from deer to Saffiano, ostrich, and many more. Depending on the leather, the price varies from €65 to €85 with your choice of a steel or gold-tone buckle. If you have a vintage (or modern) fixed-lug watch in your collection and are tired of wearing it on a leather or nylon NATO-style strap, I suggest trying GLC's offerings.
For more information, see GLC's full collection of these straps here.