The first edition of our Strap Review for November is here. Last month we reviewed Difues Leather from Belarus and I have to say that was a pretty popular article. As I have told you before I try to expand the Watch Strap Review family in terms of countries we feature. That will come from the next article on. Nevertheless this time we return to our favorite holiday destination; Italy. We have talked about our friends at GLC Strap before (you can find those articles here and here) and today we have yet another company. Colareb has a pretty wide selection of straps to offer from vintage leather to suede, ostrich and many other types. The most pleasant feature is their price/quality ration. The straps are very well priced and available in many different sizes. I received 4 straps in 4 colors from 2 different model families. So let's cut to the chase and check out our latest Watch Strap Review subject; Colareb.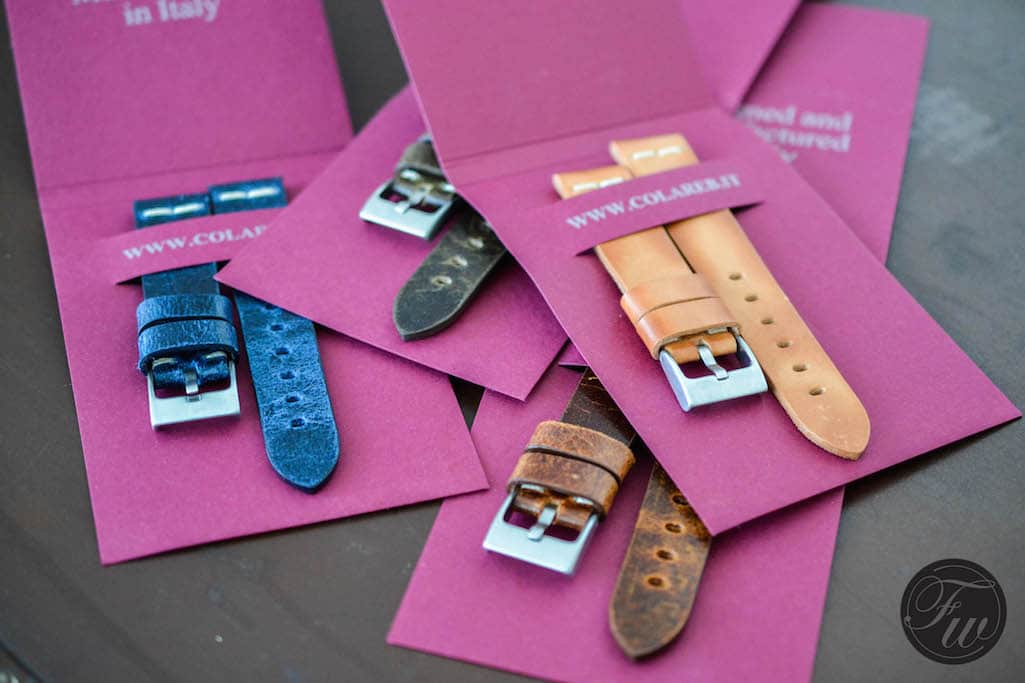 Colareb
The most model lines of Colareb are named after Italian cities, which I think is pretty cool and pays homage to the motherland. You have groups like Venezia, Siena, Spoleto, Amalfi and Roma all cities in central or northern Italy. Colareb works with the best Italian artisans and craftsmen for a long time. The company is over 20 years old but they only set up their site about 3 years ago.  The leather they work with is tanned exclusively in Italy where their products are designed and manufactured. Now let's look at the straps we have from them.
Amalfi
It was a long time ago when I last visited the Amalfi Coast but I have to stay it was one of the most pleasant trips for me in Italy. The bay is beautiful, the sea is crystal clear and the area is not too far from Rome if you want to drive down for a day trip. The strap bearing the same name, just like the city of Amalfi, is spotless, elegant and low-key yet excellent. It has a beautiful un-tanned natural color that's easy to pair up with any watch sporty or dressy, dark dialed or not. The leather is even but will develop a nice patina over time, the edges are not sharp but not painted or totally polished either the strap gives you a bit of a rugged feel. It sits comfortably on your wrist does not scratch the skin and like I mentioned before, it's soft enough to adapt to the shape of your wrist. The strap comes with a steel buckle however you can add a double sided deployant if you fancy those. One interesting details about the Amalfi and the Roma straps I received is that the free loop farther from the buckle is connected to the end of the strap with a little thread that run under the closer loop. This prevents them to slip down from the buckle end to the strap towards the center of it. The straps are only available in 2 sizes (20mm and 22mm) but for a very reasonable €47. Measure-wise you are looking at a 20/18mm straps instead of the usual 20/16 and with a pretty standard length of 12cm and 7.5cm. The thickness of the strap is around 3-4mm, nothing you should be worried about but not too nice under a certain watch case size in my opinion.
Roma
The second batch of straps is coming from Colareb's Roma collection. I received 3 different colors of blue, brown and black. The exciting factor is the original color; when I received the straps they all had a dark tone but as I twisted the strap a bit the color became lighter, uneven and the leather showed a beautiful wrinkled patina. So don't be afraid to order the blue one since with time or a little treatment, as you can see it below, that dark color will quickly becomes light blue like the Mediterranean Sea. This of course stands for the other 2 colors as well. Other than this feature these strap are pretty much the same as the Amalfi. The size of the buckle, the length of the straps the width on the watch-end and buckle-end, the thickness, everything matches with the Amalfi straps'. The leather on the Roma is not as smooth or as even but this is the reason of the vintage effect of course. I'd suggest using these straps mostly on vintage watches; they would look just brilliant on a 60's Speedmaster, an early Autavia or a 5513 Sub. The price is a bit higher than the aforementioned one but at a friendly €57 it is still fine for the quality you are getting. The leather is just as soft as it needs to be with the edges being curved only a little bit not to mess with your skin. I loved the sturdy but comfortable feel of these straps, they might seem stiff when you hold them but trust me they look great on a watch and have a lovely wrist presence.
I think it is safe to say that Colareb has one of the best price/value ratio among the different brands we have looked at in Watch Strap Review. The straps they produce do not go the extreme in terms of fabrics, colors or sizes but provide a very even and wide range of products. Vintage watches as well as modern pieces can be paired with them if you are looking for a different style for your prized possession. Also, keep in mind that all of these designs, the leather tannings as well as the production of the straps take place in Italy, which is proudly advertised on the back of the strap. Other than straps they produce a number of other accessories including different types of watchcases and watch rolls should you need something to carry your timepieces around. You can check out their selection on their site (which you can find here) but like and follow them on Facebook, Pinterest, YouTube, Instagram and Tumblr. I already do, and for a reason.
Please check their site for more info and their online shop here.
Balázs joined Fratello Watches in 2014 and he has been a fan of watches as long as he can remember. His passion for watches really took off in 2007 when he purchased his first fine Swiss timepiece. From 2007 up to recently, he was also an active and involved member of a number of on-line watch communities. Balázs has a weak spot for vintage Omega watches and vintage watches in general.
Latest posts by Balázs Ferenczi (see all)