Watch Strap Review Part 8. – Introducing: ABP
This June edition of Watch Strap Review will add yet another country to the already long lists of international strap creators. The company I will talk about today has been in the "leather business" for quite some time now. Our very own Gerard, RJ and Bert paid a visit to them a few years ago in Paris. Our paths crossed earlier this year when Yann and me were involved in a correspondence regarding some other issues. I asked him if he would be interested in a review and he said yes. We met personally in Basel during the BaselWorld exhibition this year.  Later that month the FedEx guy brought me a little something from them. As I said it before, they are based in Paris, France and they are: Atelier du Bracelet Parisien (ABP).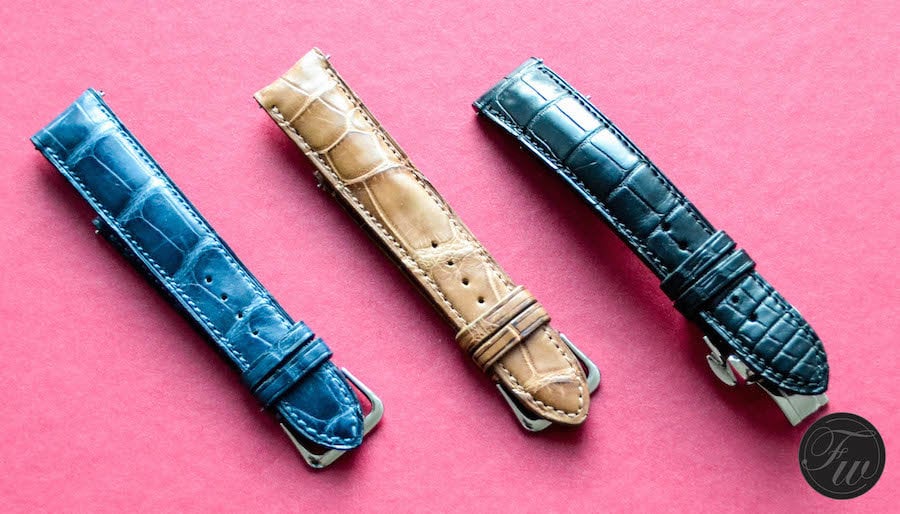 ABP started out as a little family operation that slowly outgrew itself to become a very successful business and today there aren't many watch collectors and enthusiasts who never heard of ABP (check their Facebook page here). Visiting and browsing the company website I was amazed by the versatility they offer regarding watch straps. You can literary name any type of leather you want or any watch model (think of watches that have different shaped lugs, like the IWC Ingenieur or AP's Royal Oaks) and they will be able to deliver. I was expecting a very high quality product and I was not disappointed at all.
Since the 3 straps I received do not differ too much I will not review them one-by-one like I usually do. I will discuss them in general, as other than the color, they are identical. As I already mentioned in the introduction this is not a one-man show. The product itself obviously reflects this. I had my fair share of straps in the past and seen a good few OEM leather straps by various watch brands. ABP plays in the same league as them, to say the least.
The straps I received are made of alligator leather; a blue one with shinny lacquered finish, a light brown (medium yellow) with the same surface and a matte black one. The black came on a deployant buckle the other two with a regular buckle. I told Yann that the straps would be fitted on an Omega Speedmaster (actually a few different Speedies) so he sent me straps that will fit the 20mm lug width. The ends are a bit curved for a tighter fit to the curved upper and lower side of the watchcase. They fit the Speedmaster like a glove.
When installed, the strap is a bit stiff at first but after a few days of wearing, or a night on a c-clip, they give you the most comfortable wear ever. The straps were also incorporated with their own special spring bars for an easier installation (see image above). There is a little pin on the inside of the strap and by pulling this pin to the side it pulls the two ends of the spring bar in making it much easier to adjust when placed among the lugs of the watch. Nice little details and a pretty useful touch. The thickness of the straps is perfect and they get thinner towards the end of the straps. The stitching is even, which is not always the case with a hand-made product. I'm a deployant guy and black is a universal color in straps in my opinion so I instantly fitted it to the watch. Wore it for a few days and actually it is still on my wrist as I type this. The brown one was give to RJ to spice up his gold Omega Speedmaster Pro. Recently I met the team and we all had a quick look at the products and everybody was astonished by the quality and craftsmanship that's put into these items. Amazing. The price of course reflects this (€225 and up), but then again, if you pay for a strap like this and take good care of it then it will be the companion of your watch for a long time.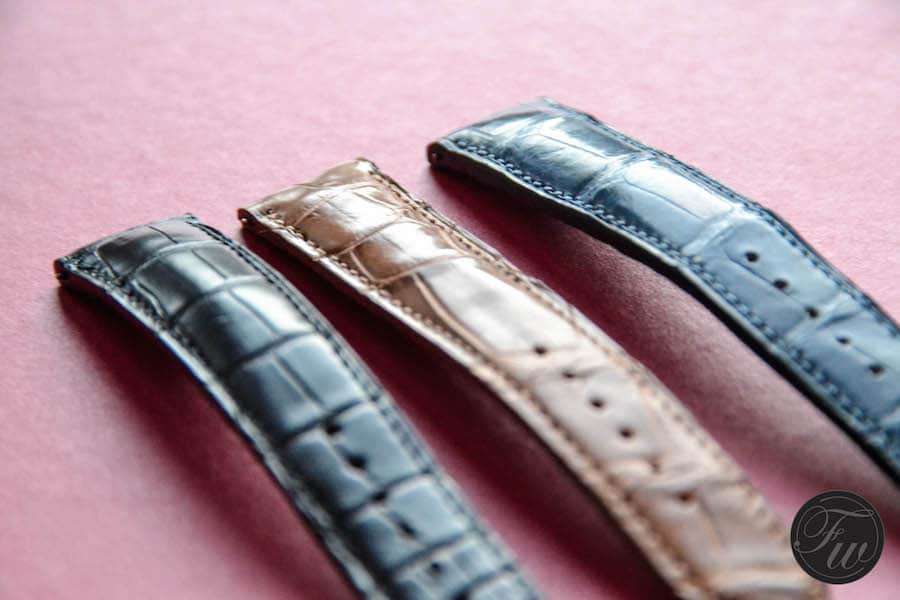 ABP is proud to offer an insane variety of leathers and other materials to work with (large selection of their work can be found on their IG account). You can build up your customs strap from scratch. Their selection itself is vast and can give you ideas about how to design your own. However, they do not only produce straps of course. Like most of the companies who work with leather, other luxury goods are available from them; from wallets to belts and whatever you can imagine. We were pleased to have seen a glimpse of their wonderful world of bespoke leather straps. I would not be surprised if in a few years time people would say: "For a tailored suit you go to the Savile Row, for a bespoke strap you reach ABP"