Watches That Have An Emotional Value To Us
One of the questions we get a lot is which watch you should buy. Or which one is considered a good investment. First of all, I think you should buy a watch to wear and enjoy as that's what they are made for in the first place. But when collecting, it sure helps when a watch keeps value. But many have watches with emotional value.
Balazs, "I hope that some of my watches will become heirlooms for my kids one day…"
These watches can be priceless for various reasons. This could even go for watches that are not even that valuable. It is something that comes to mind occasionally so I asked our team if they have watches that are emotionally valuable to them. Here are the stories behind the watch(es) that are special to us and why.
Balazs Ferenczi
Unlike most of the guys, I'm rather unlucky when it comes to family heirlooms. My mum wears fashion watches, and my dad isn't much of a watch guy either. I remember him wearing the typical Seiko and Casio quartz watches in the 80's and early 90's but that is as "cool" as it gets. I hope that some of my watches will become heirlooms for my kids one day though.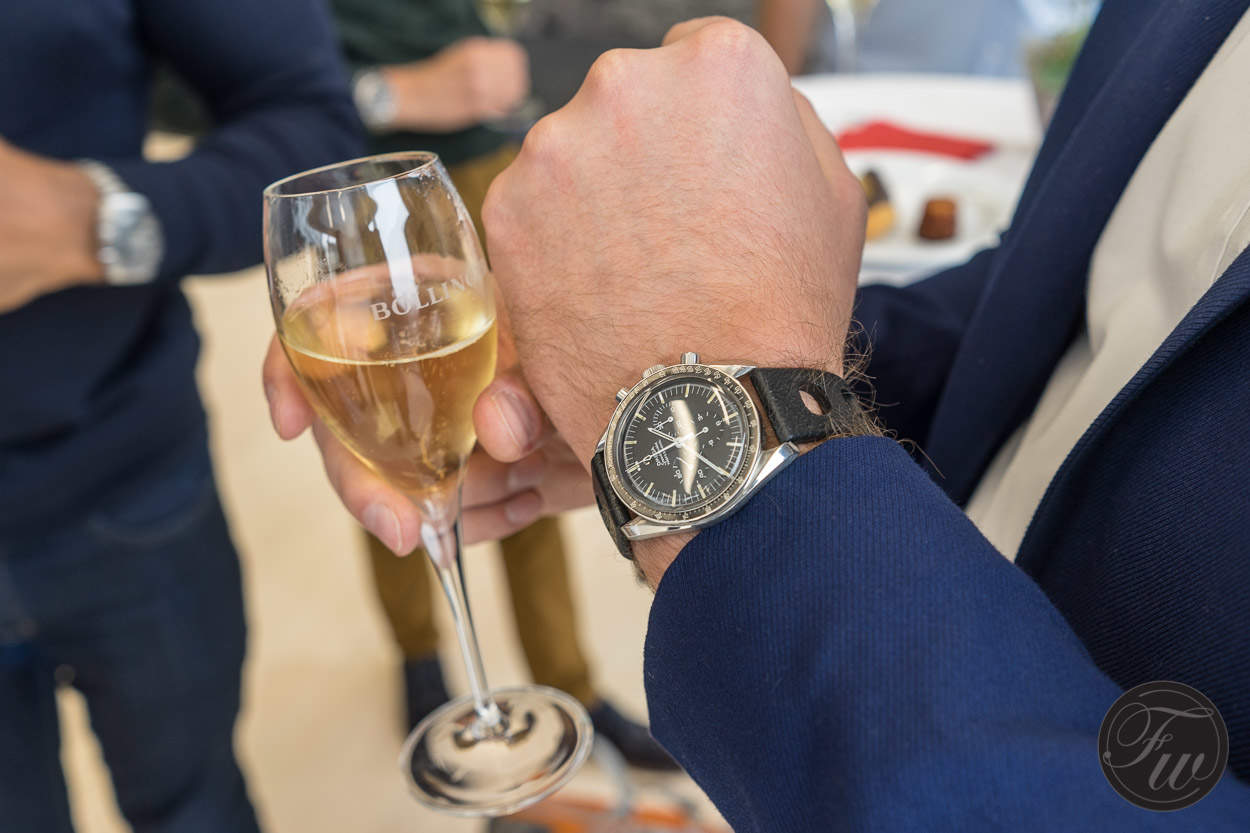 The one watch I take with me most of the time is my Transitional Speedy Pro. That was the watch that I wore when I proposed to my now wife and I also wore it for my wedding. It travelled with me pretty much everywhere I go and even wrote a Speedy Tuesday article about it.
Bert Buijsrogge
For me, there are two watches that stand out. And yes the first one belonged to my old man. The funny thing is that although he could have bought himself pretty much any watch, he never valued them. My brother even sort of forced our old man to buy something nice for himself. So during a trip to the Caribbean in the late 90's he bought a Heuer 1964 re-edition with reference CS3110. Still, he found it too expensive and often complained about the price during family get togethers, mostly in a joking manner.
Bert, "This makes that watch priceless for me although you can pick one up for a few hundred Euro on eBay."
After he passed away my mom passed on the Heuer re-edition to my brother as they bought it together. And although the Heuer is a great watch I got something more special. I remember the moment my mom slides over his Tag Heuer Professional watch. This was the watch which he had on his wrist 99% of the time. Even when looking back at the images of him this was the watch of his choice.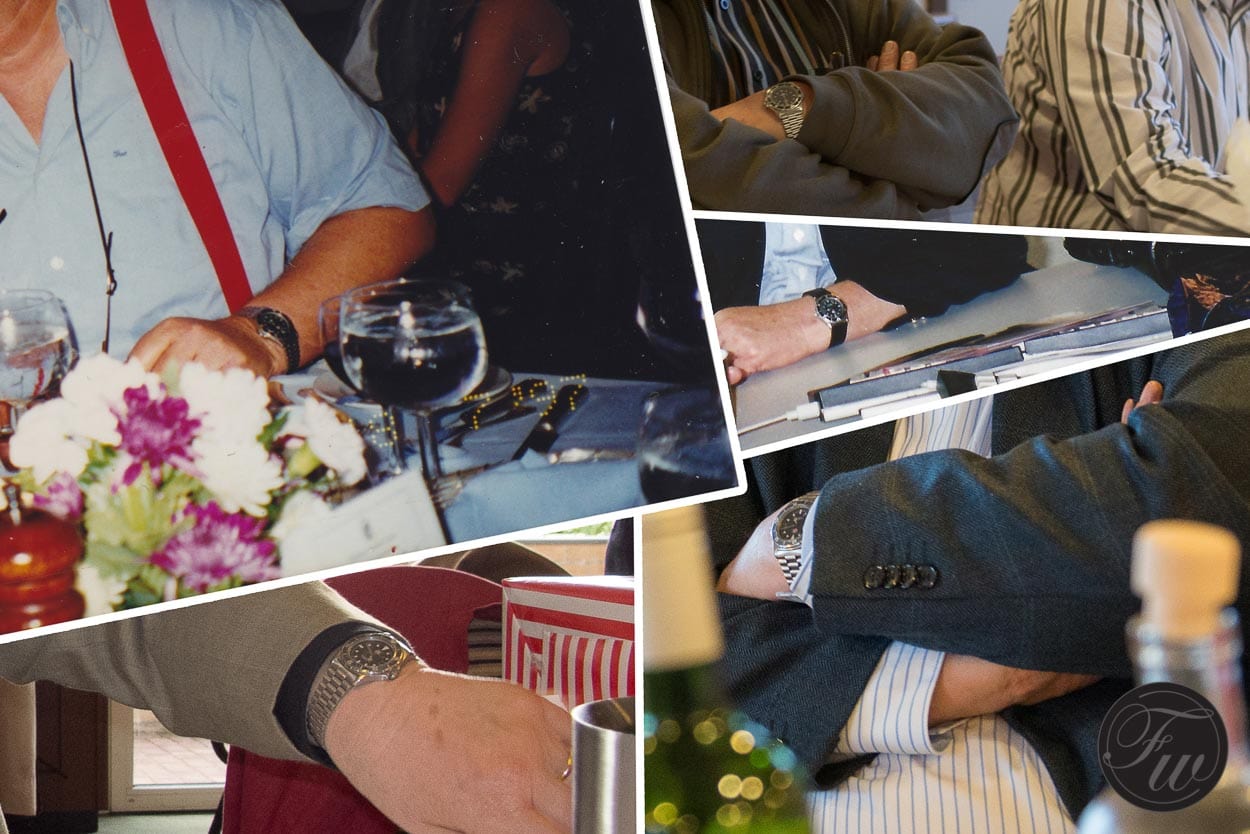 To me, this makes this watch more special, even though it's 'only quartz' compared to the nice hand-wound mechanical CS3110. Besides that, this is my dad's watch I remember wearing it back in 1994 during my PADI Open Water Diver course. This makes that watch priceless for me although you can pick one up for a few hundred Euro on eBay.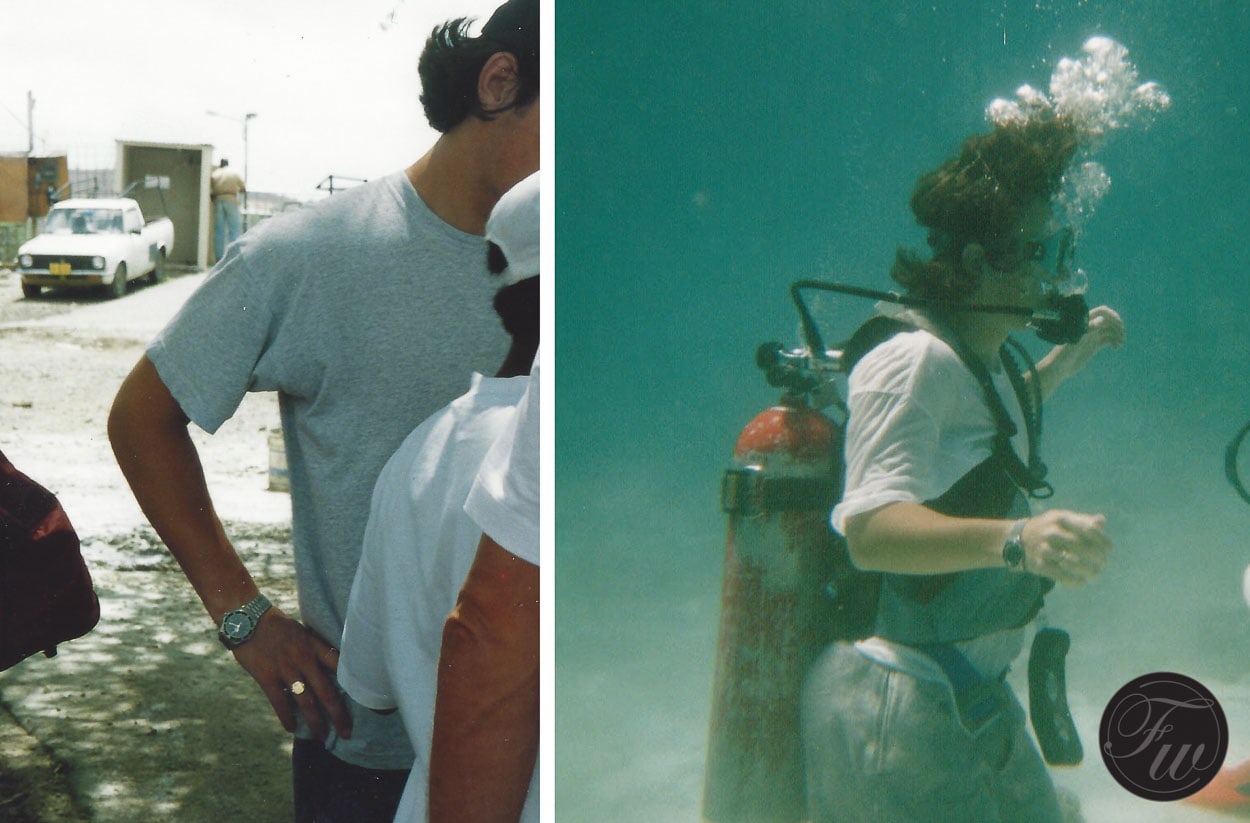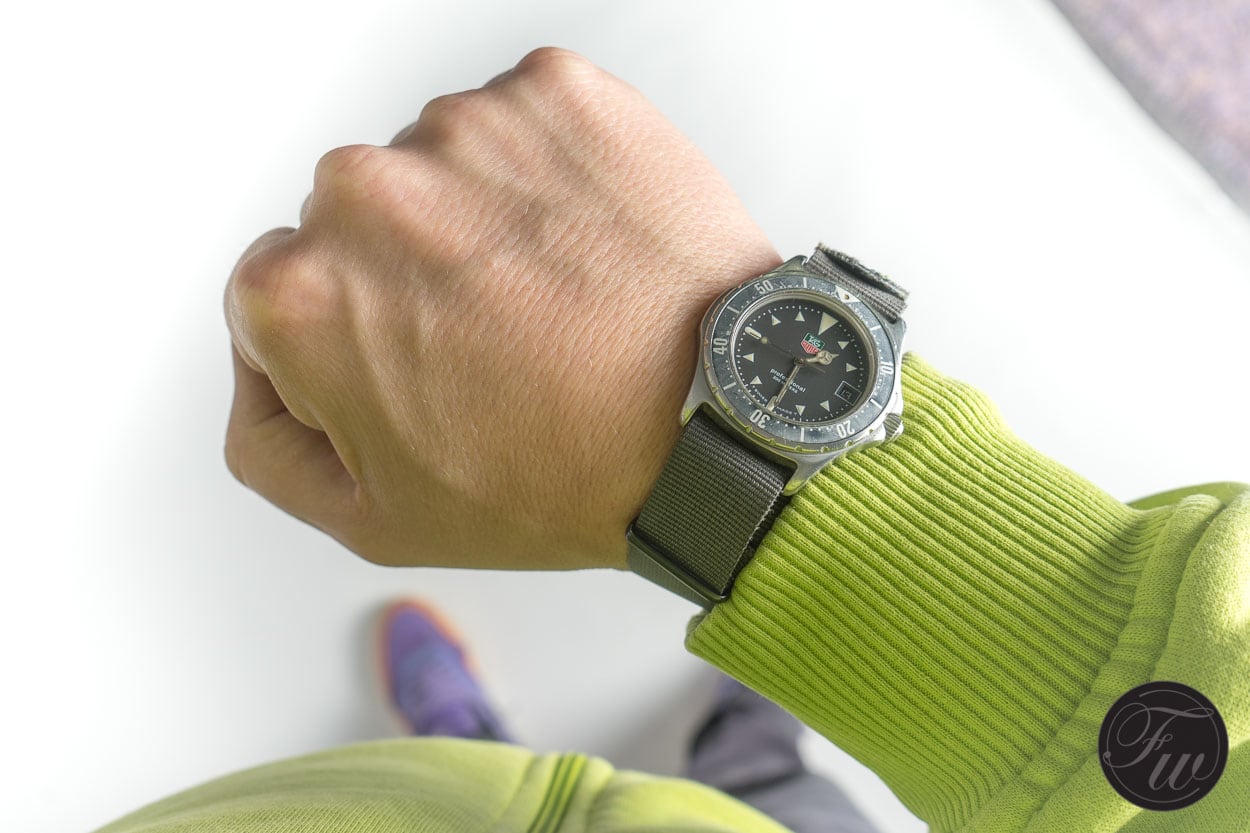 Another watch that is special to me is the first Speedy Tuesday which I bought for my daughter. Having thought about buying her a special watch for some time, this was the moment. No need to explain why this watch is special to us already as it is. Being limited to 2012 pieces this also happens to be a reference to her birthday as she was born on the 20th of December. She will get the watch with her birth year as the limited edition number at some moment. And of course, you think about the fact that she might not like it or care about watches the way I do. You can't (and shouldn't) force someone else to enjoy your hobby and/or passion onto someone else. In the unlikely event she doesn't appreciate it for whatever reason she can use the money for something else. But in that case, I will let her sell mine and keep number 2003/2012 myself.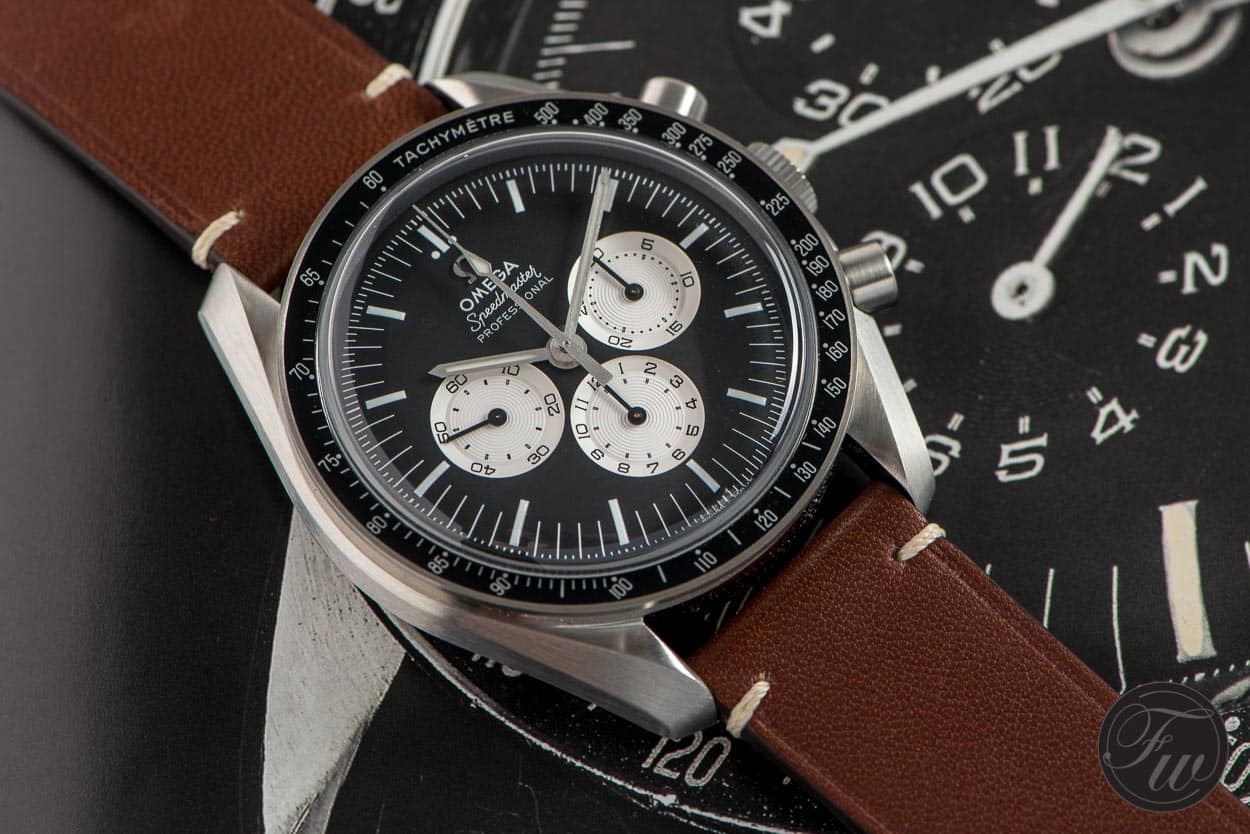 And of course there are other special watches in my collection but they don't have the added emotional value of these two watches. And the funny thing is that I don't keep them for myself in the end. Both are only looked after for the next generation.
Gerard Nijenbrinks
To start with, I would like to clear out that I don't feel much emotional value in anything materialistic. Of course, it's nice if for instance, a watch makes you remember a special occasion or even a person. But the value for me personally lies in the remembrance, not in the product, and in general, I don't need a product to remember. Having said that, I do have, or owe, three watches which are in remembrance of persons I loved. These are a Seiko 5, A Jaeger-LeCoultre Master Perpetual and a Jaeger-LeCoultre Reverso Lady. These watches belonged to my late parents, the first two to my father, the last one to my mother.
Gerard, "I don't feel much emotional value in anything materialistic."
My father wore the Seiko 5 on a daily basis, while the Jaeger-LeCoultre Master Perpetual was his pride for official hapenings. I haven't seen him wearing it often, he was too afraid to damage it I guess. My mother wore her Jaeger-LeCoultre Reverso Lady, which has a quartz movement, on a daily basis.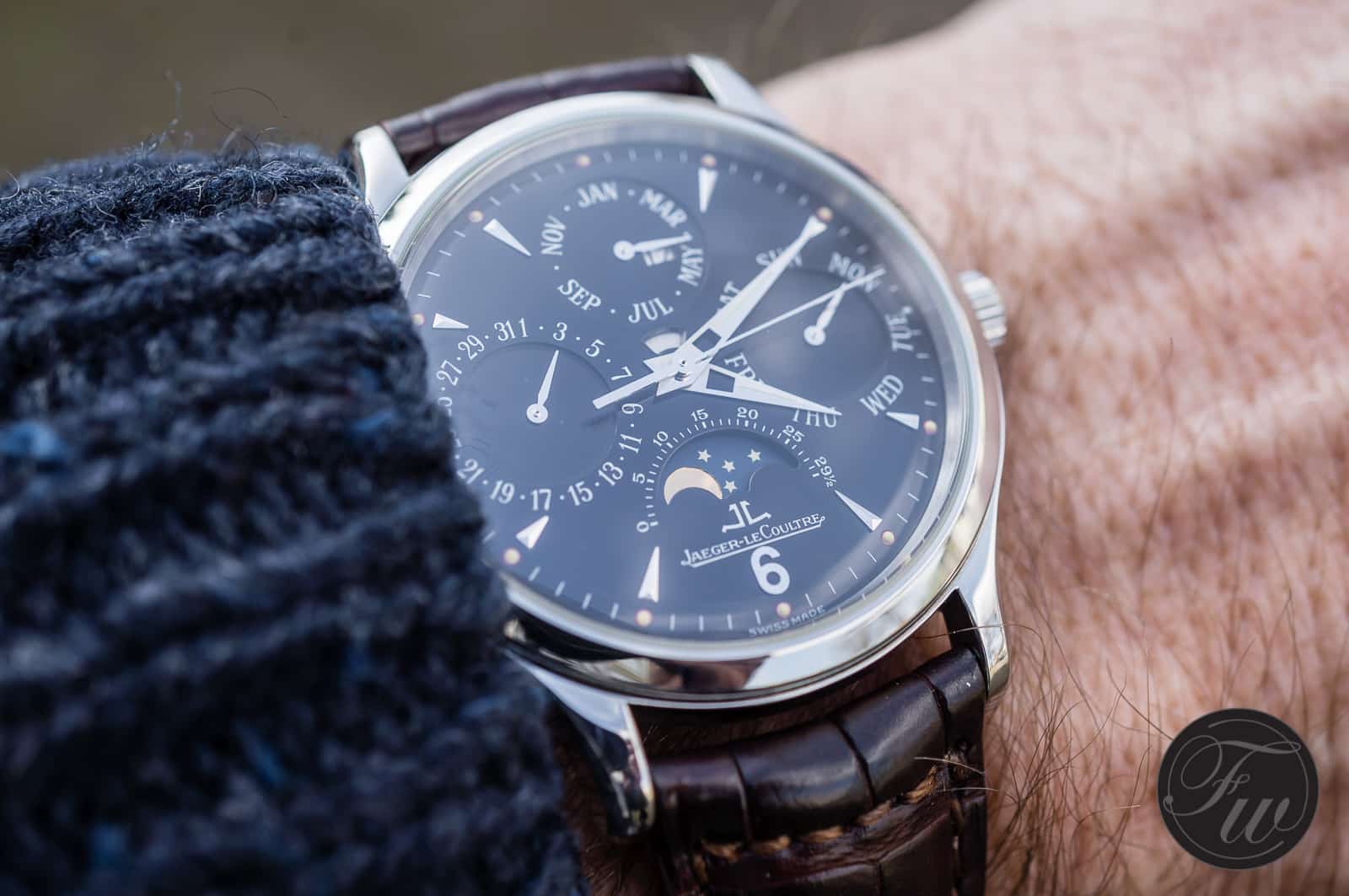 From time to time I wear my fathers Jager-LeCoultre just for a few days or so. He bought this watch in the millennium year 2000, and it was a variation to the regular Master Perpetual with silver dial. This model with black dial was only in Jaeger-LeCoultre's collection for one or two years and it sports a sapphire glass caseback. I really think it's a beauty but, I don't know, somehow I can feel it is not my watch although technically it is.
Michael Stockton
Regarding watches with emotional value, there are several I own with links to my parents, grandfather, Uncle, and wife but I'll leave those stories for another day.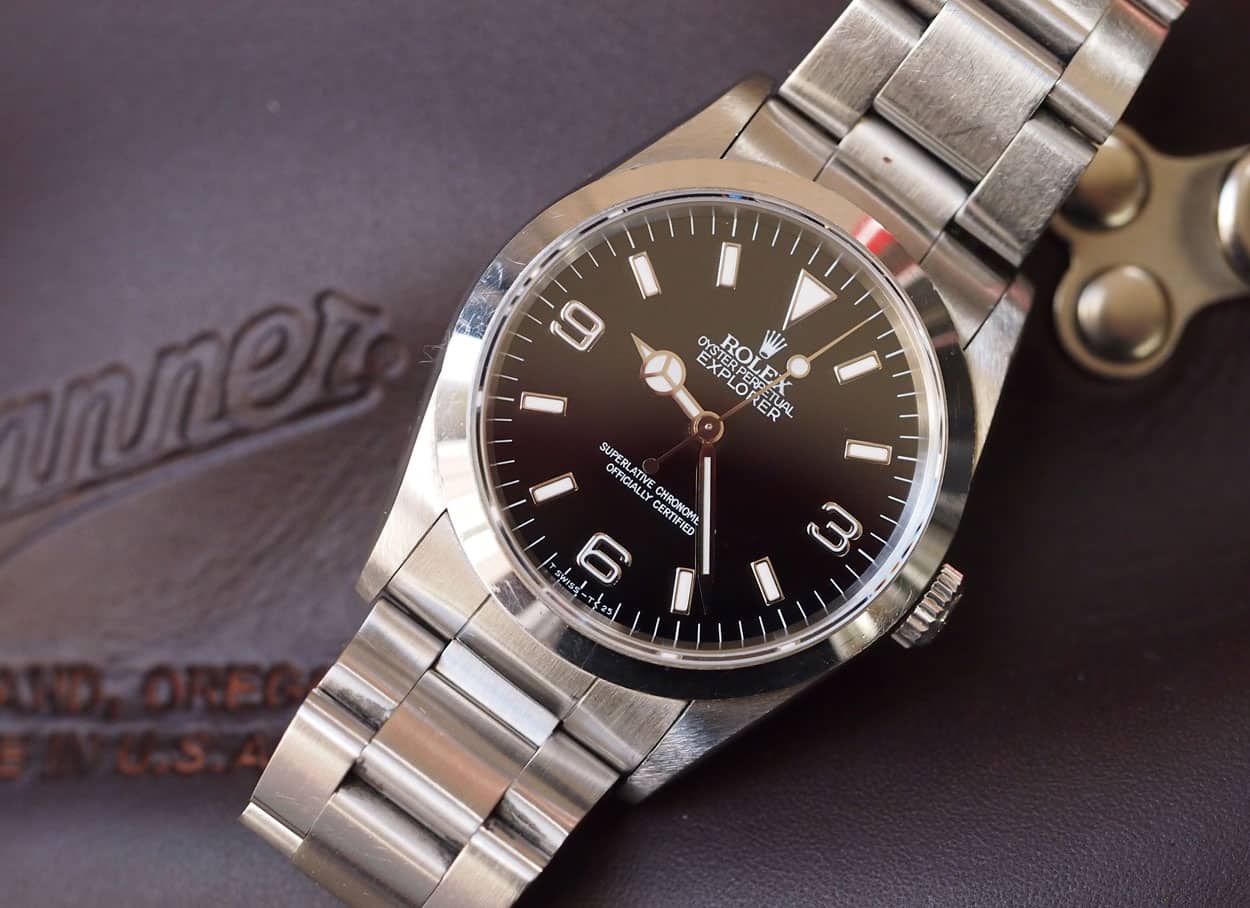 For me, the Rolex Explorer 14270 that I purchased in 1998 not terribly long after I graduated from college has significant emotional value. Considering the fact that it was a hard watch to find at the time, buying it was all the more special.  I had saved up enough money to put down a deposit – something like $700 at the time – and then paid it off evenly over the next 12 months with 0% interest.  Those were the days!
Michael, "It was a real achievement for me to buy my own Rolex and looking down at it never got old."
I remember putting the watch on daily – especially for the first several years – and feeling so proud that I owned a Rolex. I wore that watch almost exclusively from 1998 until late 2011 and it still finds its way to my wrist with relative frequency.  I felt and feel that this model Explorer has a lot of charm that barely exists in modern Rolex. The tritium Dial, rattling bracelet with its stamped end links, and its perfect (for me anyhow) 36mm size.  It was a real achievement for me to buy my own Rolex and looking down at it never got old.  It's definitely a watch I'd never sell.
Robert-Jan Broer
Other than Gerard, it is especially things or items that help me to remind certain people or events and thus can have emotional value for me. They somehow trigger me to think of someone or that special occasion. I have a number of watches that have a special meaning to me. In the past, I wrote about the role of Omega watches in our family and what some of the watches mean to me. My first watch, however, was a digital watch, a black Casio W-14 with red and white accents, a gift from my parents during a holiday in the United Kingdom in the early 1980s. I still have it in my possession but it recently died, yet I still keep it safe.
However, there are three watches in my collection that have true emotional value for me. All Omegas, as I wrote earlier, it is a family affair. First is the Omega Constellation that belonged to my grandfather which he wore for 42 consecutive years. Before that, I was told he had a watch that he received from a US pilot at the end of World War 2 (with white dial, my father is currently doing research based on dias to see if he can get it sharper). When that watch stopped working (and got lost, unfortunately), he purchased this gold Omega Constellation at a local jeweller in 1969 (I still have the papers as well). This is the watch that I remember him wearing and I received it from my father (he has the pie-pan Constellation of his grandfather).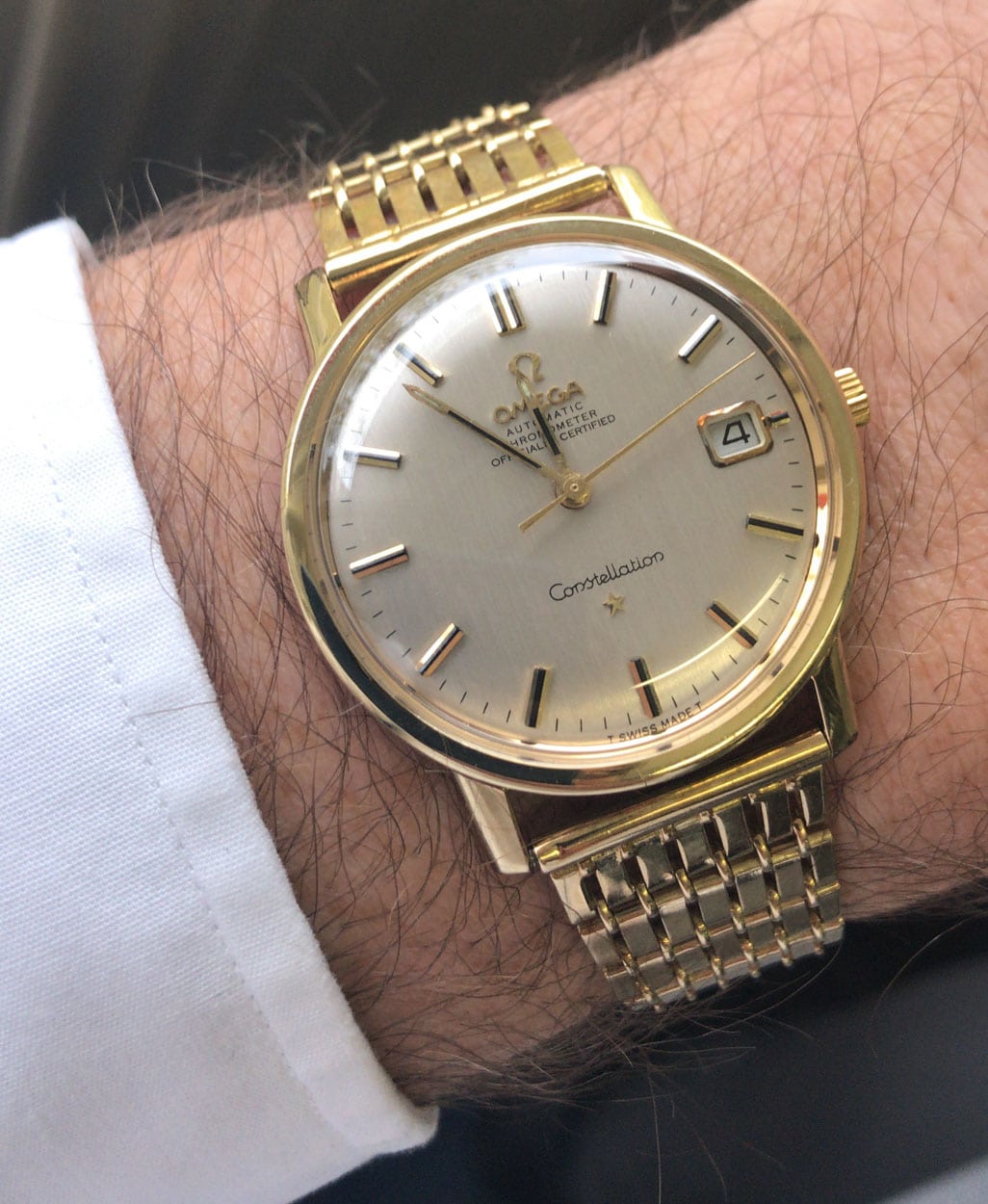 My grandfather's watch comes on this gold bracelet that he had fitted later on, as the original Milanese gold bracelet ripped his shirts all the time. This swap must have been done early 1970's according to some old photos. I don't wear it very often, mainly during special occasions. Being too afraid something happens with it, so I keep it as safe as possible. I am a firm believer that you shouldn't live in the past too much, even though I know I have the tendency to do so myself, but I know you have to create your own legacy. Also I wear my gold Constellation Globemaster a lot, which for me is the link to the past and today. I am very sure my grandfather would have loved this watch as well, as he used to do his research before he'd buy something expensive or valuable. Regarding his Constellation I am certain he did before he purchased it.
Robert-Jan, "I always say it was a graduation watch, but that is not entirely true. It is much more than that."
Next up is more recent but also perhaps an awkward watch for many of you. It is a Constellation'95 model (reference 1212.10) with quartz movement in bi-color. This watch was gifted to me by my mother in 1998. I always say it was a graduation watch, but that is not entirely true. It is much more than that. After going a bit through a rough patch, I lived with my mom for half a year when I was in the last year of my studies back in 1998. After finishing this year, I left to settle in the other side of The Netherland (where I still live). This watch was a goodbye gift out of love. I wore it a lot during my studies in The Hague but later on my interested decreased a bit as it is quite small and battery-operated. I had the battery taken out and stored the watch safely. Just recently, 20 years after I received it, I started to wear it again. I lost quite some weight this year so the smaller size is not really an issue (and I also don't care anymore) and I had it serviced (new battery and gaskets) by our diva watchmaker Paul. I love this watch.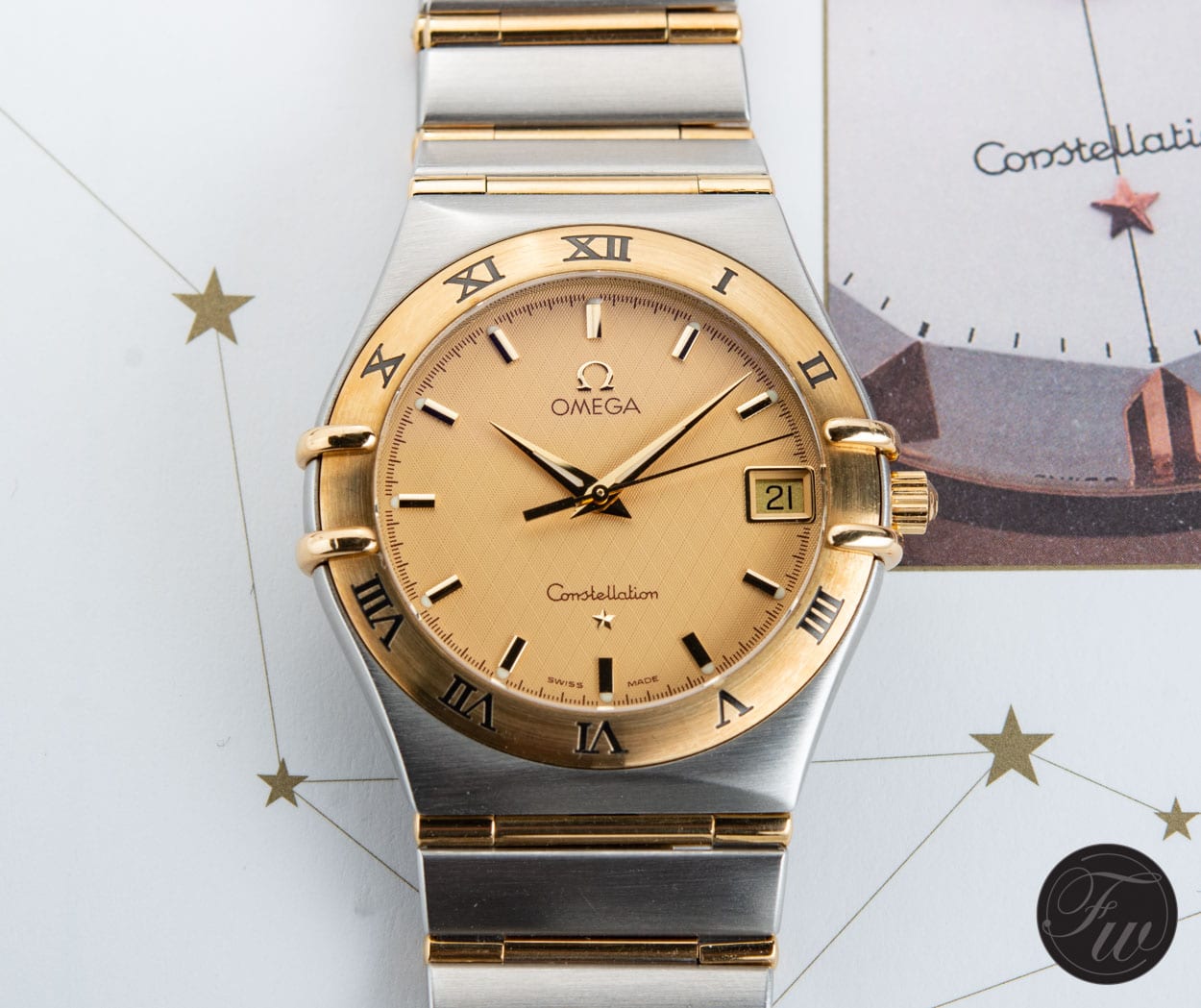 Last but not least, and perhaps 'finally' for some of you, a Speedmaster. A reference 3594.50, also known as the Speedmaster'57 Replica that was introduced in 1997 to commemorate the first Speedmaster from 1957. I received it in 2013, from my daughter (and wife) for my first Father's Day. My daughter Charlotte was just born and without known this from eachother, I bought my wife a Ladies' Speedmaster a day after Charlotte was born and she bought me this beautiful Speedmaster'57. Because my wife doesn't keep track of which watches I have (lucky me), she consulted with Gerard at the time, to see which models I have and don't have. He suggested to buy his NOS Speedmaster'57, as he had two of these and was sure I didn't have one yet. It is a great watch and due to the steel bezel and broad arrow hands it is so different from the standard Moonwatch. Although it came on a steel bracelet, I wear it on a brown leather strap.
There are more watches in my collection with special meaning or that just mean a lot to me, but these three (four, including the Globemaster) are definitely the ones with the most emotional value.
Watches With Emotional Value
After reading the feedback from the team you learn there are various reasons why a certain watch is extra special for someone. Where the initial reaction was one you would expect (heirloom watches), the outcome turned out to be quite diverse. To me, it's part of what makes our passion for watches so interesting. We all have a thing for watches but there is always something that stands out for you buy it for a certain reason. Some buy a watch as a fashion accessory, someone else just to have the time on their wrist, and we do it because we are nuts about watches.
No matter what your reason is to buy or cherish one, it's hardly ever wrong. Having read the different motivations we are curious about your stories. If you have a watch (or more) that is special to you and you want to share it, feel free to drop us an email with your story.