Launch of the Watches & Pencils Webshop – Order Your Watch Art Now
As most of you know, we have a special and creative feature on Fratello Watches: Watches & Pencils. As of today the official shop / website about this feature is launched.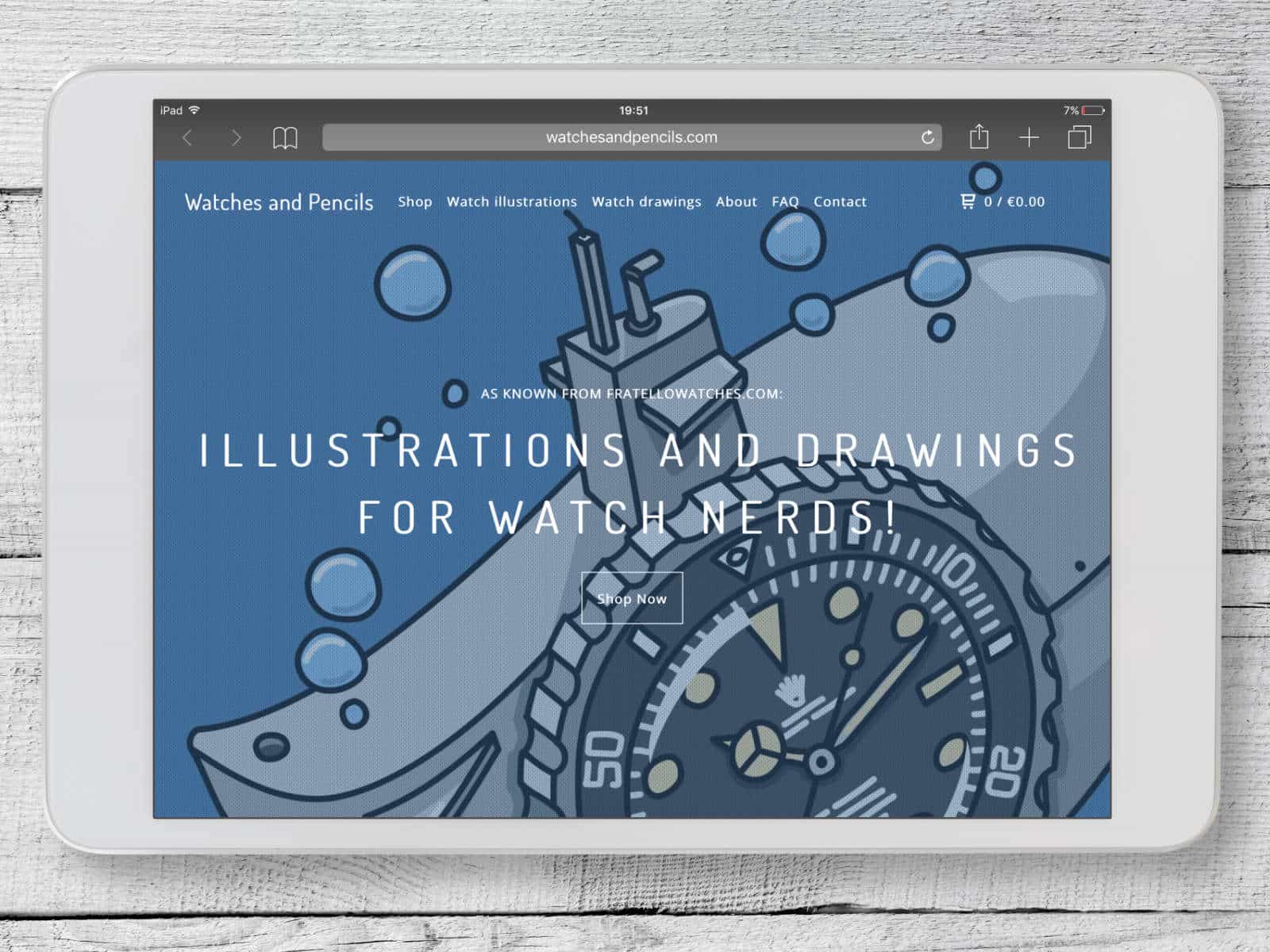 In short: What is Watches & Pencils again?
It all started with the idea by founder and Fratello team member Teun. A few years ago, he came up with an idea to combine his two passions: watches and art. After he launched the feature it became a popular topic on Fratello Watches. Up until today, a new cartoon is published every month.
A dedicated shop
Teun: "After each illustration published on the website and Instagram I received lots of individual requests for prints, stickers etcetera. Initially I set up a standard shop on one of the big shop-platforms. In the end, it turned out that the look, feel and quality of the products were not good enough. So I invested in a custom webshop, dedicated to Watches and Pencils and specifically for watch nerds: www.watchesandpencils.com."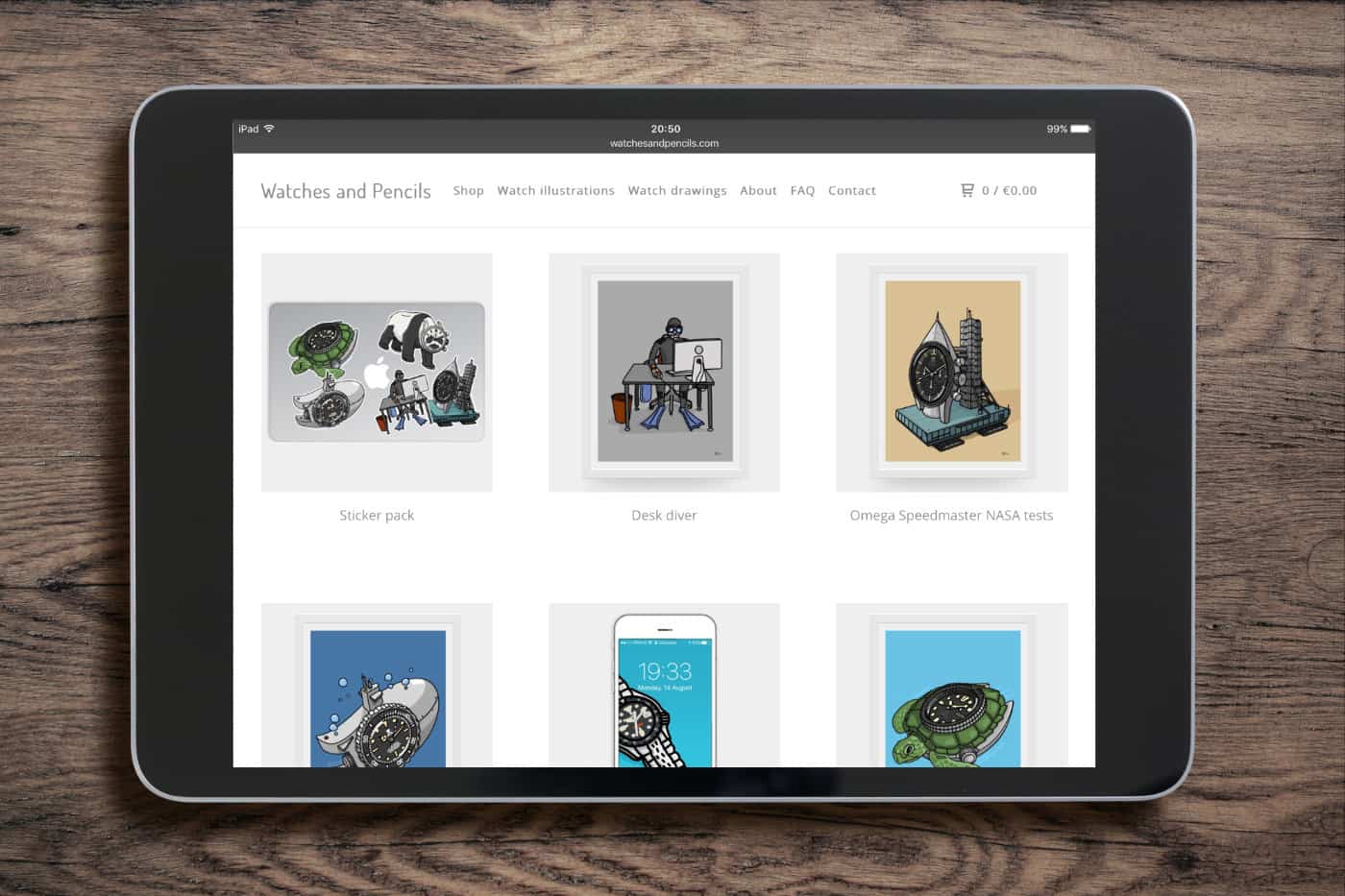 Signed and qualitative products
As Teun mentioned, quality and a personal touch is very important for the artist. For example: no mass produced posters, but quality prints. Checked and signed by the artist himself. This way Teun can keep it exclusive, but still reasonably priced. Click here for all the available prints.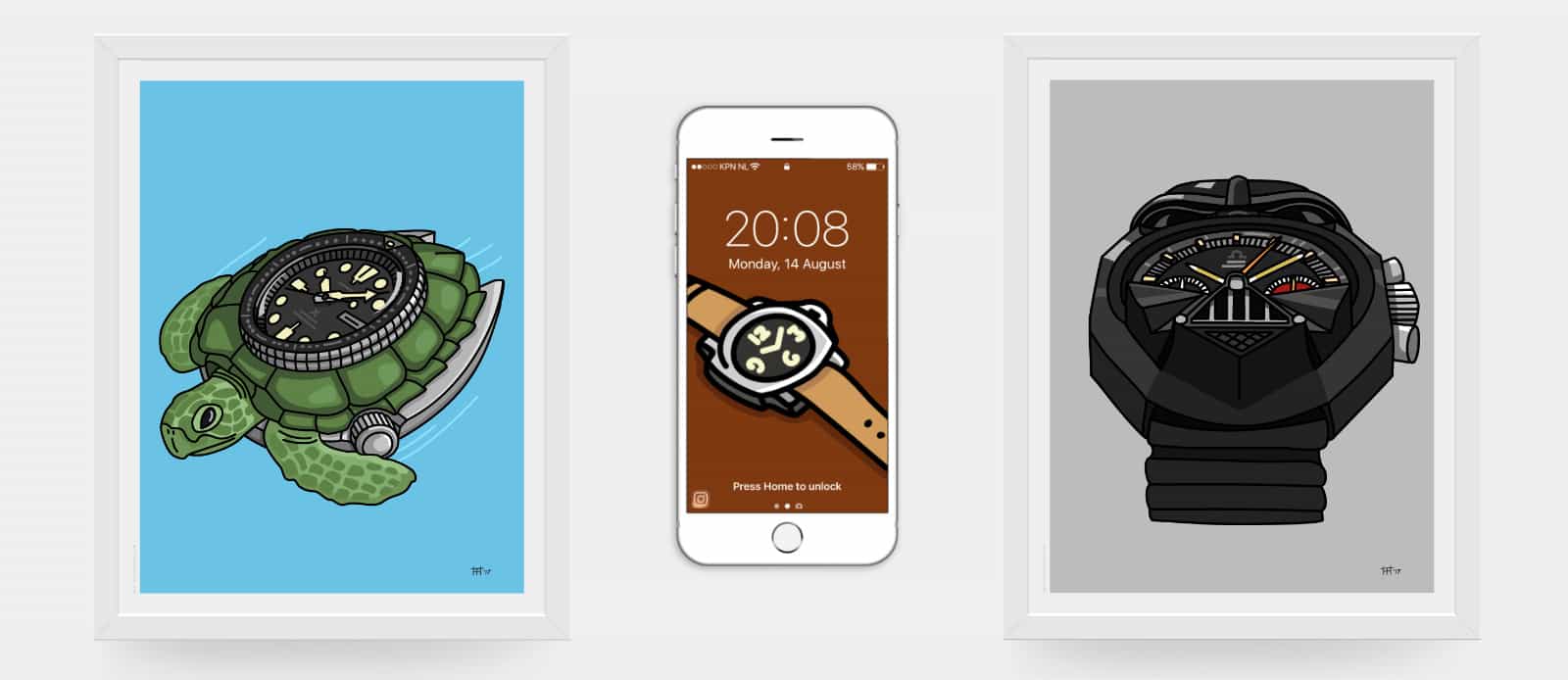 Stickers
From the moment Teun created the stickers, he received tons of messages from people who wanted to buy them. Unfortunately, he was not able to handle all the individual requests at that time. However, now he is! He has set up a nice standard 5-pack with the most popular illustrations so far. More variations will follow in the future. Click here to directly buy some stickers.
Featured Brands
In the Watches & Pencils episodes published until now, almost every famous brand has been featured. To name some: Omega, Rolex, Breitling, Panerai and Seiko. More brands will be added to the list when I create new episodes and illustrations.
Screensavers: a donation and art in one
When you visit the shop you might notice the screensavers I've included in the shop (click here for all the available screensavers). This are the cheapest products and more of a creative donation towards the artist. Like with any artist, support by the fan crowd is very important.
Behind the scenes on Instagram
This website makes it easy for people to buy products and gives a quick impression of Teun's watch illustrations and (analog) drawings. On the official Instagram-channel he publishes behind-the-scenes, time-lapses, updates and extra illustrations on a daily basis: Instagram.com/watchesandpencils.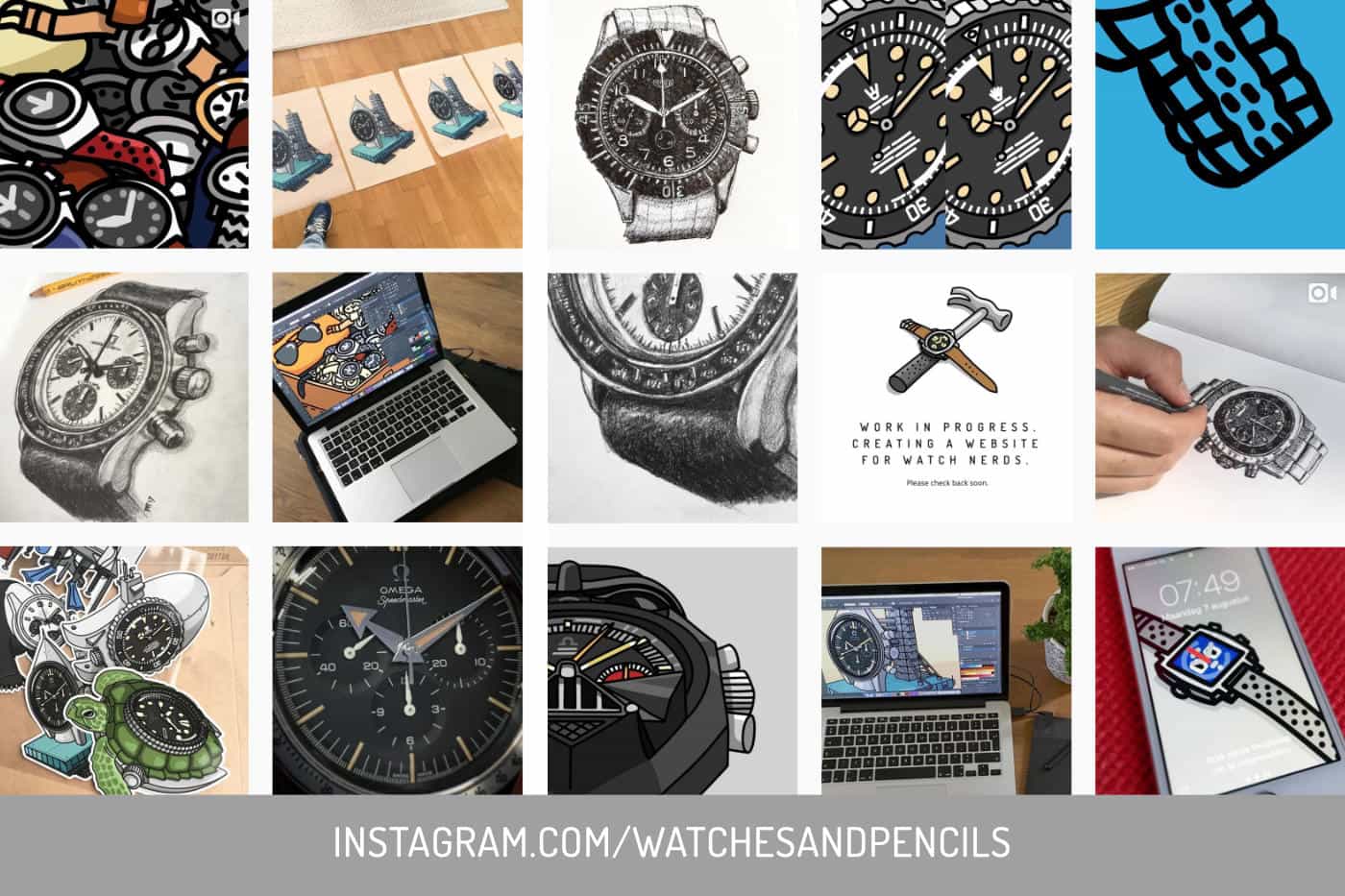 Future products
Teun is planning to release more products. Things that are high on my list are pins. I imagine you could pin them on your bag or, better, your watch roll! I'm open towards product requests, but I think this is a good start.
Custom drawings / illustrations / requests
Teun is always open to custom illustrations, requests or inspiration for future episodes of Watches & Pencils. You can contact him via his website.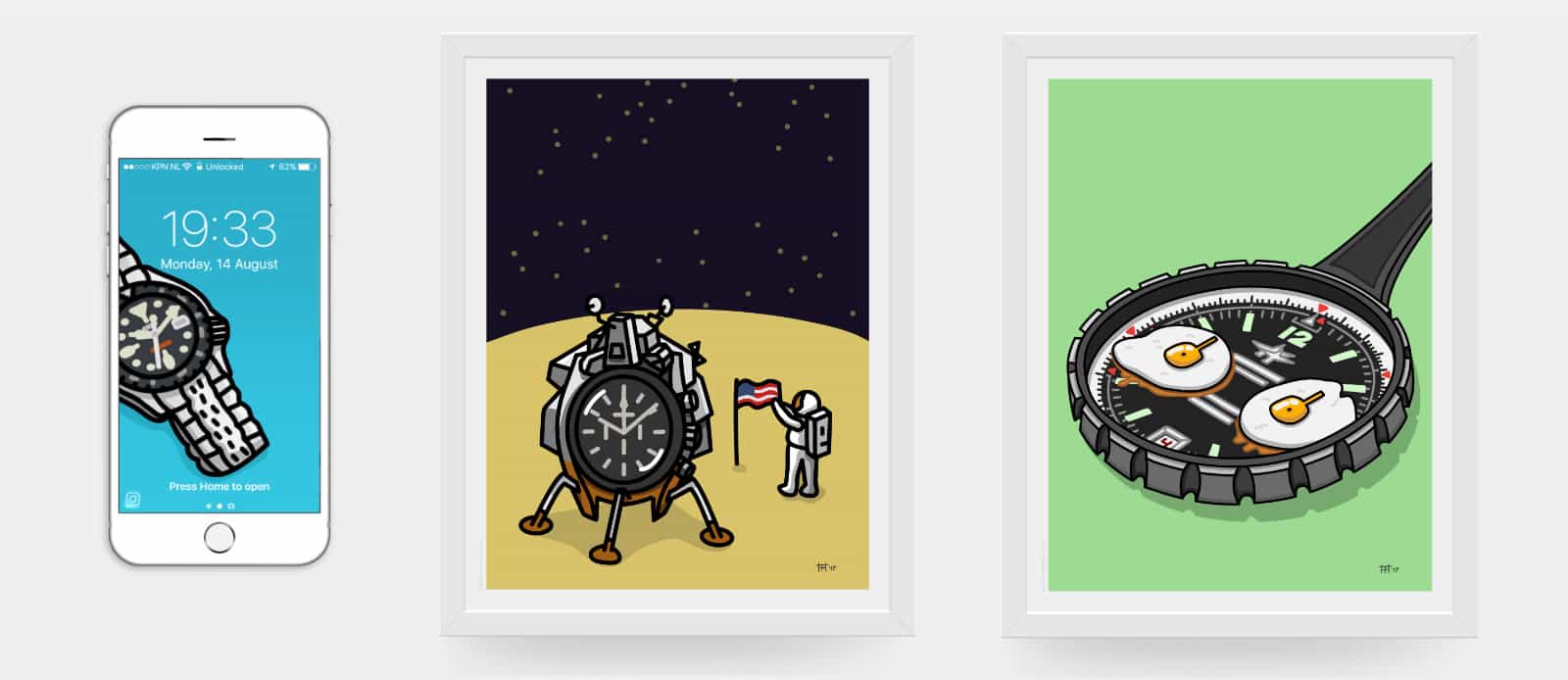 Secure Payment
When you checkout you will be redirected to the secured PayPal website. For now, PayPal is the only payment method. It is quick and one of the most popular and secured payment methods on the web. Good to know if you haven't use PayPal yet: you can also pay with a guest account.
Thank you!
Teun: "First of all, I would like to thank everybody who supports me. Your input and ideas are of true value to me. I hope I put a smile on your face with one of my creative works. From now on, you will be able to easily buy (almost) anything from Watches and Pencils. Happy shopping!". An overview of all Watches & Pencils episodes on Fratello Watches can be found here.
The shop: www.watchesandpencils.com
Instagram: Instagram.com/watchesandpencils