Velcro Straps, Bund Pads, and Erika's Originals — Get Weird With Us As We Jazz Up Your Watch Straps
What does Harris Tweed and Native American Silver Smithing have to do with your wrist?
We did an article last year on everything about a watch that wasn't the watch itself — straps, bracelets, clasps, and spring bars. It seemed exhaustive in its reach (and in the writing), but it wasn't. That was the primer for the respectable, polite, middle-of-the-road people that accessorize their watches accordingly. This article, on the other hand, is downright funky. We'll get to some unique strap options that are still accessible, like Erika's Originals and Bund pads, but I'm going to be showing you some weird, sometimes old, truly unique options as well. It will be polarizing. Words will be said in the comments that cannot be un-said. I may be asked to never do an article like this again. Just don't say I didn't warn you.
There are a lot of ways to tell the time, watches being a small subset. There's the sundial, the cellphone, and there's a tribe in the Amazon that uses birdsong throughout the day to note the time (I'm serious). With all the different kinds of people trying to get the time in all kinds of different ways, there are just as many unique solutions to make that happen. How many different watches are there? Ten thousand? One hundred thousand? Surely enough to choose from, but not enough to be unique to every owner. That's where the straps and bracelets come in, taking a factory-produced model of many to a specimen unique to only the wearer. And when Italian calf leather or gray NATOs won't adequately portray your tastes and personality, it's time to turn to the more unique and obscure underbelly of watch strappage.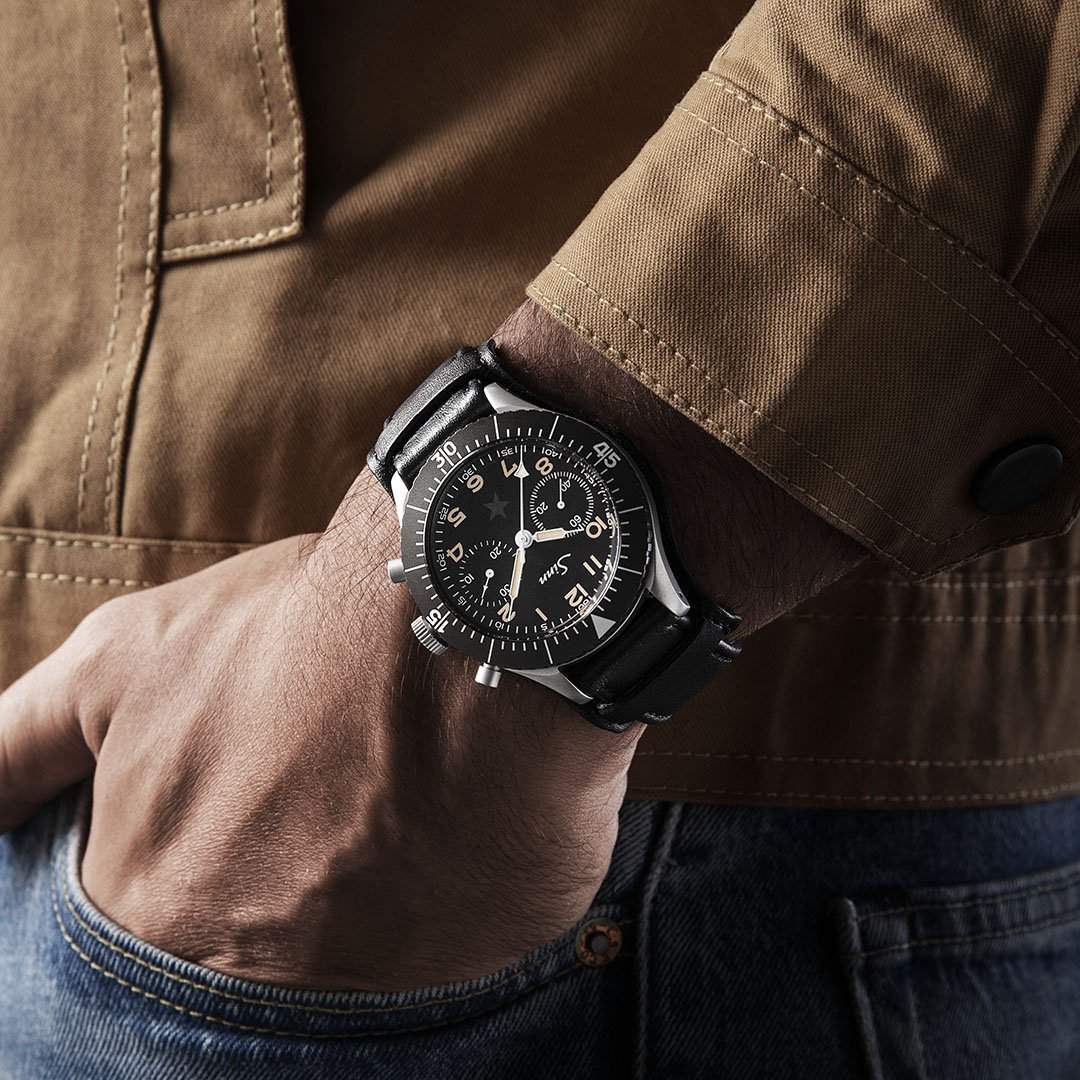 The simple Bund
We'll start off simply with a leather strap that's known but not prevalent. The Bund strap has its origins with pilots from the early 20th century, at least in form. It gained its common name from its use by pilots of the Bundesrepublik of post-WWII Germany. Its practicality was in keeping a watch securely on the wrist while isolating the cold metal from the skin. We know the polarizing Bund strap now primarily from the connection with Paul Newman, which did a lot of work in its favor. Unfortunately, we are not all Paul Newman, and not even half of us are.
As possible as it is to pop any watch on a Bund, really, it looks best (if you can agree it looks good at all) with pilot's and racing watches. Some watch companies still release watches on Bund pads, usually as homage pieces to their aviation origins. Hanhart and Seiko come to mind.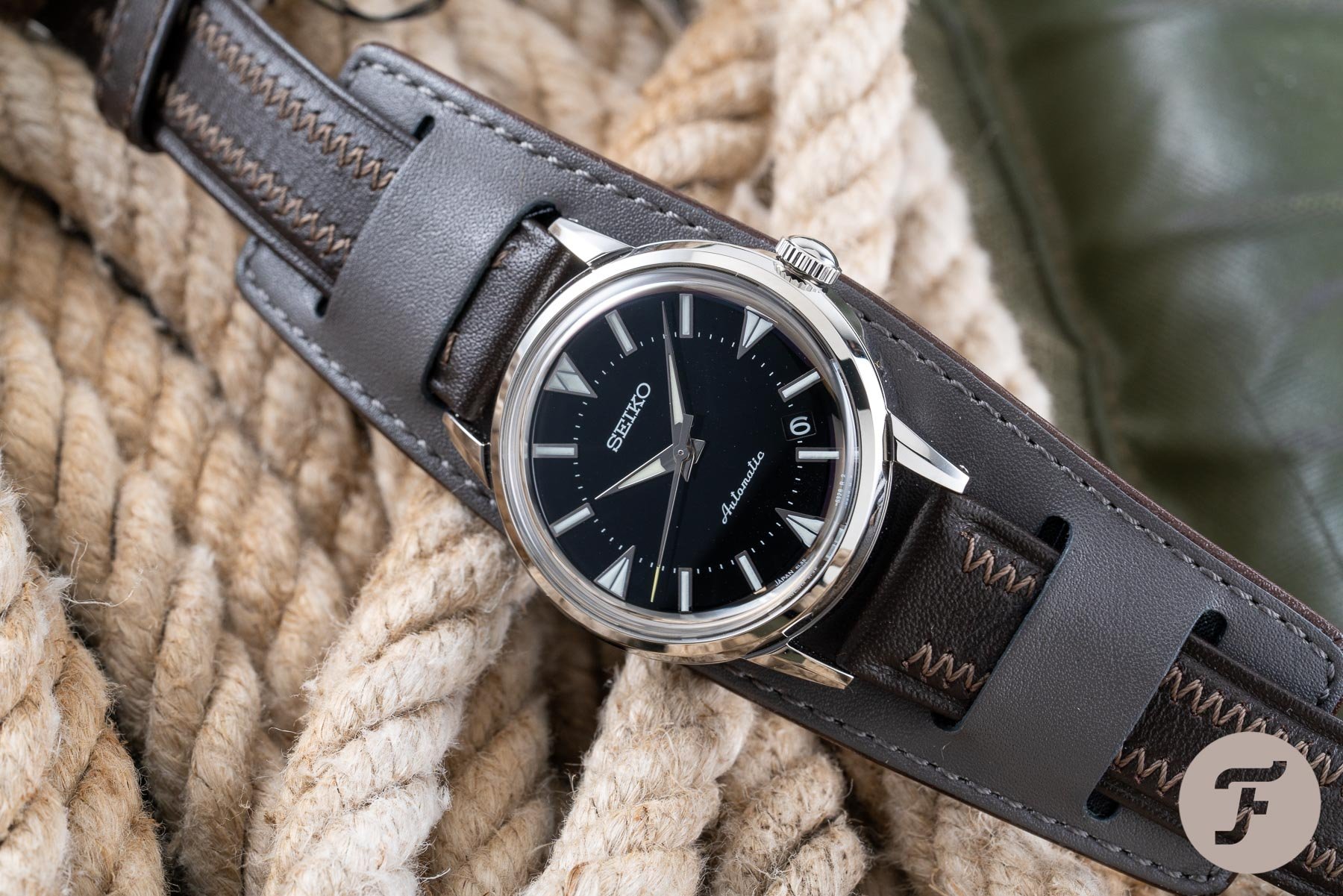 The Bund pad
For those not fully committed to full '70s regalia (or worse), many strap makers offer a "Bund pad". This is typically a simple piece of leather, cut a little larger than the shape of the watch, with two slits in it for a strap to pass through. This allows just about any watch to be "bunded" with the watch band already on it. I could see this becoming a very ugly amalgamation of styles, eras, and leathers, but I do see the practicality in it for field watches that need to quickly transition from city to (cold) field.
Many of the premier handmade watch strap artisans around the world feature some element of the Bund. You can get a simple but quality Italian or Horween leather Bund pad. Or go big and get a chunky, fully embossed, and studded wrist belt. But… just don't say I didn't warn you.
The Gaucho
Let's go to South America now, at least in style, with the Gaucho leather watchband. Another variation on the simple leather band, this style adopts Gaucho leather ornamentation from traditional horsemen of Argentina and surrounding regions. With slits cut symmetrically along the leather and then woven with bright-colored thread, it's a strap that breathes well in the heat and looks good doing it. Perforated racing straps can't keep up. Different color choices for leather and thread allow for a unique match that complements the watch it's paired with. Barton Watch Bands seems to be the biggest name offering this style, and — owning one myself — I can attest to the quality and "cool" factor.
47Ronin
There are a lot of artisans making high-quality watch straps, but only a few stand out from the standard fare. I'd like to focus on a specific strap maker who approaches artistry with his work. 47Ronin Watch Straps does something I've never seen anyone else do. Tong, the proprietor and artisan behind the company, handcrafts watch straps combining leather, traditional patterned kimono fabrics, and other uniquely Japanese materials. You have to see them, but believe me when I say these things POP! As each piece is unique, the catalog is extensive. But if there's a color you're looking for, 47Ronin has it. And as pieces are customizable, even if you don't see it, if you can think it (and it involves Japanese materials and leather), Tong can probably make it happen.
Like I said at the top, the straps and bracelets featured won't be for everyone. You're gonna need some serious swagger to pull off one of 47Ronin's straps. It's on my list to get one for myself, just after a lime green tuxedo and a katana. At $200+ apiece, you'll be paying as much as a decent Japanese quartz watch would cost. But if you've got the watch already, you might as well deck it out. Some of his straps include a watch, just in case you needed one to wear it on.
Graphic NATO
For the more economically minded, or those looking for a more rugged presence of colorful fabric on a watch strap, I present the graphic NATO watch strap. Most reputable NATO retailers feature striped versions, emulating flag or team colors and the like. I'm not talking about those. Enter "graphic NATO" into your search engine of choice and shop the cheapest options that come up. You'll be bombarded with peacocks, flowers, skulls — really any design the manufacturers think will sell.
Some of them are ugly (I'm not saying which). Some of them are less ugly. At $5 to $15 apiece, you can buy a few and give the ones you realize were mistakes to your nephews and nieces. They'll like them for the "art". I wouldn't necessarily trust putting any watch on one, especially a watch you'd cry over if you lost. But, then again, maybe nylon is nylon, and they're near enough as tough as their more reputable counterparts. I'm holding out until I find one with kittens on it.
Velcro
Similar to the simple NATO, but much louder stylistically and audibly, is the hook-and-loop strap. Velcro is a brand name, but yes, I'm talking about the same stuff. No, these straps did not die with the '90s. And with '90s nostalgia in full effect, at least here in the States, I think it's high time we started seeing more of these around.
There are plenty of companies trying to go the respectable route and produce tasteful, rugged, utilitarian hook-and-loop straps. "Pish-posh," I say! There's a reason military uniforms around the globe don't incorporate Velcro: it's LOUD! If I need subdued and utilitarian, I'm reaching for a NATO. No, if you're going to wear a hook-and-loop watch strap, it's best to go loud all the way, from the company that never stopped making them.
KAVU, based out of the Pacific Northwest of the United States, has been the name in Velcro straps (with actual Velcro) since the '90s. You can still get them, just like they always were. I'm not even sure they've updated the designs — full '90s-design glory. I seem to remember having an exact copy of one still available on their site when I was about, oh, seven. These things, like a NATO, will go anywhere you can. They clean up well and, without a buckle, the only points of failure are the spring bars, excluding the nylon of the strap. But the nylon tubular webbing they use is pretty strong; strong enough that I'd start worrying about a wrist before the strap. You put something with fixed bars on it like a Bertucci, and that combo is going nowhere.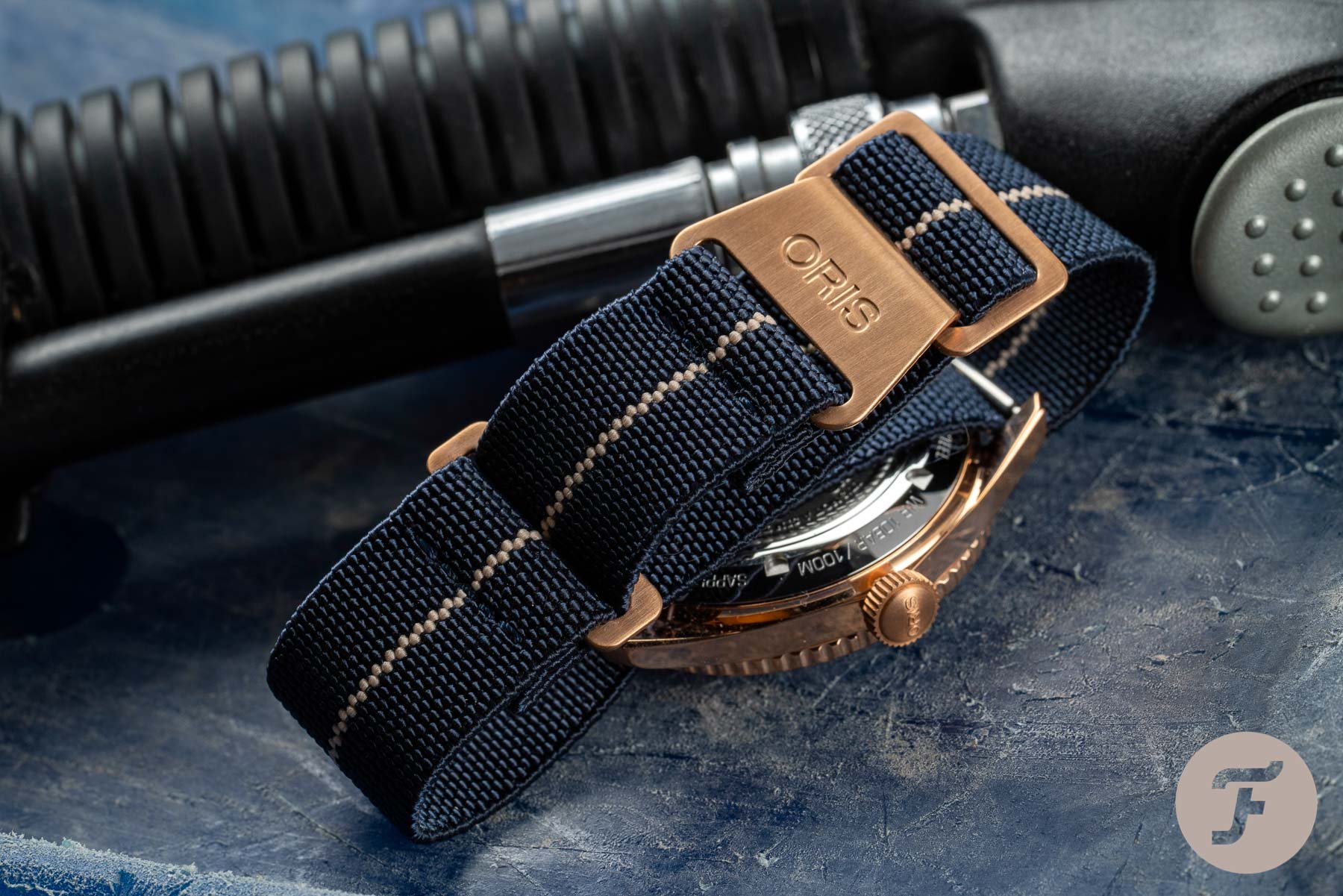 Erika's Originals
Now for a woven watch strap that's is more refined. Erika's Originals has ballooned from cult favorite to an industry player, with partnerships with NASA and Oris. What makes Erika's straps so nice is the use of a quality Spandex elastic core within the nylon webbing. This makes for a pass-through that appears like a refined NATO with the feel of even, close comfort around the entire wrist. All the standard colorways you'd expect for a NATO strap are present. The clasps are a proprietary fold back and hook style. If you dig the NATO look and want a daily wearer for non-grueling conditions (at least physically grueling), you can't go wrong with Erika's Originals. I know we like them.
Perlon
At the release of "Spring-bars and NATOs", the respectable sibling of this article duo, Fratello commenter "Lukasz" asked, "What about a Perlon strap?" Well, Lukasz, here it is. I know Perlon has been around since the mid-20th century, but stylistically, they make me cringe so hard I couldn't in good faith include them in the same article with Milanese mesh. I had a hand-me-down beige Perlon belt when I was a kid (about the same time I had my KAVU strap). Let's just say I was ecstatic when I moved on to a leather one. The combination of beige, braided fibers, and no designated sizing just gives me the creeps.
For those of you who don't know, Perlon is a loosely woven nylon fabric. Its benefit is the ability for the tang of a buckle to slot almost anywhere into the weave. For a watch strap, Perlon is desired for its ability to fit perfectly to the wrist. The open weave of it also increases breathability. If you want to look like your grandfather, not in a good way, Perlon watch straps are still being produced by reputable companies. I know Crown & Buckle sells them for under $20. That's all I'll say on the subject.
Woven leather
Now, if there is one exception I'll give to beige, braided fibers, and no designated sizing, it's with braided leather watch straps. The Huarache sandal of watch straps, braided leather looks (and feels) like relaxation in the tropics. Of course, leave it to eternal vacation clothing brand Tommy Bahama to capitalize on the look when it wasselling watches of its own. Woven leather shares the same qualities as Perlon — close fit and breathability — while retaining an element of taste. While not exactly common, they can be found, most easily from no-name sellers. But, if you want quality, Tommy can hook you up. Not Tommy Bahama; that brand hasn't sold straps in a while. No, Tom Ford — perhaps the name in sharp high-brow men's fashion — sells woven leather watch bands. They're $420 apiece, but that's the price you pay for high fashion. Interestingly, Tom Ford doesn't sell Perlon.
Harris Tweed
There's a lot of talk about which straps keep a wrist cool in the heat. Nobody really asks which straps keep the wrist warm. To answer the question on nobody's mind, Vario and other intrepid strap makers started producing watch straps made with Harris Tweed. Harris Tweed is a handwoven Scottish wool tweed cloth. Not any wool can be called Harris Tweed — it must come from the Outer Hebrides of Scotland. Known for its tight weave, warmth, and water-resistant properties, it is the true champagne of wool.
Now, I have no problem with tweed. In fact, I've owned a couple of Harris Tweed sport coats and enjoyed them immensely. My problem with a Harris Tweed watch band, however, is that I can't think of anything it goes with. As a full article of clothing, it is a unique material that commands a presence and requires the rest of the outfit to "catch up". As a watch strap… Do you pair it with more tweed? Shorts and a T-shirt? I could see the cuff of a denim jacket complementing some of the less extreme colors available. Really, I think the only appropriate use of Harris Tweed in a watch strap is when paired with a Scottish-made anOrdain watch. That would be the wrist equivalent of a kilt, to be worn perhaps when traditional Scottish dress isn't appropriate. Aside from that, if someone has found a way to pull off the look and not look "fuzzy", I want pics or it didn't happen.
Paracord
In a 180-degree turn from fuzzy to austerely functional, paracord is one of the more extreme materials a watchband can be made of. Initially used as a strong, lightweight cord for military parachutes, it expanded to many other uses among military personnel and then exploded in popularity out into the general public. A simple knot pattern for a bracelet, or in this case, a watch strap, can easily contain more than 15 feet (approximately five meters) of the stuff. It can be used to make snares, repair clothes and bags, hang food, or bind a limb to a brace. Anything relatively strong rope can be used for, paracord does it.
In an urban environment, a paracord bracelet is a little over-built, akin to driving a military-grade Hummer to get groceries. But out in the wilderness, where every ounce counts and anything that can multitask is a space and weight-saving solution, having a watch strap with alternative uses is another checkmark for MacGyver-like efficiency. Sellers like JaysAndKays on eBay (they may be the best) make model-specific paracord bracelet brackets for G-Shock and Suunto. Machined out of aluminum, they're every bit as strong as you would ever need. They fit seamlessly with the watch model they're specced for, providing an elegant solution. If you're going to wear a watch and a paracord bracelet at the same time, do yourself the favor and combine the too.
Para-Fob?
I've used JaysAndKays' paracord watch adapters with success, though not with a wristwatch. Paracord and the G-Shock Mudman G9300 is too hefty a combo for me to want on my wrist, so I wove up a paracord/G-Shock watch fob. I clip it to my climbing harness at work and it keeps my arms clear while I'm climbing and sawing. The watch fob — a watch connected by a short length to a ring or clip for attaching to one's bag or body — is the modern workingman's pocket watch. It stays out of the way when the work one is doing with their hands requires them to be clear. Arborists, fishermen, welders, et cetera: you owe it to yourself to try the fob.
That's so Metal
We've looked at leather and cloth, so now it's time for metal (not that kind, Norway). What are your choices for metal watch bracelets? Links or mesh? Well, that's not all of it…
Native American Silver
In mid-1850s North America (bear with me here), the exchange of goods and skills between Spanish, Mexicans, and Native American tribes of the desert southwest like the Zuni, Hopi, and Navajo led to the beginnings of Native American silversmithing. Quickly established as a form of cultural art and valuable trade, it continues to this day with the descendants of those first artists.
As the wristwatch replaced the pocket watch in the United States, the indigenous smiths incorporated the making of watch bands and watch cuffs into their repertoire. This wasn't a far leap, as native American silver jewelry is typically heavily laden with inset turquoise and other stones alongside animal and spiritual engravings. The wide cuffs and bracelets already used to display these motifs lend themselves easily to holding a watch as well.
…if someone from the American desert southwest sees jewelry like that so far away from home, you'll find yourself in good company.
Plenty of indigenous and non-indigenous people alike wear this jewelry throughout the desert southwest of the United States. Whether you live there or not, if you're feeling it, owning and wearing these pieces is available and welcome to anyone. Websites owned and operated by native cooperatives of artisans sell all manner of jewelry. All Tribes and Eagle Rock Trading Post are good starting points. A wide selection of silver watch cuffs and bracelets from different Native artists are available, each one unique. And I promise you, if someone from the American desert southwest sees jewelry like that so far away from home, you'll find yourself in good company. At the very least, you'll have an interesting conversation.
Olongapo
Similar in style to Native American silver watch bracelets, the Olongapo watch bracelet comes from the opposite side of the world. During the Vietnam war, American troops in rotation in the Philippines began commissioning metal, two-piece watch bracelets for their Rolex and Tudor Submariners. Made by professional metalworkers from the city neighboring the military base, Olongapo, these bracelets emulated traditional metal jewelry in the region. What was different was the different insignias the military men requested be engraved into the bands. Specific emblems for different squadrons, platoons, etc. adorned them.
Most Olongapo bracelets one comes across today are vintage pieces from the war. There is a pervasive sentiment that non-military civilians should not wear these bracelets today. They informally portray an involvement or connection to the war, a very personal and powerful association, and not something to glibly misrepresent. However, with a little digging, you can get a hold of the original artisans in Olongapo still making these bracelets to order. If you have no association with the military, you can still have a piece made without the insignias.
Hi Tek
Hi Tek brings the two-piece metal watch bracelet into the present day. The watches and watch bands are unique, to say the least. The designs are bold, the pieces are chunky. If you're looking for Olongapo-meets-Matrix, this is it. This is the point in the article the Norwegian metalheads can tune back in. They pair excellently with black leather and spikes. And if you think the watch bands are unique, you should check out the watches.
Weird enough for you?
I can't say I know all the different ways of strapping a watch to a body, but we've covered a lot of ground. If from these two articles, the regular and the strange, you still can't figure out your unique way of strapping your watch… I have to tell you, you're on your own, because I've got nothing left. However, I hope these watch straps, bracelets, and unique materials opened you up to new ideas about what is possible. There's no reason to be stuck with the regular, especially if regular is unappealing to you. Go out, explore, and tell us in the comments below what weird ways you strap a watch to yourself.
*The section regarding bund straps has been edited to update the correct information. Previously the article attributed the Bund watch strap name to Nazi Pilots of WWII. After further research, this has been found to not be true. The author sincerely apologizes for the mistake.