Wrist Game Or Crying Shame: Omega Speedmaster Split-Seconds Ref. 3540.30
Will it split seconds AND opinions for €1,954?
Welcome back, dear Fratelli, to Wrist Game Or Crying Shame! It has been seven weeks since our last installment, but I've got an interesting (value) proposition on the docket today. We're looking at the Omega Speedmaster Split-Seconds, one of the lesser-seen Speedmasters from the tail end of the '90s. Both its maker and model family have a prestigious reputation, and the rattrapante complication makes it even more intriguing. For €1,954, this rare Speedmaster could be the no-brainer of the year. But that's only if the design and execution speak to you. Let me tell you what I think, then we'll put it to a vote.
For me, quirky chronographs are wonderful things. What can I say? I love chronographs that do something different. Whether it's the way that the watches display information or give a twist on the complication, I find them fascinating. In the last installment of Wrist Game Or Crying Shame, I put the Franck Muller Endurance 24 under the gun. This 24-hour-dial chronograph hails from a brand that so many in the watch world today love to hate. Honestly, I expected it to bomb in the polls, despite my clear appreciation for the piece. But while 54% of you weren't feeling it, it was still a fancy-tickler for the other 46%. I want to say that today's subject will be slightly less polarizing, but it's definitely not one for the Speedmaster purists. So without further ado, let's take a look at this chunky neo-vintage curio from Omega.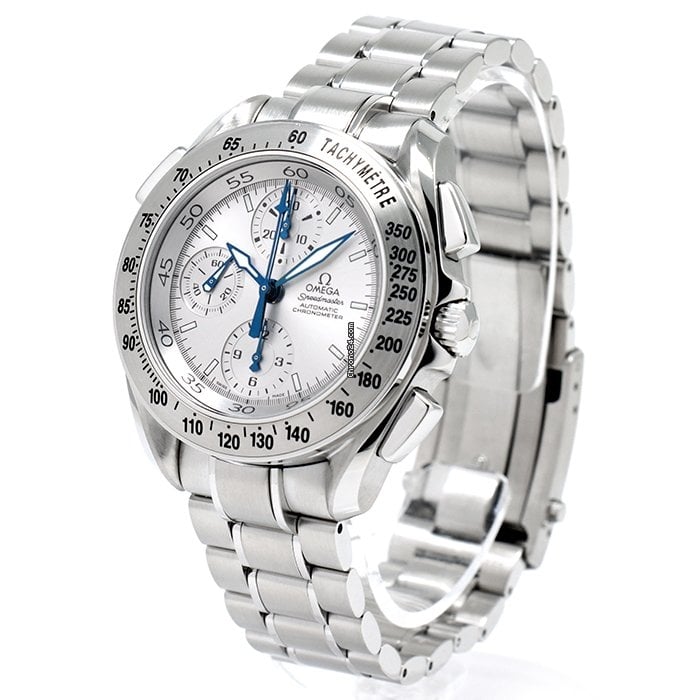 Omega Speedmaster Split-Seconds ref. 3540.30
Here we have an oddball from the turn of the millennium, and one that only enjoyed a three-year production run. Omega released the Speedmaster Split-Seconds in 1999, just one year after the debut of the Speedmaster X-33. If you are familiar with the styling of the X-33, you will notice similarities in this Split-Seconds model. The noticeably beefy case has a similar profile and crown guards, wedge-shaped pushers, and a spacious bezel. The lyre lugs on both models are thicker than the on the standard Moonwatch, giving their cases a more imposing stance. The cases of this model and the X-33 also both measure just over 42mm in diameter with a lug-to-lug of 48mm and change. Both watches have 20mm lugs and the then-typical Speedmaster bracelet design with ovular links. The rehaut of this watch and the X-33's bezel even share a very similar typeface. That, however, is where the similarities end.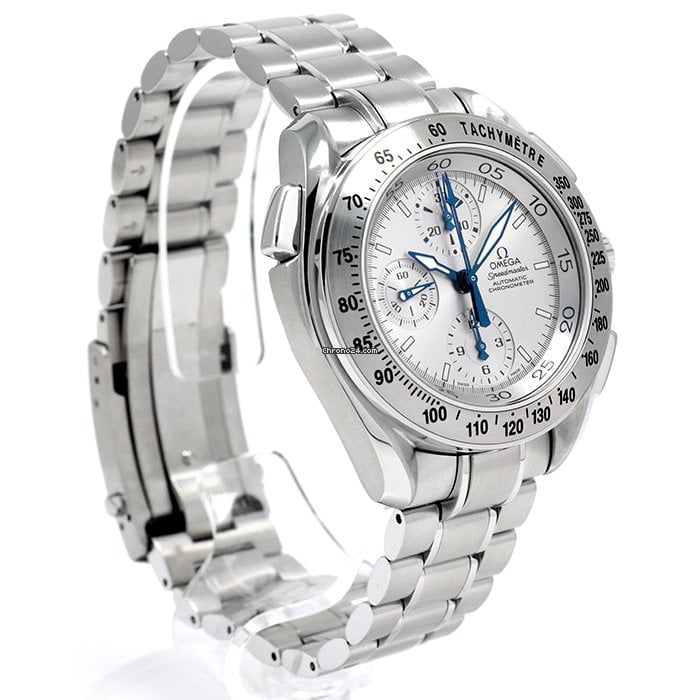 The Speedmaster Split-Seconds is certainly its own beast. This is due, in no small part, to its stainless steel construction. No X-33 titanium here, folks — sorry. It's also a chunky monkey at 16mm thick, standing over a millimeter taller than the X-33. It has a bold tachymeter bezel, a unique handset and dial, and of course, a mechanical caliber running the show. If you like the general look of the X-33 case, but timing space missions digitally isn't your jam, may I suggest timing lap splits mechanically instead?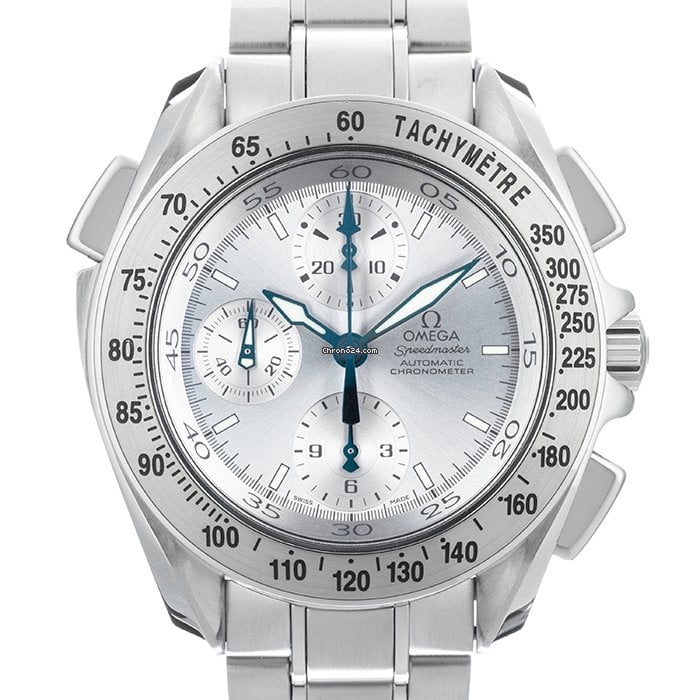 This ain't your daddy's Moonwatch
While working for Fratello, my love for the Moonwatch has grown. RJ's Speedy Tuesday articles, our enthusiastic community, and my colleagues' passion for their Speedies have all rubbed off on me. I see the Moonwatch as a beautifully functional design and respect it as a timeless icon of horology. Still, having variety is a good thing, and I also appreciate the Speedmaster as a platform for design. I gravitate heavily to the lighter-dial models, and this silver dial is right up my alley. With legible black printing and beautiful blued hands, it provides great readability with a classy touch. Blued hands are a treat on any Speedmaster model, and Omega executed them expertly here.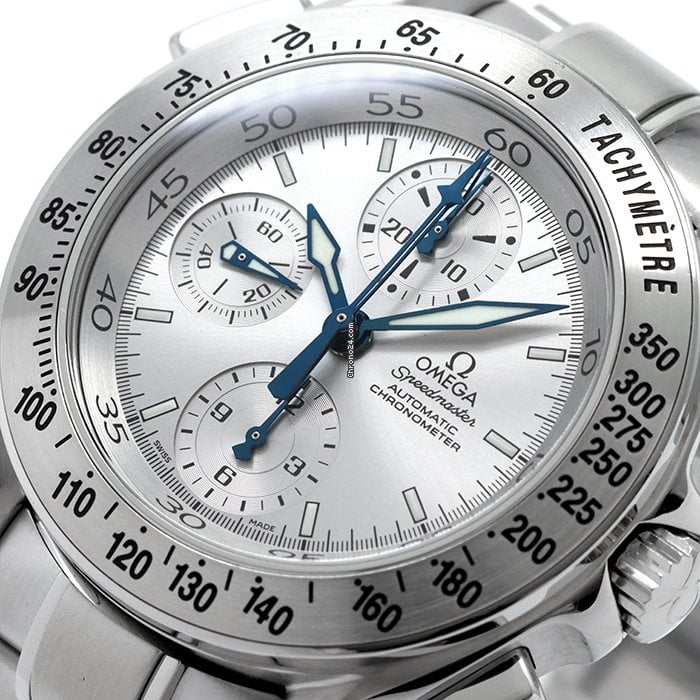 A spade hand for the hours and a sword hand for the minutes is a combo I've never seen on other Speedmaster models. The upper chronograph seconds hand is unique too. Its tip reminds me of a post on a wrought-iron fence. I could go on about each of the seven hands here, but you get the idea: they are refreshingly different! I also love the fonts on the dial and rehaut. They are legible and make an impact without looking overdone. I will admit, however, that my biggest complaint is the lackluster font on the tachymeter bezel. I find it too large, boring, and incongruent with the rest. It looks like someone designed the bezel with a word processor, and choosing 40pt bold Arial was the best they could do.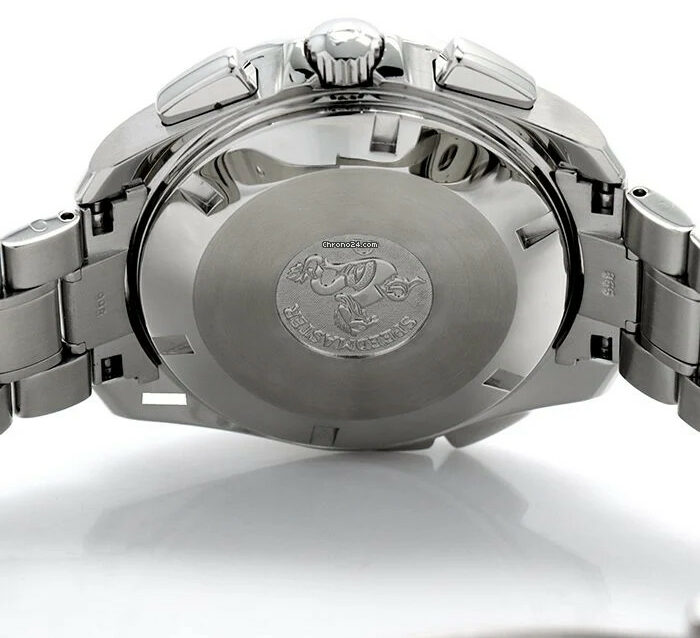 Saving grace with a split-seconds movement
No worries, though. The movement makes up for it. You won't be able to see it due to the solid case back, but inside lies the Omega caliber 3600. This 28-jewel 4Hz movement is based on — you guessed it — the ever-reliable Valjoux 7750. It explains why this watch is 16mm tall, as the split-seconds module sits atop an already-chunky base (7.9mm thick in its standard form). The double-cam-lever setup of this movement helps simplify the rattrapante/split-seconds complication. Traditional rattrapante movements use double-column wheels and are (in)famously delicate and complex to produce. With Richard Habring's re-engineering of the complication in 1992, however, the 7750 proved a sturdy alternative. Omega followed Habring's lead, giving this "boring" workhorse caliber a grand complication. Allowing the user to measure splits between two concurrent events via the pusher at 10 o'clock, it is horological revelry made accessible.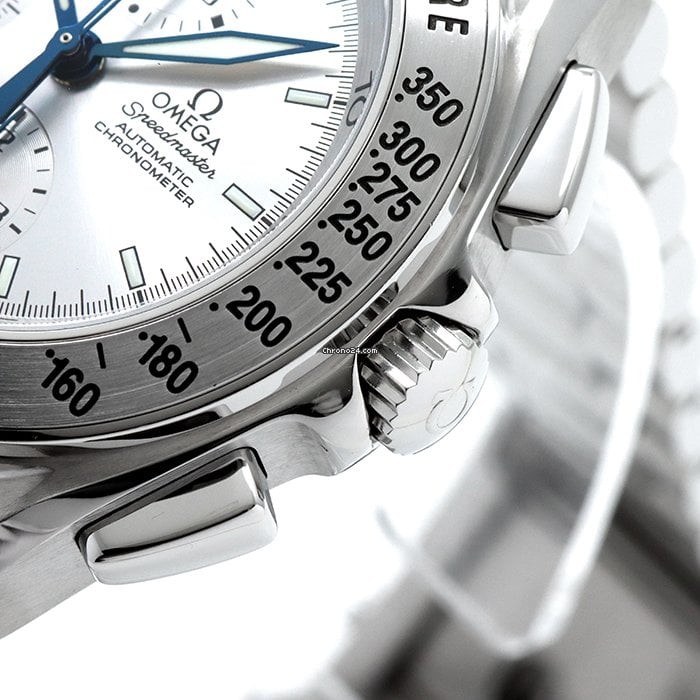 You will notice, however, that this caliber lacks the traditional day/date window of the Valjoux 7750. If that's a dealbreaker for you, you'll have to look elsewhere. Considering the general rarity of a rattrapante complication compared to the number of dead-standard 7750s out there, I'd say it's a pretty fair tradeoff this time.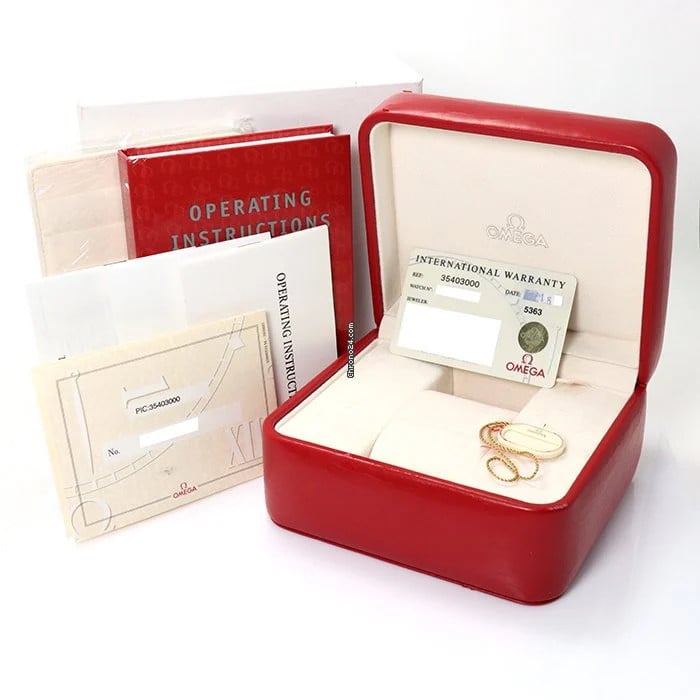 This example
Today's Omega Speedmaster Split-Seconds ref. 3540.30 is available on Chrono24 from the Japanese dealer GMT. It comes with a box, papers, the hang tag, instructions, the card sleeve, and warranty card dated 2012. Since that was 10 years after this model went out of production, it likely sat around in NOS condition for years. The seller shows that there are some scratches on the bezel, but otherwise, the watch looks to be in pretty nice condition. The listing states that the watch was recently serviced too, which is good peace of mind when buying a used piece. For JPY 270,000 or €1,954 (plus shipping to your country), I must say, I think this is a heck of a deal. There are black and blue-dial versions out there as well, but the silver version is striking and the most affordable too! Neo-vintage Omega still offers incredible bang for the buck.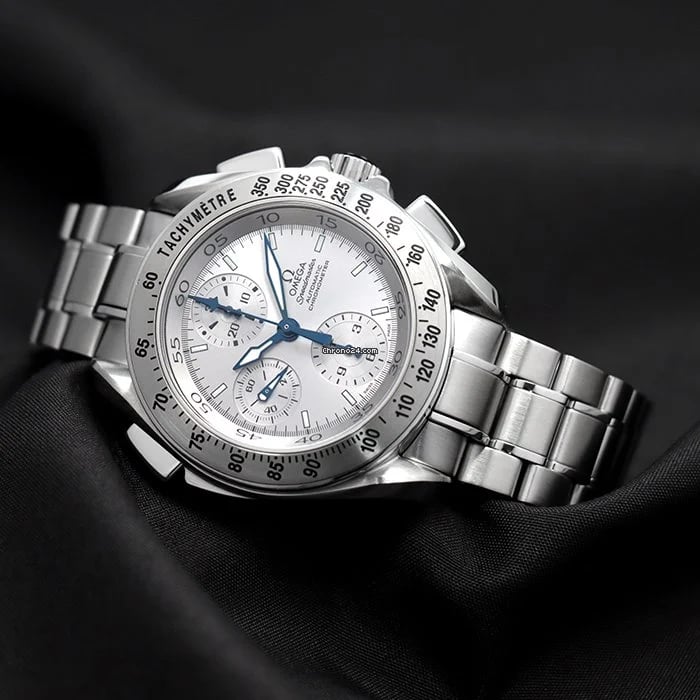 You know what I think, but now it's up to you to vote. Is this Speedmaster Split-Seconds wrist game or a cryin', cryin' shame? Don't leave without voting, and explain your choice in the comments!
Wrist Game or Crying Shame — Omega Speedmaster Split-Seconds ref. 3540.30