Baltic Celebrates Its Fifth Anniversary With A Limited-Edition Aquascaphe Dual-Crown
A classic twin-crown diver with a funky '90s-inspired colorway
Five years ago, Etienne Malec and two other collectors (Paul Bienstman and Clement Daniel) came together to create Baltic watches. Since then, the brand's creations have captured the imagination of enthusiasts and seen an incredible rise in popularity. The latest MR-01 model made waves on social media. For a few weeks when it came out, the watch and its stunning micro-rotor movement absolutely dominated my Instagram feed. Baltic's classic designs are inspired by its founders' love for the classic and analog. These classic designs are undeniably appealing. And thanks to the brand's direct-to-customer sales model, the pricing for the watches is more than fair. The brand's success, therefore, is no surprise.
Now, five years since its humble beginnings, Baltic is a name that hangs on the lips of new collectors looking for a classically inspired watch that is both well-made and affordable. But the brand also catches the eye of more experienced collectors looking for something fun, classic, and still refreshingly original. To celebrate these five years of success, a new limited-edition Aquascaphe Dual-Crown launches today. It comes in colors that all of us who grew up in the fearlessly flashy, fashion-forward decade of the '90s will know. The result is a watch that gives a nod to the decade of Baltic's founders' childhood and that will match your cool vintage windbreaker.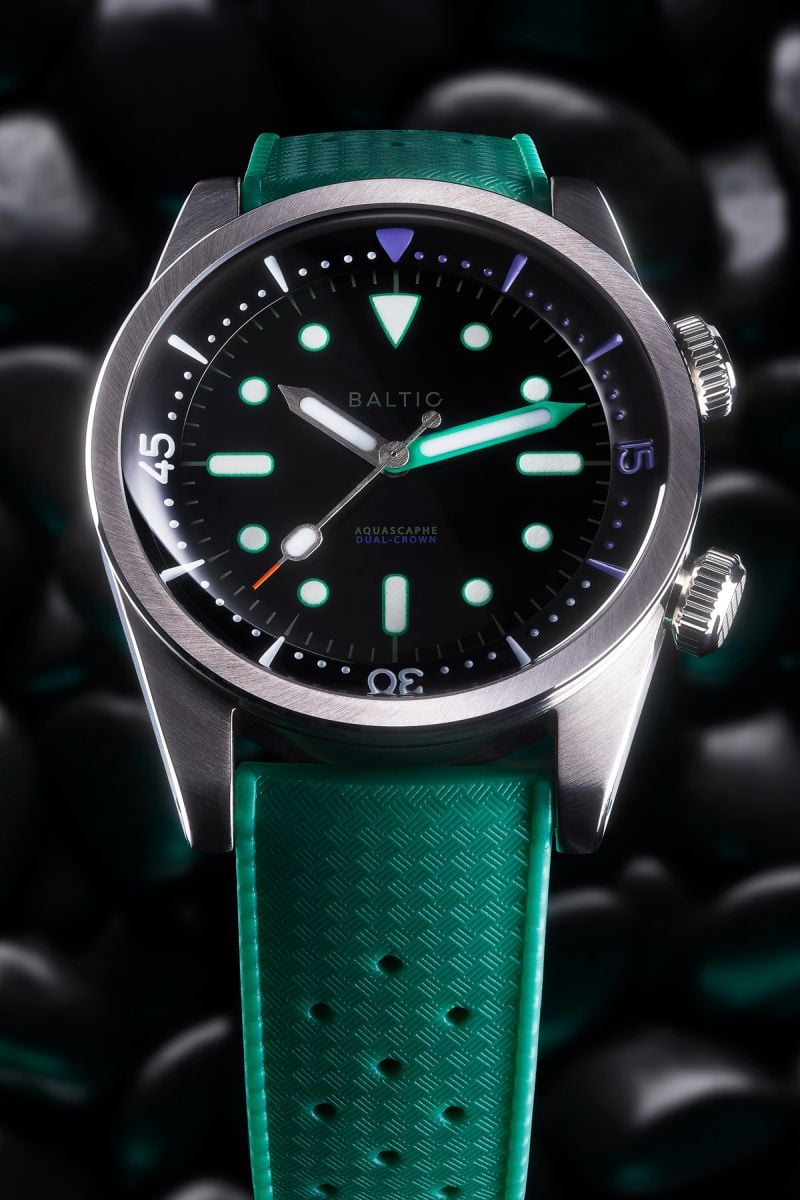 Limited-edition Aquascaphe Dual-Crown
At Fratello, we're no strangers to Baltic and its Aquascaphe Dual-Crown dive watch. It made quite a positive impression when we had it here for a hands-on review. But this is not just a one-off thing, or a surprise, really. Baltic watches have always given us plenty of good things to say about them. It's simply a case that the guys and gals making these watches get it. They get what makes a classically-inspired watch work. And the Aquascaphe Dual-Crown's design and slim 39mm case are a testament to that. All of Baltic's watches are beautifully drawn and executed, and they offer plenty of value for the price.
Sure, inside is a humble Miyota movement. But Baltic doesn't cheap out here, using the 9039 caliber with hacking seconds and a 42-hour power reserve. All watches are hand-assembled in France by a team of watchmakers. They methodically test and adjust each movement to ensure the best possible performance. And this dive watch doesn't just look like one either. The screw-down crowns and case back offer 200 meters of water resistance. Plus, there are plenty of small details that give this a real vintage vibe, such as the domed sapphire crystal, the cross-hatch pattern on the crowns, and the glossy black dial and internal rotating bezel.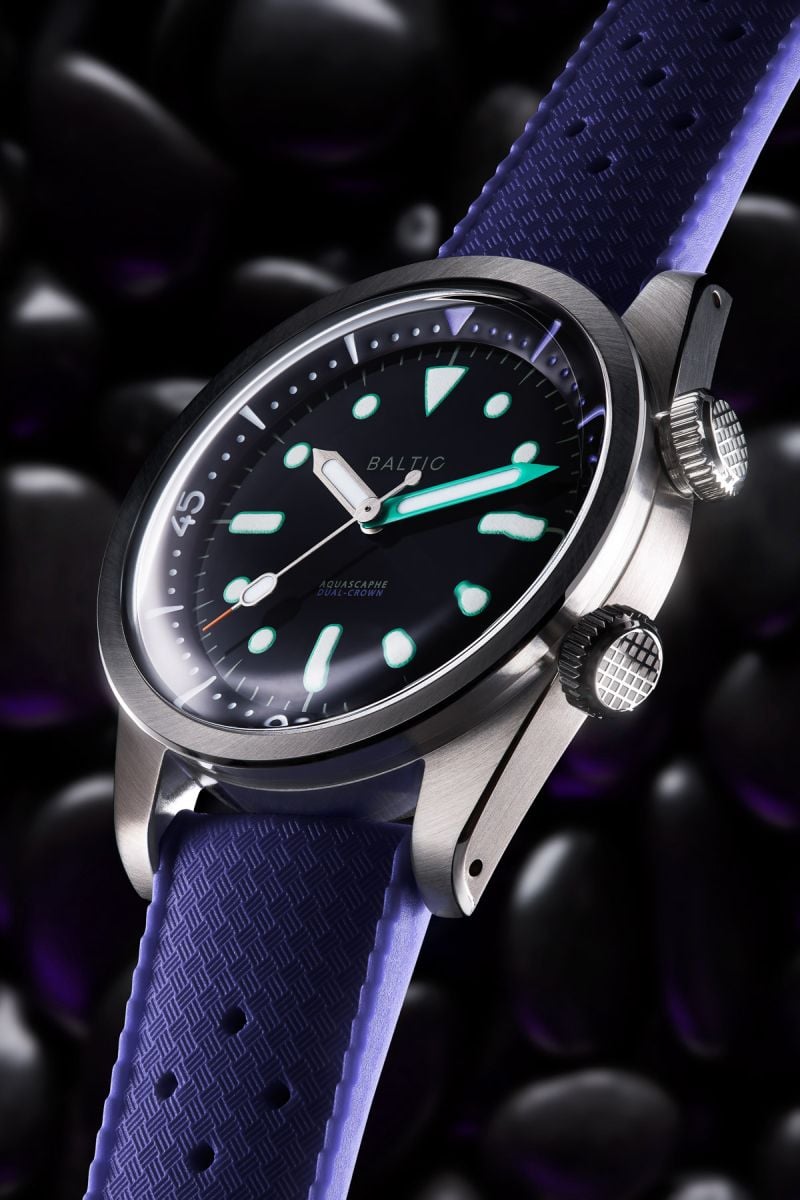 Final thoughts
For the price of €650 (before tax) you get one of 200 watches produced for the brand's fifth anniversary. But you also get two Tropic-style rubber straps, one in purple and one in green. So depending on your mood, you can go with one or the other, or even one piece of each for the ultimate funky combination. Setting this LE model apart from the regular-production Aquascaphe Dual-Crown, you'll find an engraving on the normally plain case back. Additionally, the watch is delivered in special packaging. I get the feeling you'll have to be quick if you want to call one of these your own. So if you dig it, head on over to the Baltic website — they're on sale now!
What do you think of this funky '90s-inspired dive watch? Does it bring you a smile along with a pang of nostalgia? Or does it make you think of a certain singing dinosaur on television? Personally, I like it. It's nice to see a brand that has been very classic in its designs and colorways (with some exceptions) do something bright and brave to mark a special occasion. And as a child of the '90s who wore a purple-and-green tracksuit at school for PE lessons, I still have a soft spot for this clash of colors.