Dave's ​​Top Daily Beater Watches Under €1,000
Ready to rough and tumble!
The concept of a beater watch can mean different things to different people, but I think we can all agree that the essential part of the brief means that the watch has to handle the rough and tumble of everyday life. We often get asked about the top beater watches at specific price points and, while we have our own opinions, it's very subjective.
However, it can be interesting to learn about each others' recommendations as sometimes you can learn about a real gem that you may never have heard about before. I hope that you might find something new and interesting on this list! So, without further ado…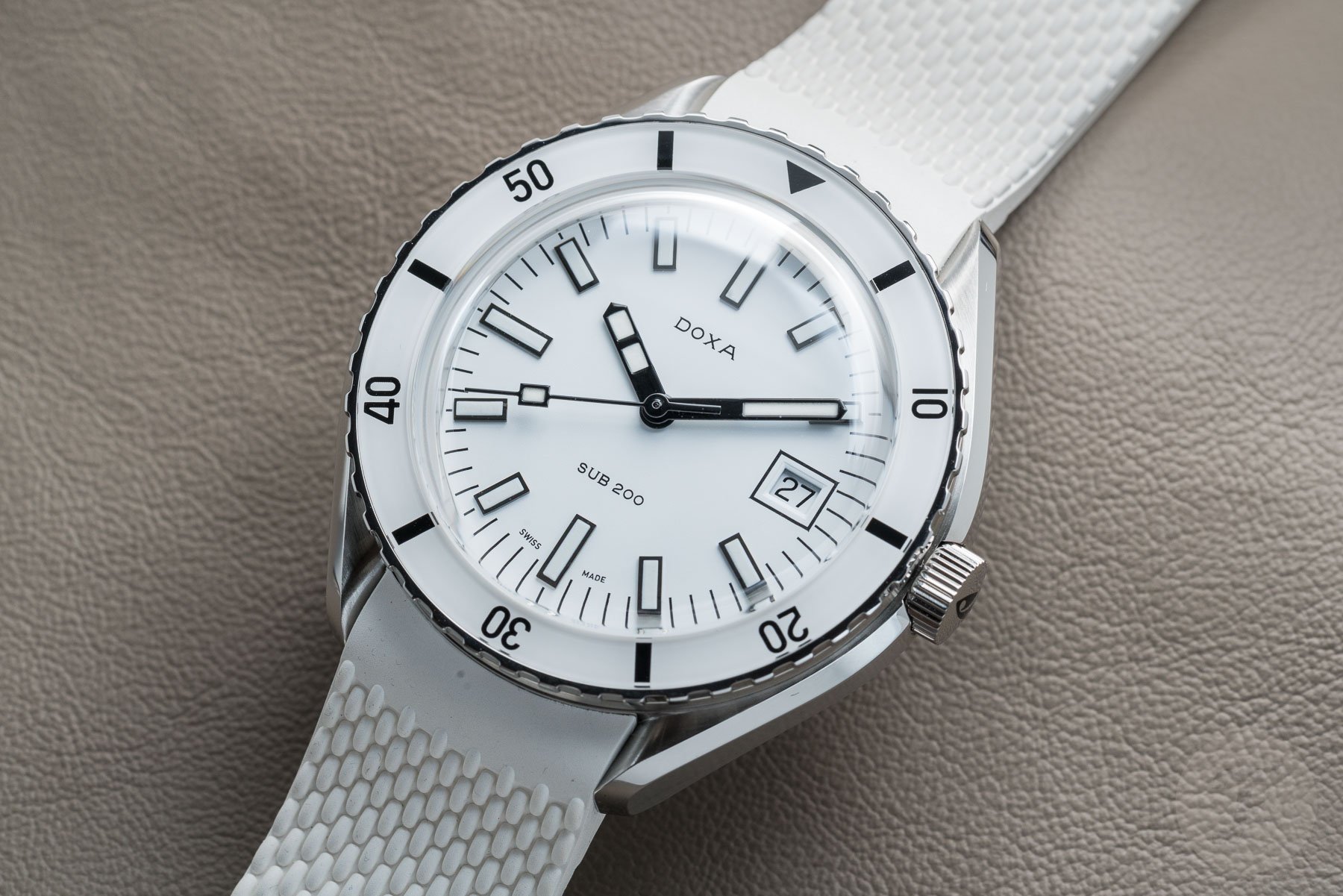 Doxa Sub 200 Whitepearl — From €950
Doxa is a well-known and well-documented brand with a cult-like following and a genuine heritage. You may know the brand's association with the godfather of SCUBA diving, Jacques Cousteau. That says a lot in itself. But I'm not here to talk about Doxa's most well-known models. In 2019, the brand introduced a smaller and simpler dive watch at a very attractive price. It immediately made a positive impression with collectors around the globe thanks to its charming retro design and wide array of bright colors — a calling card of the Doxa design team.
The SUB200 collection was initially available in 6 different colors with a steel "beads of rice" bracelet or a matching colored rubber strap. However, in July of this year, Doxa added a 7th color to the collection, which I've chosen for this list. The rather lovely and bright Doxa SUB200 Whitepearl.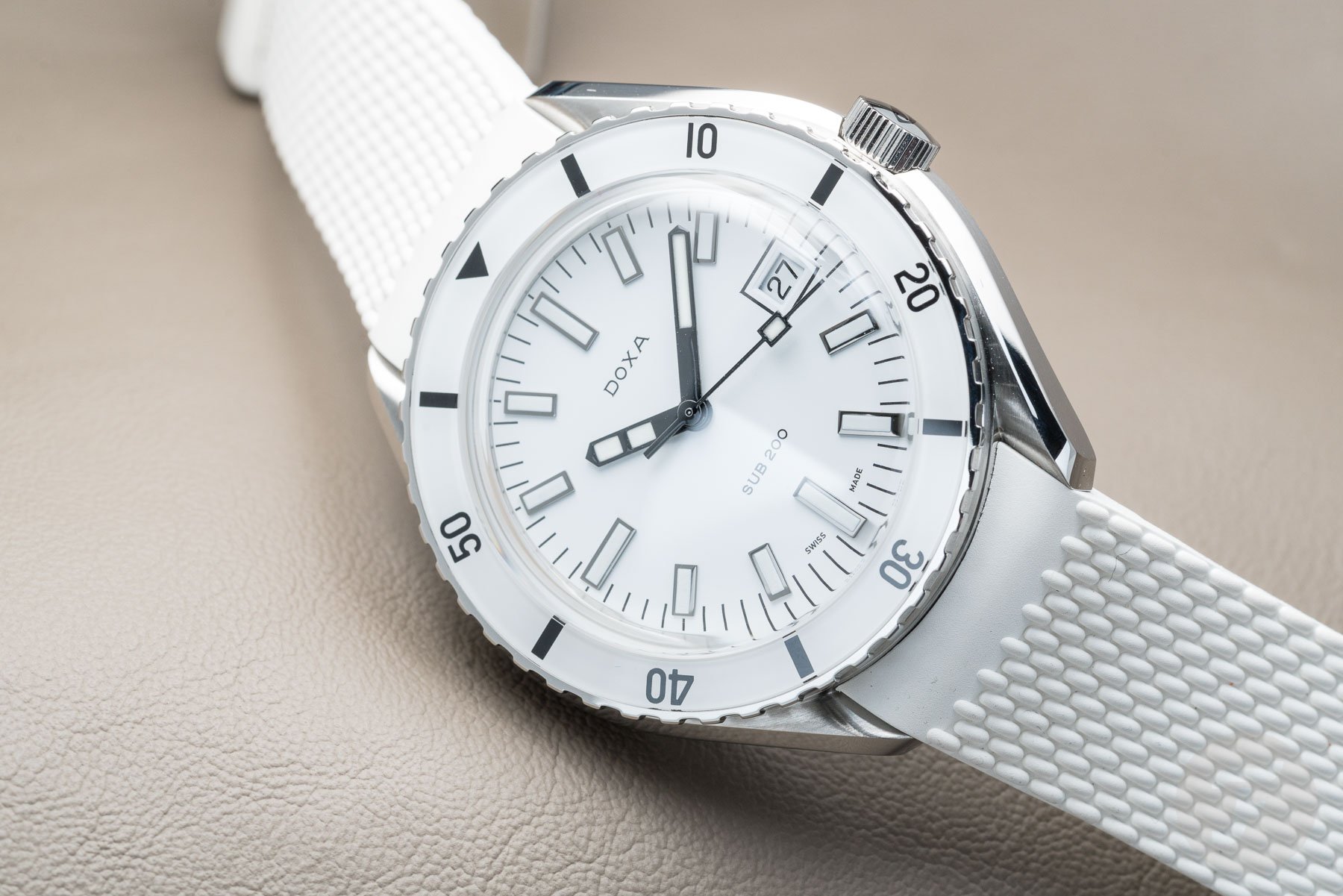 What makes the SUB200 a good beater watch?
Aside from the color scheme, the SUB200 Whitepearl is identical to the previous versions of the SUB200 family. A 42mm stainless steel case with attractive lyre lugs houses an ETA 2824-2. A mixture of brushed and polished surfaces creates a visually attractive watch that works perfectly with the stark, white color scheme. 200m of water resistance means the SUB200 can handle pretty much any water-based experience the average person might expose themselves to.
If 42mm seems larger than you might expect, the short lugs help offset some of the diameter to keep it wearing smaller than its on-paper specs might suggest. For €950 for the rubber strap version, the SUB200 offers some serious value for money. If you're looking for a bright, summery dive watch, then the Doxa SUB200 could be the one you're looking for.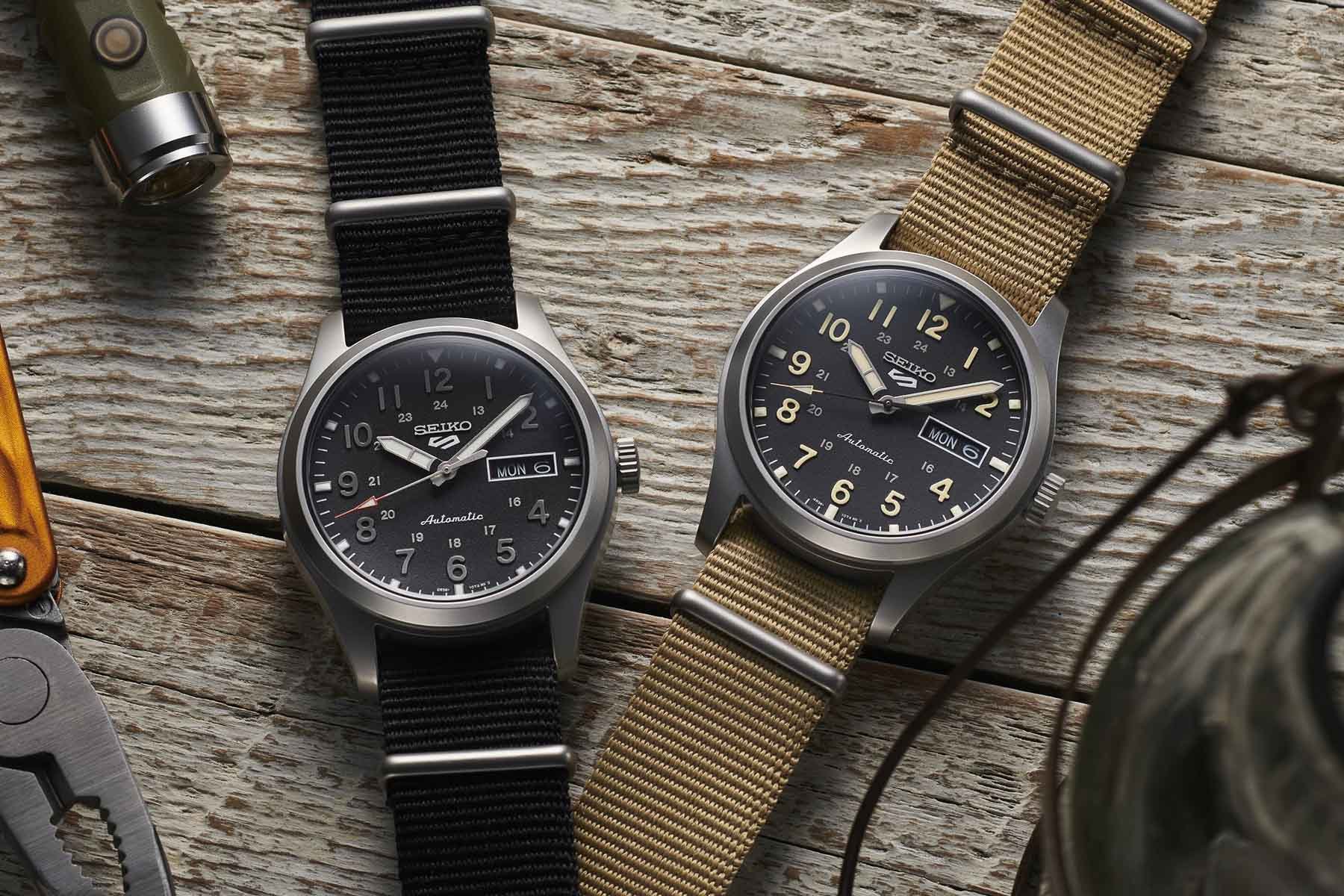 Seiko 5 Sports Field Watch — From €269
Seiko will always be a part of the conversation if we're talking about affordable daily beater watches. The Japanese brand has something for everybody at this price point. If the swathes of super-affordable Seiko 5s don't do it for you, then there's plenty of other watches to choose from.
Seiko is the king of this category. I couldn't immediately think of just one specific watch for this article, which says a lot about Seiko's offerings' breadth. In the end, I settled on one of the new-ish Seiko 5 Sports Field Watches. These watches use a 39mm stainless steel case with 100 meters of water resistance and a display case back. They also use domed Hardlex crystal, which brings thickness up to 13mm. Like the diver-styled Seiko 5 models, these newest additions also use the 4R36 movement. This caliber is considered an upgrade from the older 7S36 movement as it offers the wearer hacking and hand-winding functionality. Finally, the cases contain thoughtful drilled lugs, and the crown moves to 3 o'clock.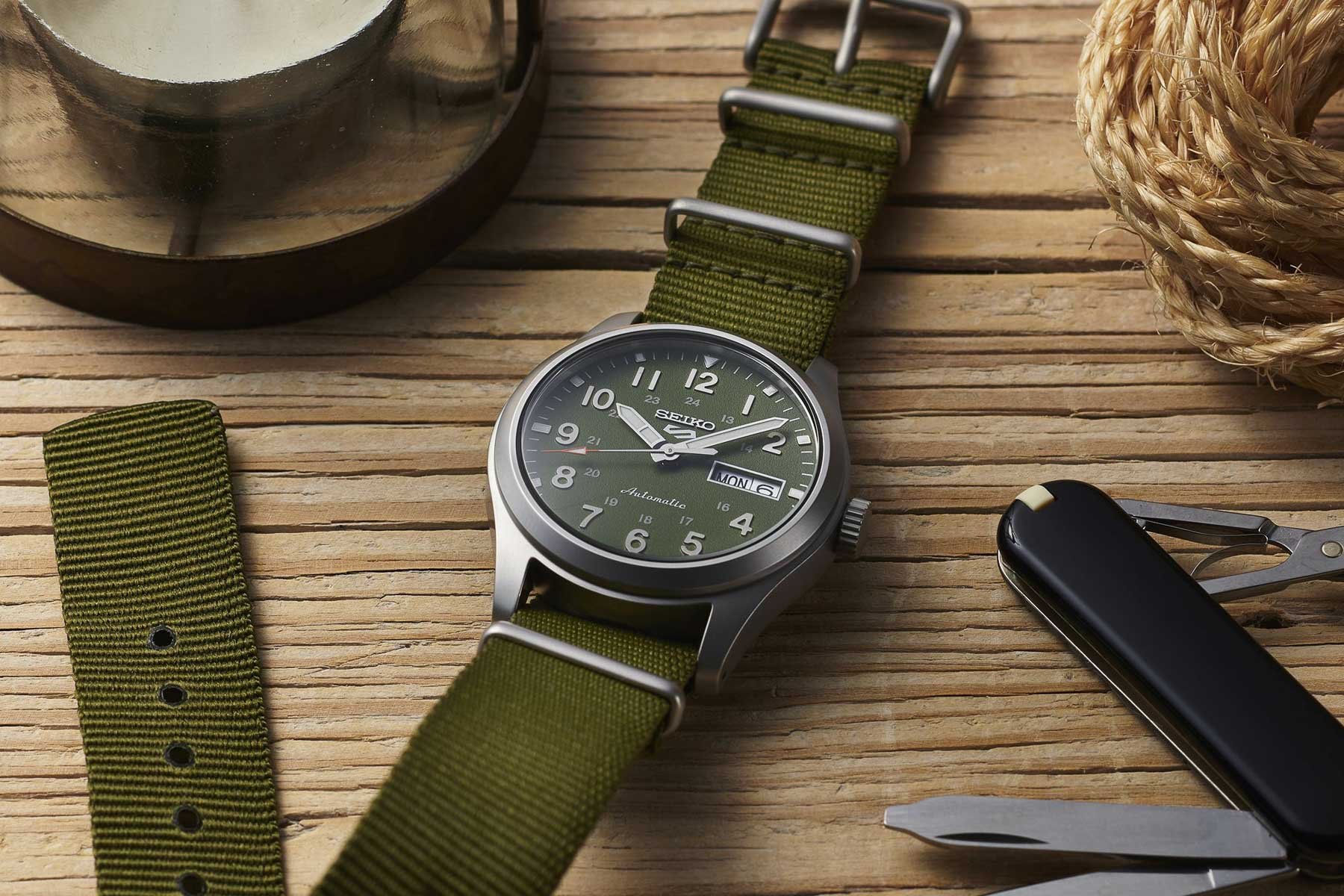 Is the Seiko 5 Sports Field Watch a good beater watch?
As far as colors, there is a bright blue dial version (SRPG29) on a bracelet, a navy version on nylon (SRPG31), an olive dial on nylon (SRPG33), a bright blue with aged lume on leather (SRPG39), and a black-coated case with black dial on leather (SRPG41). No matter which you choose, the watches feature applied-looking Arabic numeral indices. Everything about the design screams "perfect daily beater."
It's hard not to like what Seiko is offering here. With the prices starting from €269, these Seiko 5 Sports Field Watches are well under budget. There's not that much else out there, especially in this price range, that can match the Seiko's specs.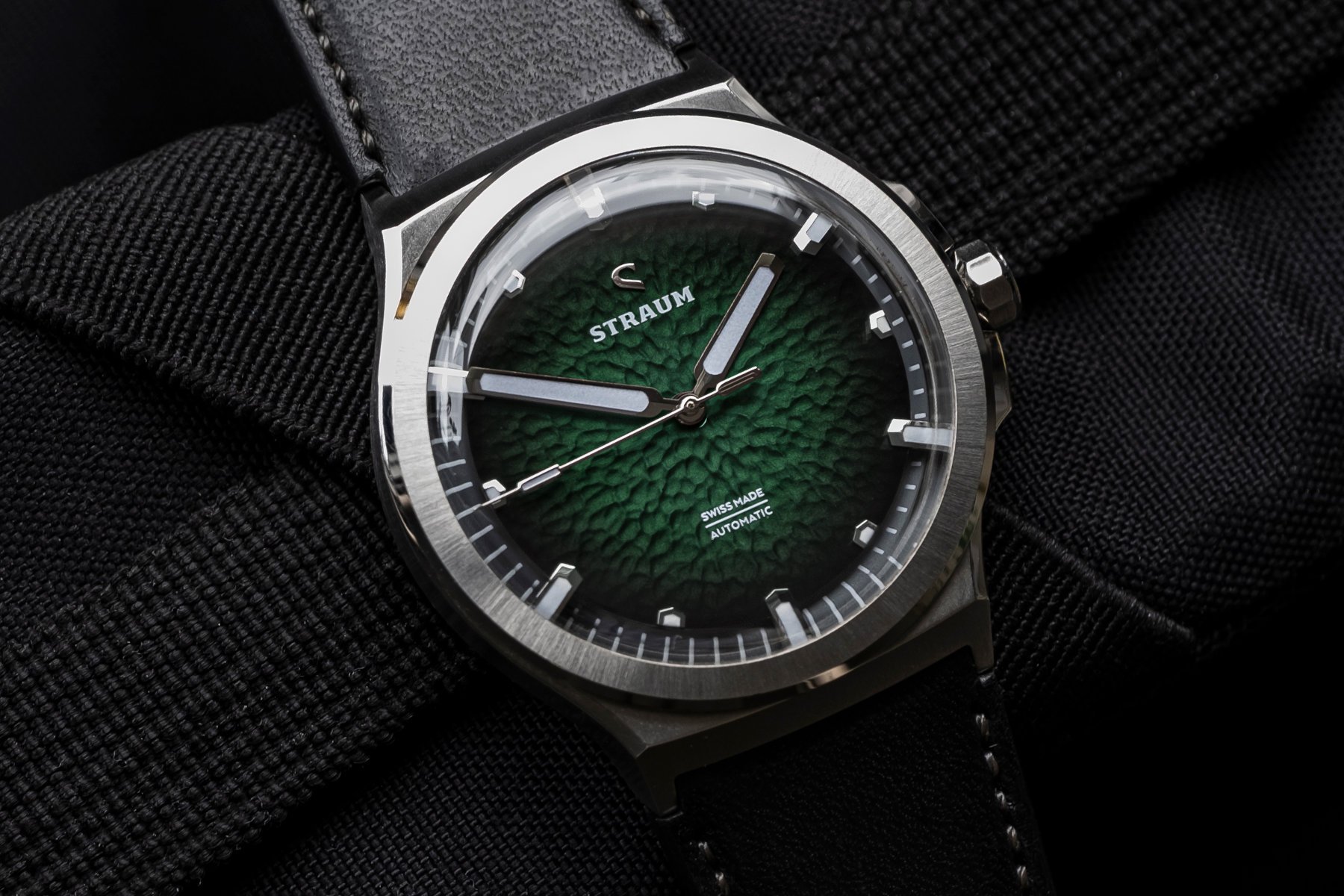 Straum Opphav — €829
This is not the first time I've talked about the Norwegian microbrand, Straum. Nor do I expect it to be the last. At Fratello, we like to write and talk about the stuff we love, and Straum firmly falls into that category.
I can clearly remember the first time I came across the brand and saw images of its debut model, the rather tasty-looking Opphav. I also remember thinking the price would be considerably higher than the €829 that the brand is asking for. The quality of the finishing, the stunning textured dial, and the clever dial construction all scream of a watch cost well over the €1000 mark.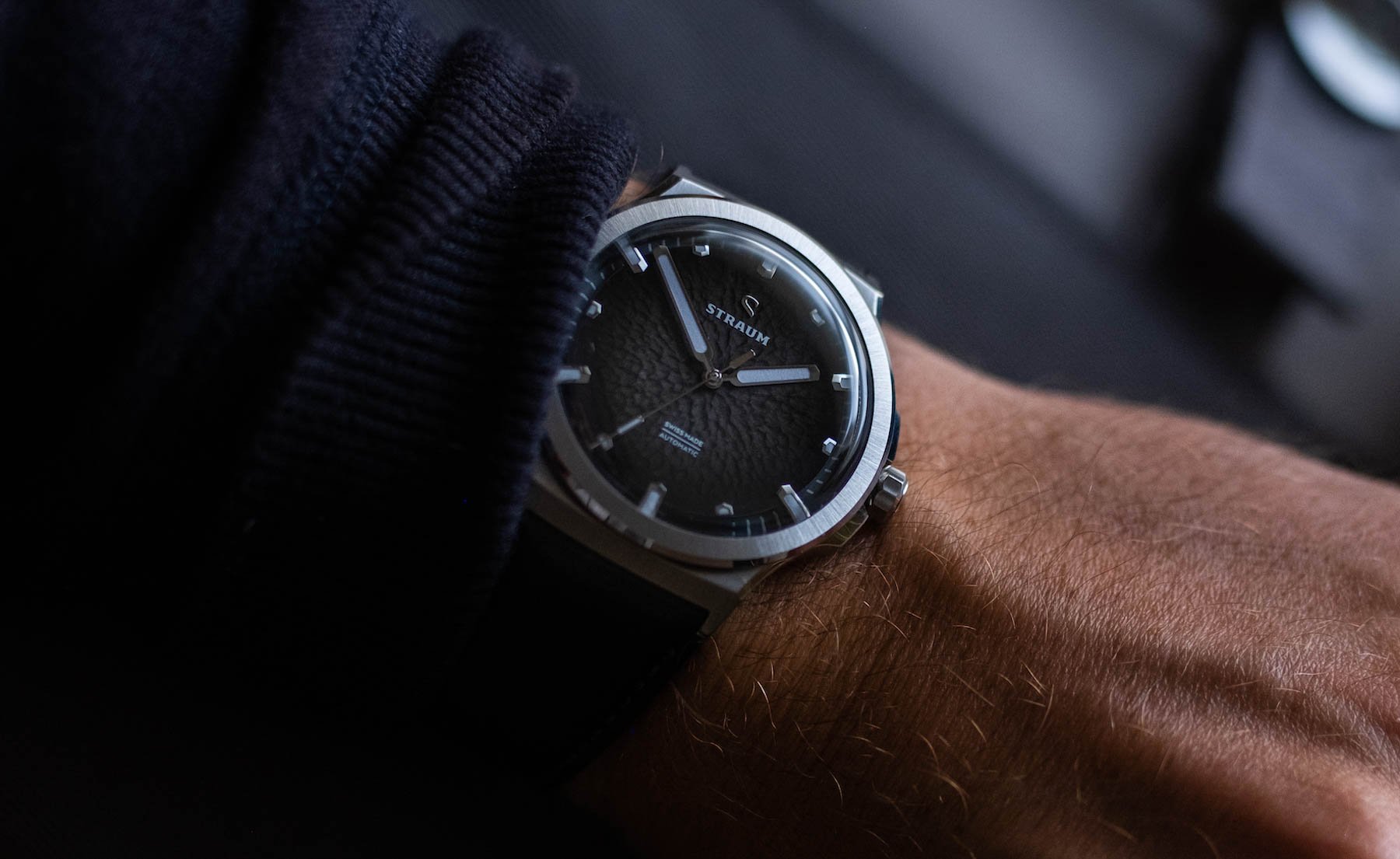 A premium beater watch?
The Opphav is Straum's "basic" model. I use that term lightly as the watch is anything but basic. As I said, the dial texture alone is stunning. The steel dial blank is stamped and then treated with multiple layers of paints and lacquers to get the final effect. Norway is well known for its beautiful mountain glaciers and fjords, and the dial textures pay beautiful homage to this. There are four colors to choose from, and each one lends a different character to the watch, in my opinion. The white dial reminds me of crisp,newly-fallen mountain snow. Ripples on the lake echo through the blue dial, and the leafy canopies of lush Norwegian forests explode into life through the green dial.
The 41mm case is complemented by a short 46.6mm lug-to-lug which keeps the watch wearing nicely on the wrist. It's also only 11.1mm thick, so it's easily slipped under a shirt cuff. 100m of water resistance tops off the package meaning that this is a smarter, slicker-looking watch that can easily handle being a daily beater. What more could you want? A bracelet, perhaps? Well, there are rumors that one might be in the making. Watch this space!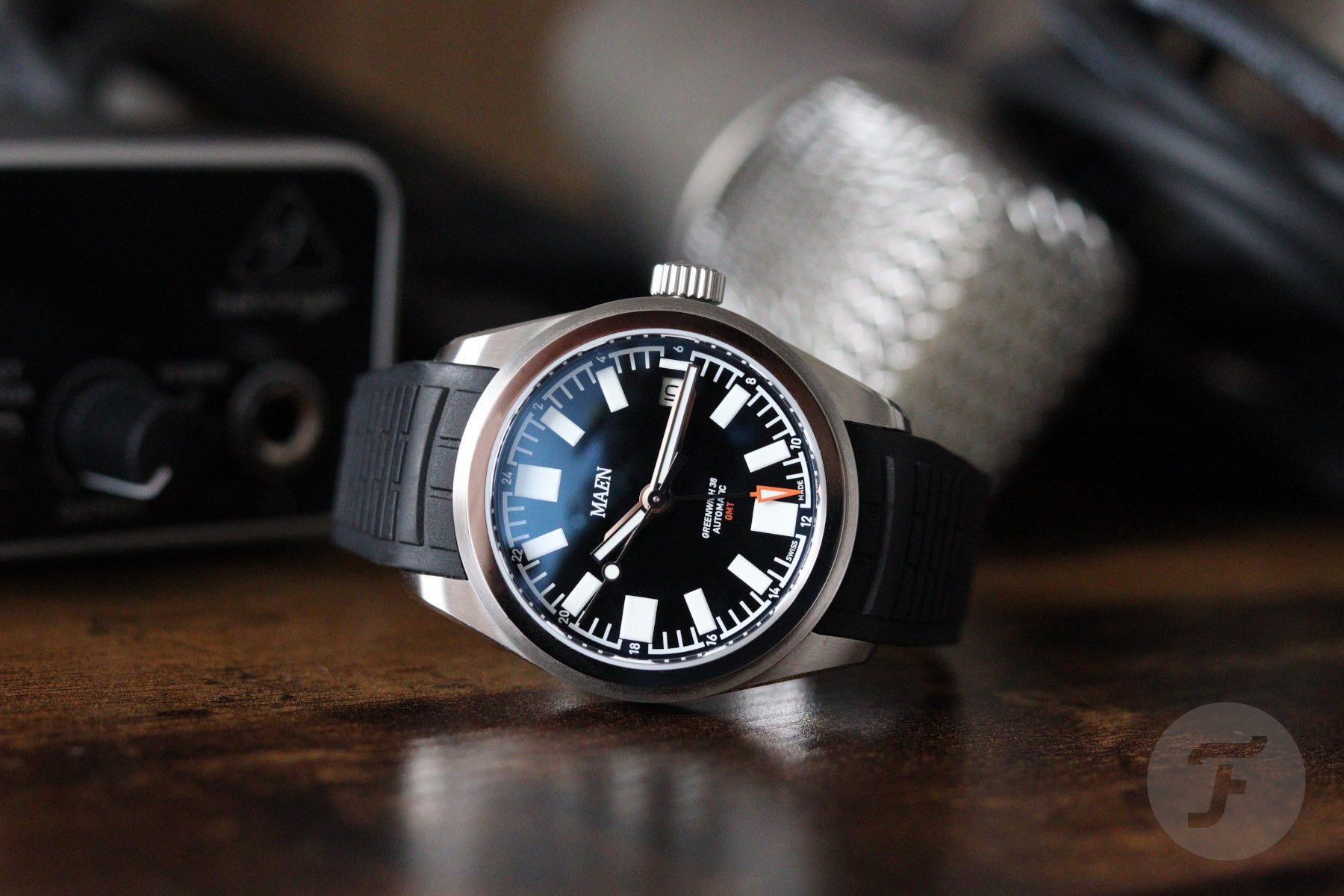 Maen Greenwich 38 GMT — From €639
When looking for a good beater watch, especially in the sub €1000 price bracket, microbrands can offer a lot of value. Microbrands may not have the ability to create technically advanced watches featuring high complications, but in this category, that's probably not what you're after. For a solid everyday watch that can handle knocks and the rigors of everyday life, there's likely something here for you.
I wrote a hands-on review of the Maen Greenwich 38 GMT earlier in the summer. When I first saw it, I was immediately taken by the simple and classy design, yet it oozed bucketloads of personality thanks to the bold hour markers. I went as far as to call this watch a microbrand alternative to the Patek Aquanaut. I did not mean it was a homage to comparable quality (come on, look at the price difference!), but I felt that the Greenwich 38 GMT captured some Aquanaut-esque vibes while also doing its own thing.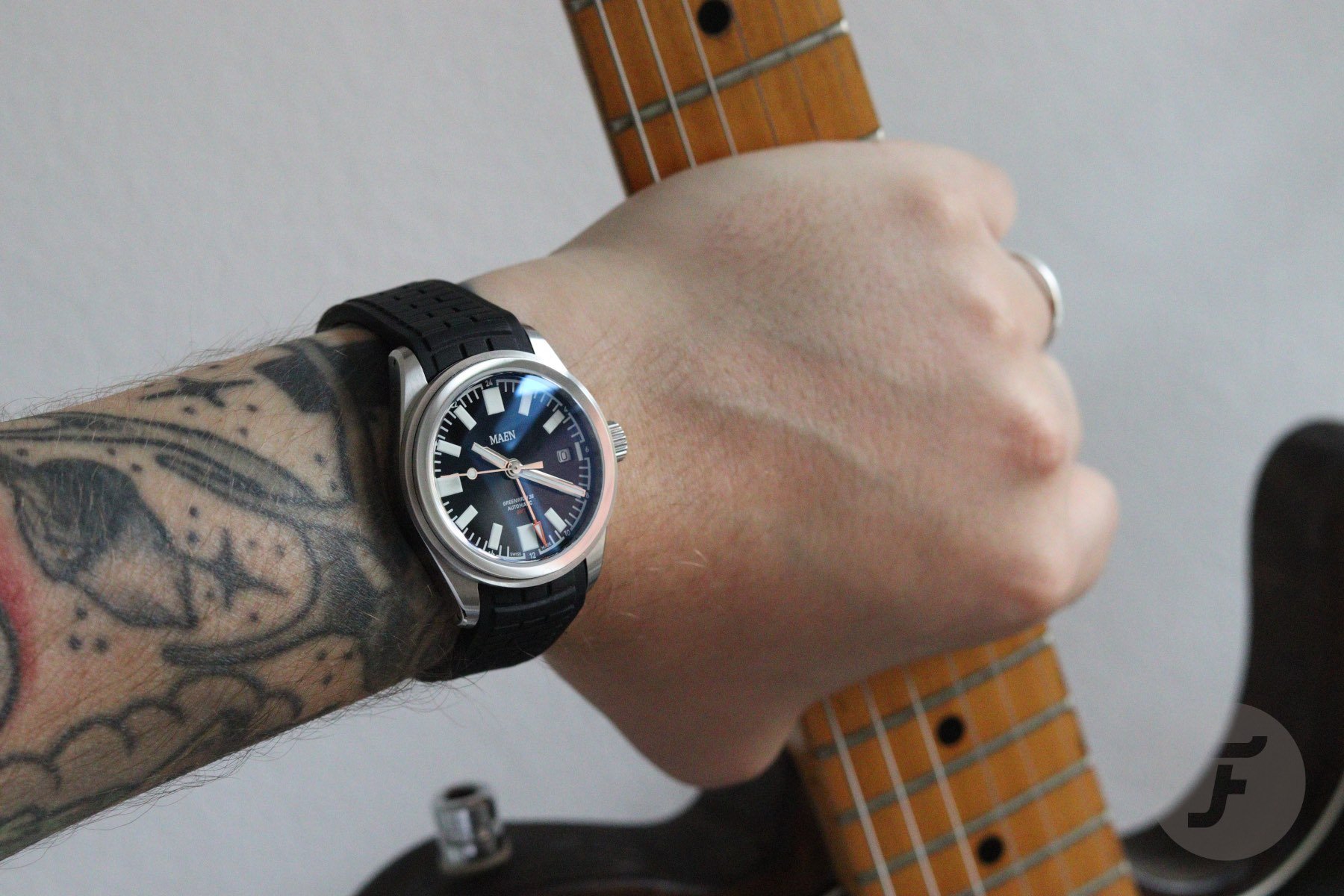 The Greenwich 38 GMT is a perfect beater watch
As the name might suggest, the watch is 38mm in diameter and 12mm thick, including the subtly domed sapphire crystal. The case was very nicely finished with a mixture of brushed and polished surfaces, really highlighting the beautiful stepped bezel. The bezel was a real standout design choice — it was a perfect choice. It helped frame the big, bold dial while also offering shape and depth from the side profile.
The dial was a divisive point for many people. Thanks to those big, in-your-face hour markers, it was always going to be one of those "love it or hate it" things. Opinions were quite split, but in my opinion, that's the sign of a successful watch design. If people are talking about it, regardless of whether they love it or hate it, you've done something right, in my opinion.
There you have my four suggestions for top daily beater watches, all coming in under €1000. Within that list, we have a range of different points across the spectrum too. I'm sure you'll have other recommendations for the list, so I want to hear them. What are your daily beater watches?
Follow me on Instagram: @davesergeant