The Building Blocks Of Time: Significant Square Watches By Cartier, Casio, And Bell & Ross
Who says being a square is bad?
Why are most watches round? Why not triangles? And for those few watches that aren't round, why are they square? There are more than a handful in the realm of quadrangular watches, but we need only investigate the few with historic provenance, industry-shaking developments, and direct lines drawn from designs already present in time to gain the answers to these questions. These few are, of course, the Cartier Santos, Casio G-Shock Square, and Bell & Ross BR 03, all with many variations of their own to explore.
Watches are round only for a couple of reasons. (Actually, watches are round for many reasons, but I'm trying to make a point.) First, the circular sweeping of the hands naturally promotes a theme of roundness throughout. Second, some of our earliest examples of wristwatches were merely pocket watches with welded wire lugs, themselves already following the aforementioned axiom of roundness. Most of today's modern personal timepieces evolved from these earliest improvised examples. But digital screens have no natural relation to the rotund, instruments of time embedded in our very square modern world mirror that squareness, and the first-ever men's wristwatch designed to be such was square. So, let's start with the wrist-square that told time first, and celebrate this little corner of horology.
Cartier Santos: A (Very) Short History
What led to the creation of the original Santo-Dumont was a complaint. Brazilian aviator, Alberto Santos-Dumont, explained to friend Louis Cartier sometime in 1904 the understandable incompatibilities of early plane flight with the handling of a pocket watch. (Santos-Dumont occupies the same time in history as the Wright Brothers as an early airplane pilot.) Not long after, Cartier presented Alberto with his namesake model: a small, squared watch with cabochon crown and leather strap. This has been widely claimed to be the first-ever purpose-made, mass-produced men's wristwatch. If it is not that, it at least was definitely the first intended pilot's watch. A much more detailed history of the origins and development of the Santos can be found in this thorough article at Rescapement.com.
Whether or not it was the first men's wristwatch is irrelevant, except for bragging rights. What is important is that Louis Cartier designed at the time from the ground up to be a wristwatch. As mentioned earlier, the largest influx of the still-new men's wristwatches in the early 1900s was the modified pocket watches of infantrymen of WWI. They, too, discovered the shortcomings of handling a pocket watch when you're, uh, a little busy, but didn't have the unique luxury of being friends with a watchmaker. Those watches were round because the pocket watches they were made from were. But a wristwatch design with imagination as the only limitation has no reason to be.
All in the lines
And so what resulted was the simple, small square of the first Santos-Dumont. It was square in part because it was a continuation of the rectangular shape of the strap. This allowed it to be very small and svelte yet remain readable. It was square because it could be; no rotating bezels or conversion tables, still some 30 years away, really existed or were necessary. Those bezels and conversion tables of the dive watches and chronographs of the past's future, along with sluggish design inertia from the days of pocket watches, cemented the typical wristwatch shape as round, at least until the 1980s and rectangular digital screens threatened to obliterate circular mechanics forever.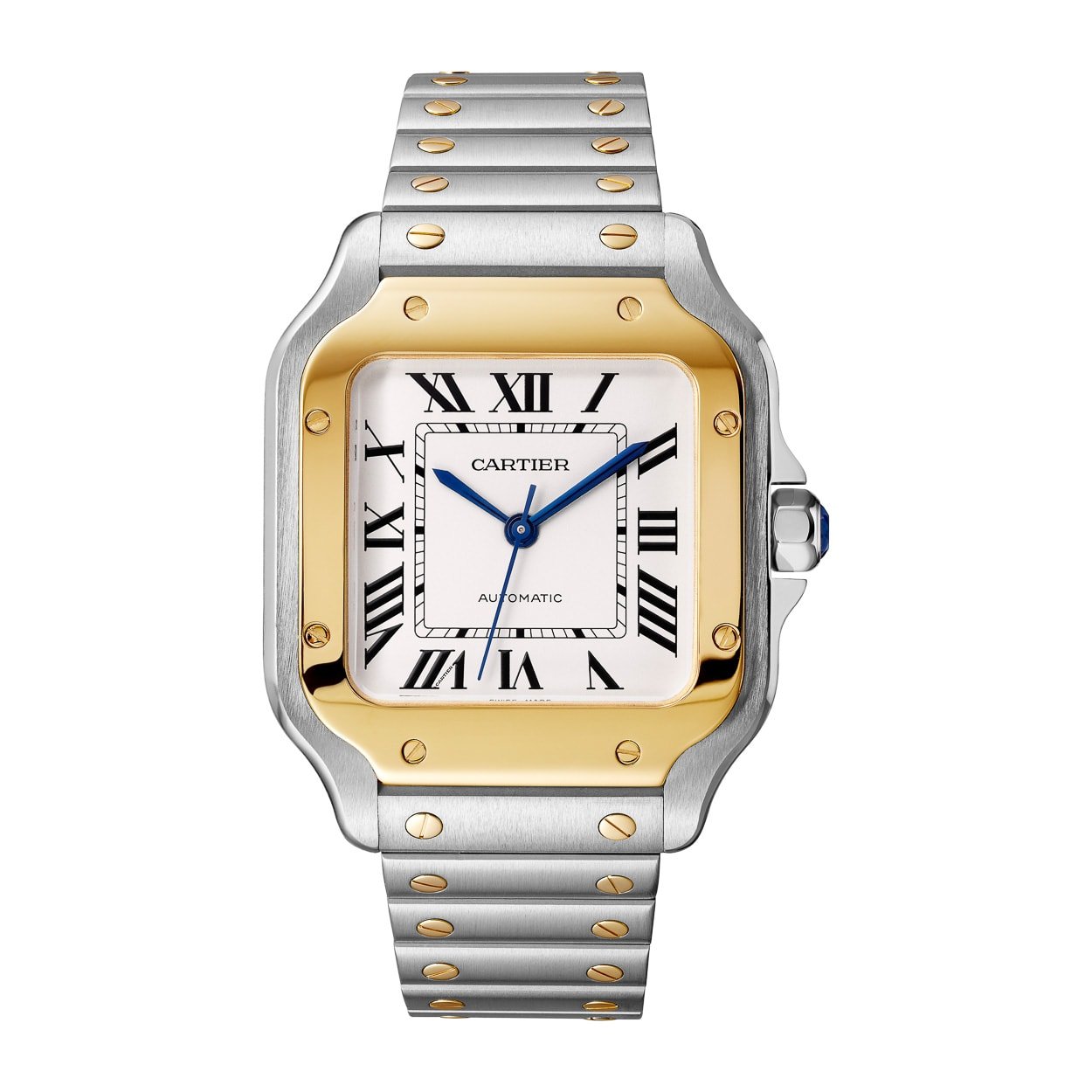 A New Santos
Today, Cartier's Santos lives on, the product of 100 years of evolution and slow swaying to trends of the times. Reference WSA0016 is what I consider to be the quintessential modern offering of the Cartier de Santos.
In a "medium" (35.1 mm × 41.9) two-toned case and matching bracelet, this iteration of the Santos is the continuation of a design progression many decades in the making. The two-tone element and crown guards are reminiscent of models of the same ilk of 1980 while the precisely curved aspect of the square theme places it firmly in the present day. The size, while still small by present standards, is increased from its ancestor. It is, in essence, a modern square tool watch, rugged yet refined, as the original was in its own time.
Also in Cartier's catalog, the current "Santos-Dumont" most closely references in appearance the original Santos-Dumont of the early 1900s. One might argue that this is the true continuation of the lineage to the modern day. I posit that it's an anachronism, not at home in the 21st century except for its oftentimes quartz interior. (The WSA0016 employs automatic caliber 1847 MC.) However, it is a beautiful watch, as is the original, and we may consider ourselves lucky to have the chance to interact with it beyond archival images or museum display cases, not that it is an exact replica.
Casio G-Shock "Square"
As mentioned above, the "Quartz Crisis" of the 1970s and 80s, which threatened the very existence of the Swiss mechanical watch industry, was responsible for a whole slew of square watches. Casio Computer Co., LTD quickly became the champion of all things small with LCD screens, and that format of displaying information lends itself best to rectangles. While there are many examples of square-ish Casios to choose from, the most disruptive and innovative of their products has been, without a doubt, the G-Shocks.
Nowadays, G-shocks vary so widely in size, shape, color, function, material, and price, that without historical context, it would be impossible to choose the quintessential model from the hundreds. I'm not claiming to do that here either. But the very first G-Shock was the iconic square shape that we all recognize still exists in many forms today. We can follow the lineage from the original DW-5000 to the DW-5600e — its closest relative still in production today — and then up through the development of technologies and functions to arrive at the GW-5000U.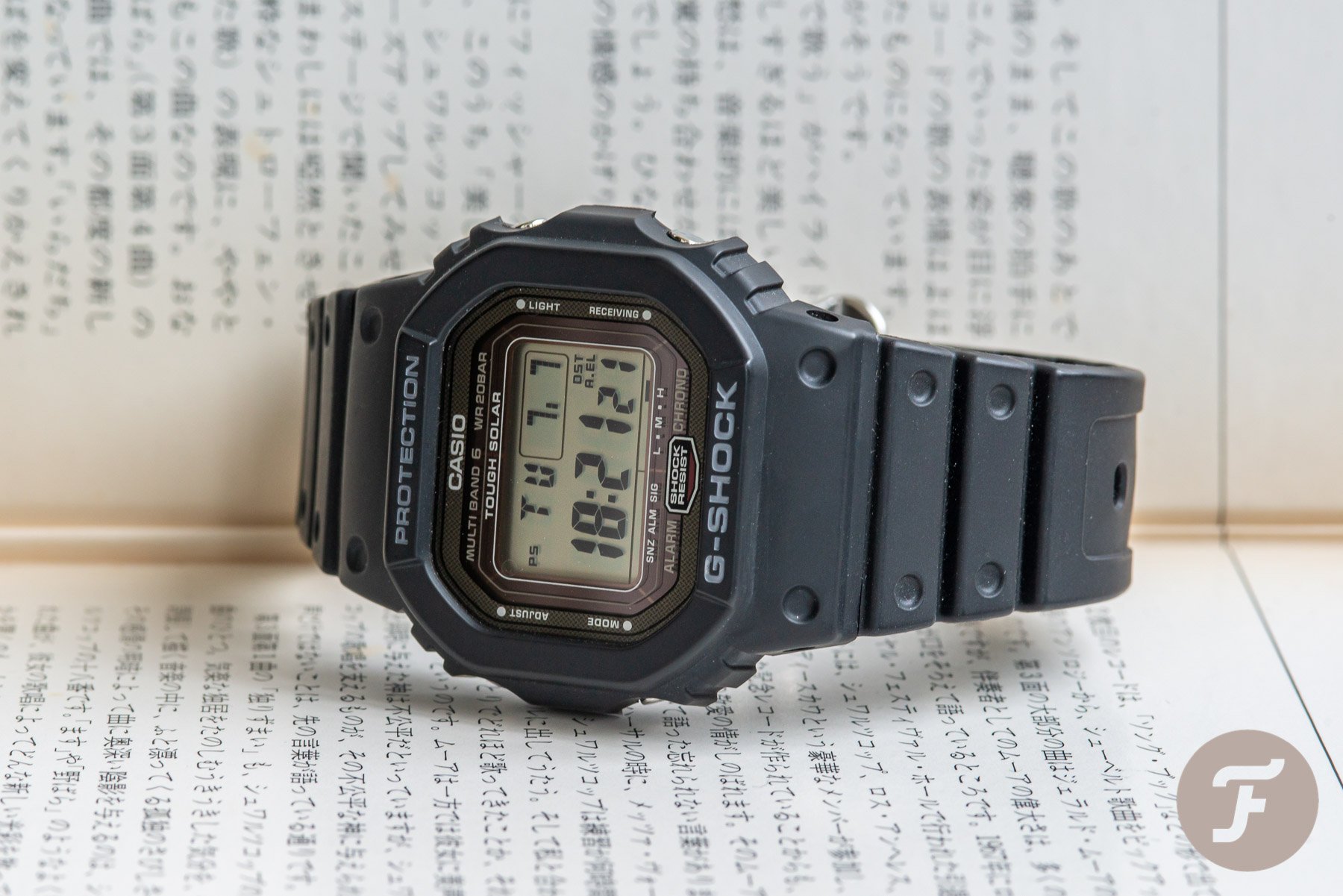 GW-5000U-1: Features Upon Features
This is the latest and greatest version of the G-Shock Square, and a subtle upgrade from the GW-5000, no "U". The GW-5000 is the premium iteration of the G-Shock square lineage before departing from the iconic black resin and rubber. This model is made in Japan, one of few Casio models, and features a premium round screw-down case-back. Also a feature of the DW-5600, most G-Shocks today employ the utilitarian stamped case-back with four screws.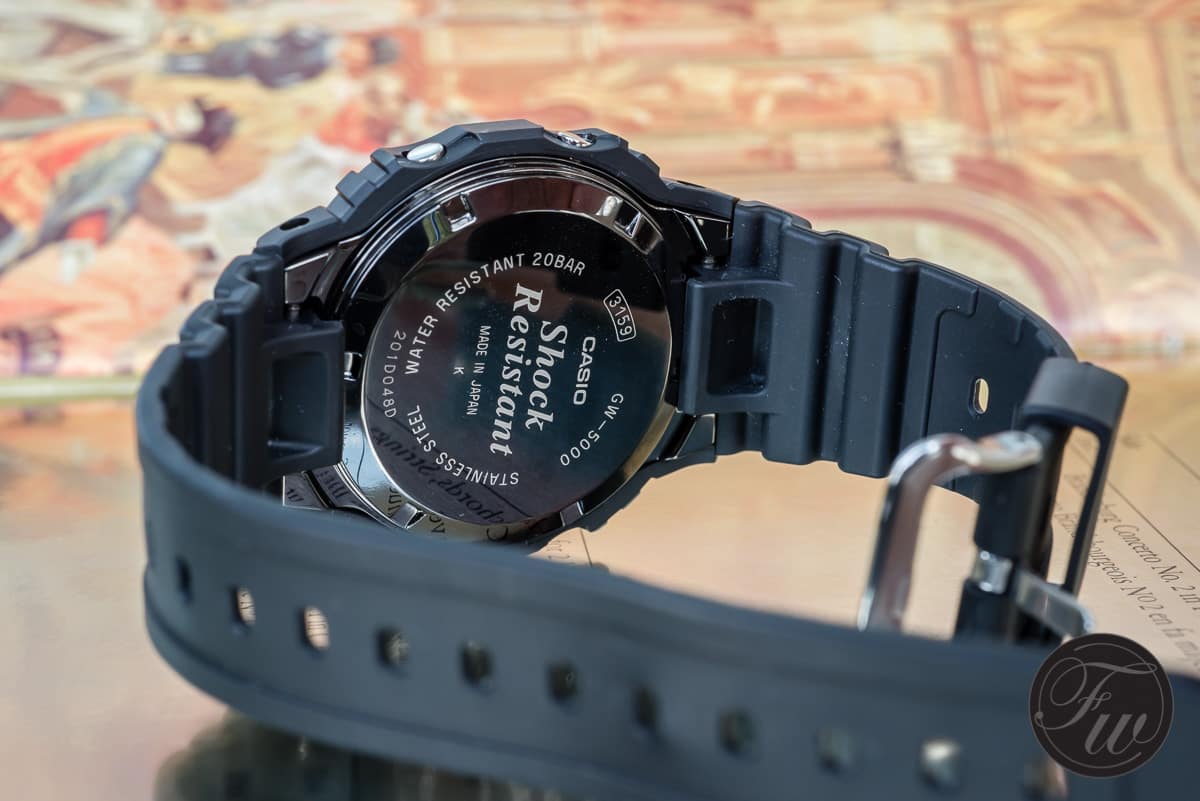 The original G-Shock came with "triple-10" resistance: survive a 10-meter fall, 10-bar water resistance, and 10-year battery life. The GW-5000 and GW-5000U meet that standard and more. They can, of course, survive the 10-meter fall, and water resistance is a solid 20-bar. "Tough solar" functionality meets the commitment to 10-year battery life, maintaining charge with any ambient light. Quartz is relatively accurate, but radio signal secures atomic time in the northern hemisphere.
And Then Some
The GW-5000 and +"U" have the time functions typically associated with G-Shock: stopwatch, timer, and five daily alarms. The GW-5000 has a perpetual calendar and world time functionality to 29 different time zones. The GW-5000U takes the number of time zones to 32. It also now allows for the selection of 5 of those time zones for quick access. The ubiquitous backlight has been upgraded to an optional 3-second duration and super bright LED.
Beginning with DW-5000, G-Shock has remained the embodiment of ultimate functionality with rugged capability. The evolution to the present day has taken those tenants to further horizons. For the GW-5000 (with or without "U"), a steel case hides beneath the resin bezel. Combined with the solid metal screw-back, these watches have a bit of heft (for resin G-Shocks) at 74 grams.  An aspect perhaps foreign to original G-Shock owners was comfort, though they were certainly lightweight. These latest made-in-Japan models balance the reassuring heft with a unique supple rubber strap, a subtle element of luxury.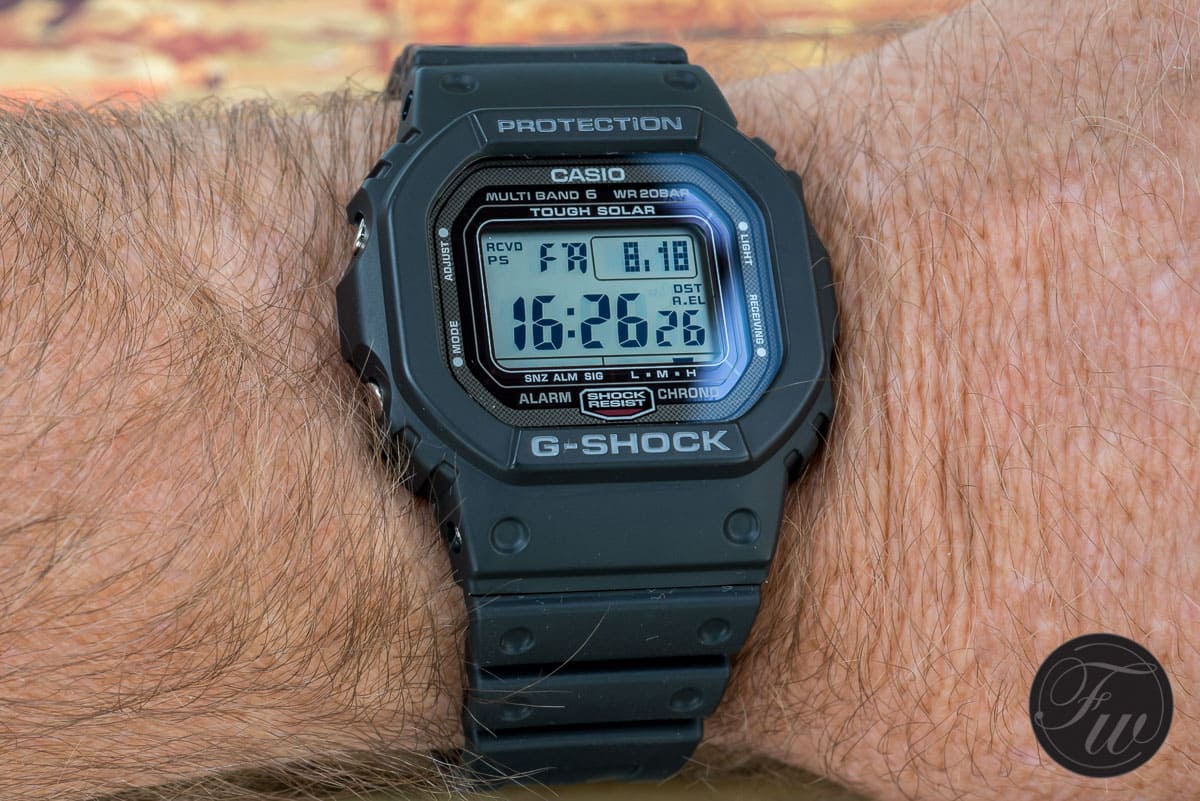 Similarities Across Time
Like the Cartier Santos, the original G-Shock was born of frustration with the limitations of the time. Again, we may blame the unfortunate pocket watch: G-Shock creator Kikuo Ibe famously began his quest when he dropped and shattered a pocket watch given him by his father. Unlike the Cartier Santos, G-Shock was not specifically intended to be a pilot's watch. And yet, the ruggedness and dependability quickly led to G-Shocks entering cockpits around the world.
Again, we may blame the unfortunate pocket watch…
A few models are still currently flight-approved by NASA and have been to space repeatedly, as explored here. In truth, G-Shocks have officially or unofficially been present for many of humankind's ventures into the most hostile domains, natural or man-made, solidifying their place as irreplaceably essential in horological history. The GW-5000U proudly upholds its heritage and pushes the brand further into the future of where watches may go. It is currently available only in Japan and Europe; learn more here.
Bell & Ross BR
As watch design and technology has significantly developed over the past 100+ years, so too have aircraft. A watch worn on a pilot's wrist was quickly supplemented with a clock mounted to the dash of the plane. As more tools found their way into cockpits to improve accuracy, the "dash" quickly became the "instrument cluster". But always present was the cockpit clock.
This is where Bell & Ross took their inspiration when they began in 1992 with their first watch: the BR01. Combining rugged design and engineering, Bruno Belamich (Bell) and Carlos A. Rosillo (Ross) sought to create a watch that exuded the ruggedness and reliability of fighter jet cockpit instruments in both appearance and function. They succeeded and began an extensive history of relationships with different extreme professions by supplying the French Air Force with the BR01 the year it was released, as Bell & Ross continues to do so today. Since then, it has completely owned its unique square watch design and released hundreds of models with varying complications and materials in the tell-tale Bell & Ross silhouette.
BR03-92 in Black Matte
The Bell & Ross BR03-92 Black Matte is the younger little brother to the original BR 01. Scaled down to a mere 42 mm across from the BR01's 46 mm, it's much more accessible to the general public while retaining the iconic design and badge of capability. The matte black case is ceramic, lightweight, and tough; the crystal is a tough sapphire as well. Similar to the Cartier Santos, the case and strap flow into each other as a solid block of wristwatch. In this case, Bell & Ross expanded the strap to meet the line of a bulky watch instead of the Cartier Santos meeting the line of a regular strap. The BR03 straps fittingly come as choices of utilitarian black rubber or heavy-duty canvas.
Similar to Cartier, the caliber within, BR-CAL.302, isn't anything special. The emphasis is that it works, and works well. The BR-CAL.302 is a modified Sellita S300-1, a solid workhorse movement.
An Angular Success
The hands and dial combo are direct descendants of generic cockpit clocks, themselves evolved from the Flieger watches of WWII. (Coincidentally, Sinn of Germany was the original manufacturer for Bell & Ross, themselves excellent executors of the Flieger watch.) This completes an interesting full circle (full "square-cle"?), with Bell & Ross being the preferred watch of so many pilots as well as the official watch of the French Space Program. From pilot's watch of old to cockpit clock to clock-styled watch, Bell & Ross achieved the unthinkable. This is a rare example of function following form successfully, or perhaps them walking hand in hand. I can only attribute Bell & Ross' success to excellent marketing and tapping into a professional reluctance to using anything unnecessarily different, a feeling shared by anyone whose job (and life) relies on a specific selection of tools.
This is a rare example of function following form successfully, or perhaps them walking hand in hand.
I get it: I climb trees for work when I'm not writing watches. At 200 feet up (61 meters), I am most comfortable relying on tools with straightforward, intuitive, familiar designs. Perhaps the closest correlation for me to the Bell & Ross phenomenon is my use of a climbing carabiner for clipping my keys to my pants or bag: it's an accessory born of a professional tool. The familiarity and trust in a well-built tool outweigh even the most encumbering bulk it may have. In industries where no tool can be the weakest link, over-engineering is a relatively small price for a job completed safely.
Squares in the Sky
I can't put my finger on what it is about aviation that unifies three of the most iconic square watches in history. The individual paths each watch took to the skies make sense, but the coincidence across history is uncanny. And I know, there are plenty of non-square watches that fly. There just aren't many squares that haven't, at least of those that became long-lived icons. There are perhaps hundreds of square watches from the past century that existed only as fashionable accessories, all variations of a theme, without historical clout. Of those that "made it", I can only think of the Cartier Tank and Heuer Monaco, perhaps both worthy contenders for this article (the Jaeger-LeCoultre Reverso is a solid rectangle, thank you).
However, the Tank was not Cartier's first square, and the square case that makes the Monaco was little more than a shocking design choice and deal between Heuer and a case-maker looking for a buyer; an uninspiring origin for such an icon. If you can find the answer to why flight favored the squares in this article collectively, please let me know. It may be as simple as coincidence. It may be my own pre-disposition to these few models as "important".
A Match Made In The Heavens
Until a potentially factual answer is provided, I posit a theory: The world of aviation is one of pushing boundaries. So, too, is the world of horology. The past 100+ years have seen more significant developments in both realms than any other century. The future holds even more promise.
If a square watch demands to be looked at, it better be worth looking at.
Square watches have usually never been flukes (ahem, Heuer), in that making a square watch is a very intentional choice. Square isn't easy; it's not an initially intuitive shape to assign a watch. Square is quirky and unique, even after 100 years of it. The very decision to make a square watch is to loudly proclaim: "Look at this watch". Thus, it isn't surprising that square has accompanied other significant developments. If a square watch demands to be looked at, it better be worth looking at.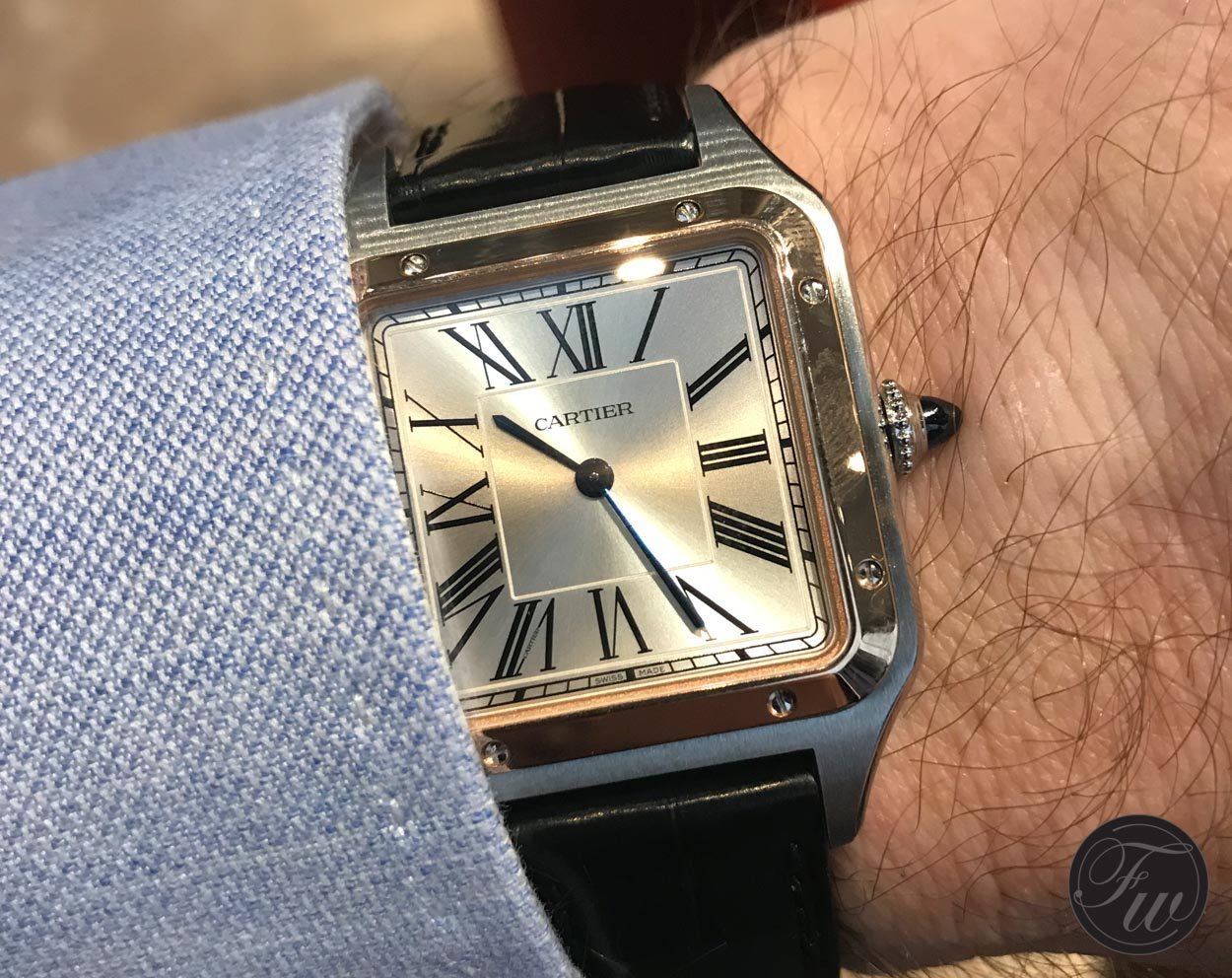 The original Cartier Santos-Dumont and Casio DW5000 embodied revolutionary elements that pilots appreciated at the time. Comfort level accounted for, anything that makes a dangerous job a little easier — once its merit has been proven — is a welcome addition. Bell & Ross took the easy way out while doing the same: by bringing the comfort of the cockpit to the wrist, they eliminated the presence of a potentially different design language to transition between, thus adding to comfort and ease.
Unique, Important, Square
Though no one theory encompasses why any given watch will be square, we may (or may not) have a theory for why many historically significant square watches made it into the skies. Regardless, the Cartier Santos, Casio G-Shock, and Bell & Ross deservedly occupy their places in history. Their long-lived evolutions to the present day are in part testament to that. And no one need be a pilot to wear and appreciate these models, obviously. Fortunately, the design choices that lend themselves to flight are, in fact, just good design. We can appreciate the uniqueness of shape and nuance of historical context while remaining firmly on terra firma. As for why watches aren't triangular, as initially asked, I need only to point you to the Hamilton Ventura for your answer.
Learn more about the Santos de Cartier and the Bell & Ross BR03-92.