Cartier Pasha GMT Power Reserve Ref. 2388 — High-End Horology And Genta Design For A Bargain
The perfect watch for a long-time Cartier hater turned fan
When I began my watch-collecting journey in 2006, forums taught me that Cartier was a "fashion brand." Back then, the sentiment among (those) watch geeks was that Cartier was just a jewelry maker that also sold watches. Cartier's timepieces, they told me, were reserved for fashion-minded suckers who could afford to spend big on watches but not on real horology. Well, as an impressionable 17-year-old kid, I admit that I bought into that mindset. In fact, I wrote off Cartier until 2021 when I began writing and editing articles for Fratello. Joining the industry opened my eyes and shattered my perceptions of watches that I would have never considered before. Furthermore, my colleagues' articles showed me the hypocrisy in my thinking: I had loved a Cartier watch for years but had never realized it. That watch was the Pasha de Cartier, and now I own a Pasha GMT Power Reserve.
It's funny how we evolve as watch enthusiasts, isn't it? Back in 2006, I would have scoffed at any 38mm watch, not to mention one made by a "fashion brand." To me, a 52mm Invicta Russian Diver was far more worthy wrist time! Good grief, what a fool I was… Little did I know that one of my favorite features of that Russian Diver — the "canteen" crown cap — was also a key design element on the Cartier Pasha. I was also ignorant that my then-beloved Invicta Subaqua Noma's T-bar lugs and circular case shape were eerily similar. And over 15 years later, I even learned that the tic-tac-toe grille on my favorite cubic-zirconia-laden watch from junior high school was a Pasha design trait. Well, willful ignorance and questionable watch choices eventually gave way to a greater understanding thanks to my Fratello teammates.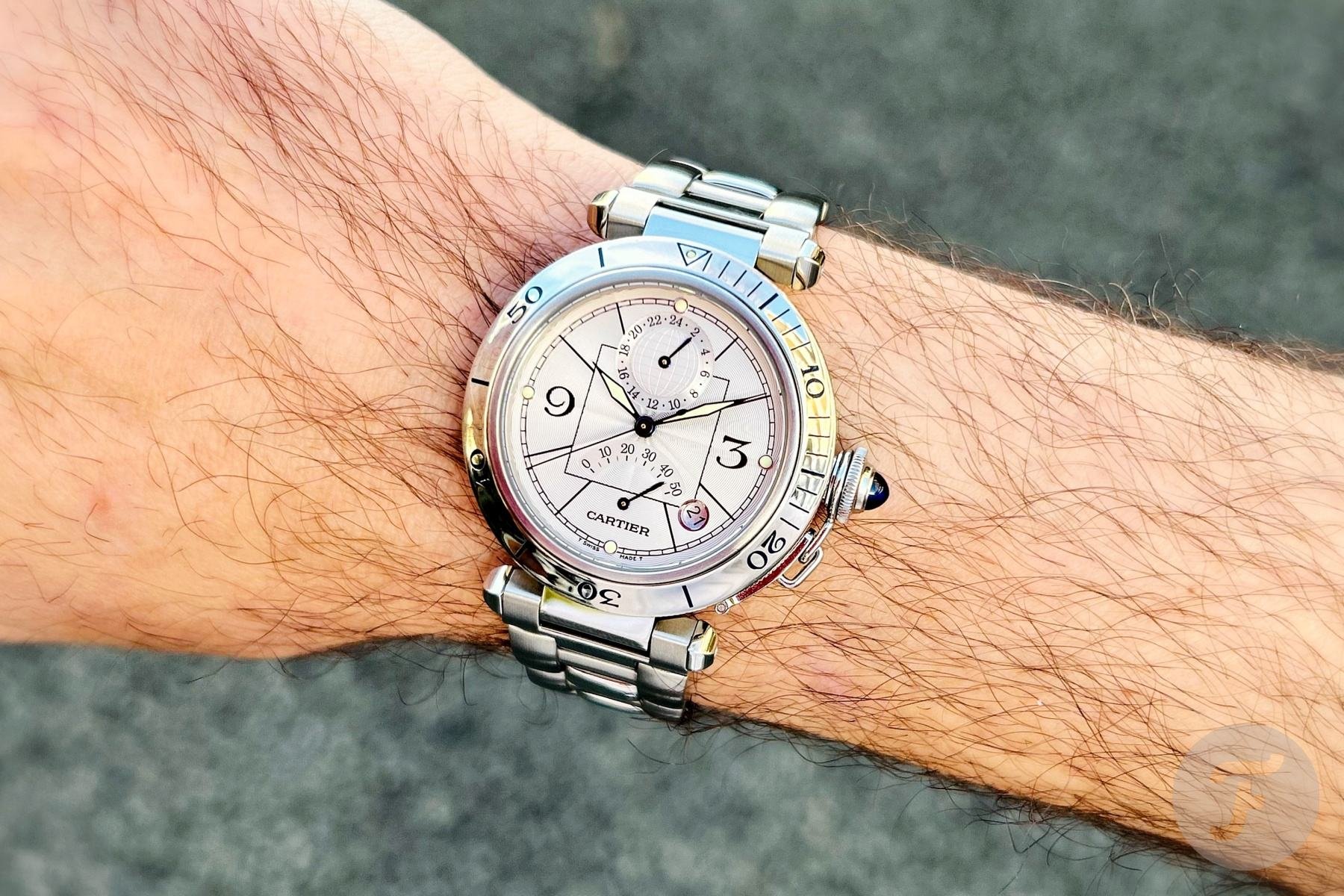 Coming around to Cartier
Yes, I had seen the Pasha in passing before, but with my Cartier defenses up, it had never sunk in. Thankfully, Lex's article on the Pasha's history helped me to finally connect the dots. I realized that many watches I'd loved in the past were inspired by or shared design traits with the Pasha. I was also flabbergasted to learn that the Pasha's design came courtesy of the legendary Gérald Genta. How could it have been right under my nose for so long? Finally, I was both embarrassed and elated to find that Cartier wasn't just about making watches that looked good. Though my early watch-collecting "role models" had told me otherwise, many Cartier watches had fantastic, high-end movements inside. Researching models from the '90s, I found that the Pasha GMT Power Reserve was one of them, so I eventually bought one! Let's work from the inside out, shall we?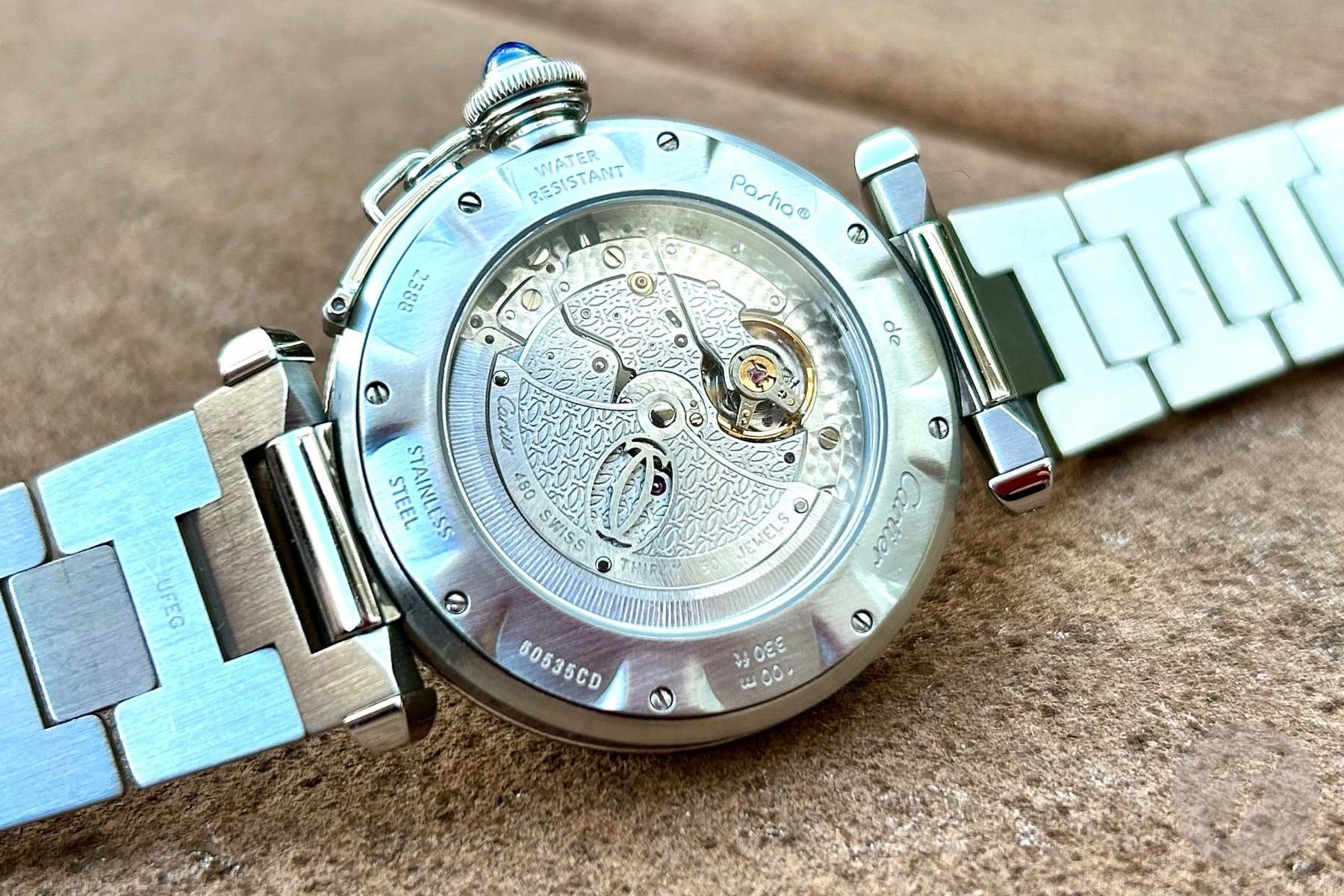 Worthy horology
What you see here is the Cartier caliber 480, a 30-jewel automatic with time, date, power-reserve, and dual-time displays. It is based on the high-end Girard-Perregaux 3100, a three-hand time-and-date caliber from 1994. This highly regarded base movement measured just 3.28mm slim and even powered the first Vacheron Constantin Overseas as caliber 1310. With three extra jewels for the module hosting the additional complications, Cartier's 480 movement is pleasantly thin too. While I can't find the exact numbers online, this is evidenced by the case thickness of just 10mm. This movement offers a 50-hour power reserve, and mine runs like a champ at -0.5 seconds per day. The finishing is exquisite too, featuring perlage, polished bevels, Cartier's Double C motif, and straight graining. To me, this is a much more interesting caliber than an ETA 2892-A2, for example.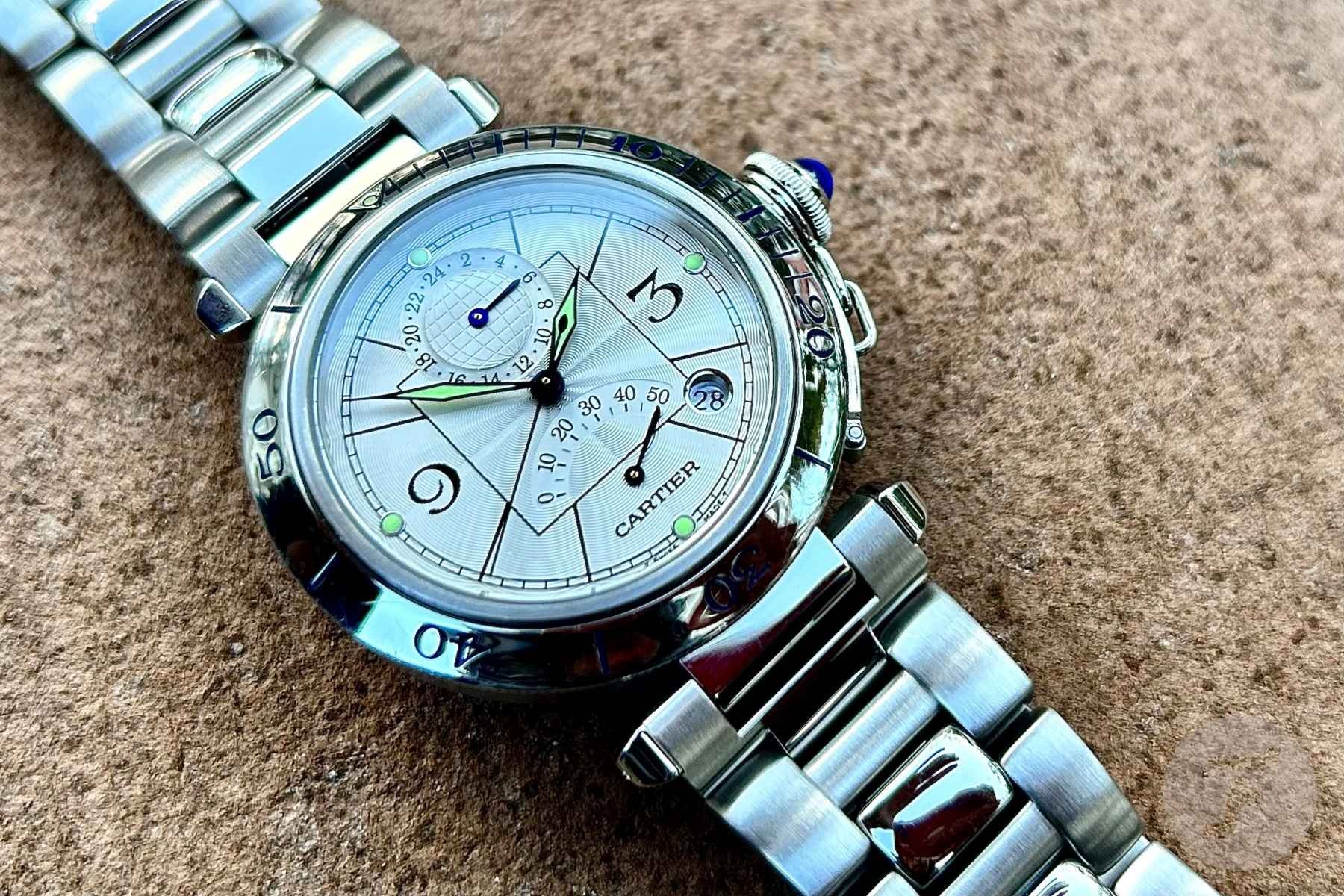 On the dial side, the layout provides a nice balance too with the dual-time and power-reserve complications along the vertical axis. The 24-hour hand can be adjusted through an inset pusher at 2 o'clock, technically making this watch a caller GMT. This is befitting of the era, and it's perfect for me to keep track of "Fratello time" in the Netherlands while working from here in Japan. When it comes to the power-reserve indicator, some would argue it's useless on an automatic watch. I think that's only true if you wear that watch every day and never get a chance to see the power run down. I've often found myself checking the remaining "juice" in my Pasha after not having worn it for a day or two. After putting it back on, I enjoy watching the hand gradually creep up the scale throughout the day.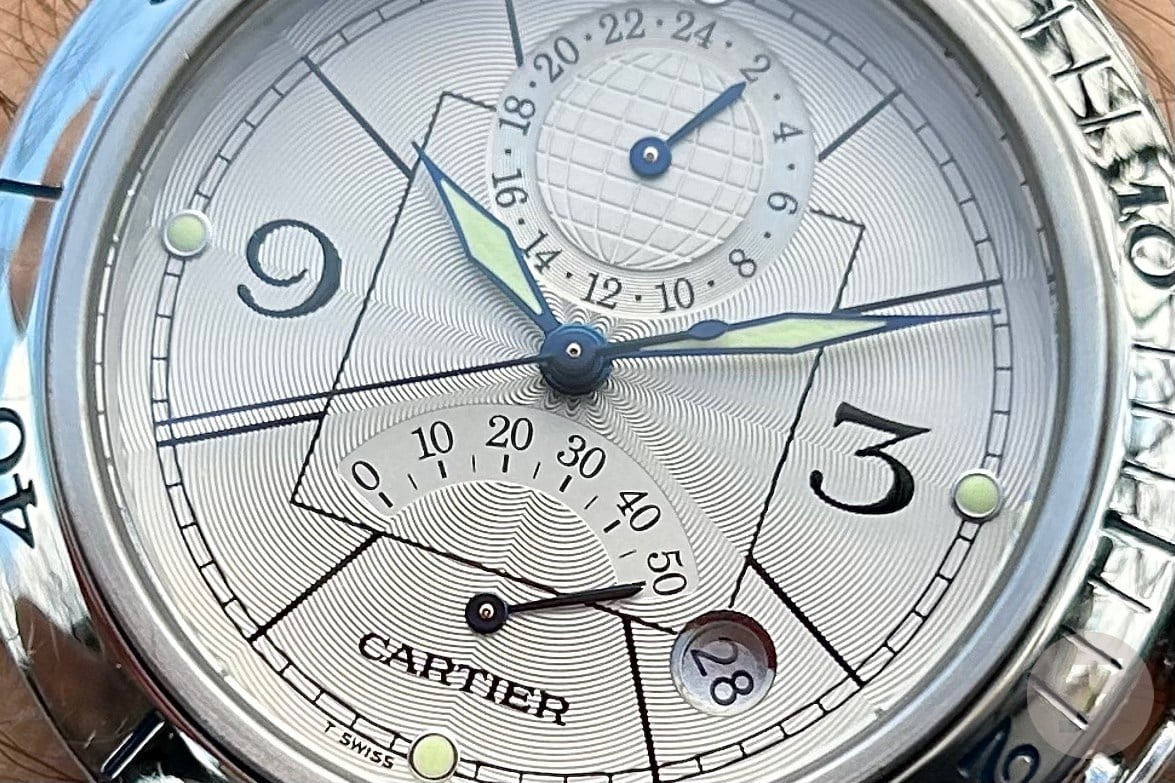 A dial full of details
I know some people will bemoan the date window for destroying the symmetry, and I concede that four-thirty isn't the greatest position. In real life, though, it doesn't bother me at all, and I quite like the polished frame and sapphire lens set into the dial. Furthermore, the date disc is metallic silver, not white, a lovely detail that my photos don't capture very well. Thankfully, the photo above does capture the brilliant guilloché pattern of this dial. It is split into 12 sections, and the pattern repeats with each one, starting small in the center and growing as it radiates outward. Just look at the center of the dial around the hand stack. I don't know about you, but that fine detail sets my heart ablaze. Furthermore, the lines in the globe are deep and crisp, and the power-reserve display is wonderfully legible thanks to its matte finish.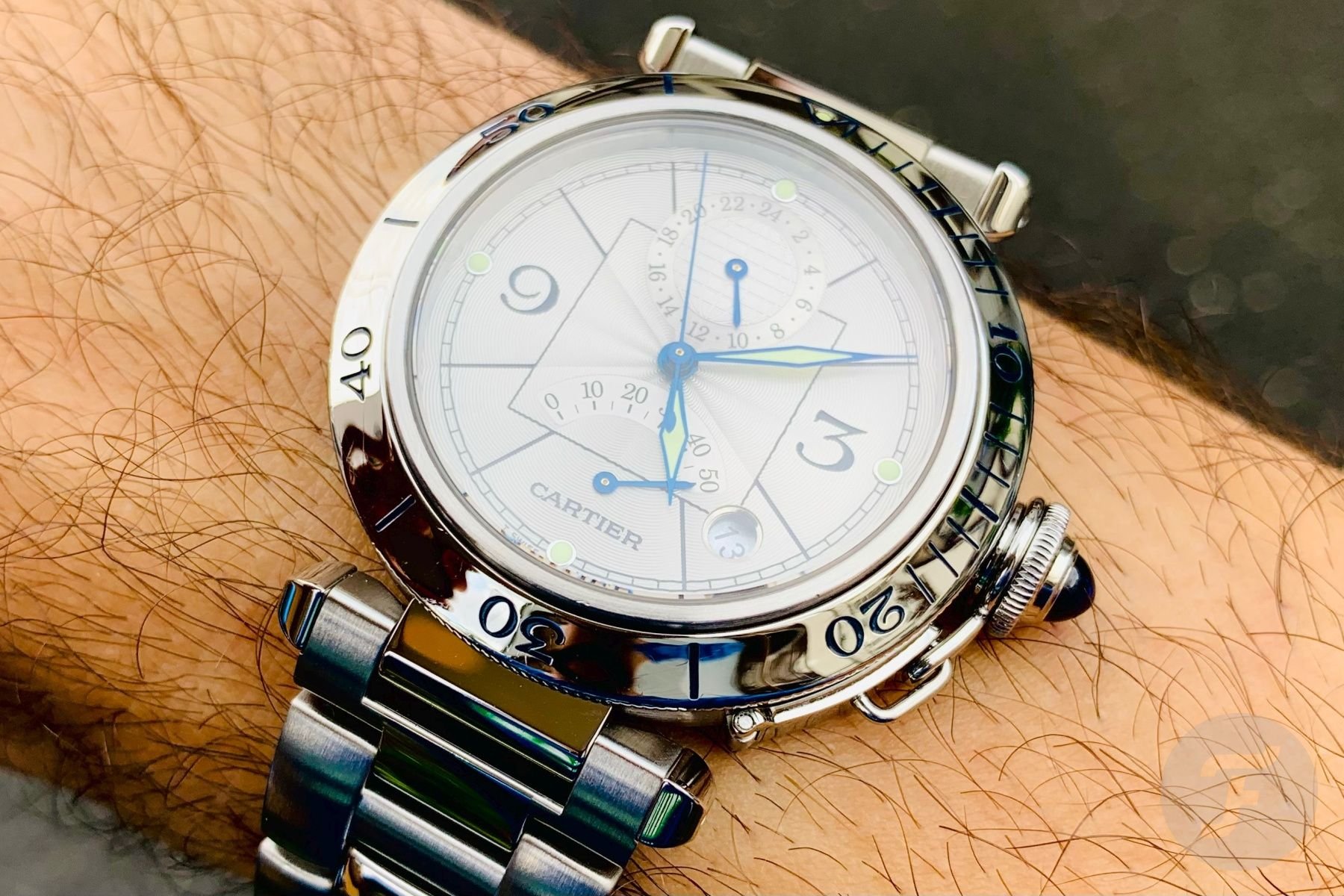 While the crystal shows glare in the photo above, this is purposely to highlight the beautiful blued hands. At the right angle, they pop with an electric-blue hue that complements the bezel markers and the sapphire cabochon. The lozenge-style hour and minute hands have tritium lume, as do the four cardinal hour markers and the small bezel pip. The tritium on my watch is so chameleonic, it's shocking. Under artificial light, it appears slightly brown, while in late-afternoon sunlight, it almost glows neon green. It doesn't light up too vividly in the dark anymore, as you would expect from a 25-year-old watch. Nevertheless, reading the time is rarely an issue thanks to the high contrast of the hands and the clear dial layout. The eight long indices are also resolutely legible, and the railroad minute track is as clear as day.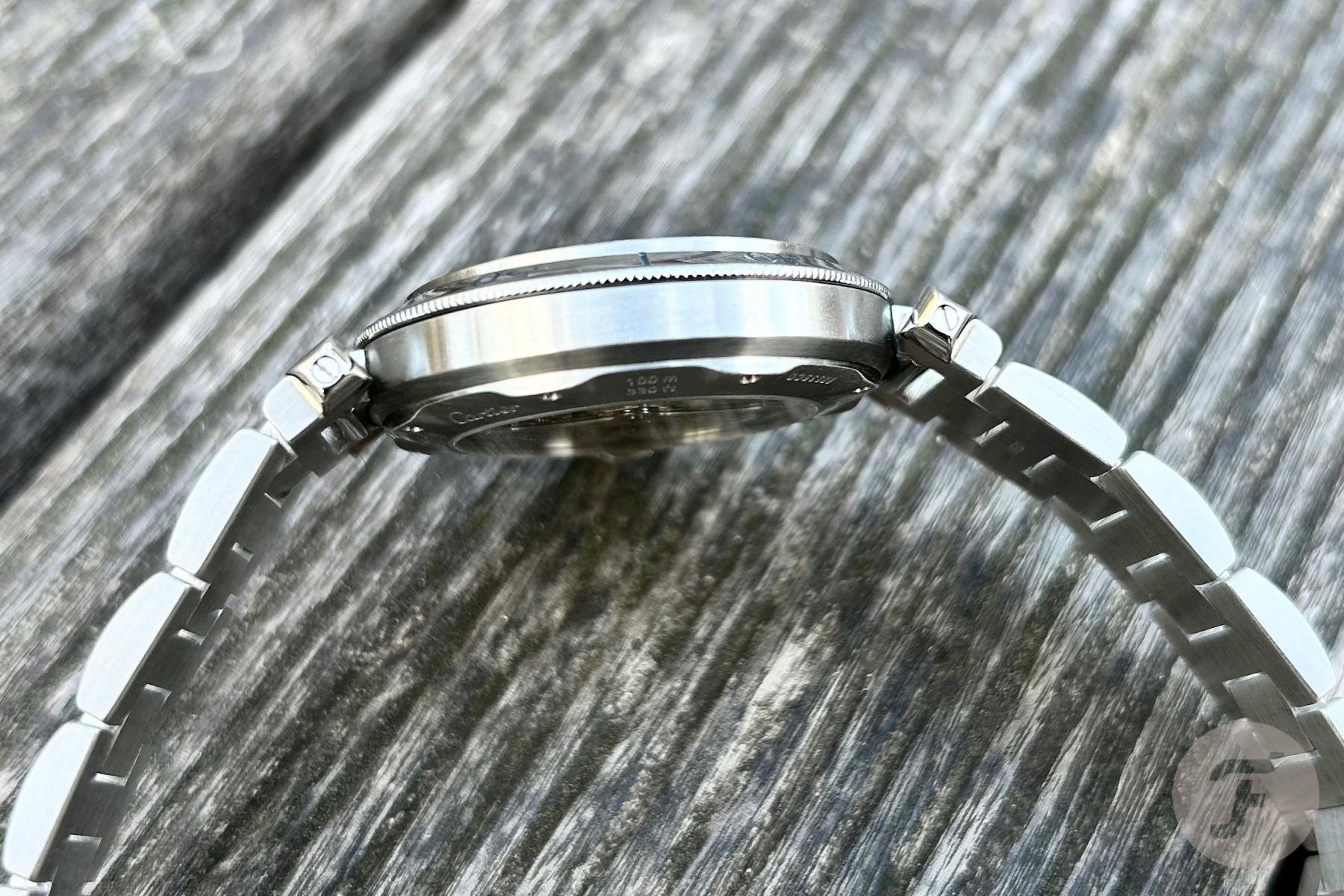 A perfectly wearable case
As I mentioned previously, this Pasha GMT Power Reserve comes in a 38mm case, which is now discontinued. Cartier's current Pasha models measure 30mm, 35mm, or 41mm, but in my eyes, 38mm was the sweet spot for the design. This one measures a wonderful 10mm thin, and the T-shaped "Vendôme" lugs give it a 44.5mm span across the wrist. For me, these dimensions are supremely comfortable and make the Pasha GMT Power Reserve one of my go-to watches. I am a huge fan of brushed case sides on any watch, and the Pasha doesn't disappoint in that regard. The brushing is straight, and the finish allows it to hide scratches fairly well.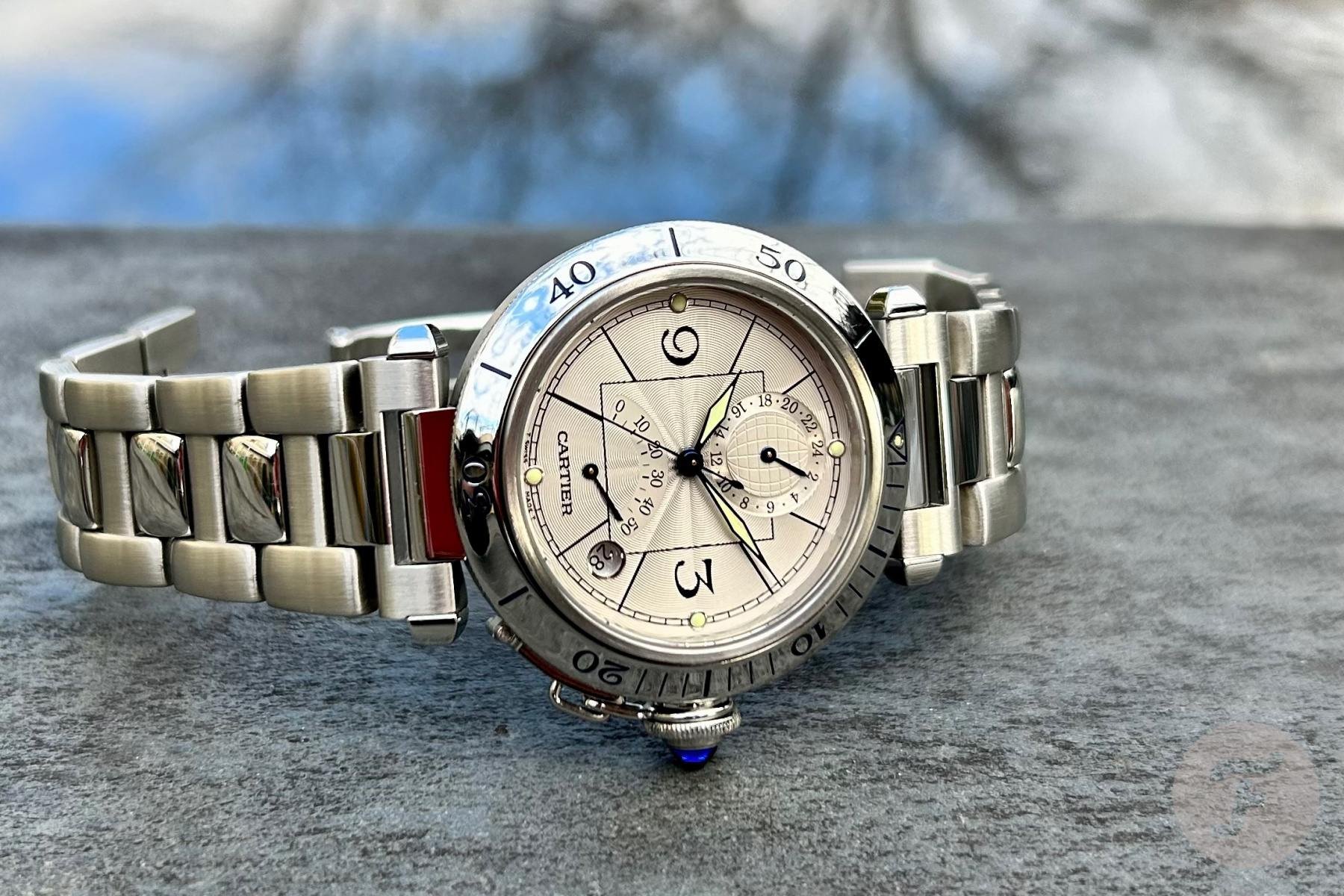 I've had this watch in my rotation since August 2022, and since then, it has earned at least a third of my wrist time. While I'm not overly crazy about the bezel's high-polished finish as it's quite a magnet for fingerprints and scratches, I do enjoy the utility and style that the bezel offers. I don't dive with this watch, but I often use the bezel to time the parking meter for my bicycle and so on. The bezel definitely has a 1990s feel to the click spring, but there's almost no back play, and it does its job just fine. The font of the numerals on it is fantastic too. It's the same font that we see for the 3 and 9 numerals on the dial. It's so different from the typography on any other watch I own, helping to give this Pasha a unique place in my collection.
The Pasha's screw-down crown cap
The "canteen" crown cap is a design signature of the Pasha that speaks to the very depths of my soul. Is it slightly inconvenient? Yes, I suppose. But is it also eternally fun to play with? You bet! Now, Genta was certainly not the first to use this design. It dates back at least to the early 1940s as a feature of water-resistant military watches. But Genta probably used it to tie into the legend of the Pasha of Marrakesh's watch, a water-resistant Cartier timepiece from the early 1930s. Admittedly, no one knows what the Pasha's watch really looked like. If it existed, the design could've been totally different. But ever since the Pasha de Cartier debuted in 1985, every reference has had a crown cap. Though the crown underneath it is tiny, setting the time and date is easy. Winding is slightly harder, but I've gotten used to it.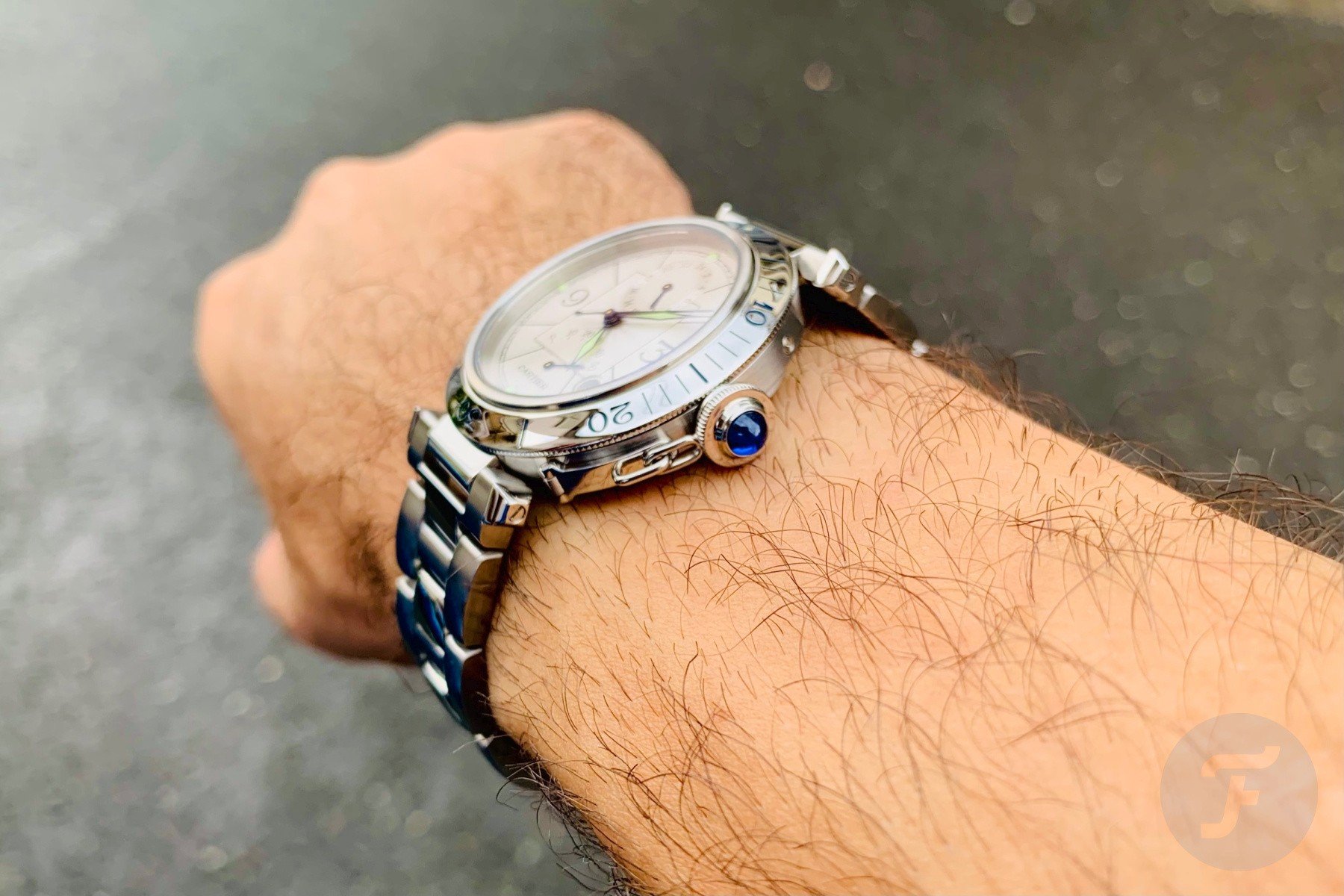 The cap is buttery smooth to screw down, and it helps make the case water resistant to 100 meters. For me, that is ideal for a daily wearer. And though some Pasha models don't have Cartier's signature cabochon in the cap, I'm happy to say that mine does, and it always makes me smile. I wear my watch on my right wrist, so when I look down my arm, I see light passing through the cabochon, making it glimmer. I feel sorry that most left-wristed Cartier wearers can't experience the same thing!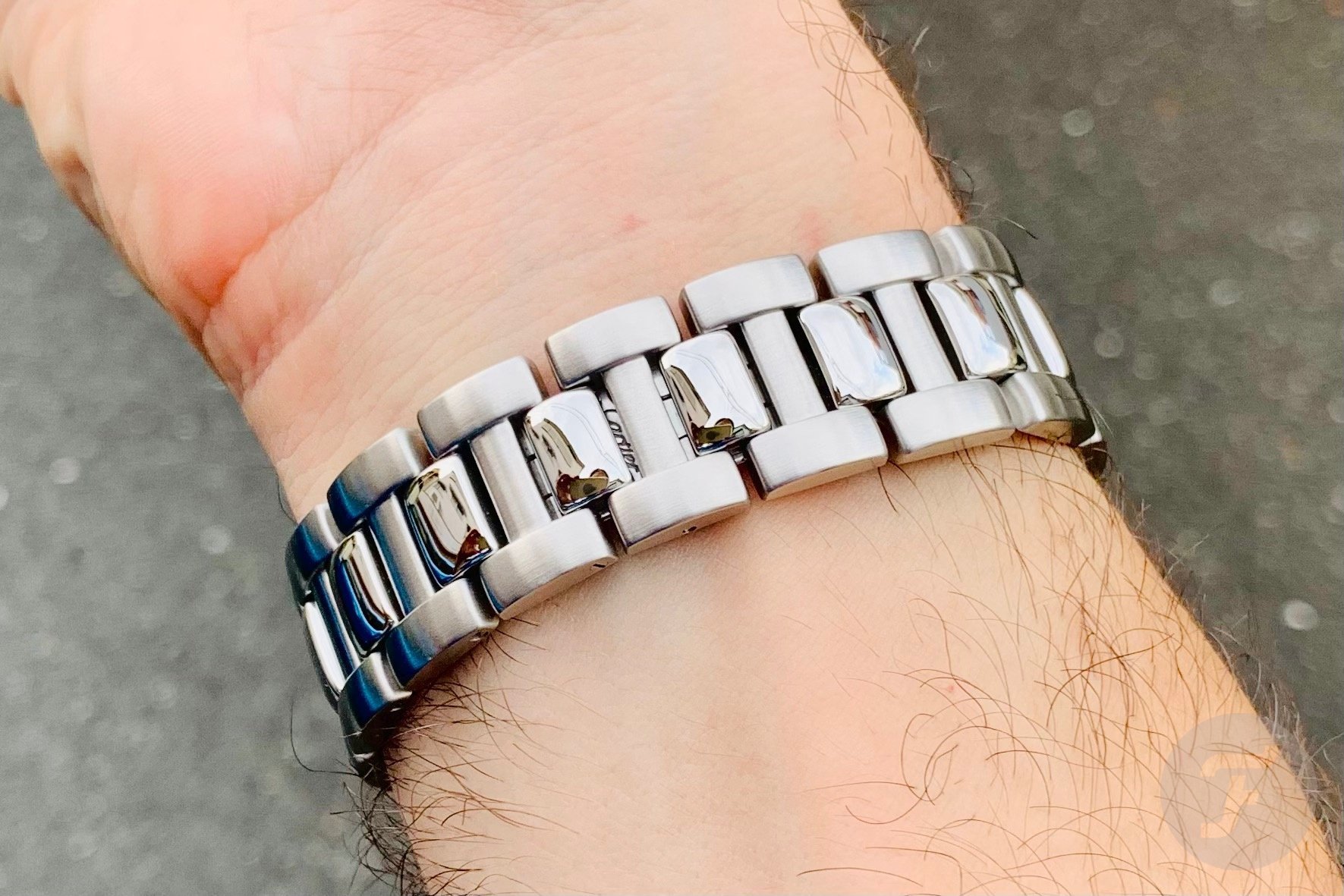 A comfortable bracelet
The stainless steel bracelet measures 20mm wide at the lugs and 18mm wide at the clasp. Being 25 years old, it forgoes modern conveniences like a quick-release system and micro-adjustments. The links, however, use single-sided screws that make sizing the bracelet a cinch. Half links do exist for this bracelet, but mine did not come with one. Thankfully, I was still able to get a pleasantly relaxed fit on my 17cm (6.7″) wrist. The dual-deployant clasp has a friction closure, giving the bracelet an undisturbed flow around the wrist. The only particularly noticeable hint is the Cartier signature peeking out from between the links. I must say, I love the design of this '90s bracelet. The H-shaped links have a beautiful brushed finish, a recessed arm, and a nice, rounded surface. They pair so well with the polished intermediate links, which are also appropriately domed.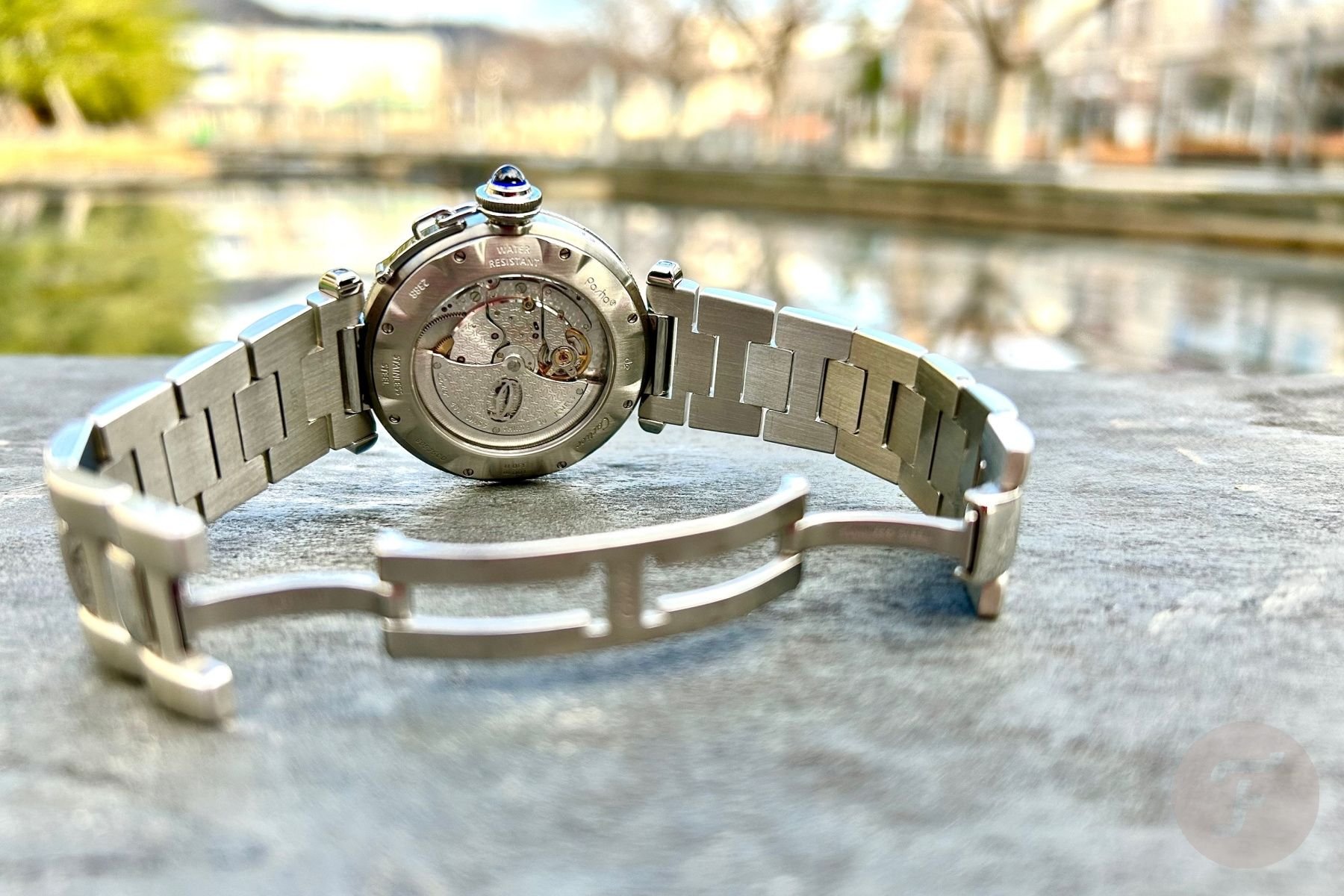 This design is much more interesting than the completely flat bracelet found on many Pasha models from the 2000s onward. The underside of my bracelet is very similar to the outer surface of those. While I wouldn't like it if my bracelet were reversed, the flat, brushed surface is quite comfortable on the wrist. I have gorilla-like arms (as you probably noticed), but I rarely have problems with this bracelet pulling hair. I also appreciate that it doesn't rattle at all, despite what one might expect from a bracelet this old. In the future, I may order a couple of Pasha-specific straps to experiment with a different aesthetic. For now, though, I'm quite content with how the watch looks and wears on steel.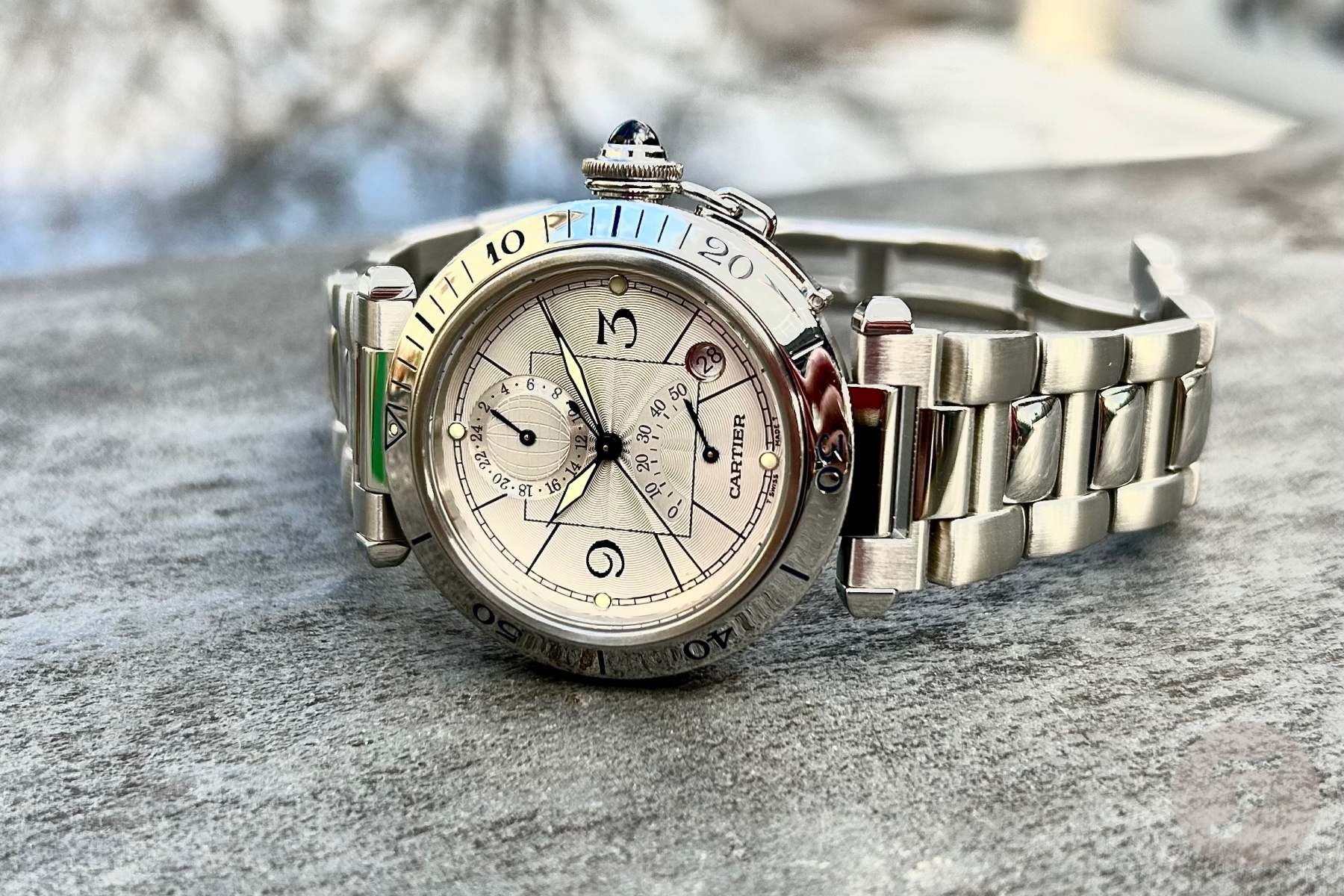 The Cartier Pasha GMT Power Reserve is a bargain
Now that I've addressed nearly every part of the watch, we can finally talk prices. What does this model cost? Well, back in July, I bought mine from a dealer here in Japan with the box but no papers for ¥325,000. I knew it needed a service upfront, so I took it straight to the Cartier boutique. I requested a full service, including a light polish, a water-resistance check, and a replacement GMT pusher. That took four weeks and ran me ¥91,000, equaling a total outlay of ¥416,000. Today, that equates to roughly €2,945 / US$3,200. For a Genta-designed Cartier model with a Girard-Perregaux movement, I think this is an absolute steal. Does it punch as hard as the Royal Oak or Nautilus? No. Is it as recognizable as a Tank or a Santos? Negatory. But for those who appreciate off-the-beaten-path choices, the Pasha GMT Power Reserve is a peach.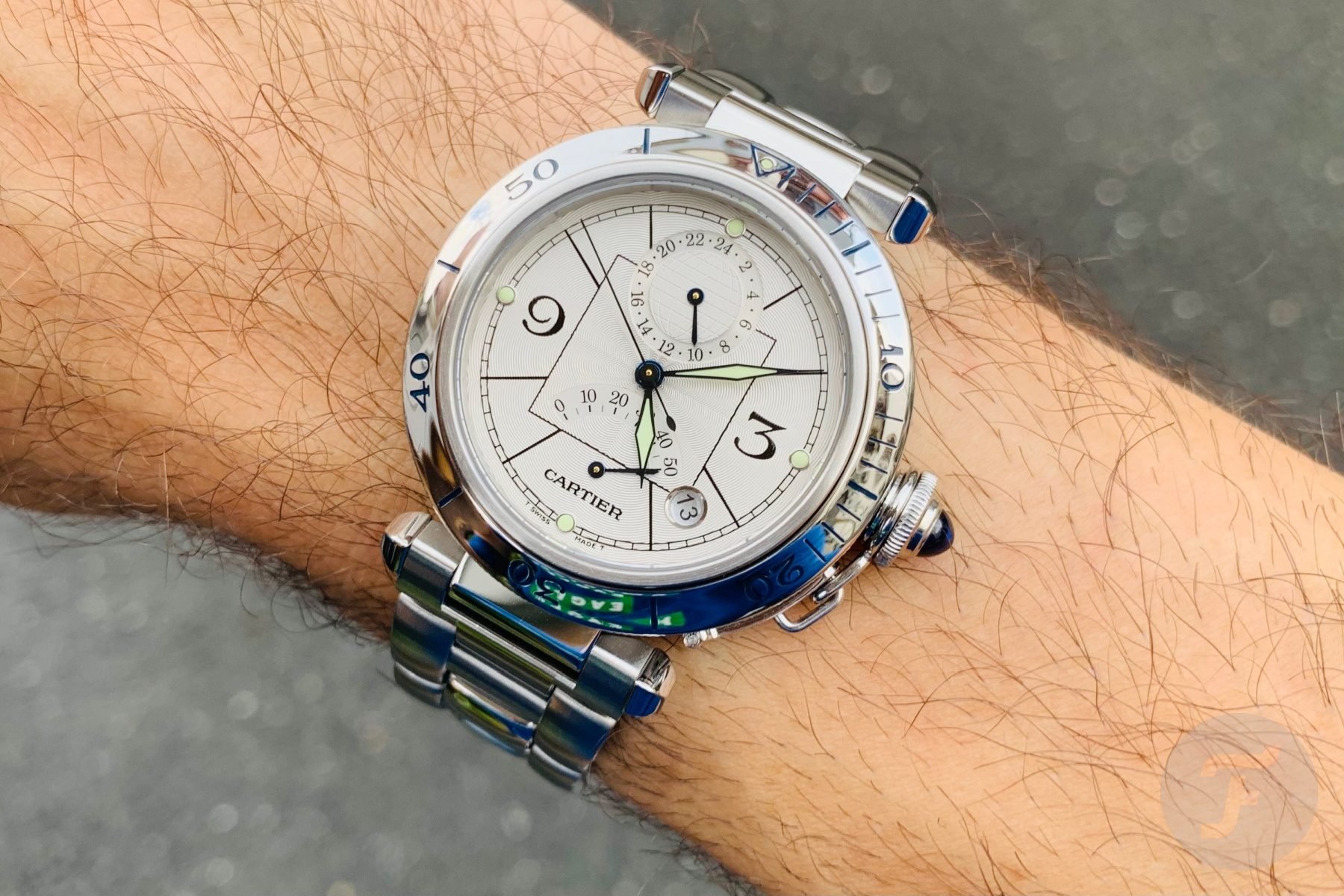 The Cartier Tank and Santos are fantastic watches, but I like having pieces that most enthusiasts don't have. Plus, with Nacho owning a Tank Solo and Daan head over heels for his Santos Galbée, I thought a Cartier underdog could use some representation within the team. The Pasha is not super popular within the brand's lineup, but this model resonates within my heart of hearts. It is a perfect blend of elegant Cartier style and high-end horology, making it a veritable one-two punch. Considering that a new 41mm Pasha costs well over double what I paid, I'm confident in saying that this 38mm model is a steal in today's market. You can find the Cartier Pasha GMT Power Reserve on Chrono24 right now starting at €3,200. I highly recommend checking it out if my review spoke to you. Let me know if it did!