My Cartier Santos Galbée XL — Exactly The Datejust I Was Looking For!
How a failed affair with a vintage Rolex Datejust made way for the perfect match!
If you've read my first-ever story on Fratello, you already know this by now. But in the first two years of my collecting journey, I was on the run. I'm not sure what I was running from exactly, but I was buying watches fast. And when you go fast, you don't always make the best decisions. That's how I ended up with a 1974 Rolex Datejust. It was a 1603 with a beautiful blue pie-pan dial and pretty yellow tritium lume pips. But it was also attached to a very worn-out Jubilee bracelet. To cut a long story short, it didn't give me the butterflies when I was wearing it, so I ended up selling it after a few months. 
That Rolex Datejust was supposed to be the star of my collection at that moment. It's an icon so many are familiar with and it was going to be my signature piece. It failed — miserably — but what to put in its place? I took a summer to think it over; you know, I was still running. During that summer, Cartier was coming onto my radar as another iconic brand with likewise pieces. The models Amsterdam Vintage Watches was presenting every week especially caught my interest. And when the Santos de Cartier Galbée XL (ref. 2823) came by, I was intrigued. It was like the Santos Dumont I'd seen before, but a lot less dressy with its full steel bracelet.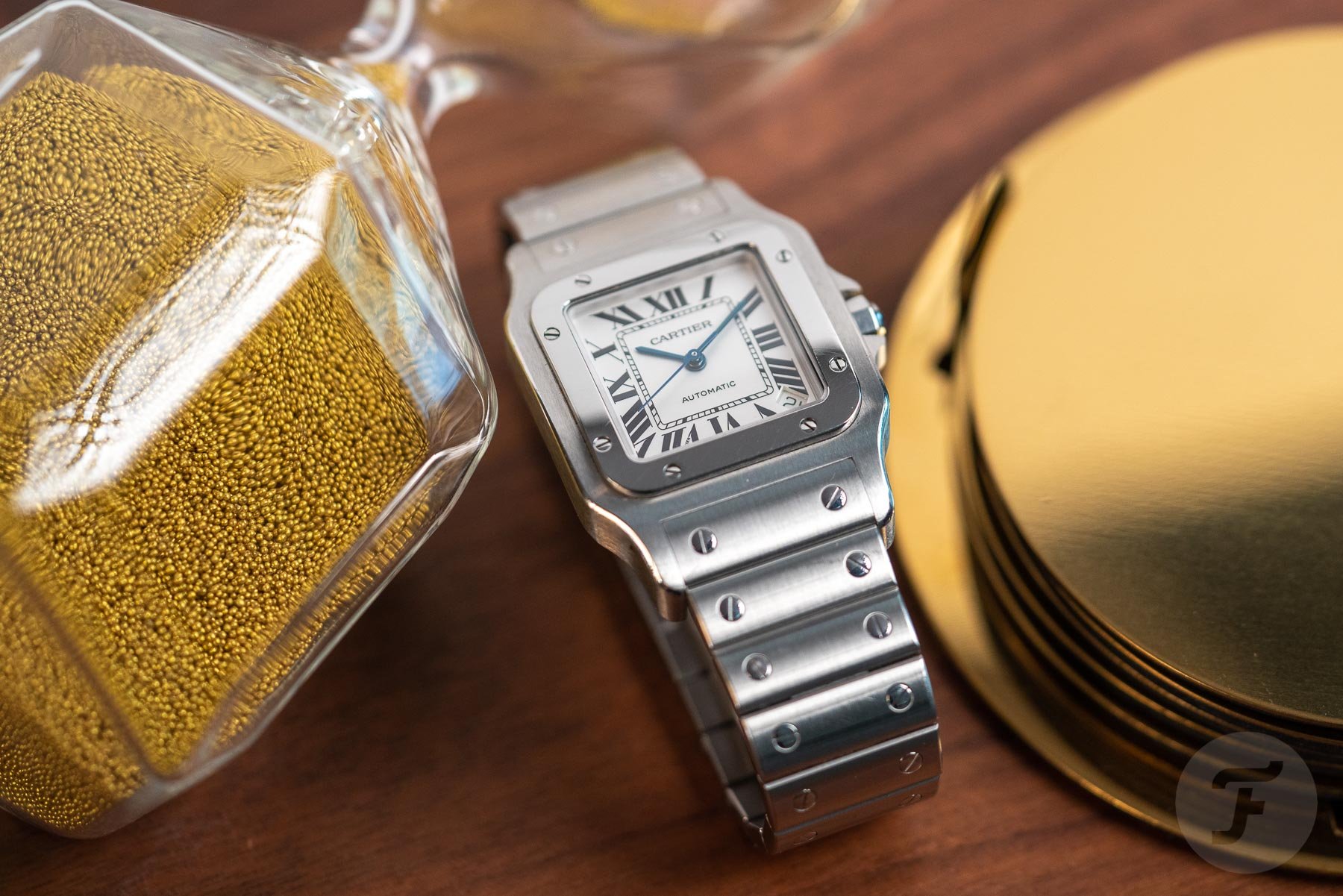 Extra Large didn't sound like my size
I started looking for more pictures, videos, and information online. The integrated-bracelet-sports-watch look immediately appealed to me. And I found that polished square bezel accentuating the perfectly square dial with the curvy case around it just oh so sexy. It did have a seconds hand and a quirky date window at four-thirty eating into the "watchmaker's four" on the dial, but the rest of the design totally made up for that. The next question was, how does a watch that is 32mm wide actually wear? Moreover, I'd never bought anything in XL in my life, so what did that size indication even mean?
I tried to find videos and reviews online because it was difficult, if not impossible, to find this watch at a local retailer to try it on. But even online, it was quite hard to find information on this exact model. There's this WatchBox review on YouTube which comes up first when you search for "Cartier Santos 2823". But the video's perspective actually made me scared that the watch would appear to be too thick, even though it's less than 10mm tall. 
The current Cartier Santos in Medium wasn't for me
While searching, I also came across Cartier's new iteration of the Santos. At 35mm in diameter, it was indeed bigger, and the previously square bezel had a new design. Cartier decided to integrate the bezel with the bracelet, perhaps to give it a more fluid design. But to me, it actually took away some of the character that the "old" Santos models had. Of course, I still went out to try it on because it was the closest thing I could find to the watch I was looking for. 
At 42mm, the lug-to-lug length on the medium version was fine, but what bothered me a little was its large 35mm square shape. The watch it was replacing — that '74 Rolex Datejust — was, of course, 36mm wide. But that was a conventional round design. This 35mm square Cartier Santos felt a lot bigger than that, and it didn't feel right. My feeling confirmed the things I had read online about square watches appearing to be much bigger than their actual dimensions. Thus, I decided to go the smaller, neo-vintage route.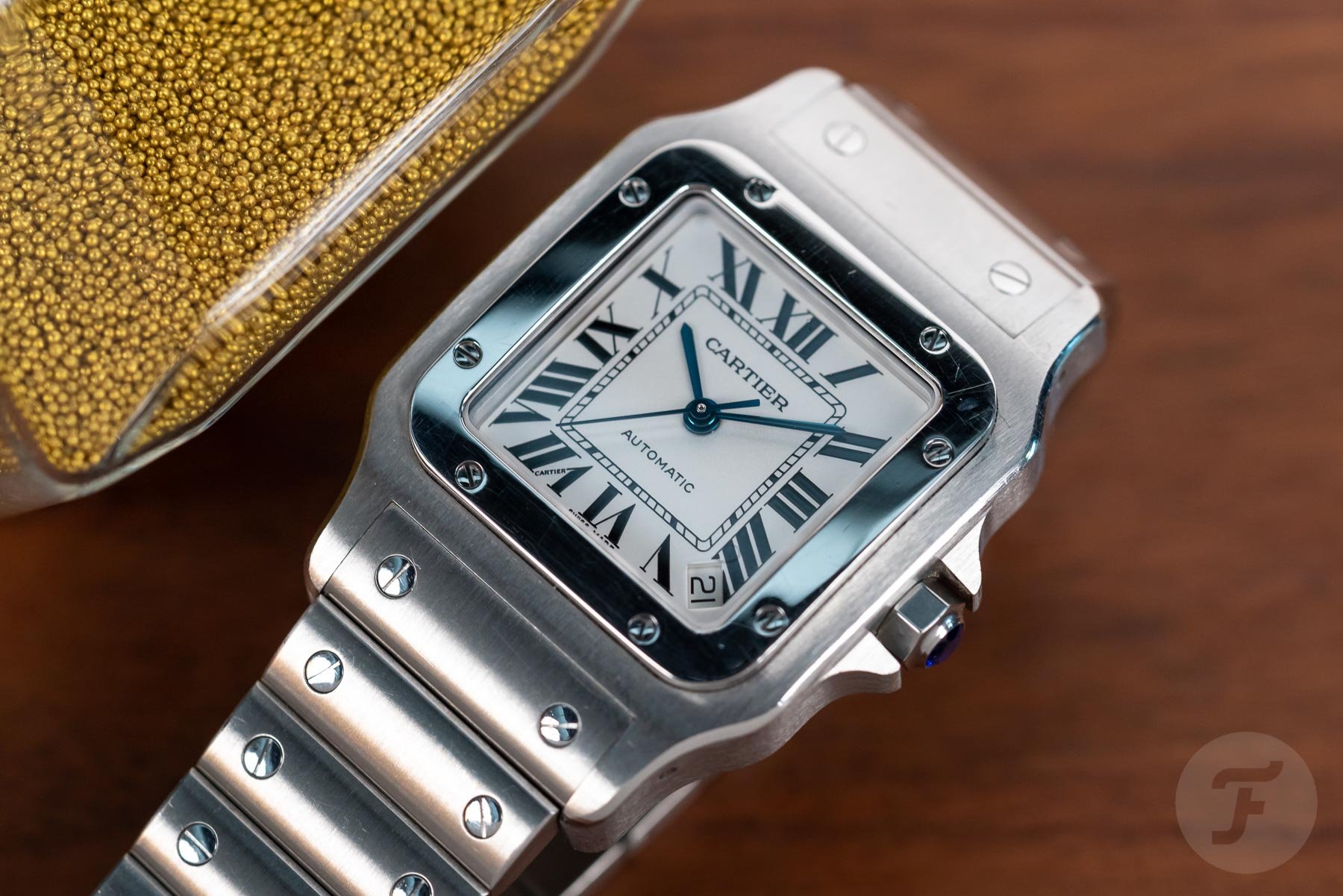 The Cartier Santos Galbée XL ref. 2823
But which model to go for, then? There is also a 29mm version available (ref. 2319), but the ones I could find were more beaten up. Also, they were more often worn by women, so maybe the 32mm option was just the one for me. The voiceover in the WatchBox video even mentioned that it would wear more like a 36mm watch, so that was it! I now knew the search was narrowed down to the reference 2823, and I could go and find available ones online.
You can actually read all about how I acquired the Santos from a private seller on Chrono24 in one of my previous articles, so I won't go over that again here. I will, however, go over the nerves I had, as I'd never actually seen the watch in real life. The guy who sold it to me also said he had two young kids at home, just like me, and that he was too afraid to wear it while having them around. That made me even more nervous about the purchase. Was this at all the right watch for me?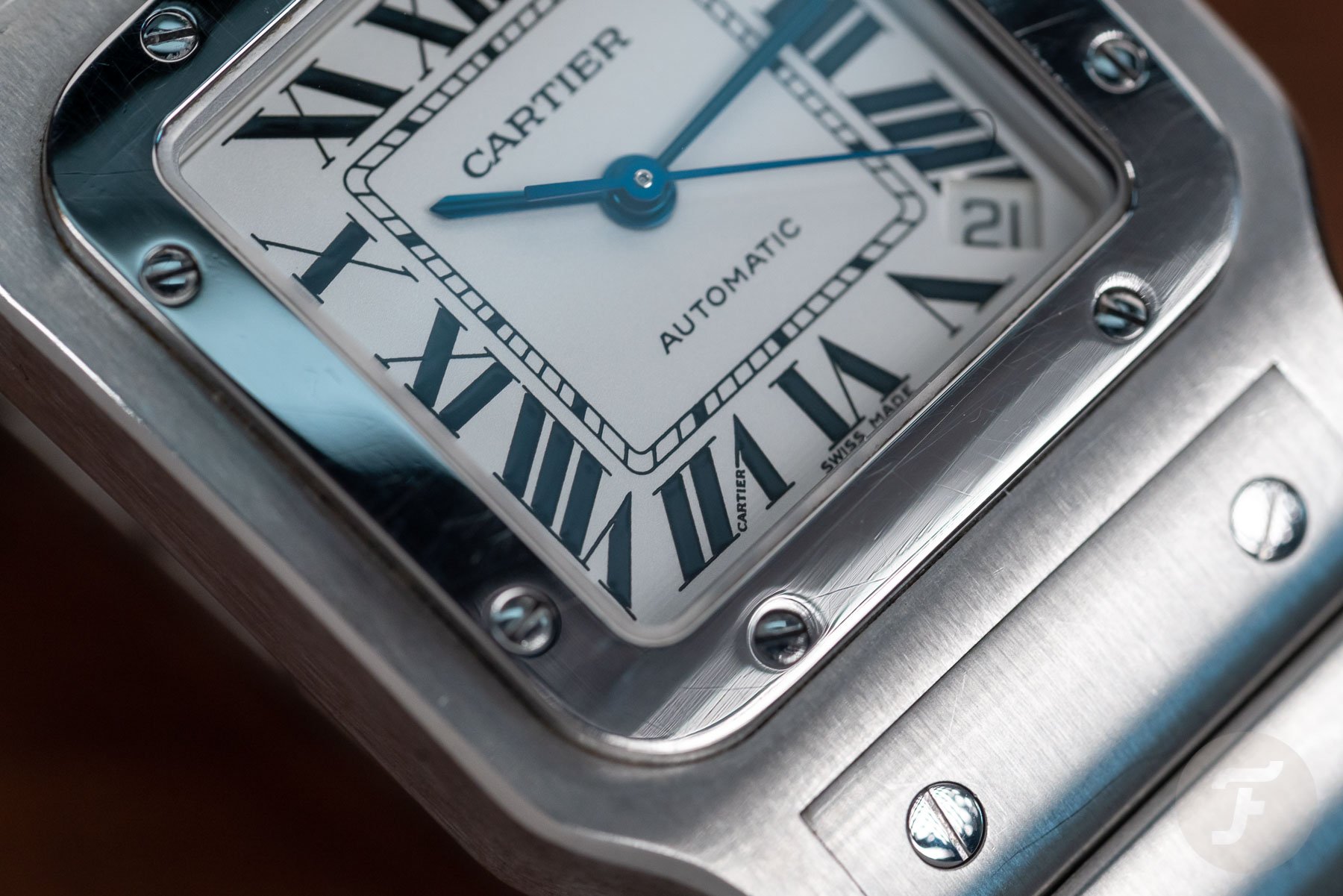 Not love at first sight, but a great marriage!
But something about that very classic design with the Roman numerals combined with that very sporty steel case and bracelet with the messy screws just really attracted me. I figured that if the Cartier Santos wasn't for me, I could always sell it on, just like I'd done with that Datejust. And believe it or not, when I opened the box upon arrival, my first thought was that it still looked quite big. It was only when I put it on my wrist that I felt this was the perfect shape and size for me. 
The perceived thickness of the watch completely disappears when it's on your wrist. The curved (galbée in French) case and its almost-integrated bracelet wrap perfectly around your wrist. And those curves are so well accentuated by the thin polished bevel on the otherwise fully brushed case. It's so sexy when you take a look at its profile! The bezel also stands out so well in all its polished glory. Unlike with some other bezels that are held down by screws, here, the screws are completely misaligned, just like all the other (fake) screws on the bracelet. It's something I really love, and it works so well. It gives the watch that informal touch it needs to not be "too perfect," just like that birthmark above a supermodel's lip.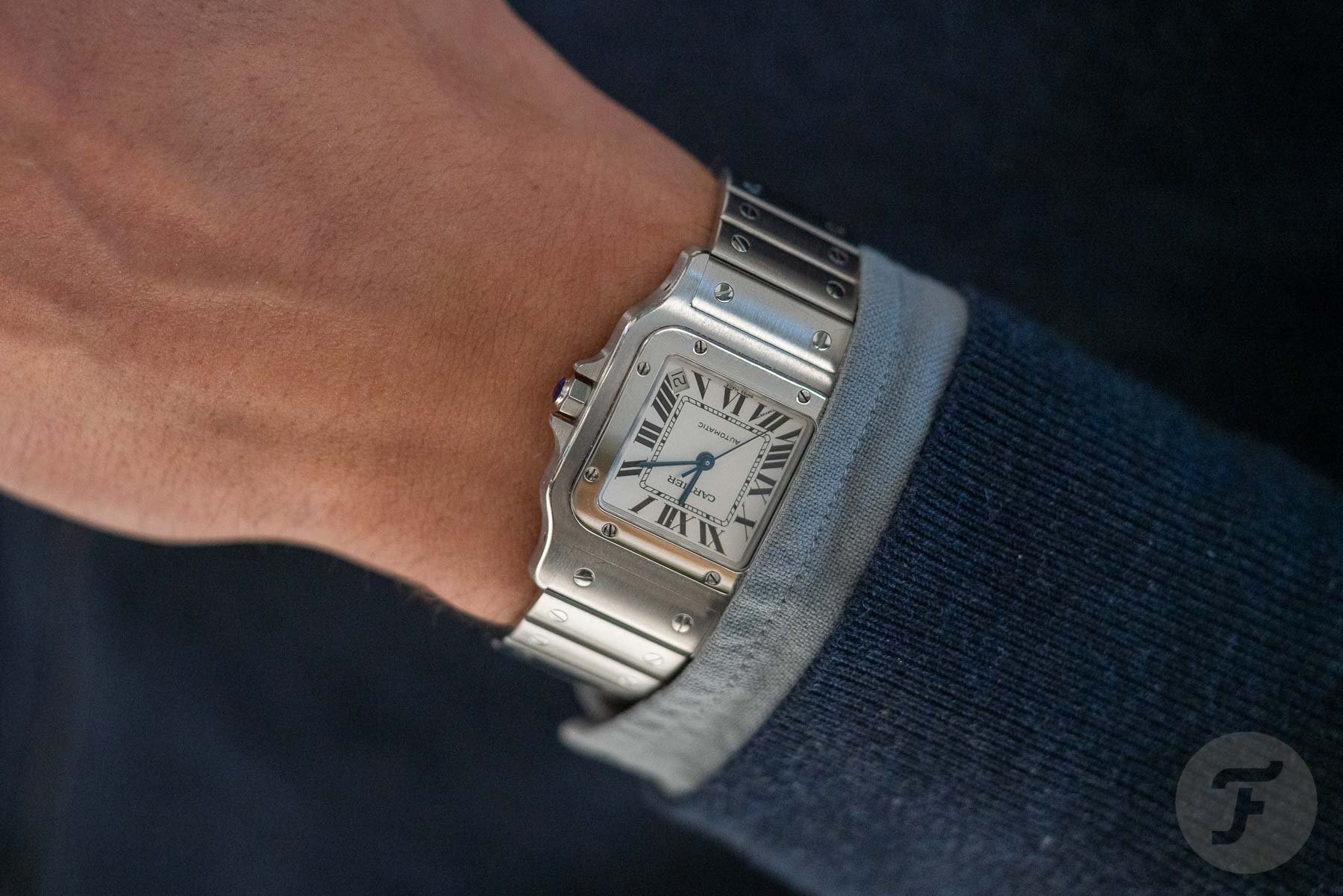 A crown that's playing hard-to-get
I'd say the date window at four-thirty serves exactly the same purpose. And while wearing the Santos, you don't even notice it. What you do notice is the beautiful ensemble of the heat-blued hands and the tip of the crown. By the way, that crown, and especially its bolt shape in combination with those crown guards, is the reason I got myself a watch winder. It's so hard to get a hold of the crown and wind the watch. I am, however, getting rid of the watch winder now because I'm wearing the Santos much more than I expected. As such, there's not often a need to wind or set the watch.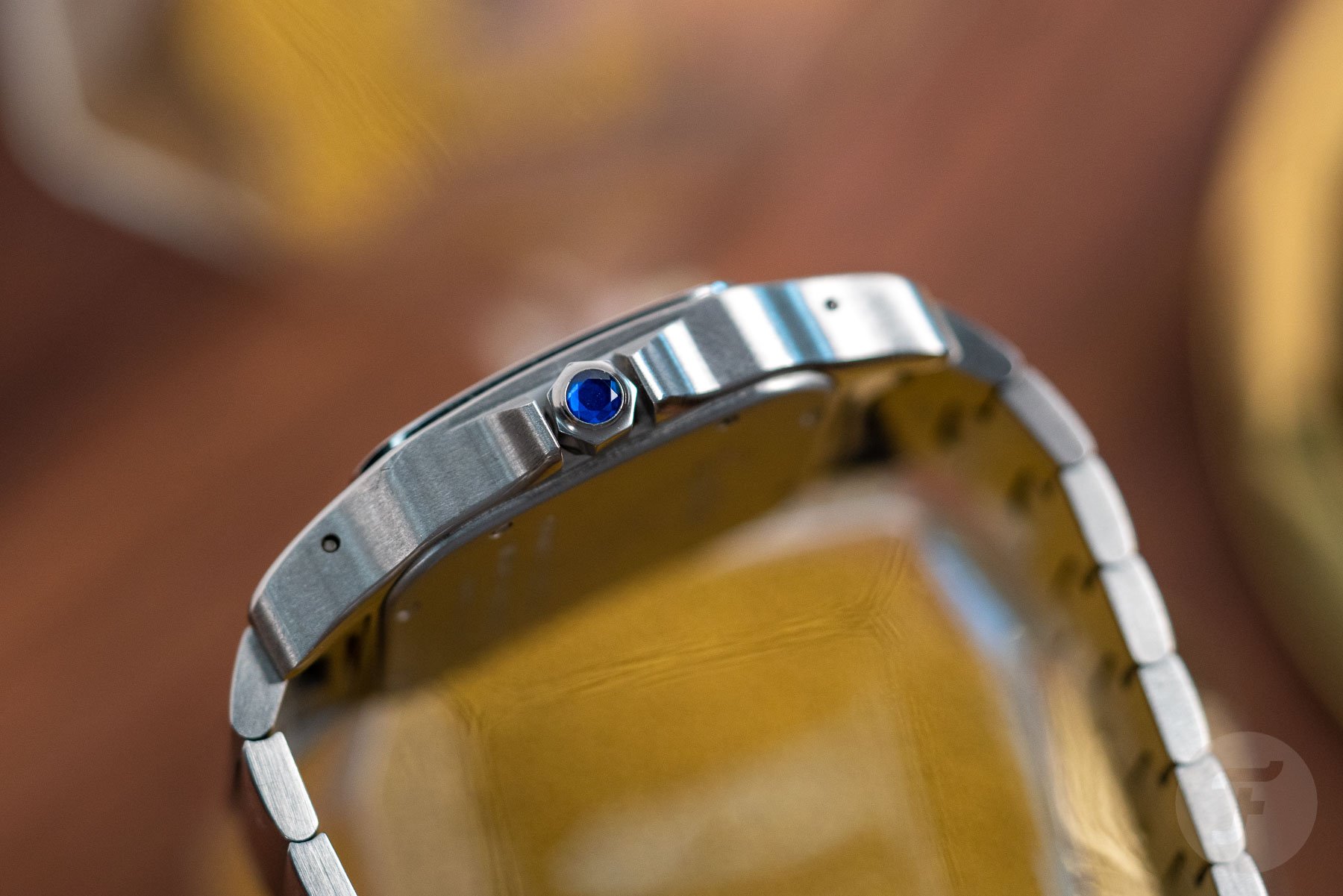 An all-day, everyday beauty
That's right, I've been wearing this beauty a lot. It just works so well for any occasion and with any outfit — summer or winter, day or night. That also means especially the polished bezel is getting quite a few marks, but they suit the Santos as the sports watch it was designed to be. That's also the thing people often say when they see the marks — "It wears its scratches very well!" But the question I most often get asked is which size or reference it actually is. 
From now on, I'll redirect them to this article. And I can also tell those who ask me whether or not it's for sale that I'll probably never sell my Cartier Santos. It was a watch that had to step into the void of that Rolex Datejust, and it totally blew me away while doing so! In the end, I'm so happy it didn't work out between me and that Datejust. Something much better and more original took its place in a very graceful manner!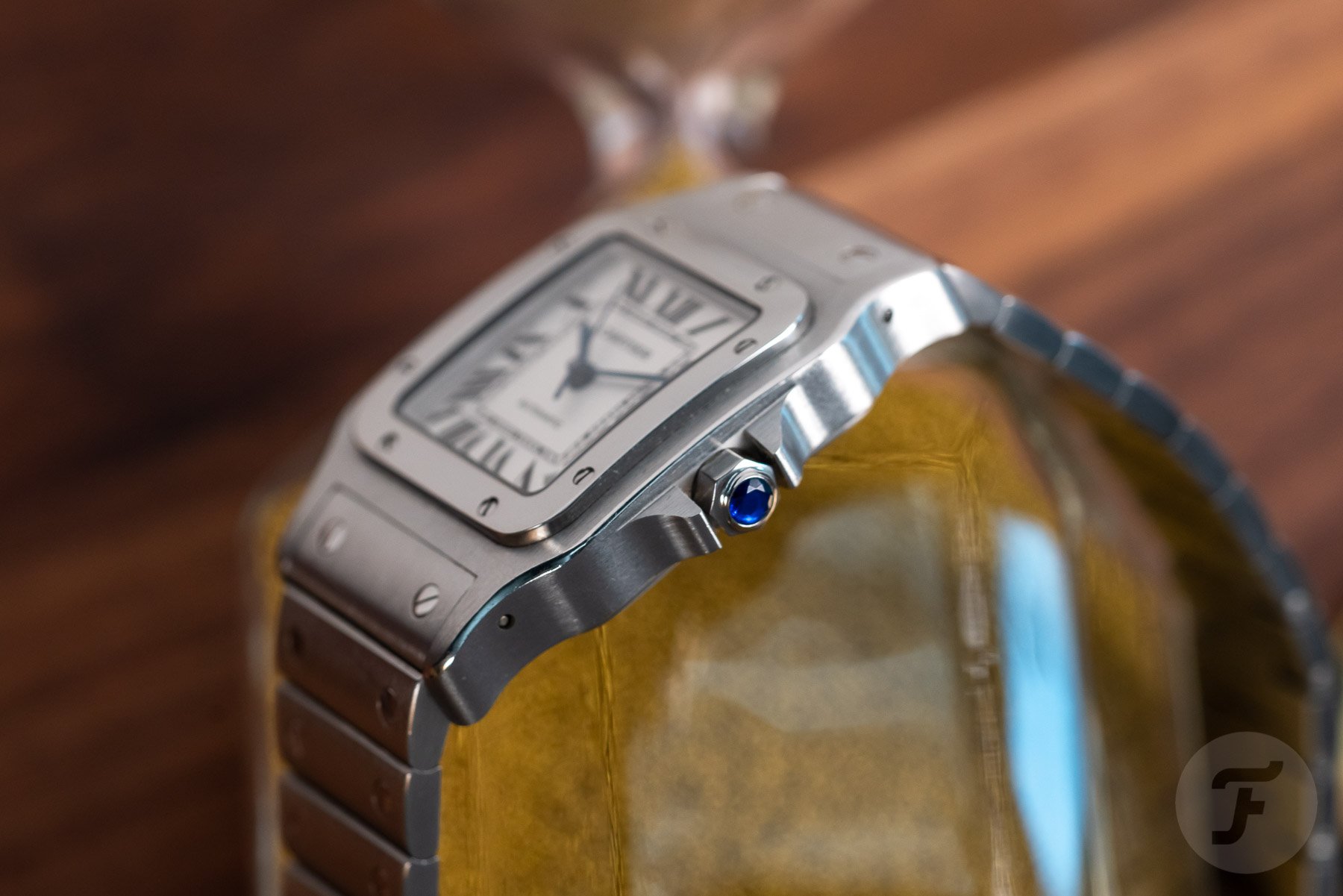 What about you? Have you replaced a watch in your collection with something else? What was it, and how did it work out? Also, tell me what you think of replacing a Rolex Datejust with a Cartier Santos. Did you ever think about those as interchangeable models? Let me know your thoughts in the comments.
If you'd like to see more shots of me and my Santos, check out my Instagram @fliptheparrot