Celebrating Colors With The New Zodiac Super Sea Wolf Skeleton 6-15 Dive Watch
An ode to the brand's past, current, and future audatious use of color
With a decades-long track record of chromatic creations, Zodiac has never been afraid to go bold with colors in its watches. Today, the brand introduced the new Zodiac Super Sea Wolf Skeleton 6-15 Dive Watch, which offers more than a nod to its most brightly liveried predecessors. But it's not only about color. If you manage to wrestle your eyes away from the Super Chroma K1 crystal bezel, you might notice that this Super Sea Wolf features a new skeletonized movement. This is a first for the brand and part of a methodical and prideful flexing of its watchmaking muscles. Think of it as a small taste of what the brand's movement manufacturer STP has up its sleeve for the future.
Now, here at Fratello, we fancy ourselves amateur trendologists. And though we dare not officially pin the title on ourselves, we are privileged to experience more watches than most. This means we are somewhat savvy to what one might call "the bigger picture" regarding watches. One trend that has piqued our attention is a recent propensity towards "fun" watches. That's right, the f-word! It's something microbrands have preached for a while, but now, even the most mainstream brands seem to embrace it. Not even Rolex could resist, as evidenced by the Rolex Day-Date Emoji released at Watches and Wonders 2023. With a perfect balance of fun aesthetics and excellent specs, the Zodiac Super Sea Wolf Skeleton 6-15 is right on trend! Let's take a closer look.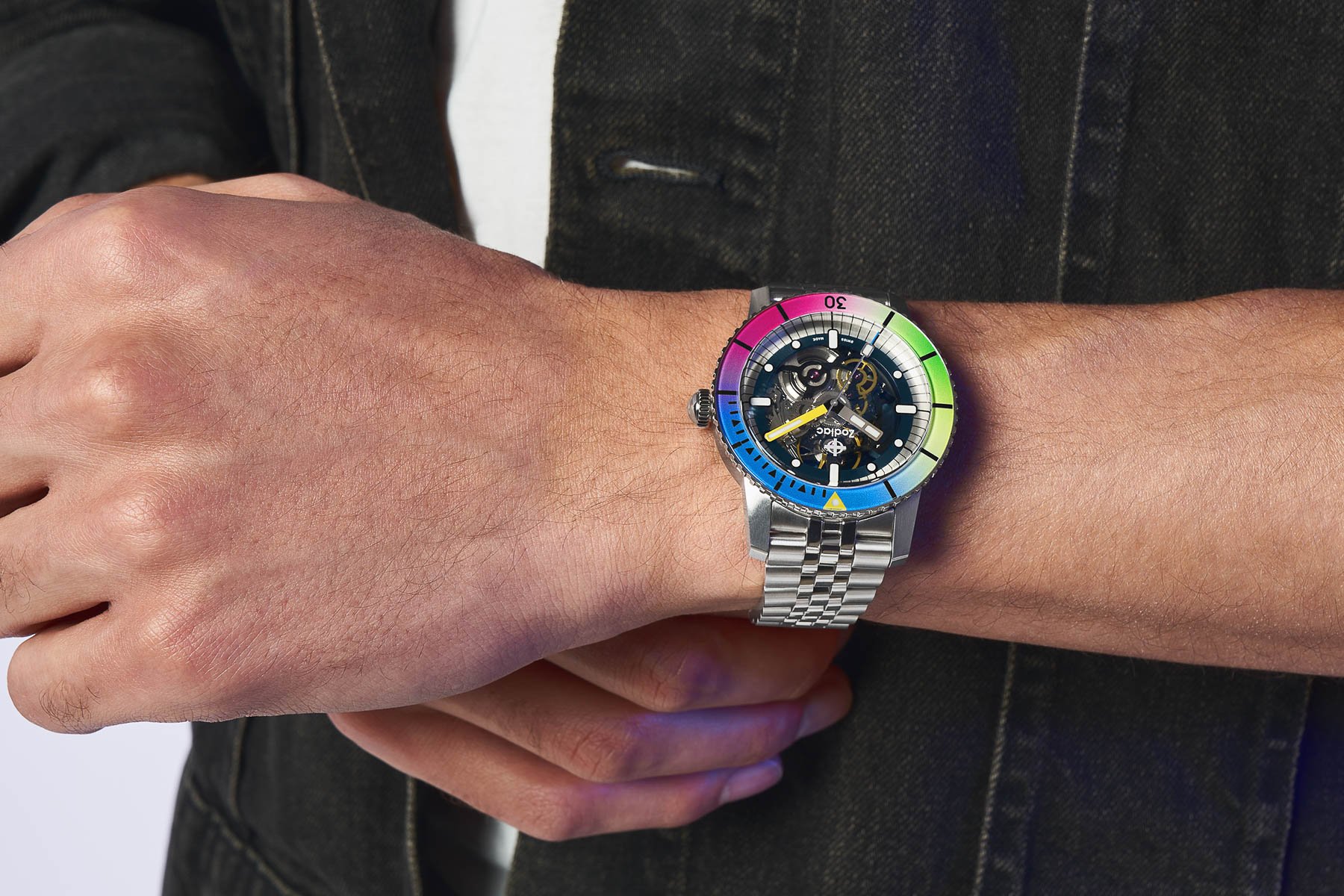 The Zodiac Super Sea Wolf Skeleton 6-15
In the interest of keeping it brief, I won't get too deep into the technical details of the watch. If you want the specs, you'll find them at the end of the article. The new Zodiac Super Sea Wolf Skeleton is virtually the same as the SSW you've come to know and love — a nicely proportioned 40mm automatic diver that stands 13.6mm tall with 20mm lugs. Directly inspired by vintage Super Sea Wolf models, the modern SSW has often served as a platform for the brand's most daring designs, including the Aquamarine Dream, Watermelon, and the Worn & Wound limited edition. Zodiac even introduced an impressive ceramic version of the watch late last year. So it only makes sense that Zodiac continues to use the SSW as a blank canvas for creativity and innovation.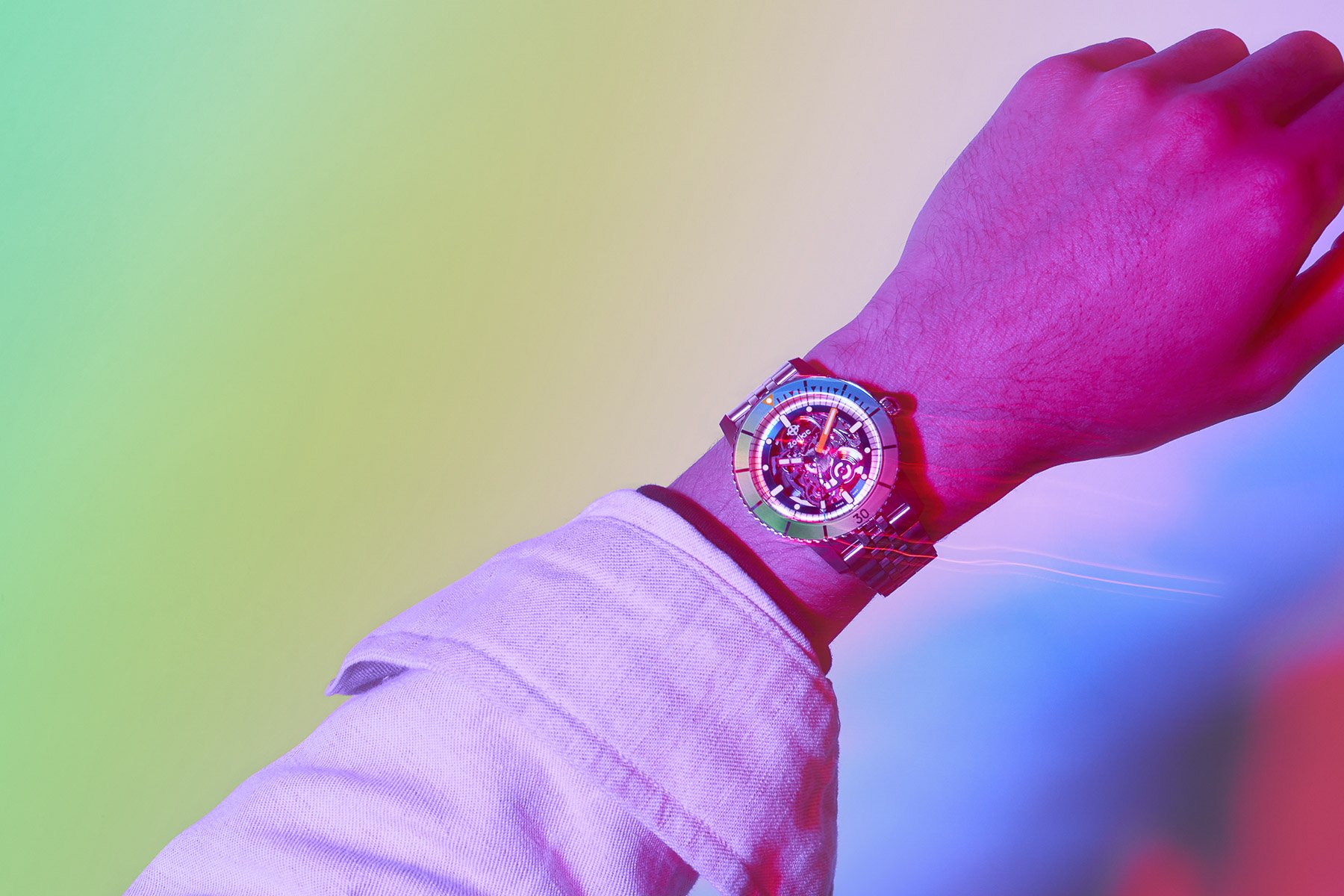 This latest version features a few firsts for the Super Sea Wolf line. The highlight of these is the new STP 6-15 movement inside.
For the first time, this SSW's movement is visible from both the front and back. Only some early Super Sea Wolf 53 Skin Divers had featured a crystal case back in the past, but the Skeleton 6-15 fully shows off the brand's first skeletonized caliber. Admittedly, skeletonization is not for everyone. It can come across as somewhat gimmicky if not executed correctly. However, this new Zodiac does a great job of it, with the attractive skeletonized dial's center showing off blackened bridges, the mainspring, gears, keyless works, and the balance wheel. Everything is nicely encapsulated within a blue and silver minute track. Lumed markers match the silver and yellow hands. And finally, everything lies within the Rainbow-Road-like Super Chroma K1 crystal bezel's ombré embrace. The open case back has a matching ring of color, which frames the attractive Zodiac-signed blue rotor weight inside.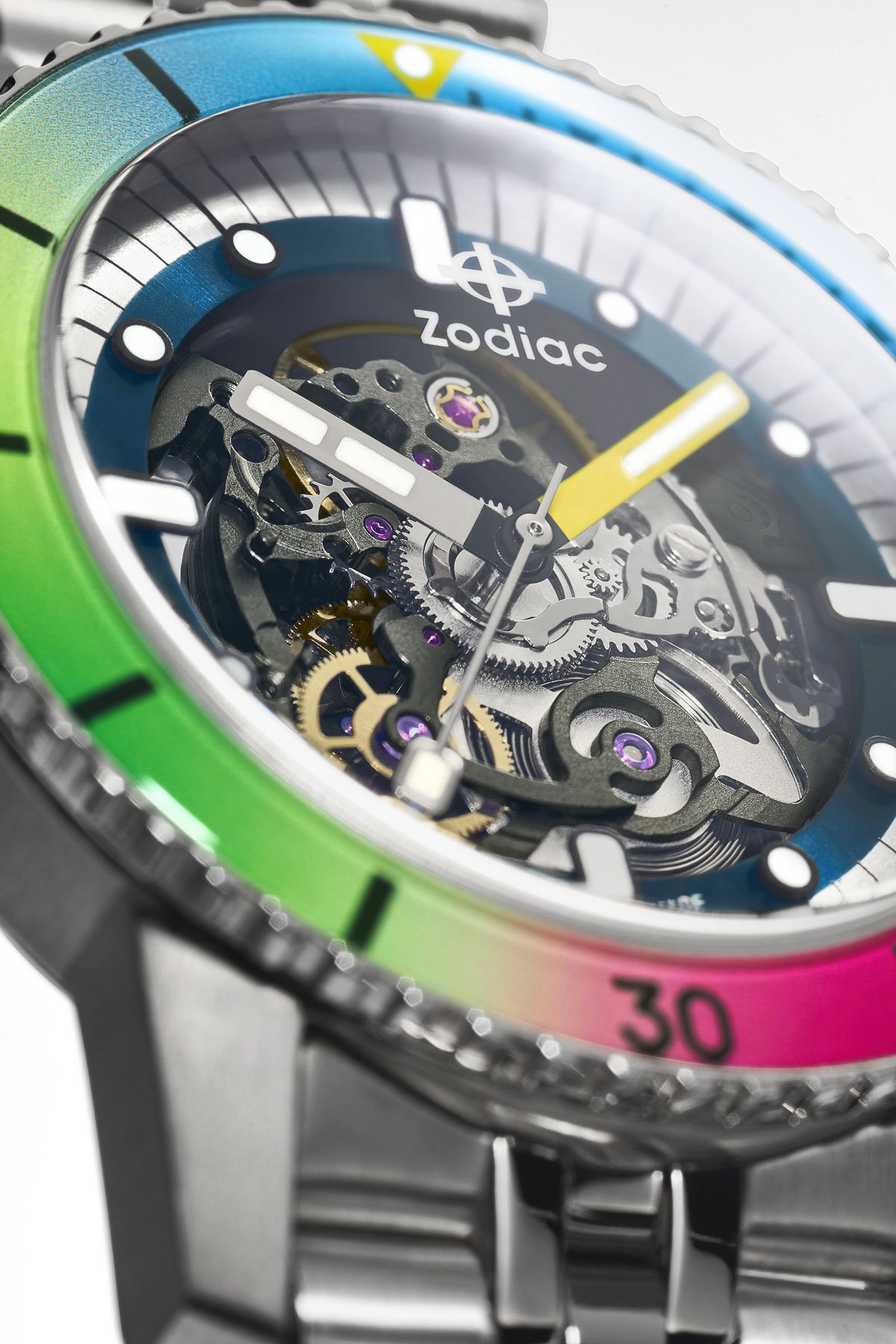 Final thoughts
The new Zodiac Super Sea Wolf Skeleton 6-15 is available starting today at a retail price of US$1,895. The brand describes it as a "limited-run" timepiece. And though we don't know precisely what this implies regarding production numbers, it seems this iteration won't be around forever. For more information, head over to the Zodiac Watches website.
What do you think of this divisive diver? Do you embrace fun watches? Or are black dials and bezels the hard limit for you? Where do you draw the line? Leave your thoughts in the comments below!
Watch specifications
Model
Zodiac Super Sea Wolf Skeleton 6-15
Dial
Skeletonized dial with a blue and silver outer minute track and Super-LumiNova markers
Case Material
316L Stainless steel
Case Dimensions
40mm (diameter) × 13.6mm (thickness) × 20mm (lug spacing)
Case Back
Open sapphire case back
Water Resistance
200m / 20ATM
Strap
Five-link stainless steel bracelet with butterfly deployant clasp
Functions
Time only, no date