Dear Universal Genève, Bring Back The Polerouter
And let Guillaume Laidet have the brand
No vintage watch sits more prominently in my mind than the Univeral Genève Polerouter. There are certainly more popular watches and better-known vintage references. But the Polerouter is a pinnacle of (what I consider to be) the golden age of watch design. In recent years, it has become something of a cult classic. With the recent resurrections of vintage watch designs and companies, I think it's well past time the Polerouter made a comeback for the 21st century.
I'm not the only one that thinks this either. In an interview with Watchonista in 2022, Guillaume Laidet — the mastermind behind Nivada Grenchen, Vulcain, and others — talked about attempting to purchase Universal Genève from its current owners. They weren't interested in selling as of the 2022 article, so the dream is off the table… for now.
But one can dream, right? Nivada is having a good run, and just about every other watch brand under the sun is currently reveling in resuscitating watches from their archives. If there were ever a time for Universal Genève to revive the Polerouter, it's now — just not without some Guillaume Laidet magic.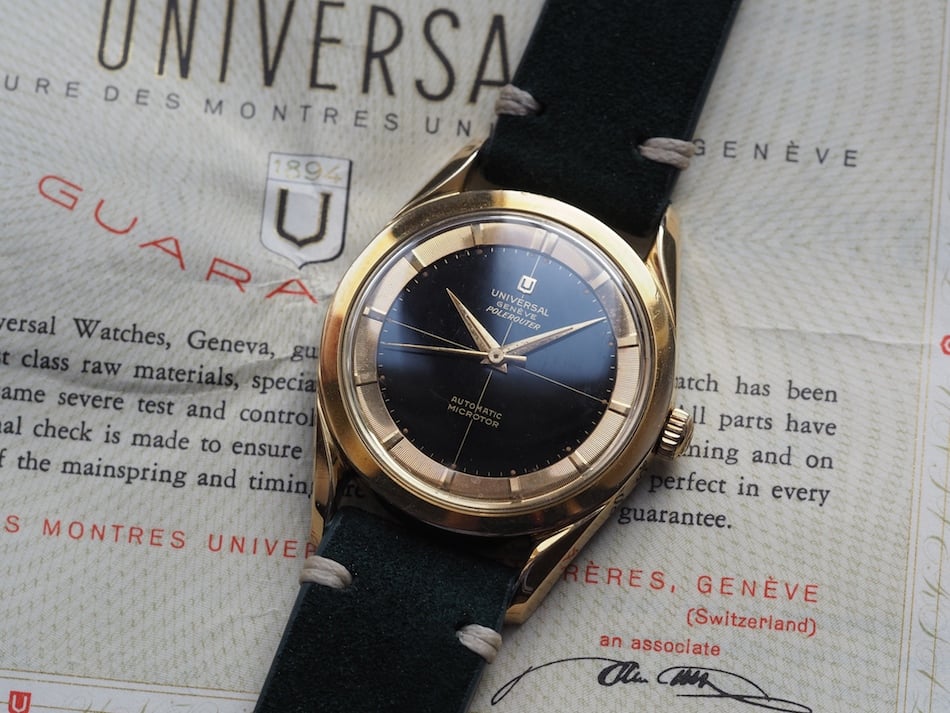 Universal Genève Polerouter — the everyman's dress watch
Originally released in the mid-1950s, there are many elements that make the Universal Genève Polerouter such an iconic watch. And yes, it is an icon because, to start, behind the Polerouter was a young designer named Gérald Genta. This is the same Genta that went on to design the Audemars Piguet Royal Oak, Patek Philippe Nautilus, and the IWC Schaffhausen Ingenieur. Only in his 20s when he penned it, the Polerouter is the watch that put Genta on the watch map.
But unlike a Royal Oak, Nautilus, or Ingenieur, the Polerouter was a watch that was widely accessible to the middle class. It still is too, with prices for examples in decent condition starting around $1,000. The Polerouter (originally "Polarouter") was the result of creating a watch for Scandinavian Airlines pilots flying over the Arctic. This route — the "Polar Route" — had been made recently accessible with developments in aviation technology. The Polerouter watch was made to catch up with the times, with resistance to magnetism, temperature extremes, and changes in altitude.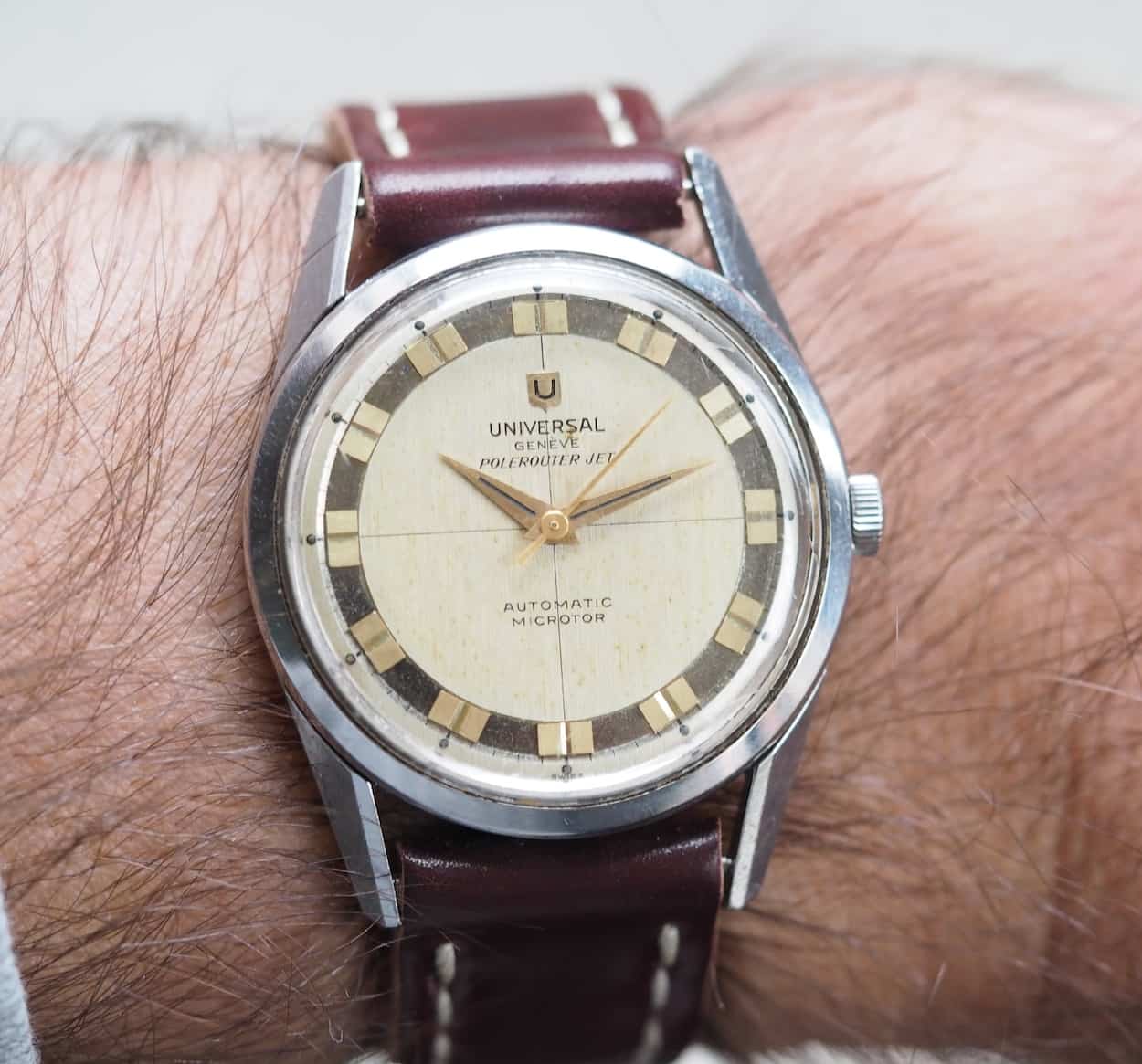 But the Polerouter quickly ended up being a watch not just for Arctic pilots. Its clean and modern (for the time) design and new movement technology made it a hit with the general watch-wearing public. While initially released with a bumper movement, Universal Genève soon upgraded it to the Universal 215. The 215 was Universal Genève's first micro-rotor automatic caliber and boasted an almost-60-hour power reserve and an 18,000vph frequency. Though the movement is obscured by the solid case back, it's beautiful for being a mass-produced caliber, bearing Côtes de Genève finishing and gold plating on the rotor. The 215 was followed by the 218 and then, ironically, the calibers 68 and 69 in 1962.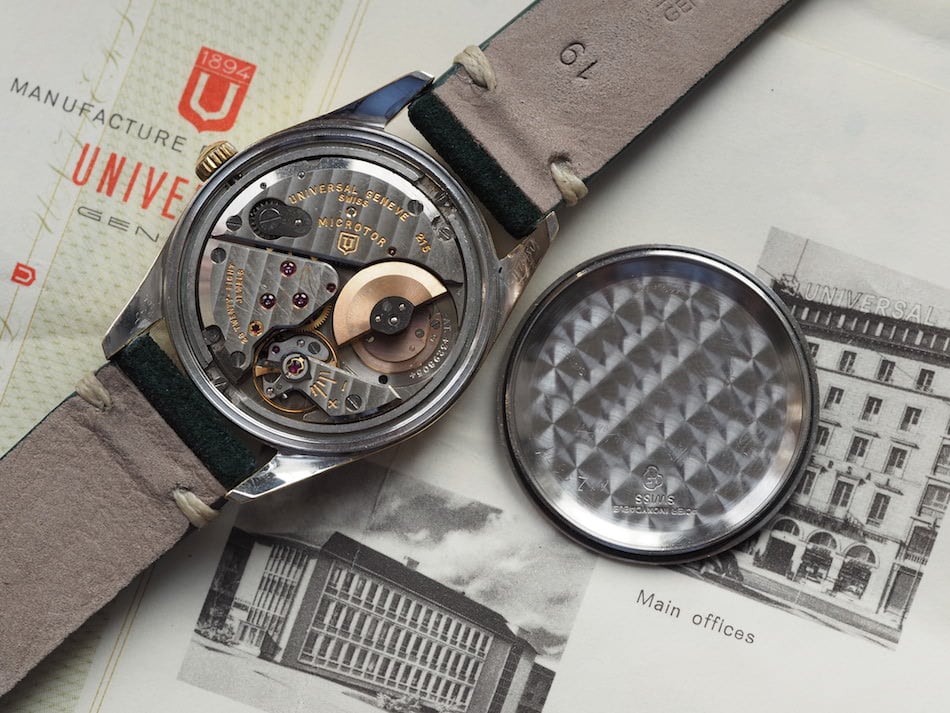 A "custom" mass-produced watch
The Polerouters were wildly popular watches and priced similarly to competitors like the Rolex Explorer. But whereas Rolex kept options on the Explorer relatively limited, Universal Genève made sure to give the people what they wanted. With over a decade of production, the Polerouter manifested as various watches, from sleek gold dress watches to tool-y divers. One thing that makes collecting Polerouters so intriguing (and impossible) is that there are so many different ones. The '50s and '60s were Universal Genève's heyday, and the Polerouter was its golden goose.
The line ran until 1969 and was later reintroduced in the '70s and '80s as quartz options. But 1969 was the end of the Polerouter watch as we know it today and also the beginning of the end for Universal Genève and so many other brands decimated by the Quartz Crisis. But the quartz madness is long behind the industry, and quartz watches have settled into their niche. With the mechanical watch currently undergoing its renaissance coupled with an emphasis on vintage design, it's certainly time we saw a faithful reintroduction of the Polerouter.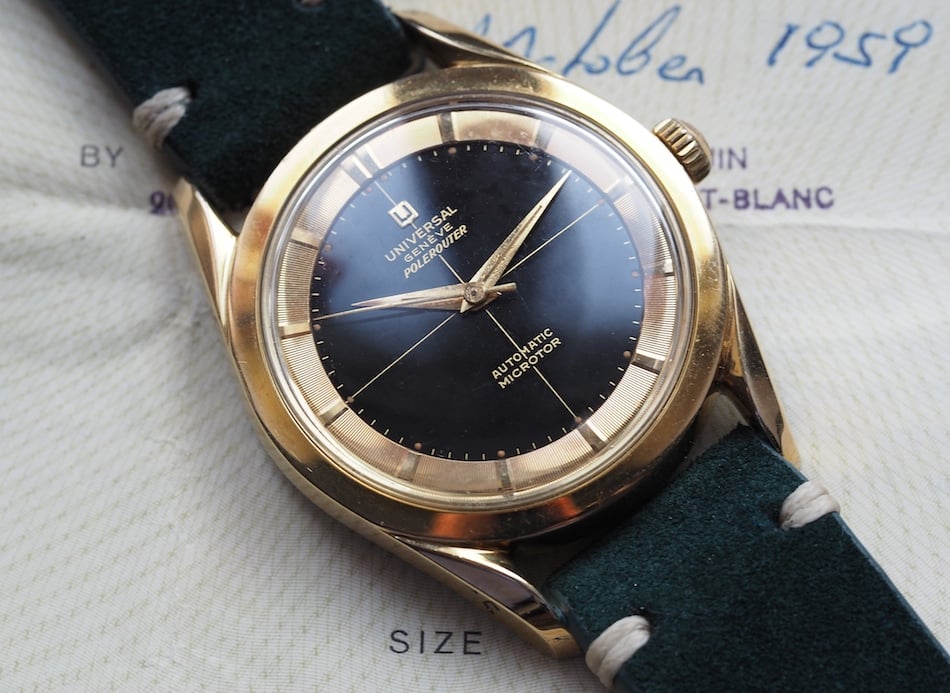 The route for a modern Polerouter
Like the Chronomaster is to Nivada, the Polerouter could serve as an excellent entry line for a Universal Genève resurgence. In part, this is because there are so many variations to choose from. It's estimated that there are thousands — yes, thousands — of variations bearing the Polerouter moniker. Though, like me, I'm sure some of you see a very specific watch in your mind's eye when thinking of a Polerouter.
For me, the quintessential Polerouter is a small-diameter case in gold with twisted lugs, dauphine hands, and no date. I'm not picky about the dial finish, as long as it's two-tone with that Polerouter outer ring. Now, 34mm — the original diameter of many of the above-described Polerouters — makes for a small watch, especially by modern metrics. However, a Laidet execution could ease a Polerouter case into present-day case preferences without sacrificing essence (or lugs).
In the right hands, namely Guillaume Laidet's hands, Universal Genève could undergo a resurgence that far outpaces Nivada Grenchen and Excelsior Park…
But, as there are vast differences in watch enthusiasts, having a thousand variations of the Polerouter could be a strength. Different choices of case metals, dial colors and finishes, date or no date window, and even diameter could be shoppable options. Like the original, this would allow a modern Polerouter to cater to many different tastes and budgets. Furthermore, though we've seen a lot of selection and exploration from Guillaume Laidet and the watch brands he works with, we've yet to see many options for gold. And the Polerouter was just as much about gold as steel.
A stalemate
But this is all just wishful thinking until the present-day owners of Universal Genève decide to play ball. The brand is an asset, though a vastly underutilized one in its current iteration. Its value lies in its history, which in turn relies on its iconic designs and technologies. In the right hands, namely Guillaume Laidet's hands, Universal Genève could undergo a resurgence that far outpaces Nivada Grenchen and Excelsior Park, arguably lesser-known vintage brands until their reintroductions.
But maybe there's a middle ground. Laidet doesn't own Vulcain like he does Nivada Grenchen and Excelsior Park. He stepped in as an advisor to help direct Vulcain's reintroduction and release of first the Cricket and now other models. Universal Genève only needs to hand Laidet the reigns for a couple of years to give the people what they want. The people want Universal Genève as it always was, as they always have. Quartz killed a wonderful brand and an exceptional watch, but Laidet is turning out to be an excellent Dr. Frankenstein. We no longer have Genta to design a new Polerouter, but we do have Laidet, and he will certainly do.
Check out our interview with Guillaume Laidet and Fratello's limited edition chronograph in collaboration with Nivada Grenchen. What's your favorite iteration of the Polerouter? Let us know in the comments below.