Deader Than The Dodo: Are Dress Watches A Thing Of The Past?
Or are they waiting for the right time to make a glorious comeback?
The COVID-19 pandemic transformed casual Friday into casual every day. Sounds good, sounds comfy. But to be honest, wearing sweatpants 24/7 isn't as nice as it seems. That's because feeling good all too often goes hand in hand with looking good. Baggy gray cotton is just not very flattering. And that will affect your mood. Every once in a while you need to dress up, make an effort, think carefully about what you're going to wear, and feel good. There's fun in combining different colors, materials, and even styles to express yourself. And a nice dress watch is the icing on the cake. Or is it? A dressy outfit is no longer "crowned" by a dress watch. Elegant timepieces have been replaced by sports and tool watches. The dress watch seems to be deader than the dodo these days. So we ask ourselves, are dress watches a thing of the past?
The forced bivouac at home did not take place in a classic three-piece suit and tie. Makes sense. But even before the pandemic, formal wear had already been facing fierce competition from casual clothing for years. The pragmatic reason could be that it's easier and more comfortable to wear cotton than tweed.
Unfortunately, because of the global lockdown, casual has been subject to hyperinflation.
But you can also wear sneakers, chinos, and a turtleneck sweater under an unlined jacket, and it will feel comfy and look good all day long, both in and outside of the office. Unfortunately, because of the global lockdown, casual has been subject to hyperinflation. Classy, stylish casual had to make way for a kind of casual that has descended to the level of the sweater. And the sweater is, as the name suggests, meant to absorb sweat while playing sports or working out; it's the clothing equivalent to a tool watch if you like. Do you wear a Calatrava with that?
Are dress watches a thing of the past? We'll get to that in a minute. First, we talk about fashion
Before you answer my first question, let me pose another one: when did it go wrong? The answer to that question is the 1960s. During the '60s, old norms and values ​​(read: rigid, formal clothing) were quite literally and figuratively shaken up and shaken off. Stiff office suits were exchanged for supple denim wear. The counterculture of that period brought about a revolution in clothing that is still felt today. And since the '60s, slowly but surely, the world has become more and more informal. And in times of corona, that process picked up the pace. Denim had already penetrated the boardroom, and now that the same space could only be entered virtually, even sweatpants made their appearance — hidden under the desk, but still present in the meeting nonetheless.
Gucci tracksuits and Dior jogging pants
Way before the pandemic, even the leading fashion houses — the traditional bastions of Haute Couture and Prêt-à-Porter — had already fully embraced the casual trend. Quite radically, even. Famous fashion brands started launching streetwear that sometimes bordered on sportswear. Think Gucci tracksuits. But collaborations between fashion and sports brands have also become a common thing. Think Fendi × Fila, Puma × Balmain, The North Face × Gucci, and last but not least, the Air Jordan × Dior collaboration.
Casual couture is here to stay on different price levels. Once you're out of the straitjacket, you don't voluntarily slip back in again, I guess. Personally, I prefer casual chic in the form of sober premium sneakers shining under supple jersey pants rather than a logo-bombarded tracksuit with platform trainers. But anything is better than a baggy hoodie over shapeless sweatpants. That said, I did stumble upon a slick pair of gray Dior sweatpants with 40% cashmere for ultimate softness and comfort for "just" €1,100.
Calatrava × tracksuit
Apart from top management positions at the most conservative businesses and government departments, casual chic has taken over from suits and ties — the kind of attire you would traditionally pair with, let's say, the ultimate dress watch, a Patek Philippe Calatrava. The 1932 Patek Philippe Calatrava ref. 96 is very, very probably the first dress watch ever. It set the tone for the introverted, sublime, and elegant timepieces made for discerning gentlemen. It's a watch that works best with formal attire. The Calatrava reticently displays a subtle beauty that requires some perseverance to fully appreciate. Savoring a soft-spoken Calatrava — and a lot of other traditional dress watches, for that matter — is a slow process. A private and intimate affair. Do you match such a watch with your streetwear-inspired casual outfit? The watch market says "no."
Audemars Piguet Royal Oak, the first casual chic watch
The type of watch that is in the highest demand today is the sports watch. And sports doesn't mean cheap in the same way that it doesn't in the world of fashion. The Audemars Piguet Royal Oak can be perceived as the first casual-chic watch. In its wake, the Nautilus followed. And nowadays, both the vintage and contemporary markets are dominated by sports watches. Rolex rules supreme with its Daytonas, GMT-Masters, and Submariners. The luxurious sports watch is the icing on the casual-chic cake. A vintage Submariner worn with a turtleneck, a tailor-made sports jacket, premium cotton chinos, and hand-made Italian sneakers is a look that won't offend anyone.
What about a white gold Rolex GMT-Master II with a meteorite dial combined with a Gucci jean jacket? It's a match made in heaven. And that's because both items are first and foremost meant to show the wearer's status — mission accomplished!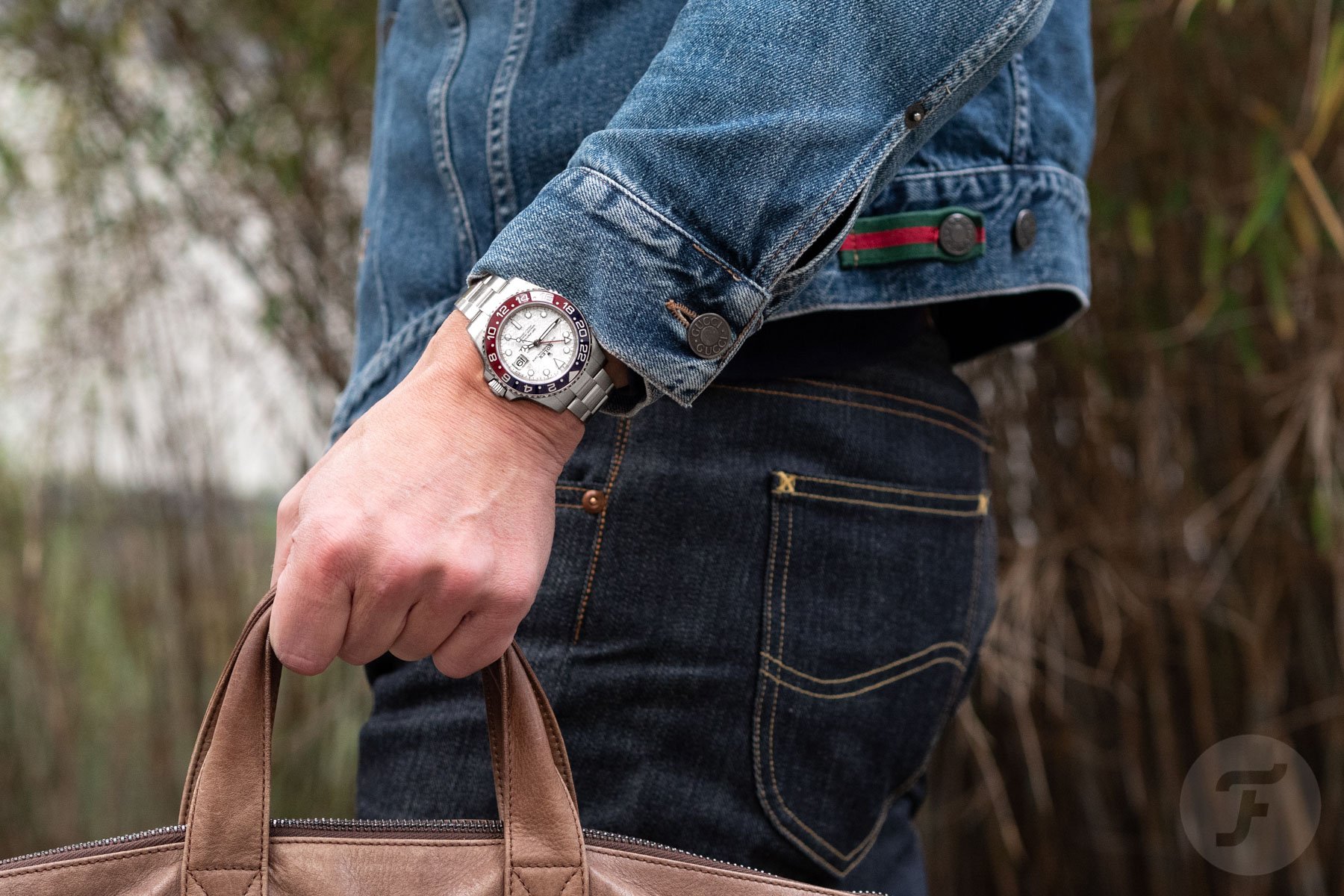 The dress watch is dead as the dodo, but CPR could still save it
Both a Blancpain Villeret Extra-Plate 6605 or a Breguet Classique 5157 don't quite get the job done when it comes to making that instant status statement. But although right now the dress watch seems to be dead as the dodo — we published a Top 10 of our favorite dress watches back in 2019, and it got quite limited engagement — not all hope is lost. CPR in the form of a new fashion trend might just be here in time to breathe some new life into dress watches.
… New Casual is thoughtful and stylish and strikes a balance between convenience and aesthetics.
Nowadays, more and more fashion brands are engaged in creating expertly designed and refined clothing made of modern, light, and easy-care fabrics. It's casual wear that conforms to the modern consumer patterns of working, exercising, and relaxing, but does so with a sartorial attitude. This fashion movement we can name New Casual is thoughtful and stylish and strikes a balance between convenience and aesthetics.
Dress up in different ways and price categories
What to wear with a New Casual outfit? Sure, you can stick with your exclusive sports watches and vintage tool watches — you can say whatever you want, a Submariner is in essence a tool watch — but you can also choose a watch that is meant to look dressy. You can even stick with Rolex by selecting a model from the Cellini collection, but you better do it now before it's too late. You can also find your dress watch 2.0 in a price bracket that's more easily accessible.
There's the Certina DS Powermatic 80, for instance. And if you prefer microbrand charm over conglomerate omnipresence, the Aevig Thor with its linen dial could be the one for you —yes, that linen summer sports jacket goes very well with the textured dial. Higher in price and with an even more alluring dial is the Grand Seiko SBGY007 Omiwatari, a watch that demands attention to detail from its wearer.
Rediscover the dress watch
In the mid-2010s, "logomania" was a thing. In 2022, we're dealing with logomania 2.0. Not just fashion "suffers" from it, but so does the world of watches. I think it's fair to compare the Gucci pattern to the iconic looks of a Rolex — not the visible logo, but the combination of the cyclops, bezel, and bracelet as strong visible statements. The trend is to wear something that doesn't leave any questions. But that doesn't mean you have to follow this exhibitionist fashion trend. Your New Casual outfit is the stage on which a dress watch can shine in all its sophisticated and understated allure and glory. And no, it doesn't even have to be gold; steel also works.
We've suffered through a worldwide COVID-19 pandemic. Now that things are slowly getting back to normal, there's no need to suffer from logomania 2.0 which tries so hard to persuade us to wear (unobtainable/overpriced) sports watches. There's also no rule that says we have to keep riding the wave of retro dive watches, reinterpreted pilot's chronographs, and other kinds of tool watches. It's time to rediscover the sober elegance of the dress watch. Something that slips under the cuff of your shirt, not the sleeve of your sweater.
Please find and follow me at Lex Stolk • Instagram