Eight Awesome Rolex Submariner Alternatives Over €10,000
and it wasn't easy!
Finding Rolex Submariner alternatives over €10,000 is not very easy. You might think this is the case. If you want something with a minimum water-resistance of 300 meters, and a diving bezel, it gets really thin with results. Unless you add some precious metals to the game.
Some of the Submariner fans weren't overly happy with my chosen title in a previous article where I showed seven  Submariner alternatives under €5,000. And let me state it once more, I have nothing against a Rolex Submariner, and if you want one, you should get one. Luckily, most of you acknowledged my intentions to show what's out there, for less money. Just not everyone has €10,000 to spend (or retail price if you're overly lucky) on a watch. But in case you do, here are eight awesome Submariner alternatives over €10,000.
Eight Awesome Rolex Submariner Alternatives
The Rolex Submariner is a classic. It is one of the best dive watches out there, with a rich history going back to 1954. Why is it one of the best? Because it is well-engineered, with the purpose clearly in mind. A case with a screw-down case back, screw-down crown, uni-directional diving scale bezel, large and luminous hour markers, and a bracelet with a diver's extension. And let's not forget about the solid movement, that is easy to service for watchmakers. Our Fratello watchmaker claims he can drink while doing so and we have no reason to doubt him (although we're sure he doesn't). Every new iteration of the Submariner is better than the previous one. You might not always like the new style changes, but in terms of quality and functionality, they always take a step forward.
I've owned a number of Submariner watches, but in the end, I decided I am more of a Sea-Dweller person. So, what I don't like about the Submariner has little to do with the watch itself, but with the way Rolex distributes its watches. Or fails to, basically. So what are the Rolex Submariner alternatives then? I already gave a list of watches below €5,000 but some of you were actually quite on the fence about it. So, let me show you some Rolex Submariner alternatives above €10,000 (~ $12,000). That seems to be the going price for a ceramic Submariner on the gray and pre-owned market. Sometimes even more. But what else is out there above €10,000 that can properly compete with a Rolex Submariner? Here are my picks!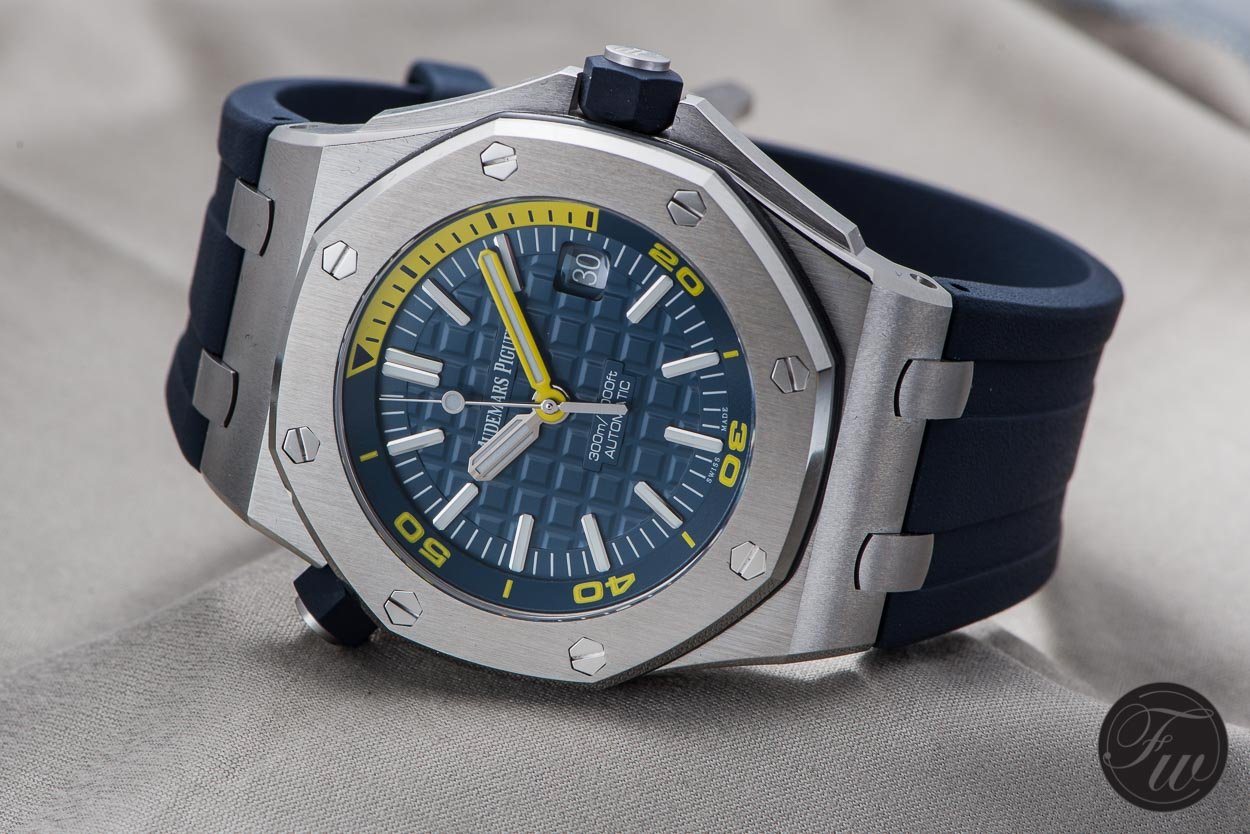 Audemars Piguet Royal Oak Offshore Diver
Available in a variety of colors, the Royal Oak Offshore 15710ST is a diver's watch with a water resistance of 300 meters and an internal diving bezel that is operated by the crown at 10 o'clock. If you want to stand out from the crowd, go for a version with some funky color scheme. You shouldn't be faint-hearted though, as a former AP Royal Oak owner I know how easy and especially how visible scratches accumulate on the case.  Ticking inside is AP's in-house manufacture movement 3120. This movement was first used in the 39mm 15300 references, and later also used in the 15710 and other Royal Oak variations.
The case diameter is 42mm and it has a thickness of 14.1mm and comes on a rubber strap. If you don't like a rubber strap, the Offshore bracelet will also fit, but expect to get financially hurt. The retail price of this watch is CHF 20,600 Swiss Francs (€22,700).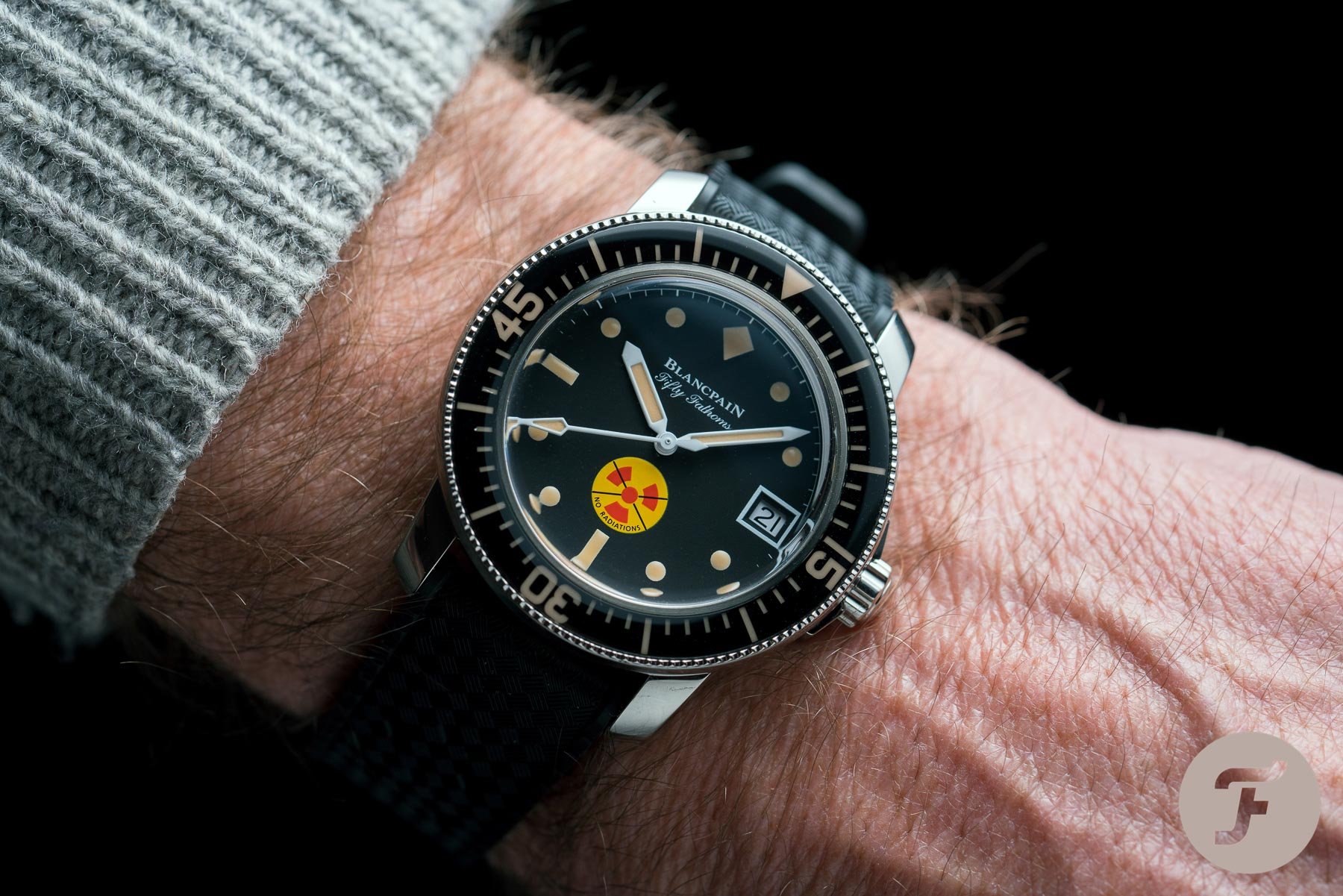 Blancpain Fifty Fathoms No Rad
We had this watch for review just recently, and I have to admit it is difficult to forget about it. We did a video on this watch (click here) and a hands-on article, and to us, this watch ticks a lot of boxes. It was the diver's watch that beat the Submariner to it when it comes to being "the first" with a diving bezel. The Blancpain Fifty Fathoms goes all the way back to 1953, and this No Rad edition clearly shows that Blancpain respected most design cues. The Blancpain Fifty Fathoms No Rad has a retail price of €13,290. This Rolex Submariner alternative has a 40mm case diameter, a thickness of 13.23mm, and a beautiful sapphire bezel.
The No Rad logo adds some color to this watch and matches perfectly with the creamy Super-LumiNova. Inside ticks Blancpain's in-house manufacture 1151 movement. This No Rad is a limited edition of 500 pieces only, but you will find a number of Fifty Fathoms variations in the Blancpain collection. Including some models with a stainless steel bracelet. The No Rad version only comes with this tropic strap.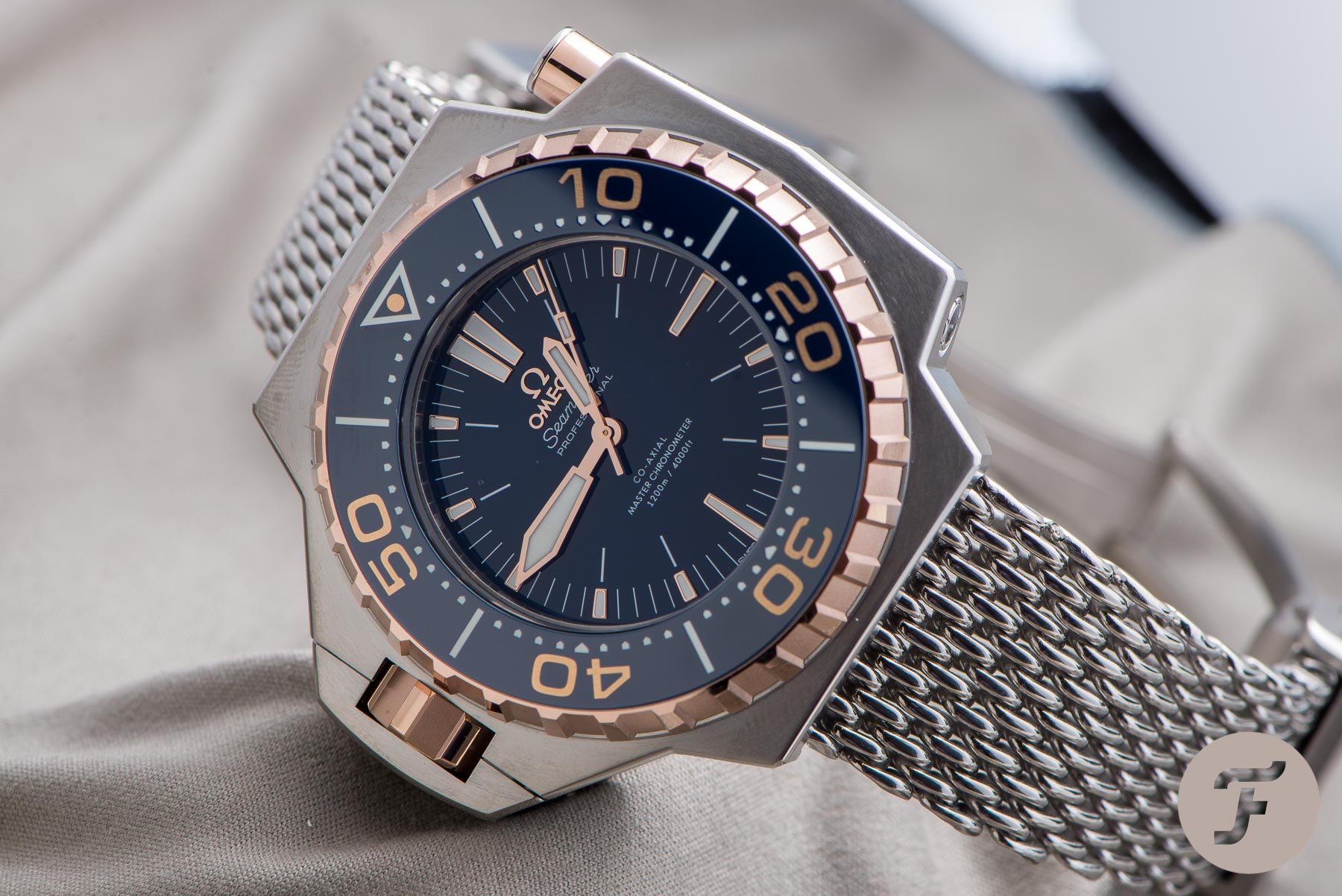 Omega Seamaster PloProf 1200M Titanium
The stainless steel PloProf 1200M is discontinued, but you might be able to find one in the display of an AD or boutique. The retail price of those is €8,200, so on the level of the retail price of a Submariner. A proper Submariner alternative? I think so, especially when we look at specifications. And perhaps also when we look at storytelling/history, with COMEX and Cousteau playing a role as well. With style icons like Agnelli wearing a PloProf, or even Fratello's own Mike Stockton, it also speaks to the imagination of non-divers. The titanium models are the only ones that are still in production, and the retail price of full titanium (with shark bracelet) is €11,300. The version with 18-karat rose (Sedna) gold as pictured above is €17,200.
Water-resistant up to 1200 meters and with a Master Chronometer certified movement. Caliber 8912 has a silicon balance spring, a power reserve of 60 hours, is anti-magnetic up to at least 15,000 gauss, and has beautiful decoration. Unlike the steel PloProf, the titanium models have a transparent case back, so you can enjoy the view when not underwater. The ceragold bezel is locked in position unless you push the button on top of the watch.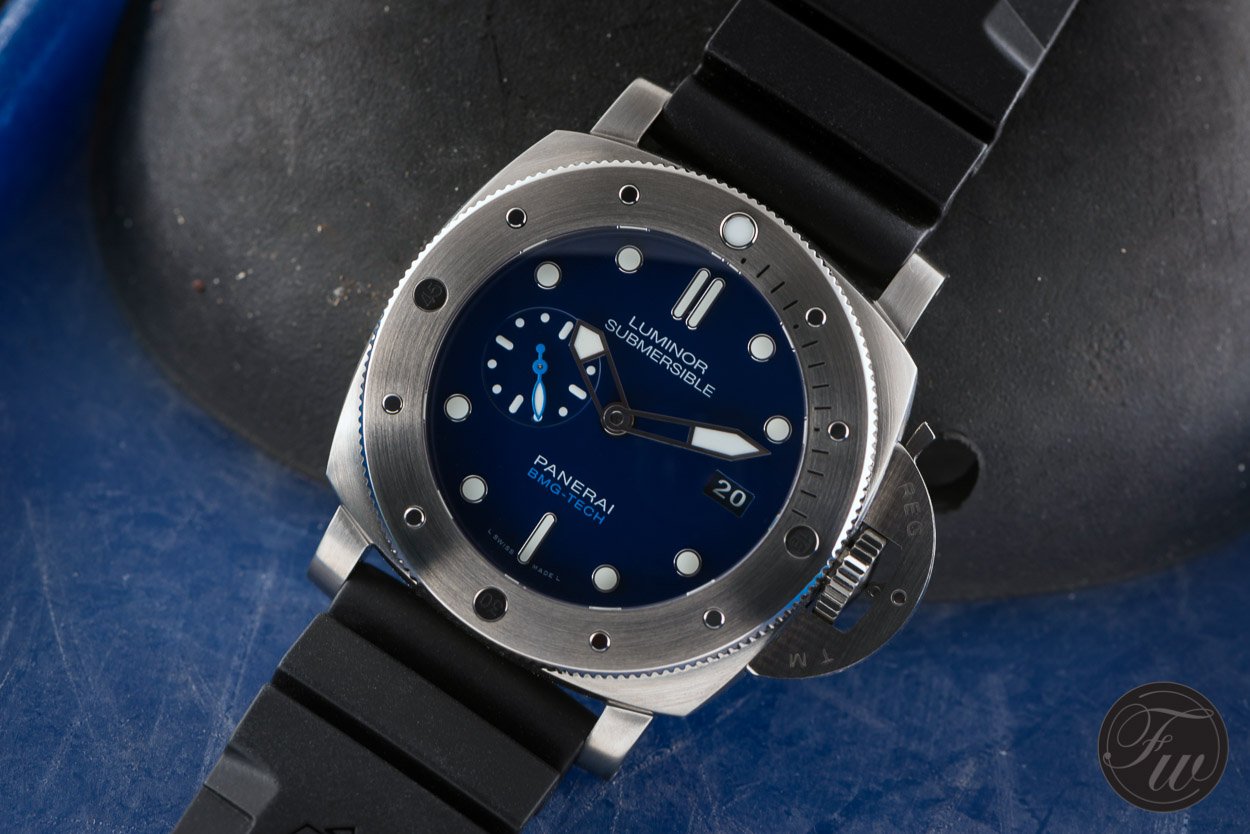 Panerai Submersible BMG-Tech
Panerai has such a long history when it comes to dive watches, it needs no further explanation. What I like about Panerai is that the brand is currently not only focusing on its heritage as many brands do. Panerai's team also keeps innovating and experimenting with new technologies and materials. They have a number of watches I'd consider Rolex Submariner alternatives, but this Submersible BMG-Tech PAM00692 is the one I picked for this article. It has a retail price of €12,900, and for that, you'll get a diver's watch using a BMG-Tech case. This material is lighter and harder than steel, and extremely corrosion-resistant. You can read more about it in the article we published about this watch.
Inside the PAM00692 is the in-house manufactured P.9010 movement, offering 3-days of power reserve. And yes, it is a 47mm watch! Luckily, Panerai also has 42mm Submersible watches that start at €9.500 (not with the BMG-Tech case though).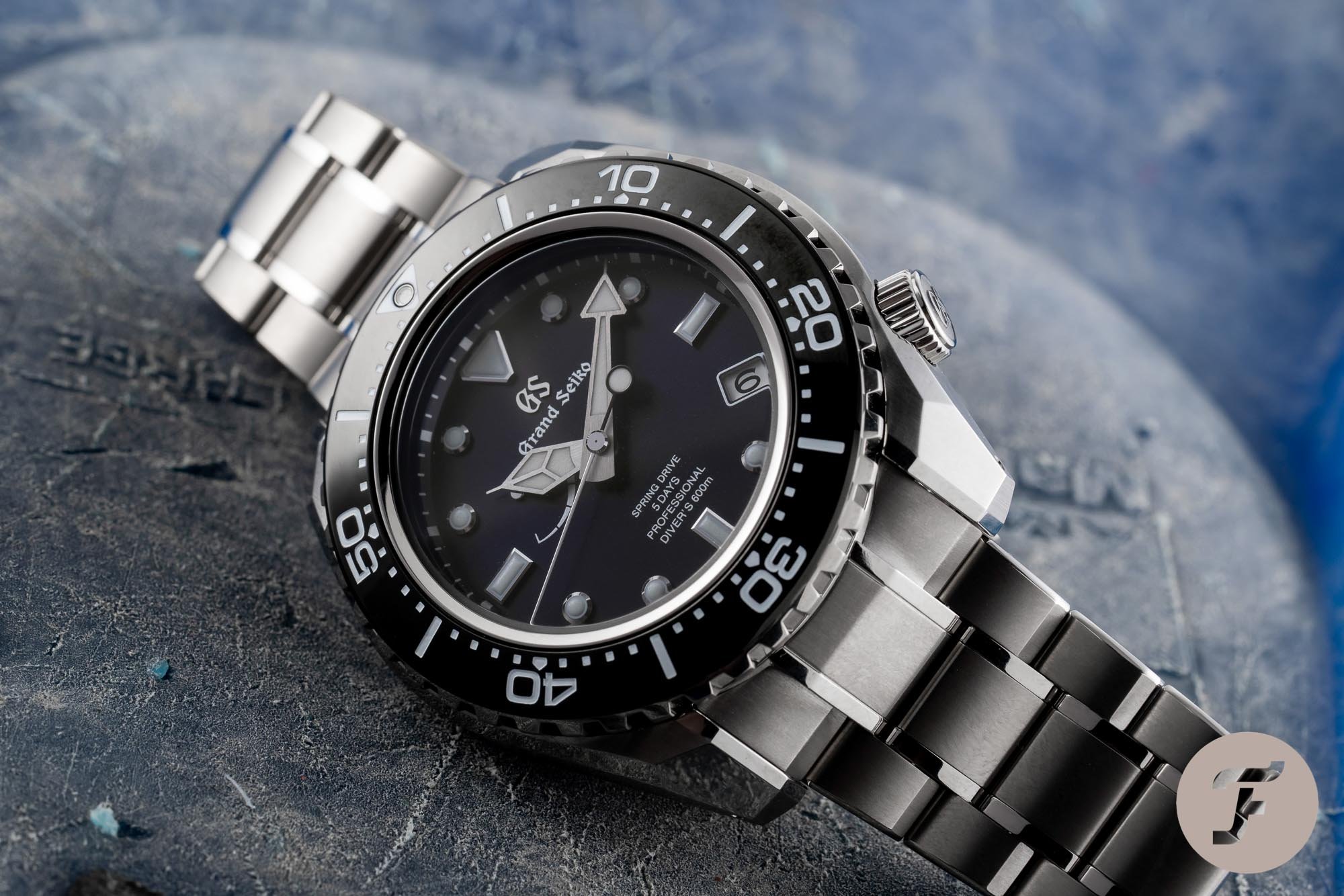 Grand Seiko Professional Diver's 600M Spring Drive
This overview of awesome Rolex Submariner alternatives wouldn't be complete without a Grand Seiko diver. That's what Gerard told me before compiling it. So here it goes, an €11,500 (and $11,100 in the US, don't ask me why) Grand Seiko Professional Diver's watch with the latest Spring Drive 9RA5 movement. This new movement is thinner, more accurate, and offers more power reserve (120 hours), compared to the previous generation. This reference SLGA001 is made of titanium and measures 46.9mm×16mm (height). It is an incredible piece of engineering, also due to the Spring Drive movement. Of course, Grand Seiko applied its famous Zaratsu polishing to the SLGA001 as well. We reviewed this watch in this article, in case you want to know more about this GS diver.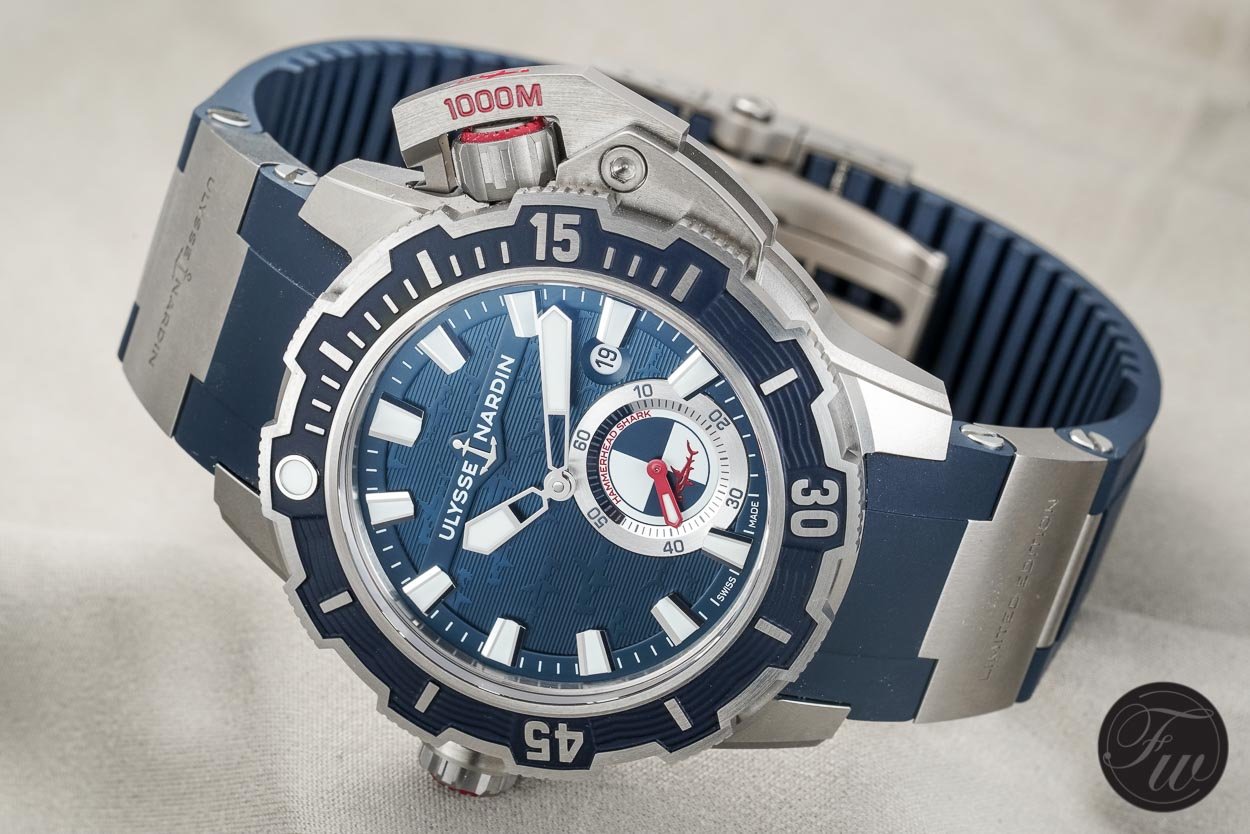 Ulysse Nardin Diver Deep Dive
A very technical-looking diver's watch from Ulysse Nardin, allowing you to go 1,000 meters deep. And that's indeed a deep dive. This 46mm diameter watch has a retail price of €12,000 and comes with a few interesting features. The most visible one is the titanium crown protector at 2 o'clock.  At 9 o'clock on this titanium watch, you'll find a helium release valve. This comes in handy for saturation divers that don't want to have an exploding crystal when they're in the decompression chamber.
Other Submariner alternatives in this list that have these features are the PloProf and the Sea-Dweller. While those are automatic helium valves, this one is manual. Inside this watch is Ulysse Nardin caliber UN-320, offering 48 hours of power reserve. If you like big and bold watches, this Ulysse Nardin Diver Deep Dive might be your pick. Or if you own a superyacht. And I will quote the Ulysse Nardin website here: "If you're overcompensating with a superyacht, you need this watch".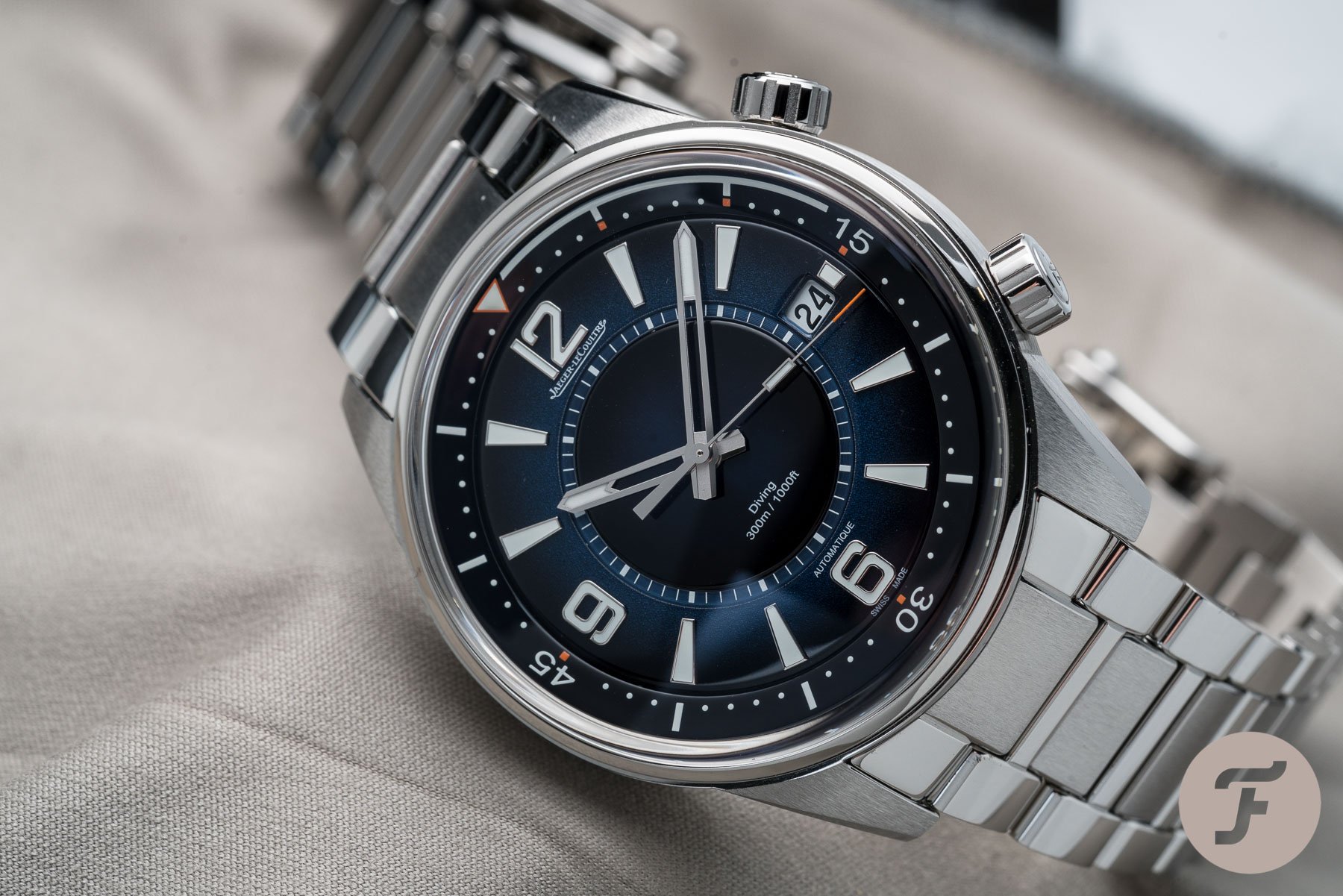 Jaeger-LeCoultre Polaris Mariner Date
Last year in August, Jaeger-LeCoultre showed us the new Polaris Marine Date under embargo. It is now available priced at €11,000 and thus perfectly suitable for our selection. The Polaris Mariner Date has a case diameter of 42mm and comes on a beautifully finished stainless steel bracelet. I was pleasantly surprised by this watch — especially how it felt on the wrist — and by the beautiful dark blue color of the dial. The Polaris Mariner Date is water-resistant to 300 meters, making it a proper contender in this overview of eight Submariner alternatives over 10K. Inside this JLC is the brand's caliber 899AB movement. It is a beautifully finished in-house manufactured movement, with a power reserve of 70 hours. The movement is visible through the case back. Last but certainly not least, the JLC Polaris Mariner Date comes with a warranty of eight years.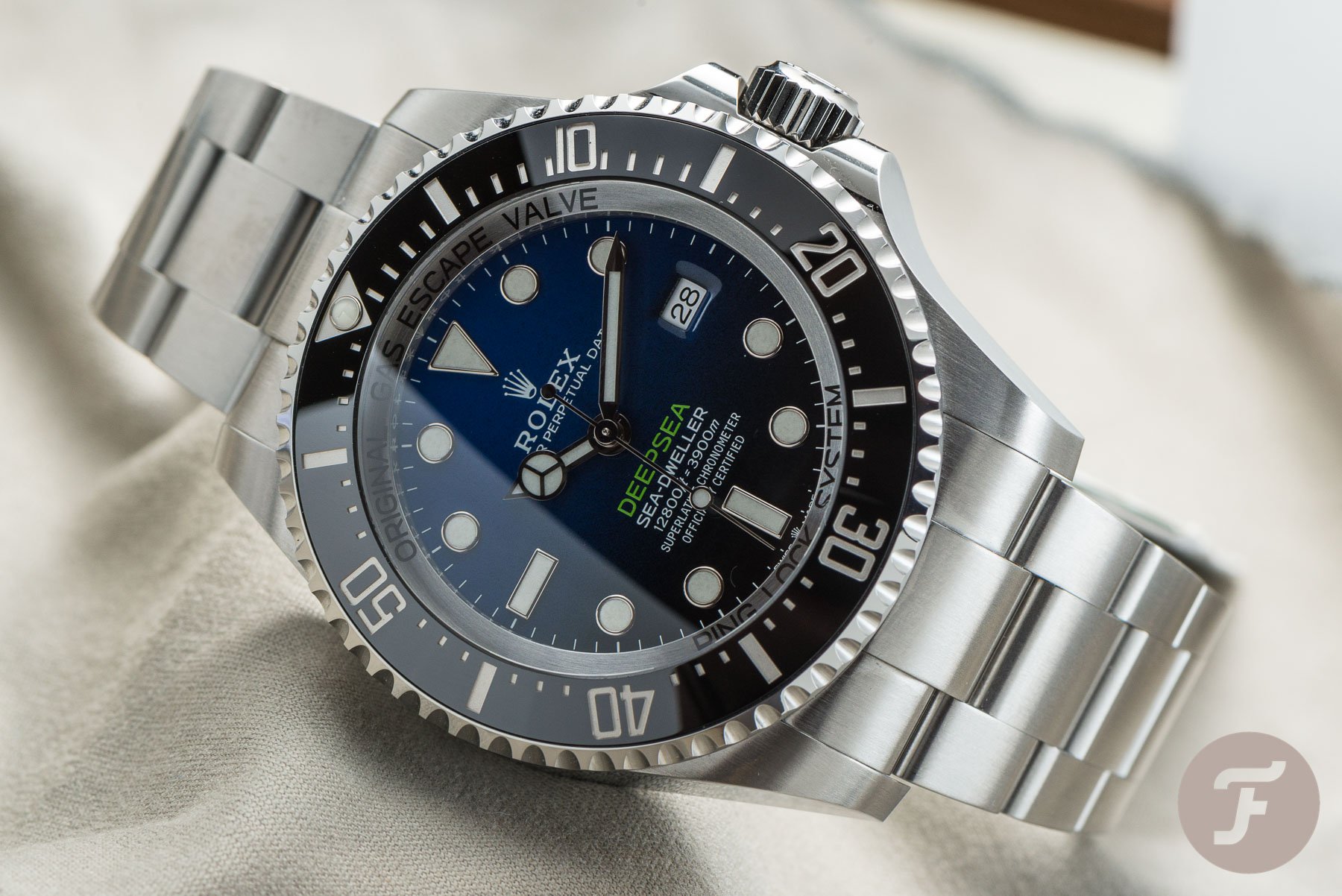 Rolex Sea-Dweller Deepsea
Ha! A Rolex in the list of awesome Submariner alternatives! As I wrote in my previous article on some (cheaper) Submariner alternatives, what about a Sea-Dweller? Here's the Rolex Sea-Dweller Deepsea, the most serious diver's watch that Rolex has in its collection today. This 44mm case Rolex Sea-Dweller Deepsea reference 126660 has a retail price of  €12,600. I didn't check with the local Rolex dealer if these are generally available, but looking at the Chrono24 prices, my guess is they aren't. But anyway, it is an alternative to the Submariner. A more professional watch, technically speaking. It has a water resistance of 3,900 meters, which tops everything else on this list. Inside is Rolex caliber 3235, regulated and tested to very strict norms. It means it will perform between -2 and +2 seconds per day on average.  And it offers 70 hours of power reserve.
The blue dial with green printing looks fabulous as well, it is just a matter of liking its case size, I guess. Needless to say, it comes with the famous and comfortable Oyster bracelet. Is this the only worthy >10K Rolex Submariner alternative in this list? Or would you settle for something else? Let me know in the comments below.