Fratello Editors' Favorite Watches Under €1,000 In 2023 — Lex's Picks From Yema, Tissot, And Seiko
A rockin' French/Swiss/Japanese power trio that's very accessible for the fans
The agony of choice. You might be familiar with that when it comes to watches. I know I am when it comes to composing lists. But not this time. And that's because I already picked one watch under €1,000 in 2023 and actually bought it. Of the three watches I will highlight here, I purchased the 40mm Tissot PRX Powermatic 80 "Ice Blue" and haven't regretted it since. The other two watches are not in my possession, but I do believe they would look just right on my wrist too. The Yema Rallygraf Meca-Quartz caught my eye when it was at HQ a little while ago. And it was Jorg who led me to the blue-dialed Seiko Presage SPB167 when he reviewed the black and brown SPB331.
I do like a chronograph with links to motorsport. The problem is that a Heuer Carrera and a Rolex Daytona require respectively serious and very serious funds. The Yema Rallygraf Meca-Quartz, on the other hand, is more obtainable because of the friendly price tag — on a leather strap, the watch costs €369, and on a steel mesh bracelet, the price is €399. The vintage-inspired chronograph follows Yema's long-standing tradition of making racing-inspired chronographs. The Rallygraf (aka Rallye) collection, for instance, debuted in 1966 and was solely made for the world of car racing. The American Formula One World Champ Mario Andretti wore even wore one. And a few years ago, the famous racing driver of yesteryear also got an homage in the shape of a Rallye limited edition.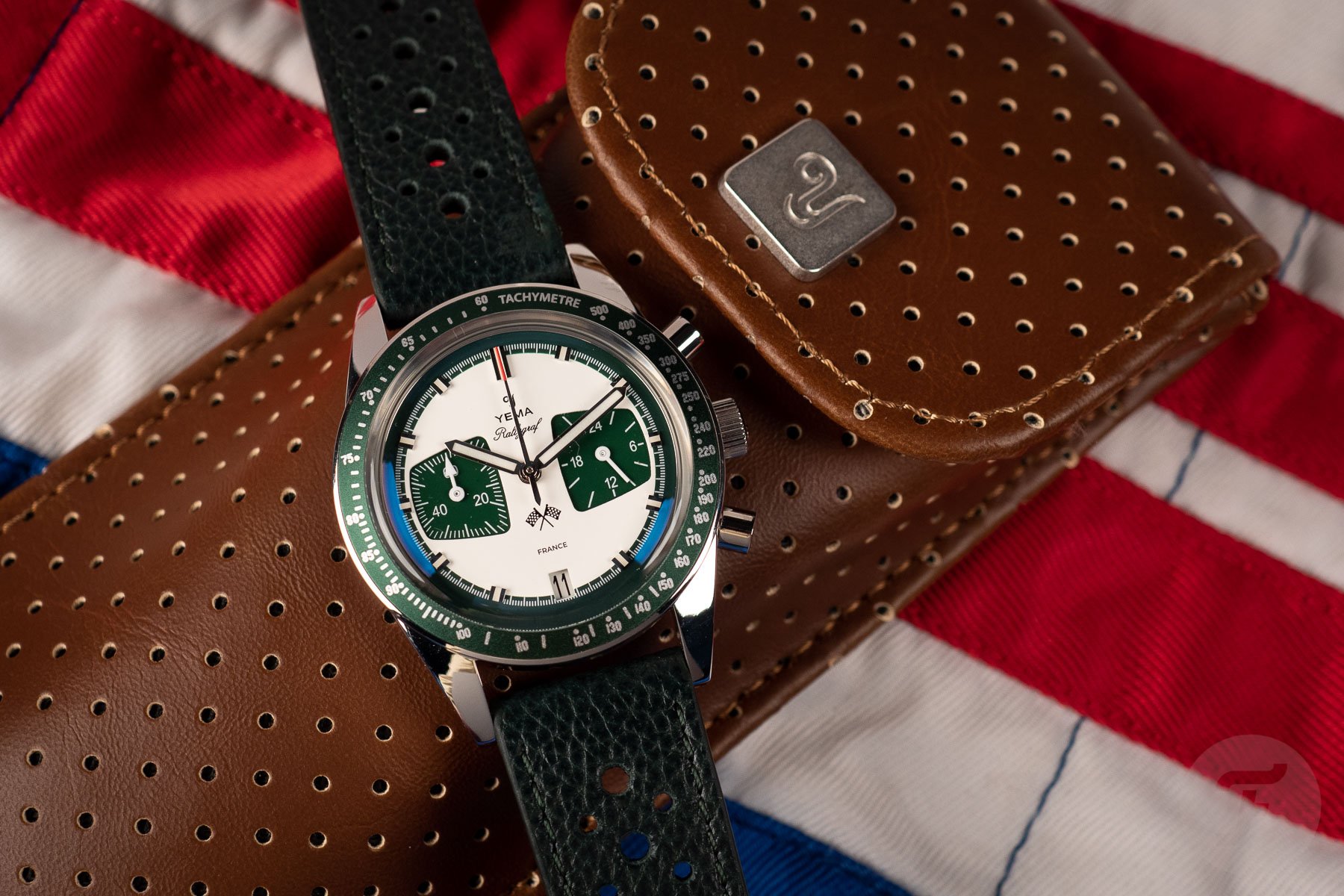 Favorite watches under €1,000: Yema Rallygraf Meca-Quartz — "Give me fuel, give me fire / Give me that which I desire"
You don't have to have the family name Andretti or break the bank to enjoy the race-inspired Rallygraf. The meca-quartz version has been an affordable fan favorite for a few years now. And with their new colors, the latest versions mix a traditional design language with contemporary looks. Yema does that ever so subtly, so you still get a watch with a recognizable dial with semi-trapezoidal, semi-oval sub-dials at 3 and 9 o'clock, plus a dash of color.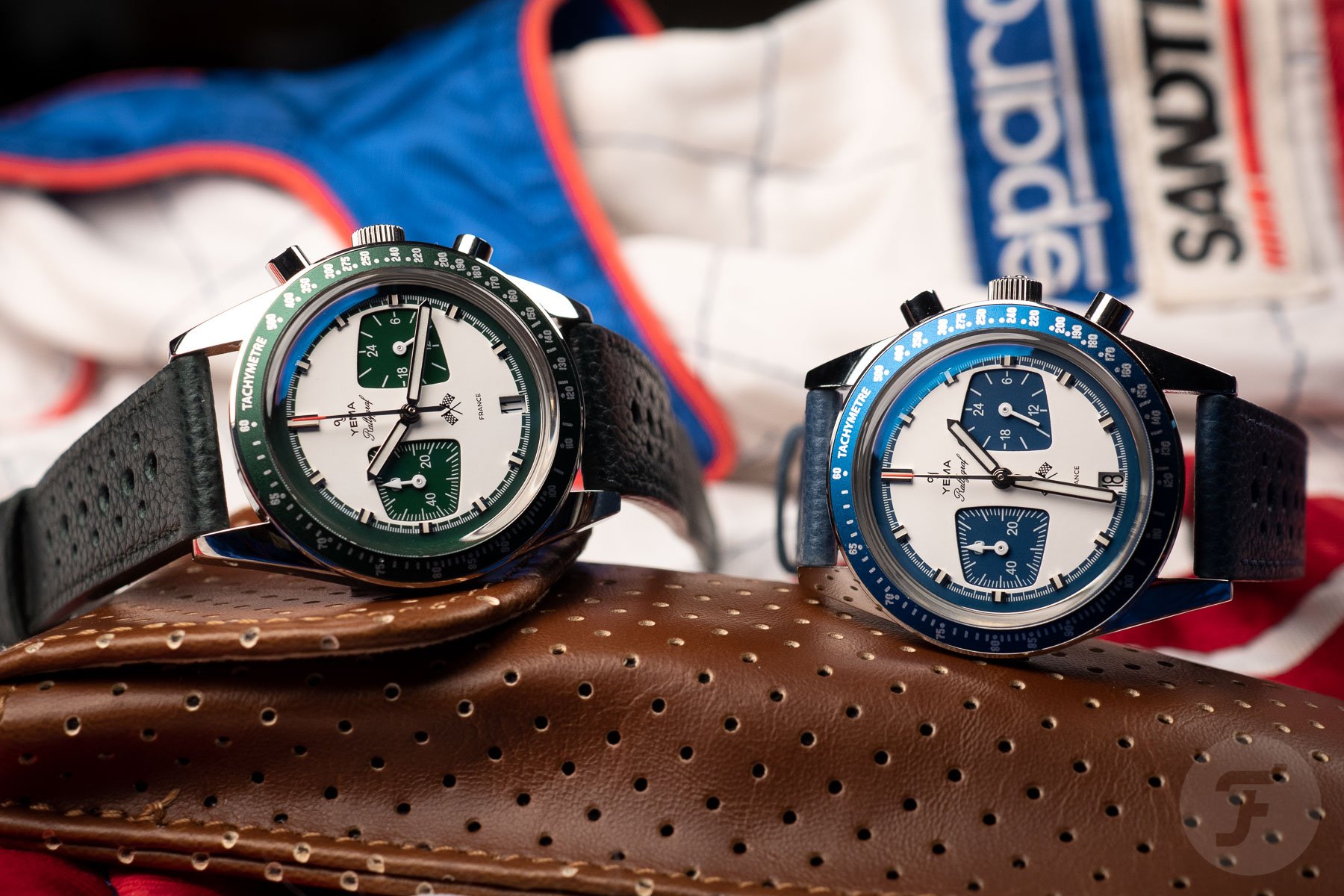 Both the twin-flag logo beneath the pinion and the tachymeter scale on the aluminum bezel leave no room for doubt that the 39 × 11mm Yema Rallygraf Meca-Quartz is a classic car watch. And please don't look down on the "engine" inside of it. The Seiko VK64 is a trusty mechanical/quartz hybrid that you should consider the watch equivalent of a modern-day Formula One hybrid engine. While perhaps not as spectacular as a V12 of yesteryear, it is still very adequate.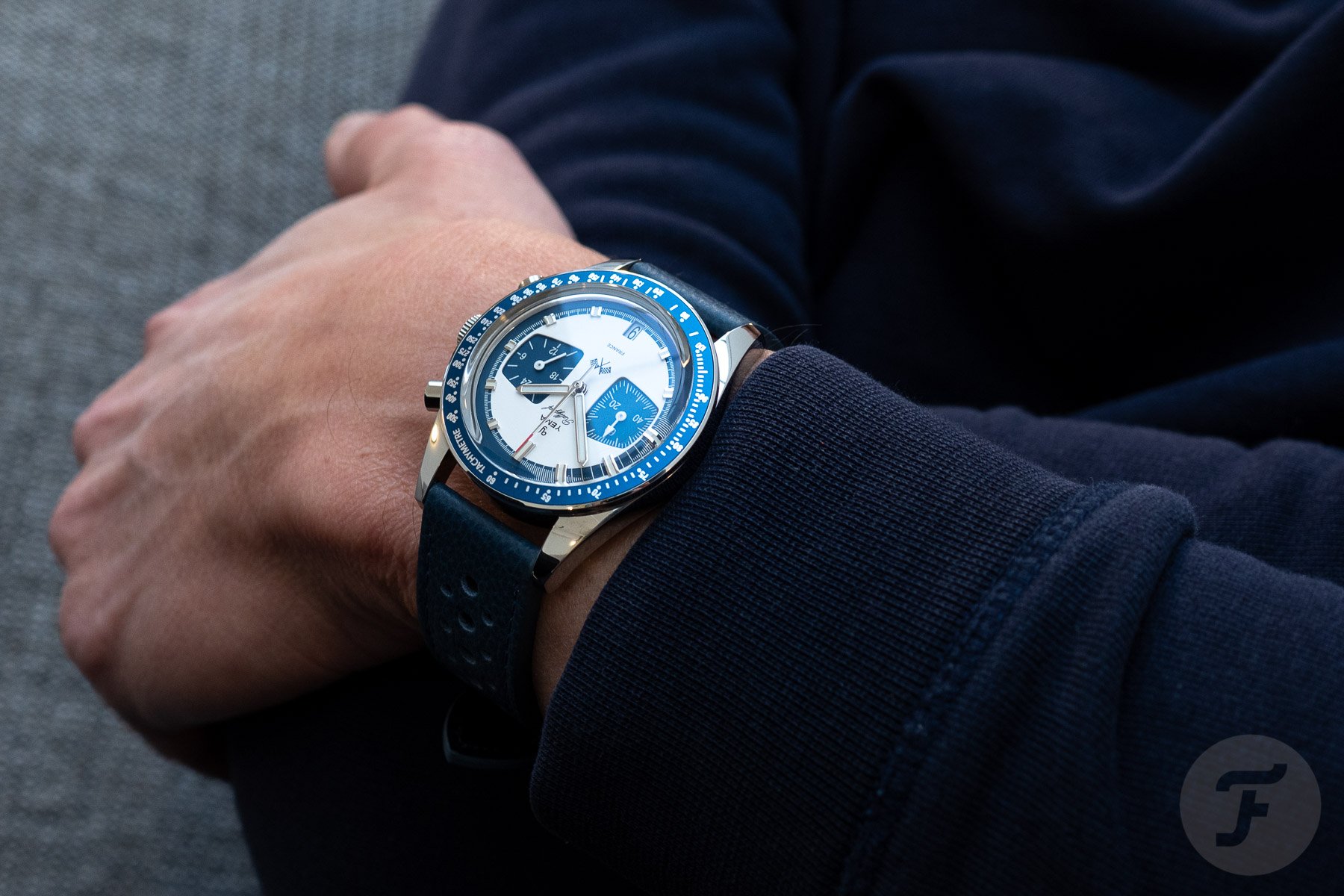 You can find more information on the different versions of the Yema Rallygraf Meca-Quartz right here.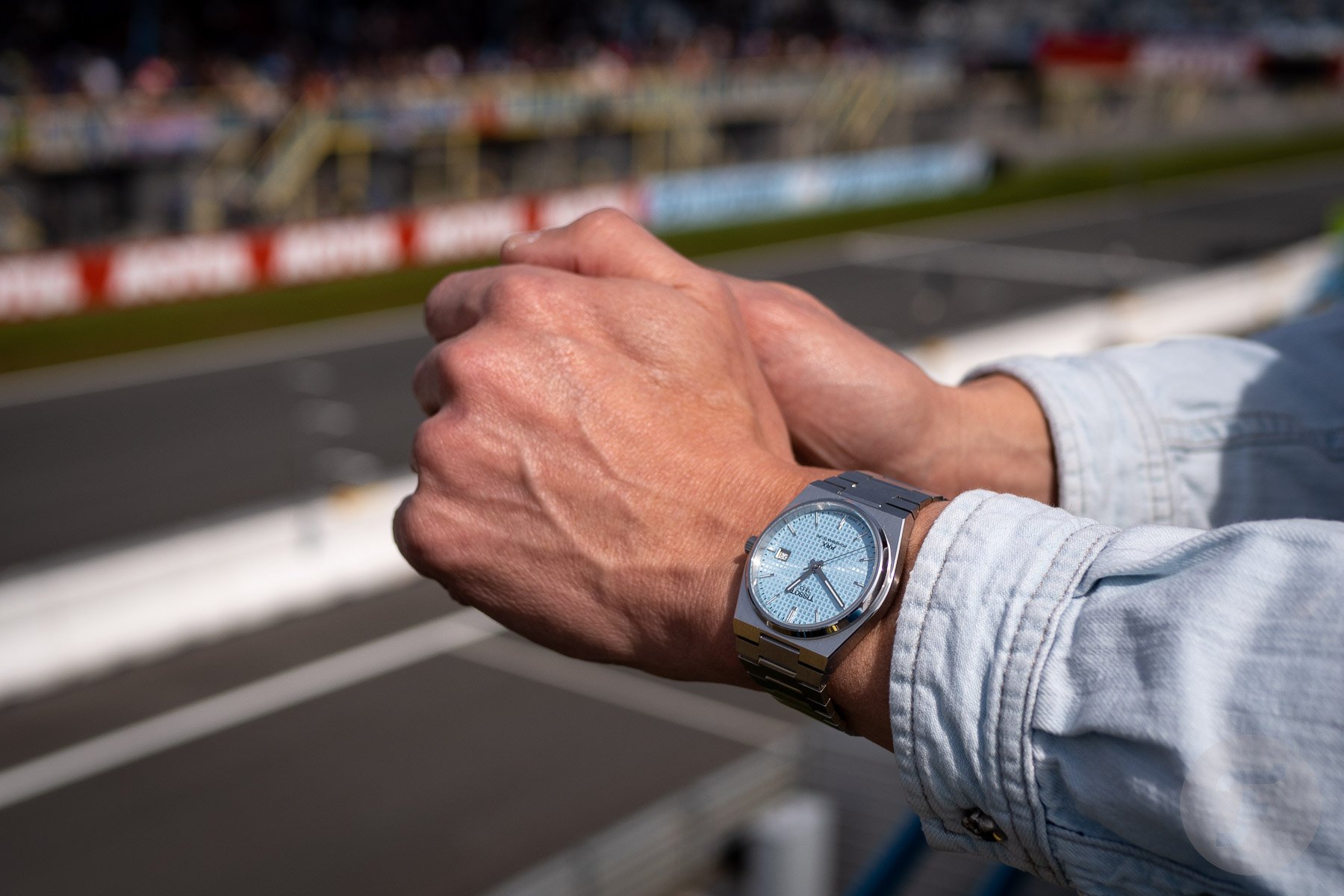 Tissot PRX Powermatic 80 "Ice Blue" — "Everybody says they want a million bucks / But I'd rather have a million days with you"
The usual suspect in this shortlist is, without a shadow of a doubt, the Tissot PRX Powermatic 80 "Ice Blue." I've already written about the hand-over of the watch during the World Superbike races at the Assen TT circuit, so I will keep this short and sweet. The €745 Tissot PRX Powermatic 80 with its shimmering ice-blue dial (T137.407.11.351.00) is both a poor/budget-conscious man's platinum Rolex and Audemars Piguet Royal Oak Selfwinding 37mm (15550ST.OO.1356ST.04). It looks way more upper echelon than its price would suggest. Dare I say it looks like a million bucks?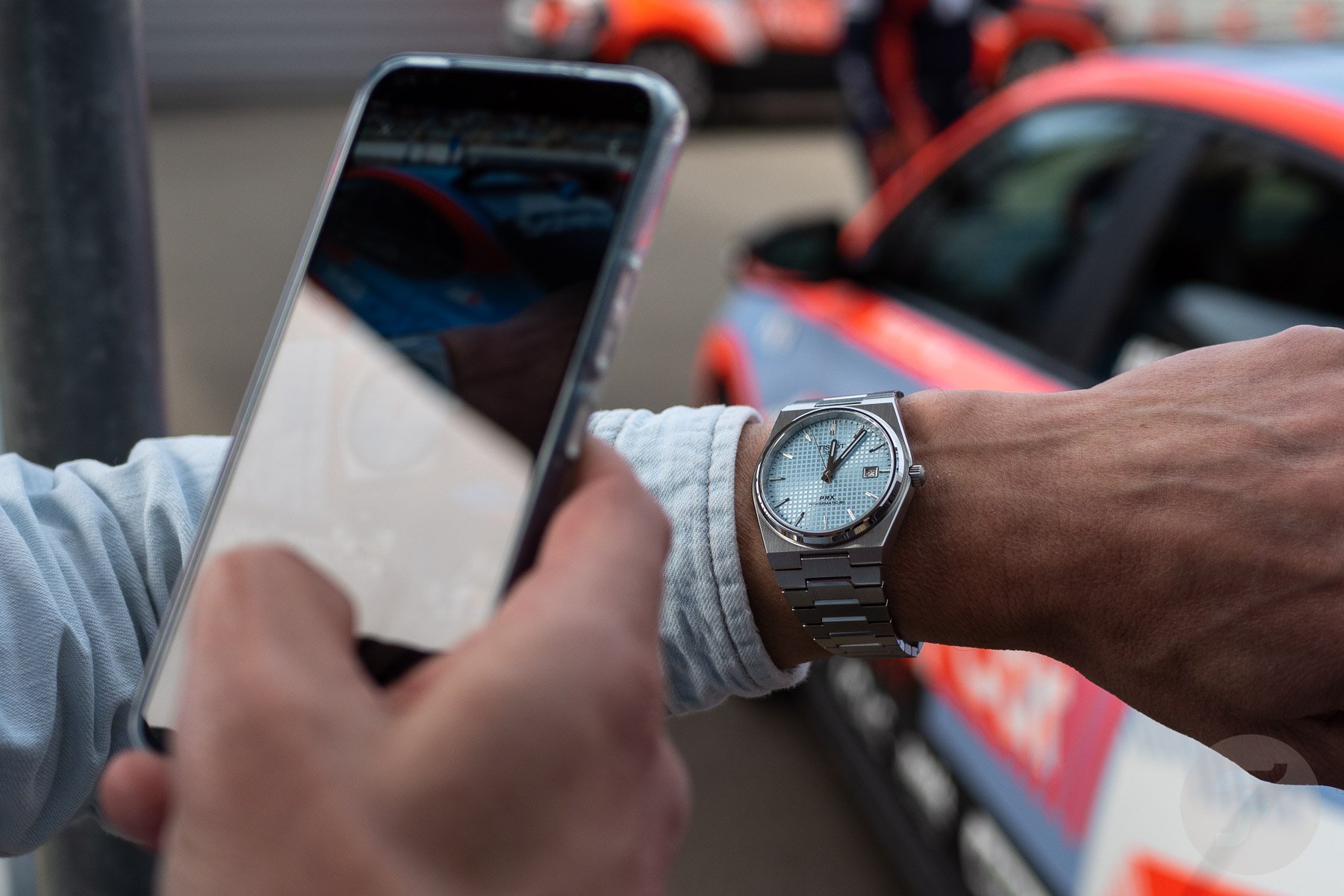 Find the PRX that suits your taste on Tissot's official website.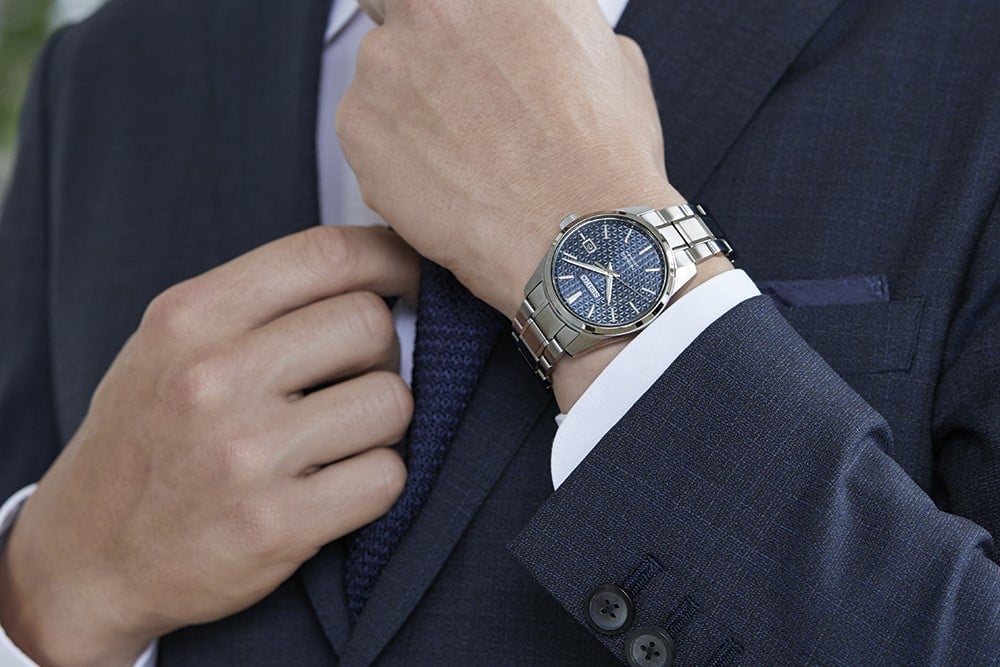 Favorite watches under €1,000: Seiko Presage Sharp Edged Series SPB167 — "Stepping off to the edge of eternity"
From the first time I encountered the watches in Seiko's Presage Sharp Edged Series, they made me think of Grand Seiko. I also made a comparison between Lexus and Toyota, two different brands operating in different market segments but both under the wings of one mother company. The €990 SPB167 with its crisp 39.3 × 11.1mm case — which is not just very handsome but also very practical with 100m water resistance — truly does look and feels like a "Baby Grand Seiko." And that's why I picked this watch. Just like the Tissot PRX, the SPB167 punches way above its weight. The watch is a versatile and timeless creation with a dressy feel.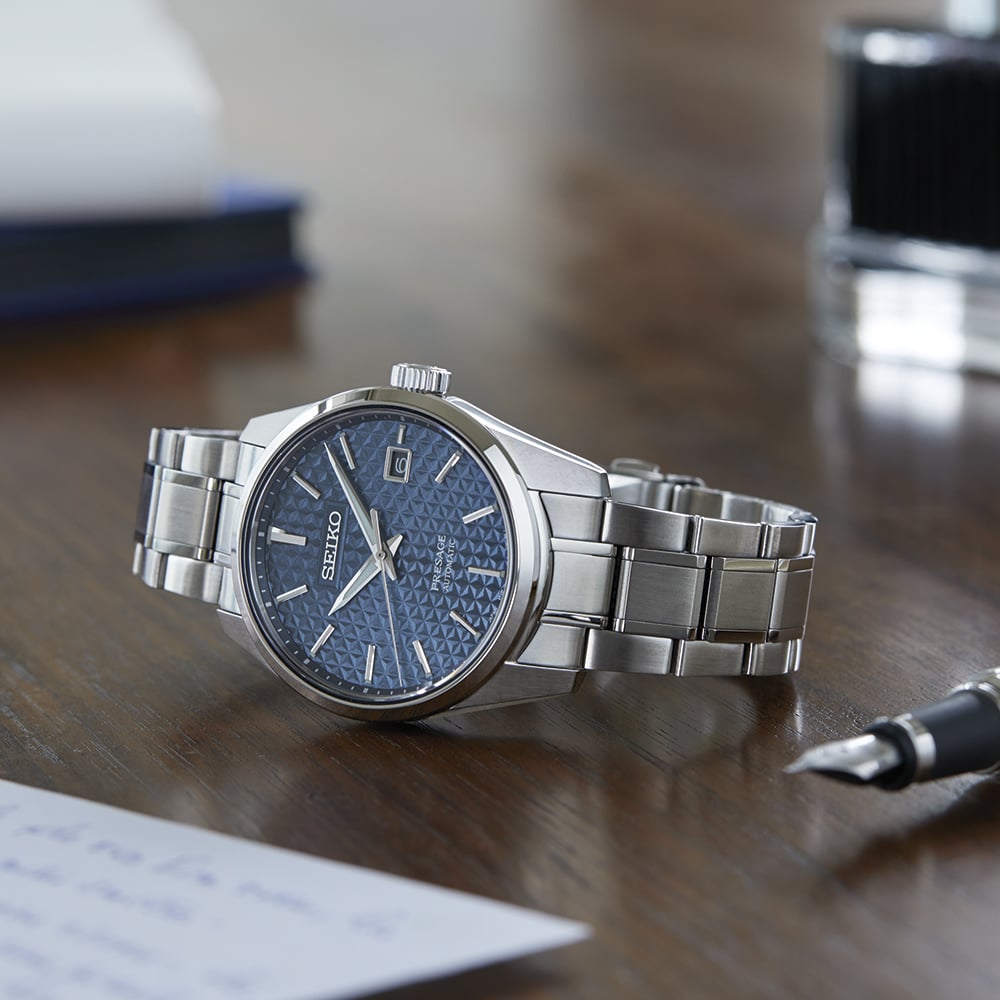 Inside the Seiko Presage Sharp Edged Series SPB167, you will find a widely used caliber 6R35. This automatic movement operates at 21,600vph, has 24 jewels, and provides a healthy 70-hour power reserve. And if that isn't enough for you, maybe the fact that the watch is resistant to magnetic fields of up to 4,800 A/m or 60 gauss (the ISO standard for anti-magnetic timepieces) might convince you. The combination of design, finishing, technical capabilities, and the watch's sharp price certainly convinced me. Take a look here to find out more about the Seiko Presage Sharp Edged Series SPB167.
To compensate for a relatively short story today, I added three song lyrics without mentioning/crediting the artists. Apart from commenting on my power trio of favorite watches under €1,000, you can also name the artists I quoted. You know, just for fun and an honorable mention.
Find and follow me at Lex Stolk • Instagram.