Fortuna 'Important Watches' Auction September 27th – Our Highlights
Fortuna is auctioning a number of interesting watches during their 'Important Watches' sale on September 27th. We would like to give you our highlights of that auction, but feel free to browse their catalogue anyways, as they have quite an interesting line-up of watches. The 'Important Watches' auction consists of 66 lots, with a fair share of Rolex watches, of course. But you will also find other interesting pieces, like the Gérald Genta Octagon Chronograph for example, or a beautiful desk clock from Jaeger-LeCoultre (Marina).
We picked a couple of highlights of this auction, that may interest you as well. Without further ado, let's have a look.
Patek Philippe Nautilus 5712/1A
Not vintage or something 'limited edition', perhaps not even our first choice when it comes to a Nautilus (which would be the 3700/1A or 5711/1A), but this 5712/1A is a beautiful variation on the 'basic' reference. With a moon phase, date and power reserve indicator, a beautiful complication from Patek Philippe in one of the most sought-after cases. The Nautilus was a design by the late Gérald Genta in 1976. Originally designed to be a women's watch (according to the man himself in 2009 interview), the Nautilus is today what almost any serious enthusiast would love to add to his (or her) collection.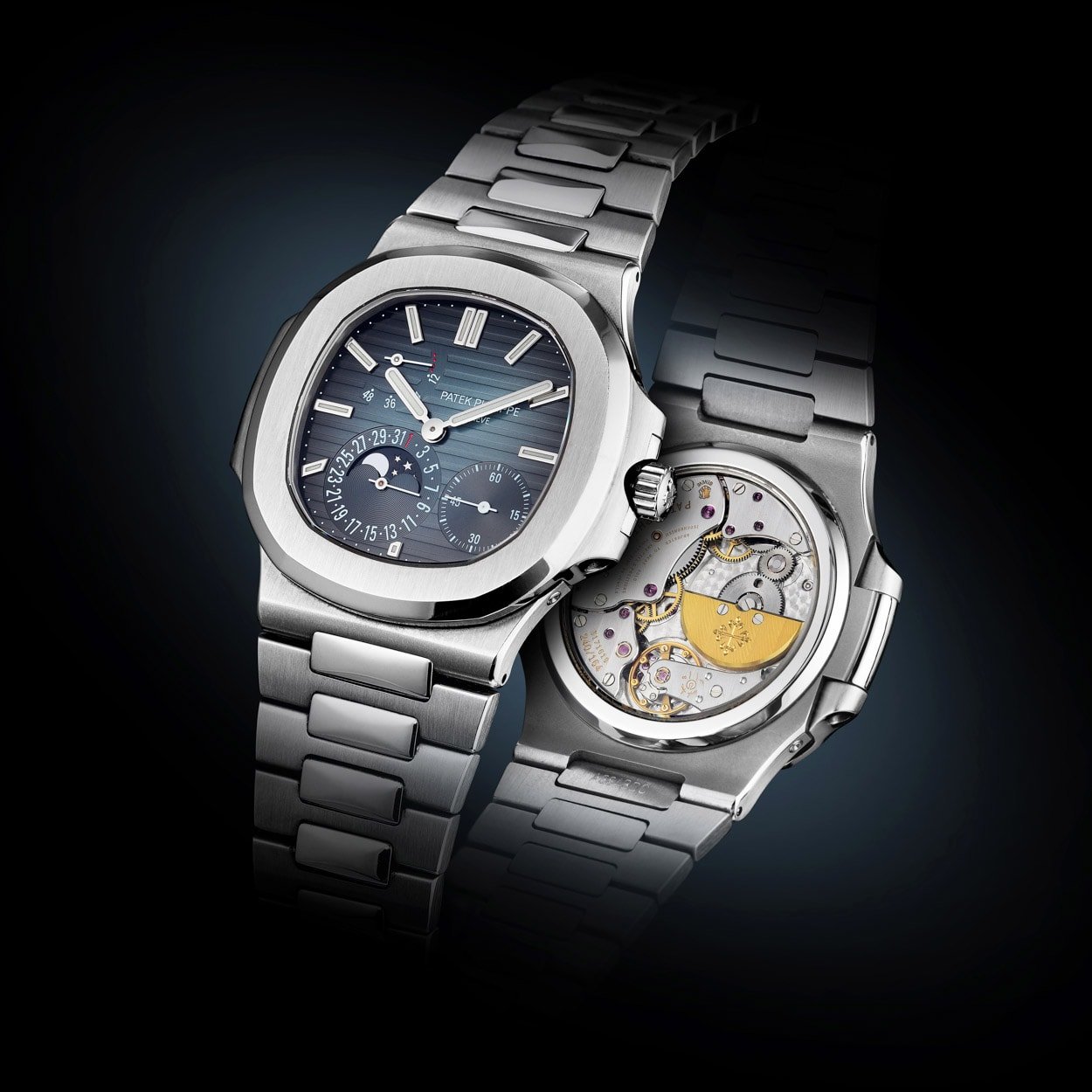 This reference 5712/1A in the Fortuna Auction is lot no. 37 and has a starting bid of $25,000USD. You can now (try to) bypass the long waiting list for a Patek Philippe Nautilus, by bidding on this complete package. This watch was produced in 2010, and still is in the current Nautilus collection (retail $39,870USD). The Nautilus 5712/1A from this auction comes with the (white gold) setting stylus, the original hang tags and brown Patek Philippe shipping box as well as the regular Patek presentation box, user manual and Patek's Certificate of Origin. A complete set! Click here for the Patek Nautilus 5712/1A lot information.
Rolex Daytona "Paul Newman" 6239
Fortuna also has a few Rolex Daytona in their 'Important Watches' auction, but most are post-1988 references. Except this Rolex Daytona "Paul Newman" with reference 6239, produced in 1967. One of the most desirable watches in the world, we're safe to say, with a hand-wound Valjoux-based calibre 722 chronograph movement. This watch has the identical reference to the Daytona that Paul Newman wore himself, with the same exotic white dial configuration. It comes on the reference 7205 bracelet with '71' end links. Fortuna claims it is one of the best preserved Paul Newman Daytonas they've come across. Bidding starts at $110,000USD and you can find more information about this "Paul Newman" Daytona here.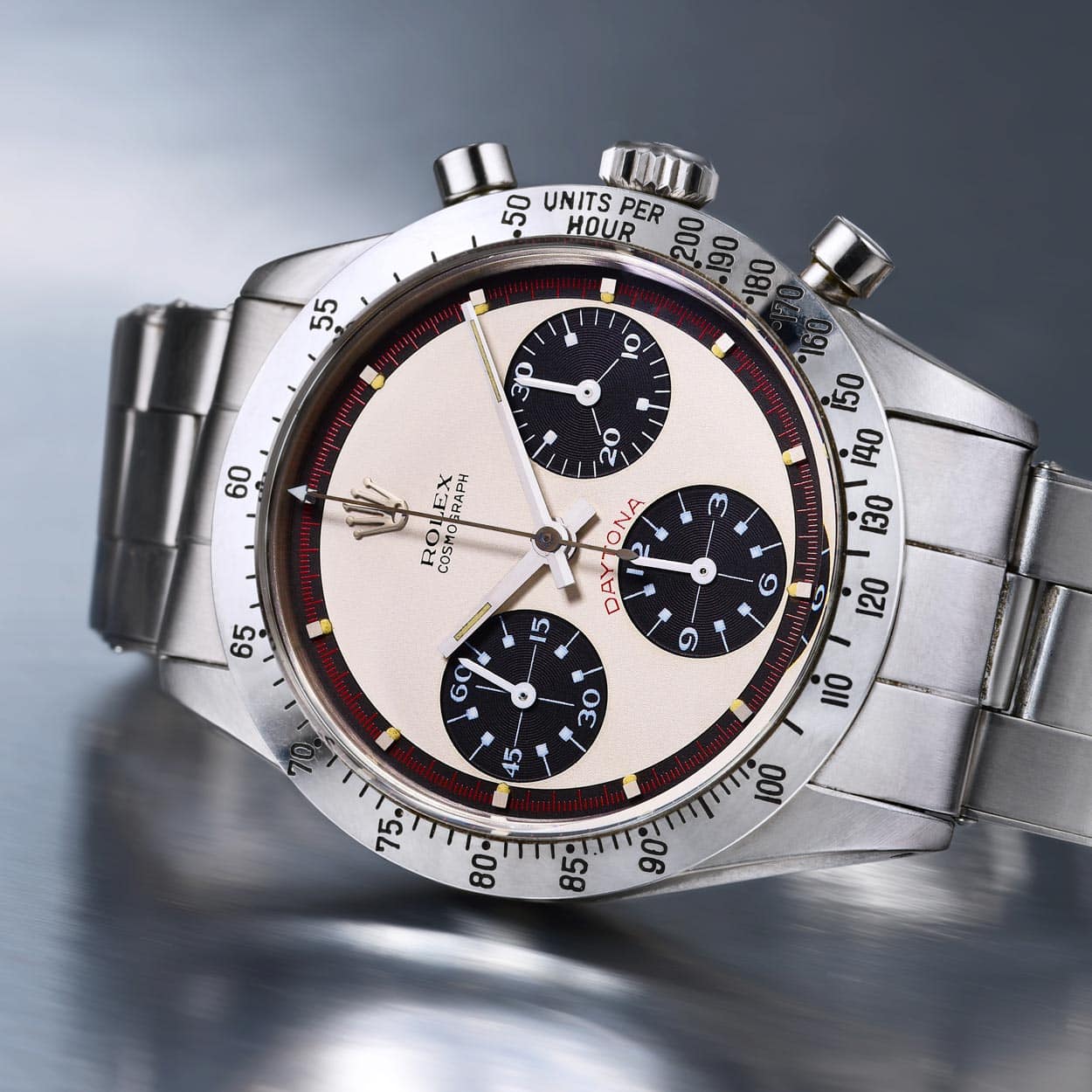 Rolex Explorer II 1655
The "Freccione" as Italians love to call this watch, which means "arrow" and of course refers to the large orange 24-hour hand. The Rolex Explorer II reference 1655 is also known as the "Steve McQueen" watch, but no-one seems to know where this is coming from. McQueen was known to wear a Submariner, amongst some other watches from other brands. We still feel that this watch, that we discussed in this article, is a bit underrated compared to other vintage Rolex models. It is one of our favourite's, although it took some while to get used to the strange 24-hour markers on the dial that seems to be misaligned with the regular hour and minute markers on the dial. It is a bit confusing at first, but the Rolex Explorer II 1655 is definitely a watch we love. Fortuna auctions a wonderful 1973 example of the Explorer II, with a reference 7836 bracelet. This watch has been worn for sure, but the dial is beautiful with its creamy patina. Bidding for this lot no. 48 starts at $10,000USD. More information on this Explorer II 1655 to be found here.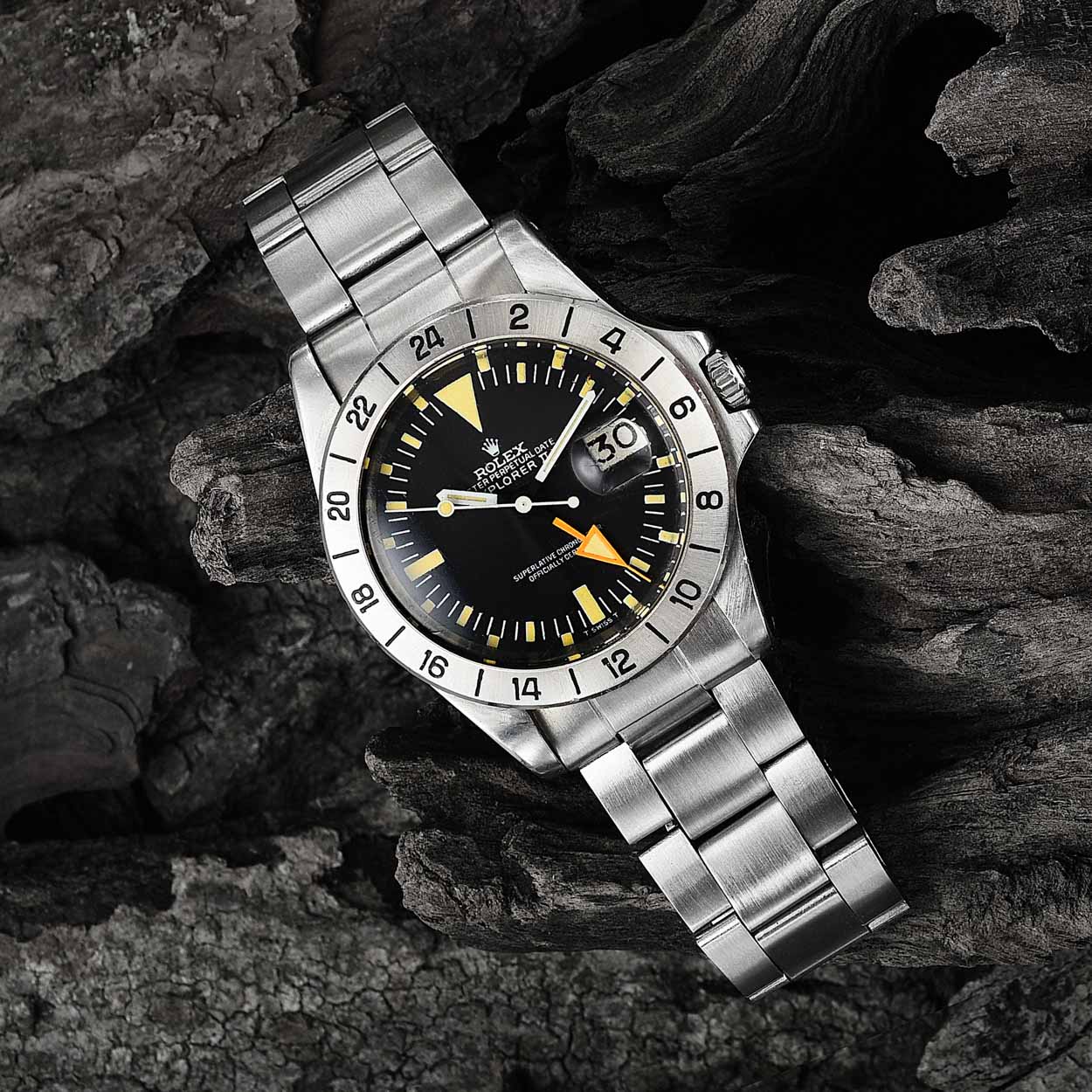 Omega Speedmaster 105.012-65
If you are a regular Fratello reader, this watch doesn't need any introduction (but here you go). NASA astronauts were equipped with three Speedmaster references during the Apollo programme; the 105.003, the 105.012 and the 145.012. The 105.012 was actually the first watch worn on the Moon, on the wrist of Aldrin. The story is that Armstrong left his 105.012 in the LM because the board clock malfunctioned. Anyway, the 105.012 is a sought-after piece and especially with next year's Apollo XI 50th anniversary, this auction comes right in time. Powered by Lemania based calibre 321 column-wheel chronograph movement, which is in high demand by collectors. Some of the tritium material seems to have fallen off the hour markers, which creates an interesting look. If you don't mind this, the yellow 'spots' give it a unique character. Some of the tritium material has also disappeared from the hands. This 42mm Speedmaster 105.012-65 has the original bezel as well, with the dot-over-ninety (DO90) scale. The case back is the version with the double step, which we prefer over the later ones. Starting bid for this lot no 54 is at $6,000USD, more information about this Speedmaster 105.012-65 here.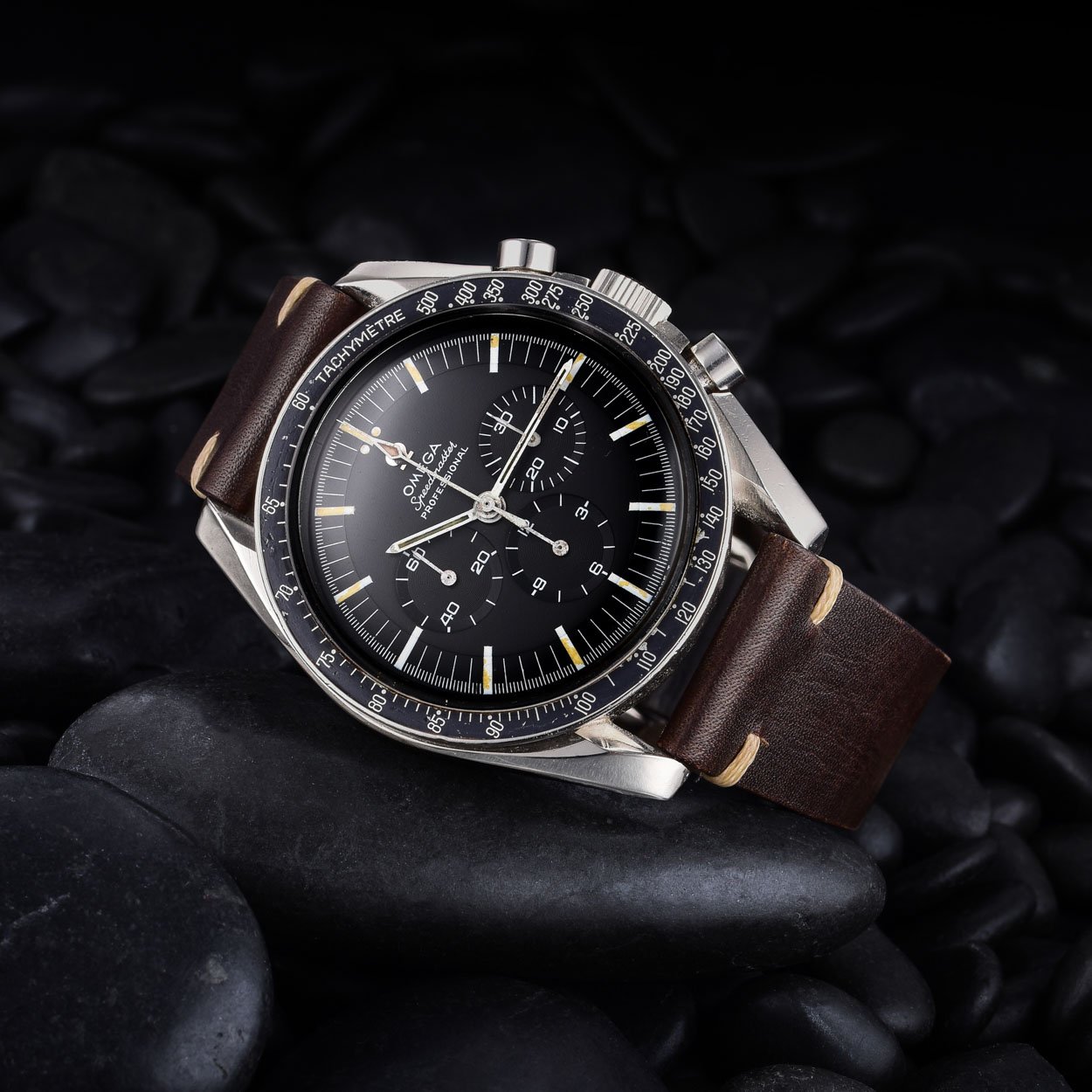 Patek Philippe 2526
When you think of vintage Patek Philippe dress watches, one of the first things that come to mind is probably the small size. Not with this 1955 Patek Philippe reference 2526, that measures 36mm in diameter. It is actually the same diameter as the Rolex Daytona "Paul Newman" that we described above. This Patek has the much-appraised calibre 12-600 AT movement inside, that was introduced in 1953. A beautiful movement that could be regulated to just 1 second of deviation per 24 hours according to Patek's brochure from the 1950s. That's quite an achievement, especially in those days.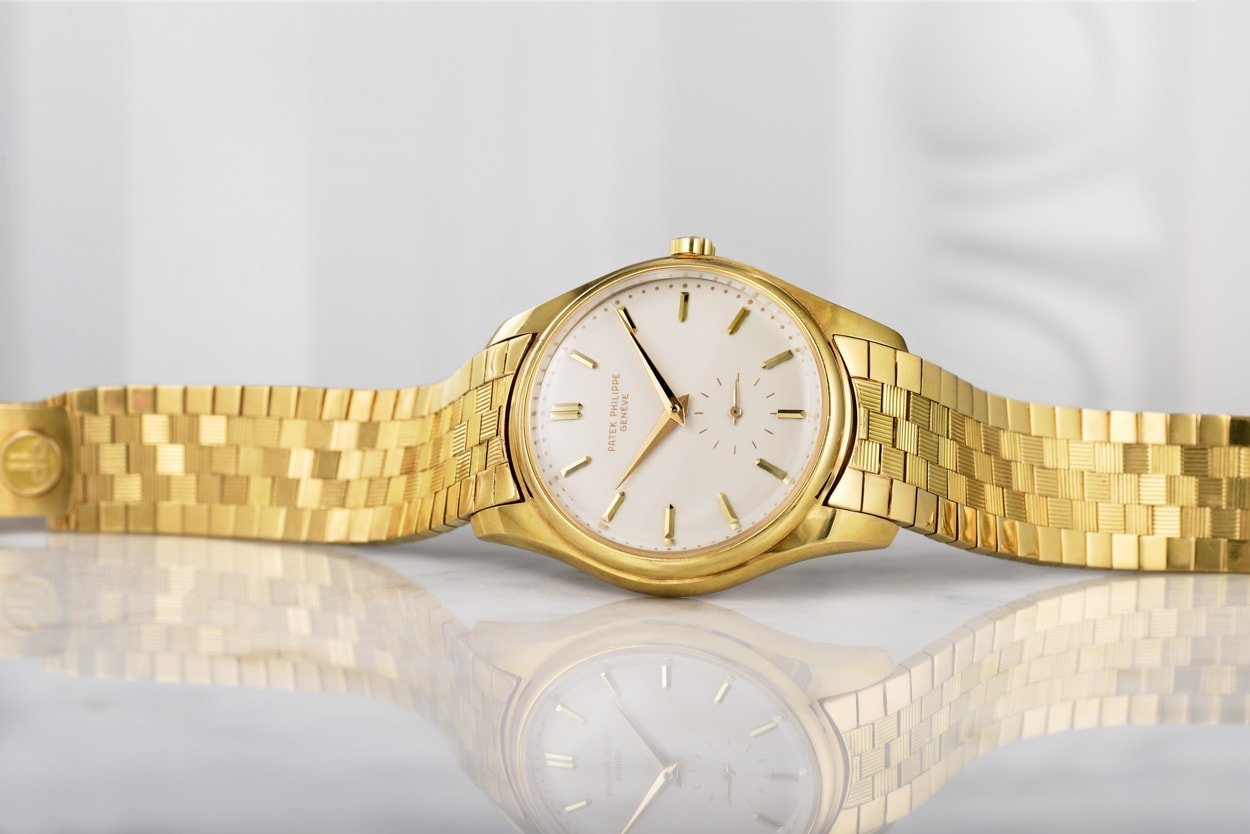 This is simply a stunning yellow gold dress watch from the 1950s, with a handsome enamel dial with gold indexes and hands. What we love about this particular watch as well, is the gold bracelet. What a beautiful design! A brick bracelet that consists of polished links as well as links with an engraved motif. This bracelet was one of the options for the Patek reference 2526 and was referred to as the guilloché bracelet. Bidding starts at $30,000USD for this lot no 59 of the Fortuna auction, more information can be found here.
The lots above and all other watches can be found on this page, where they display all 66 watches of their Important Watches sale. Visit Fortuna Auction here.