Fratello EDC: Thor Shares His Everyday Carry Items From Coach, Jabra, Lenovo, And More
A deep rummage around in a Norwegian's bag reveals a practical but vain editor
It's time for another installment of Fratello EDC, where we're sharing our editorial team's everyday carry items. This time, the Fratello editor to share the contents of his bag and pockets is the viking. Does Thor pack woolly mittens and a flare gun to scare off polar bears?
I'll be honestly sharing what I bring with me when I am outside of my home office. I lead a double life, pretending to be a free spirit — aka The Writer — while actually having a lovely day job that makes my life rather normal. Well, except for the eternal question of how my wife and two kids are still around. They are not always happy with me snapping open my laptop while doing a wrist shot of a prototype at the most inopportune moments like on birthdays or Christmas. Or when we're supposed to watch the latest Netflix hit and I'm still writing at 11:00 PM. You see, my love for writing runs deep.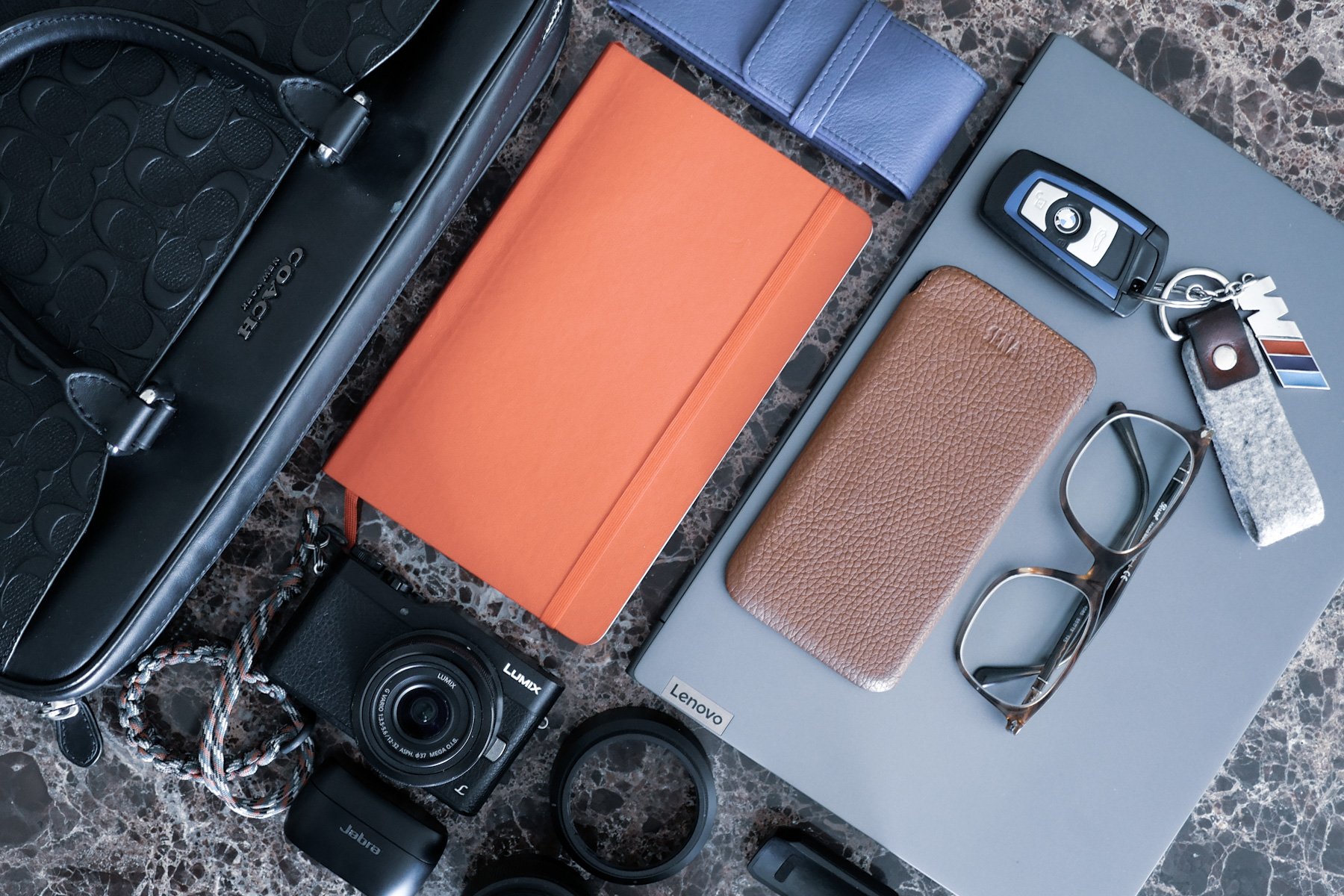 EDC and transcribing its meaning to me
Let's start with some honesty here: I've had a mixed relationship with the EDC term. For me, being an Instagram addict, EDC has mostly been those weird palm shots with keys, a wallet, a flashlight, and a big folding knife. I spend my days tapping away at a keyboard, clicking a Powerpoint pointer, or in business meetings, so this was not natural to me. You all know I live in Norway but am not exactly big on the outdoors either. But preparing for this story and reading Nacho's, Lex's, and RJ's articles, I finally got it. And yes, I have beloved items that are invaluable, even if I would hate to have everything in my pockets. I'll even confess to ordering a crossover "man bag" for summer from Mango. Why? Because my holidays are spent ever wondering where on earth to put my keys, wallet, and phone (still no knife).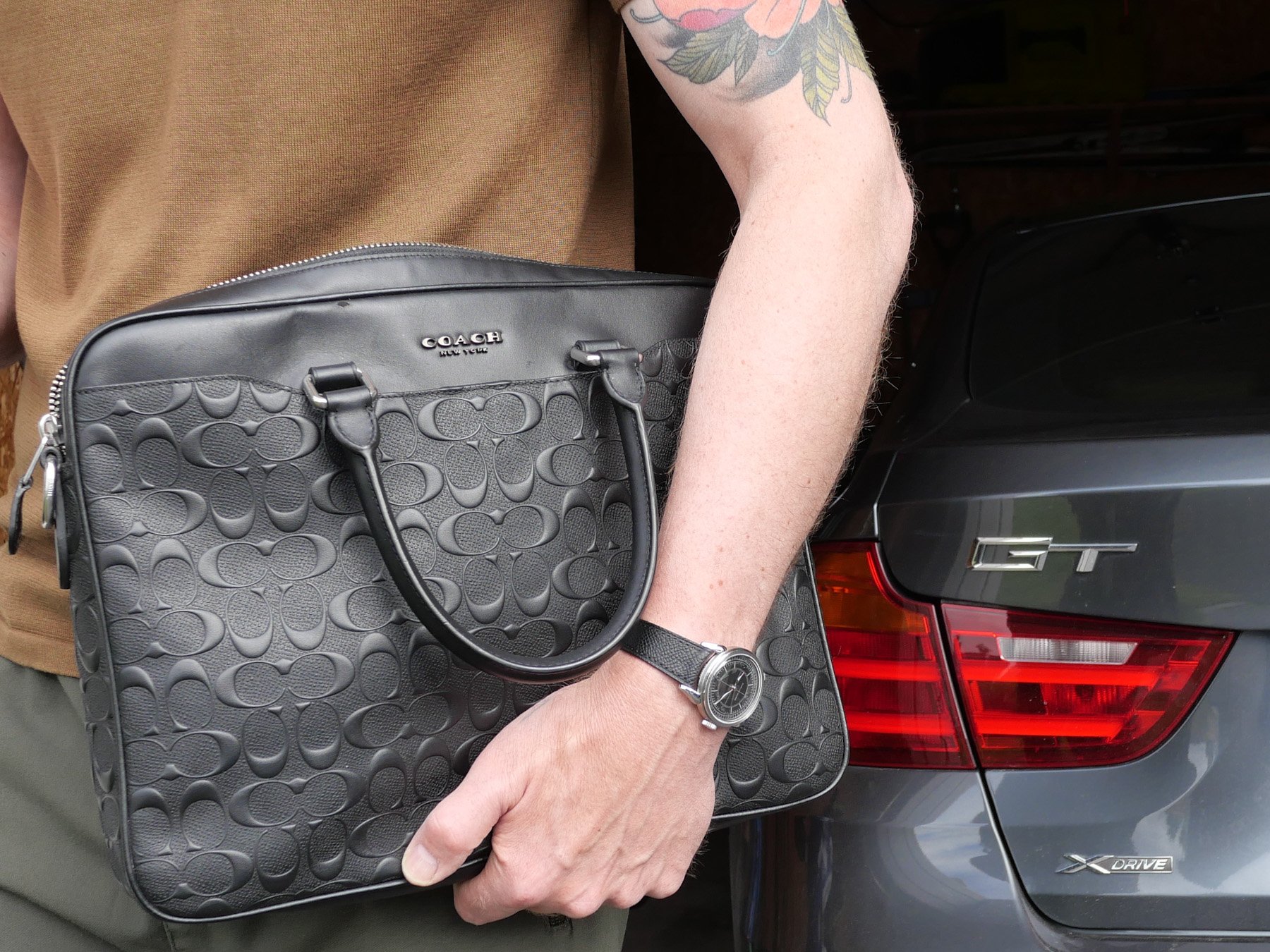 My favorite bag by Coach
It's no secret that I'm vain. You'll have summarized that from my stories like the more style-oriented Hashtag series. But I'm no snob. I love a good-value watch and am a sales fiend when it comes to quality items like this bag. The soft, quality leather from US premium brand Coach was a snip at around €200, but that was in Italy at the great "designer village" outlet Fidenza. Its retail price was almost triple, so I suggest buying quality to last and an outgoing model. This bag has a bespoke feel, looks damn good with its relief pattern, and has a plethora of compartments, including the all-important laptop slip pocket. I'm trying my best to be sustainable and will happily admit to my last business bag being with me for eight years. If I'm traveling, I will snap on the shoulder strap, and if I'm out for a local meeting, I'll use the handles.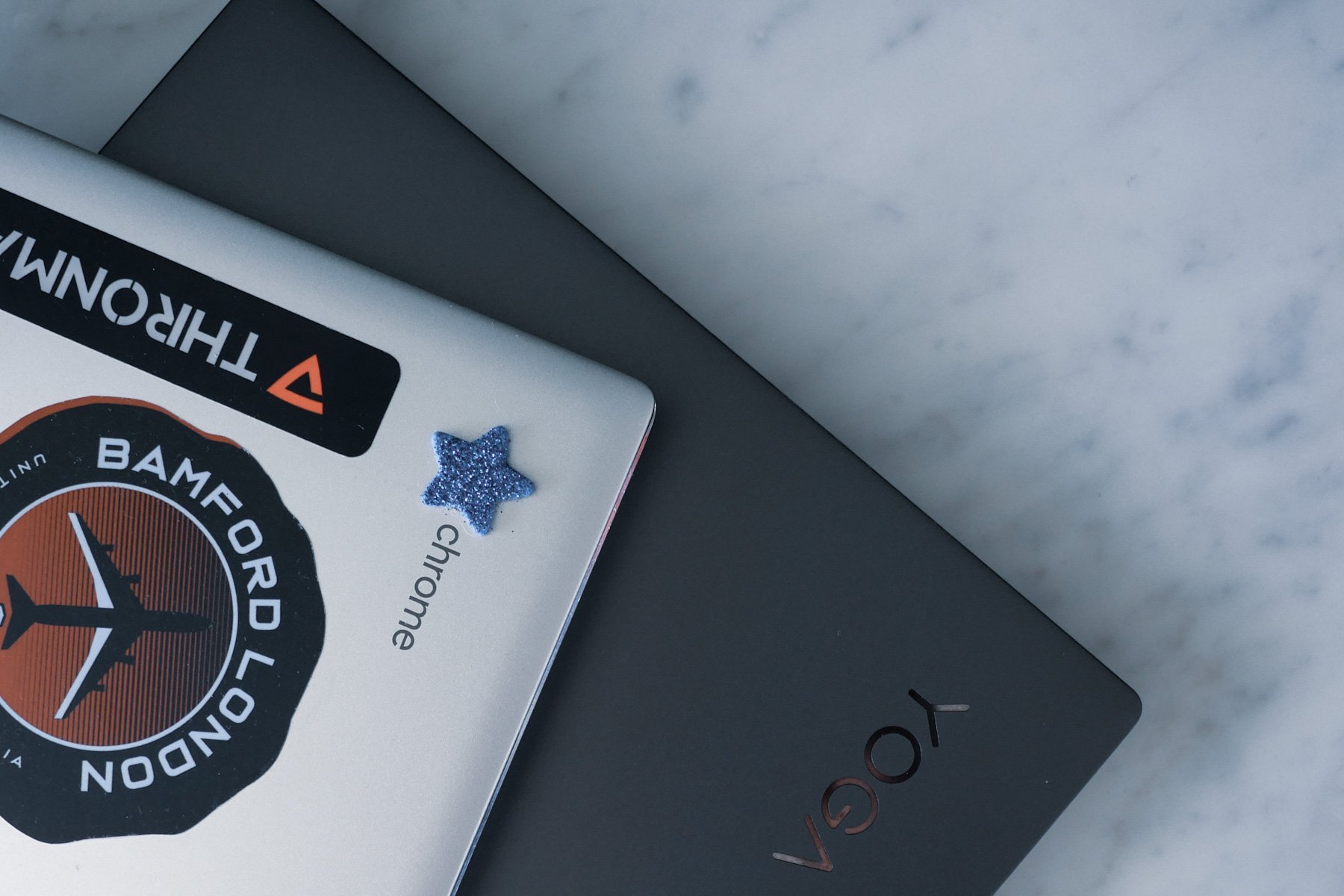 My laptops — A Chromebook and a Lenovo Yoga 7 Slim Pro
Here is where my dual personality shines through again, with my Lenovo Yoga 7 Slim Pro being partnered with my writer's Chromebook. I might sketch up a story in a Word doc on the Lenovo in between things, and usually, I'll have a story or two on simmer. The Chromebook is used to finish my Fratello copy for final review and to edit photos for size. I'm not a techy Mac guy, and I see the laptop as a pure tool. I've had Lenovos for 10 years now, and boy, are they faultless. They have endless battery life and a super-smooth clicking keyboard, but they're terrible for photo editing, I'll admit.
I do most creative photo edits on a paid version of Lightroom on an iPad at home. That's perfect for my limited abilities. Neither of my laptops has streamed a single film, which probably makes me quite old-fashioned. But even while traveling, if there's a spare moment, it's spent on writing, emailing, or drinking a nice coffee. Hell, it might even include reading a printed magazine. Remember those?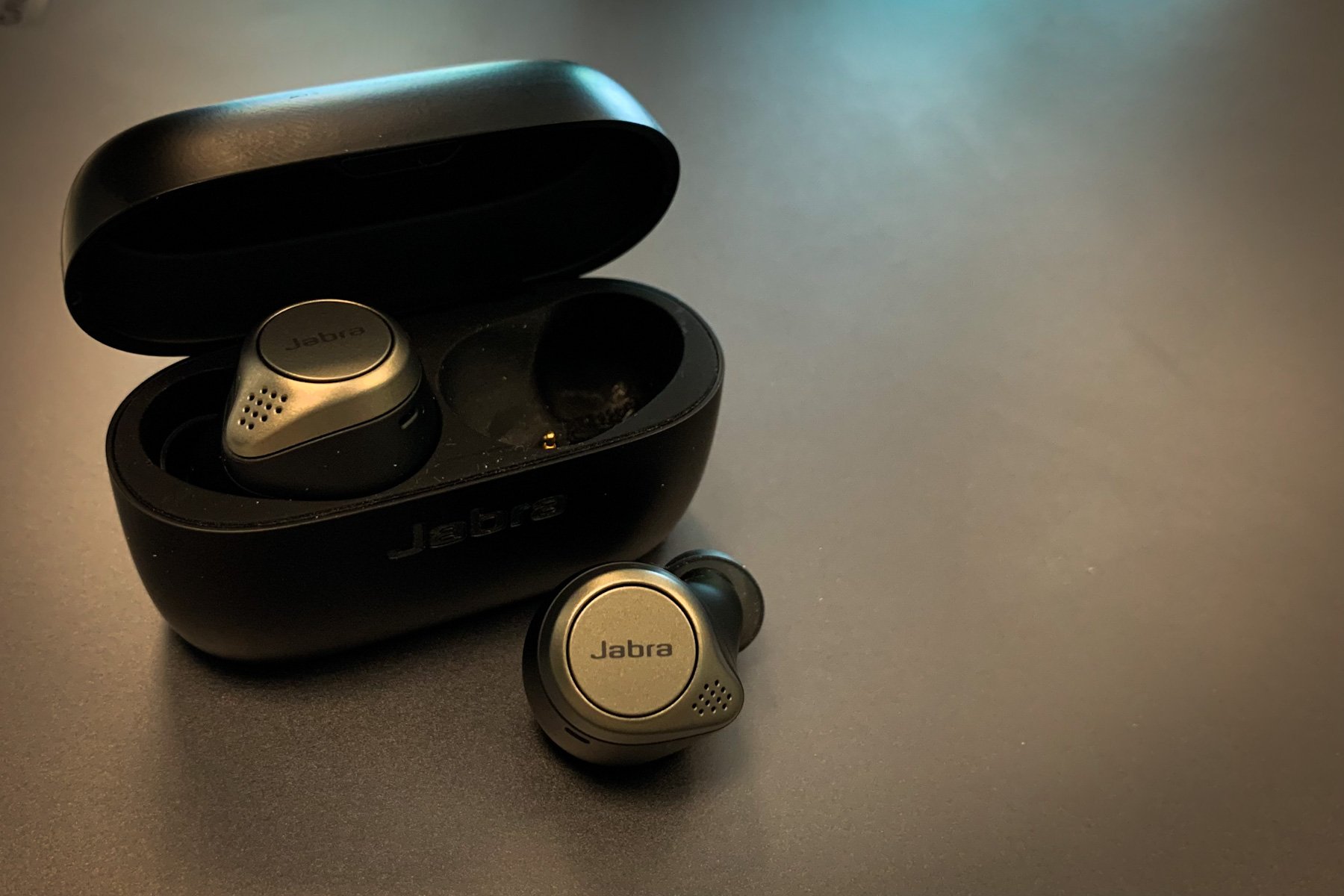 Earbuds that actually fit me from Jabra
Boy, do I have weird ears, and those lovely Apple earbuds will not rest inside either of my two ears for more than two minutes before falling out. The Jabra Elite 75t are probably some of the most boring ones out there, but the quality of the Danish-designed ear-buddies is amazing. The charge seems to last for a week, and they are perfect for calls, noise suppression, and my newfound love for podcasts. They invariably include our own Fratello episodes, The Grey Nato, OT, and a few other non-watch ones. I would recommend style-centric Blamo!, The Journal (Wall St. Journal), and the amazing Viva Bastardo by Phil Toledano on watches and cars.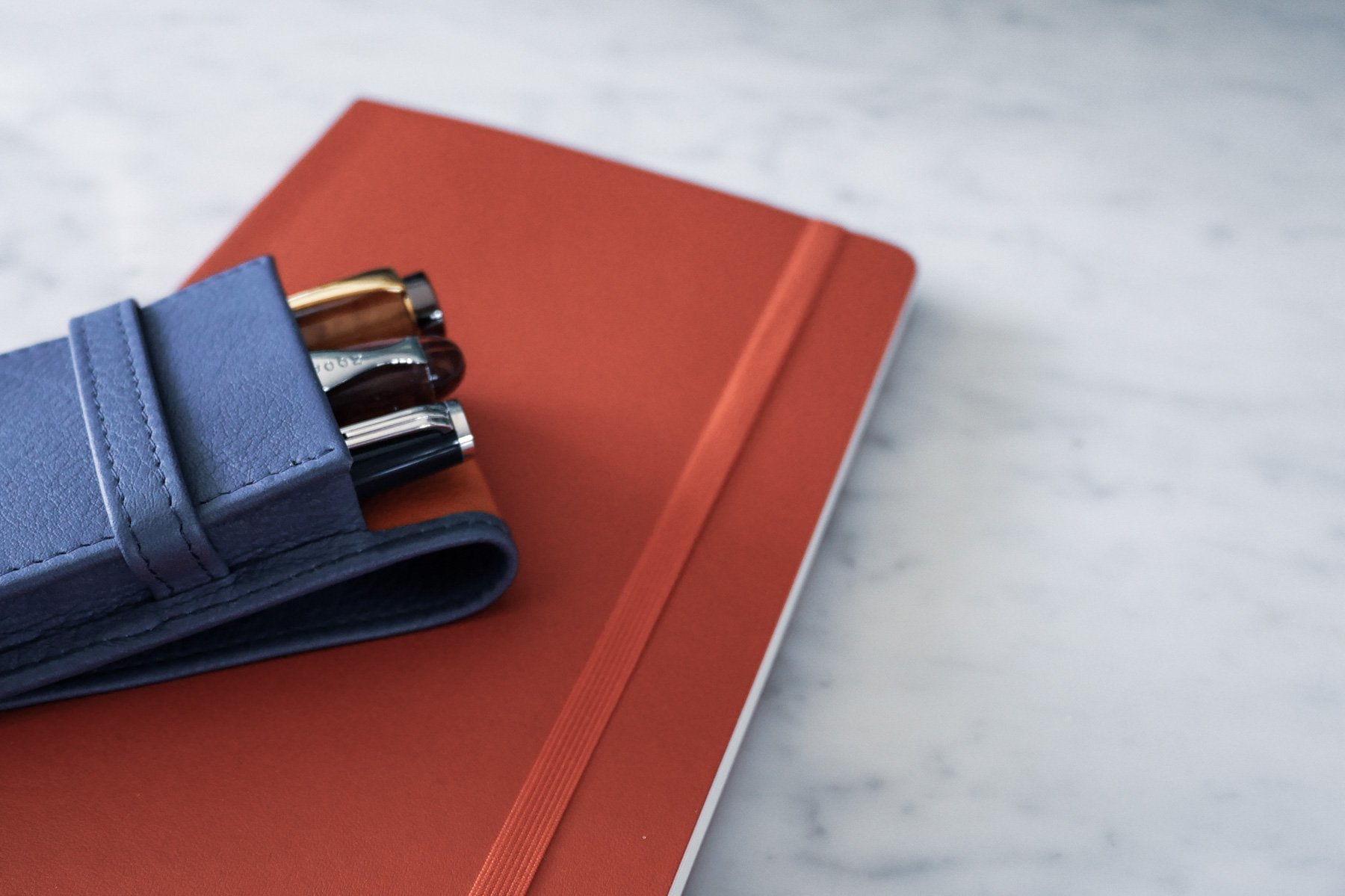 Pens and notebooks for analog zen
Yes, I copied Robert-Jan and have a custom pen case in blue and orange from the lovely bespoke makers at Van der Spek. But I had the benefit of RJ telling me that four pens were too much and ordered mine for three pens instead. I have some lovely pens, including a rollerball from Montblanc, and I always make notes and to-do lists by hand. For me, this is therapy while actually being faster to use and getting stuck in my brain better than Outlook task lists. Right now, I use a red Moleskine that I got for Christmas from my wife, and I have a separate writer's notebook for article commissions and ideas.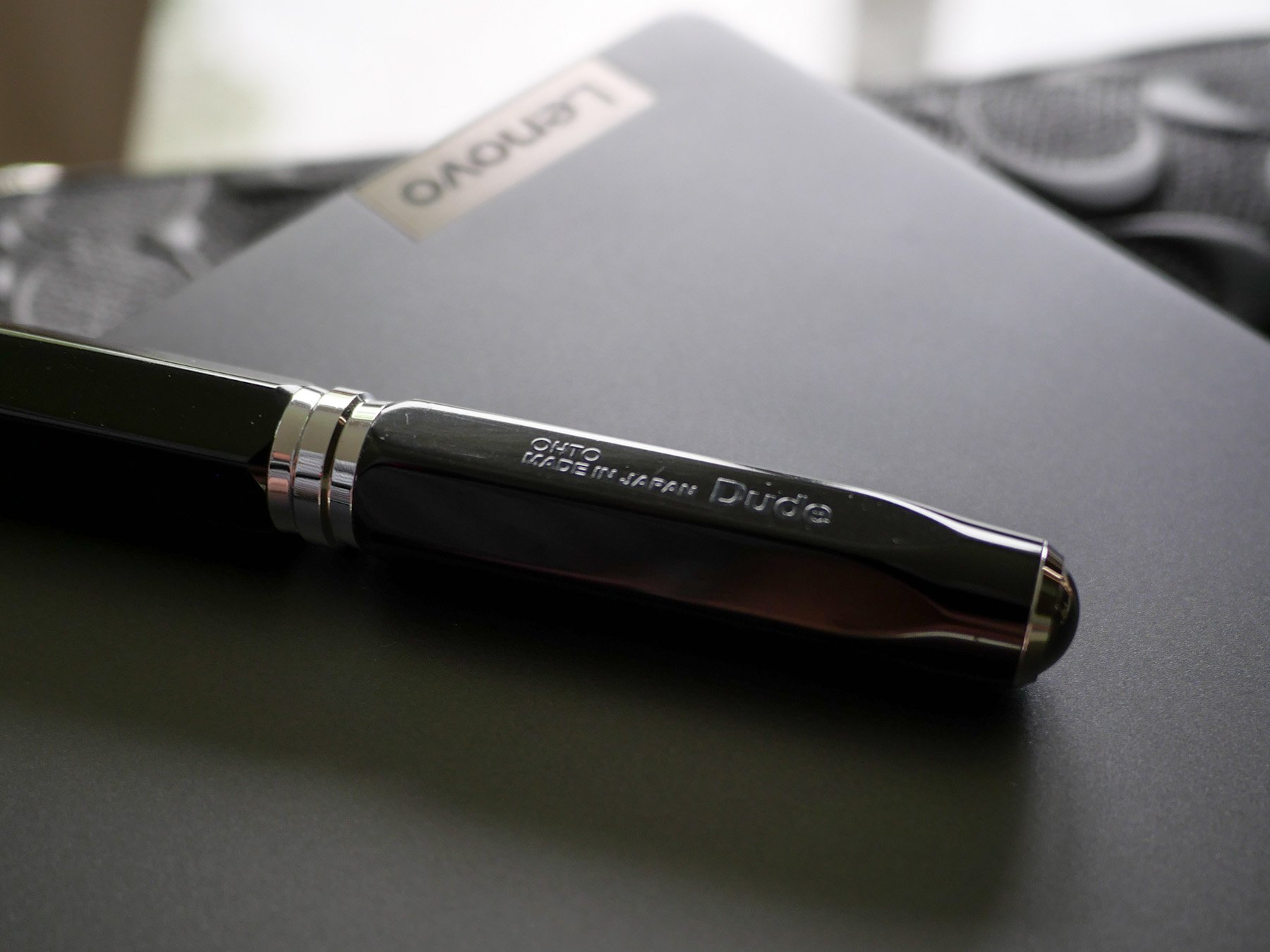 My favorite pen from Ohto
While my way-too-expensive-for-a-rollerball Montblanc is great to write with, my fave is a cartridge fountain pen from the Japanese brand Ohto with dark blue German Kaweco ink. It's a classic Art Deco design in bakelite with a very surprising name for its classic looks, and that's why I love it. The model is called Dude. Didn't expect that, did you? I'm still waiting for Montblanc or Pilot to release a pen called Buddy, Mate, or Sidekick.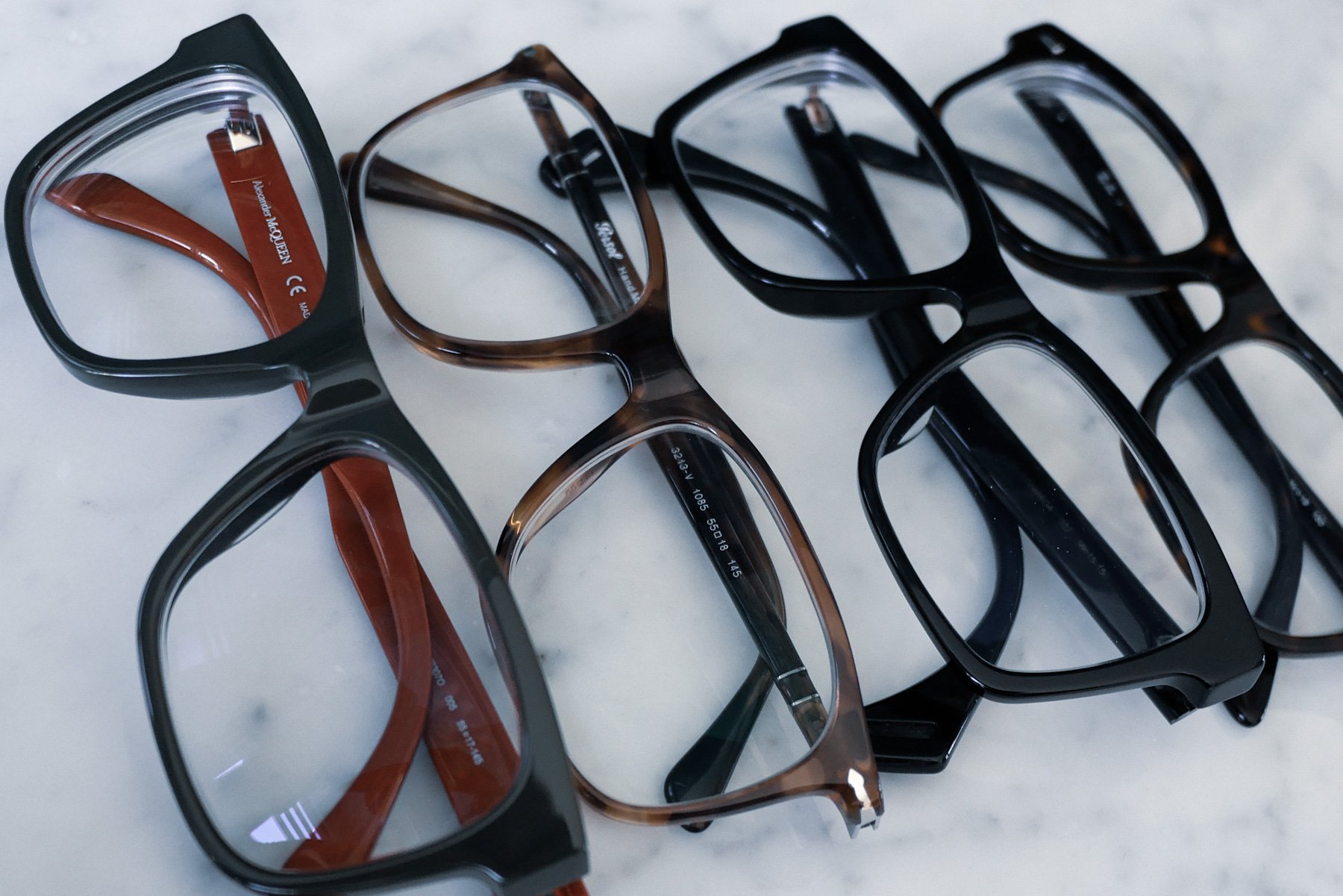 Specs — Daily and reading ones for the old Norwegian
Like Gerard's EDC story, this is where my age shows. I wear spectacles, and I also have computer-viewing ones that I always forget to put on. I enjoy big, bold frames, and vain as I am, I will usually match them up with my outfit. Some favorites are my olive-green Alexander McQueens, big black Guccis, and my computer-forgetful Persols. Spend proper money on spectacles, and they will last you, but make sure to try them on first. Big-brand panache doesn't always equate to quality assembly. I've spent many hours heating up, filing, and fixing poorly assembled frames myself.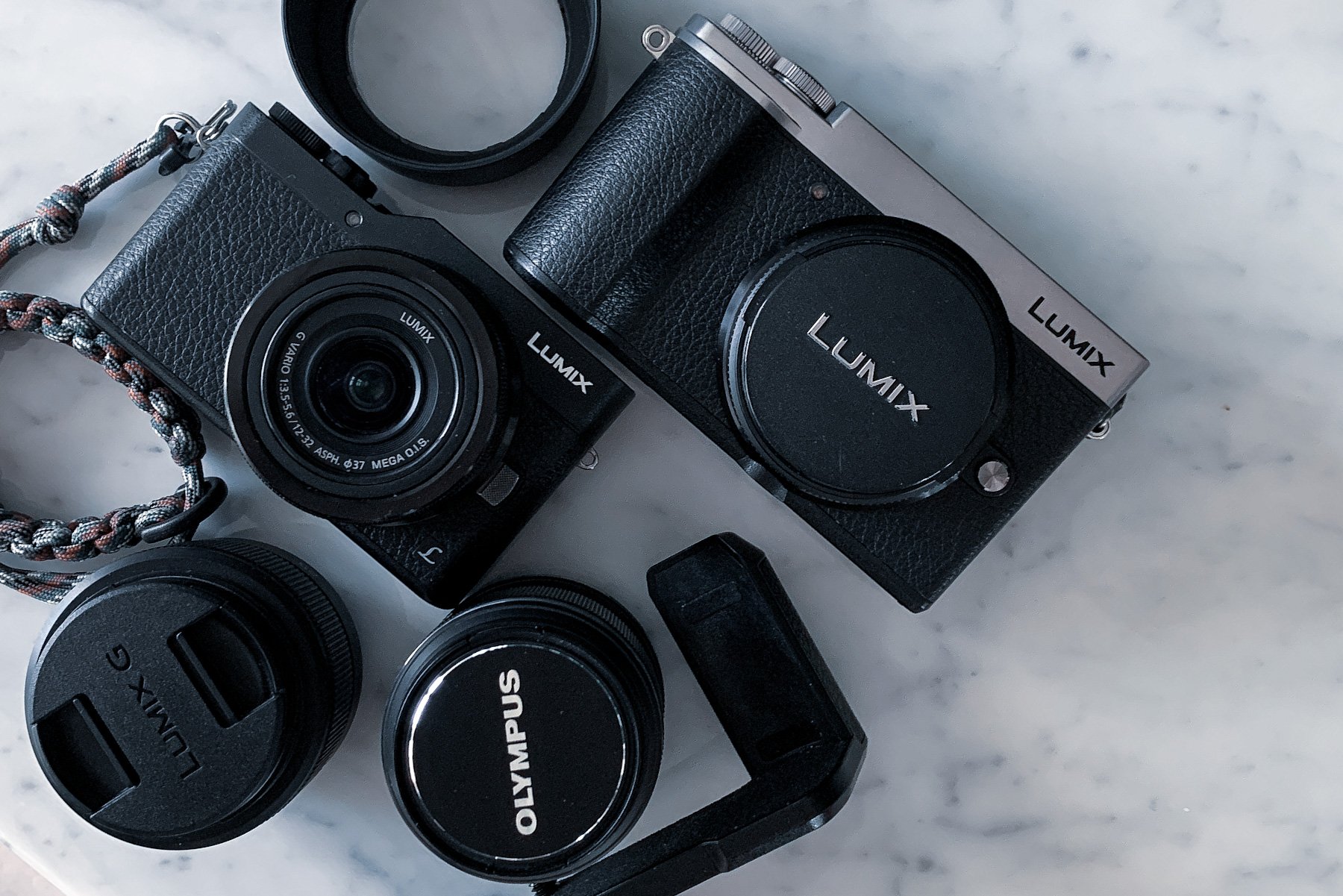 Gear for the wannabe photographer
I started out with an Olympus PEN, and now it's Lumix. I love the mirrorless Micro 4/3 lens system, which is perfectly adequate for my watch-focused shooting. Yes, my wife asks, "Why do you spend so much time shooting watches but never bring the camera when we have a family trip?" Sorry, babe. I'll remember next time (or will I?). I shoot with two Panasonic Lumix cameras — a GX9 and a GX800 — and I love them. My favorite lens is a 25mm Panasonic Lumix. It captures great sharpness and depth in an aperture-based setting. Another go-to is an Olympus 30mm 1:3.5 Macro. I have the GX800 in the bag sometimes, as the GX9 is better but a bit heavy, while the 800 is flimsy but baggable. But I've got a mid-size and mid-weight new Lumix on the way to replace both — the cool DC-G100. Even if I have a few softboxes and a tripod, I'd consider myself a half-skilled amateur.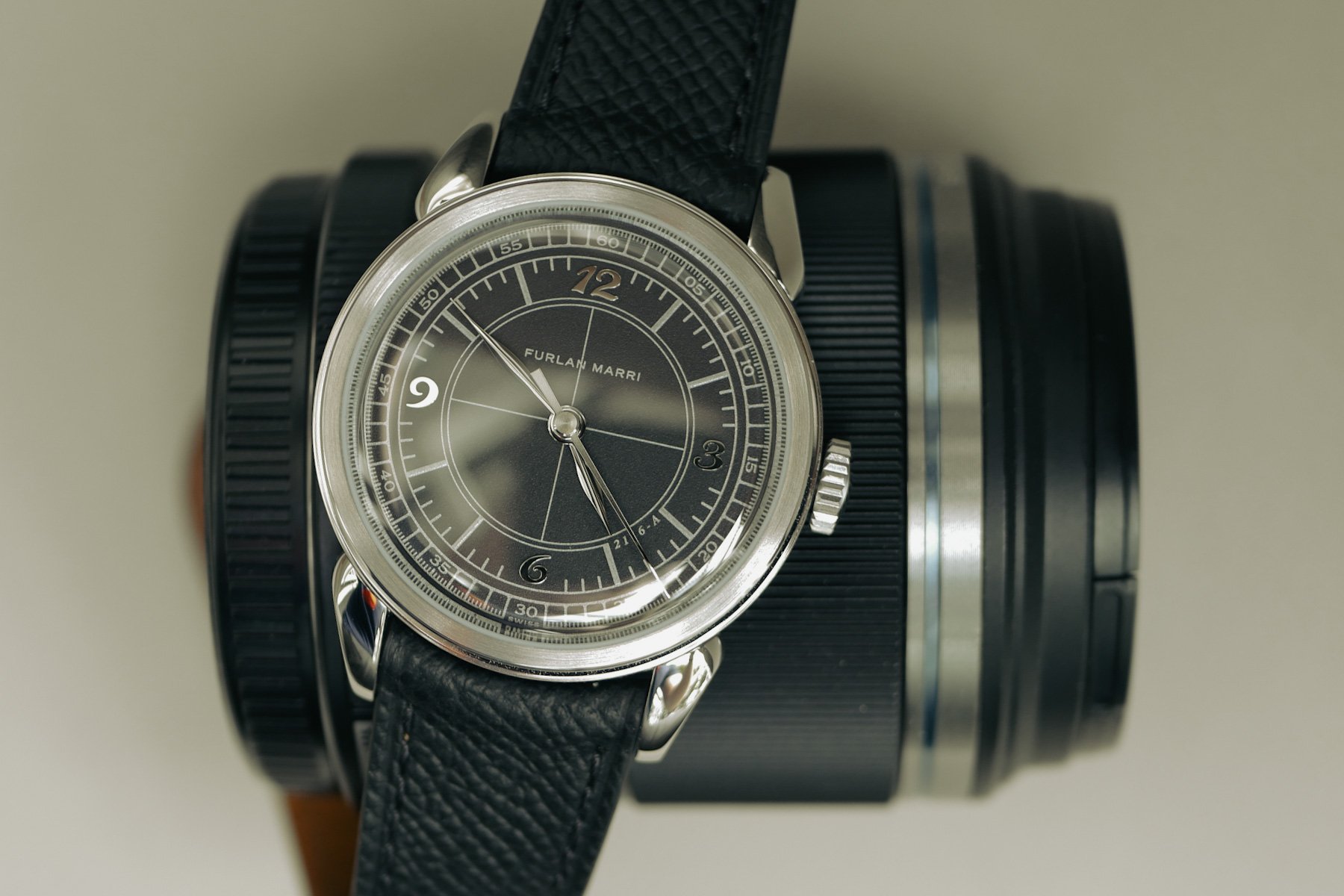 A watch
Yes, obviously! I will never leave the house without a watch, not even on holiday while going down to the beach. Most days, I even sleep with a watch on (do I have an affliction?). I took a few of these shots before going to my usual Wednesday-loaner office at one of my customers. I'm wearing the long-review prototype of the new Black Sector from Furlan Marri.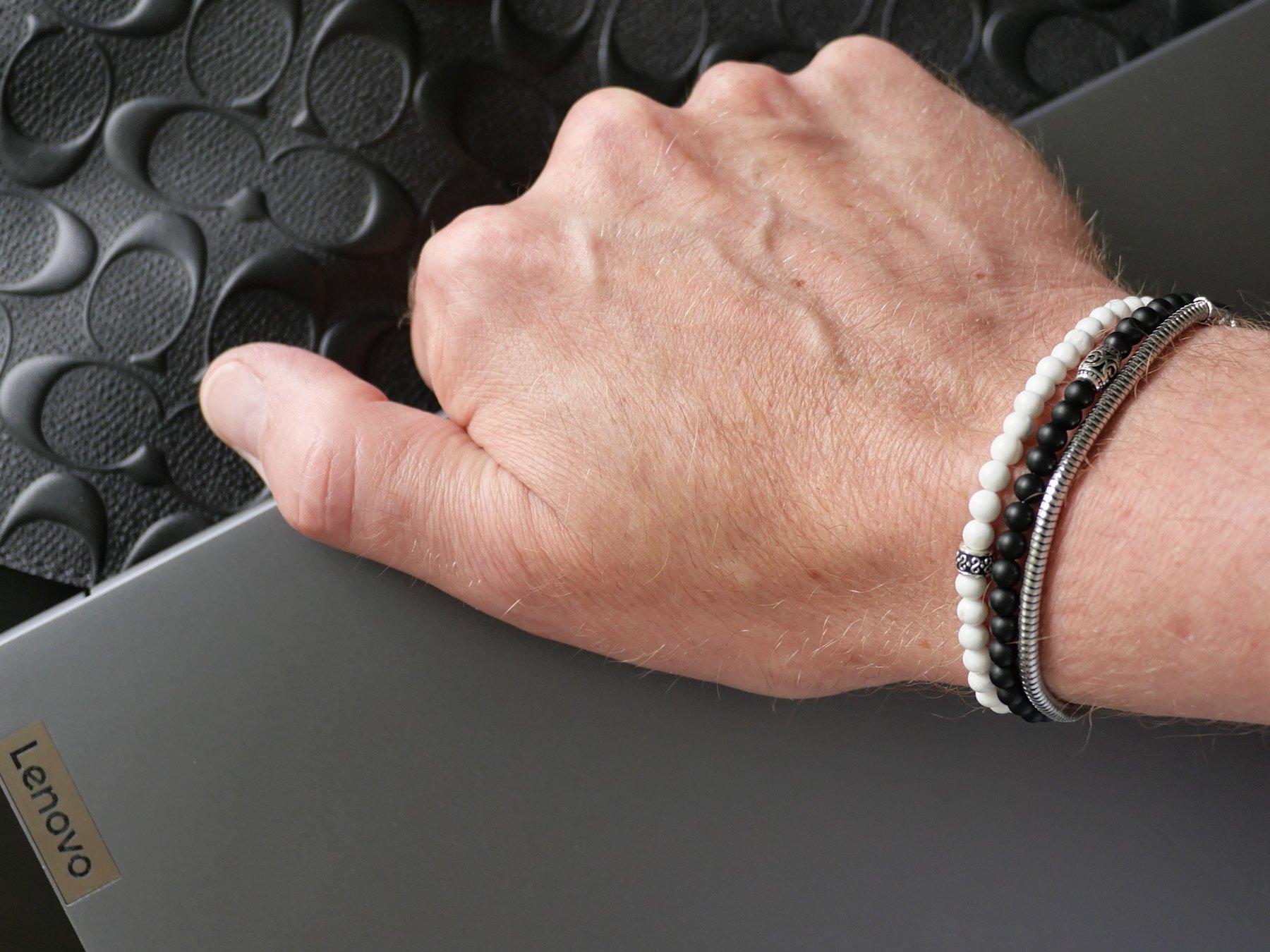 A good watch needs some bracelet balance
The Black Sector ref. 2116-A is simply a beautifully wrought vintage-inspired piece of cool, and at 37.5mm, it brings ultimate comfort. I've matched it up with some bracelets from my favorite brand, Baxter & Baxter in the UK, which does some awesome stone-bead numbers with sterling silver details. I actually own a whole heap of bracelets and often match them up to watches but never in a stack on the same arm. I'm too scared of scratches, and let's face it: I'm no 20-year-old rapper.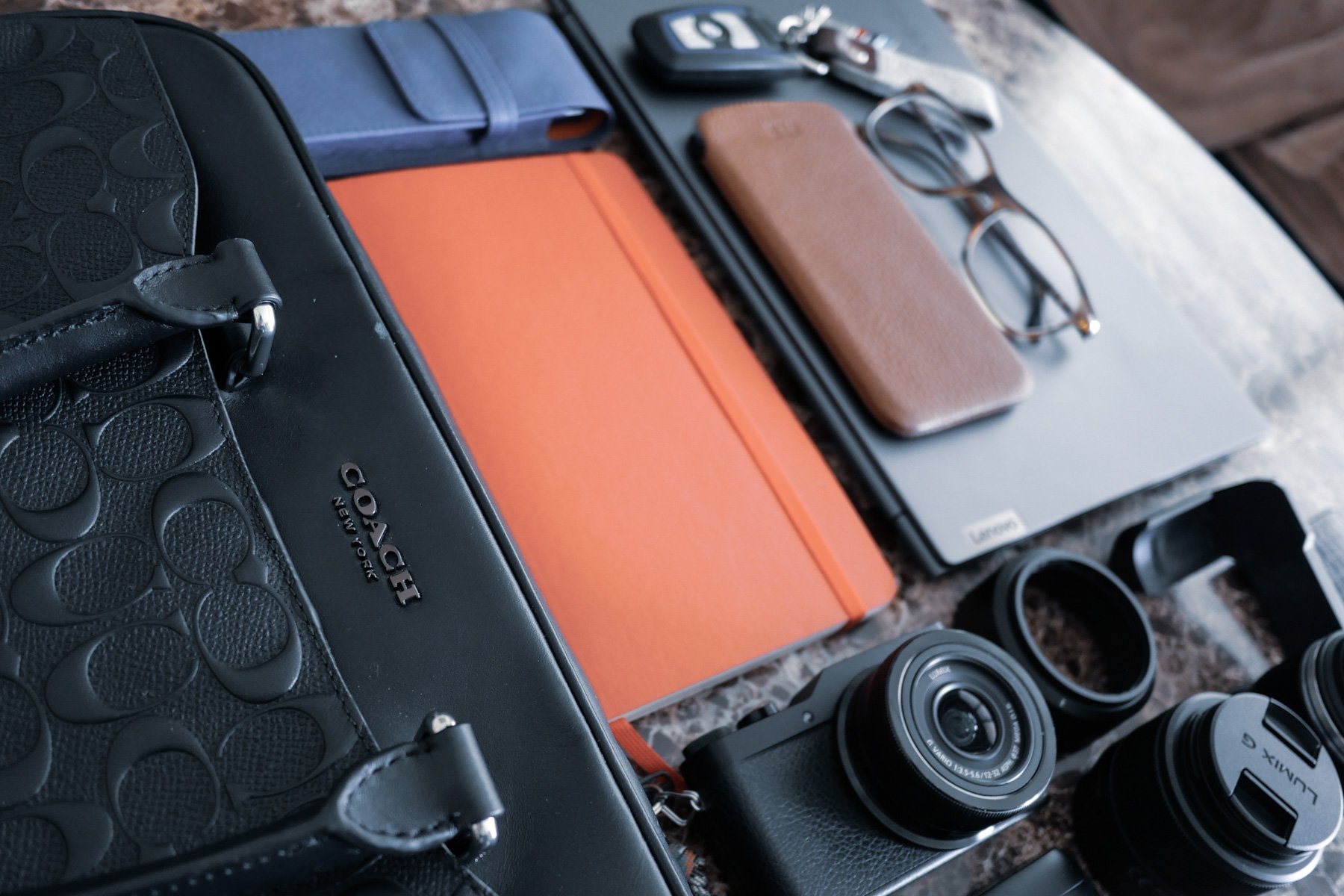 To conclude my EDC Curriculum Vitae
We think a woman's handbag tells a life story, but my EDC copy reads like a CV or dating profile. There is a lot to be learned from the items we love. So I'll try to end this by being the sensible, second-oldest Fratello editor (I think). Except for notebooks that invariably get written out, I believe in buying fewer items and making them last. My last bag was eight years old, and I still have it. My favorite fountain pen is six years old, and my phone is an iPhone X, the big-sized one, bought reconditioned. When my new pre-owned camera arrives, my Lumixes will be sold as EDC consolidation. Marrying sustainability with a style works, and it's the only way. The one thing missing from my bag is a good book. But on most days, I only have time to read in bed. My choice would always be Haruki Murakami. Zen, baby.
What about you, Fratelli mates? Does your EDC look similar, or do I actually need that big folding knife? Let me know in the comments.
Find me and follow me at @thorsvaboe