Fratello's Top 5 Recent Blacked-Out Watches — Featuring Sinn, Doxa, Seiko, And More
This sleek, stealthy aesthetic is here to stay
Another Friday, another Top 5! Last week, we took a look at some of the best recent releases with stunning green dials. As of this week, we would love to proudly add the Fratello × Minase M-3 "Nori" Exclusive Edition to that list. Obviously, last week's article was part of the buildup to that new release. This week, we will move on to a different concept than a dial color but one that is built on color nonetheless. For this week's Top 5, we selected the best recently released blacked-out watches. Often seen as stealthy timepieces, these all have black dials, black cases, and, of course, black bracelets or straps. The concept can lead to stunning visual results, but would you ever buy one? Let's take a look at our Top 5 to see if any of these sway you.
As a fan of black, I love a good blacked-out watch. But the funny thing is that I have two, and both are G-Shocks. I love the concept of a fully blacked-out G-Shock a lot, but for some reason, I was never persuaded to pull the trigger on a more expensive all-black timepiece. That doesn't mean I wasn't tempted to, though. Let this list be the starting point of a discussion on whether you think the "black dial, case, and bracelet/strap" formula works. Would you ever buy a watch like this, and what are some of your favorites? But first, let's check out our Top 5 list of our favorite blacked-out watches released recently.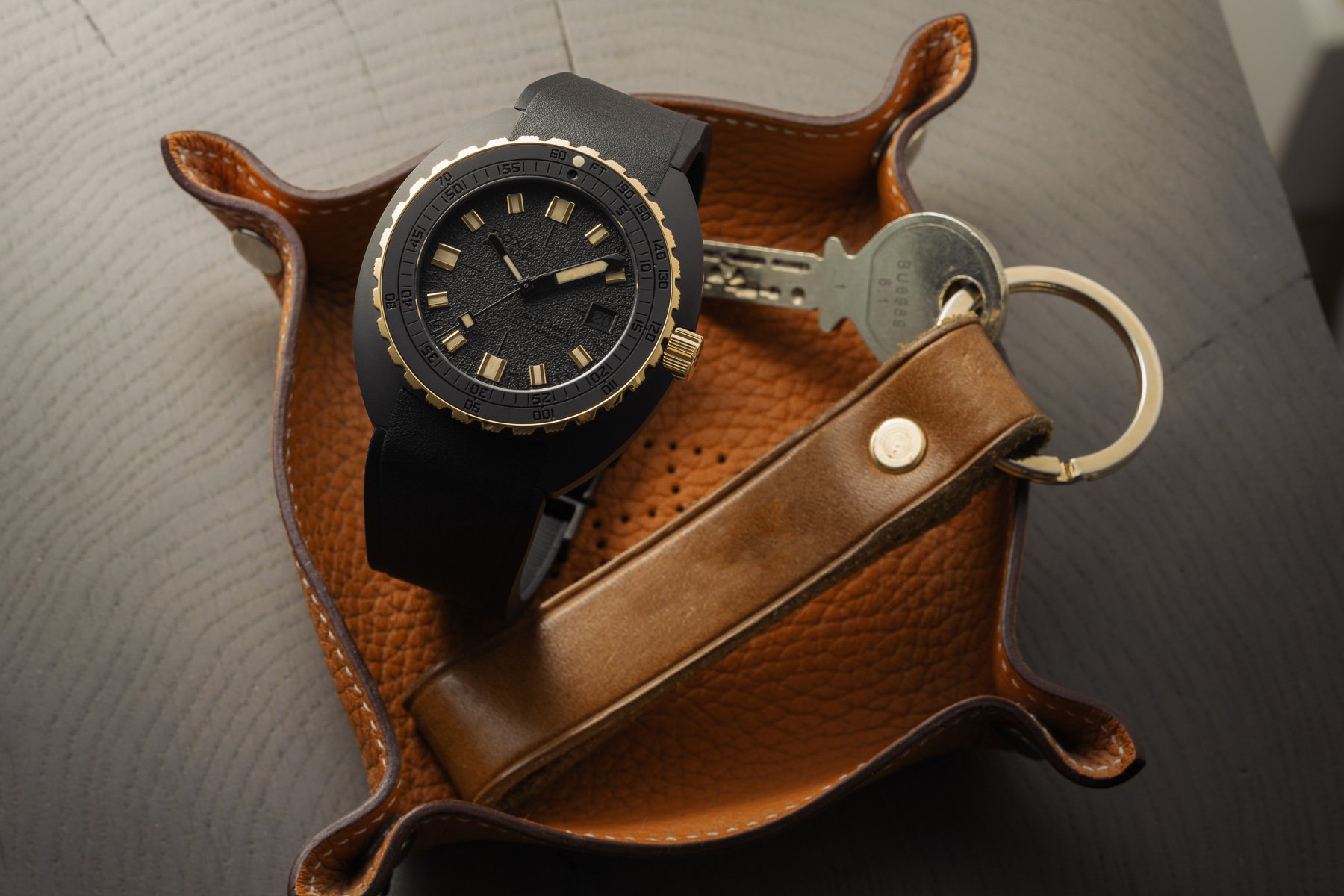 Doxa Sub 300β Sharkhunter
The first pick was a no-brainer. It is one of my favorite recent releases. The Doxa Sub 300β Sharkhunter introduces a new aesthetic to the trusted Sub 300. I adore the regular stainless steel Sub 300, and it has become an icon of the industry that we all know and most of us love. First of all, it has a well-documented story that dates back to the late 1960s. On top of that, the characteristic case shape and the usually bright colors of the dial make it instantly recognizable. And that recognizability doesn't change with this blacked-out version of the Sub 300. However, this new rendition does completely change the overall look and feel of the watch.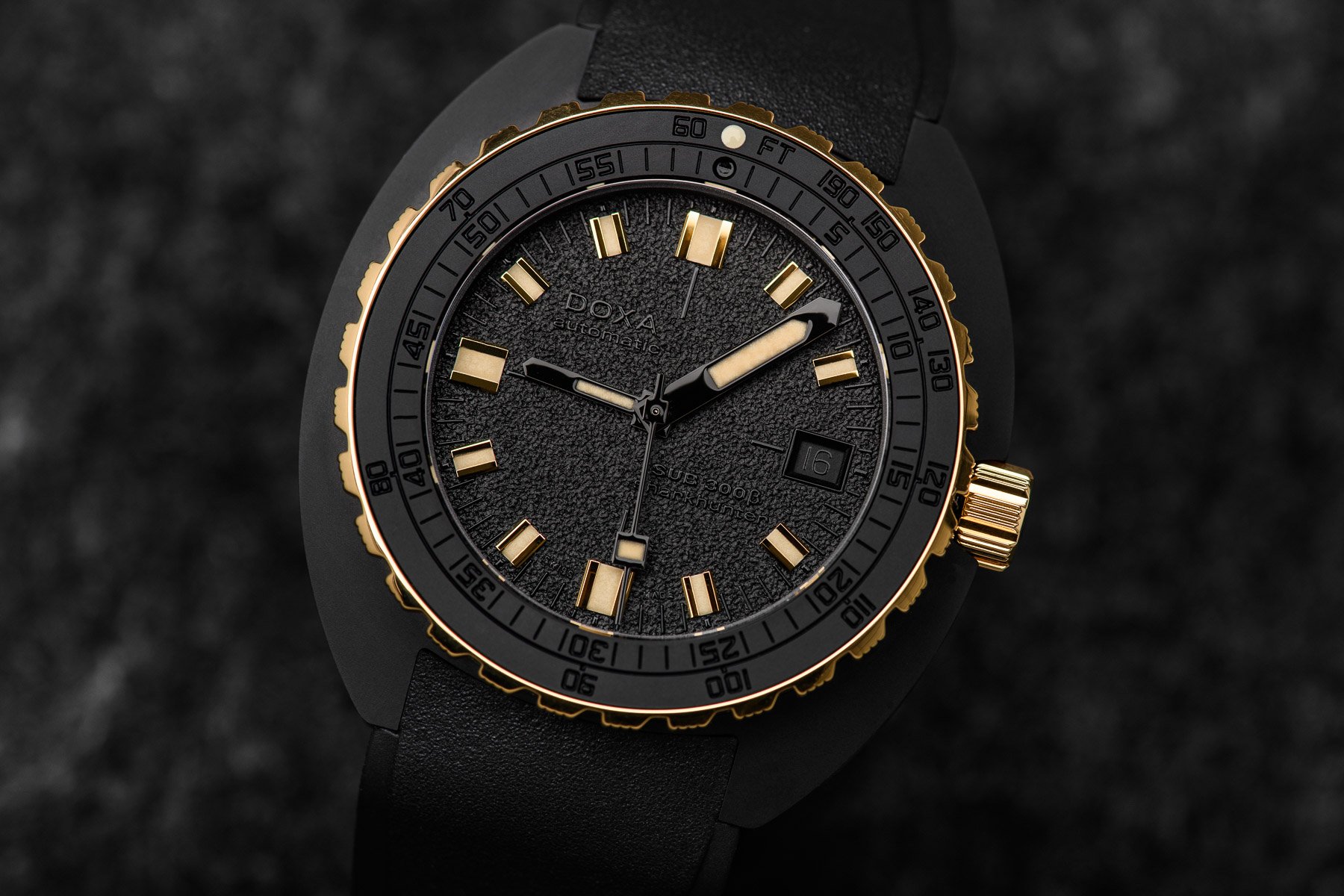 The Sub 300β Sharkhunter features a 42.5mm × 44.5mm black ceramic case that is 11.95mm thick and water resistant to 300 meters. The remarkable thing is that the 11.95mm thickness makes the watch considerably slimmer than the 13.4mm profile of the regular Sub 300. The black ceramic case is combined with a matte black (Sharkhunter) dial with a grained texture. It creates a stylish black canvas that contrasts nicely with the gold and glossy black elements. The dial features a glossy black 60-minute track, glossy black hands, and a glossy black frame for the date window. Setting off the black elements are the 18K 3N gold bezel with a black insert, an 18K 3N gold crown, and gold indices on the dial. The cream-colored Super-LumiNova is a perfect match for the gold elements, and a black FKM rubber strap completes the brilliant aesthetic.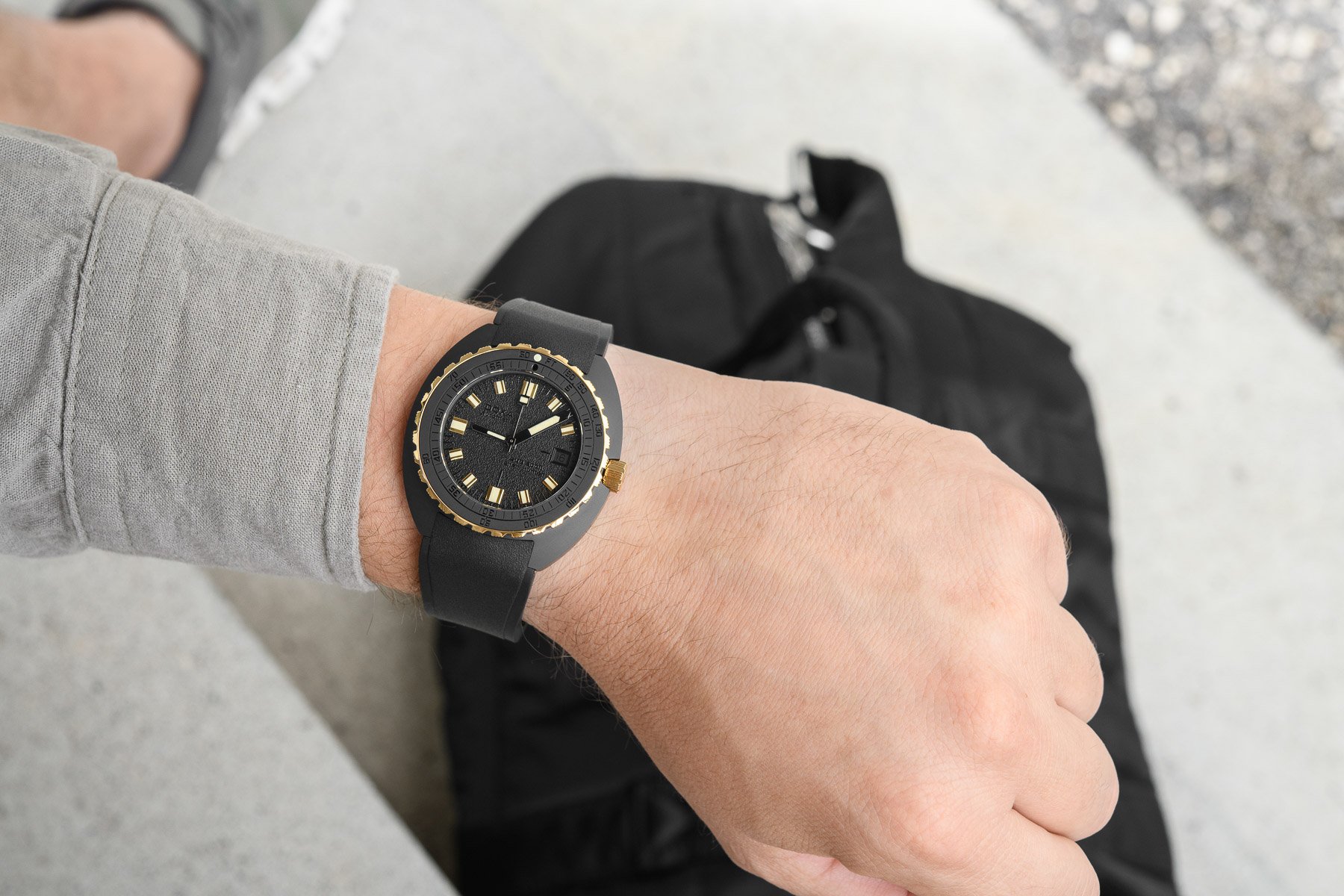 A stealthy option that shows a nice style for the Sub 300
Doxa most likely uses a COSC-certified version of the Sellita SW200-1 to power the watch. The brand doesn't disclose the actual movement, but the specs match those of the Sellita, including a 28,800vph frequency and a 38-hour power reserve. As you might have read in my introduction article, I think this is a winner from Doxa. It truly is one of the most stylish releases of the year. But it's also a watch that comes at a premium price of €7,250. That makes the Sub 300β Sharkhunter substantially more expensive than the regular stainless steel and carbon versions of the Sub 300. But it's hard to ignore the stylish presence of this great timepiece that shows the Sub 300's incredible versatility.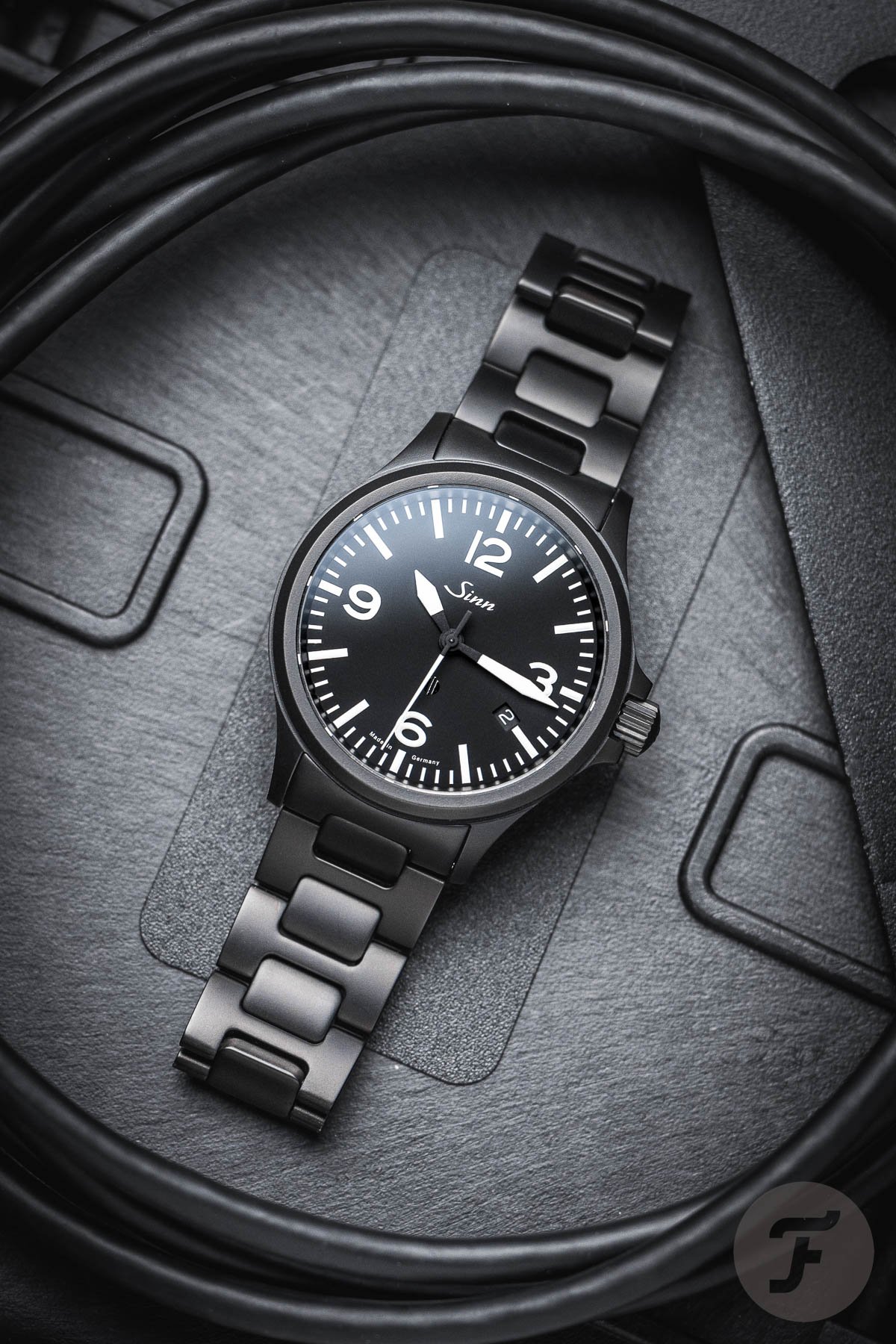 Sinn 856 S
Sinn is no stranger to blacked-out watches. But because this is Sinn we're talking about, the black look is not simply for aesthetic purposes. We all know that when it comes to Sinn, form follows function. With the blacked-out version of the brand's popular 856, its reason for being can be found in zero reflections, maximum contrast, and great readability. As Thomas explained in his review, the Sinn 856 S has a 40mm case that is 11mm thick and Tegimented for better scratch resistance. Furthermore, both the case and the bracelet get a black DLC coating to create an ultra-stealthy overall presence. The 856 S seems to absorb light, and it makes for a great, low-key pilot's watch.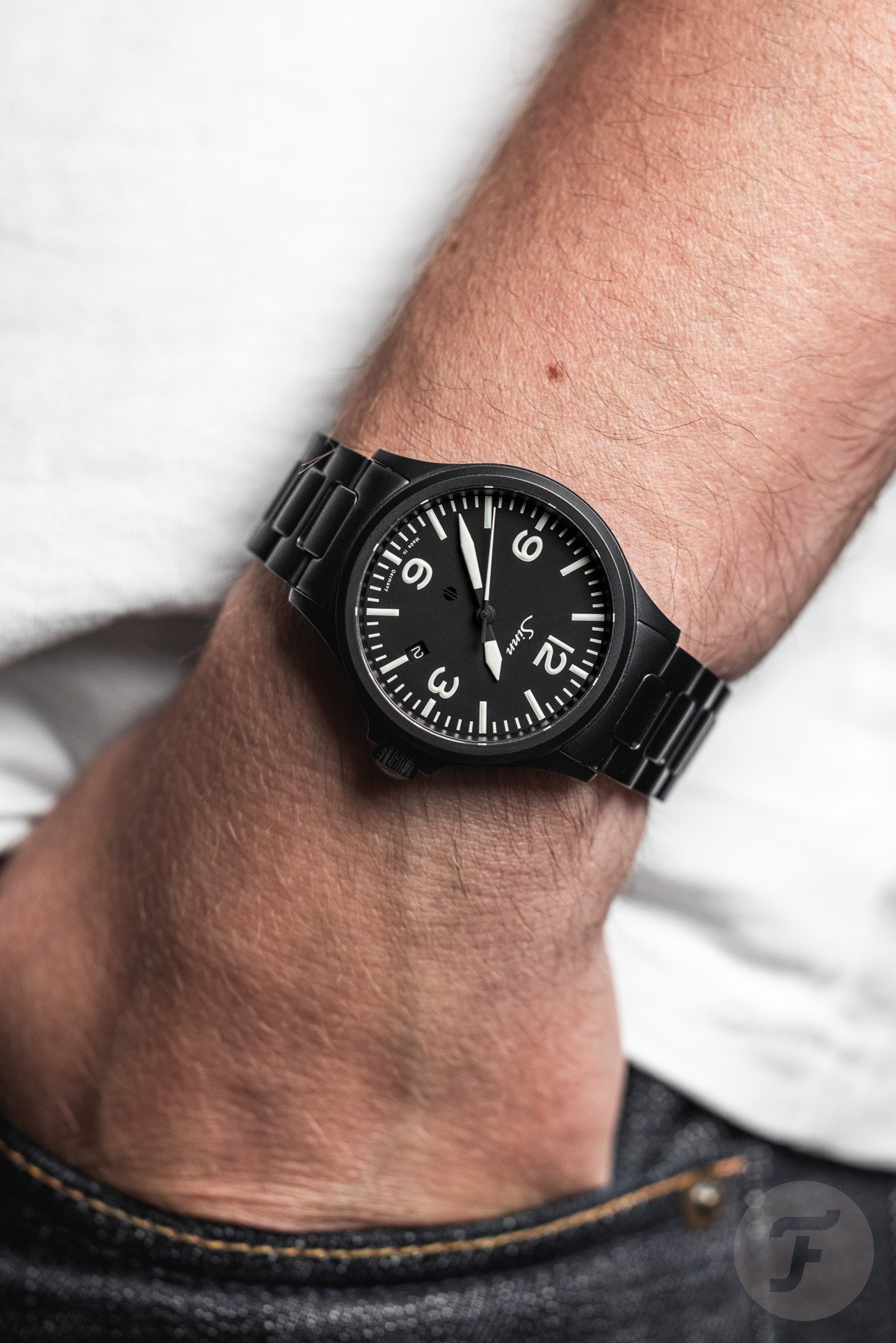 The dark aesthetic continues with a matte black dial that is contrasted by bright white minute and hour markers and a black and white handset. They provide a phenomenal contrast, ensuring that you can quickly read the time without any distractions. The markers and hands are coated in a thick layer of lume that lights up green in the dark, so readability is guaranteed on the job. Inside the case, you will find the Sellita SW300-1, which operates at a 28,800vph frequency with a power reserve of 42 hours and a small date at 4 o'clock. As Thomas explained, the watch also wears wonderfully. The sleek 856 S can be a stylish daily wearer with plenty of charm, or it can be your ultimate night-mission pilot's watch for €2,520.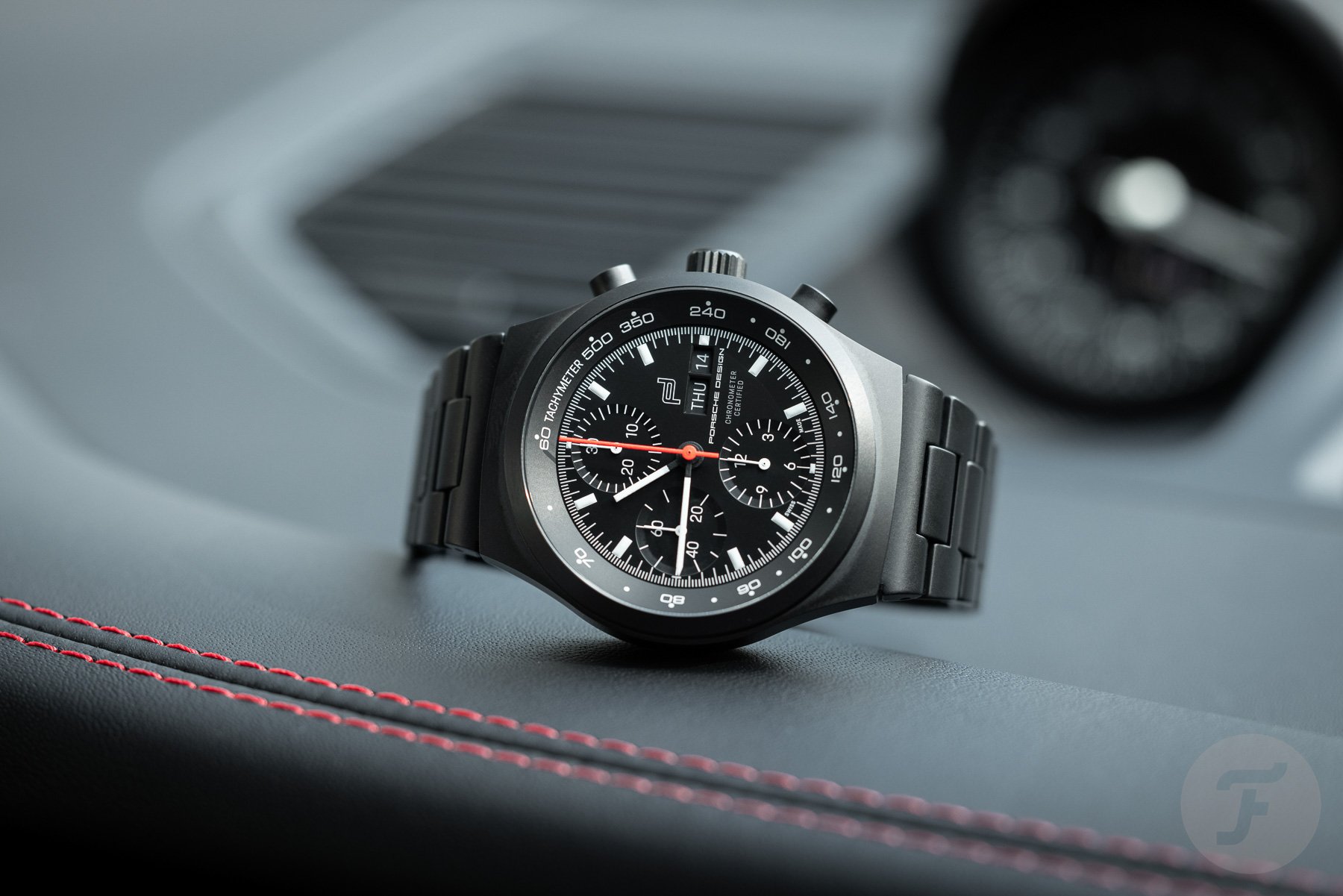 Porsche Design Chronograph 1 – All Black Numbered Edition
Now we move on to a resurrected classic from Porsche Design. The Porsche Design Orfina Chronograph was the first commercially available watch that came with a black PVD-coated case. It was introduced in 1972 and reintroduced last year during an event that Nacho attended at the Porsche Museum. This modern version of the classic from the early '70s brings back a design that still looks very relevant and comes from a widely respected brand. The watch features a titanium 40.8mm case that is 14.15mm thick and comes on a matching titanium H-link bracelet. The case and bracelet boast a glass-bead-blasted titanium carbide finish that gives the watch its blacked-out aesthetic.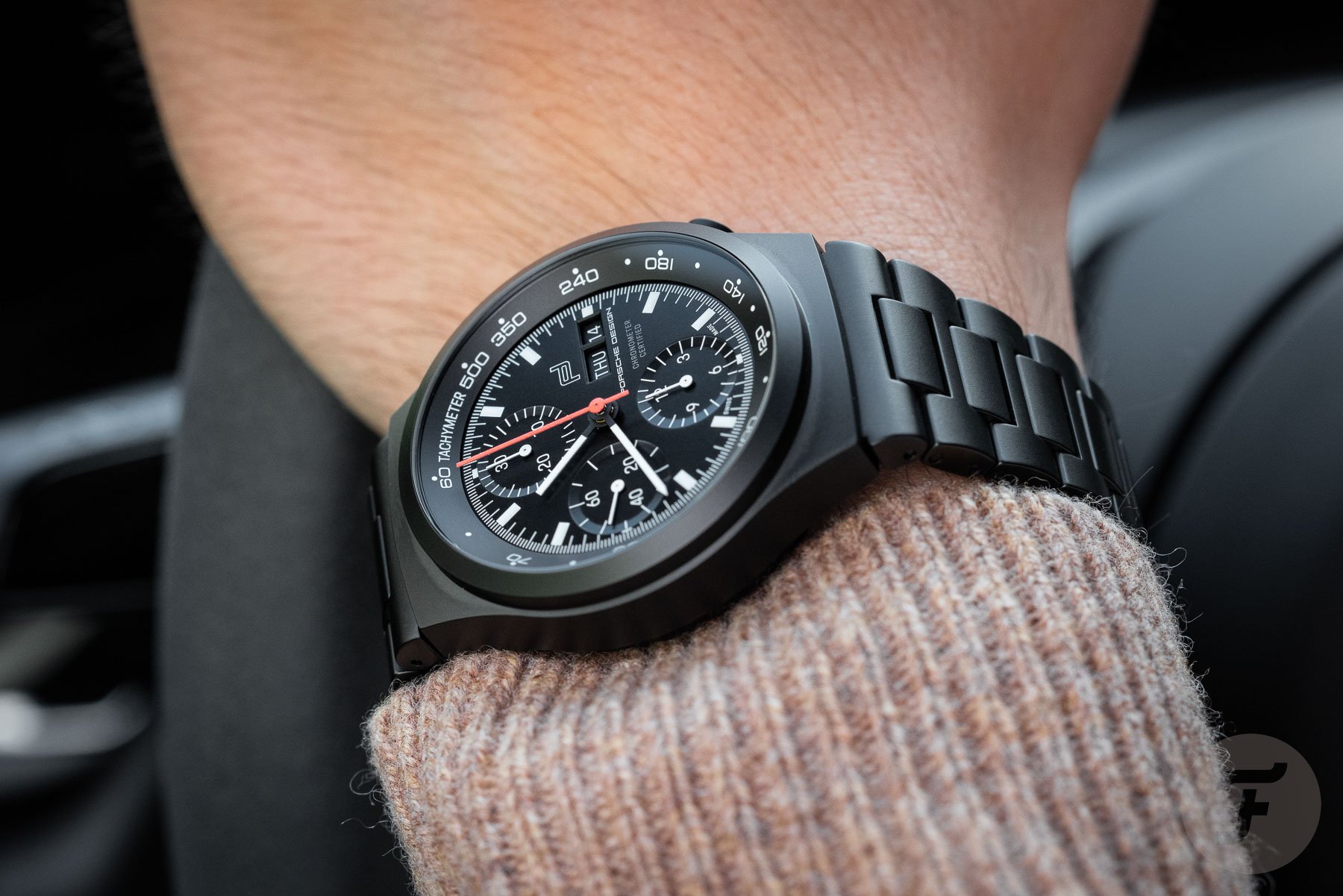 Its flat sapphire crystal features seven layers of AR coating to ensure that no reflections keep you from reading all the info on the dial properly. The black dial features three sub-dials at 6, 9, and 12 o'clock, utilizing the classic 7750 layout. The day and date windows are located at 3 o'clock and feature the day in German and English. Inside the case, you will find the Porsche Design caliber WERK 01.140. It's a COSC-certified automatic movement based on the Valjoux 7750 that operates at 28,800vph with 48 hours of power reserve. This Chronograph 1 – All Black Numbered Edition is available for €8,985, which is a substantial amount of money. But it is also a very cool modern edition of the watch that started this category of timepieces we're highlighting today. Keep an eye out for a full review of this stunner coming next week!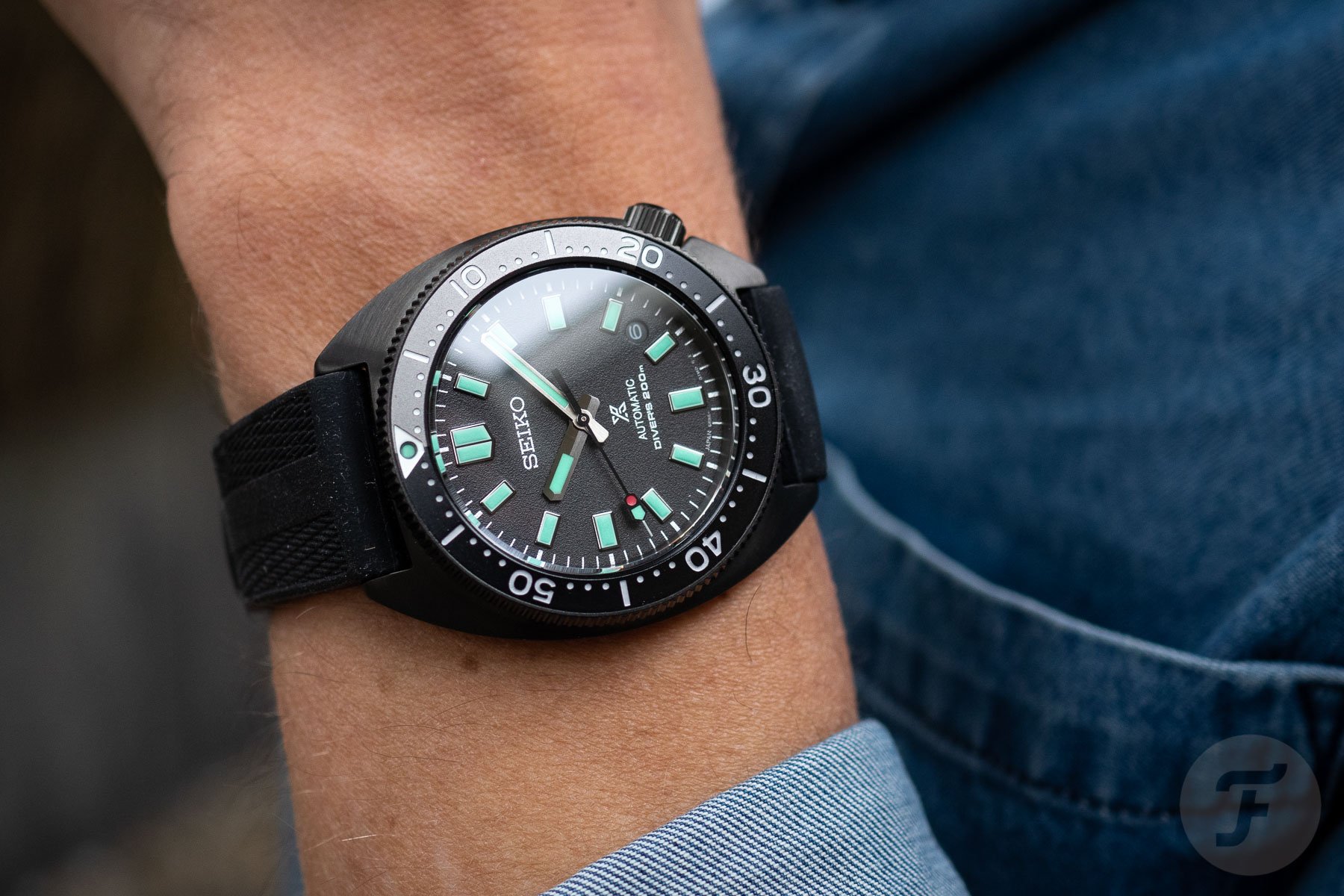 Seiko Prospex Black Series SPB335
Next up is the Seiko SPB335, part of the brand's Prospex Black Series. The series consists of three models, of which Daan reviewed two. The first is the blacked-out version of the Alpinist (SPB337), and the second is this black version of the Turtle Origin. The watch has a 41mm brushed black C-shaped case with a screw-down crown at 4 o'clock. This case measures 12.3mm thick and just under 47mm from lug to lug. The watch has a black and gray stainless steel bezel insert with white numerals and engraved markings. Admittedly, I would have loved to see the markings in the same turquoise lume color featured on the hour markers and hands. Having said that, it still is a very cool combination of colors.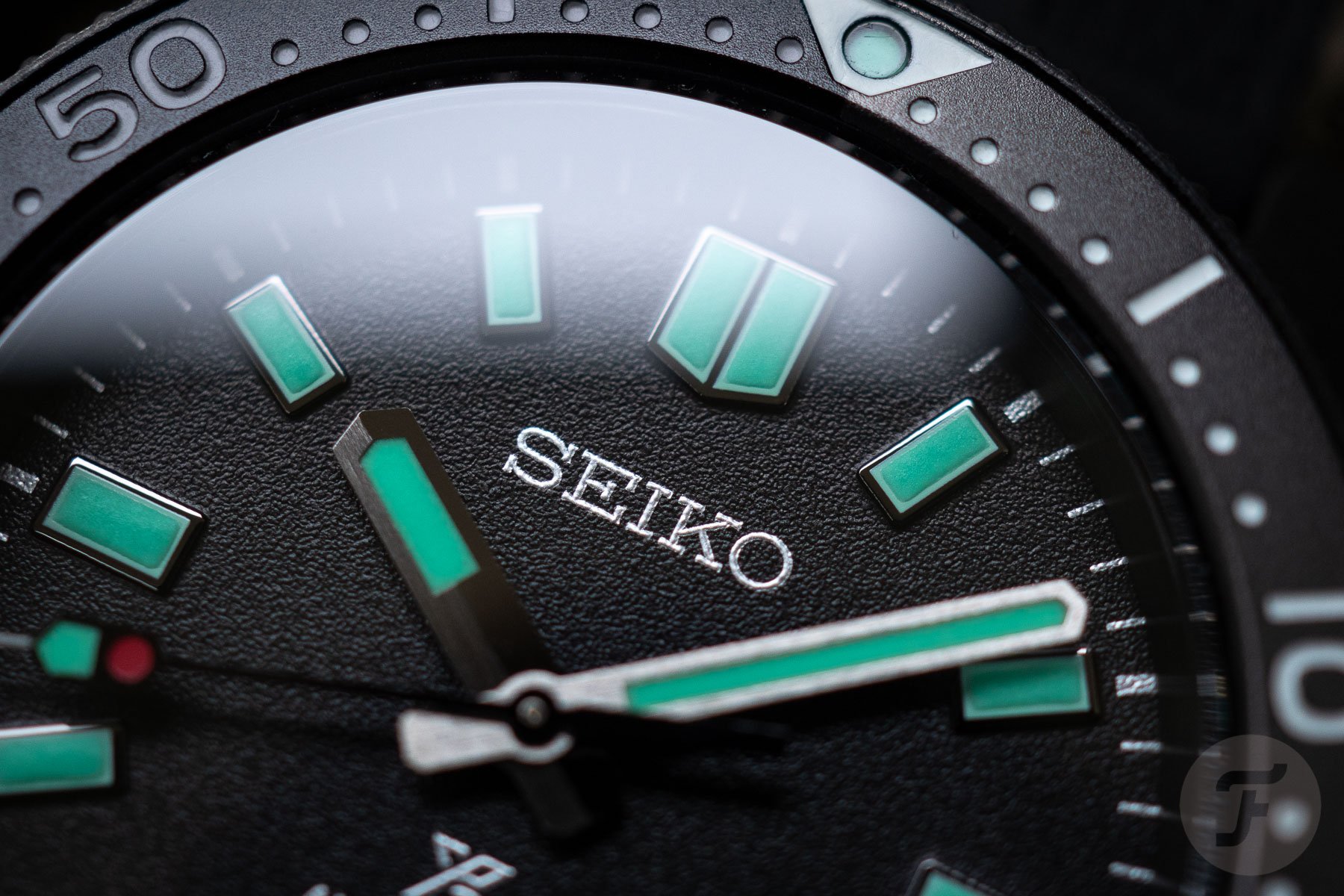 The watch comes with a matching black rubber strap to complete the look. Inside the black case, Seiko equips the SPB335 with the in-house caliber 6R35. This automatic movement operates at 21,600vph and delivers 70 hours of power reserve. Now, while I am not a big fan of the Black Series Alpinist and feel that the black treatment doesn't fit the classic styling that well, I do like this black version of the Turtle Origin. With this take on an iconic diver, I think that Seiko hit the nail on the head. The Seiko Prospex Black Series SPB335 can be yours for €1,050. Despite it being a limited edition of 4,500 pieces, it is still quite easy to get your hands on.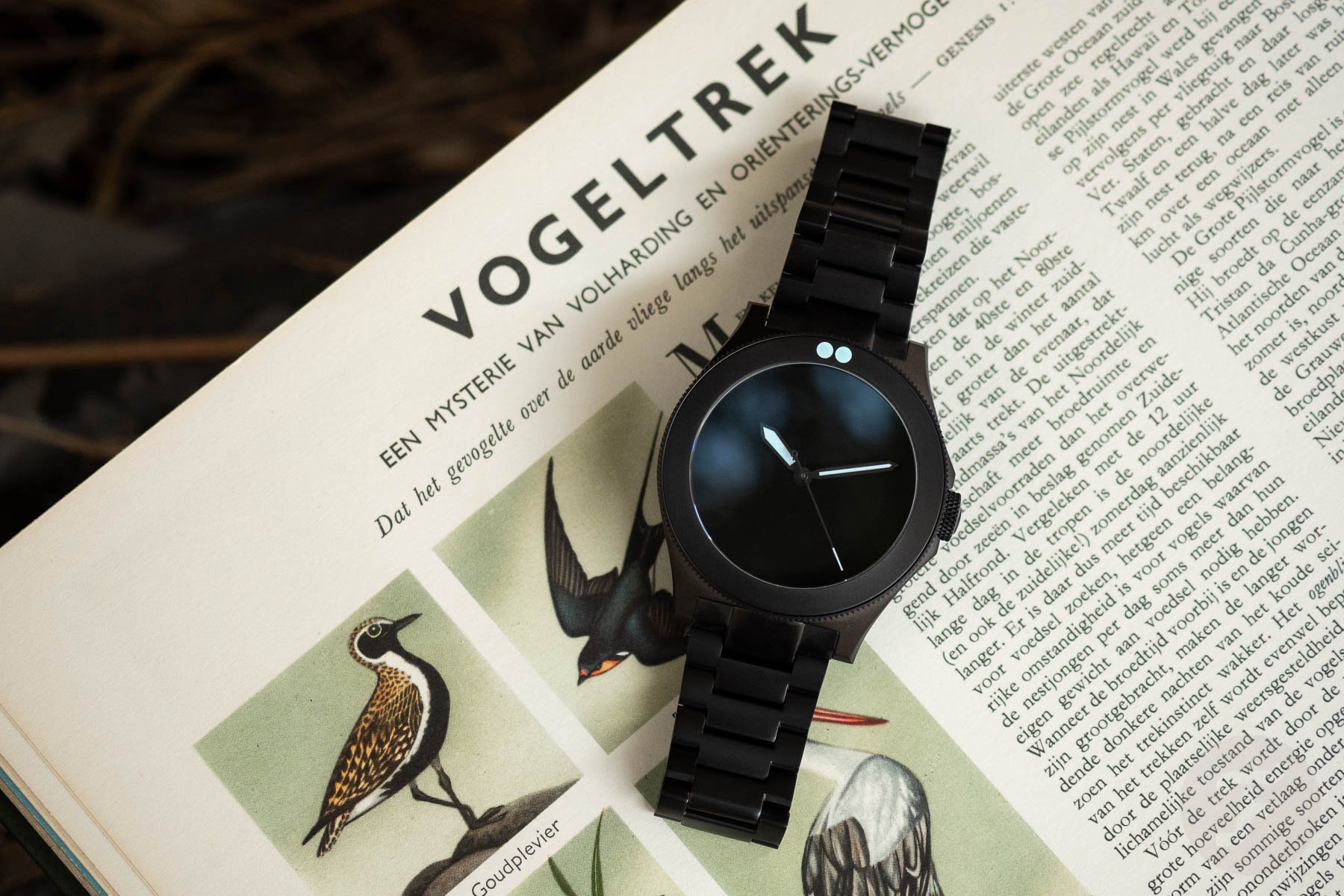 Boldr Safari Vogelkop Superb
Our last pick is the Boldr Safari Vogelkop Superb that was unveiled earlier this year. Talk about a blacked-out watch! The dial is not Vantablack like H. Moser & Cie. has often used (and even implemented in the brilliant Streamliner Chronograph Blacker Than Black concept watch). However, as Daan explained in his review of this Boldr, it also doesn't cost you an arm and a leg to buy this US$449 Safari Vogelkop Superb. A recently discovered male bird-of-paradise, the Vogelkop Superb (Lophorina niedda), served as the inspiration for the watch. This special bird is predominantly black with bright blue and green feathers around the underside of its neck. Additionally, there are two very bright blue and green dots right next to his eyes.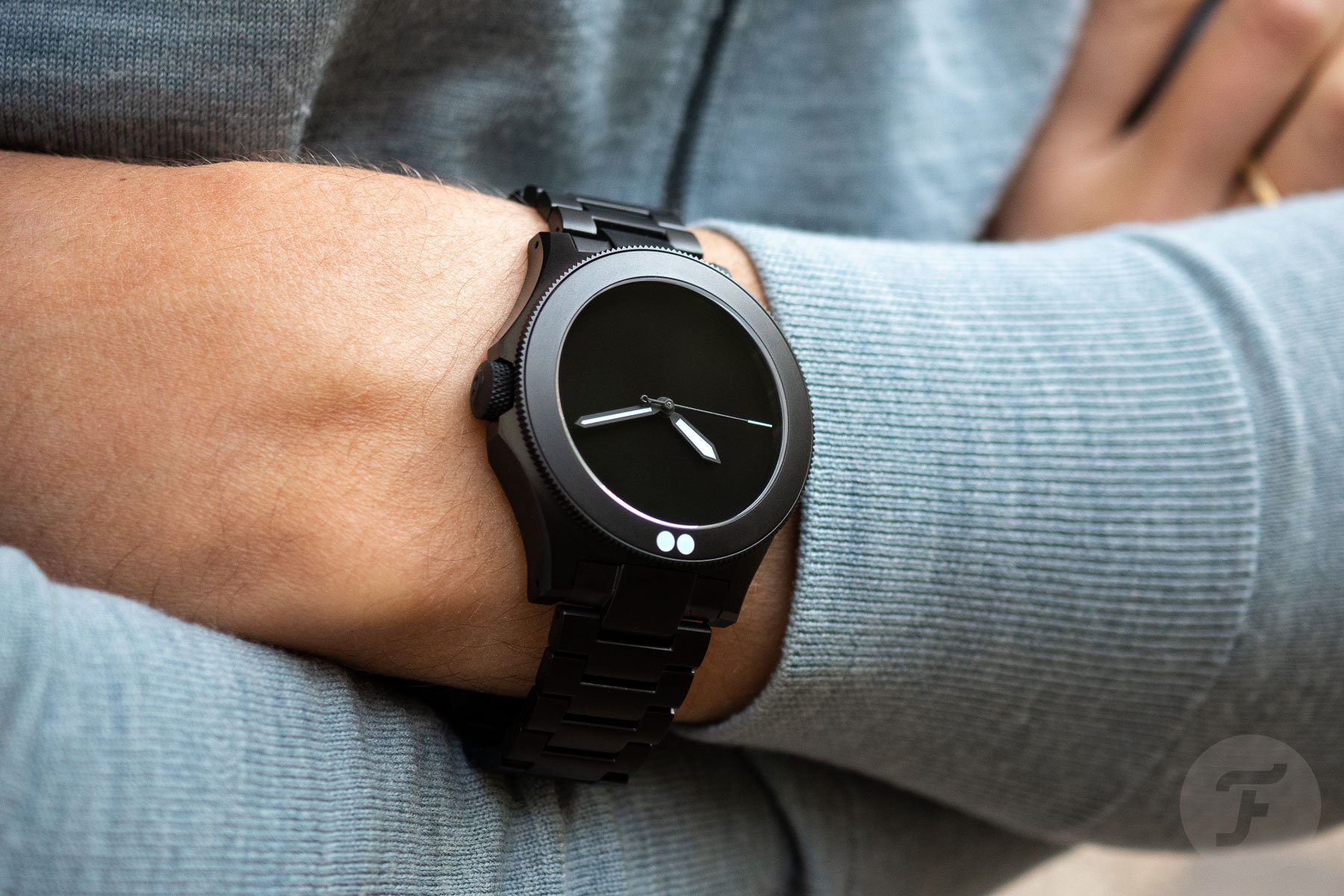 It's this special presence that inspired the watch. It has a fully black aesthetic contrasted with only a few blue accents. The base is a 40mm stainless steel case that is 12mm thick and measures 46mm from lug to lug. Both the case and the bracelet feature a DeepPVD coating for an intense black color. But it's not as intense as the Musou Black dial. Musou Black paint absorbs 99.4% of light and has a very intense, ominous hue. The black bezel insert features two light blue dots inspired by the spots next to the bird's eyes. Other than that, the hands are treated with "Vogelkop-blue" Japanese Super-LumiNova, which illuminates in the dark. Inside the case, Boldr uses the Seiko NH38A automatic movement. It operates at 21,600vph and provides 41 hours of power reserve. It is a fitting movement for the Safari Vogelkop Superb, an affordable final entry on this list.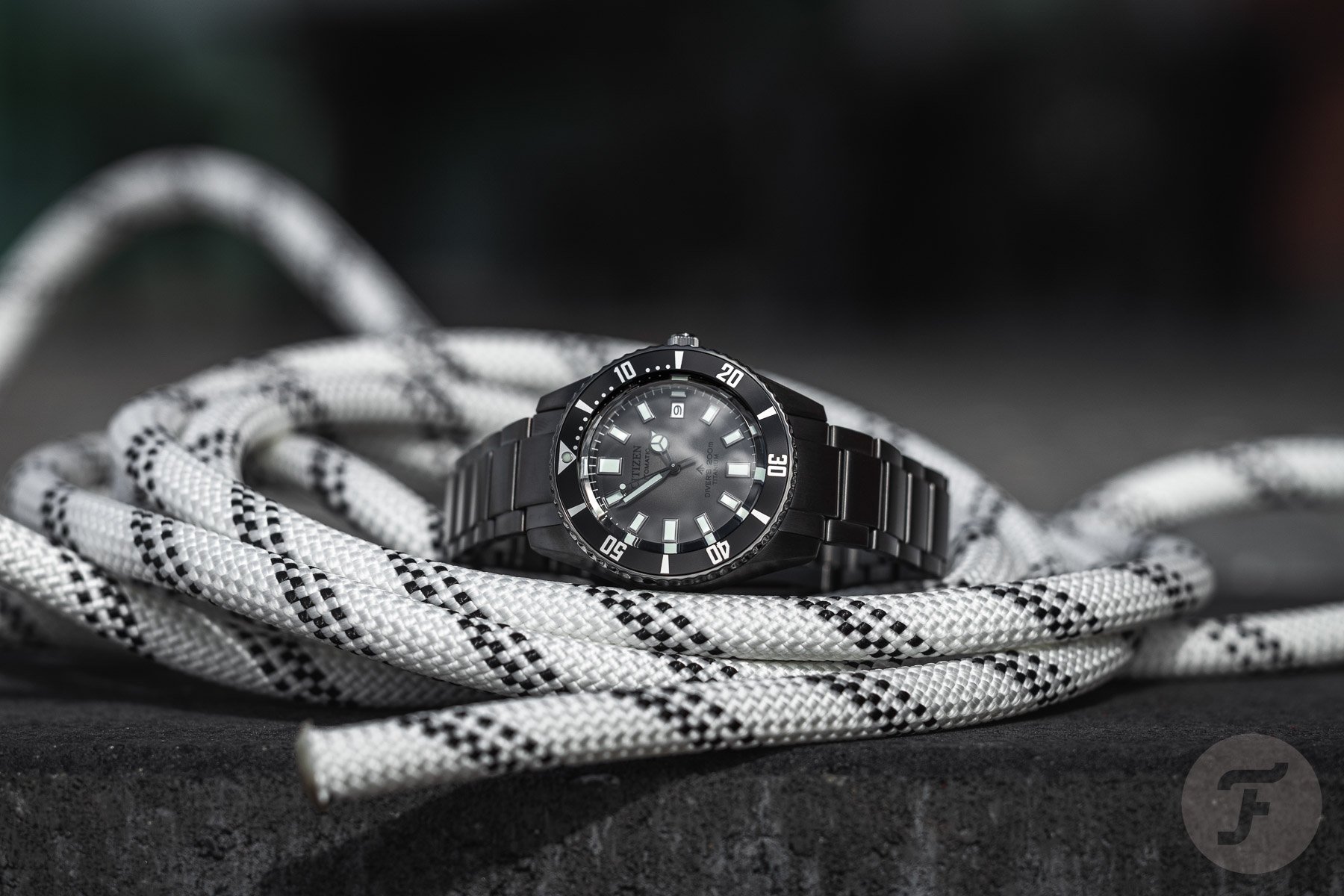 Final thoughts on the Top 5 blacked-out watches
As always, this list could have been three times as long because there are simply tons of options. Some other recent releases that come to mind are the black DLC version of the Citizen Promaster Mechanical Diver 200m, the G-Shock's Remaster Black Series, the Zenith Pilot Watch in all black, as well as the brand's Defy Revival Shadow. There are also many more releases that did not come out this year and have become fan favorites, such as the Tudor Black Bay Ceramic or the Omega Speedmaster Dark Side of the Moon.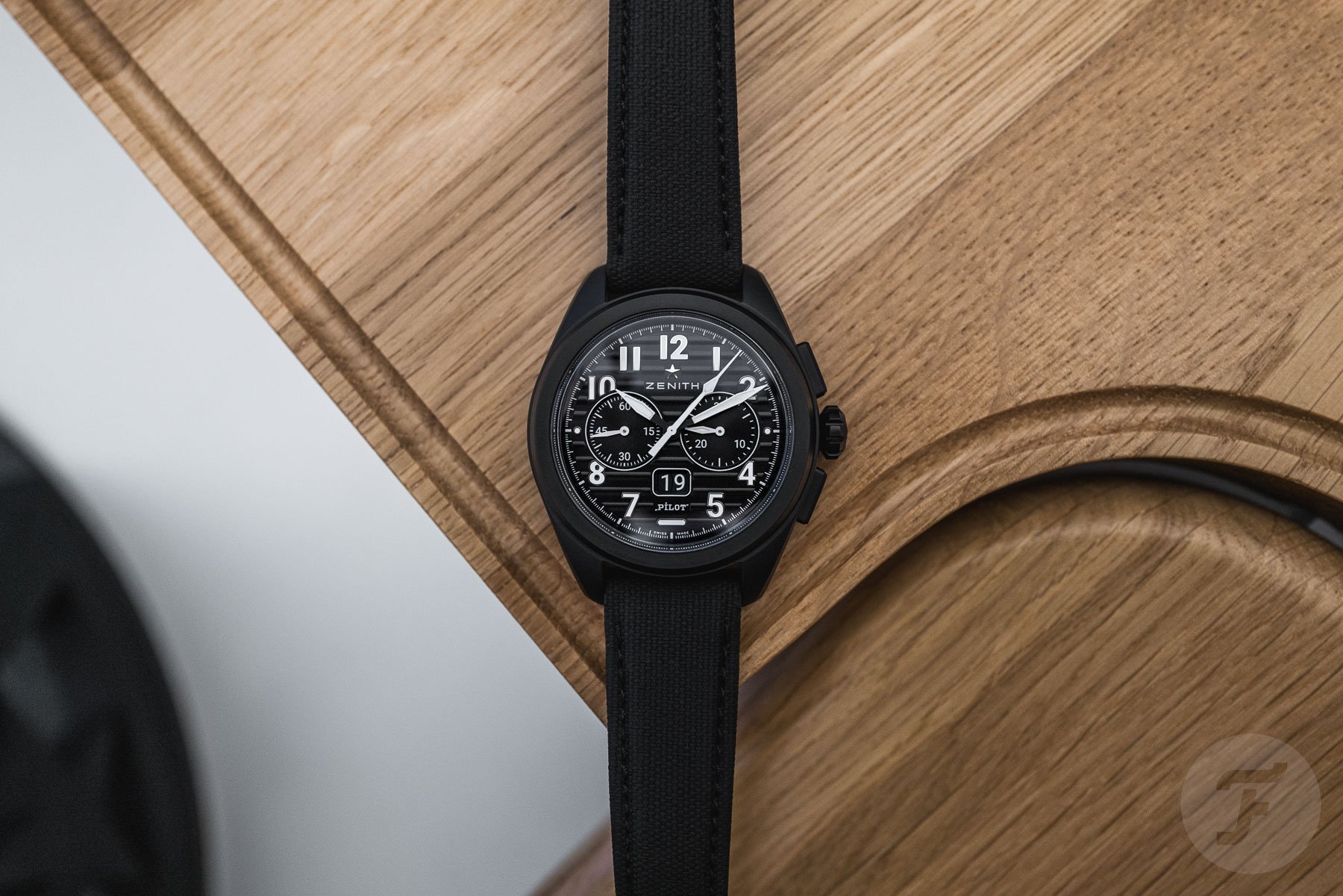 Overall, it is safe to say that blacked-out watches are here to stay. But what are your thoughts on this stealthy aesthetic? Would you ever buy a fully black watch, or would you rather stay with a more traditional look? Please let us know in the comments section, and we'll see you next week for a new Top 5.