Introducing: The rakish charm of the Glashütte Original Senator Excellence Perpetual Calendar Limited Edition
A salmon-icious slice of useful complexity
Glashütte Original is the quirky cousin within the Swatch Group, allowed to inhabit its own niche, and understandably so. Their Senator collection has old-world charm and strict formality in equal measure, and this time with a dazzling pop of color. This is a bold take on mid-century panache, with the flash of salmon, which GO refers to as "rose opaline". The Glashütte brand has certainly made a name for itself with its dial-mastery. There is a rich tradition of combining the useful yet still mind-boggling complications within a perpetual calendar with this warm hue, but this is different. From the recently reissued Breitling Datora to the mythical Patek Philippe 5270P, the precedence is as strong as designs are similar, but not here.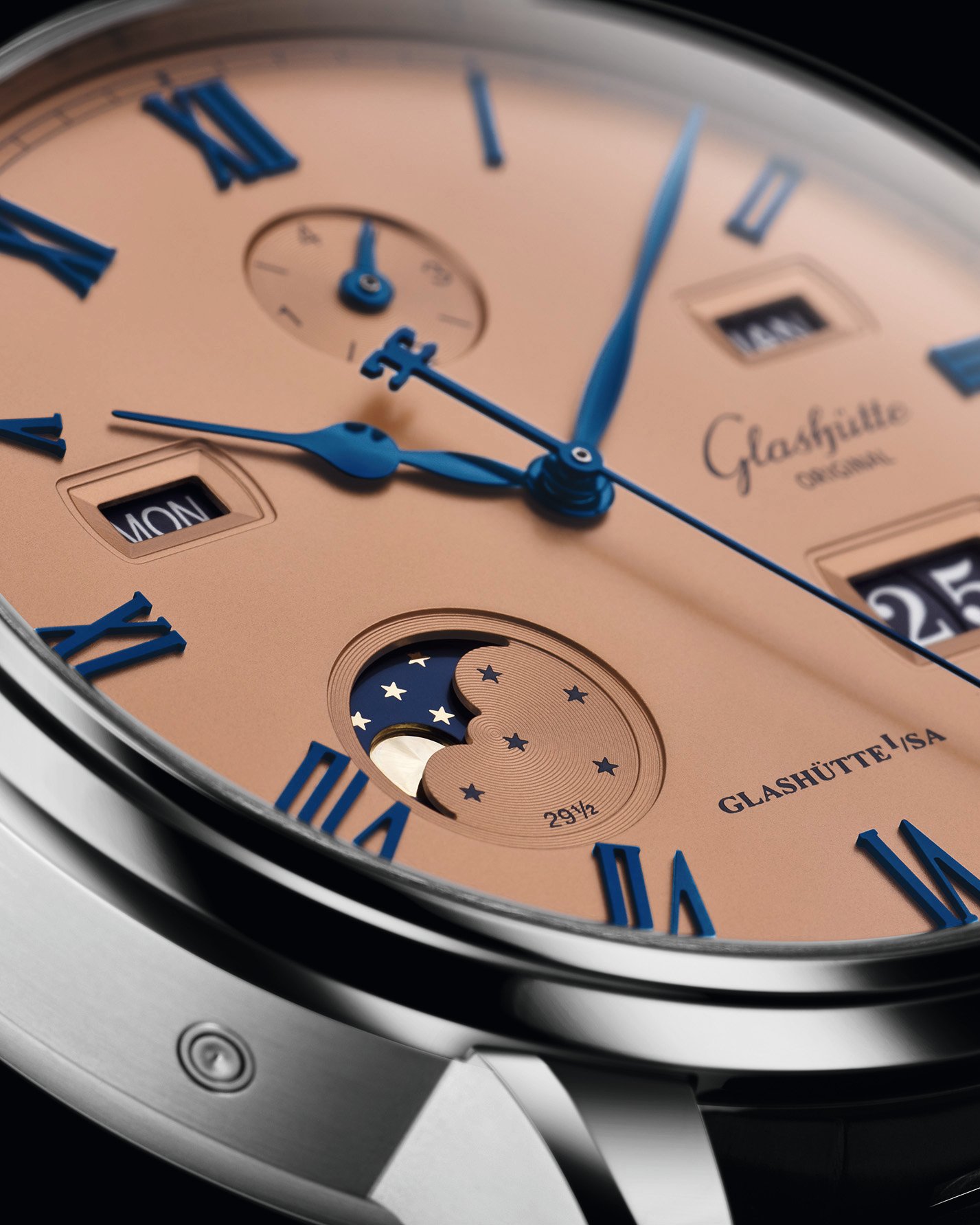 This Senator enjoys a cocktail party with the right crowd
As if pulling in the skunkworks design team behind their luscious Sixties and Seventies collection, this Senator is not going to his office. No, he's wearing a cropped leg sharp Brioni suit and taking his Ducati to a raffish cocktail party. The 42mm case of the Glashütte Original Senator Excellence Perpetual Calendar Limited Edition (GOSEPCSLE, perhaps?) acts as a calm counterpoint to the dial art. It might seem on the large side, but there is a lot of knowledge to convey within the dial, and this salmon-icious elegance deserves a large enough canvas. I have tried on the previous version of their perpetual calendar, and this is a superb example of ergonomic case evolution, all polished with a touch of beveling on the lugs and stepped bezel.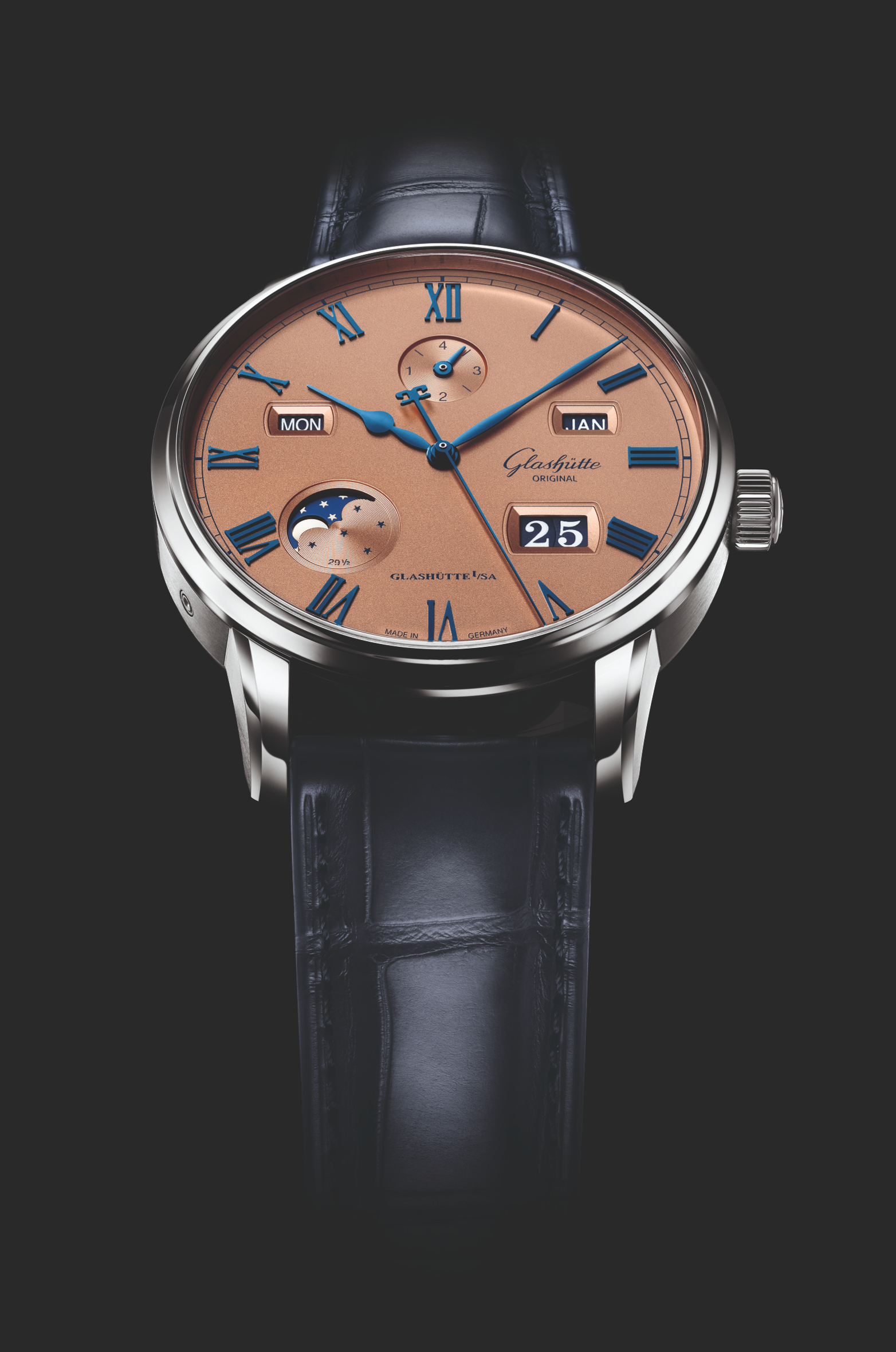 A dial-centric piece
Yes, the Glashütte Original Senator Excellence Perpetual Calendar is all about that beautiful rose opaline dial. While you might notice the delicate dark blue of the Louisiana alligator strap being an oh-so-perfect match to the blue accents, just give up. The dial pulls you in like few others, with what seems like a haphazard mix of apertures designed to confuse you. Look again. Glashütte Original manages to endow the complexity of the perpetual calendar with a crystal clear and intuitive legibility. The leap year indicator sits unusually prominent at 12, snailed and with a perfect blued pointer. Day and month sit by 10 and 2 inside classic GO apertures, with a perfect mid/blue background and white modern font.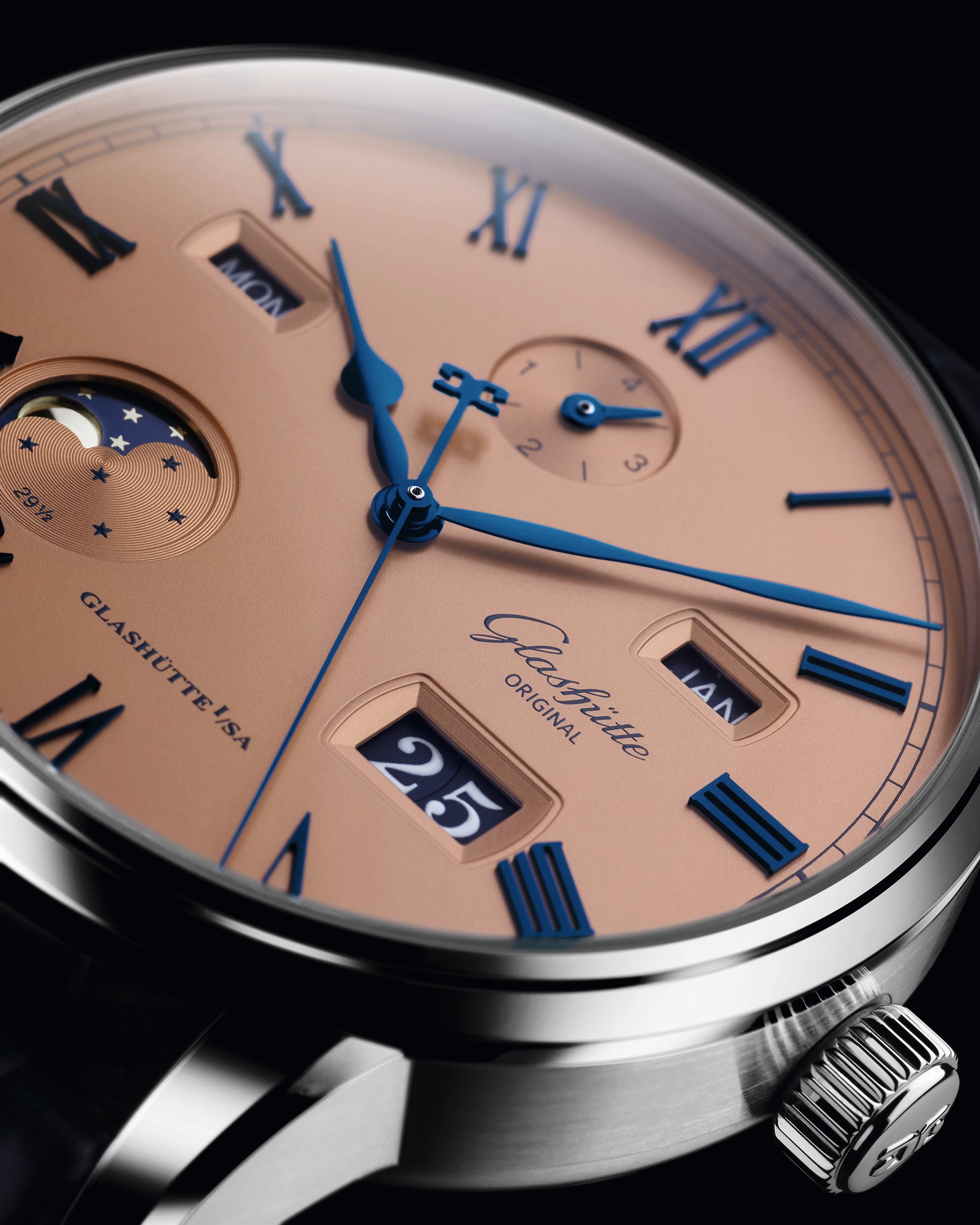 Luscious legibility
The well-known dial manufacture of Glashütte Original has performed flawlessly with the chameleon-like galvanic coloring of the dial ensuring a mix of flash and function. Silky-grained luscious in the right light, my favorite here as a dial-a-holic. The moon phase at 7:30 is recessed with a step, 5 gold stars, and a rich blue night sky revealing a pop of gold in the moon. This keeps the balance juxtaposed with the big panorama date window, its twin discs ensuring legibility, and surely silencing any date window-naysayers out there.  As if written by the watchmaker with a sharp quill, the logo sits offset in blue at 3, and for some reason it all gels. The bottom half of the dial is asymmetrical as anything, but the larger moon phase gets its match in the deep blue date window and logo, in a quirky wrong-but-right vision of copper pink.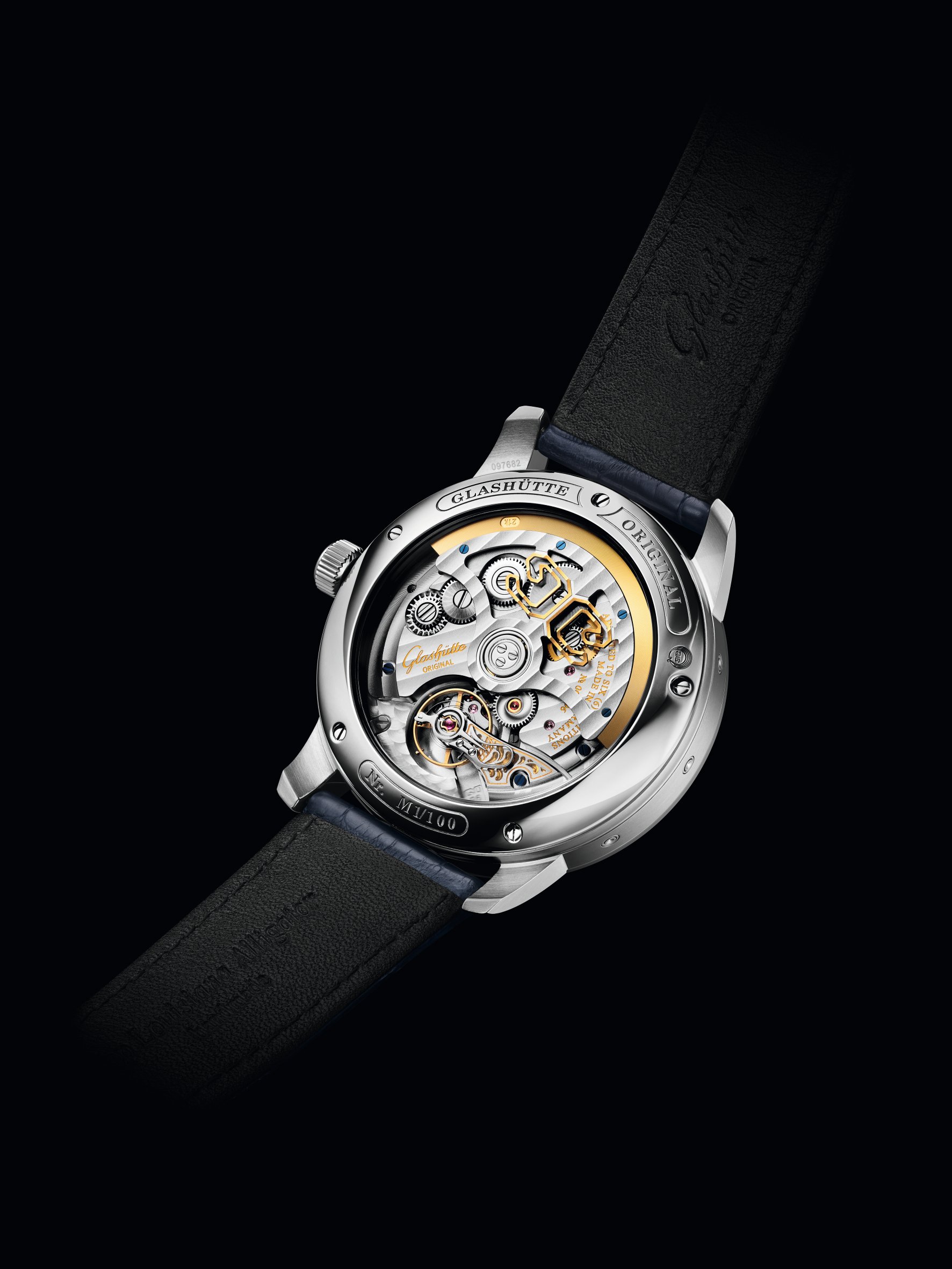 Complex but friendly
This is a complex dial design, but balanced, and made perfect by the bold blue color choice. Down to the tall applied Roman numerals and classic spade and Feuille hands, it's a bold take on classicism and simply refreshing. Turn it around and you'll be faced with the decorated 36-02 manufacture caliber, a 4hz, 49 jewel piece of intricate German micro/engineering. If kept wound at all times, it would provide an accurate calendar until the year 2100, a novelty that never gets old, and still baffles nouveau-horophiles. And it is user-friendly with it, something which is not always the case. There's a pusher on the case band to adjust the day, date, and month at the same time, and the Glashütte Original caliber 36 is a true gem. The base caliber has a brilliant power reserve of at least 100 hours, with one large spring barrel, and well-known reliability.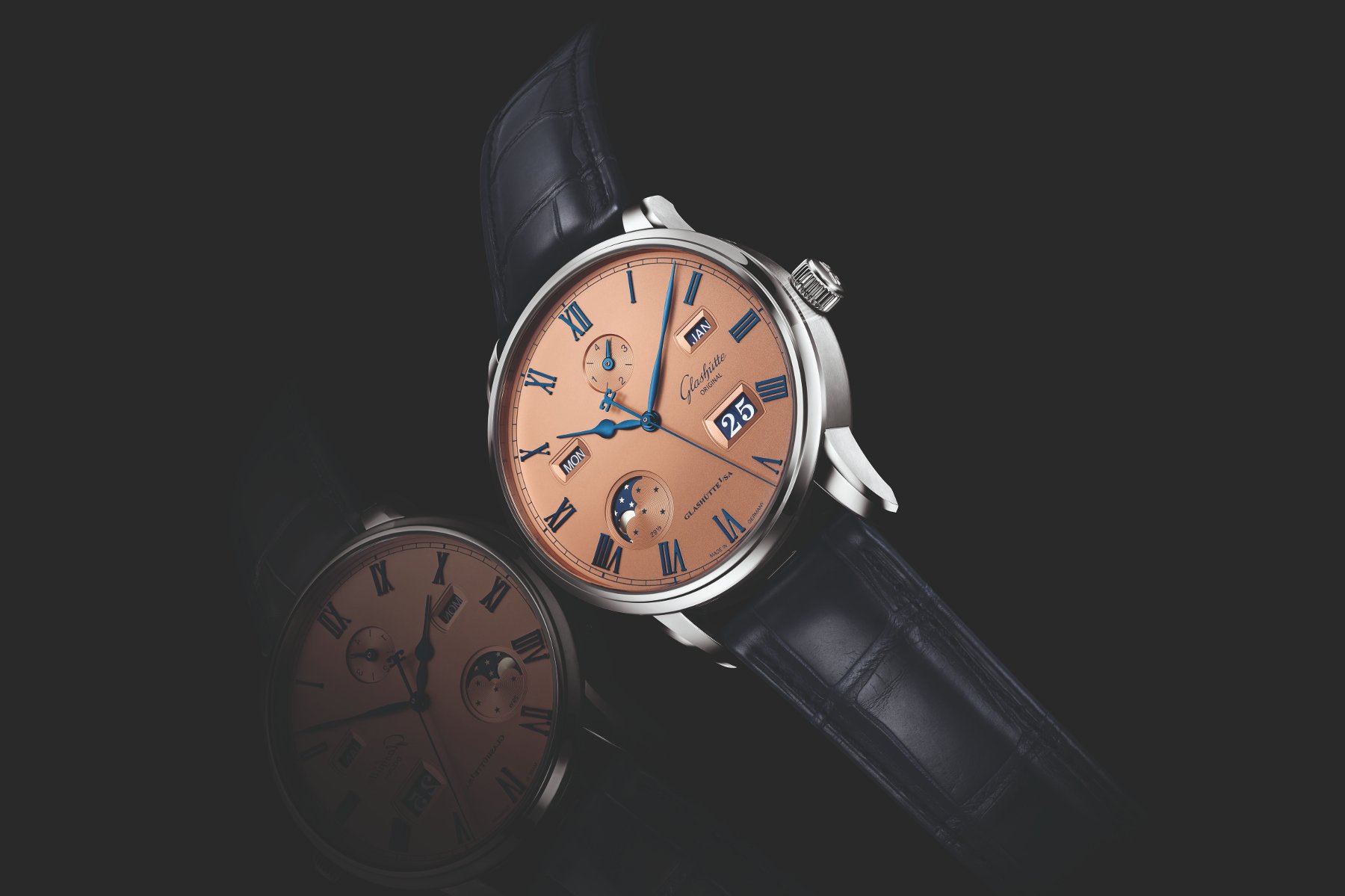 Limited and tempting
Priced at €20,500 the Glashütte Original Senator Excellence Perpetual Calendar is an investment, in one of a mere 100 pieces of Haute Horlogerie with a German twist. Get out of your monochrome comfort zone, and you'll find a superb option for that special piece of complexity within a collection. This is a strong reminder that while all the dial information is readily available on a device supposedly made for talking, it means much more. The mere calm that imbues the rich copper pinks and blues of the dial speaks a different language, and God? Well, he is in the details.
For more information visit the Glashütte Original website here.