Hamilton Intra-Matic H Chronograph Is My Favorite So Far
A Manual Masterstoke For Under €2,000
It's fair to say the Hamilton Intra-Matic gets a lot of airtime on Fratello, but with good reason. Since its (re)release, it has been one of the most praised watches in its segment. Earlier today, we broke the release of the Intra-Matic Chronograph with a green dial. It was an olivine stunner that wowed the team, but what I have for you this evening might top even that… Proving that less is sometimes more is the newly-released Hamilton Intra-Matic H chronograph.
Upon first glance, you might not be able to tell exactly what's new about the "H" variant of Hamilton's now-famous Intra-Matic, but the differences are quite significant. Majorly, this watch is hand-wound. And while that is certainly the biggest change from the "original" Intra-Matic, it doesn't affect the visual appeal quite as much as one other teensy little change…
Go on. Have a good look at it. Can you spot the difference? Once you realize the change you won't be able to take your eyes off it. Or, maybe that should be, "you won't be able to take your eyes off where it should be." That's right, this variant brings us creamy panda and inverted panda dials without a date window at 6 o'clock.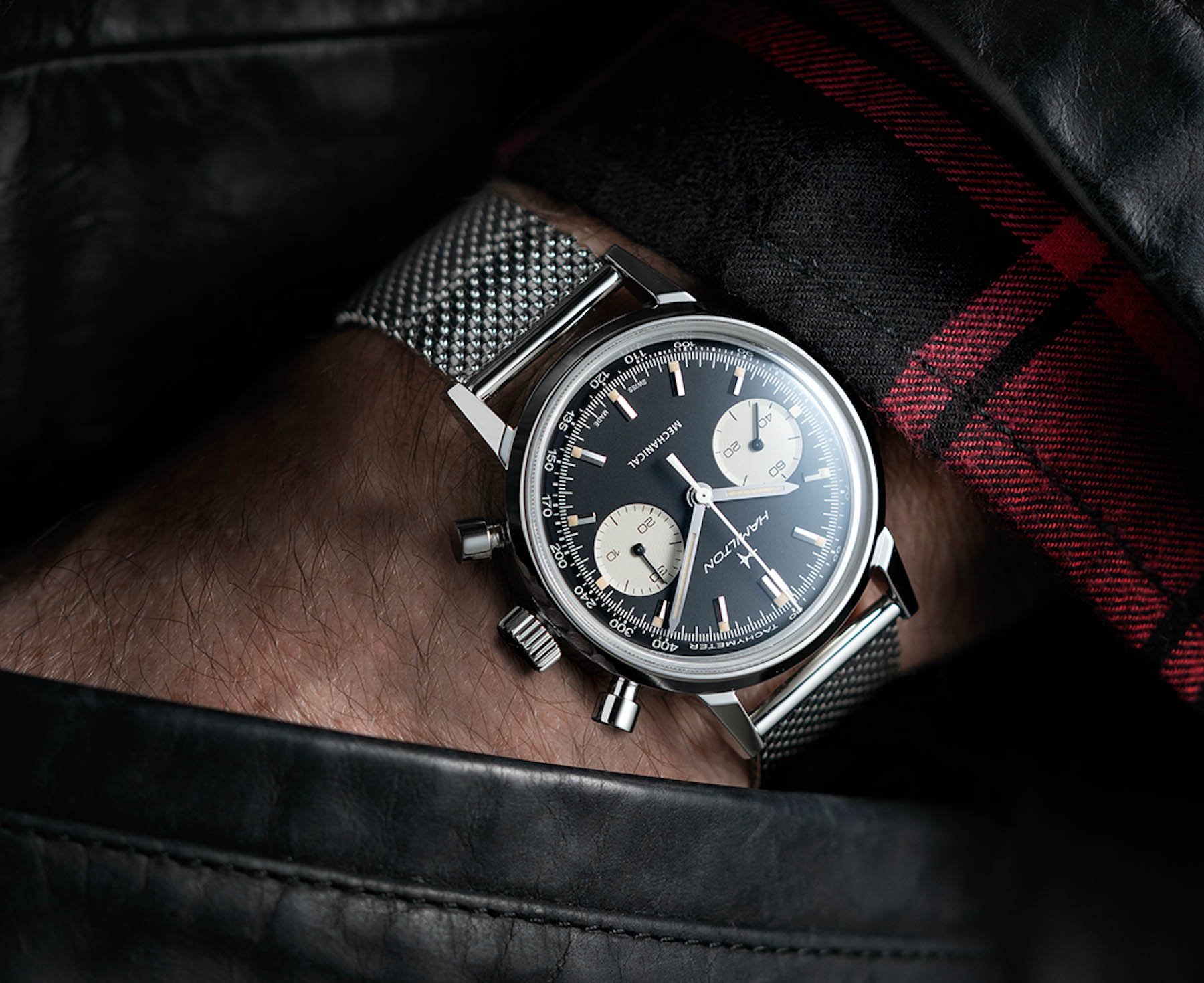 Small changes=big characters
In watchmaking, as with all fields of design, it is the little things that count. "Small" changes don't really exist, but seismic stylistic selections like adding or dropping a date window are often expressed as such. Let's not fall into that trap. On a time-only timepiece, adding a date doubles the effective complications. On a basic chronograph, a date would represent 33% of the watch's functionality. An overstatement? Perhaps, in terms of importance, but valid nonetheless (I think you get my point). The little things are big things. And here, this change really is a big thing in my mind.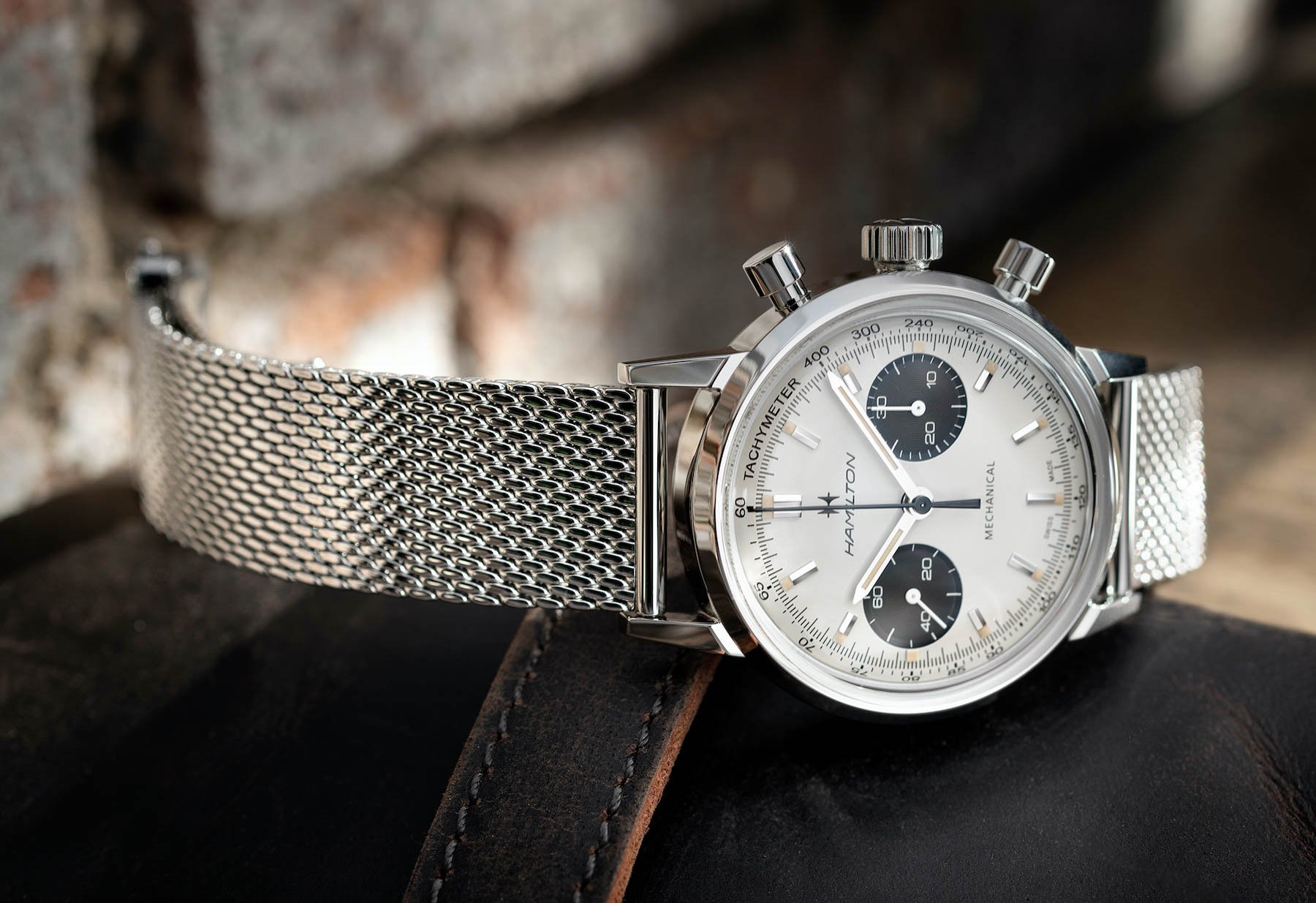 Okay, Hamilton, you've got me
I'll tell you a secret: I saw this release at the same time as I saw the green dial version. Well, to be precise, I saw this release ten minutes after I saw the green dial. I had been so taken by that sage-shade of green, I thought I might have to stump up the cash there and then for the verdant version, but then I saw this beaut (the cream panda, of course) and fell in love all over again.
I really admire the Hamilton Intra-Matic. We often talk about it as a prime value proposition, and I stand by that. However, it would be a lie if I said it hadn't left me a little cold in the past. The green dial started my conversion; the Intra-Matic H has completed it. That's a pretty rapid turnaround, but a rollercoaster I'd gladly ride daily if only I were tall enough for most theme park attractions (you'll find me on the tea-cups with my mum).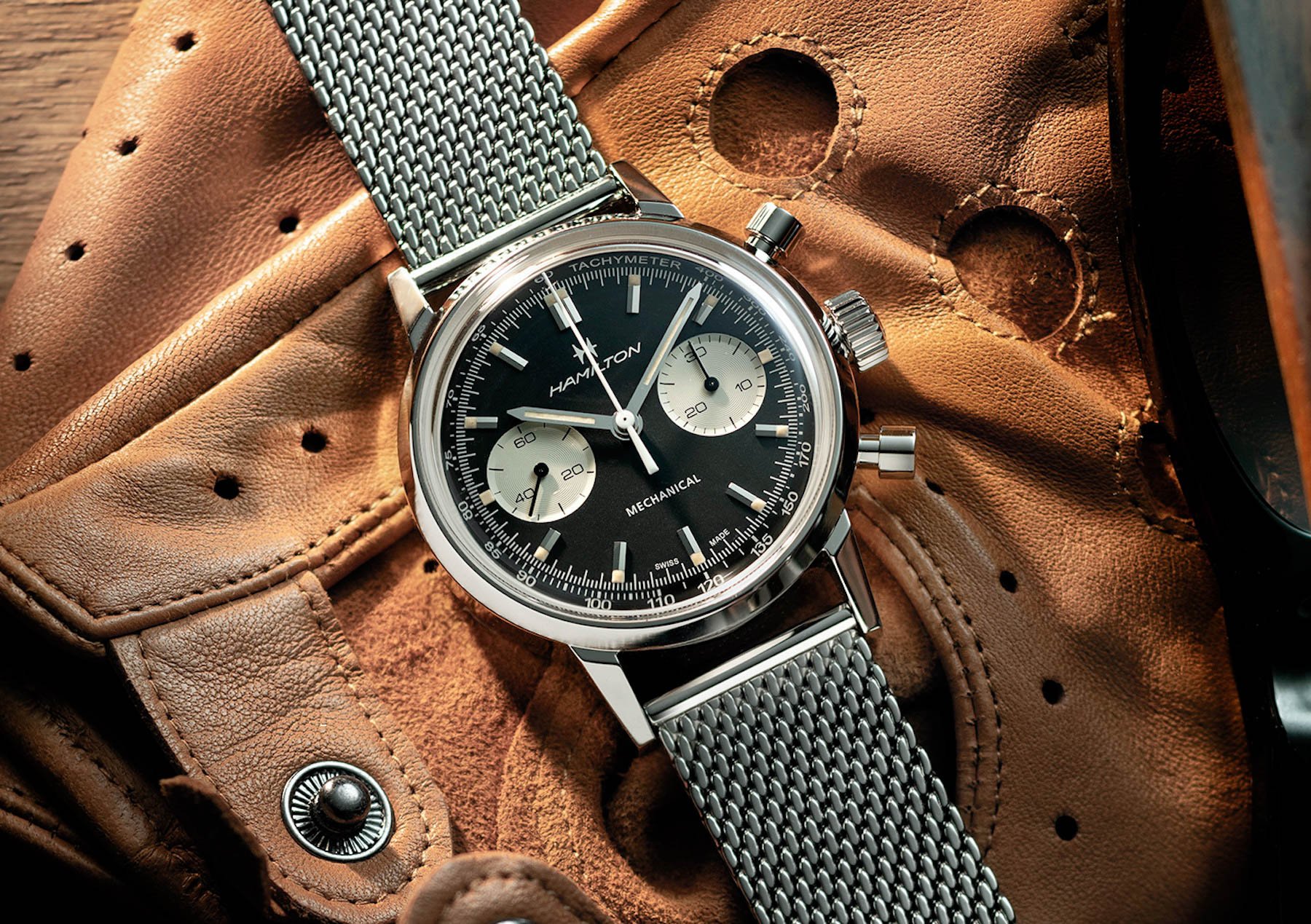 How did this happen?
It all comes down to temperature. To me, the "original" model, adored by Jorg (and written-up favorably in this review), was put on ice by the stark white date window that, to me, crashed the creamy party of the dial. When the green version came along in March, I hadn't yet countenanced the possibility of eliminating the date entirely so I found myself asking the same questions of the design.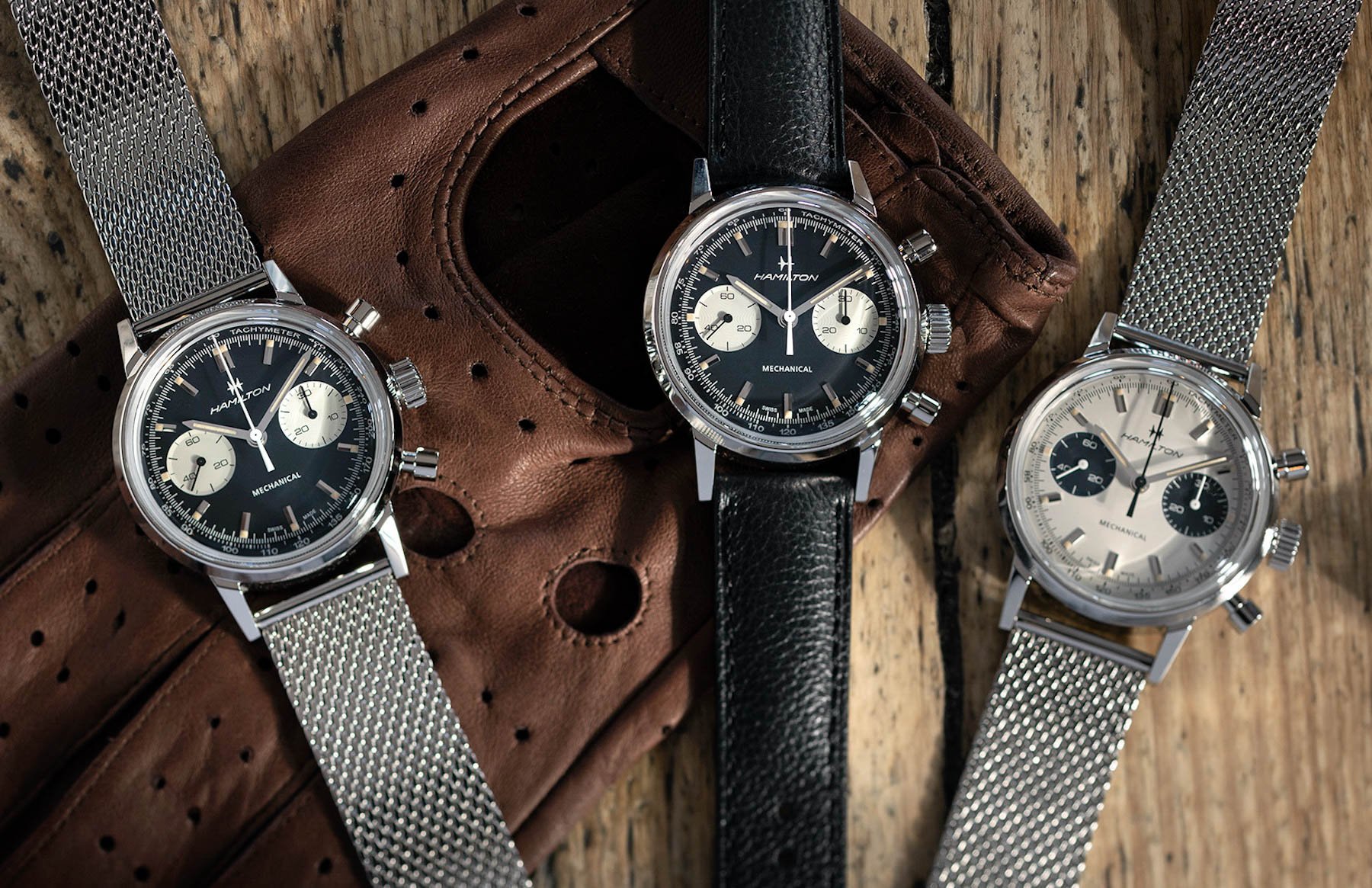 With that model, I accepted it because I felt the green dial base and the creamy tachymeter scale along with the white dial text were sufficiently cool all over. Everything seemed to mesh. There weren't as many stark contrasts. I was happiest with that design. Happiest, that is, until this one came along.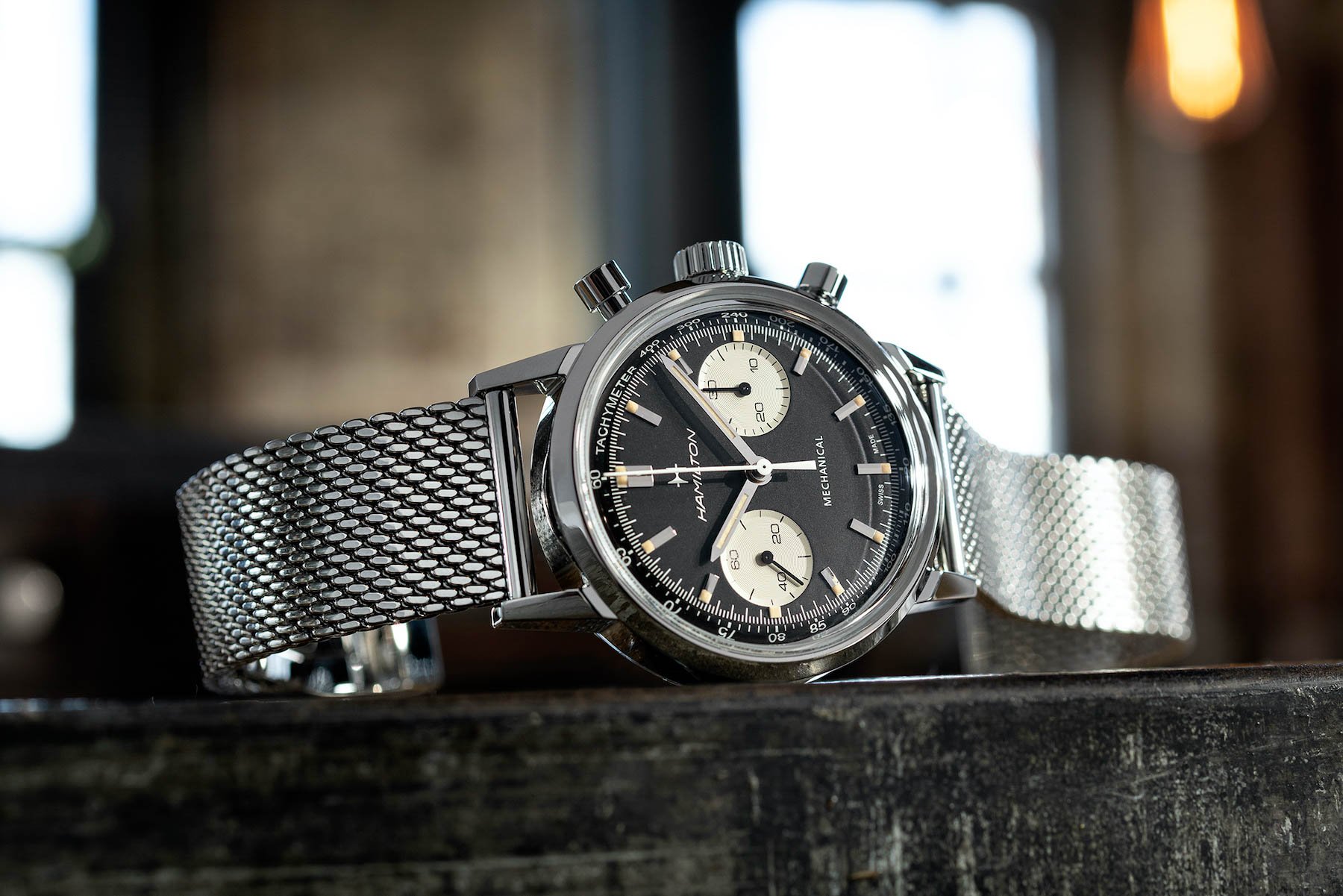 The absence of that date window and the use of rich, pumpkin-patina lume is an absolute treat. There will be those that hate this faux-patina, but here it looks simply glorious, in my opinion. It looks especially good on the cream dial (reference H38429710) as this visage is entirely free of the color white. It is undoubtedly my favorite piece in this collection ever and, on the strap, which I would prefer over the bracelet, this model is just €1,895. The black dial version on the leather strap (reference H38429730) is the same price. Both models on the Milanese-style bracelet are €1,945 (references H38429110 and H38429130 respectively).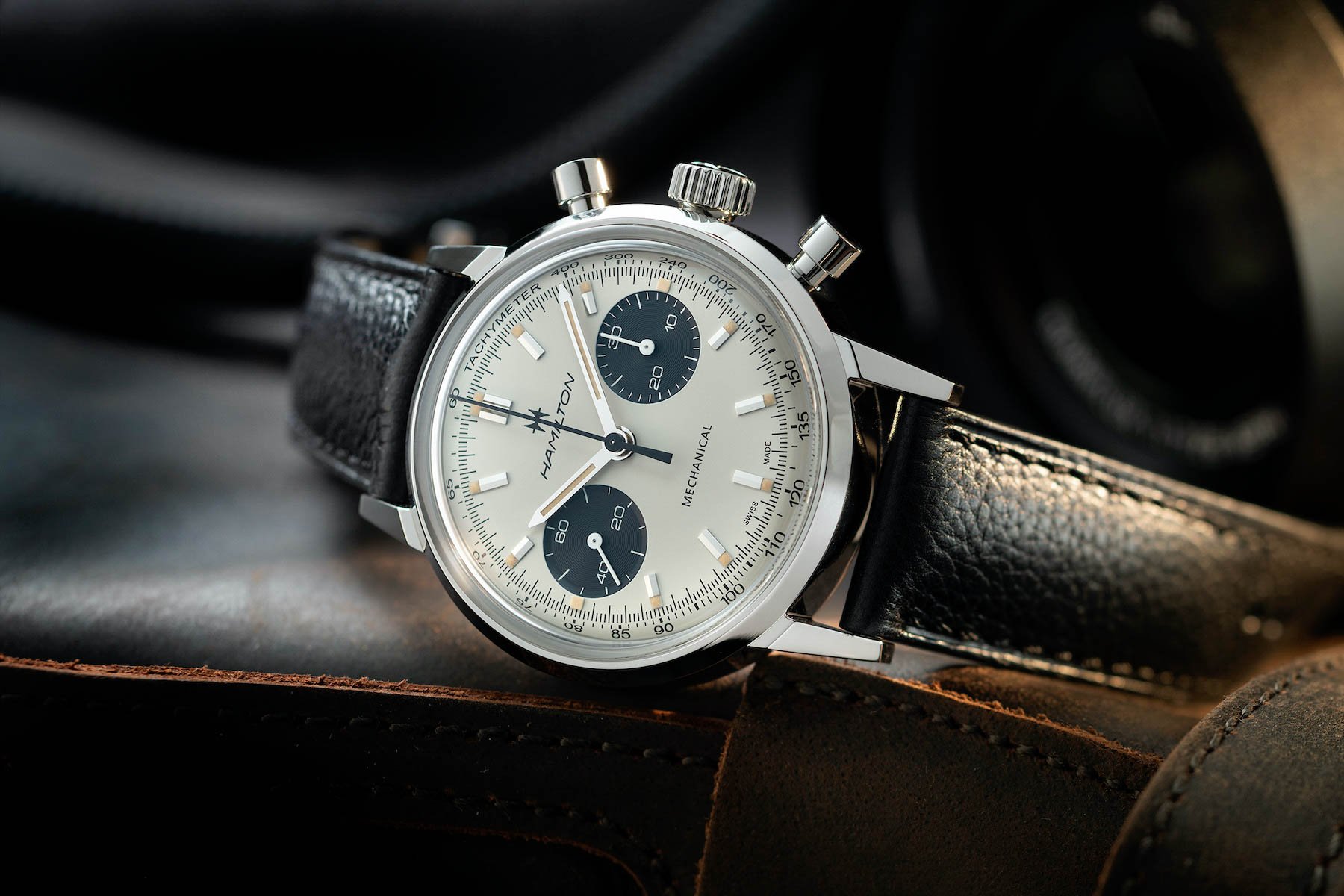 A new movement for your watch box
What we have here is a return to hand-wound chronographs for the Hamilton heritage collection. In my mind, this is a very, very welcome shift. I love manual movements. I especially love manual chronographs. Why? Because they look awesome, simplify a complication that is complicated enough in my opinion, and present the opportunity for slimmer cases.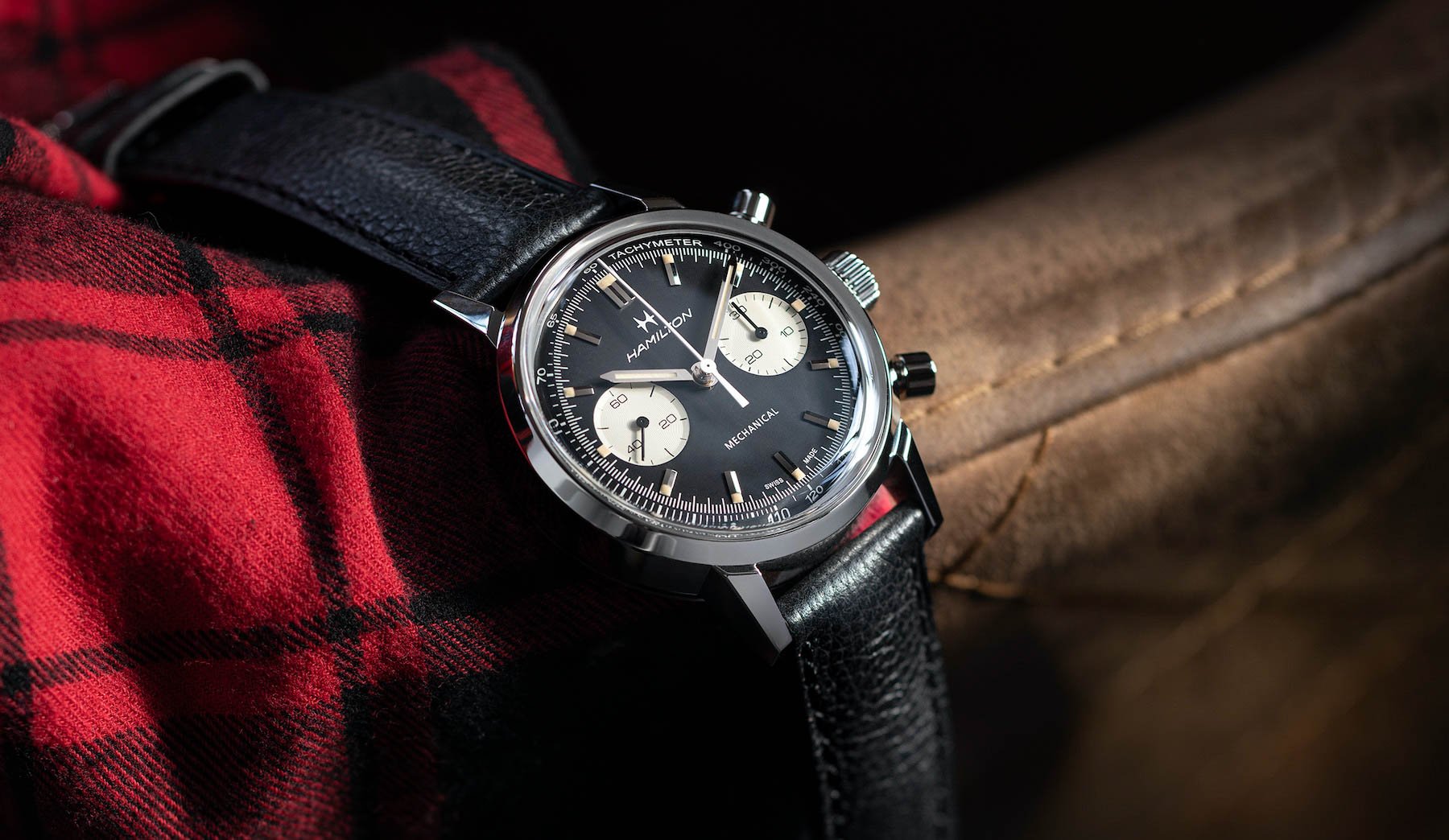 The movement in question has been dubbed the H-51. Like the automatic H-31 you would find in the previous iterations of the Hamilton Intra-Matic family, it has a 4Hz operating frequency, and a boosted power reserve of up to 60 hours, which is pretty impressive for a manually-wound chronograph.
…it might end up ruining the rest of the industry for me.
Now, while it is true that the manually-wound Intra-Matic H is slimmer than its automatic counterpart by 0.1mm (coming in at 14.35mm instead of 14.45mm), this is the one thing I don't love about this watch. Visually, it works just fine thanks to the relatively slim bezel and the tachymeter track being printed directly on the dial, but I would have fallen off my chair if it had turned out a millimeter or so slimmer. But I'm not going to grumble too much for one simple reason: if Hamilton ever produces a super-slim version of this chronograph, it would be so perfect in my eyes, it might end up ruining the rest of the industry for me. Learn more about Hamilton here.