Hands-On Omega Seamaster 300 Spectre Limited Edition Review
Omega was so nice to ship us their new Omega Seamaster 300 Spectre limited edition for a hands-on review. Now, I am more a Speedmaster kinda guy, but the Seamaster 300 made a very good impression on me from the start. This might have to do with the roots of both watch collections, that are so close and go back to 1957. Omega introduced the Seamaster 300 CK2913, Railmaster CK2914 and Speedmaster CK2915 that year, all with the same type of watch case, broad arrow hands and purpose (professional use).
Spectre will be the 24th James Bond movie and a lot of watches have been used since the first adventure of 007 on screen (Dr. No). Since 1995, Omega has been the proud supplier of James Bond's timepiece. We recently did a write-up on all Omega Seamaster watches that were used in the James Bond movies and the watches that were introduced as a limited edition to commemorate that specific Bond movie. You can find that article here. The watch on the wrist of James Bond in Spectre will be this Seamaster 300.
Omega Seamaster 300 Spectre 233.32.41.21.01.001 Review
Let's forget about the James Bond movie for a minute and let's pretend it was just a Seamaster 300 that belongs to the regular collection. We will get back to the James Bond part later on again, to talk about keeping its value and the special package and limited production run of this watch.
Innovations Included
The cool thing about this Omega Seamaster 300 Spectre is that it comes with all recent innovations done by Omega. If you look at the Seamaster 300M (note the M, totally different and has nothing to do with the '300' collection) that was used in Golden Eye and Tomorrow Never Dies as Bond's watch, this Seamaster 300 shows how much has changed over the past two decades at Omega. It was the time when Rolex still shrugged their shoulders regarding Omega perhaps, but today – 20 years later – I am convinced they are watching them very closely.
This Omega Seamaster 300 Spectre comes with the in-house developed and produced caliber 8400 movement, a ceramic bezel with LiquidMetal hour-scale and a new bracelet as well as a Bond NATO-strap. Furthermore, the watch has a wonderful and timeless design based on that very first Seamaster 300 CK2913 in 1957. Omega had a lot going on in the 1950s with their flagship Constellation watches, Seamaster Calendar watches and since 1957 of course the Seamaster 300, Speedmaster and Railmaster. For collectors a wonderful period to collect (Omega) watches from. It was a great move from Omega to decide to bring back that classic Seamaster 300. The name confusion with the aforementioned Seamaster 300M is something that I can accept.
In short, the Omega Seamaster 300 Spectre is packed with all the good things Omega came up with in the last 15 years (or since 1999, when the Co-Axial was introduced in the De Ville) combined with the classic aesthetics from the 1950's and 1960's. What could go wrong? Well, let's have a step-by-step look at the watch.
Omega Seamaster 300 Spectre Dial
One of the first things to notice, if you compare the dial of this Spectre limited edition to the regular collection Seamaster 300, is that the printing of the logo and name is a bit different. The Omega logo, the Omega and Seamaster wording and the position has changed. The Arabic '12' has been removed and instead, the logo and wording has been moved up a notch. Omega made the printing a bit more bold as well. Not sure if I am a fan of that per sé, but it surely did not bother me when I wore the Seamaster 300 Spectre on my wrist. I can only assume that the reason for Omega to do this is to have their name and the name of the watch clearly on the screen of every James Bond Spectre viewer.
The rest of the Omega Seamaster 300 Spectre dial is identical to the dial of the regular Seamaster 300, for the steel models that is. In total, Omega has now 15 different variations of the Seamaster 300 (Spectre included) where they use stainless steel, Sedna gold, a combination of those two, yellow gold and titanium. There are some variations in dial colors and hands. The Broad Arrow hands are identical to the regular collection as well, except for the white lollipop second hand.
The dial might appear as a sandwich dial, something we've seen by Officine Panerai and some other brands, but this is not the case. The hour markers are etched out and filled with Omega's "vintage" Super-LumiNova as you might have seen in our recent in-depth Speedmaster '57 Caliber 9300 review. The Omega logo and name are printed in a silver-ish color while the 'Seamaster' word is in the same color as the "vintage" Super-LumiNova.
Omega made sure to make everyone aware of the fact that this watch has the Master Co-Axial Chronometer movement by printing that on the dial as well, located at 6 o'clock. About a year ago we've informed you about the METAS standard, when Omega was planning to used the "Officially Certified" definition to indicate their watches met certain strict criteria, but that name is off the table. Even though this watch is resistant up to 15,000 gauss, it is not a METAS certified as Omega has other watches lined-up to be the first to comply to every METAS standard. More details below when I talk about the movement.
The dial is matte black and has a bit of a grainy structure. It looks very cool and a wise decision to use a dial with matt finish instead of a glossy dial.
Omega Seamaster 300 Case And Bezel
The Omega Seamaster 300 Spectre case measures 41mm in diameter  which is a great wearable size for a modern sports watch. The case is made out of stainless steel and has a sapphire crystal on the front and caseback. The top of the case has a shiny polished finish, the case band has a matte brushed finish and a polished facet between these parts to separate them properly. The case shape and design is very similar to the Seamaster 300 CK2913, a job well done by the designers at Omega. It is so easy to mess this up. Actually, I think I've seen more retro watch models that were off than retro designs that really succeeded. No critical comment about the case? Well, the case sits rather high on the wrist. It is a thick case compared to the diameter, so you might have to get used to that. For me it was no problem, I am a tall guy with fairly large wrists.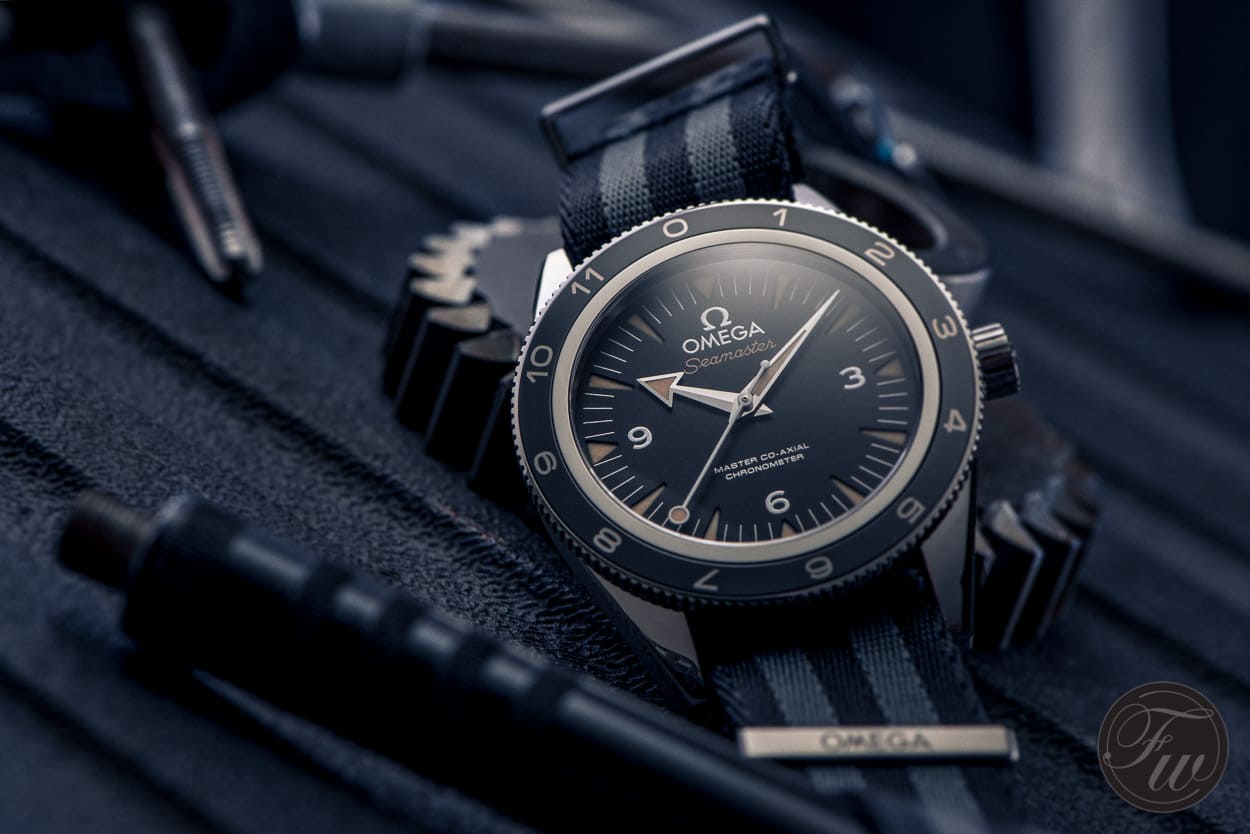 The ceramic bi-directional bezel has an hour-scale in LiquidMetal. This means you can rotate the bezel in both directions, and use it to read the time in a different timezone. It is a bit odd to put this on a diving watch, where normally a diving bezel would sit, but I don't know whether there is a relationship to the Spectre movie in this case. Perhaps this watch plays a role in this movie, the bezel being a cool "007" gadget. When I published a photo of this watch on our Instagram feed someone commented on the bezel being bi-directional instead of uni-directional, despite he understood it was an hour-scale. I don't see any issues in this bezel being bi-directional to be honest, and it would personally annoy me to have a GMT/Hour-Scale bezel only in one direction.
The caseback of the Omega Seamaster 300 Spectre shows the caliber 8400 movement and of course indicates that it is a Spectre Limited Edition of 7,007 pieces.
The Omega Caliber 8400 Movement
I already showed you the movement in the image above, which – luckily – is becoming a common sight for Omega watches. I can't stress enough sometimes that Omega is a different brand it was 20 years ago. Their in-house Co-Axial movements in the 8xxx and 930x range are a perfect example of that. This caliber 8400 is anti-magnetic up to 15,000 gauss.
A few months ago, we featured the Speedmaster of a German radiologist in our Speedy Tuesday feature. He also owns the Seamaster Aqua Terra > 15,000 Gauss edition and wrote us: " I know for certain that the >15,000 Gauss still works when you bring it in a 3,0Tesla (30,000 gauss) MRI – we have tried!".
15,000 gauss might sound over the top, but we are surrounded by magnetic fields. Especially today, with our tablets, smartphones and so on, magnetic fields are everywhere. It is one of the biggest issues for mechanical movements. Where other brands like IWC and Rolex fight magnetism by using a soft iron case or specific case construction, Omega came up with a solution at the core, the movement. Special alloys enable them to make the movement anti-magnetic up to 15,000 gauss (according to the radiologist quoted above even more) and enables them to put a sapphire in the caseback so the owner can enjoy the view of the inner-workings of his or her watch.
The caliber 8400 movement has a power reserve of 60 hours by using two barrels. Furthermore, the movement uses a free sprung-balance with silicon (Si14) balance spring and the bridges and rotor have this nice decoration with exclusive Geneva waves in arabesque.
NATO Strap and Bracelet
The Omega Seamaster 300 Spectre comes with a NATO strap (or Bond-strap) and a stainless steel bracelet. The NATO strap is the typical James Bond NATO strap, with 5 stripes. The keepers of the strap are engraved with '007' and 'Omega'. Now, in all honesty, I am not a fan of NATO straps but the quality of this Omega NATO strap is just awesome. I spoke to an Omega retailer two weeks ago, and he told me that there was a huge demand for these straps from his clients. I can imagine. If you love NATO straps, you have to try one of these. As a spare, these Omega branded NATO straps certainly aren't cheap, but the quality is certainly there. However, €235 Euro for a NATO strap is beyond funny. It is a good thing the NATO strap comes with the watch (just for the idea, of course).
Price aside, it is a good and comfortable strap and the finish is way better than the cheap NATO straps I've piling up in one of my drawers. Let me put it this way, I haven't come across better ones.
For those – like me – who aren't much in favor of NATO straps, can attach the new design Omega bracelet to this watch. The Omega Seamaster 300 Spectre comes with a set of extra spring bars and a changing tool (as well as a loupe). So with a bit of patience, you can do it yourself. If you don't trust yourself, you can take extra measurements like taping the lugs and part of the bracelet to prevent scratches if you are going to hit the watch or bracelet accidentally with the tool. Another option is to just ask the Omega retailer or boutique to do it for you.
The matte brushed finish bracelet is a feast for the eyes, and has "007" engraved in the clasp as well. The regular Omega Seamaster 300 comes with a PCL (Polished Center Link) bracelet, but this one has a totally brushed finish. It seems Omega has been listening to the wishes of many of their customers. The bracelet features an extension system that Omega calls 'rack-and-push' and allows you to make an easy adjustment. You basically open the clasp, push a button and then slide the inner-clasp to the desired length. I didn't switch this watch to the bracelet as I didn't want to fiddle around with the watch too much and damage the bracelet.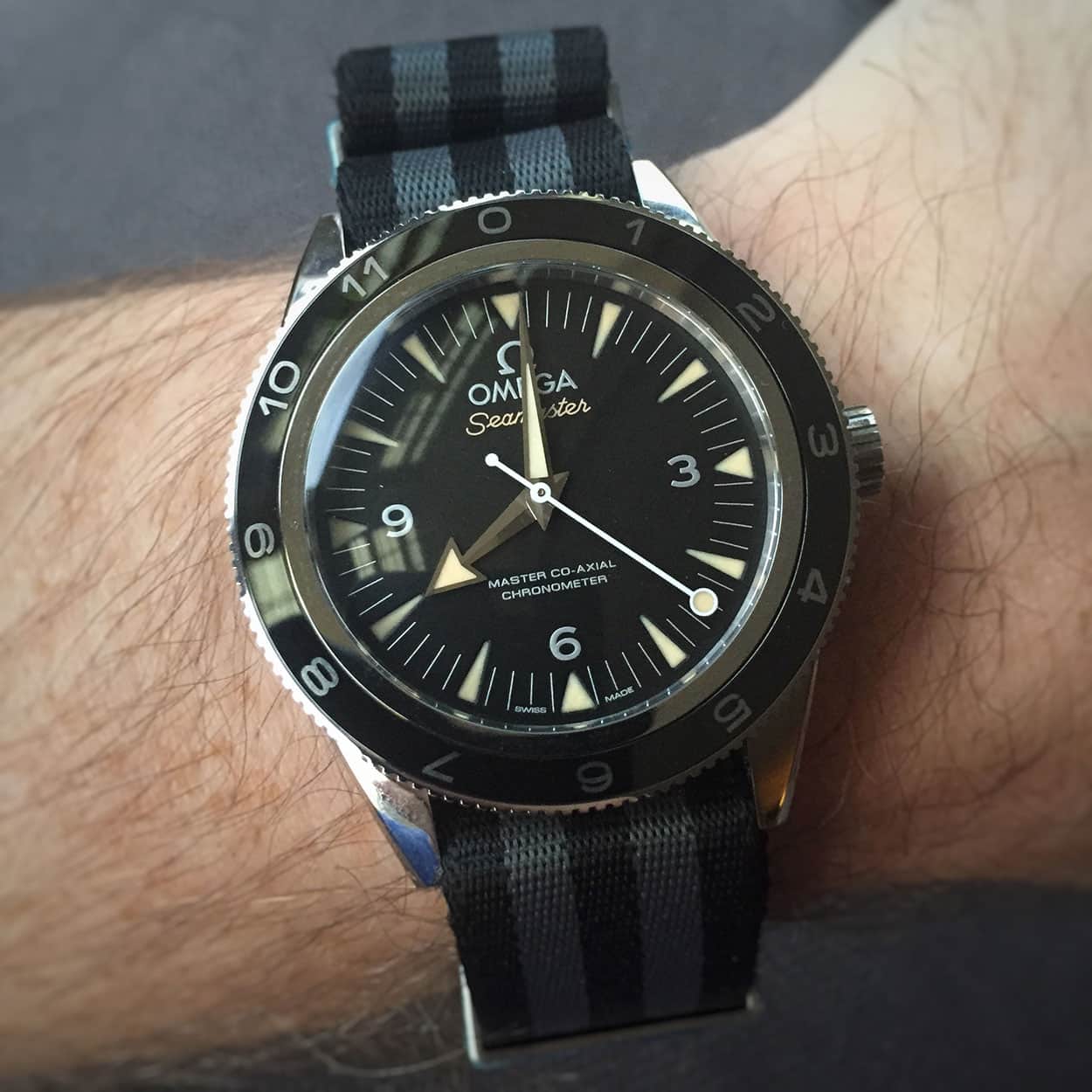 Special James Bond Packaging
For the occasion of the 24th Bond movie called Spectre, Omega made this a limited edition model. Limited could be perceived as relative, as it has a higher production than some other brands have in total. However, for a big name watch manufacturer like Omega, 7,007 pieces is still considered to be limited. Also, the response I got so far on this watch in the flesh but also on our social media channels where I published some "wristshots" is amazing. I can only imagine the global demand for this watch, also because of the Bond aspect of course. So 7,007 might seem like a lot, but I would not be surprised if you would have a hard time searching for this specific model in a few years time when the boutiques are sold out.
I have made my point in the past regarding ambassadorships (I did a write-up on that subject here) and doubted the use of actors, singers, rappers and so on to promote a brand's watches. For some people or cultures it might work, but certainly not for everyone. On the contrary. However, the Bond connection is one that is super strong. Whether it relates to the Rolex Explorer and Submariner, Seiko models or the Omega Seamaster watches he's been wearing, people love that "their" watch was on the wrist of secret agent 007. I've been told repeatedly by retailers and brand representatives that customers specifically ask for the James Bond Seamaster. Next to the Moonwatch, a James Bond watch is a very strong marketing tool, besides being a nice watch.
Omega made something special out of this Seamaster 300 Spectre limited edition. Not only do you get a James Bond NATO strap, a stainless steel bracelet and some tools to change, the box is also quite impressive. The wooden box comes with a code lock, so you have to rotate the wheels to the right combination before you can open it. The 3-digit combination wasn't that hard to guess.
Price and Verdict
The Omega Seamaster 300 Spectre will have a retail price of € 6400 Euro (including VAT). Not only the product changed in the last 20 years, the price increased accordingly. I personally don't see the problem in that, as long as it still makes sense. But does it? To properly judge this I think you need to look at the competition and their prices for similar watches. The Rolex Submariner NoDate is the obvious pick for a comparison, which retails for a bit more. While the Rolex Submariner is known to keep its value quite well, this is where the James Bond Limited Edition aspect might kick in as well. I would not be surprised if this Omega Seamaster 300 Spectre Limited Edition will also keep its value after purchase. However, that is speculation and it is quite tricky to predict the future.
If you take a look at the innovations and quality you will get with this Omega Seamaster 300 Spectre, € 6400 Euro doesn't sound overpriced. The regular Seamaster 300 in stainless steel has a retail price of € 5500 Euro though, so you do pay for all the extras and the fact that it is a limited edition. Is the Seamaster 300 Spectre worth the extra € 900 Euro compared to the regular Seamaster 300? I will leave that up to you, but the brushed bracelet, NATO strap, super sized box with extras and the fact that it is a James Bond special definitely adds (market) value to the watch.
Having that said, I love the Omega Seamaster 300 Spectre Limited Edition while I am not per definition a Seamaster guy. Actually, it might be the modern Seamaster that I would like to own at some point. I also like their ETNZ chronograph (we reviewed it here) which has about the same price tag, but I already have one of those first Seamaster 300M Professional Chronograph watches from the mid-1990s so it would be too similar for me.
For the Rolex Submariner 'Bond' guys out there; this Omega Seamaster 300 Spectre might be a turning point that they finally accept Omega as the new supplier for Bond. Go to the boutique, have a look.
More info on the official Omega website
Image Gallery Omega Seamaster 300 Spectre