Hands-On With The MING 37.05 Moonphase
Is this MING still magical with a date function?
The MING 37.05 Moonphase may not be shipping yet to those who were lucky enough to score one, but we're here with a hands-on review of this unique watch. Unique? Well, it's the first MING to feature a date function, and that's a real difference-maker. Does the 37.05 extend MING's clean aesthetics streak? Let's find out!
Time certainly flies! I checked our archives and realized that the MING 37.05 Moonphase debuted all the way back in November 2021. The 500 pieces were offered on two separate occasions late in the month and promptly sold out. Buyers of this CHF 4,950 watch were taking a chance, though. In addition to a new case shape that defines the next generation of MING watches, the 37.05 added some "complications". MING chose the manual-wind Sellita SW288, and that brings a moonphase function along with something that the brand has never seriously entertained — a date window. It seems that after several years of requests from faithful customers, MING finally gave in and added this convenient feature. However, MING did so on its own terms, and I feel the brand has pulled it off quite well. Frankly, our ability to see the watch in person helped proved this.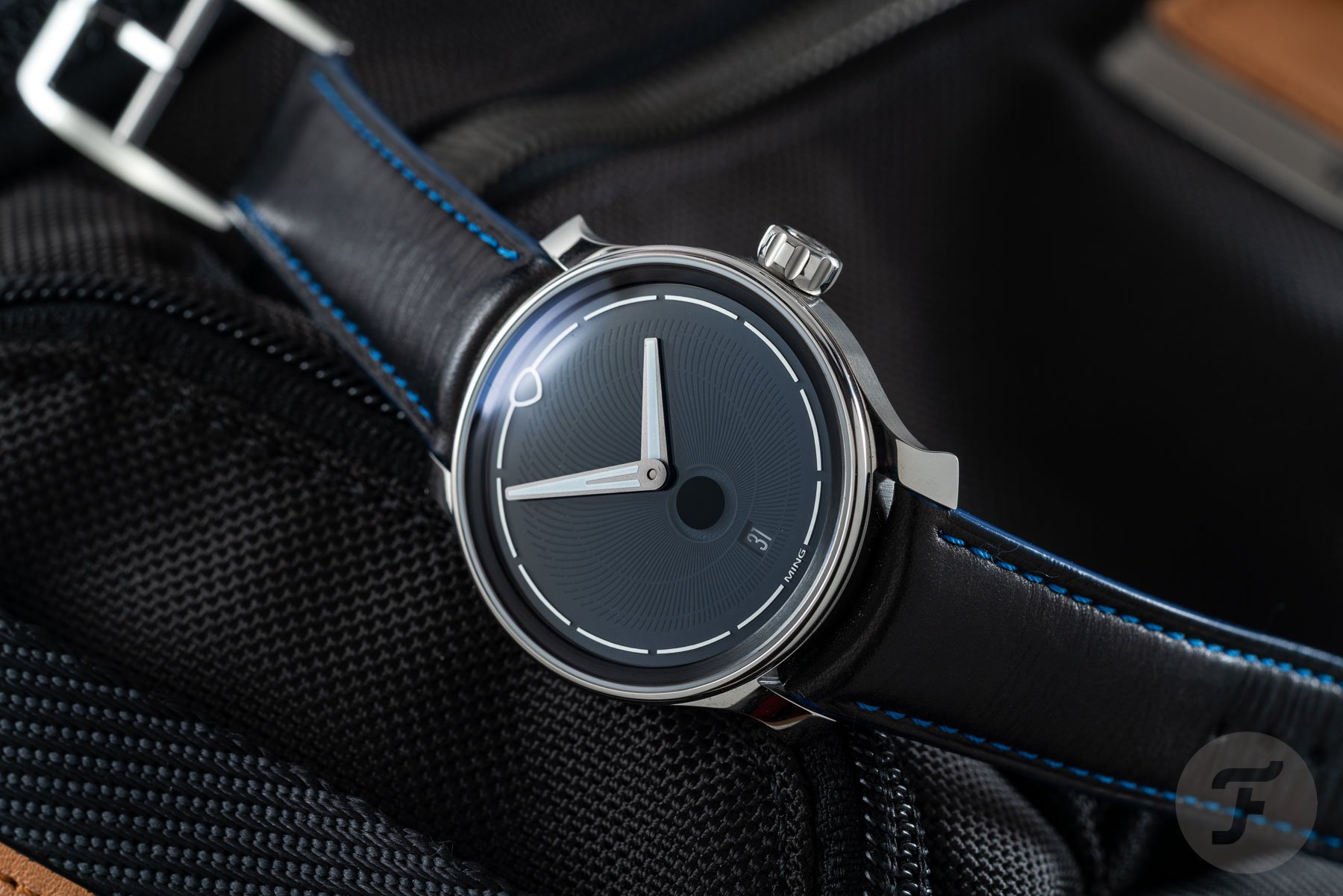 The MING 37.05 Moonphase
We'll soon talk about the new design elements found on the MING 37.05 Moonphase, but let's attack the elephant in the room from the get-go. The date window at 6 o'clock has an unavoidable presence. It's there, and in some ways, it's rather traditional in execution. I said before that I don't mind it, but it is slightly disappointing that there's no colliding of spherical masses or some other fluid-like method used by MING to tell us the date. In fact, I expect something a little more "MING-like". However, maybe I'm being a bit dismissive, and the fact that it takes a minimalist approach is in keeping with the brand's values. After all, the window sits within two interesting turbine-esque rings on the blue dial. Plus, it's symmetrical and in line with the moonphase disc above it.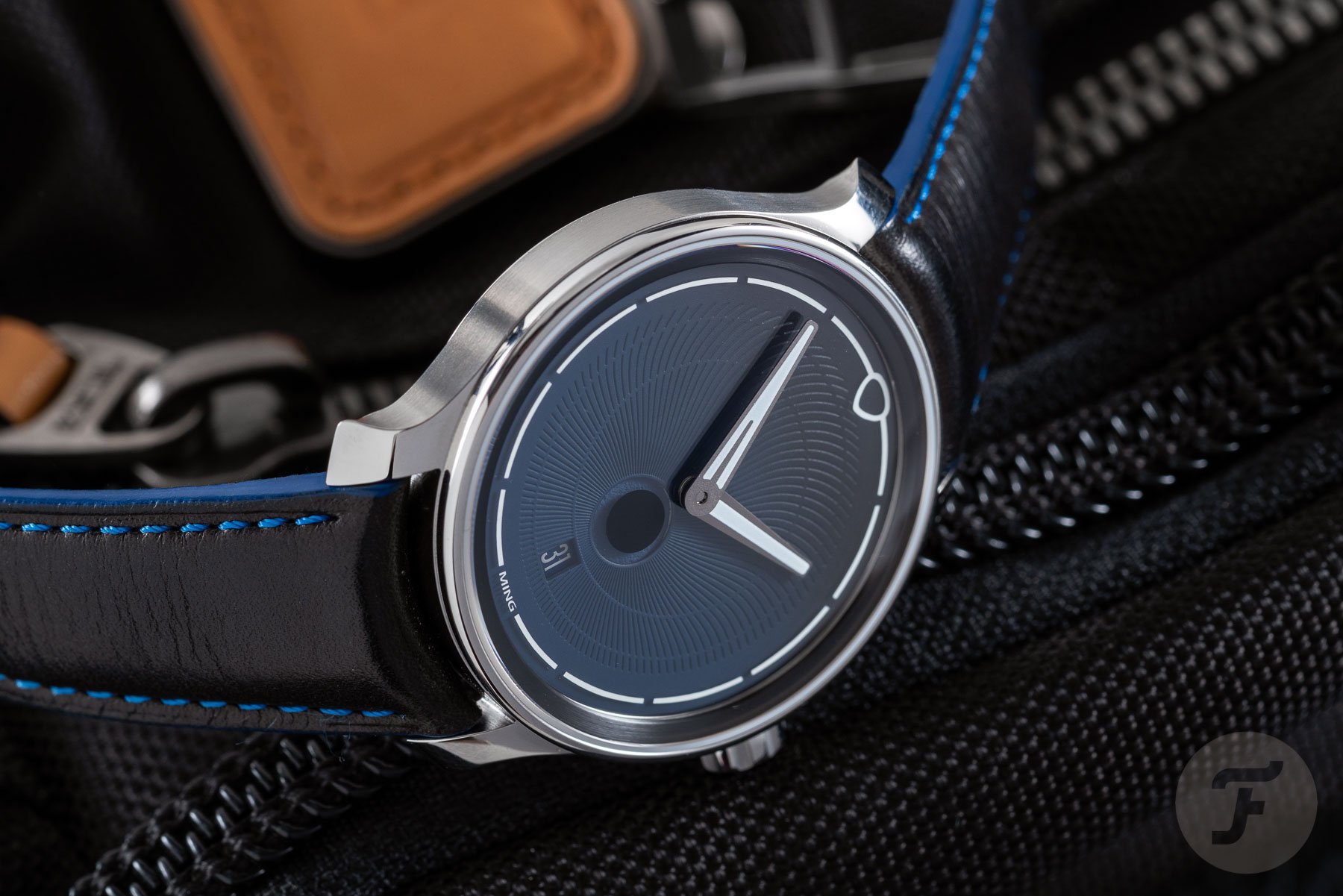 Speaking of the moonphase disc, we've shot it as a completely waned moon. In other words, the moon itself is not showing at all. If it were, the area underneath the black circular mask would begin to show some HyCeram Super-LumiNova. Look, I was pretty clear in my earlier article on the MING 37.05 Moonphase that this complication is among my least favorite. I simply don't care about the position of the moon and it doesn't really tell me much. But my wife, for example, is always aware of where the Moon sits within its cycle and even hypothesizes about its effects on sleep and so on. So, maybe I need to get with the crowd and care more about lunar "stuff". What I can say is that if a moonphase complication is what you're after, this is awfully slick and clean.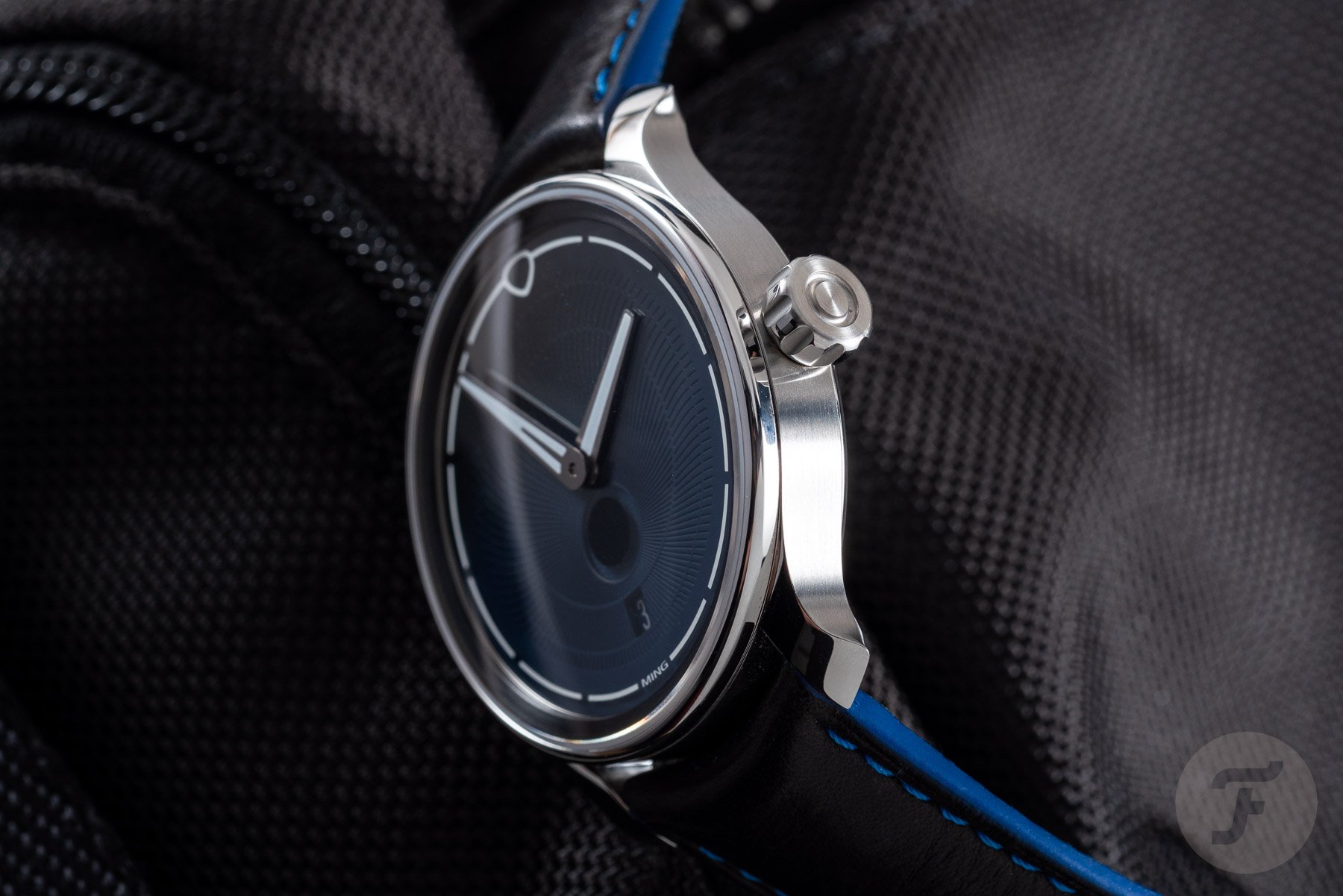 Other details
It's no surprise that the MING 37.05 Moonphase continues to show the brand's attention to detail. I briefly mentioned the dial, but those grooves are something to behold in person. Additionally, little touches like the lume on the underside of the crystal or the new lumed hands with a nice little "spear" of metal bisecting the minute's hand are lovely. I'm also a fan of the new crown design that's a bit bolder and more confident. Plus, if you check the 38.5mm case, it's evident that the lugs don't flare out quite as much as in some of the past designs.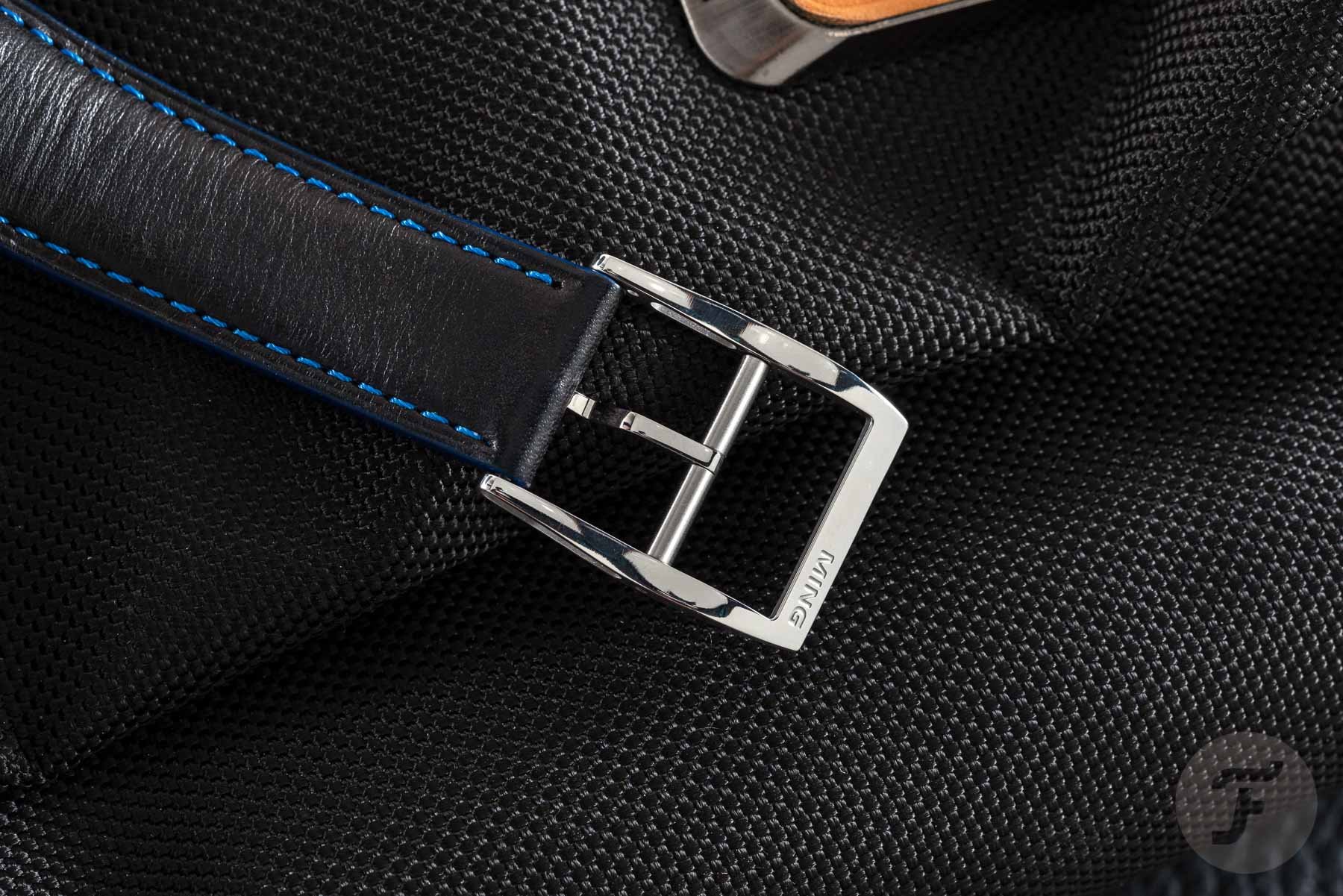 The MING 37.05 Moonphase was also the first watch to debut a new buckle that "hides" the tail of the strap. Jean Rousseau provides the black-on-blue stitched leather 20mm piece, and I like it. Personally, I like a matte-finished strap better, but one won't argue with the quality here.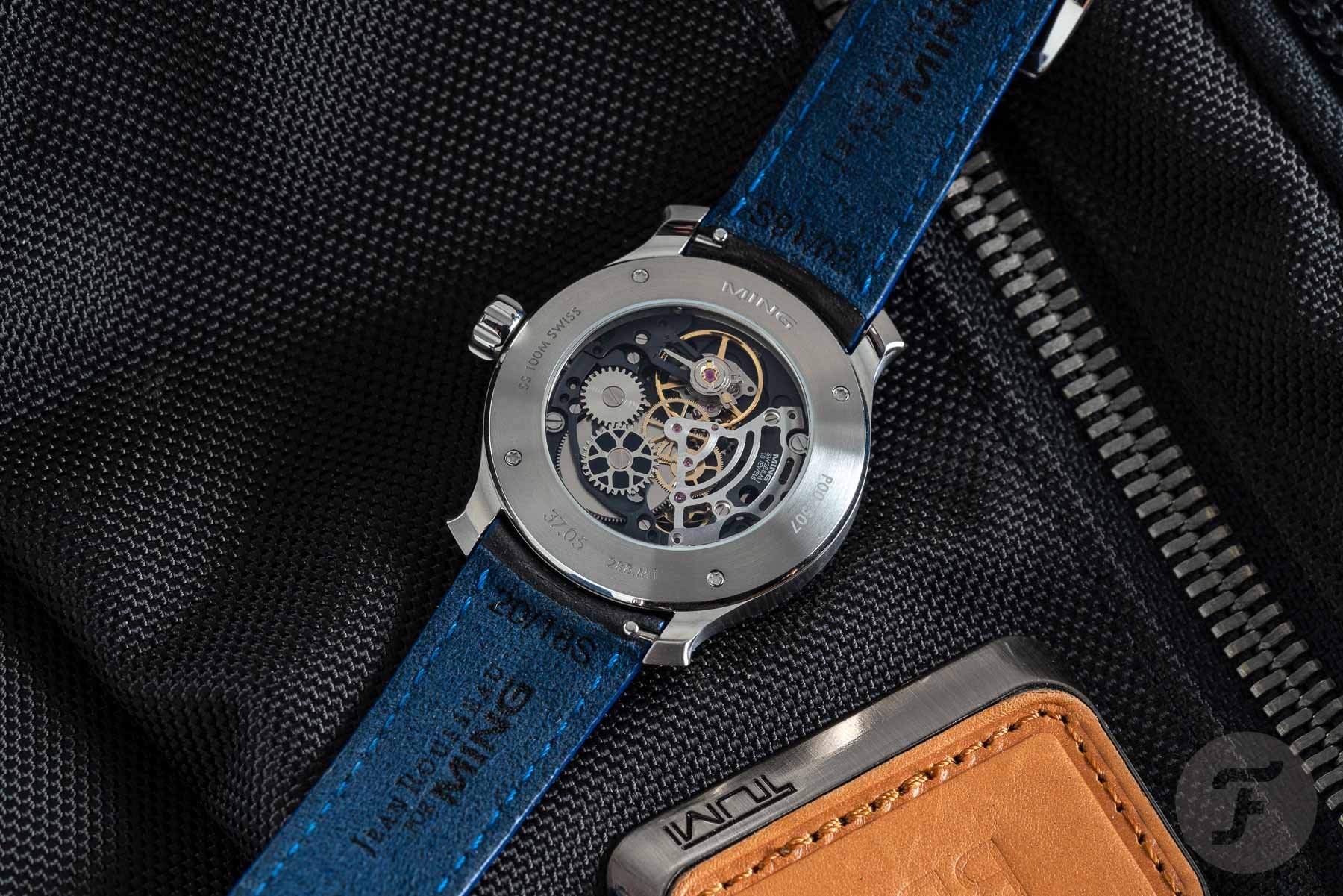 The movement is a looker
Another nicety transmits via that nicely-finished crown, and that's the Sellita SW288 movement. As usual, Schwarz-Etienne is here on the finishing front, and I can say that it's up to par with their other collaborations. I own the 27.02, and while I don't spend hours gazing at the movement, it's nice knowing that special attention was paid to this part of the watch. After all, at this price, one should expect a bit of flair.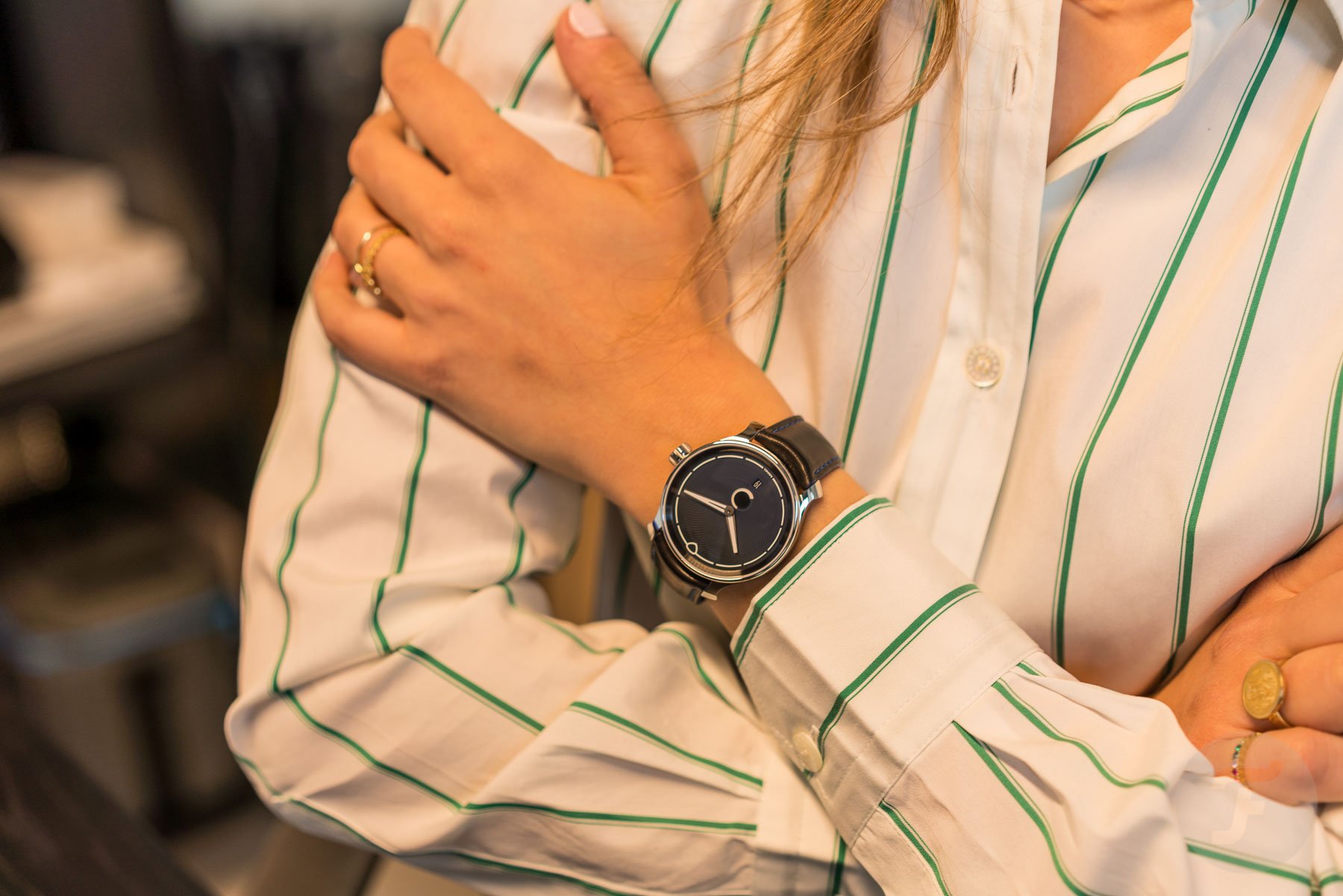 Final thoughts
Overall, I think the MING 37.05 Moonphase is a worthy piece that fits well within the brand's back catalog and for what is likely to come. It boasts a number of firsts such as a date complication but also brings a number of new style changes that foreshadow future models. I'm a fan of everything here, but, yes, I'd love this watch without a date, even if I find the application well done. That being said, if you're one of the 500 people who ordered the 37.05, you're hopefully part of the group that loudly voiced support for such functionality. If that's the case, I can assure you that you won't be disappointed.