Hands-On With The New Certina DS-2 Turning Bezel Watches
This new series of divers adds even more affordable charm to the brand's already impressive collection
When it comes to creating affordable watches with a ton of vintage-inspired style, look no further than Certina. While the brand also produces some great contemporary pieces, the vintage charm makes the brand hard to beat. Just one of the many great examples is the stunning Certina DS PH200M. Its vintage style in combination with the modern execution makes it a great piece, and that's what the brand excels at. And now Certina has added another great vintage-inspired model to its lineup. The new Certina DS-2 Turning Bezel is a fantastic addition to the DS-2 collection that will win many fans. We had a chance to check out two regular models and a new special edition.
Coming back shortly to that great Certina DS PH200M, it's one of those watches that reminds me of how much I love it every time I see it. It's not always top of mind in discussions about great watches for €1,000, but it should be because the combination of that great vintage style with the modern execution makes this one of the best divers currently out there in that price bracket. That is if you are looking for that vintage charm, of course. And when you browse through the Certina collection, you will find more of these classic-inspired pieces. Great examples are the DS Super PH500M, the DS Chronograph Automatic, and the DS Chronograph Automatic 1968.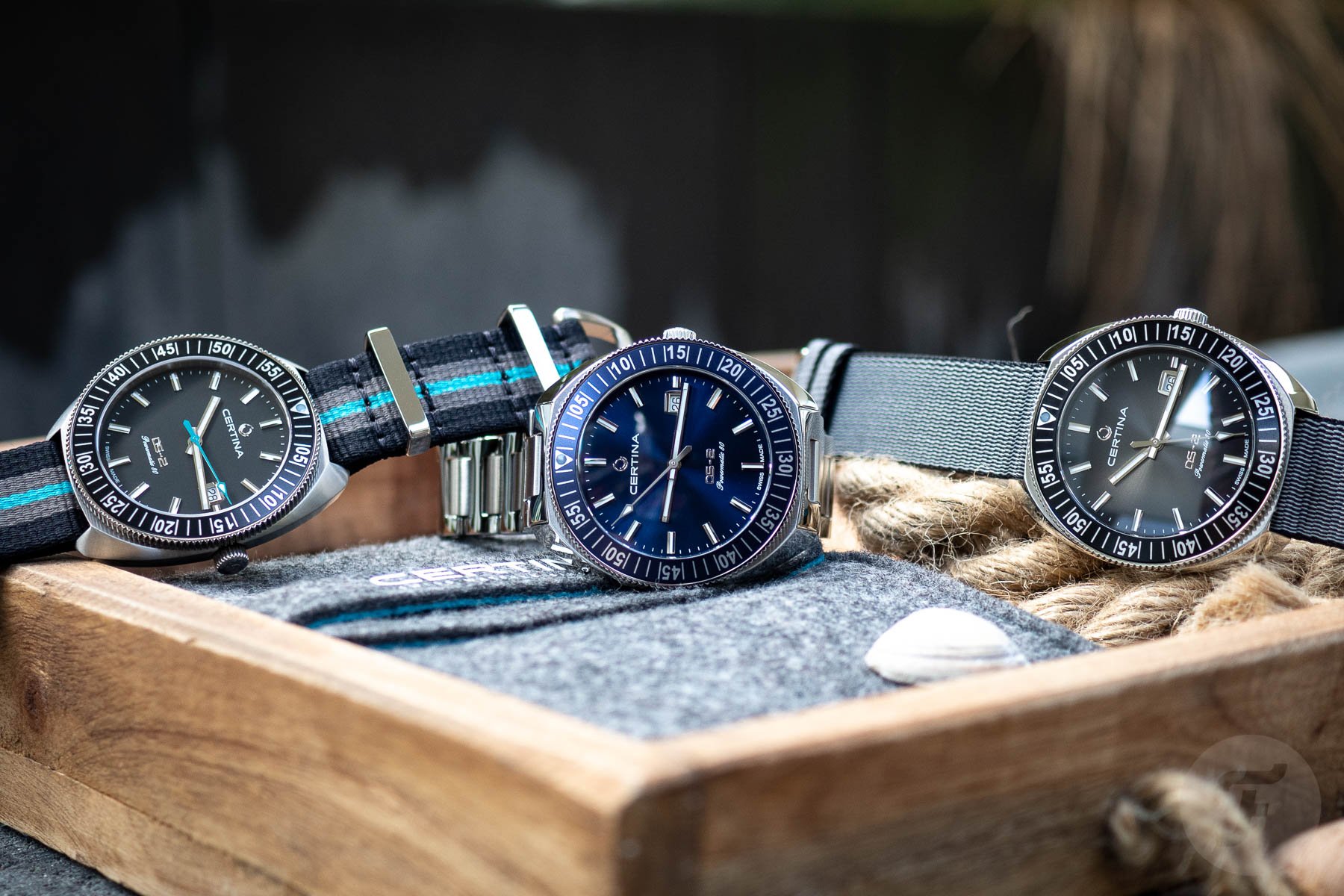 The new Certina DS-2 Turning Bezel
The three new Certina DS-2 Turning Bezel models prove that the brand excels at bringing back the vintage feel that we love so much. The three watches are additions to the brand's DS-2 collection. Compared to the regular DS-2 models, they keep the tonneau case, but that's pretty much where it ends. The '60s-inspired case is reimagined for this new DS-2 Turning Bezel but still brings great character. The tonneau case has a turning bezel that features a 60-minute scale, essentially making this a vintage-inspired diver. As such, it is more in line with the great DS Super PH500M in terms of the overall style.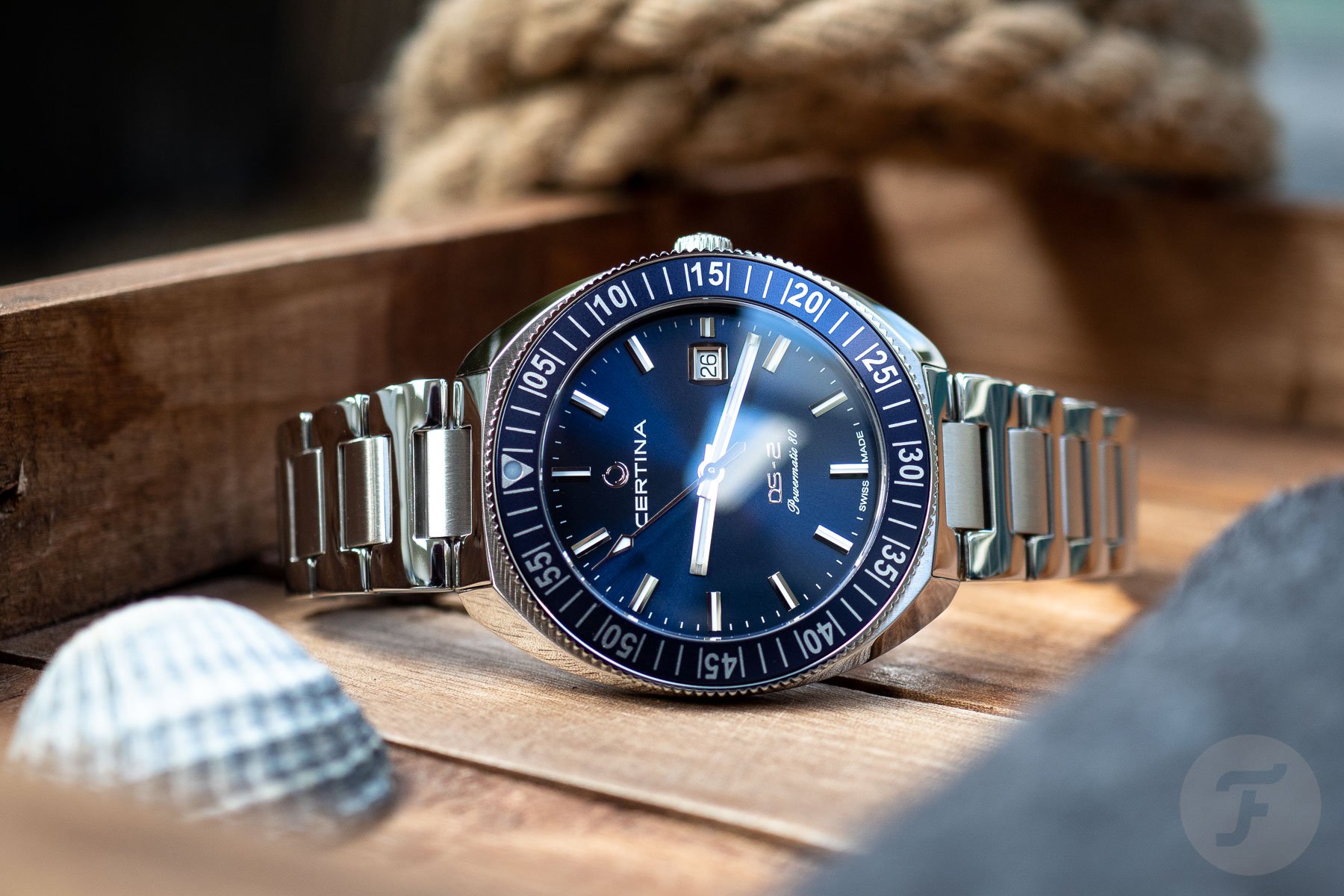 The 200m-water-resistant case measures 41mm wide, 42mm long, and a nice 11.7mm thick. These measurements make the three watches very easy to wear. When it comes to the differences between the three options, the first two are executed in stainless steel and come with either a blue or black satin-brushed dial. The dials are neatly executed with Super-LumiNova-filled hour markers, a date window at 3 o'clock, and a nicely balanced amount of text on both the upper and lower halves. The baton hands are also filled with Super-LumiNova and complete the great presence.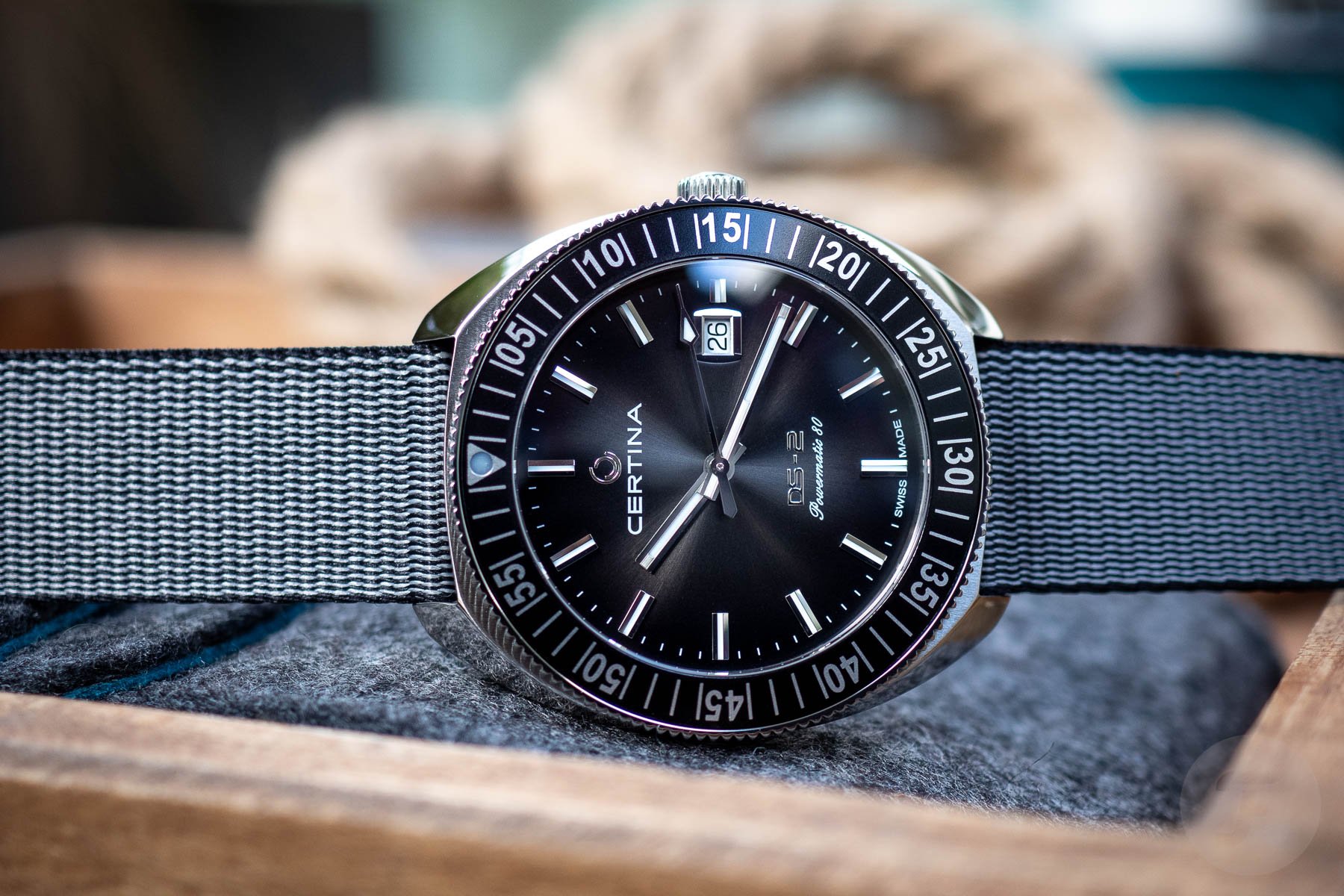 The relatively clean dial works really well with the busy bezel design. It's a balance I really like, and together with the case, it creates those great vintage vibes. In addition to that, the blue version comes with a stainless steel bracelet and a leather strap. The black version comes on the same stainless steel bracelet but also comes with a two-piece synthetic strap with a fine black and white striped pattern. The H-link bracelet is executed nicely and makes the watch very comfortable to wear.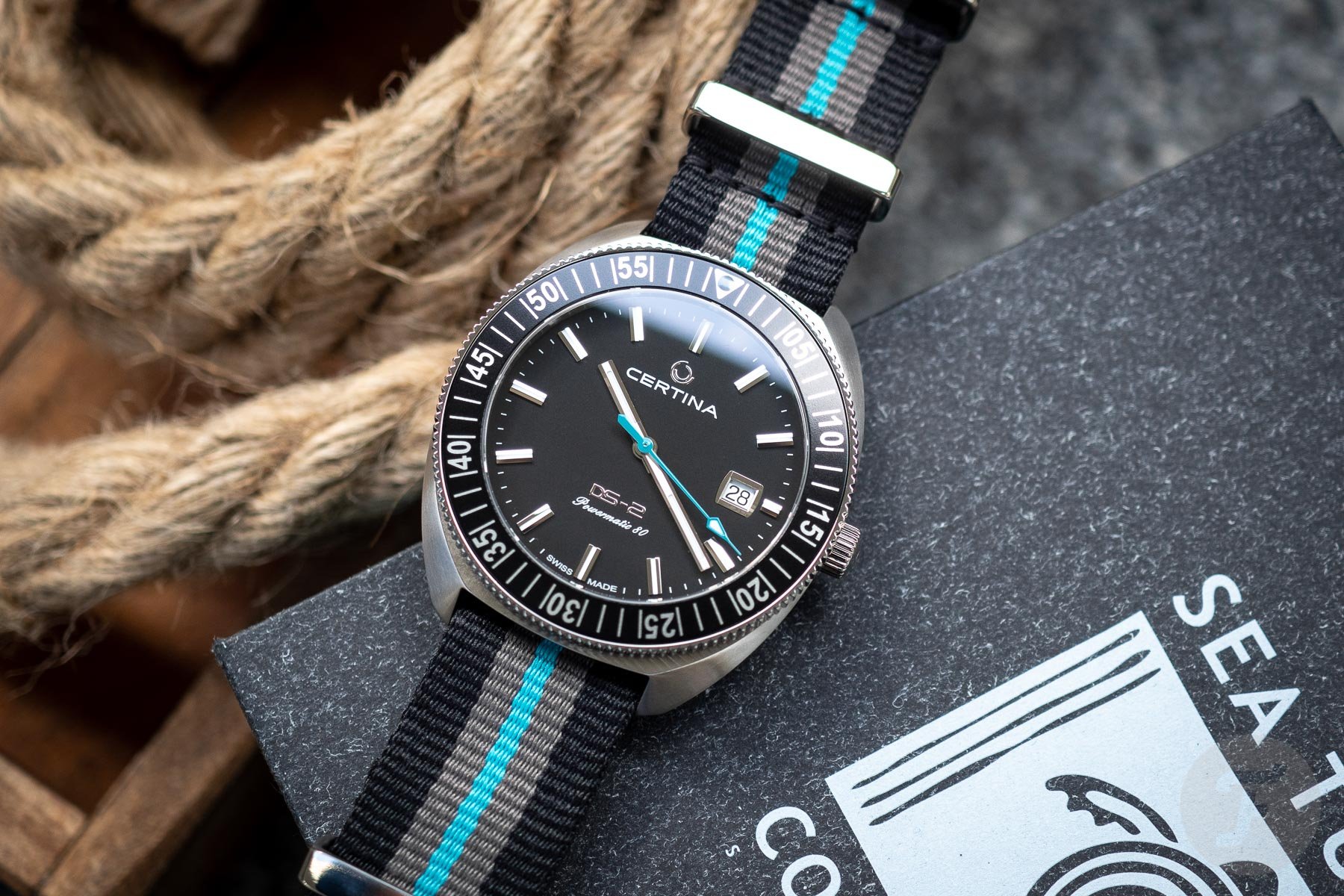 The Sea Turtle Conservancy Special Edition
The third model is the Sea Turtle Conservancy Special Edition. It features the same case but is executed in lightweight titanium. It makes wearing it even easier, especially on the striped gray-blue NATO strap made from #tide ocean material.
This special edition was created to support the preservation of our oceans and their inhabitants. Therefore, a portion of the proceeds will go to the Sea Turtle Conservancy. This non-profit organization has been working for decades to protect sea turtles and their habitats, a worthy cause that Certina has supported for many years. The watch comes in a special Sea Turtle Conservancy box to remind you of this mission.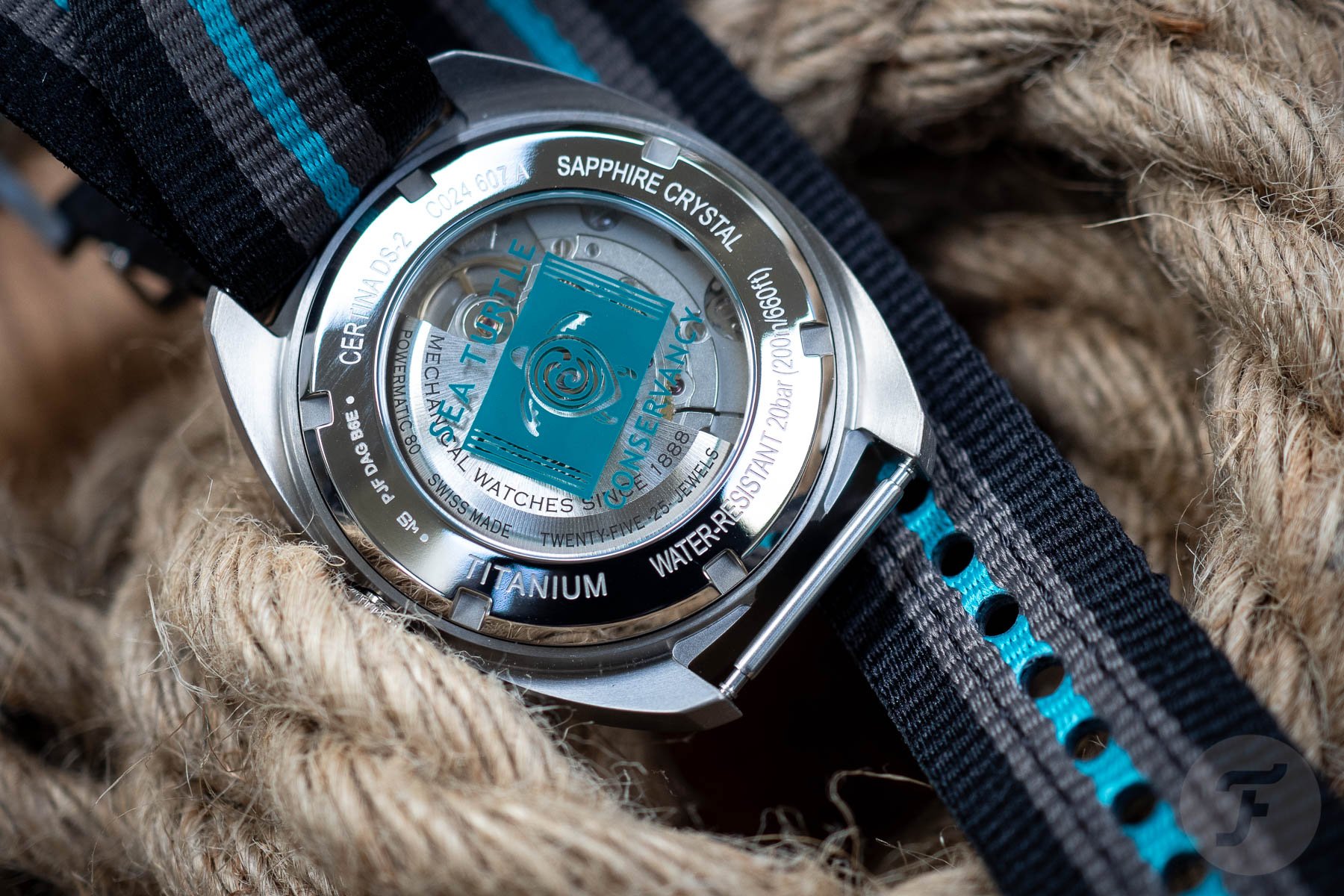 The Certina Powermatic 80.611 movement
All three watches feature display sapphire case backs that provide a view of the Powermatic 80.611 movement in action. This automatic caliber is a shared Swatch Group movement that powers quite a wide selection of watches from brands like Rado, Certina, Mido, and Tissot. It operates at 21,600vph and delivers a power reserve of 80 hours. As you can see, the case back of the Sea Turtle Conservancy Special Edition features the logo of the good cause it supports.
The Swatch Group's Powermatic 80 movements have proven to be great, affordable calibers that are very reliable. I own the Tissot PRX Powermatic 80, and I have nothing but good things to say about the movement. The power reserve is a great feature that ensures you don't have to worry about setting the time for more than three days if you don't wear the watch. In terms of accuracy, there are plenty of owners out there that report daily deviations within COSC guidelines. It's all you can ask for from a movement powering watches around the €1,000 mark.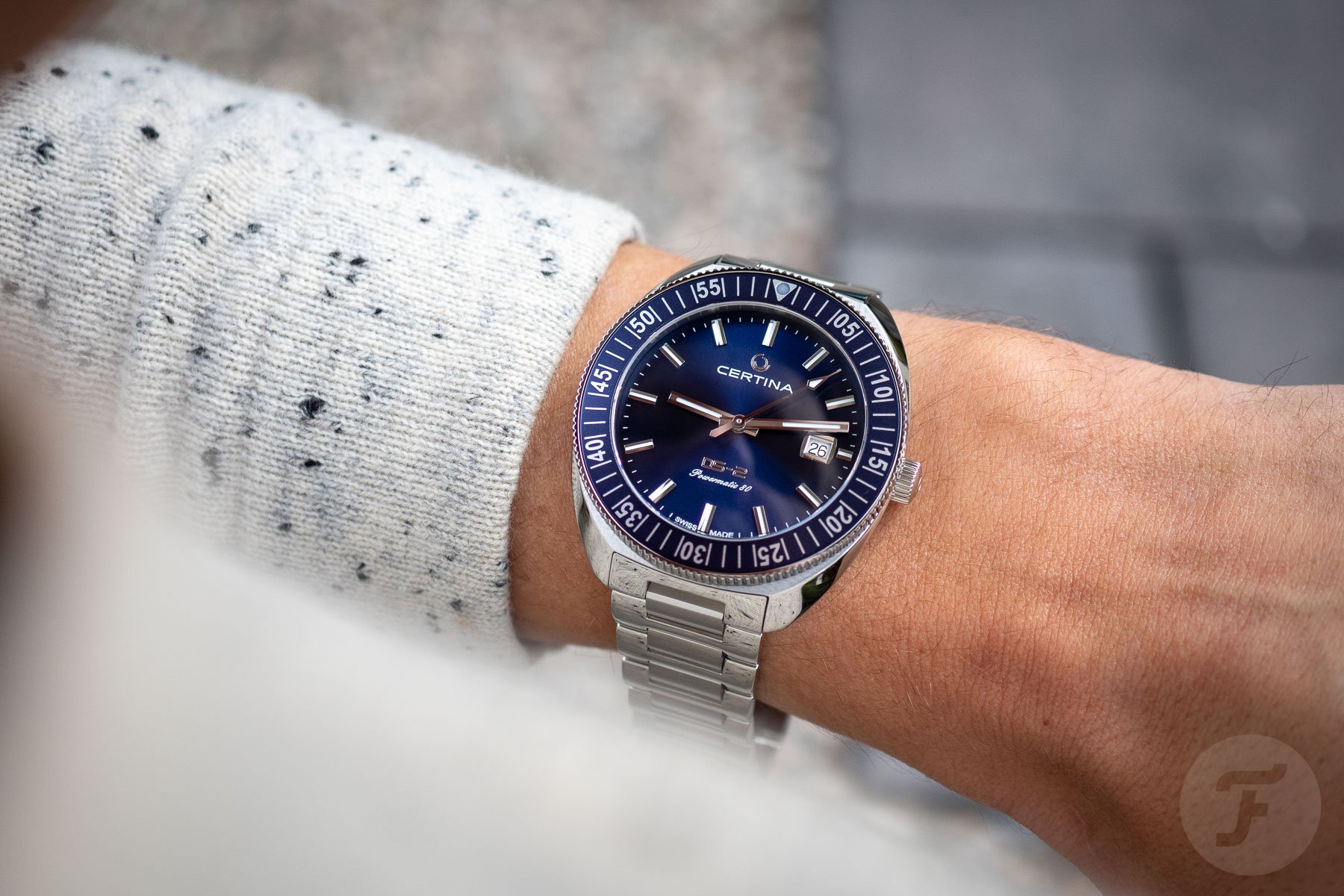 Wearing the DS-2 Turning Bezel
As I eluded to it earlier, these three pieces not only look great but also wear like a charm. I was happily surprised by the overall quality of the stainless steel H-link bracelet. As we all know, bracelets are often the Achilles heel of affordable timepieces. But leave it up to the Swatch Group brands to develop well-executed bracelets. The H-link bracelet feels sturdy and well made, and the butterfly clasp closes with a nice click. Full compliments to Certina for coming up with a nice and well-executed bracelet for a watch that is €1,110. Unfortunately, this is not a given at this price point.
Regarding the different nylon straps, it comes down to a matter of preference. Both the black-dial version's two-piece strap and the special edition's NATO strap feel nice and sturdy without forgoing flexibility. I have to say that although I would prefer the bracelet overall, I would gladly mix it up with the two-piece strap. The great style that it brings to the black version is very nice. It almost looks like a mesh bracelet from further away, and I love that look.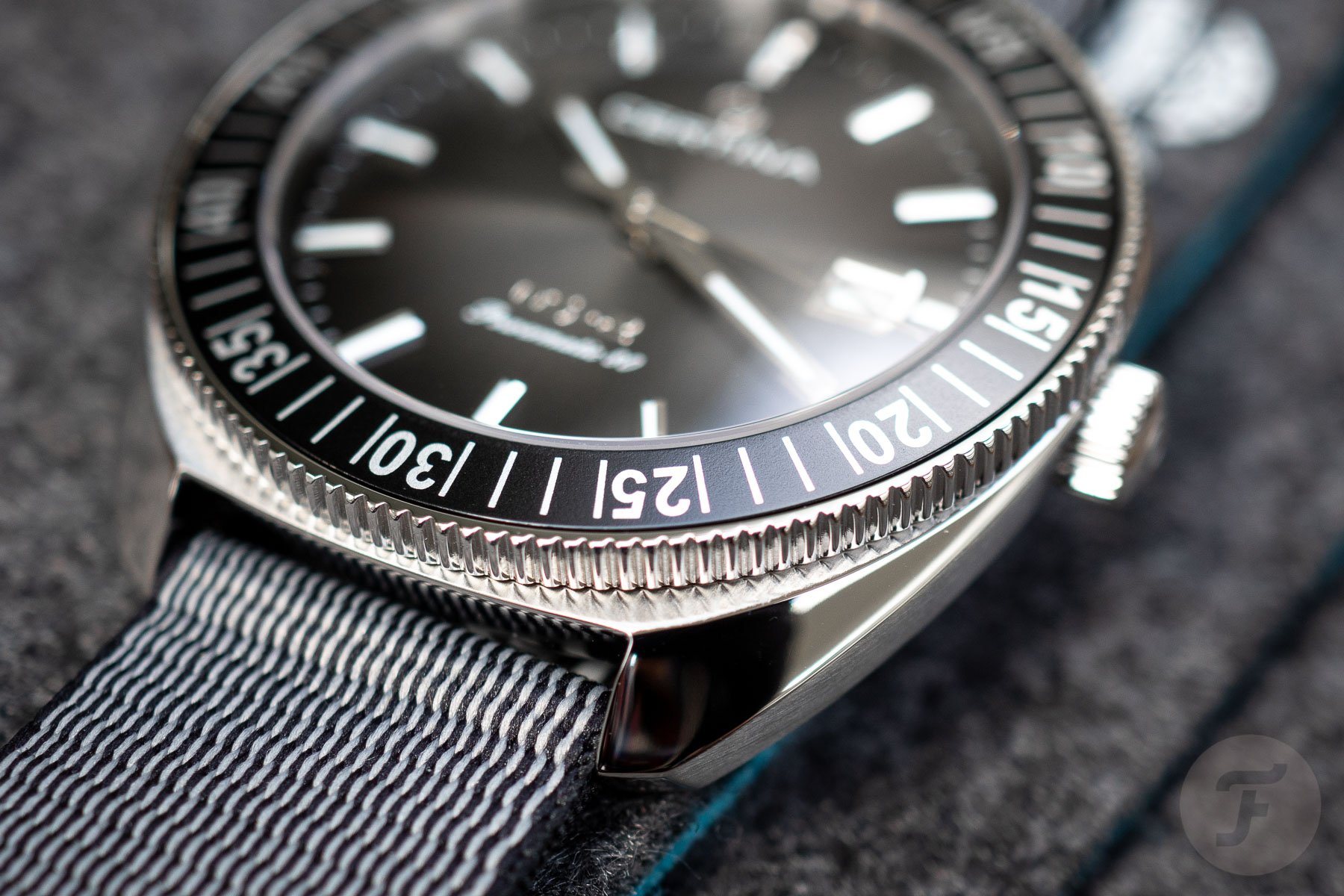 The DS-2 Turning Bezel is a great combination of elements
Once again, I have to say that I am deeply impressed by what Certina pulled off. The DS-2 Turning Bezel is not just a welcome addition to the brand's collection; I actually think that this watch could be one of the prominent models in the lineup. It really is that good. And with its nice size, rather slim profile, and great versatility in appearance, it is hard not to like the DS-2 Turning Bezel. I loved it so much that it is fighting a healthy battle with the DS PH200M that I mentioned earlier. I think the latter might just have a slight upper hand still…
But having so many great watches in your collection is a luxury problem. It makes Certina a go-to brand for watches around the €1K mark. And as I said, these new DS-2 Turning Bezel models will be popular with a wide audience. They are great vintage-inspired divers that offer an exciting combination of charming good looks with modern practicalities. As such, I have grown to like the black-dial model quite a bit — a lot, to be completely honest. Once again, the stainless steel models cost €1,110, whereas the titanium Sea Turtle Conservancy Special Edition costs €1,045. I would say, pick your favorite from any of these three models. There is no wrong choice here!
If you want to know more, visit the official Certina website. Let us know your thoughts on these three new DS-2 models in the comments section.