Hands-On With The New Nezumi Aviera — A GMT That Turns Up The Tool Volume
Vaguely familiar yet different, with a compact toughness we're all for
Nezumi Studios in Stockholm has now been with us for more than 10 years. The brand's vibe is a curated range of tool watches with an automotive slant, and as a former petrolhead, I'm all for it. Sadly, I haven't got a petrol-fume-smelling Triumph GT6 or a Lotus Elan anymore. But the romance of the tarmac is still intensely appealing, even if this eco-decade is trending in another direction. Going hands-on with the new Nezumi Aviera only serves to underline this Swedish brand's vision.
Small brands tend to be either slightly schizophrenic in their evolution or, like David Campo's Nezumi, approachable and solid. When "solid" is synonymous with quality and steady evolution, you get staying power. Fratello has covered the brand since 2020, and late last year, I reviewed the brand's OG, the Voiture Chronograph. The wild Zorro mask design didn't catch my eye at first, but in real life, the compact size and pure '60s vibe rings true. Now I wear that watch more than pieces costing four times as much. Nezumi has also dabbled in dive watches, remaining firmly within the tool-watch sphere. But the fresh-looking Aviera has actually been simmering in the design pot for years.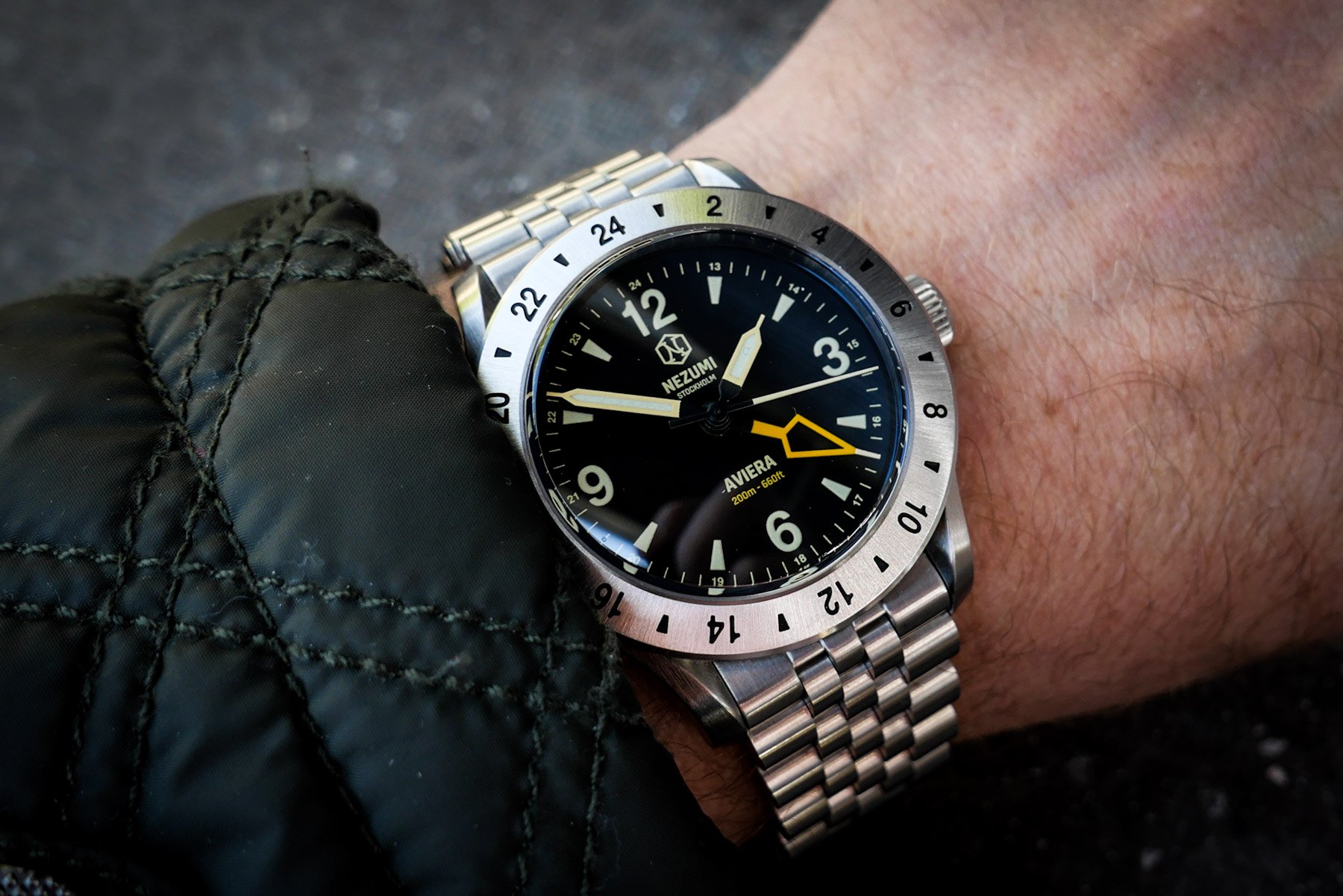 Has the Nezumi Aviera been worth the wait?
I'm actually jumping the gun here as this is one of the prototypes of the Aviera, which will be launching this summer. But plenty of time has passed since the Aviera design was penned by David Campo — 7–8 years, to be precise. This vintage-Explorer-vibe GMT was intended to be the second release after the Voiture, and David tells us: "…at that point in time, I found there was a lack of interesting and affordable GMT movements, so it was put on hold and fell through the cracks until now. I dug up my old design files as soon as I heard from Seiko about a new GMT movement being launched. We made some minor updates and landed on what you see here today."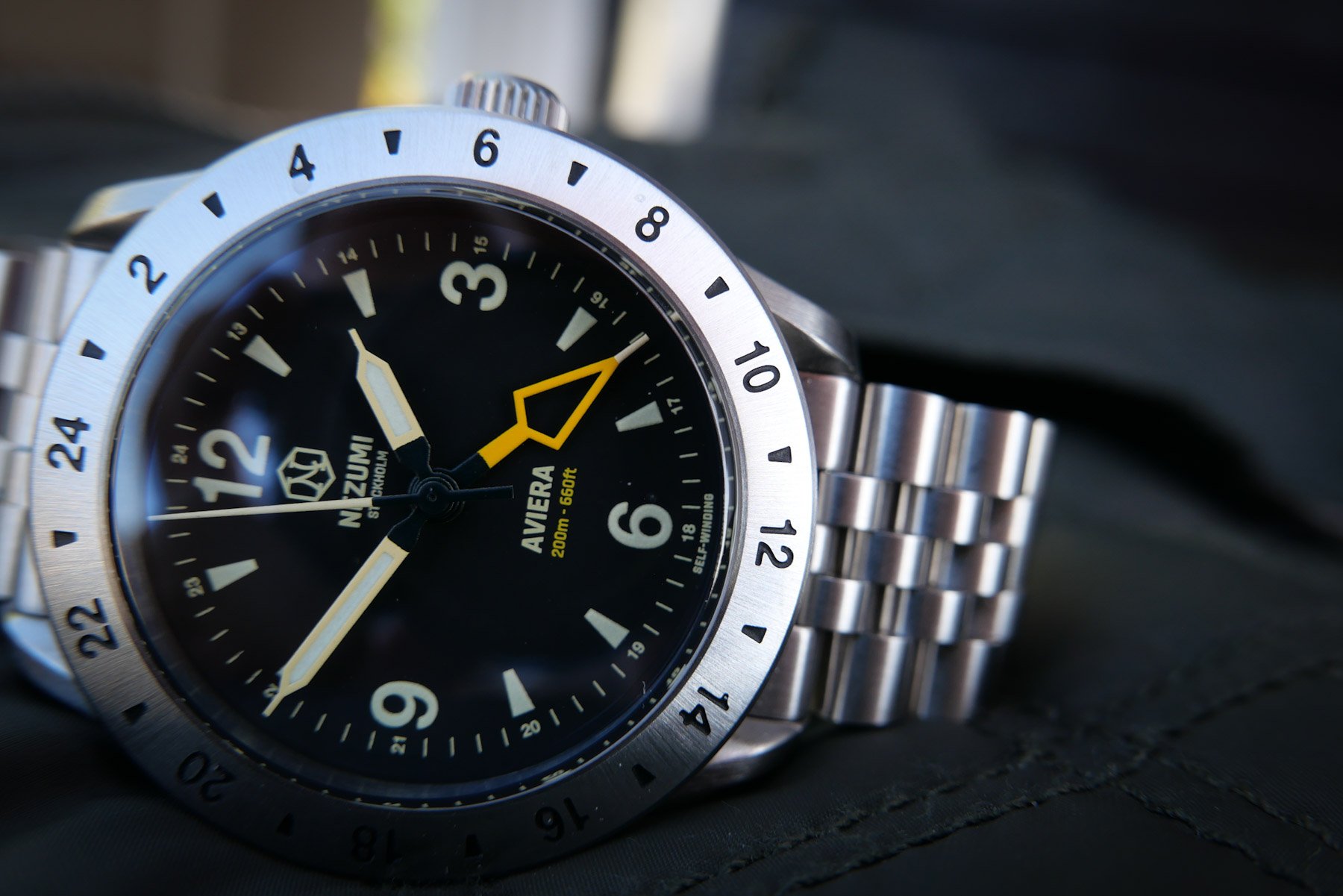 A value-driven tool watch with a difference
So, just like for other small brands we know, the Seiko NH34 from the 5 Sports GMT was the caliber that Nezumi had been waiting for. And like the Voiture, the Aviera has the Goldilocks case design that we've seen from Nezumi before. Its short 47mm length combined with dramatic downward curves on the beveled lyre lugs make it sit compact on the wrist. And, dare I say, it is equally as comfortable as its much more expensive rival, the Tudor Black Bay Pro. Sure, the finishing is of a different tier, but it still punches well above double its ~€400 price on a Jubilee-style bracelet. That's right: this Aviera is under the magic €500 line.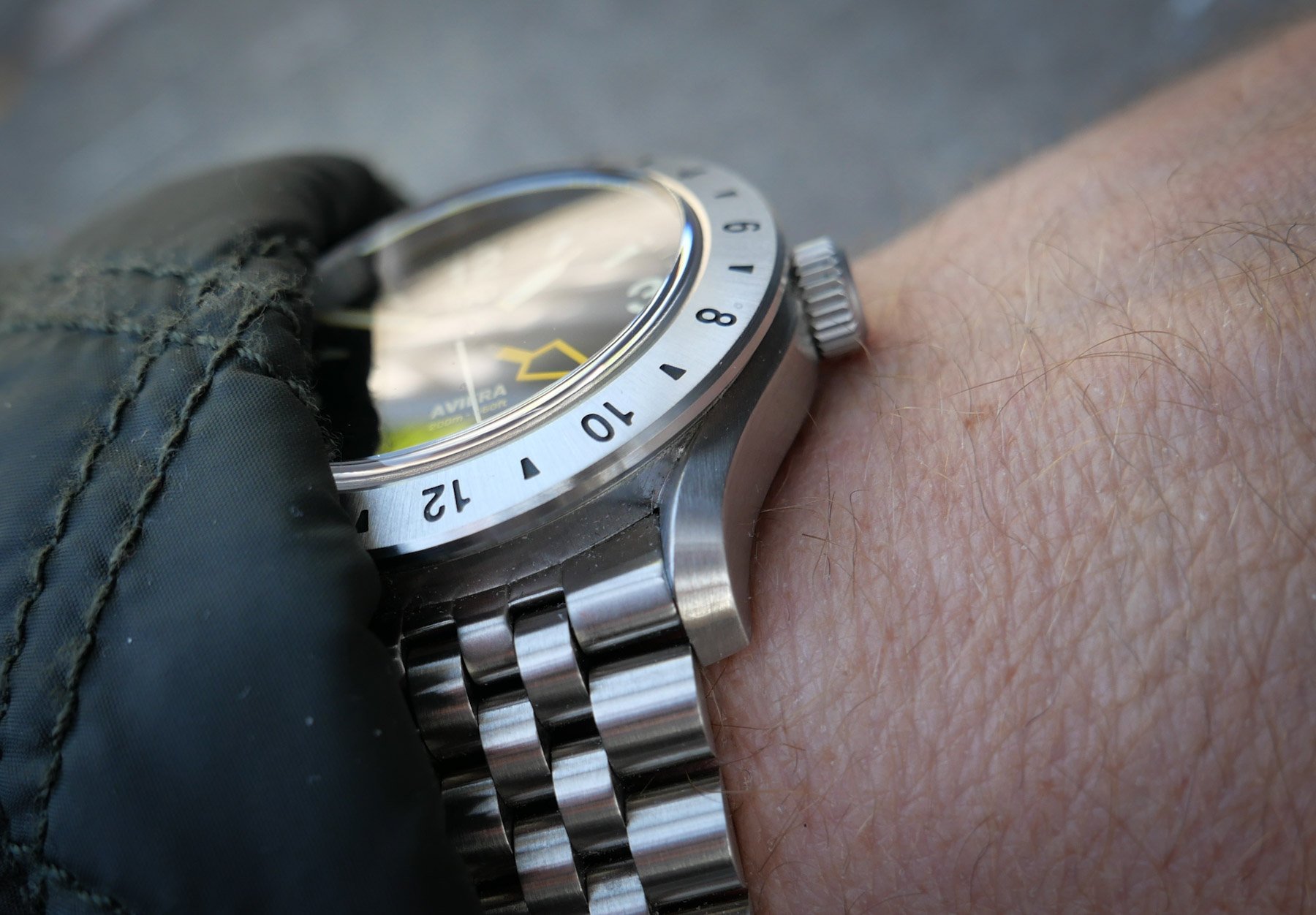 A robust case design with a swoopy Nezumi feel
With a mechanical heart, the Aviera case is slightly chunkier than the meca-quartz Voiture. But it has the same sweeping flanks that are a Nezumi trademark. There is a distinct Speedy flavor to the lyre lugs, but Campo has managed to incorporate the stylistic choice into Nezumi's design language. The details of the tiered case are rather good for its price, and the bracelet? It's a prototype and might have a few sharp edges, but it is still brilliant value with minimal flex. With the big hit of the Tudor Black Bay Pro release last year, the delayed timing of the Aviera is just right. And as a fan of the Rolex Explorer II ref. 1655, I love the massive skeletonized GMT hand.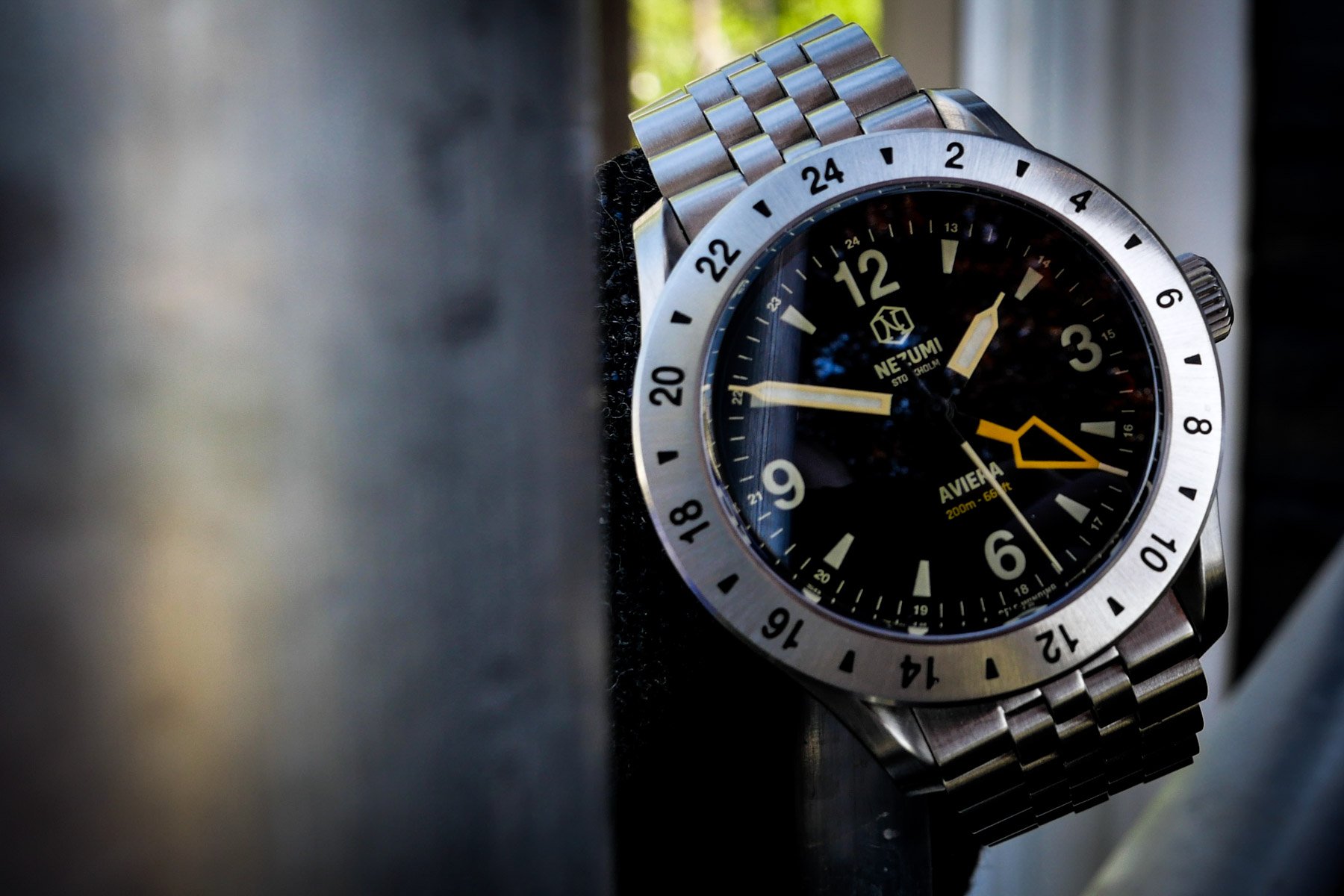 It is truly massive. Some might think it's oversized, but in my book, the larger, the better. This time, I also give a big "yes" to the cream lume, mainly because this travel tool (time travel, even) is its own thing. Sure, the Aviera's spirit guide might be the Explorer II ref. 1655, but its design predates the BB Pro. Homage is more of a vibe than actual details, and the soft case design works well in this all-brushed guise, matched by the radially brushed bezel. The printed and lumed markers are sharp, and the yellow text matching the paddle-sized GMT arrow is cool. Sure, it would have been crisper with pure white, but on the matte surface, the cream brings a well-worn warmth that just works.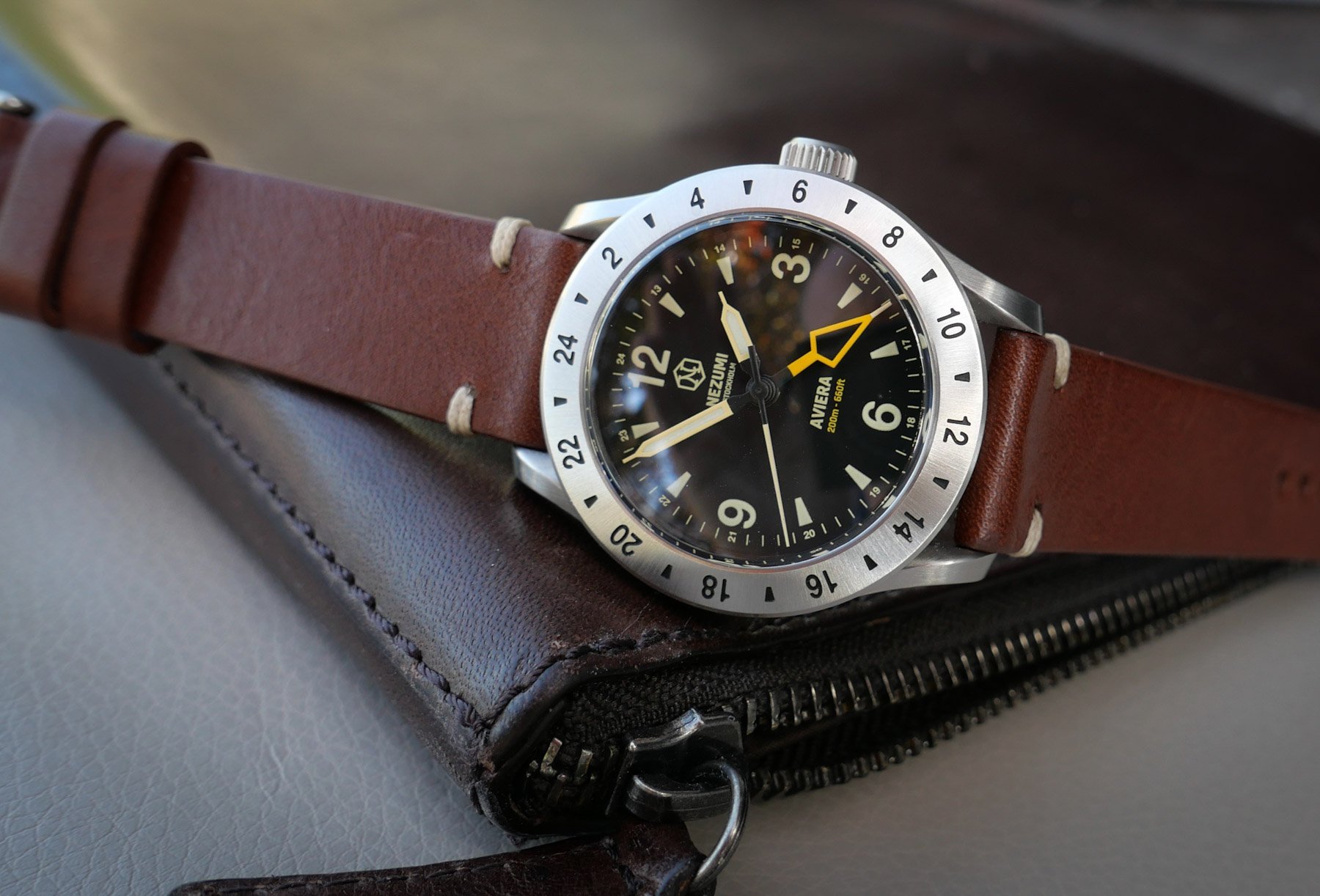 A strap monster in the making
Now, I'm not showing you the case back since it was not final on my borrowed prototype. But did I have any gripes with the design of the Nezumi Aviera on the whole? Well, not really. It gets to the point of feeling natural, right down to the cream lume. The only thing would be that there is a big drop from the bezel to where the bracelet's end links meet the case. But this is simply a minor drawback that results from the end links matching up to the inside sweep of the lyre lugs, which they do very well. And while I love a good bracelet, the Aviera proved to be a real strap monster on rubber and leather. I'm also assured that even more strap options are coming, and the Aviera suits it.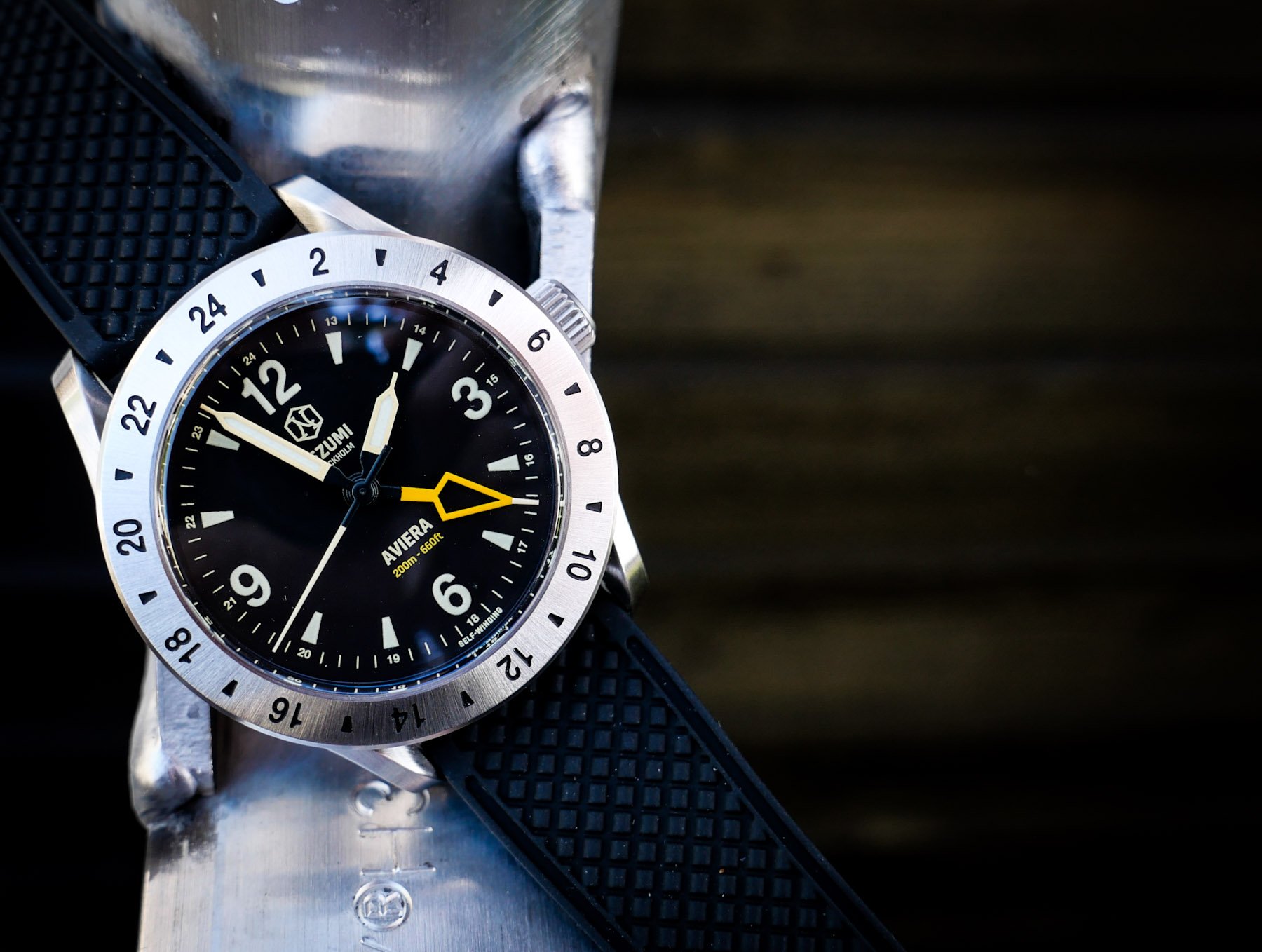 My thoughts on the release
As a 200m-depth-rated tool watch with a compact size, this is a great proposition. The price alone is worth an exclamation point for a mechanical GMT. This might be a prototype with a few things to be ironed out, but it doesn't feel like it. The logo on the dial will shrink a little bit, but otherwise, it's all go, and in a good way. There are recognizable Nezumi Studios design clues to be found for the fans, and as a package, it's really quite good.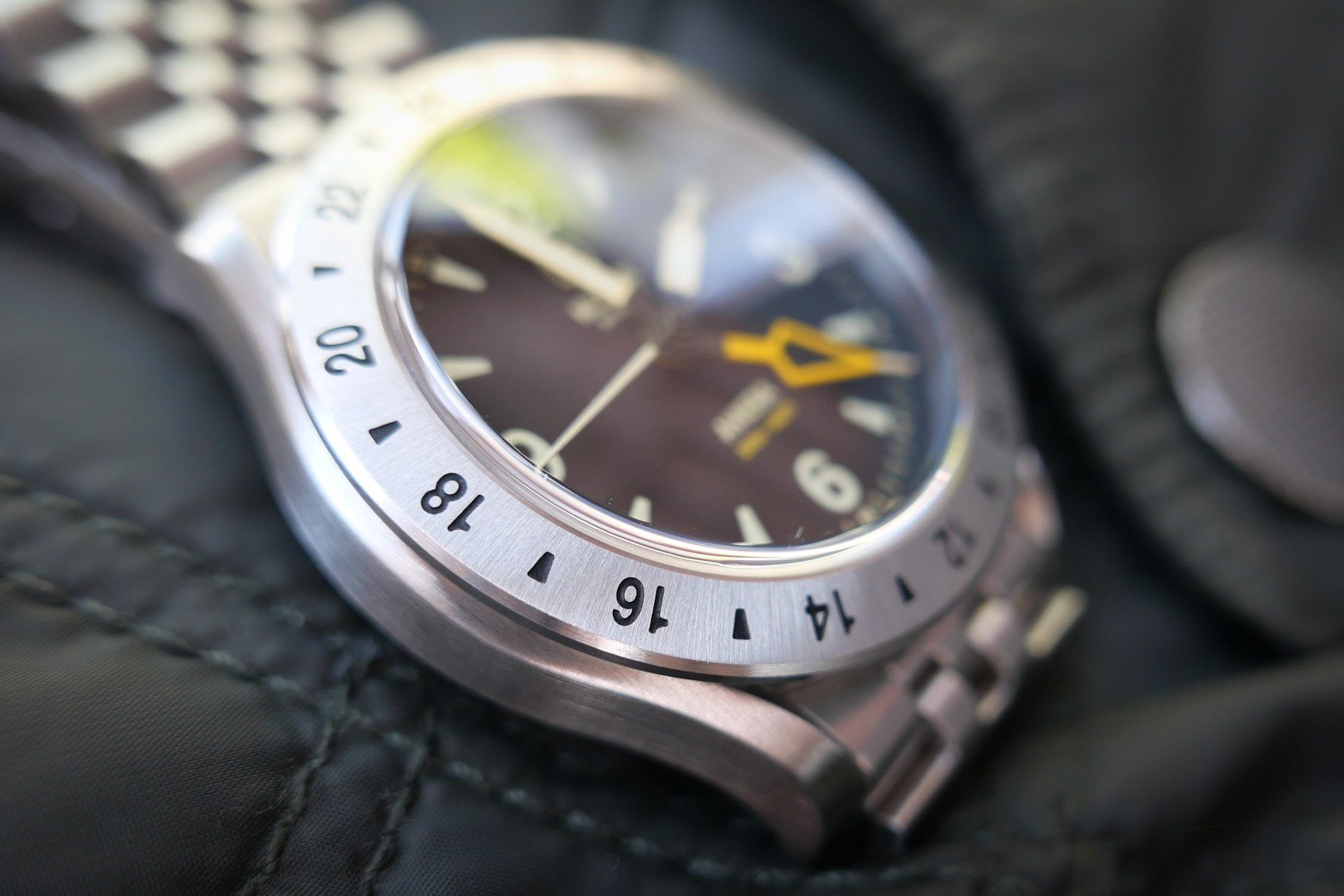 Add a leather strap, and you'll have two distinct styles to choose from, and its all-brushed style is very versatile. Is this a bargain Black Bay Pro alternative for a sub-€1K budget? Yes, I'd say the Nezumi Aviera is a great way to spend less than €400 for a tool watch. The fact that Nezumi has sussed out the design challenge of the Jubilee-style bracelet is a big bonus. Overall, the Aviera is infused with vintage vibes but has a language of its own. I'm impressed, and it was definitely worth the wait for the Seiko NH34. It's a solid and decently accurate caliber that makes for big value.
The Aviera's release date hasn't been decided yet, but from this hands-on experience, I'd say it has big success potential. Stay tuned to Nezumi Studios for more news on the release.
Fratelli, what do you think? Could this be the budget-priced Black Bay Pro alternative we've been looking for? Let me know in the comments.
Find me and follow me: @thorsvaboe
Watch specifications
Model
Aviera Automatic GMT
Reference
To be decided at launch
Dial
Matte teal blue or black with markings in cream-colored Grade A Super-LumiNova, syringe hands, and large yellow GMT hand
Case Material
Stainless steel (316L) with a fixed steel 24-hour bezel
Case Dimensions
40mm (diameter) × 47mm (lug-to-lug) × 12mm (case thickness, 13.55mm including crystal) × 20mm (lug spacing)
Crystal
Double-domed sapphire with interior AR coating
Case Back
Stainless steel
Movement
Seiko Instruments NH34 — automatic winding, 21,600vph frequency, 41-hour power reserve, 24 jewels, hacking seconds, hand-winding capability, independent 24-hour hand
Strap
A choice of stainless steel solid-link Jubilee-style bracelet, rubber strap, or vintage-style two-stitch leather straps
Functions
Time only — hours, minutes, central seconds, and 24-hour GMT
Price
On bracelet: SEK 4,480 ex. VAT (approximately €400) / On leather strap: 3,880 SEK ex. VAT (approximately €345) / On rubber strap: SEK 3,680 ex. VAT (approximately €329)
Special Note(s)
Subject to small changes on launch. This review was based on a pre-production prototype.