The High-End Integrated-Bracelet Sports Watch Deserves Haute Horlogerie Slimness
A new iron rule for watches in this ultra-popular genre: if it's over €10K, it must be less than 10mm thick
Handling the new Vacheron Constantin Overseas Moonphase Retrograde Date during Watches and Wonders 2023 got me thinking. I started pondering a guideline for customers who try to navigate the most erratic and emotional segment, the high-end integrated-bracelet sports watch. Prices of these watches have rapidly risen sky-high, but have their specifications done the same? When you pay more than €10K for a watch, you should get some measurable Haute Horlogerie value back, such as top-of-the-line finishing, an in-house movement, and also slimness. It's the last one that I will be focusing on today. The most measurable of factors allowed me to formulate a simple yet iron rule that applies to the high-end integrated-bracelet sports watch: if it's over €10K, it must be less than 10mm thick.
Bad news for the Vacheron Constantin Overseas Moonphase Retrograde Date with its superb blue dial and recognizable "VC" dial layout. The use of the in-house caliber 2460 R31L/2, which consists of 275 parts and also bears the prestigious Geneva Seal, gives the sporty Overseas a more refined and sophisticated look. Unfortunately, the newest Overseas has a steel case that measures 41mm wide and 10.48mm thick. The price of this newcomer is on request, but it's well over €10,000, that I can guarantee. And that's where the iron rule comes into play: if it costs over €10K, it must be less than 10mm thick. Well, it isn't, but maybe VC has another Overseas in the collection that meets this newly formulated standard.
The high-end integrated-bracelet sports watch deserves Haute Horlogerie slimness — What else is in the Vacheron Constantin Overseas catalog?
I had a look at all 38 watches in the 2023 Overseas collection, and do you know what I found? The most traditional Overseas, the Self-Winding reference 4500V/110A-B126, a three-hander with a price of €25,700, has a 41 × 11mm steel case. It was a staggering find because the much more complicated Overseas Perpetual Calendar Ultra-Thin measures 41.5 × 8.1mm, and the Overseas Tourbillon, housing a movement with a peripheral rotor, has a 42.5 × 10.39mm case. The Self-Winding model's in-house caliber 5100 with a 22K gold central rotor, two mainspring barrels, and a 60-hour power reserve is too thick to fit in a slimmer case.
Why VC paired this movement with the "standard" Overseas is beyond me. It makes no sense when you consider that the brand presented the Overseas Ultra-Thin Caliber 1120 back in 2016. That white gold watch used one of the most iconic movements in the world, the VC caliber 1120. You might also know it as the AP 2120, and it began its life as the JLC 920. The 144-component, 2.45mm-thick, self-winding movement was put to work in a 40 × 7.5mm (!) case, and the result was luxurious integrated-bracelet sports watch perfection. The Overseas Ultra-Thin is no longer in production and was "replaced" by the much bulkier self-winding version with the in-house caliber 5100. VC should have gone the extra mile and created something slimmer. The competition did.
The real deal and the possible alternative
The famously thin and delicate automatic AP 2120 (no date) and 2121 (with date) calibers began life in 1967 and retired around 2019. They helped the Royal Oak "Jumbo" to remain slim. And with the celebration of the Royal Oak's 50th anniversary, Audemars Piguet decided the watch needed a movement that was on par with the watch's reputation and greatness. It took AP five years to develop and build a worthy replacement, the caliber 7121.
The automatic movement with a skeletonized 18K gold oscillating weight and a total of 268 components measures 29.6mm wide and 3.2mm thick. Thanks to its slimness, it fits perfectly in the new 39 × 8.1mm Royal Oak "Jumbo" Extra-Thin (16202ST.OO.1240ST.02). With a retail price of €34,800, it's not exactly a cheap watch. And yes, I am aware that you can't easily buy it for that price at the closest AP boutique and gray-market prices are much higher, but I'm not getting into that right now. Instead, I took a look at a "Jumbo" alternative in AP's Royal Oak collection. The Selfwinding (15500ST.OO.1220ST.01) does look a lot like its famous "brother." At €27,600, it's a tad more affordable, but the fun is short-lived. This automatic RO measures an "immense" 41 × 10.5mm and, therefore, doesn't meet the set requirements. Sad but true.
Flying with the eagles
You would expect the Patek Philippe Nautilus to be in this story, and it both is and isn't. This is because, just for good measure, I'll inform you that the newest Nautilus 5811G measures 41 × 8.2mm. Those are great numbers, sure, but the presence of the letter "G" disqualifies it. "G" stands for "gris," meaning white gold, and the €10K/10mm criteria applies to steel watches, not ones in precious metals. So until we get a 5811A, the Nautilus is out of the competition. Luckily, there are more luxurious integrated-bracelet sports watches out there that deserve Haute Horlogerie slimness.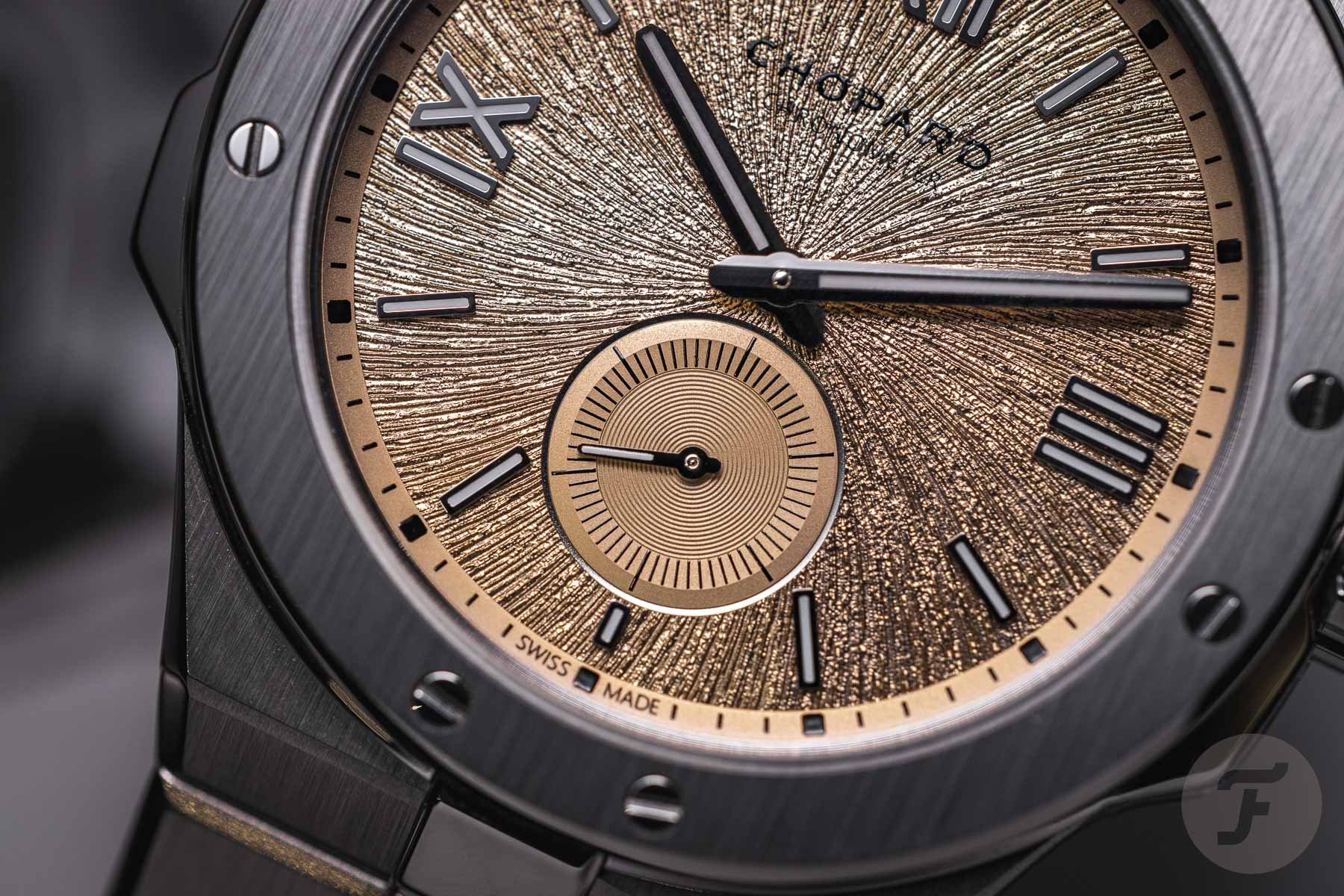 The Chopard Alpine Eagle, for instance. The newest iteration of that watch, inspired by the 1980s St. Moritz, is the Alpine Eagle 41 XPS. You guessed it: the Lucent Steel A223 case has a diameter of 41mm and measures just 8mm thick. The price is €24,400, and for that money, you get a watch equipped with the self-winding caliber L.U.C 96.40-L. This movement measures 3.3mm thick, is a COSC-certified chronometer, and features a micro-rotor and the prestigious Poinçon de Genève. It also has a 65-hour power reserve thanks to two coaxial barrels.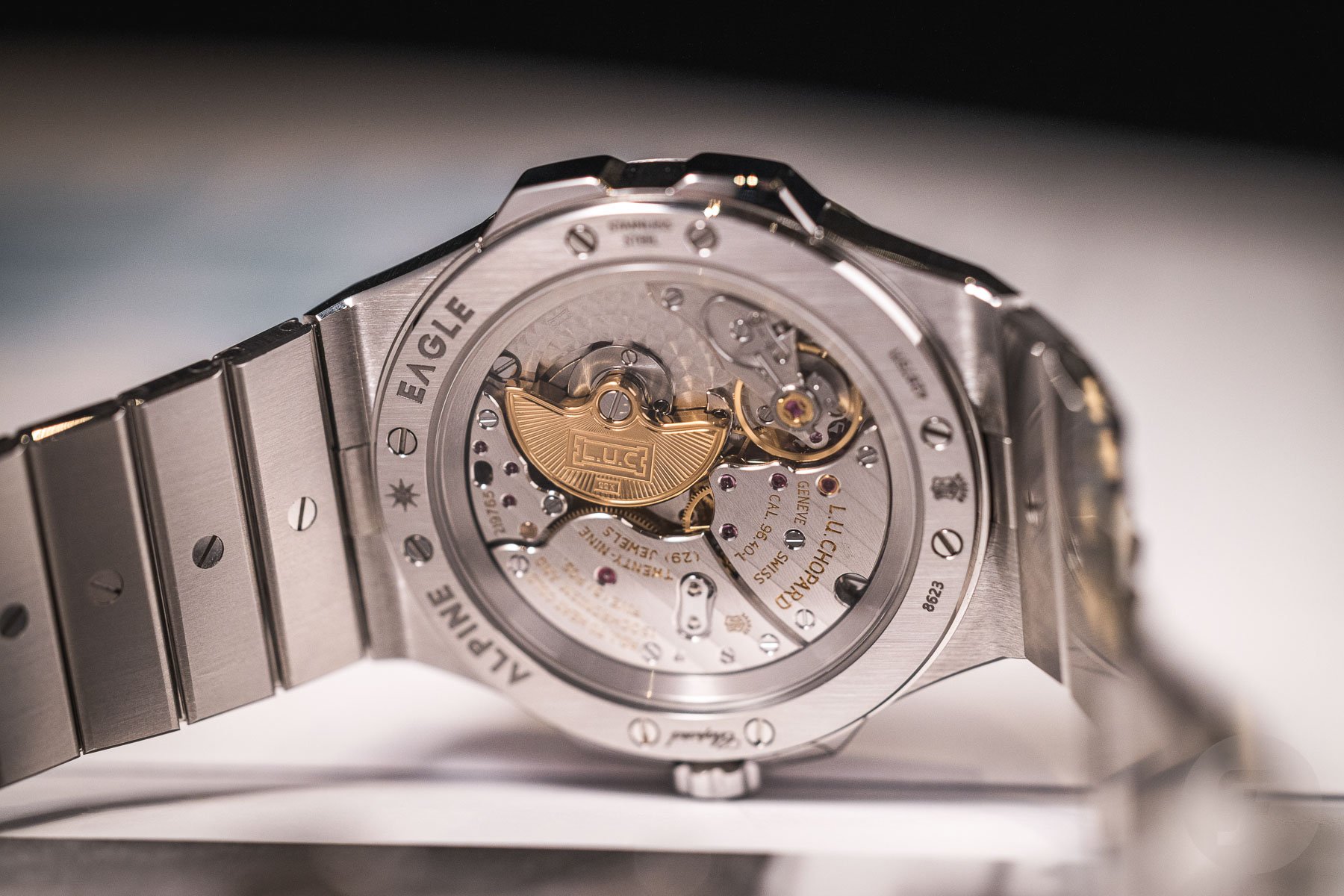 If the price is too steep but you like the revamped 1980s look, there's also the "base" Alpine Eagle 41 with a price of "just" €15,300. That 41mm watch has a case height of 9.7mm and also makes the cut. The self-winding mechanical caliber 01.01-C is a COSC-certified chronometer with a power reserve of 60 hours and a stop-second function. And above all, it's slim enough.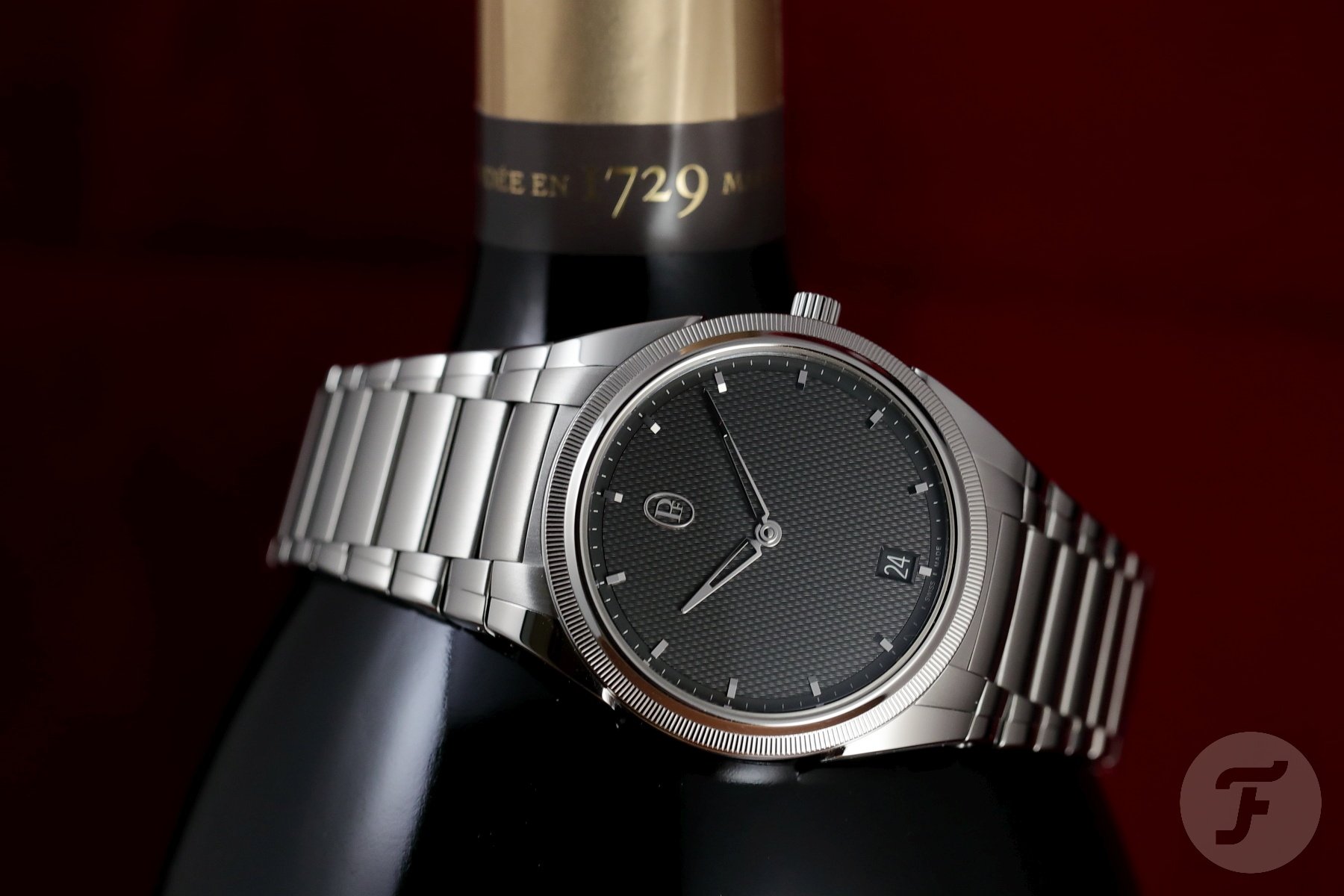 More high-end, sporty slimness
If the Alpine Eagle's looks are a bit too chunky and the dial is a bit too wild for you, you could turn your eyes to the Parmigiani Fleurier Tonda PF Micro-Rotor Steel Platinum (ref. PFC914-1020001-100182 / €24,500). This watch debuted in 2021 to celebrate the 25th anniversary of the brand. The steel watch with its hand-finished knurled platinum bezel has a very svelte 40 × 7.8mm case. Inside that slim case beats the in-house caliber PF703. It's superbly finished, and it features a micro-rotor.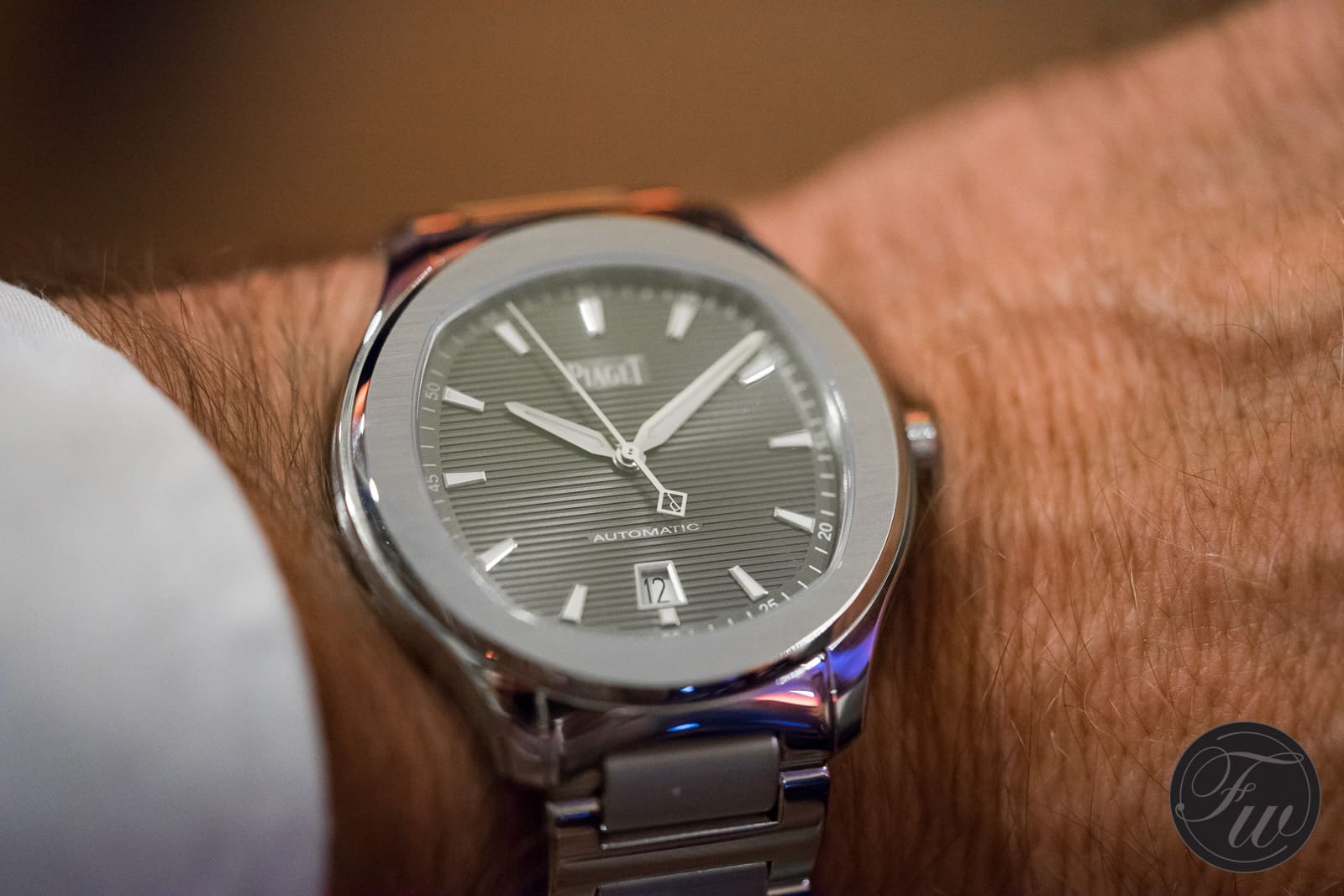 There's also the Piaget Polo Date (ref. G0A41003 / €13,400) in its 42 × 9.4mm steel case that combines round and cushion-shaped forms. There's no micro-rotor this time, but the in-house caliber 1110P is adorned with refined finishing and an anthracite-gray rotor engraved with the Piaget coat of arms.
Watches that didn't make the cut
Quite unexpectedly, the often-praised Czapek Antarctique (CHF 22,000 excluding tax), with its fabulous SXH5.01 automatic movement designed with both functionality and good looks in mind, didn't make the rigorous cut. The case of the Antarctique measures 40.5 × 10.6mm, and since every tenth of a millimeter counts, this high-end integrated-bracelet sports watch needs to lose a few tenths of a millimeter to comply with the harsh yet fair and, unfortunately, very necessary new rule. As you can see, even our own Fratello × Czapek Antarctique Passage de Drake Viridian Green Limited Edition doesn't get a free pass.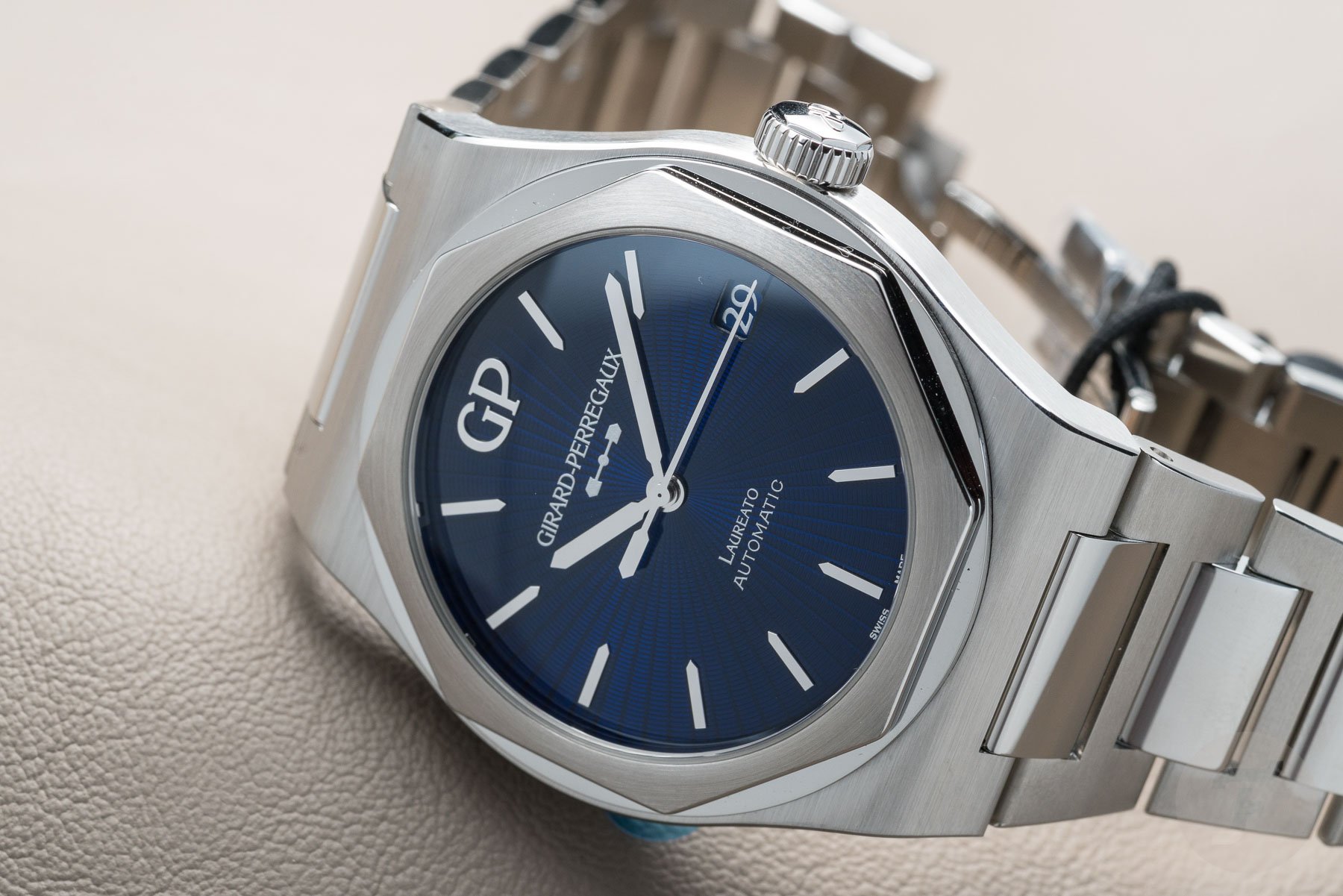 The same goes for the Girard-Perregaux Laureato 42mm (ref. 81010-11-431-11A / €15,100). This regular in the "Luxurious Steel Sports Watches with an Integrated Bracelet" category has a case height of 10.68mm. The new Laureato 38mm Copper (ref. 81005-11-3154-1CM / €15,700), however, has a case thickness of 10mm, so it's safe. The watch is powered by the in-house caliber GP03300, which is nicely decorated with a variety of different traditional Haute Horlogerie finishing techniques.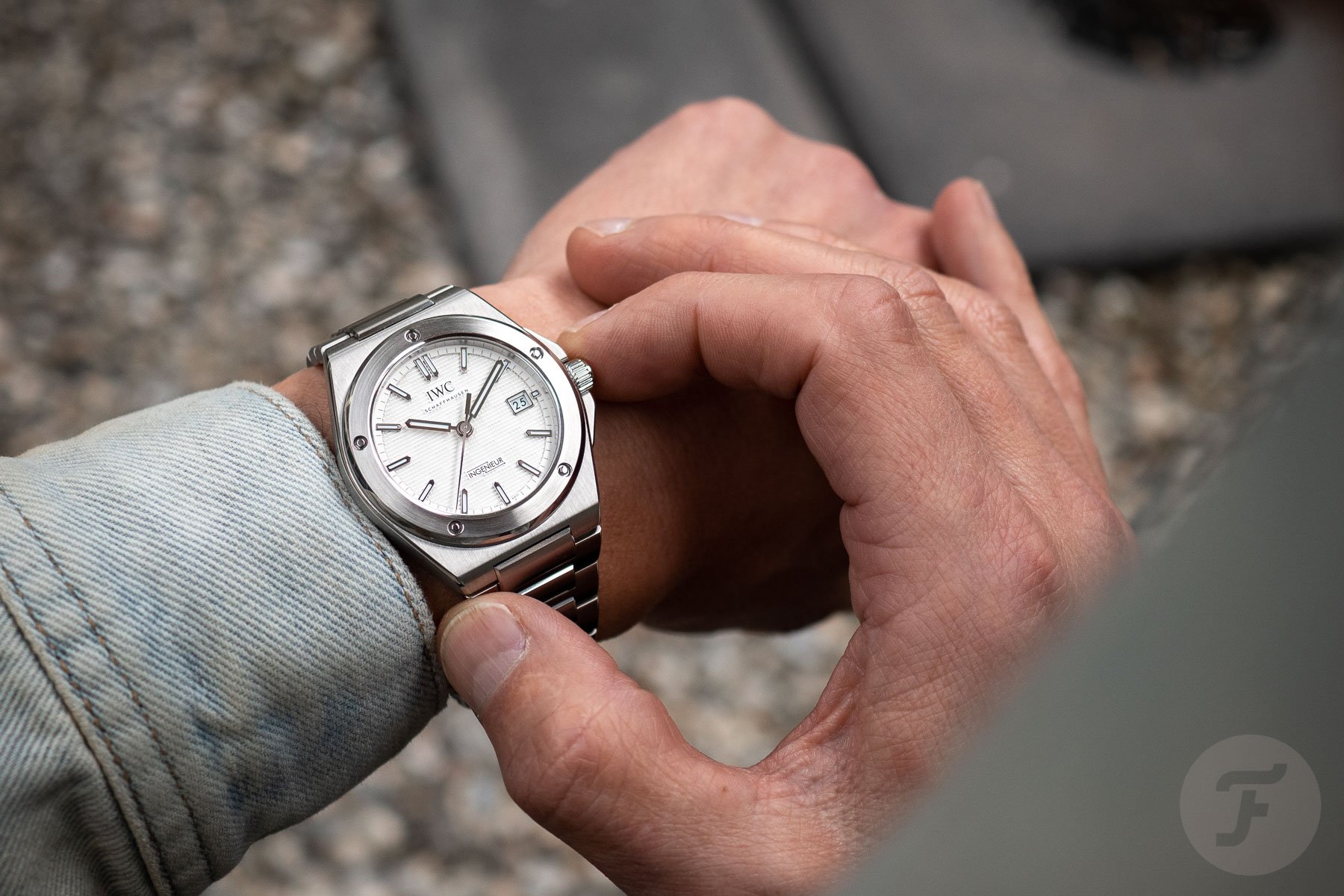 Nope, the three new IWC Ingenieur iterations in steel also don't meet the newly set standard. The 40mm case measures 10.8mm thick. The price of the white-, black-, and aqua-dial watches exceeds the €10K mark as well. Each version of the latest Ingenieur has a price of €12,900.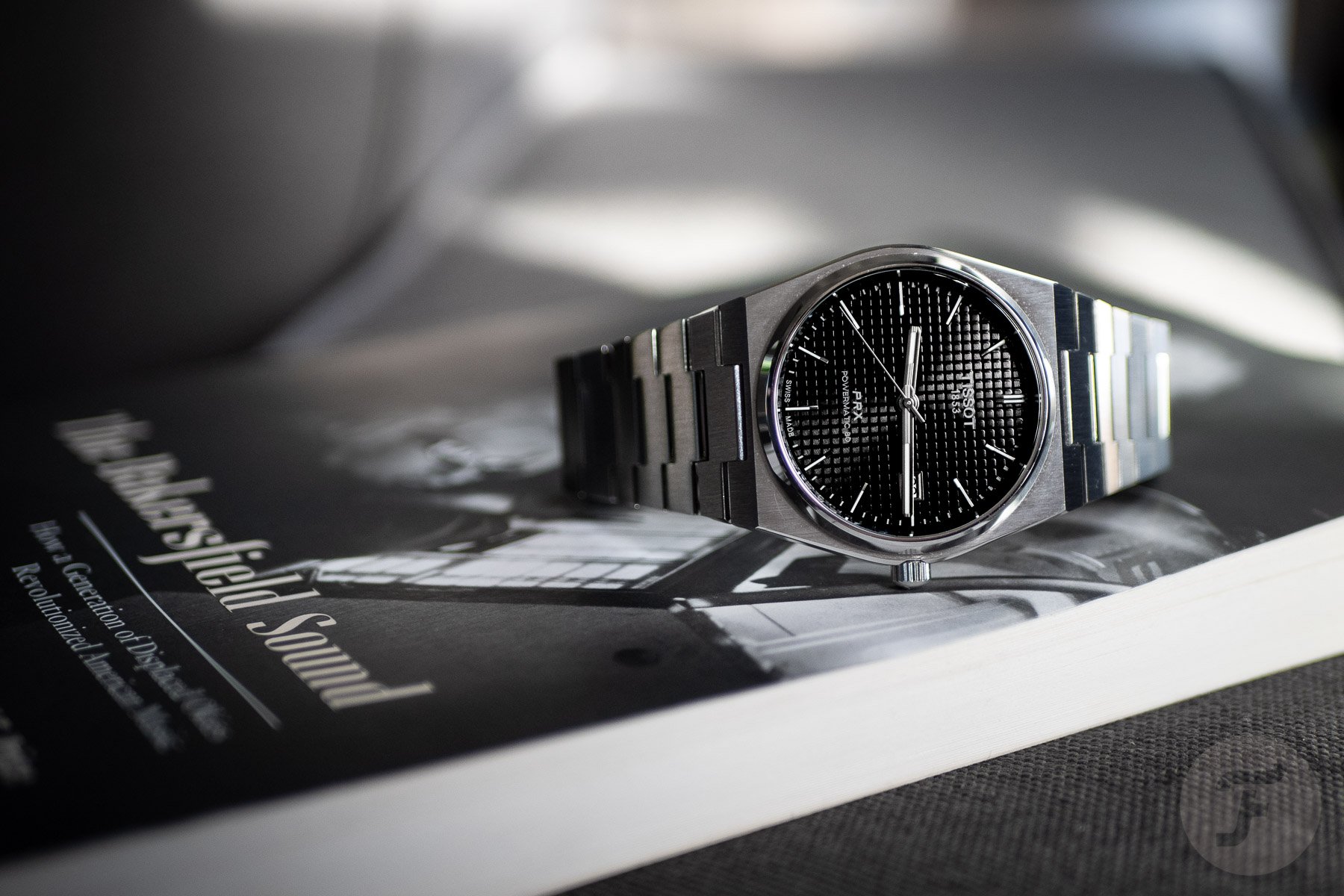 Final words and affordable alternatives, for which another iron rule applies
To end this article, which could very well sound too harsh, I would like to mention two watches that stay well below the €10K mark. These watches only marginally exceed the 10mm limit set for that higher price category. A €10K watch should be high-end and push horological limits, such as trying to stay as slim as possible. But in the case of steel integrated-bracelet sports watches at a quarter of that price, more lenient rules apply. Let me introduce you to yet another iron rule: when an integrated-bracelet sports watch is over €2.5K, its height must be below 11mm. No, 1mm doesn't sound like much, but I think we need to be strict when it comes to watch brands who keep rising prices in a most untransparent way.
Two watches that live by the iron rule are the 41 × 10.84mm Frederique Constant Highlife Automatic COSC (€1,995) and the 40 × 10.9mm Tissot PRX Powermatic 80 (€745). How about that? Please let me know your thoughts about this rule — it's more of a moral guideline, really — for luxurious steel sports watches with an integrated bracelet.
Find and follow me at Lex Stolk • Instagram.