Holy Trinity
It all started with the Angelus Hungarian Air Force watch. I talked about it thoroughly so I do not get into details but that was the catalyst. I came across it, liked the look and the historical connection to my home country so I decided I need one. Searched for it for a while, studied the piece read about the movement and with luck I found one though a friend. Because of that piece I dug deeper into the history of Angelus. I learned about various models, got to know a handful of amazing people and even took part in this great project. One thing led to another and before I knew it, the holy trinity of Angelus watches (collectors like to give such names to pieces, so here's my contribution) was in my watch collection. But let's start it from the beginning.
Angelus
To me, this holy trinity consist of 3 different models from Angelus which all share the same features. All have 38mm (or close to that) cases, all of them are stainless steel and all 3 should have a 21x movement. Furthermore, these movements were each other's successors terms of development. Their Chrono-Datoluxe is a work of art, their various moon phase models are to die for, not to mention their amazing variety of travel and table clocks.
216
If the 217 is the Omega (no pun here) the 216 is the Alpha of the holy trinity. This is the base caliber of the 215 (216 with an added chronograph function). The 215 is the base caliber of the 217 (chronograph with triple-calendar function). Can you still follow? Good.  So, 216 then 215 and 217 to finish. We will however get back to this later as far as chronological order is concerned. The watches either have chrome or steel cases in size 38mm (actually 37.5mm) with caliber 216. This is a manual-wind movement with central sweep second hand and shock-protection. The 215 has no shock-protection. The caseback is either snap-back or screw-back with "Hermetique" on it.
These models had a higher water resistance thanks to a seal inside the case. I have the light dial version but you can find them with black dials too. The rarest of all I think are the steel case black dial watches. My watch's serial starts with 211xxx, according to the amazing article by Dr. Öhm-Kühnle these watches were introduced around 1940. The serial numbers matches that date exactly. They pop up on various forums and eBay every once in a while and can go from €500 to €1000 and even higher. Contrary to some opportunist sellers' stories we do not have any information on these watches having been used by any military branch. Due to their large cases people like to call them military watches, but it has not been proven to be correct yet.
215
Speaking of military, I already mentioned the Angelus L.E. with caliber 215. This watch was of course not the only model with such movements. The 215 was a very popular caliber from Angelus. So much, that they produced watches with this movement for a long time. Earlier models were rather small (34-35mm). They usually had flat pushers and steel or chrome cases. As I mentioned above, the 215 (unlike the 216) had no shock-protection. I have seen Angelus 215 chronographs with black and white dial as well. They are still around and some are relatively cheap to buy. The later ones like I have with pump pushers and larger 38mm case are however the bee's knees. These chronographs are the second addition to the Holy Trinity. Very similar in size to the 216 maybe a tad bit larger.
There is one interesting thing though; I was under the assumption that this chronograph movement is the base of the time only caliber but it seems that in this case this is the wrong conclusion. Firstly, the naming of the caliber 215 (for the chronograph), 216 for the time-only and lastly 217 for the chronograph triple date is chronological. Second, the 215 had no shock-protection while the 216 already had probably as an improvement to the previous caliber. What's a more complex reasoning and actually explains what happened and how is what my dear friend and Angelus expert Dr. Christoph Öhm-Kühnle told me. He shed some light on another logical way we can assume that the above is correct.
According to Dr. Christoph Öhm-Kühnle;
"The 215 was indeed developed (not just launched) before the 216, because the sweep seconds bridge of the 216 actually is the same part as the chronograph central seconds counter cock, still showing a clearly cut off appendix of the second branch of the seconds counter cock originally holding another wheel. Further, the 215 just is a revised version of the two earlier, very successful calibres 15 and 210 with just a few improvements. Also, central seconds sports and doctor's as well as military watches were a new fashion of the 1940's (although few already were made much earlier) and Angelus wanted to join in on it. Further, the serial numbers show that about 40000(!) chronographs (210 and 215) were sold after launch of the 215, before the 216 was sold." Another part of Angelus mystery unfolded.
217
Lastly, we have one of the most handsome models from the vintage Angelus line up; the Chronodato. Again, this is a piece I talked about in a previous episode of #TBT so you know the watch already. It is such a well-balanced example in terms of dial design, clear and easy to read and works like a charm. According to my knowledge Angelus launched the Chronodato in 1942. 2 years after the calibre 216 was introduced to the market. Inside, the last in the holy trinity of Angelus, the calibre 217 a manual wind chronograph movement with the added triple calendar function.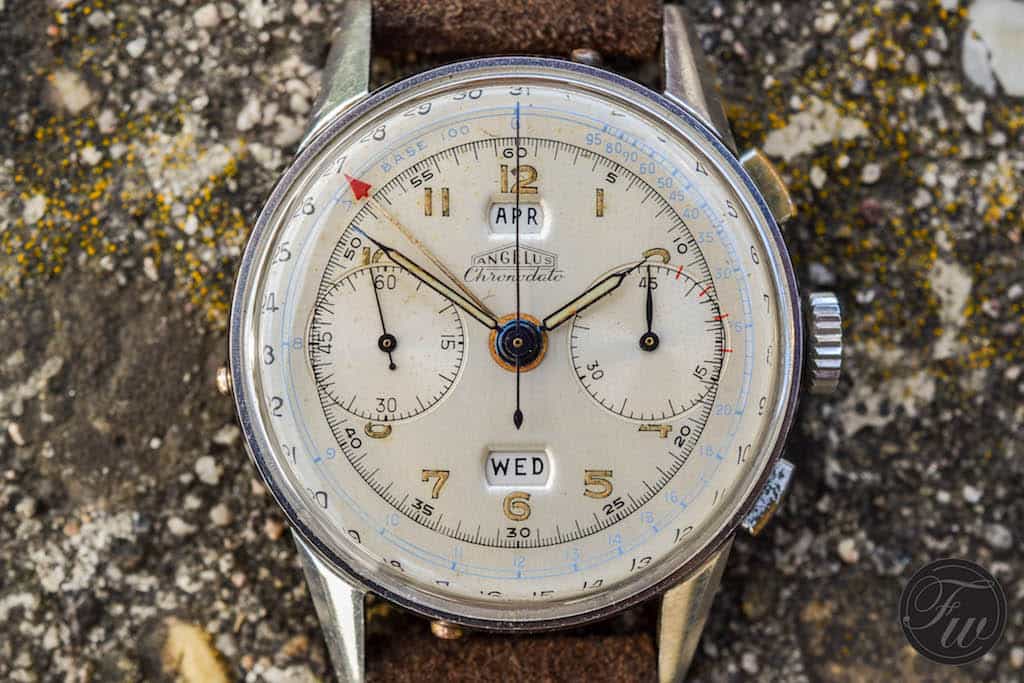 The size of the Chronodato is the same as the 215 L.E., a little larger than 38mm and much thicker. This is due to the added calendar function of course. Still not too thick be to uncomfortable. Steel case, with snap-in caseback and the D3 type logo both on the dial and on the back, just like my 215. One could ask how come that the 215 has the newer logo (like the 217), as the time-only 216 model that supposed to come after the 215 has the older D2 type logo. Well Angelus produced the chronograph calibre 215 for such a long time it went even into the early 1950's. My example is one of these later models.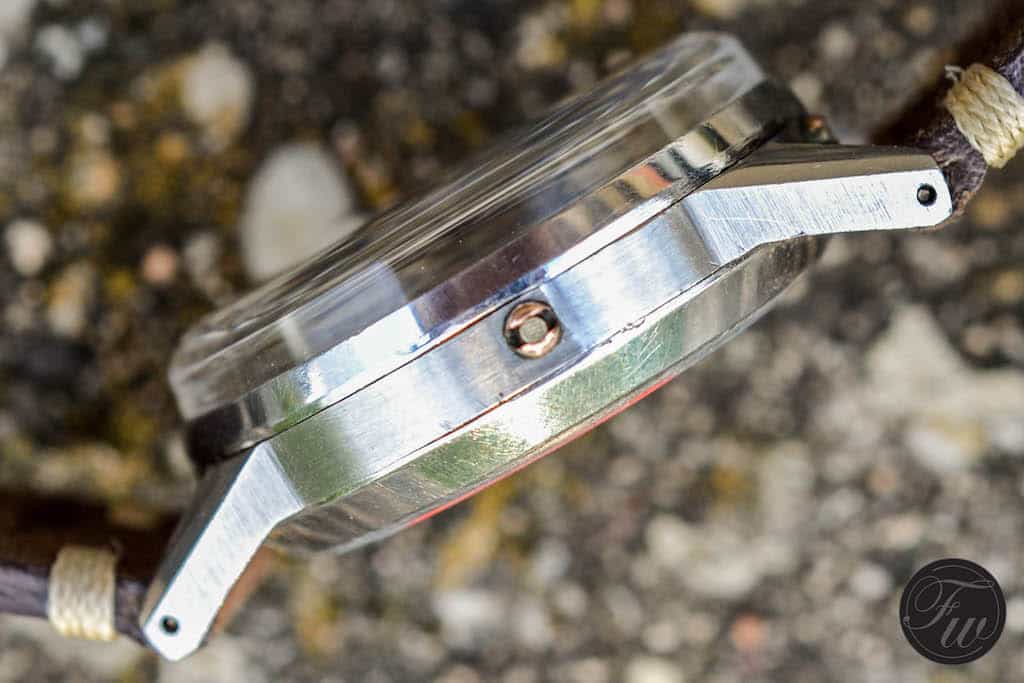 The trio is complete
The last addition to the holy trinity was my 216 which came to me a few months ago. It is not perfect, but I just love the look and size of it. I have not thought about the similarities between these Angelus' until I had all 3 pieces in my possession. While some might think otherwise, I feel that it is a cool collection. You could consider going this path when planning where you want to go with your collection. Also as in many cases, the Angelus Chrono-Datoluxe as well as some of their other magnificent pieces are just so small they look funny on my large wrist (at least this is how I feel) while these 38mm steel watches sit just fine. All three watches are marvelous, each for a different reason. Keep your eyes open for a great example and don't forget to share the success with me.
Balázs joined Fratello Watches in 2014 and he has been a fan of watches as long as he can remember. His passion for watches really took off in 2007 when he purchased his first fine Swiss timepiece. From 2007 up to recently, he was also an active and involved member of a number of on-line watch communities. Balázs has a weak spot for vintage Omega watches and vintage watches in general.
Latest posts by Balázs Ferenczi (see all)